Livspace, one of the top interior designers in Chennai, gave this home's living and dining a fresh new look. With light colours and minimal furniture, this space looks airy and spacious! Don't believe us? Take the tour!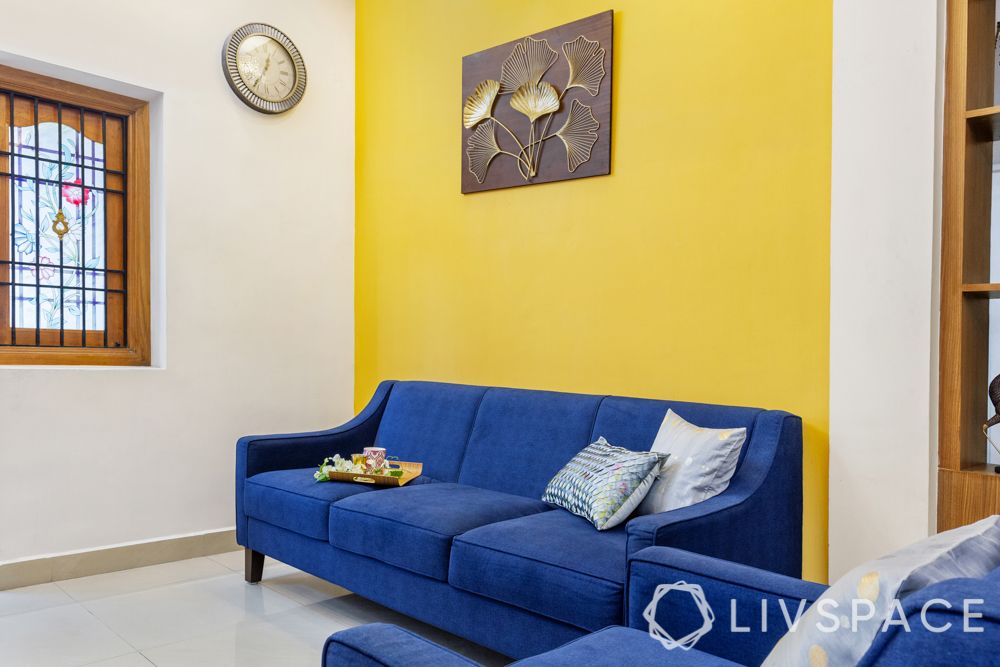 ---
Who livs here: Kamini and her parents
Location: Chennai
Size of home: 3BHK Villa spanning 1,200 sq ft
Design team: Interior designer Nabeela M with Project Manager Suhaib Jibran
Livspace service: Living and Dining Renovation
Budget: ₹₹₹₹₹
---
Interior designers in Chennai agree that the first impression about the interiors of your home come from the living and dining space. Moreover, they suggest that this area should have the essentials – ample seating space, a soothing colour scheme, and enough open space. But not all houses come with the space for the same, as was the case with this Chennai house. So Nabeela, one of the interior designers in Chennai, came up with simple but innovative ways to make the most of the existing space. Read on to find out how this living and dining space got a complete makeover!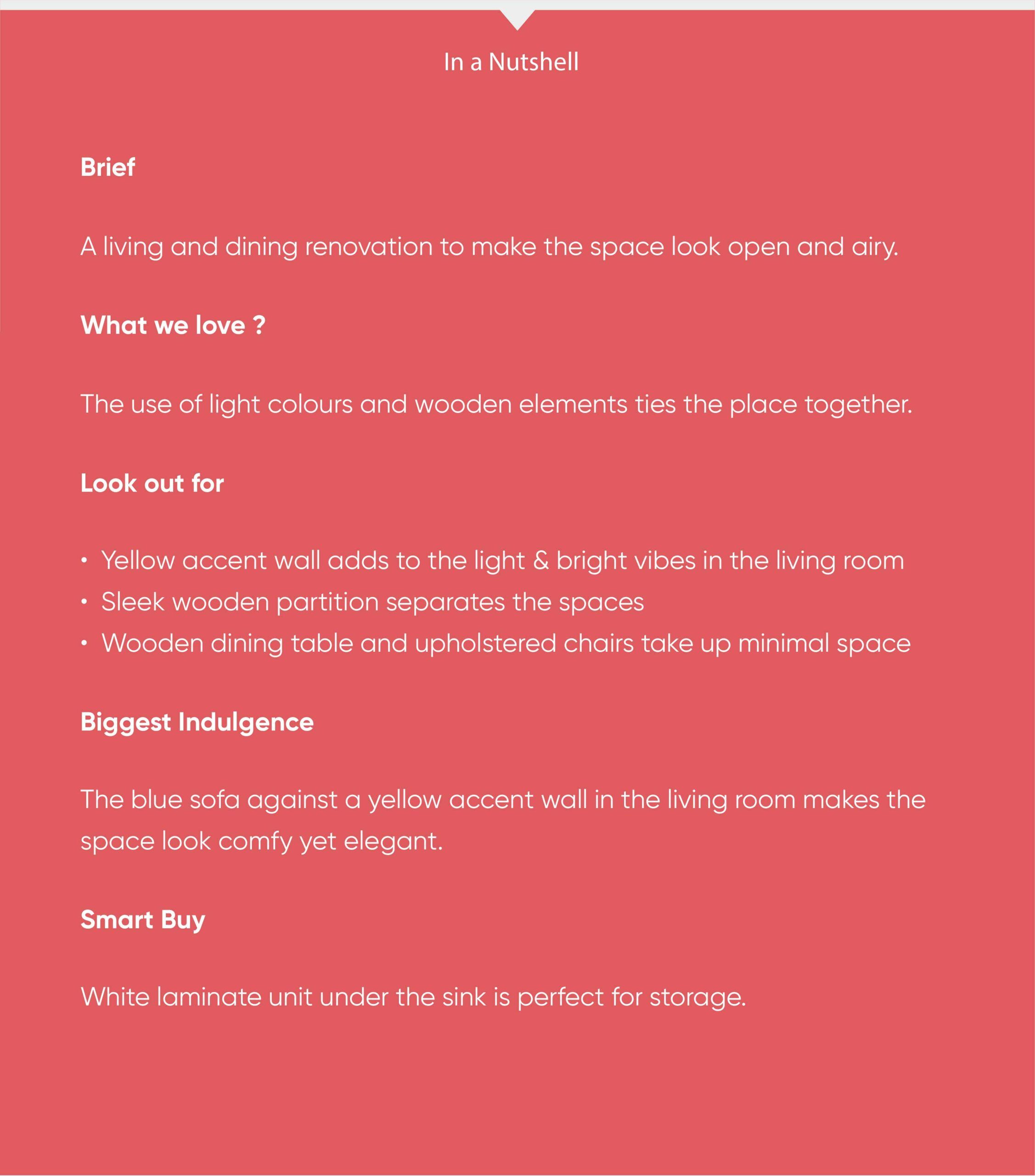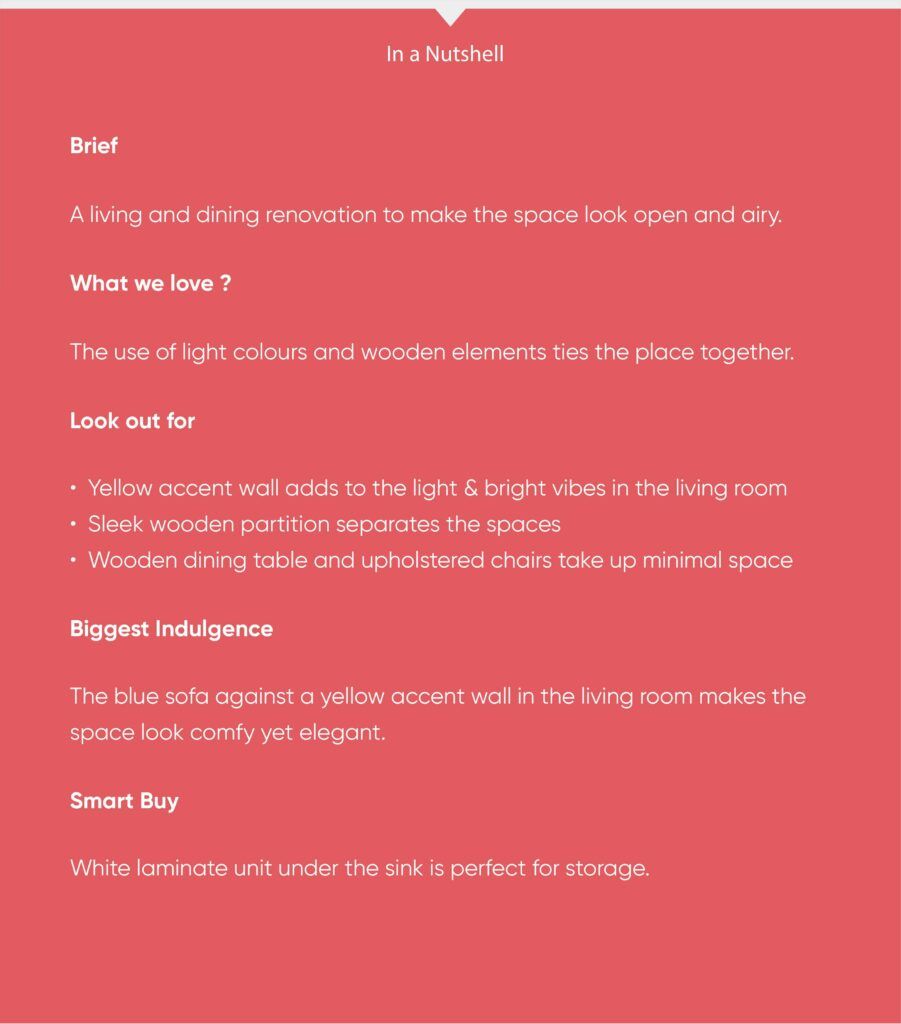 We opened up the living room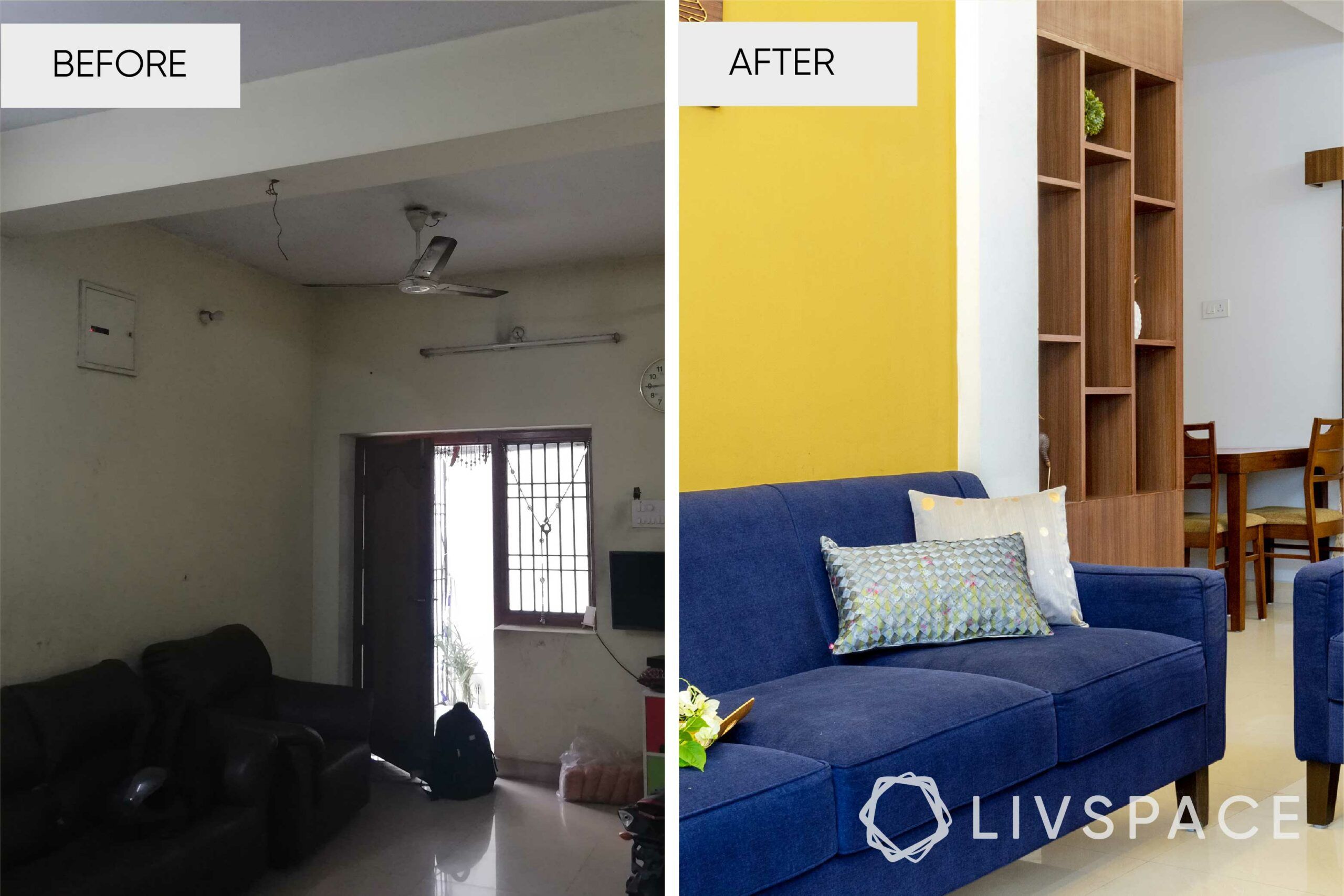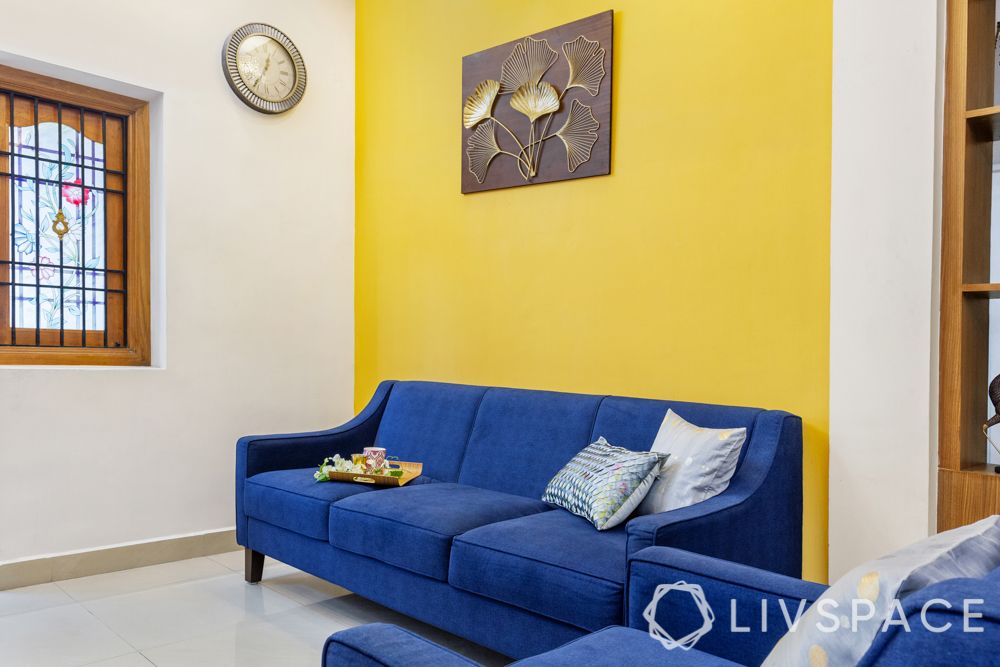 After living in their Chennai house for six years, Kamini and her parents wanted a living room that reflected natural light to look open and spacious. So Nabeela suggested a change in the layout of the room, as well as a new colour scheme! And that's how the interior designers in Chennai gave this home a sunshine yellow accent wall. To complement this, Kamini's family and Nabeela agreed upon a blue suede three-seater sofa from the Livspace catalogue. The use of minimal furniture makes the living room look uncluttered, while the bright wall colour adds to the light and bright feel of the space!
Moreover, when Nabeela suggested adding a basic false ceiling to the living room, Kamini and her parents had their doubts. However, once it all came together, they love it!
Designer Tip
"If you have a compact space, the easiest way to open it up is using light colours and minimal furniture. And while shying away from dark colours is a good idea in such cases, you can experiment with bright colours like yellow to open up your rooms!"
"The entire process was really smooth. Nabeela understood our requirements and designed a home that suited us. Suhaib ensured that everything ran smoothly until the end. My parents and I love the result!"
– Kamini, Livspace Homeowner

We also added a minimal TV unit for this Chennai house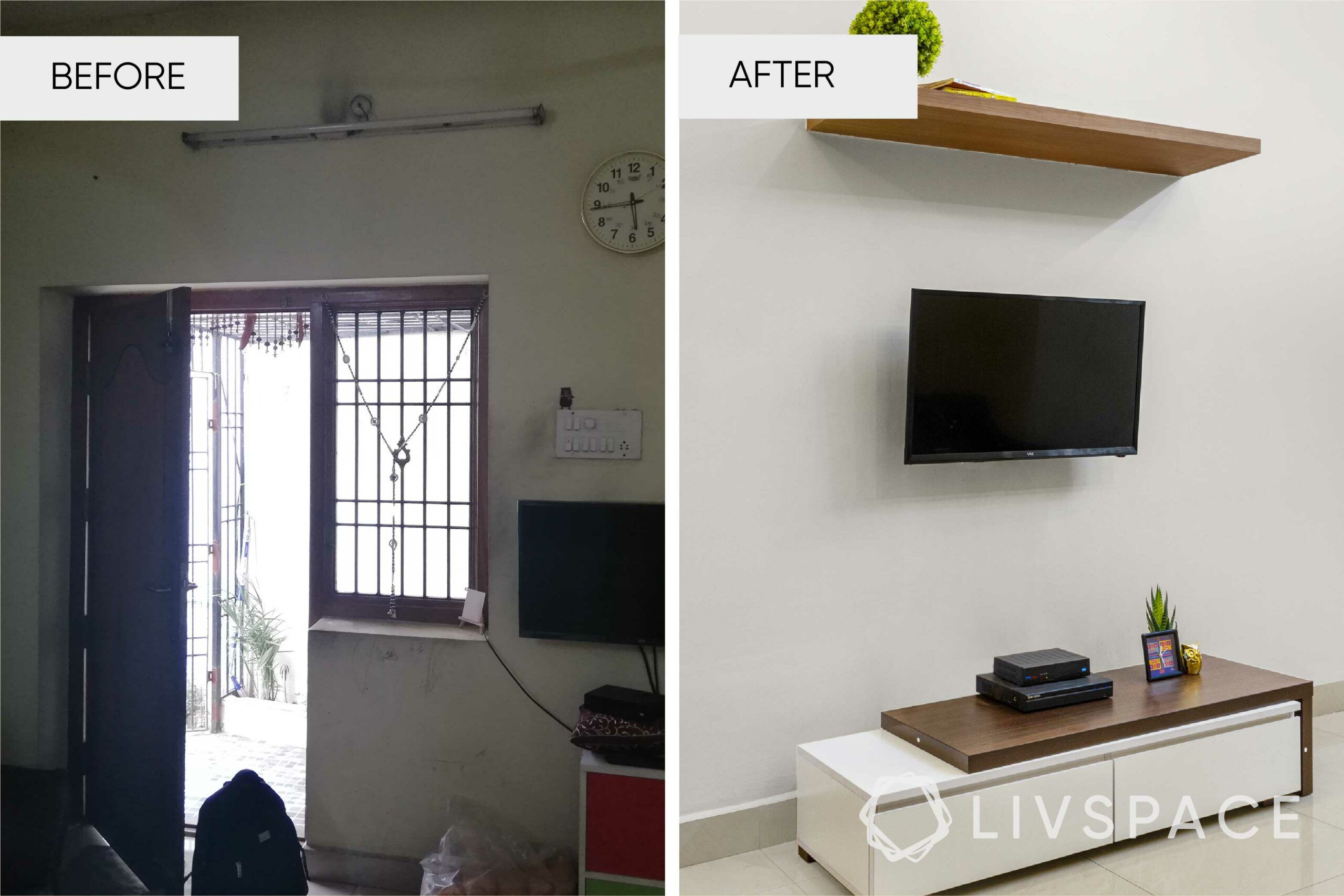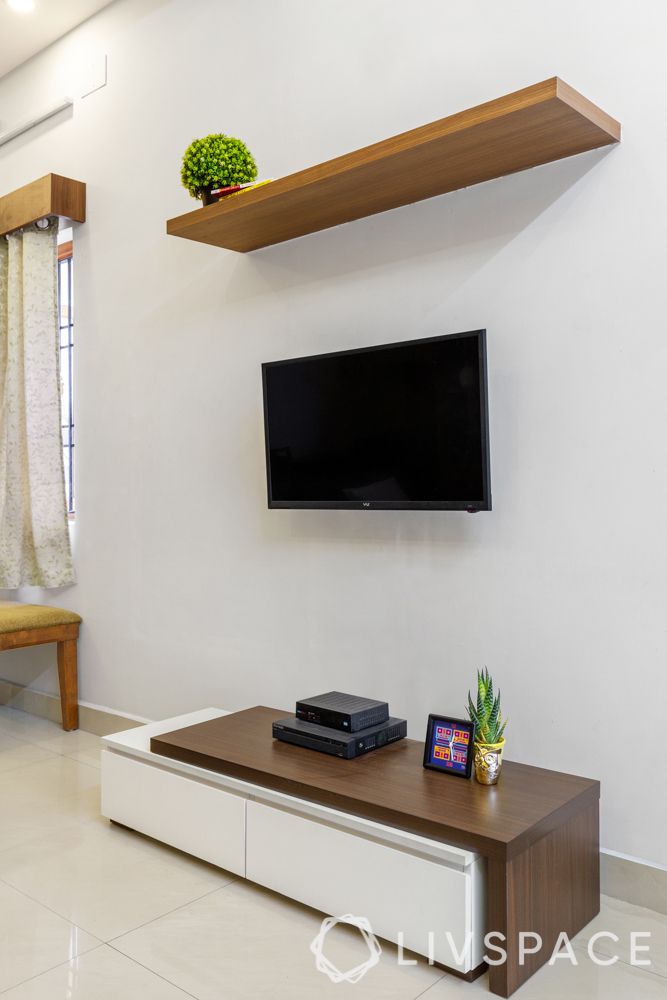 This Chennai house originally had the TV right next to the entrance. Kamini and her parents weren't thrilled with the layout, so when Nabeela, one of the interior designers in Chennai, suggested that it be shifted to the wall facing the sofa, they readily agreed. And that's how this Chennai home got a minimalist TV unit that adds to the open and uncluttered feel of the space!
We gave this home the perfect partition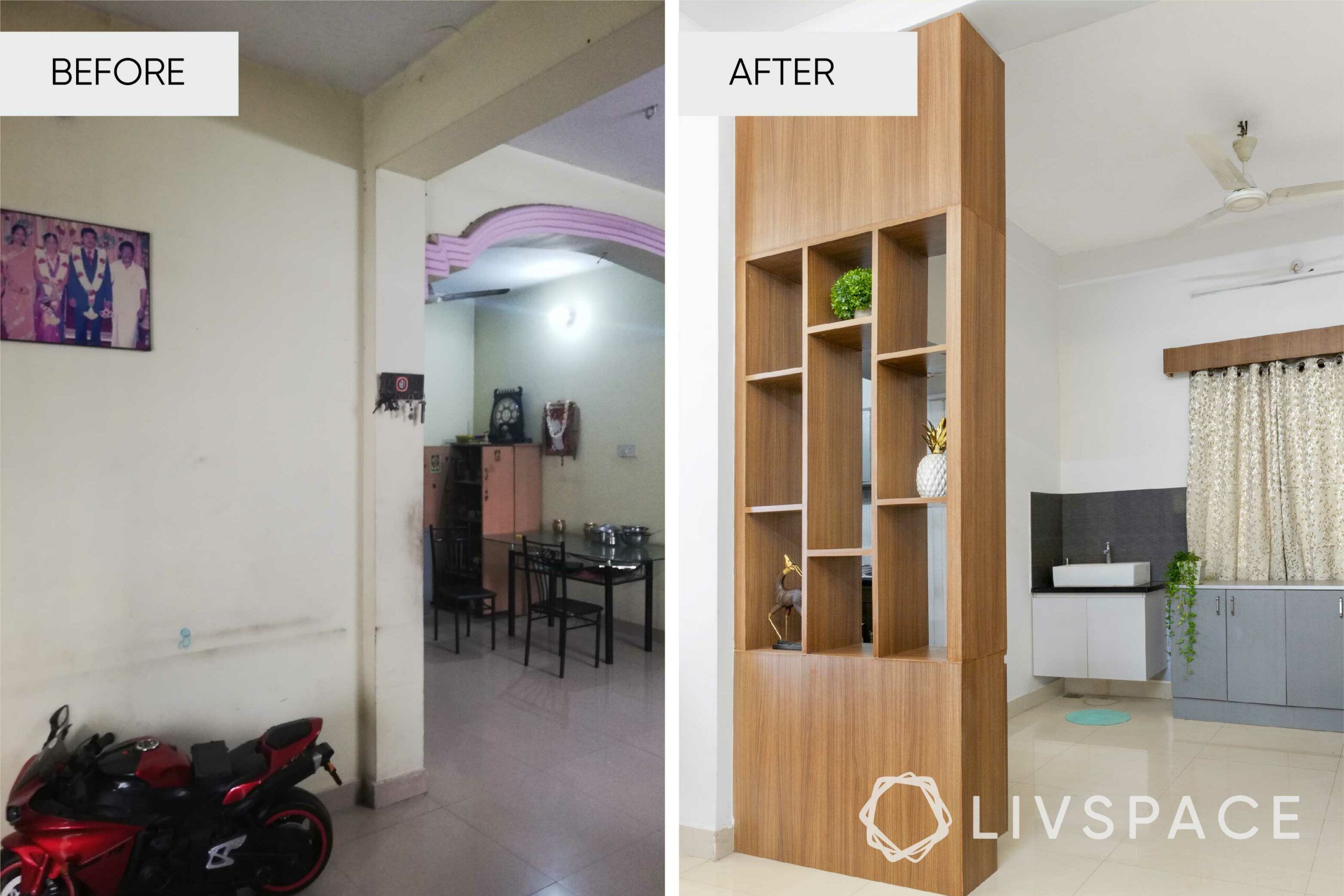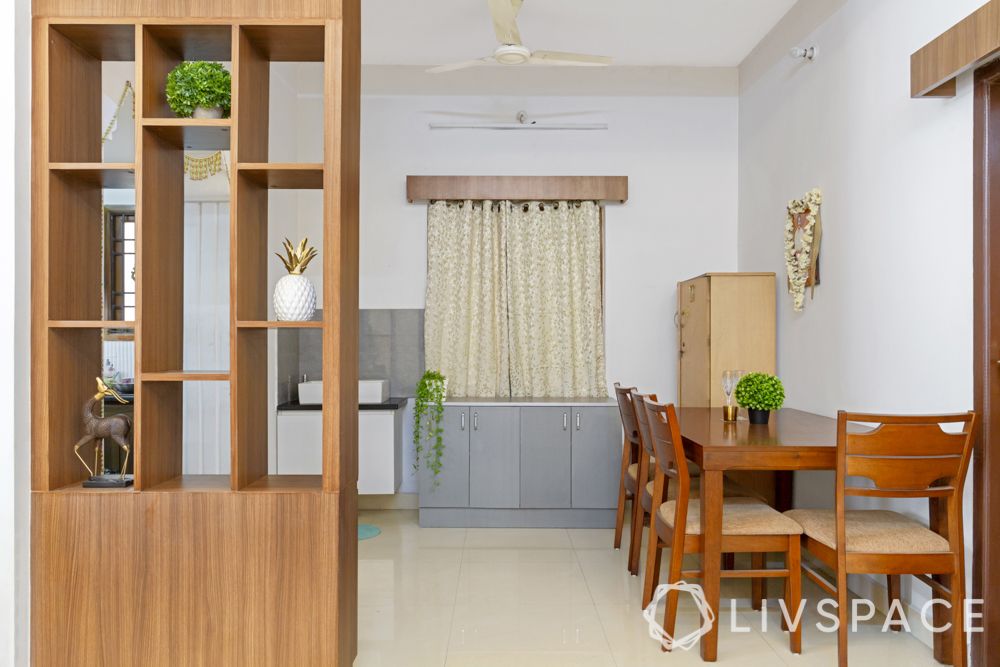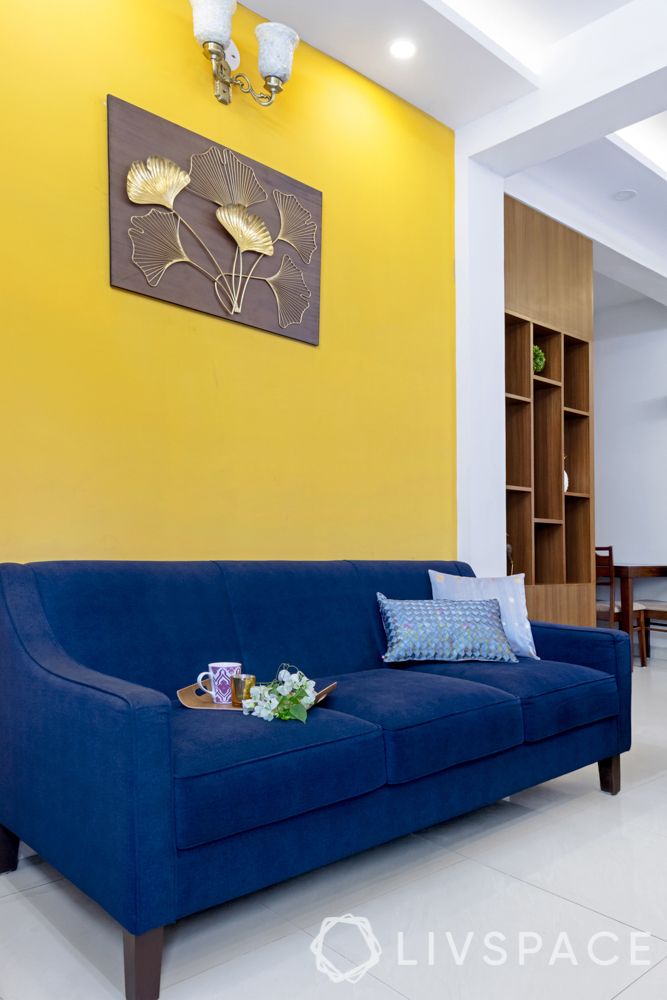 Considering their open living and dining layout, Nabeela, suggested a partition to demarcate spaces. Kamini's mother wanted something sleek and minimal, in keeping with the minimal interiors. So the Livspace team came up with this wooden laminate partition that doubles up as a display unit. Kamini tells us that she absolutely loves this piece!
Designer Tip
"While selecting a partition for a compact space, it's best to go with clean lines and a geometric design. Moreover, you can go with colours or finishes that have been widely used in the home, to blend it in further with the interiors!"
And lastly, we revamped the dining room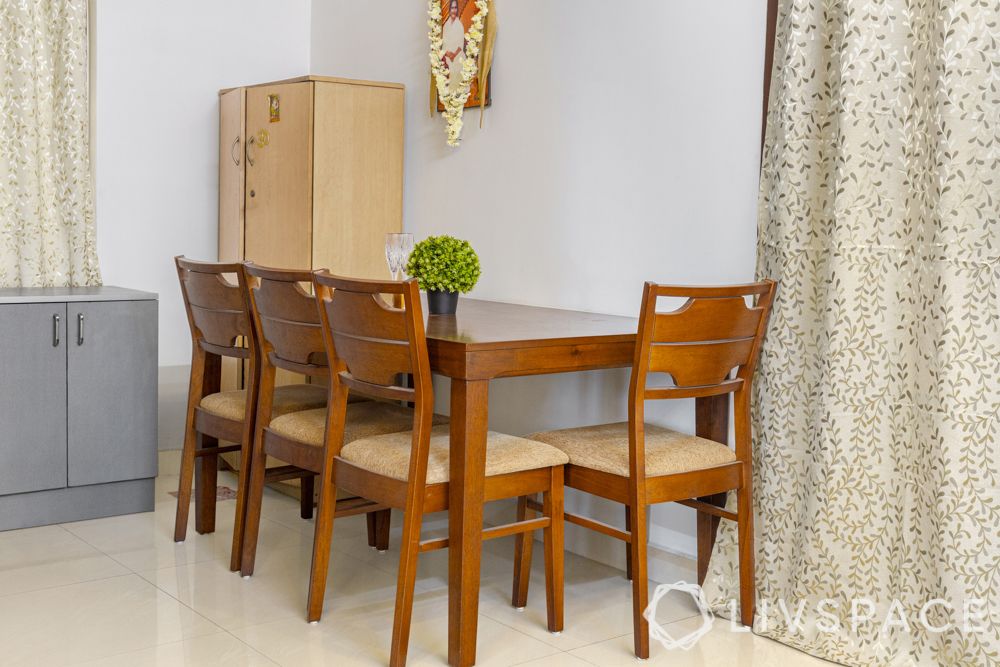 In keeping with the light colour scheme set with the living room, Nabeela suggested a neutral-coloured dining space. Moreover, the wooden dining table from the Livspace catalogue ties in perfectly with the other wooden elements in the living room.
Since the family already had a grey crockery unit, Nabeela designed a storage space under the sink in white laminate, and added a tiled backsplash as well!
"Kamini and her family wanted to de-clutter their space and give it a whole new look. They were open to ideas and considered our suggestions. The end result – a home they absolutely love, that we were glad to put together perfectly!"
– Nabeela M, Interior Designer, Livspace
If you enjoyed reading about this partial home renovation, also check out 4BHK Villa Gets a Grand Makeover!
Send in your comments and suggestions.