When this couple was looking for interiors in Chennai, they were expecting something that would suit their budget and serve all their requirements within it. Take a look at how we did this for their cosy home!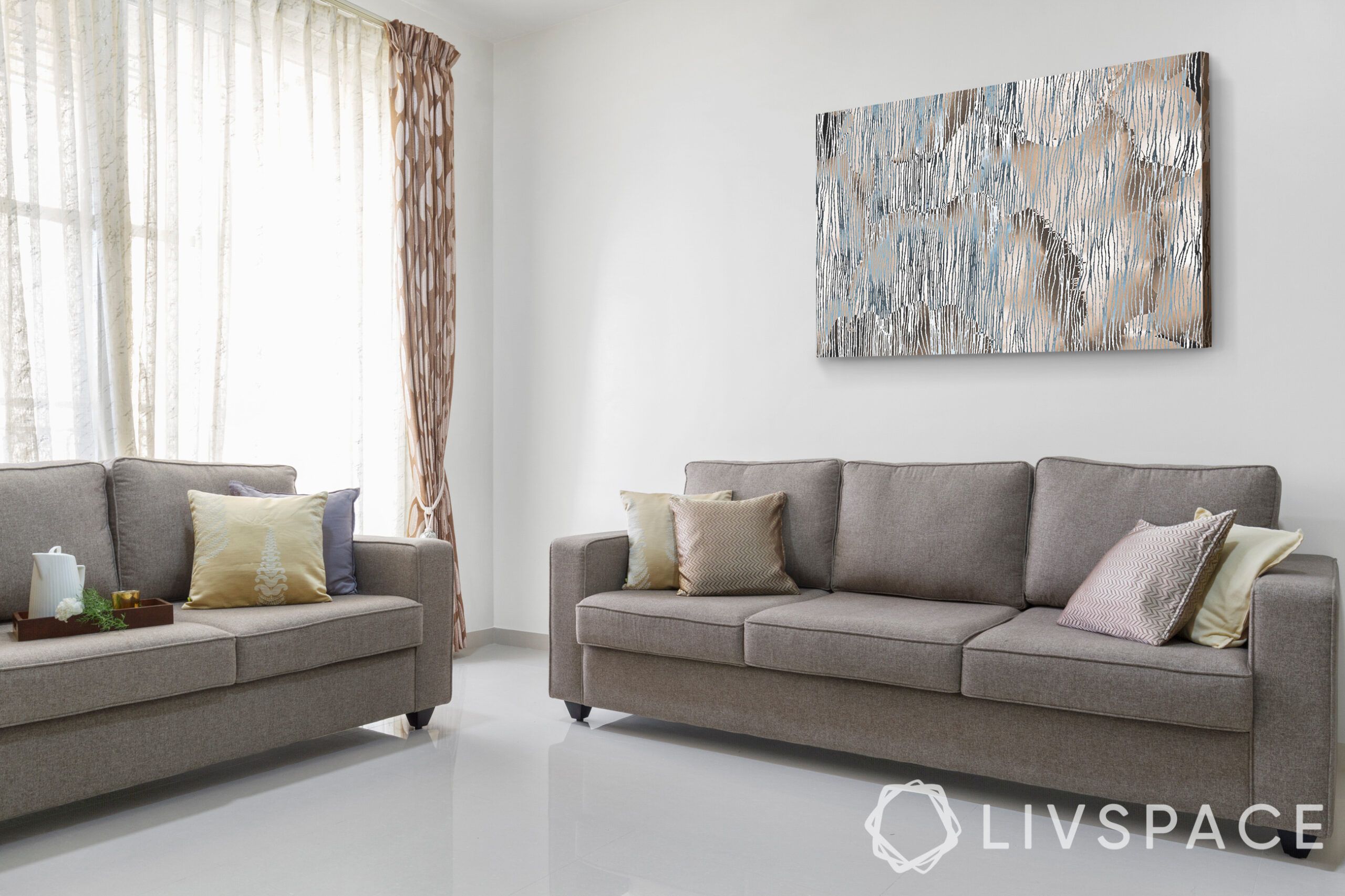 ---
Who livs here: Priya with Suresh and their daughter
Location: House of Hiranandani Tiana, Egattur, Chennai
Size of kitchen: A 2BHK spanning 960 sq ft approx.
Design team: Interior Designer Meljin Mano with Project Manager Karthikeyan
Livspace service: Full home design
Budget: ₹₹₹₹₹
---
Sometimes your daily schedule gets to you and all you want to do after coming back home is to put your feet up and relax. Away from the hustle-bustle of the city, in the arms of nature, Priya and Suresh found their retreat in Egattur. They moved into a Hiranandani apartment for the sole purpose of escaping the madness of the city after a long day at work. This is a dream home for the working couple since this is where their tiny tot is going to grow up.
When they came to Livspace and met Meljin Mano, their designer, they clearly stated that they had a tight budget and they were looking for low-maintenance interiors in Chennai for their 2BHK. In addition, the design and furniture had to be child-friendly, so their toddler could enjoy the home too. Here's how Meljin ticked the couple's budget and design boxes!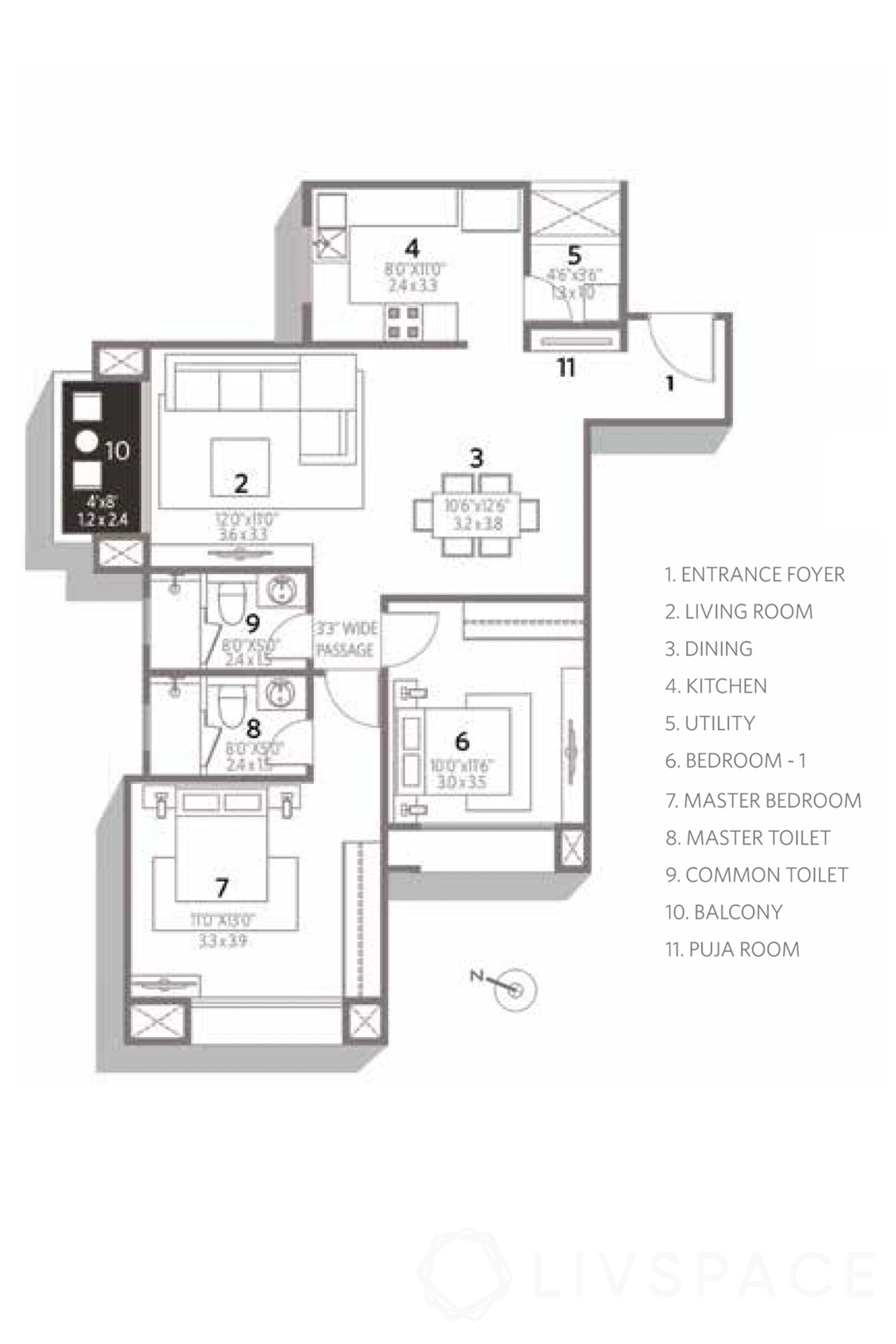 This pictorial representation of the home shows you where the entrance lies and how one can navigate through the various rooms. As you can see, the pooja corner sits right next to the entrance and the living room is bang opposite the foyer. Also, on the right of the foyer you have the kitchen and on the left you can see the two bedrooms.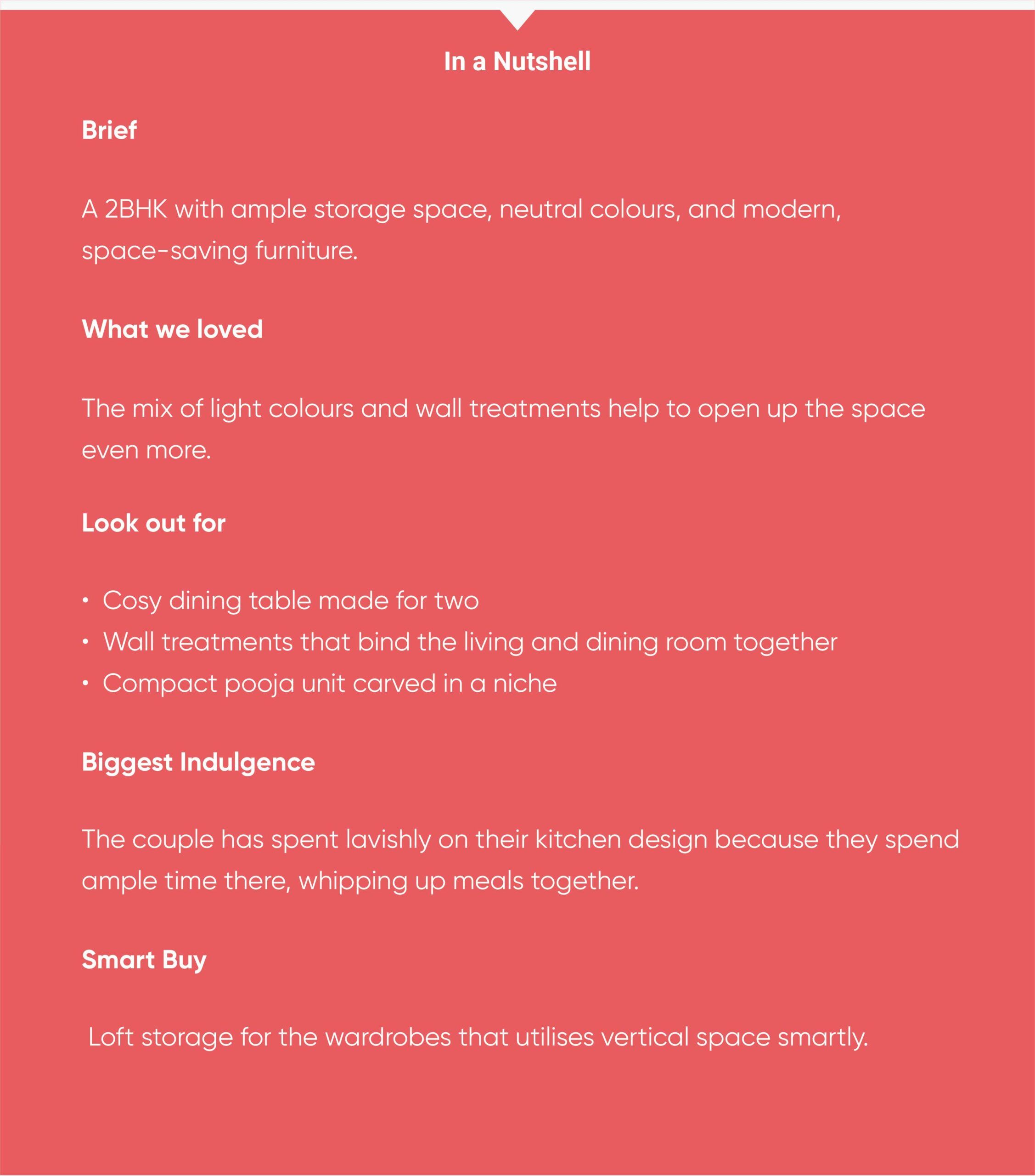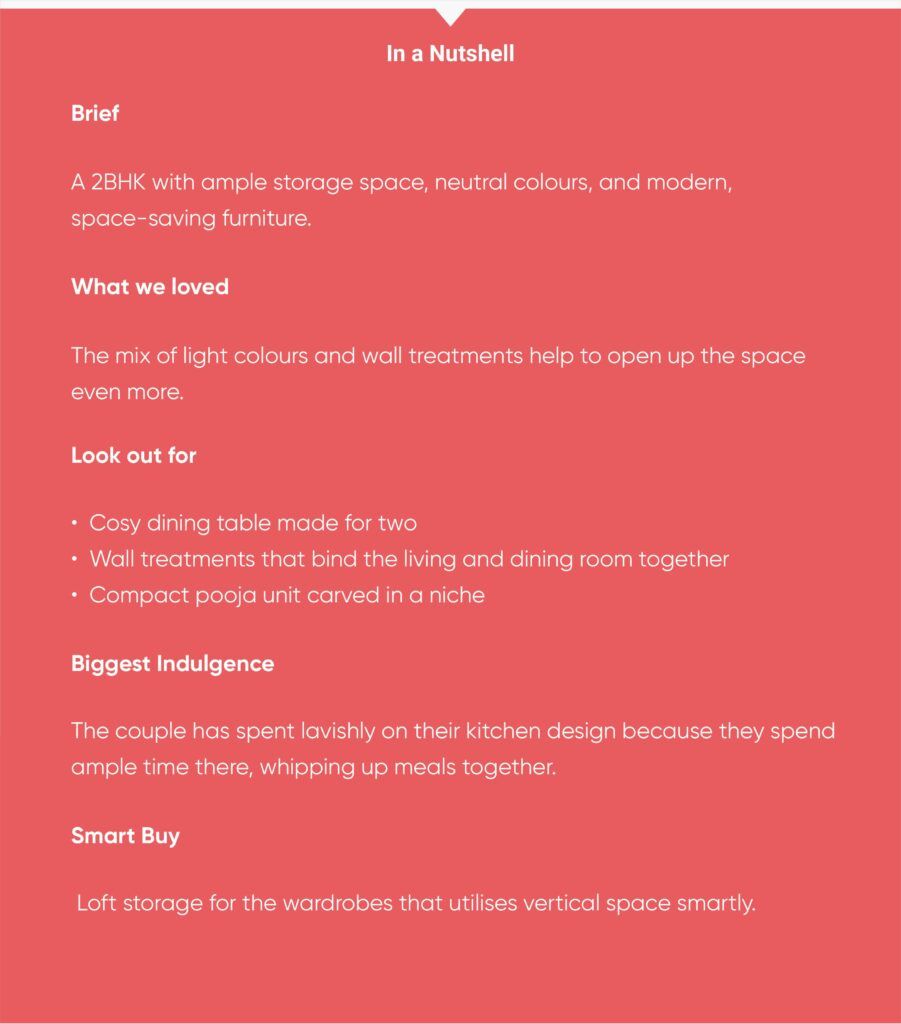 Cost-effective finish for a TV with ample storage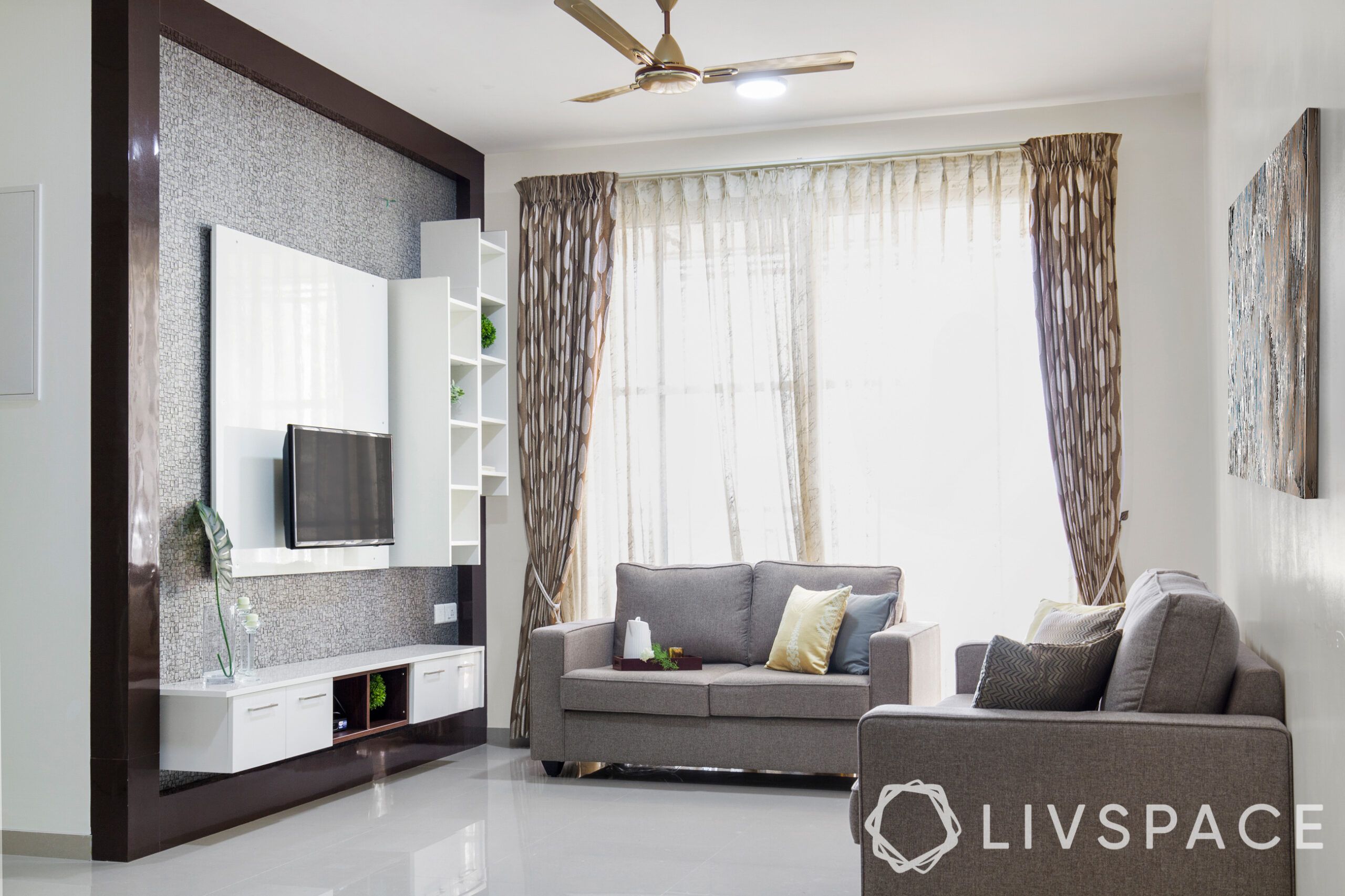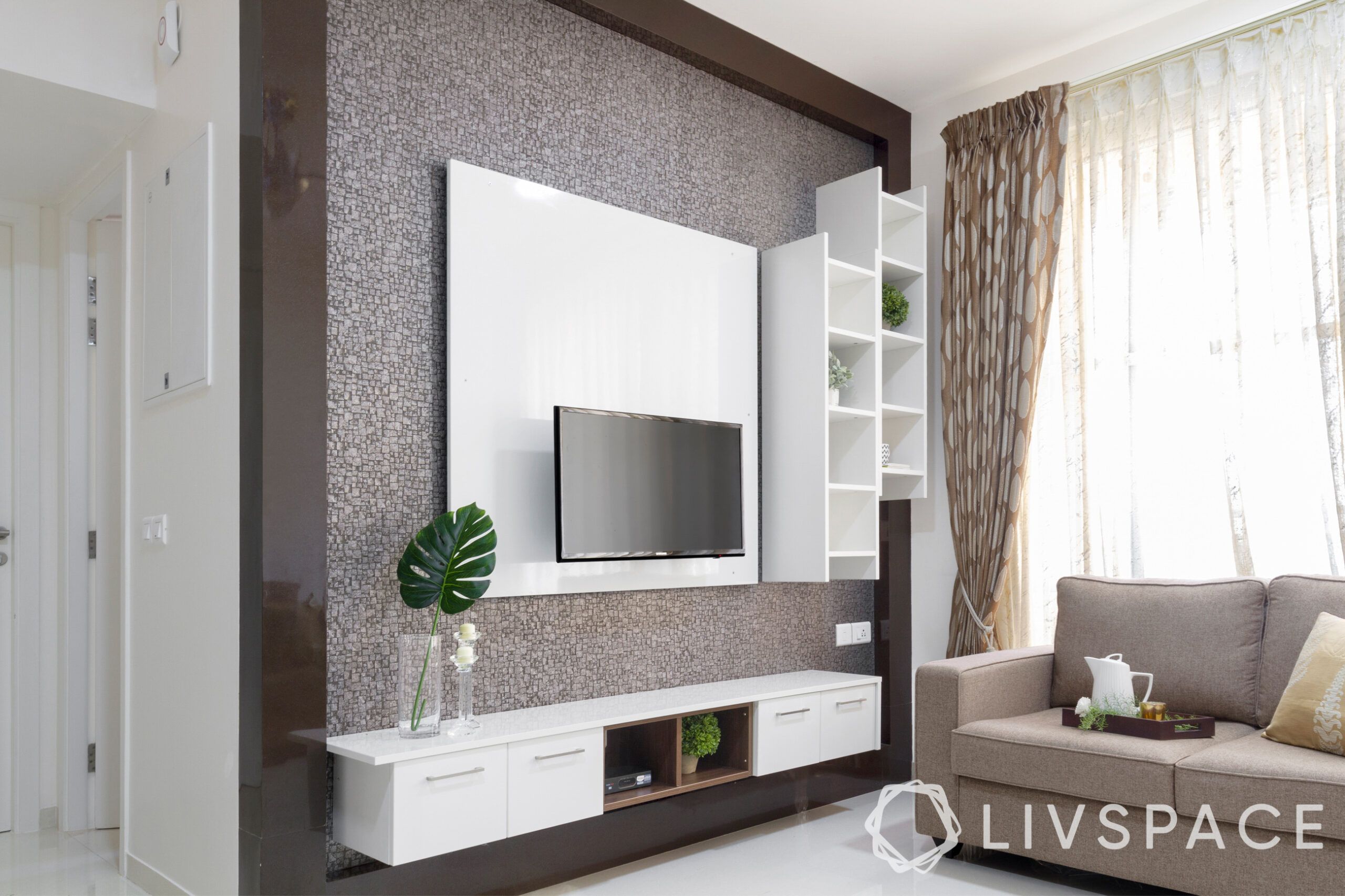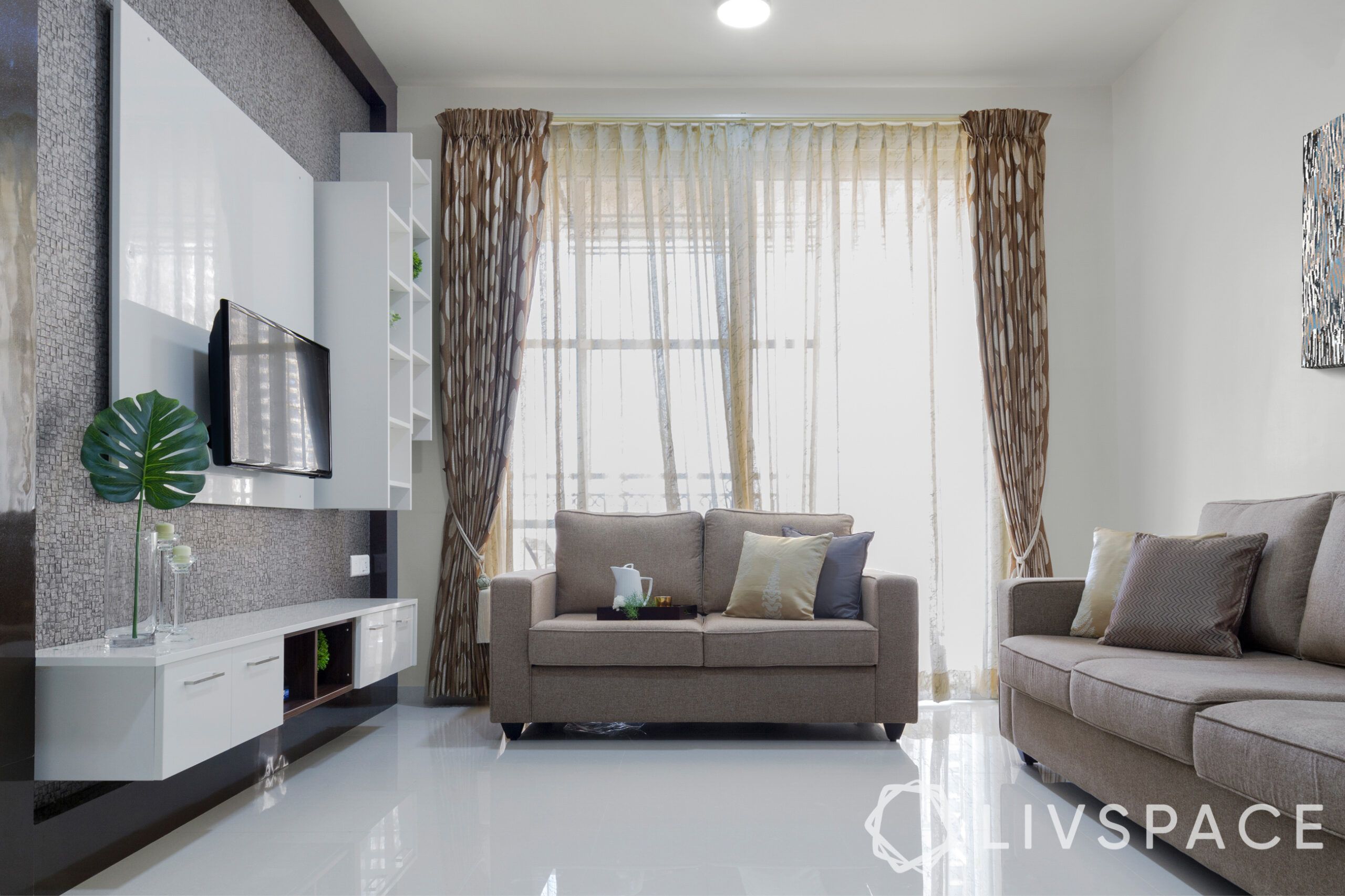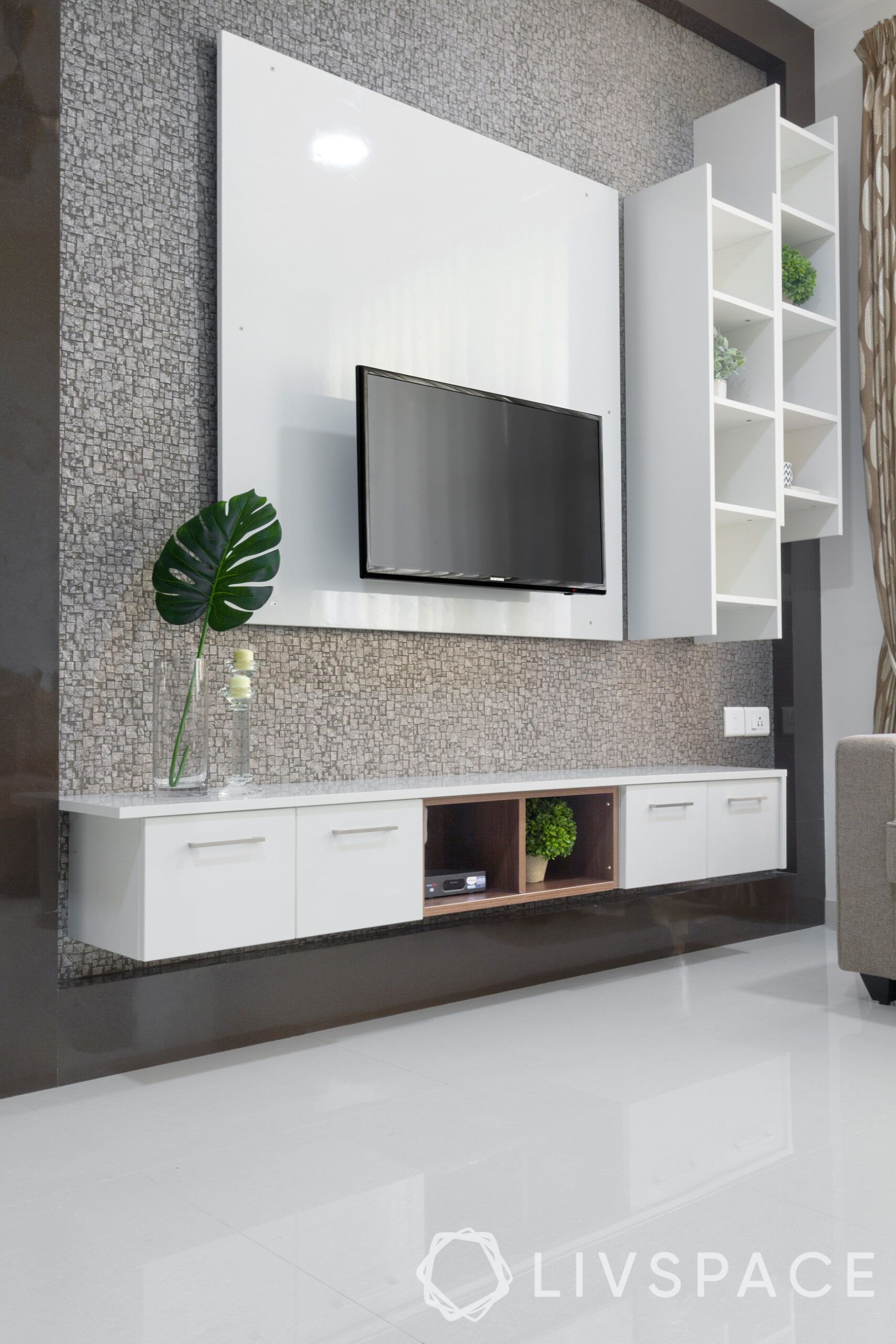 First up, you will notice the airy living room when you step inside the couple's cosy 2BHK at Hiranandani. While deciding their home interiors Priya and Suresh were not too keen on having an elaborate TV unit in here. Meljin knew exactly what he had to do. Sometimes we do not understand the importance of something till we have it. This is what Meljin proved with this TV unit.
He gave the couple this wall-mounted laminate unit with drawers and ladder-style display shelves. Also, he highlighted it with a grey wall panel that acts as the common design thread in the entire house. Now the couple can happily store their set-top box, video games and everything else in this unit and hide it away from clear sight.
A crockery unit that doubles up as a study table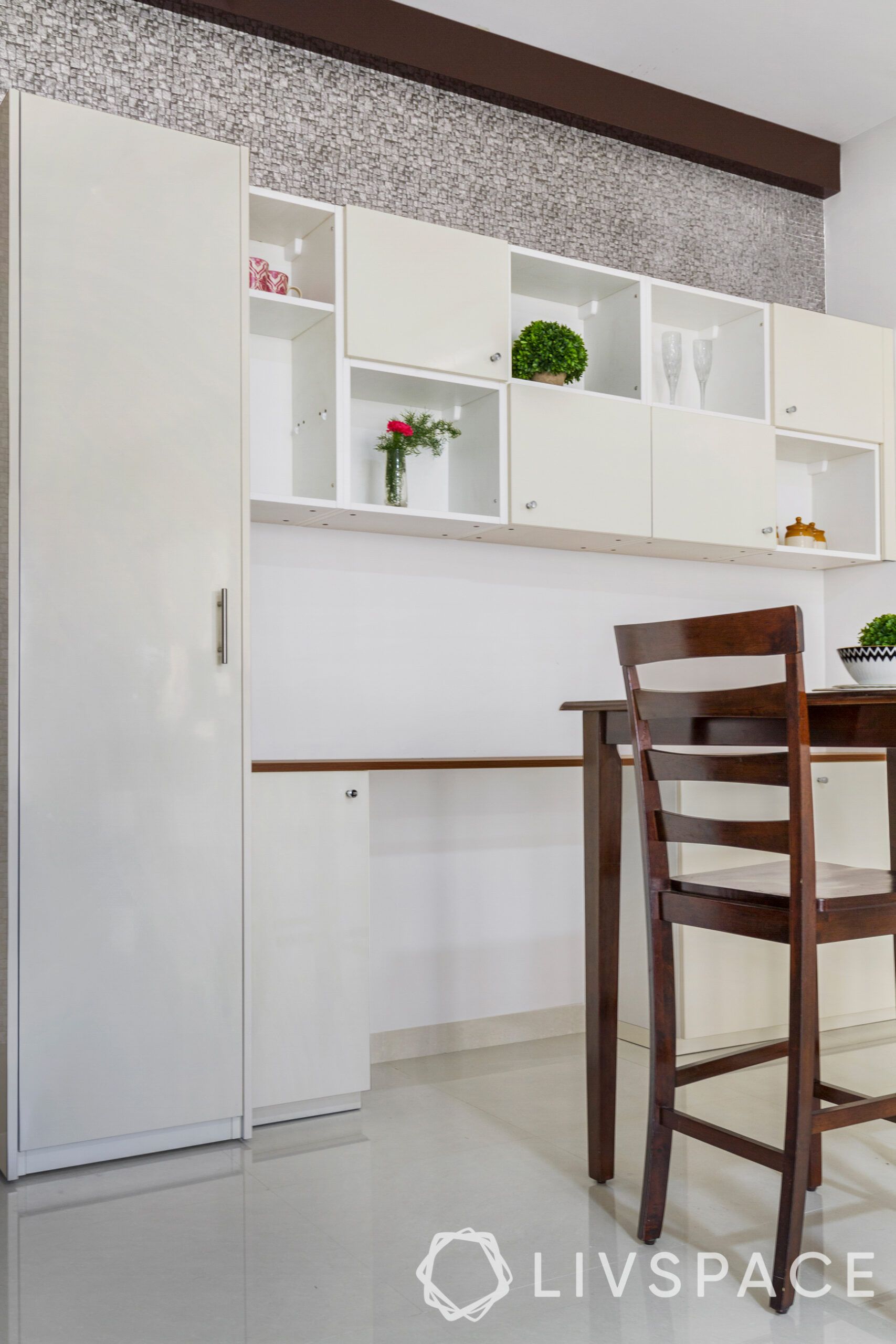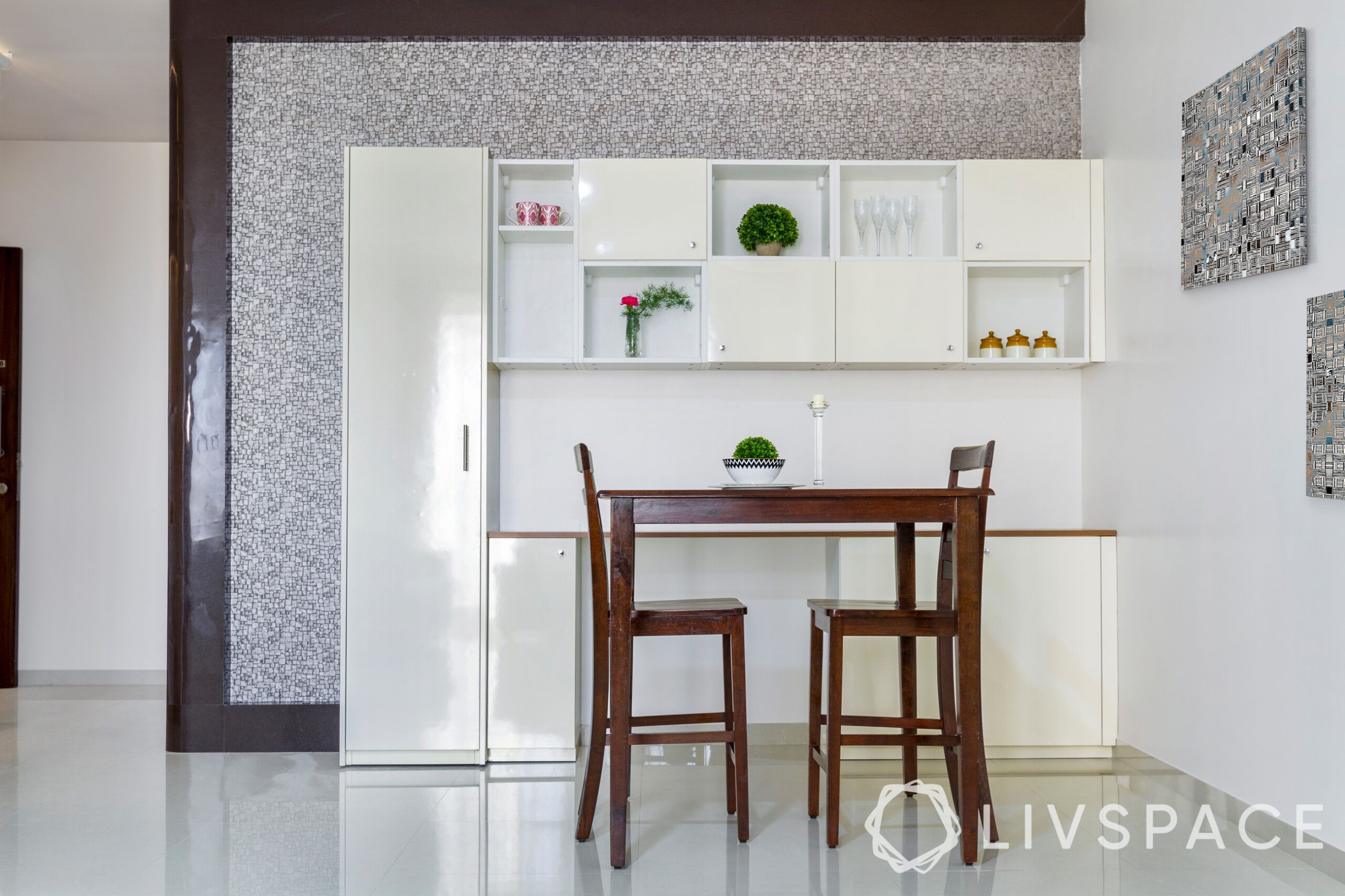 Now have you heard that before? A crockery unit that doubles up as a study table when required. This working couple was quite impressed by Meljin's genius idea of having a high counter for the crockery unit. This way, they could pull up a dining chair and work comfortably from here whenever they needed to. This crockery unit is also child-friendly since it is of optimum height. Notice the tall cabinet on one end? This acts as a peripheral storage option for random things lying around the home. Therefore, interiors for this Chennai home are super functional!
A pooja corner that's simple but functional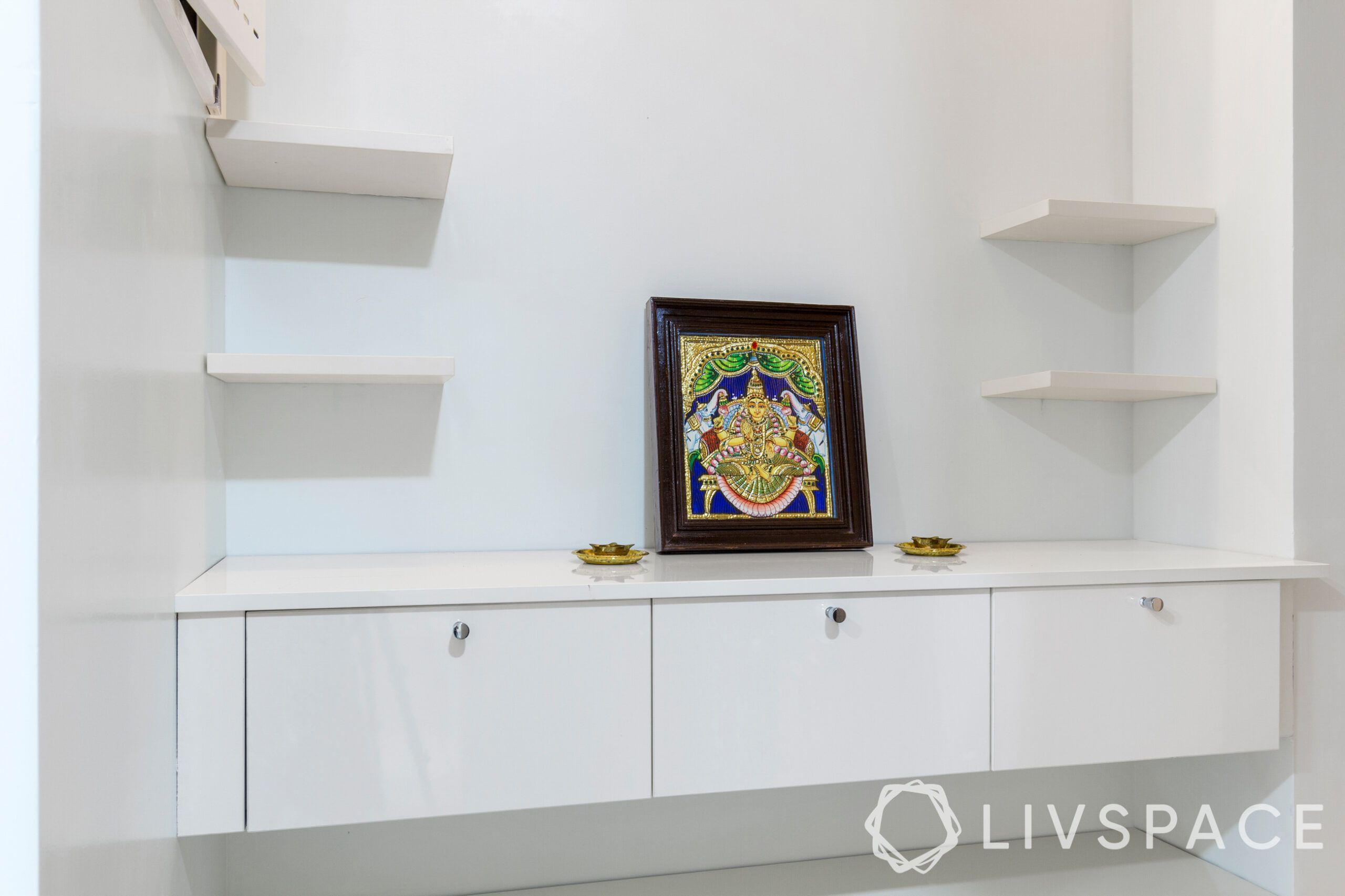 When it comes to a pooja corner, some people like it ornate while others like it simple. Priya and Suresh belong to the latter category. They wanted a clean look for their pooja corner and since their major requirement was storage, Meljin gave them some in here as well. So, the couple can stow away their newspapers in one of the cabinets here and it does not even look like they have it there. Meljin has also added simple wall ledges to help them display their deities too.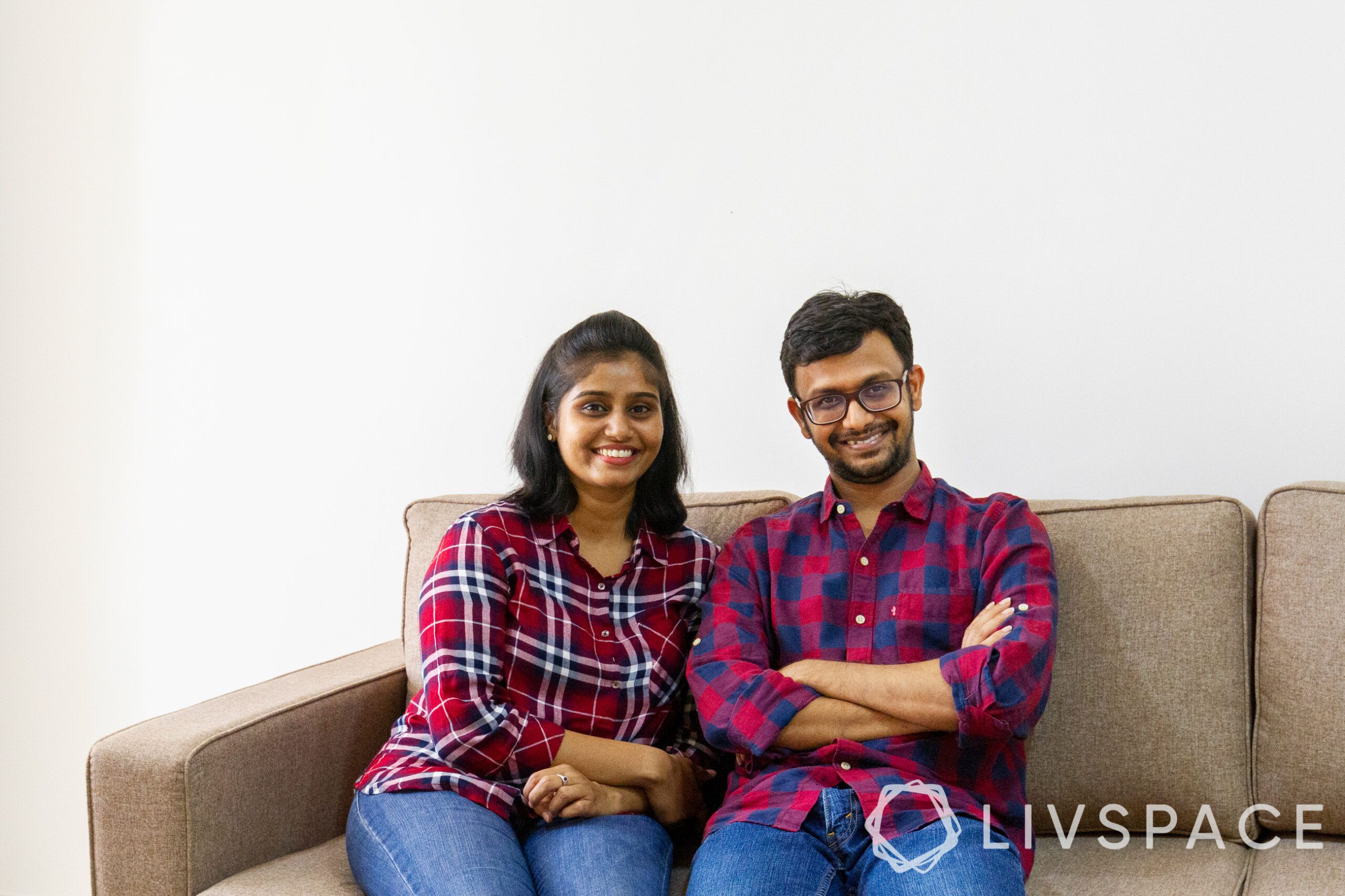 "Meljin has done an amazing job for us. The designs and solutions he gave us are space-saving and chic, just like we wanted. He has taken us through a seamless design and execution journey. We would definitely refer him to our friends and family. We thank Livspace for giving us our dream home!"

-Priya and Suresh, Livspace Homeowners
A kitchen design to suit Priya's requirements to the T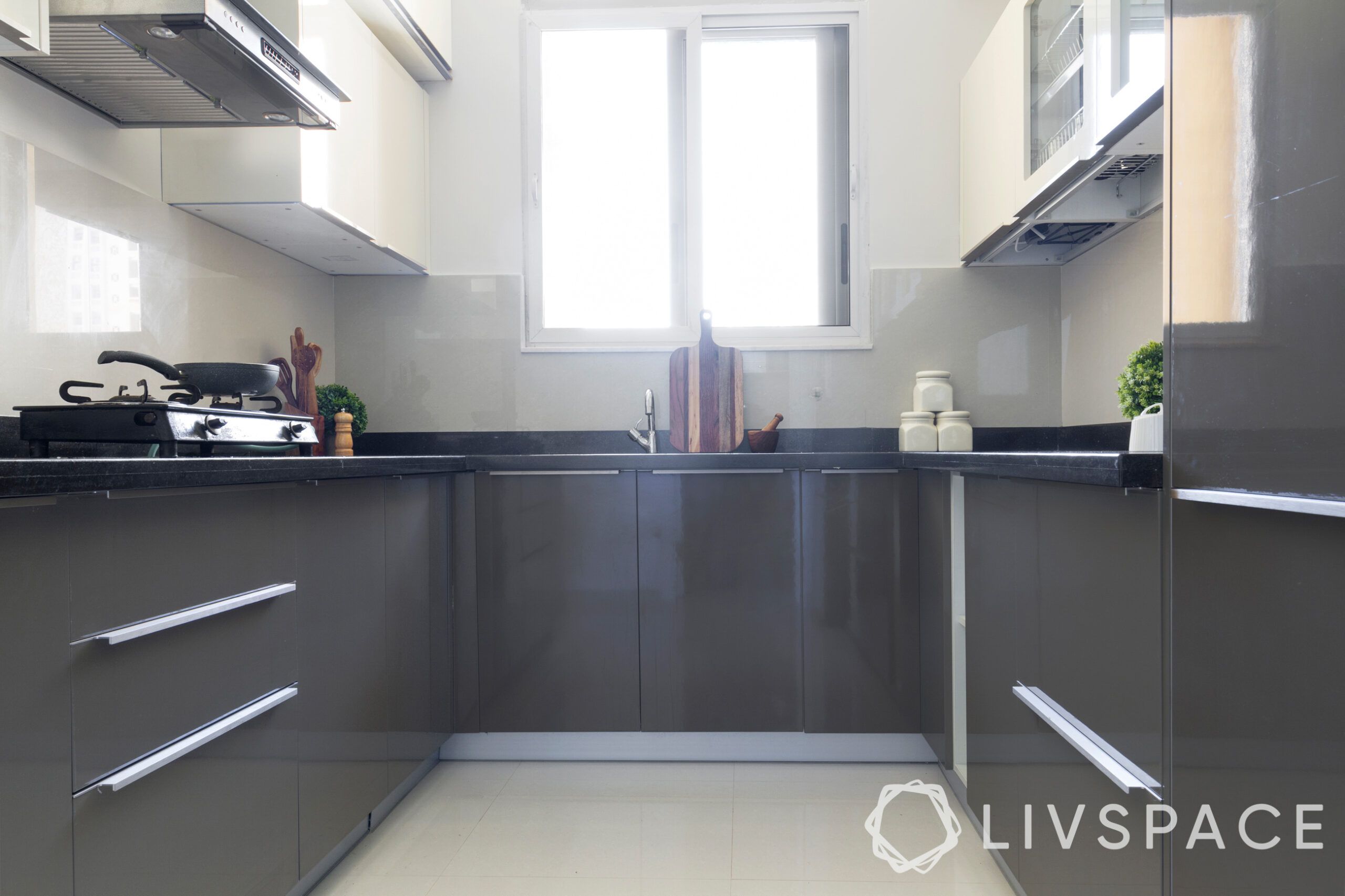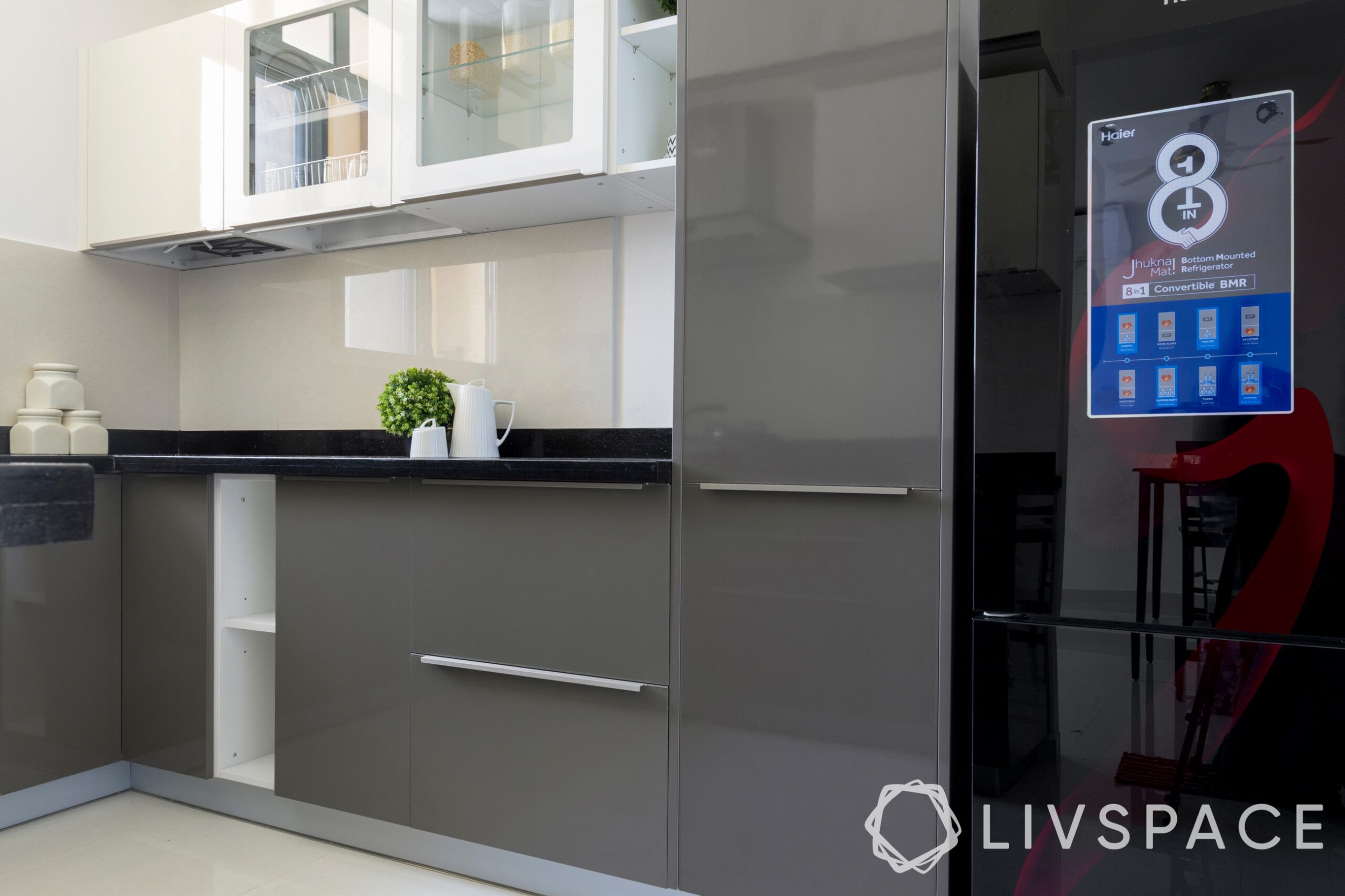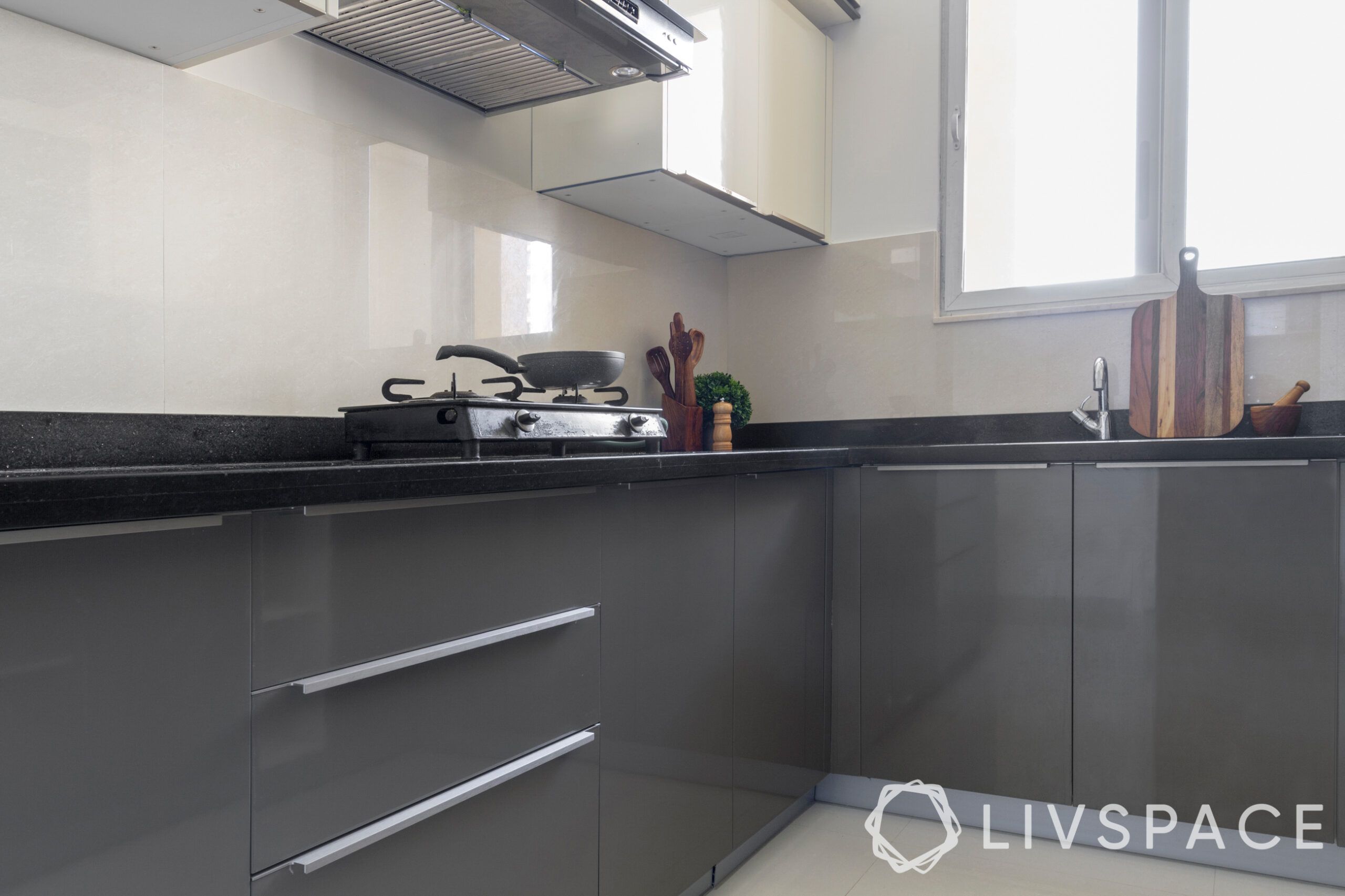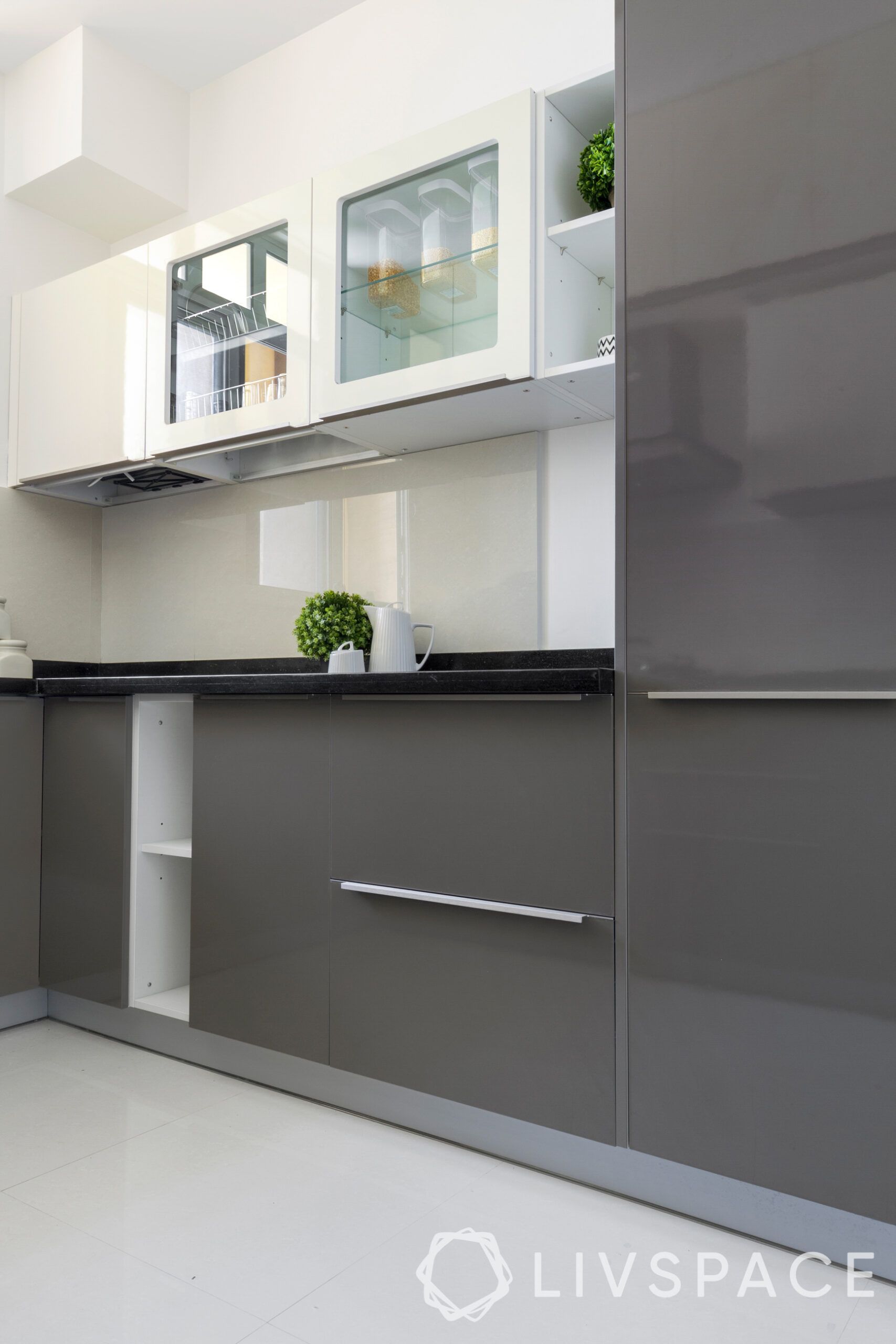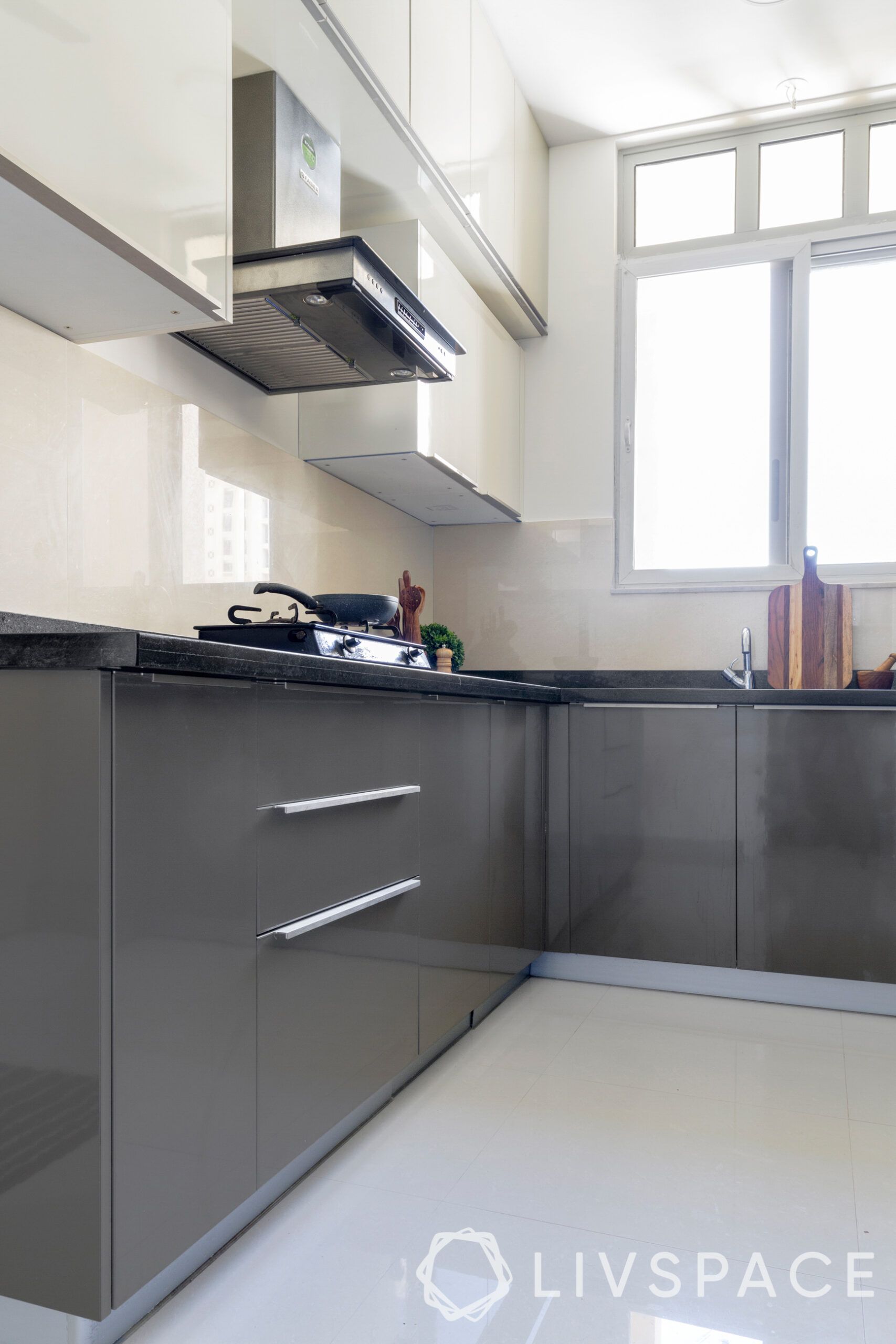 The kitchen is something that Meljin is really happy about designing. He knew exactly where he should place each module so that Priya faces no problems while she's whipping up storms in here. This kitchen flaunts high gloss laminate finish and sports a subtle grey colour on the base units. He has also given them lofts because who wants to waste wall space? So, if you're looking for ideas for kitchen interiors in Chennai, take a cue from this!
Wardrobes that fit the bill just perfectly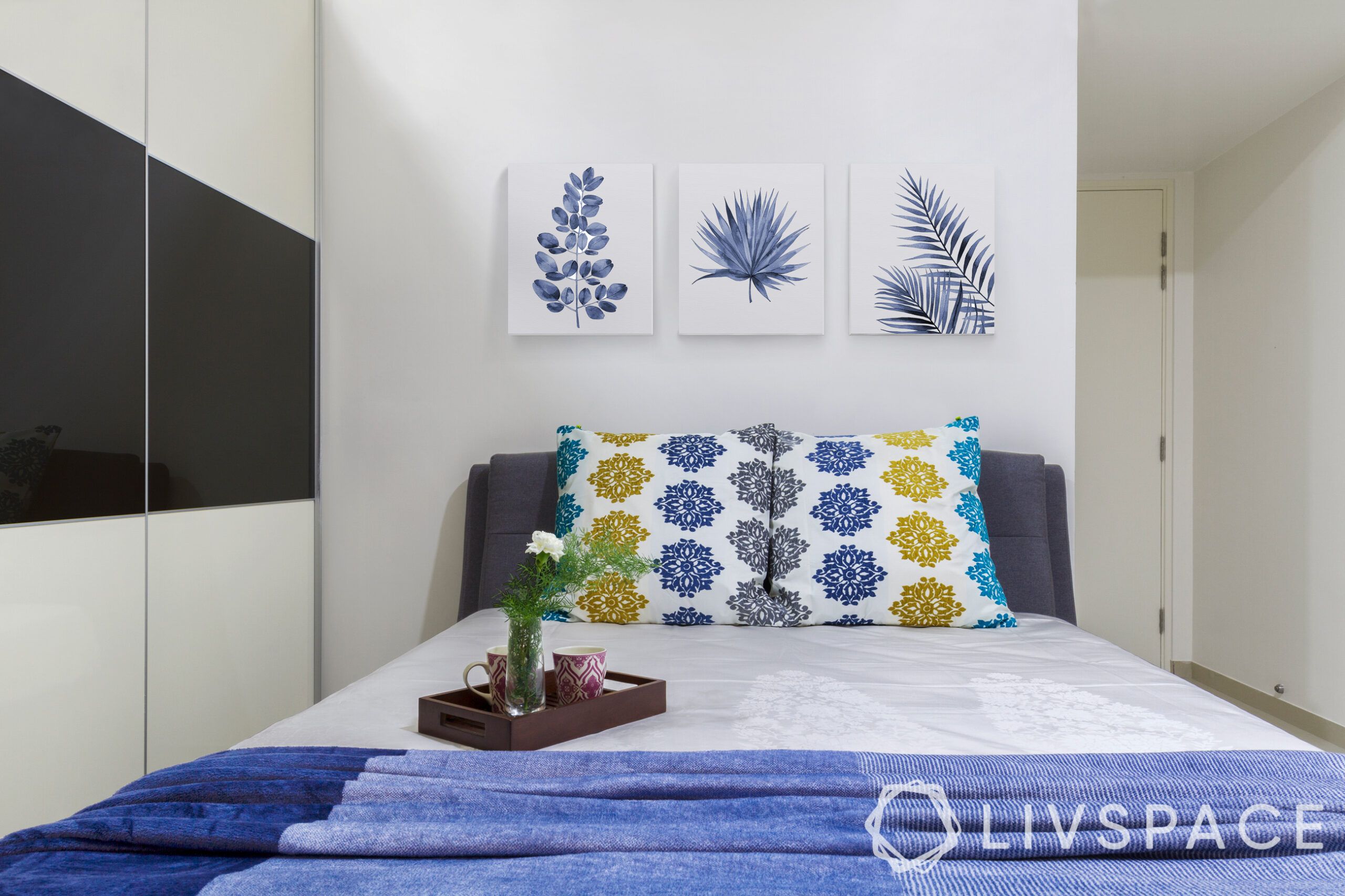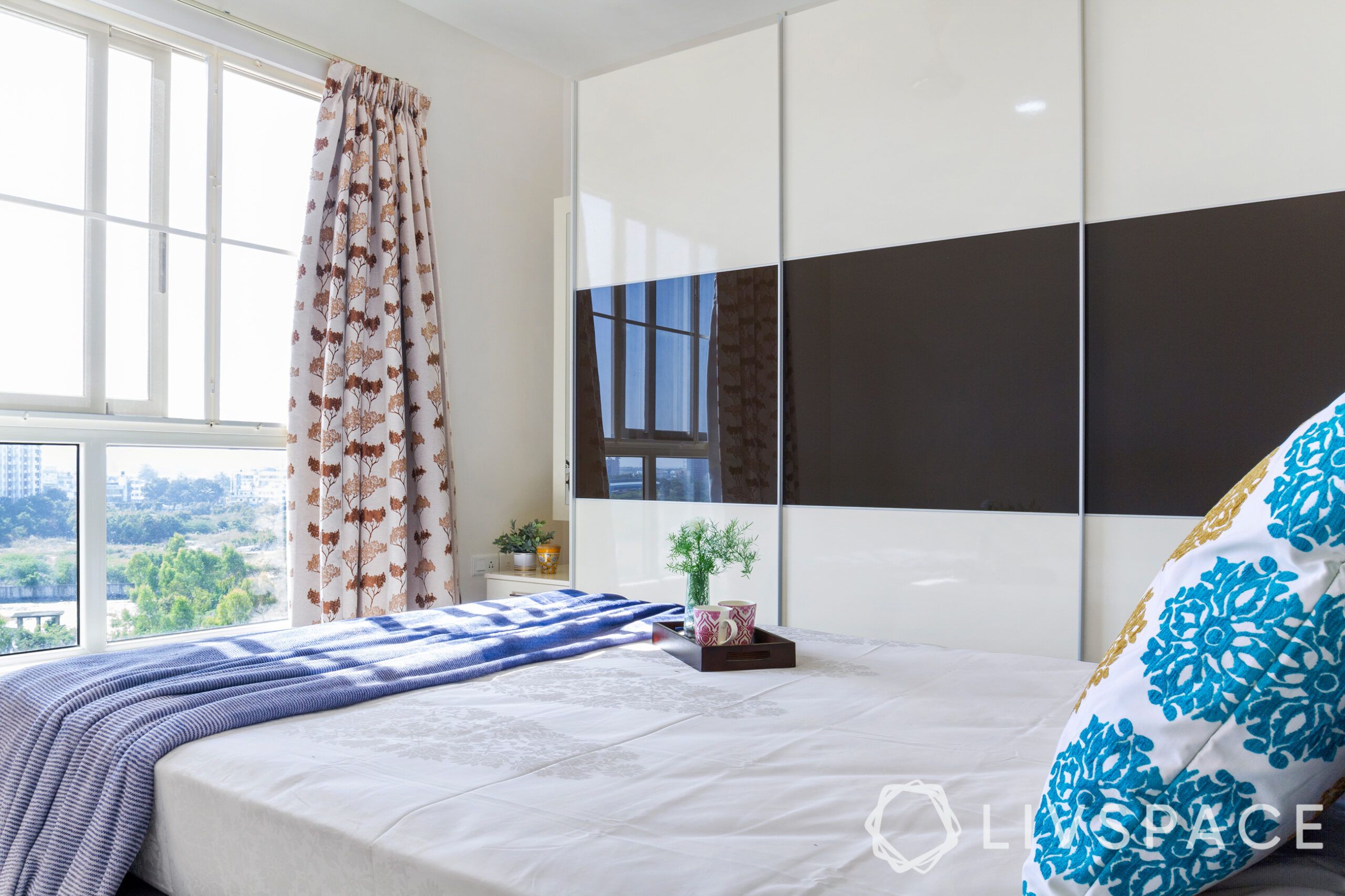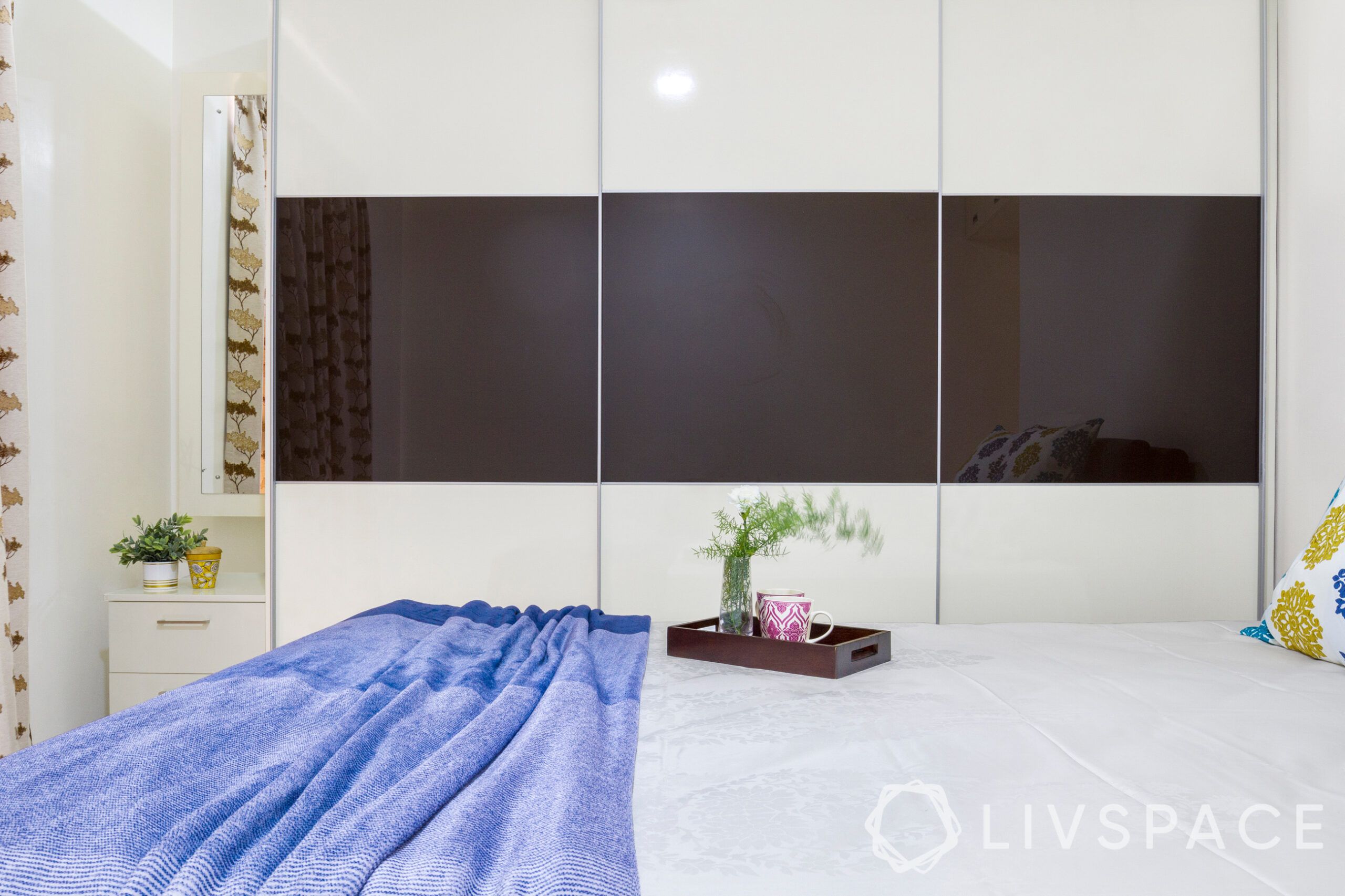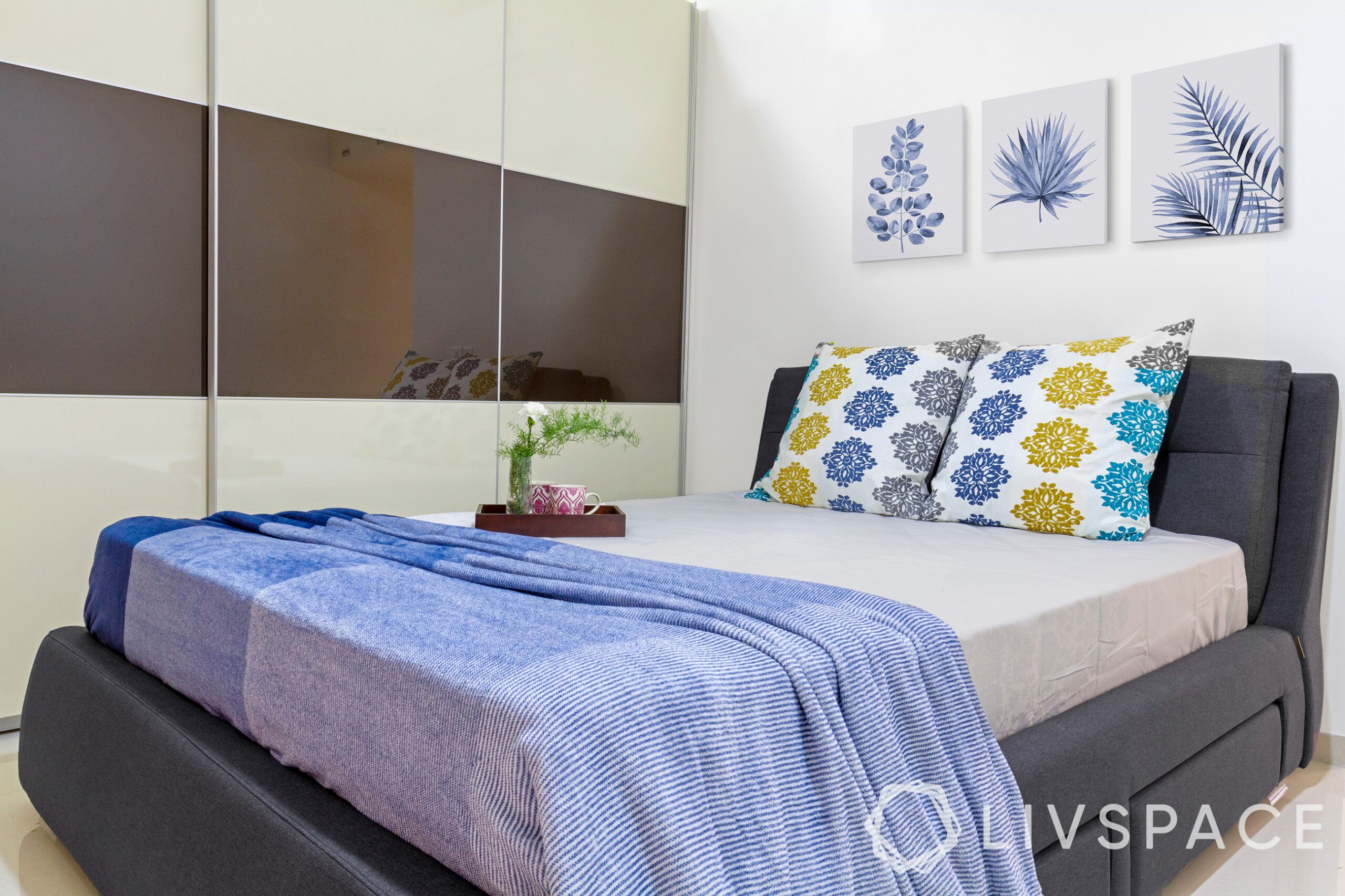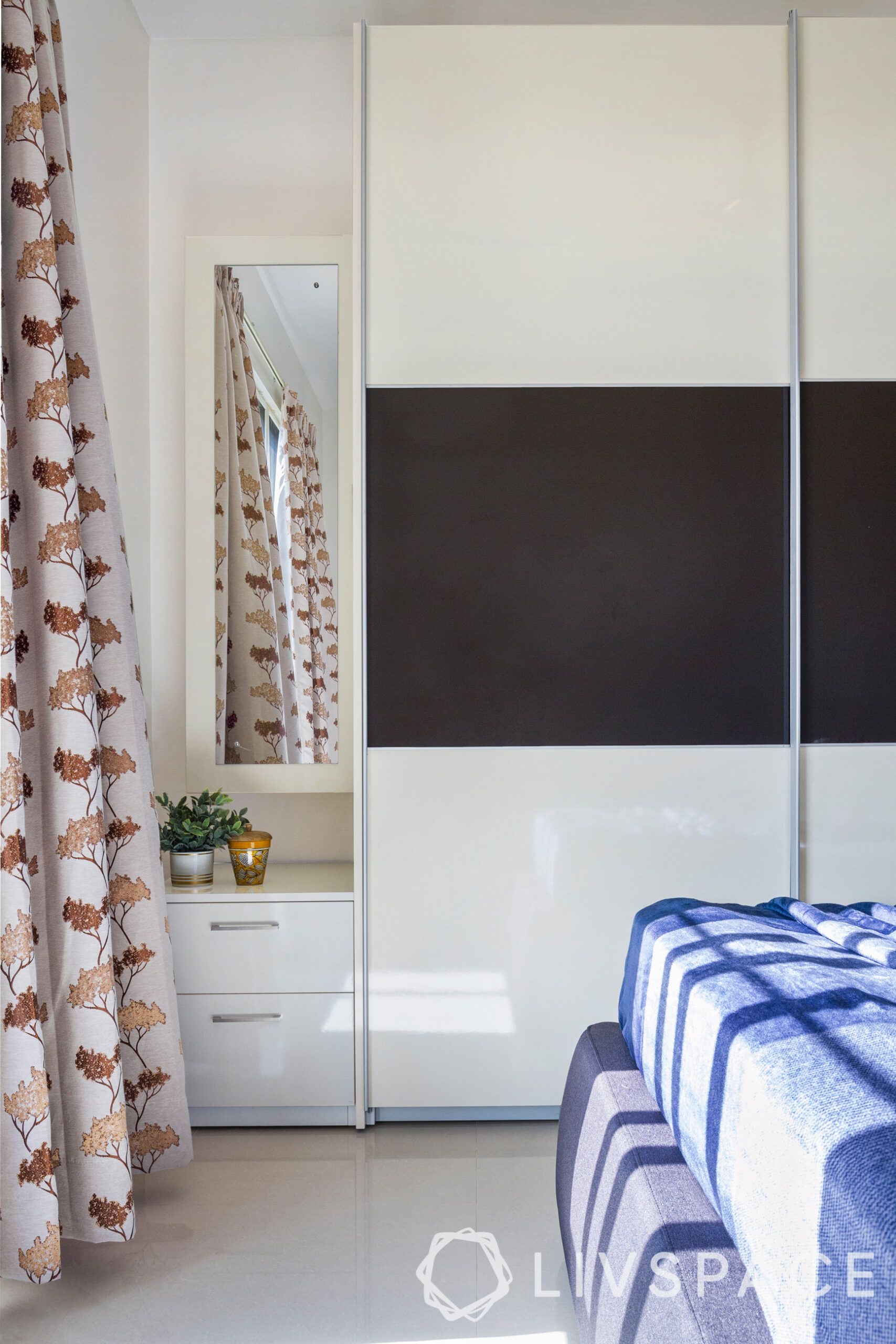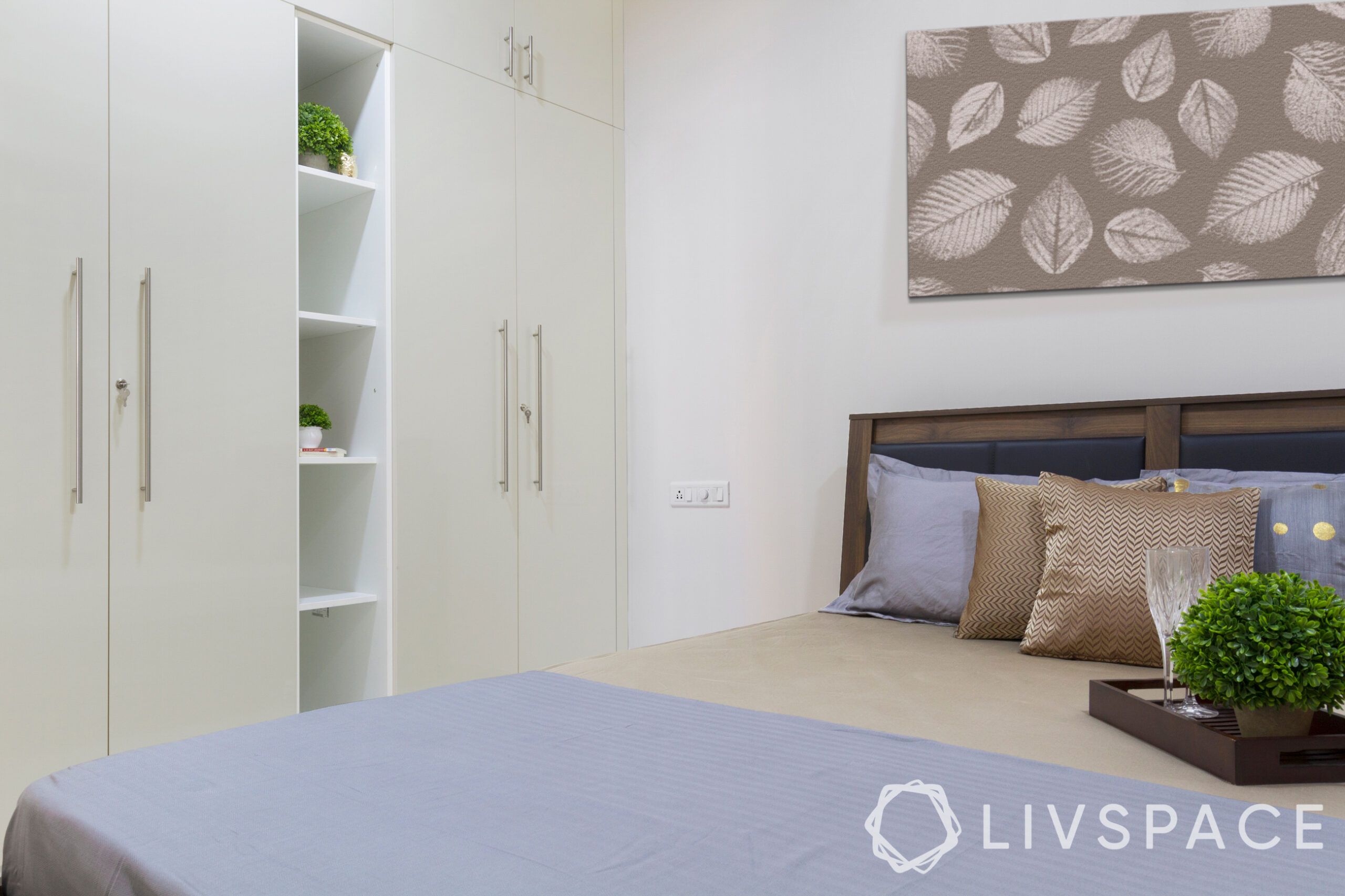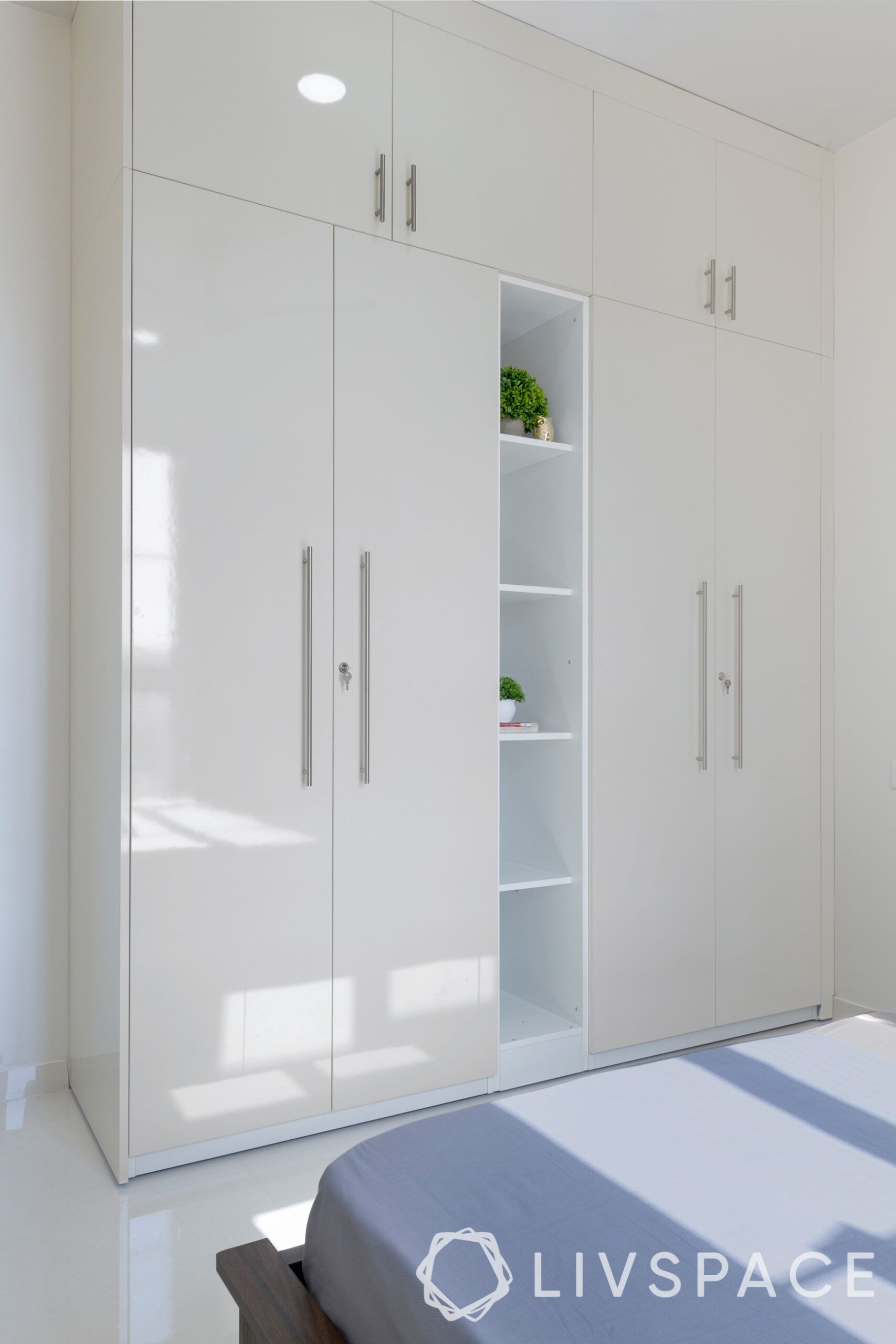 Coming to the wardrobes – they are designed to maximise available space. As you can see, the rooms here are compact and a couple with a toddler tends to have a lot of things to store. Therefore, for the master bedroom, Meljin added a slight design twist with sliding door wardrobes attached to a dresser unit in the corner.
Alternatively, in the parent's room, where the couple's parents come and stay when they are visiting them, Meljin has kept it simple. He has added a simple hinged wardrobe in laminate finish here. Also, he has given lofts on top for maximum space utilisation and open shelves help them keep their daughter's toys here with ease.
In the designer's words
"It was a very enriching experience for me to design this home. I made sure that I took care of each and every requirement that Priya and Suresh had. Especially since there's a toddler involved here, I did not want to miss out on anything. The designs were finalised at one go and I could give them solutions that they were looking for. Also, I built a great rapport with them and it is great to see the final outcome!"

– Meljin Mano, Interior Designer, Livspace
If you enjoyed reading about these interiors in Chennai, you might want to take a look at another amazing renovation we carried out in the city: Couple Gets Bedroom & Bathroom Revamp Done Ahead of Nuptials.
Send in your comments and suggestions to editor@livspace.com.