An on-point designed Prateek Stylome flat!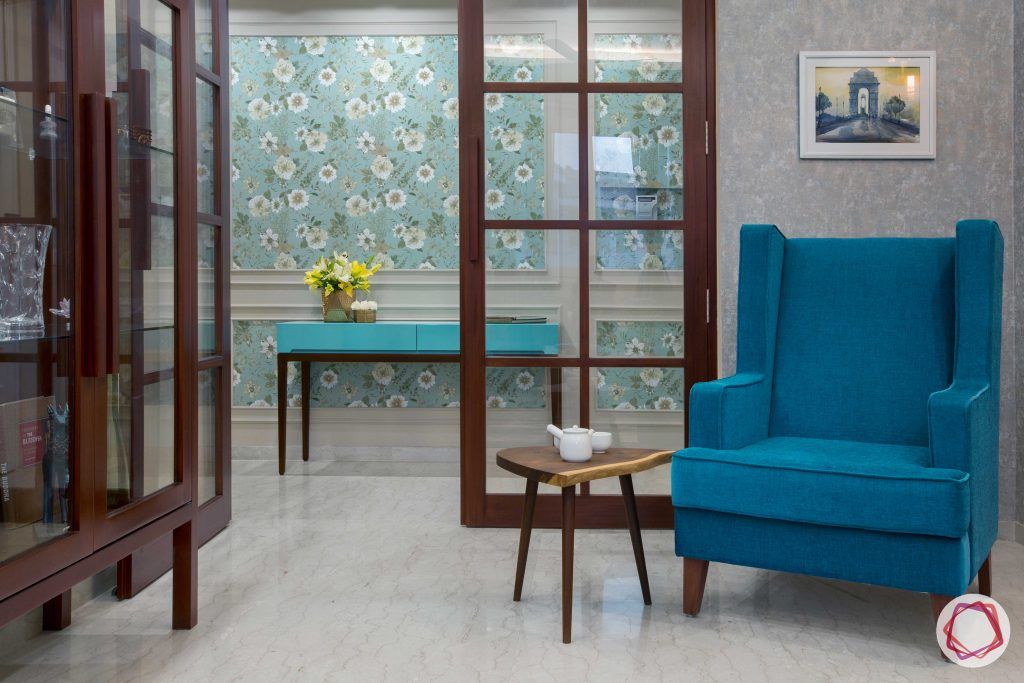 ---
Who livs here: Mini Kohli, her husband Sandip Sengupta, and her father
Location: Prateek Stylome, Sector-45, Noida
Size of home: 3BHK spanning 2,500 sq ft
Design team: Interior designer Amar Sidhu and Project Manager Sandeep Jain
Livspace service: Full home design
Budget: ₹₹₹₹₹
---
A home should be where you feel your best. A place where you can kickback, dive into your creative nook, and host friends without any hassle. That's what Mini Kohli and her husband Sandip Sengupta believe in. They pictured dreamy and comfy interiors for their swanky new flat at Prateek Stylome, Noida. So when they saw our ad passing through the DND flyway, they were curious to know more.
The recently turned entrepreneur-duo met with our designer Amar Sidhu and knew right away their dream home could turn into a reality! The brief was simple: an elegant home in a soothing palette with solid wood elements since the family can't get enough of this old world charm material.
Take a look at how Amar turned this home into a beautiful loft with personality and several statement pieces. Let's step right in!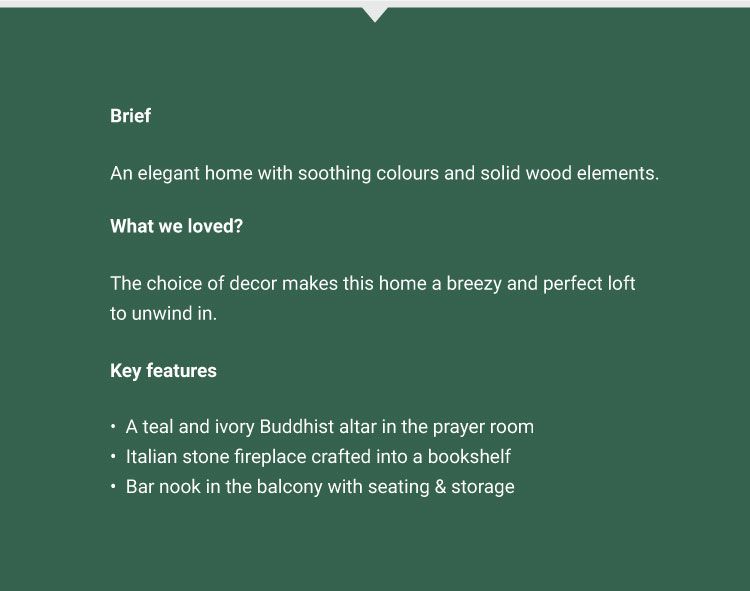 A Classy Entrance at Prateek Stylome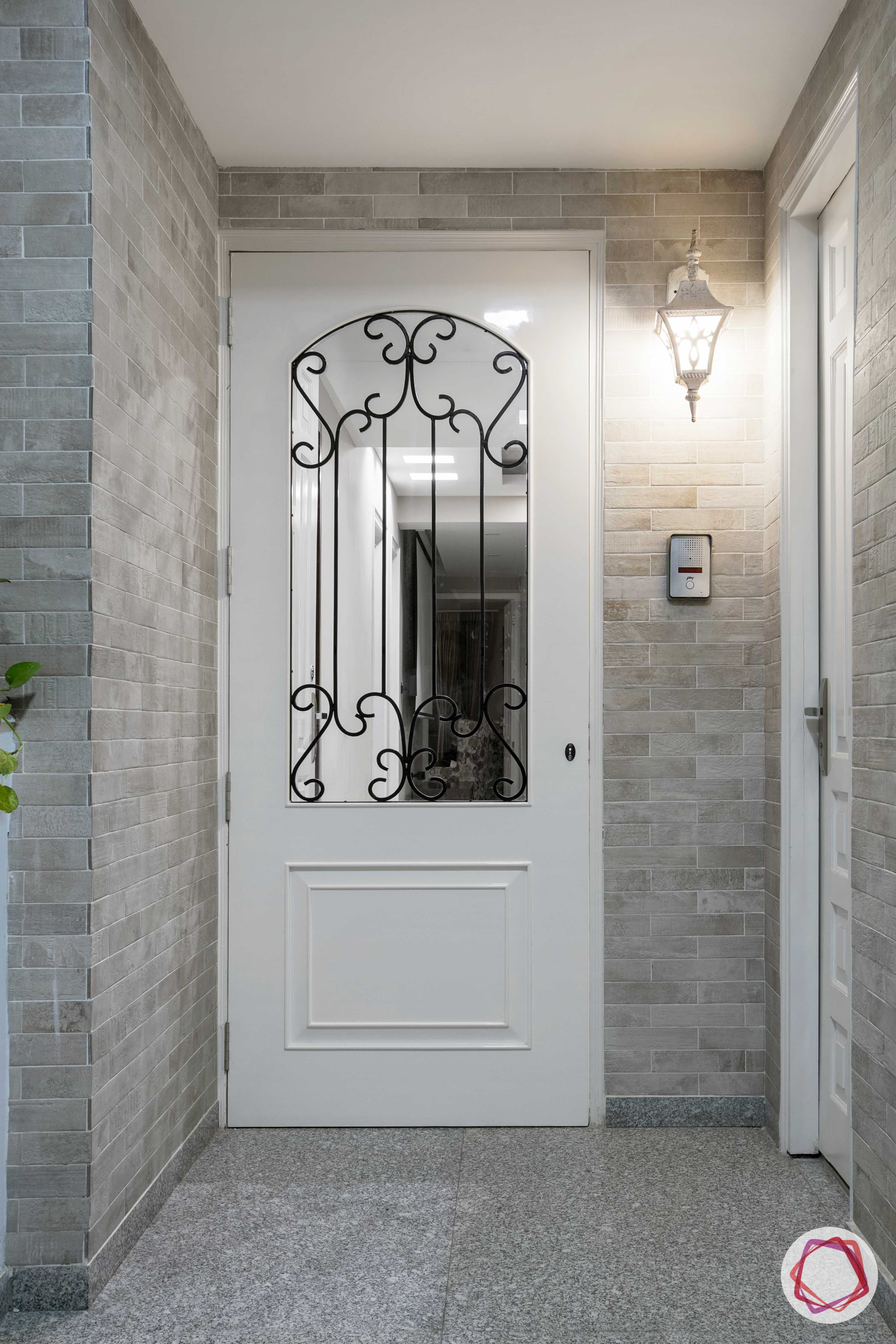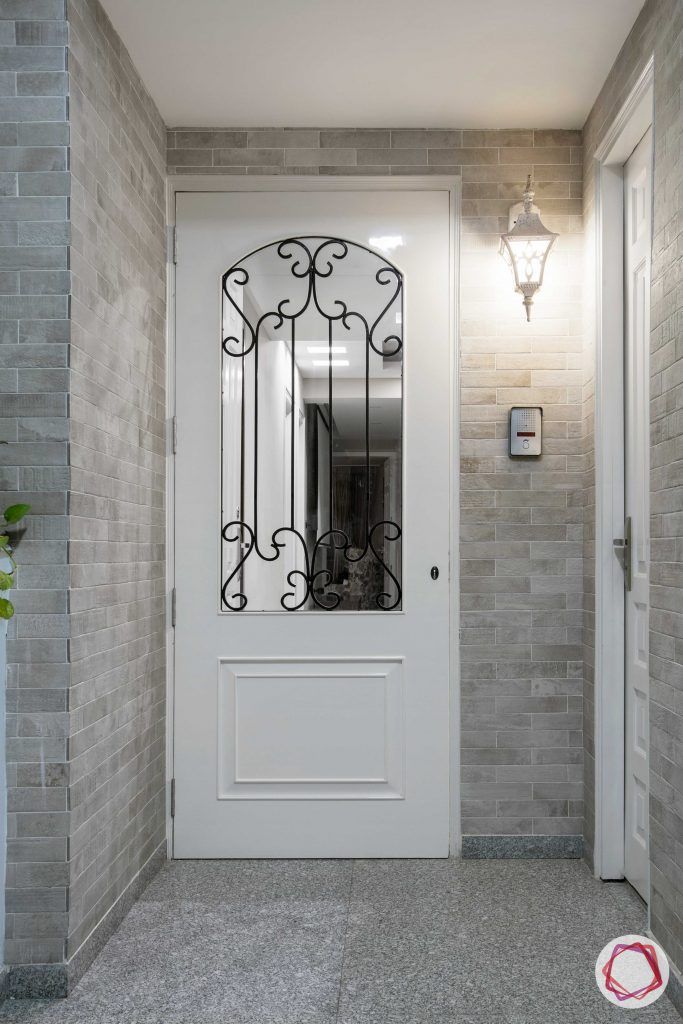 An entrance needs to make a statement. The white English door for the main entrance here does just that! It works well with the grey brick walls and neutral flooring. The Victorian lamp elevates the space with warmth.
A Breath of Fresh Air at Prateek Stylome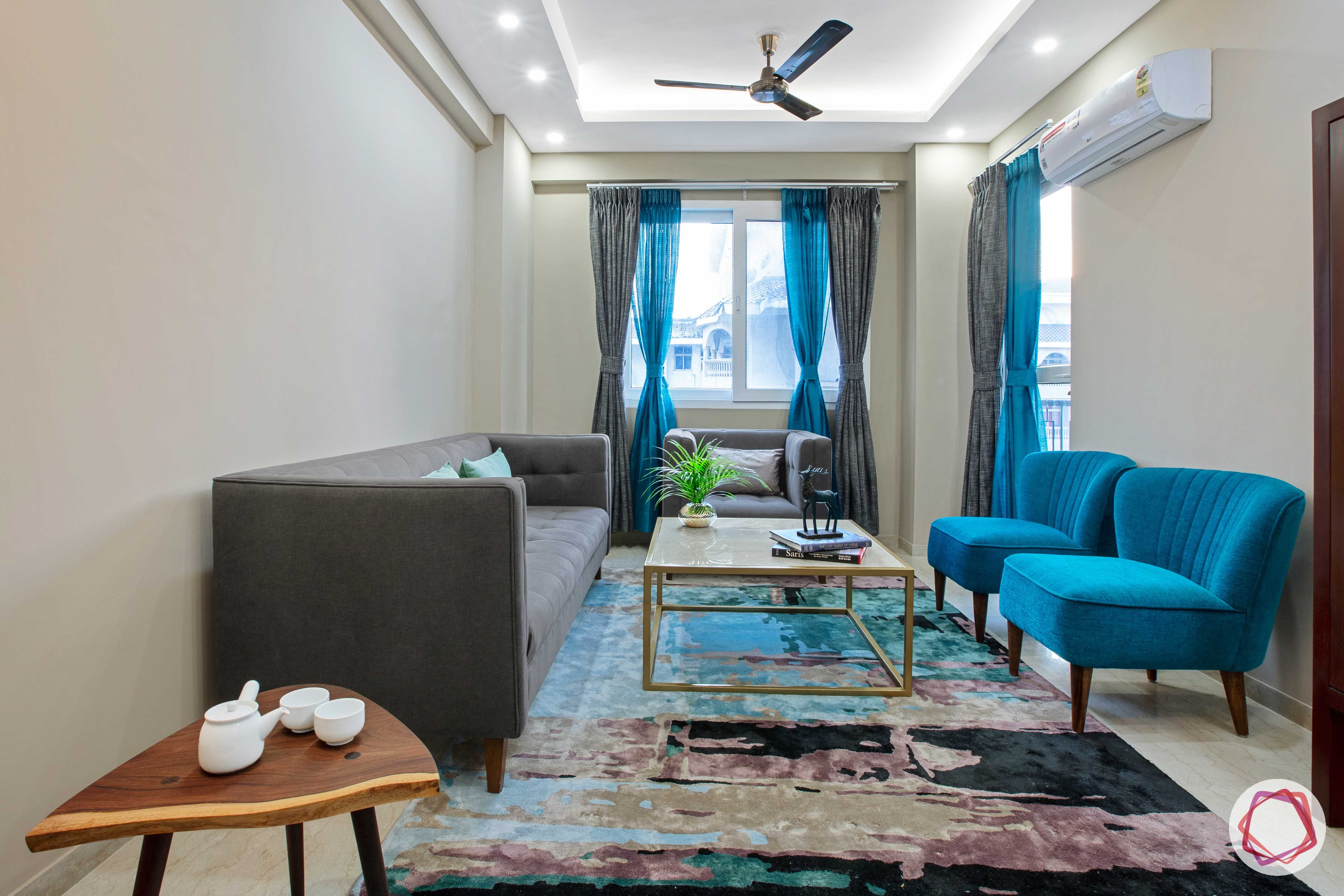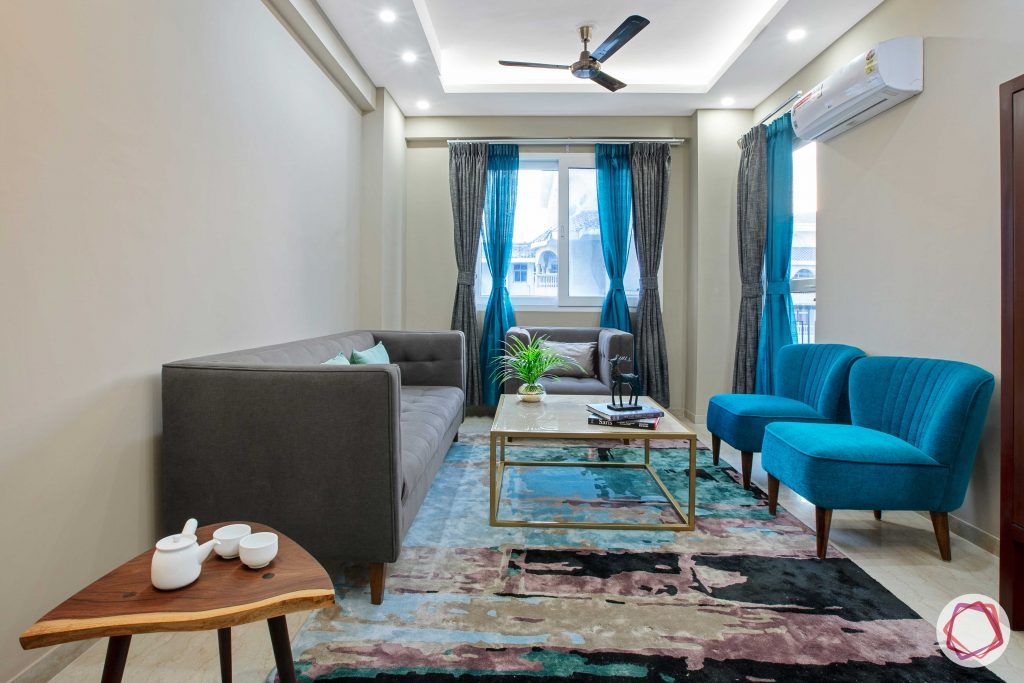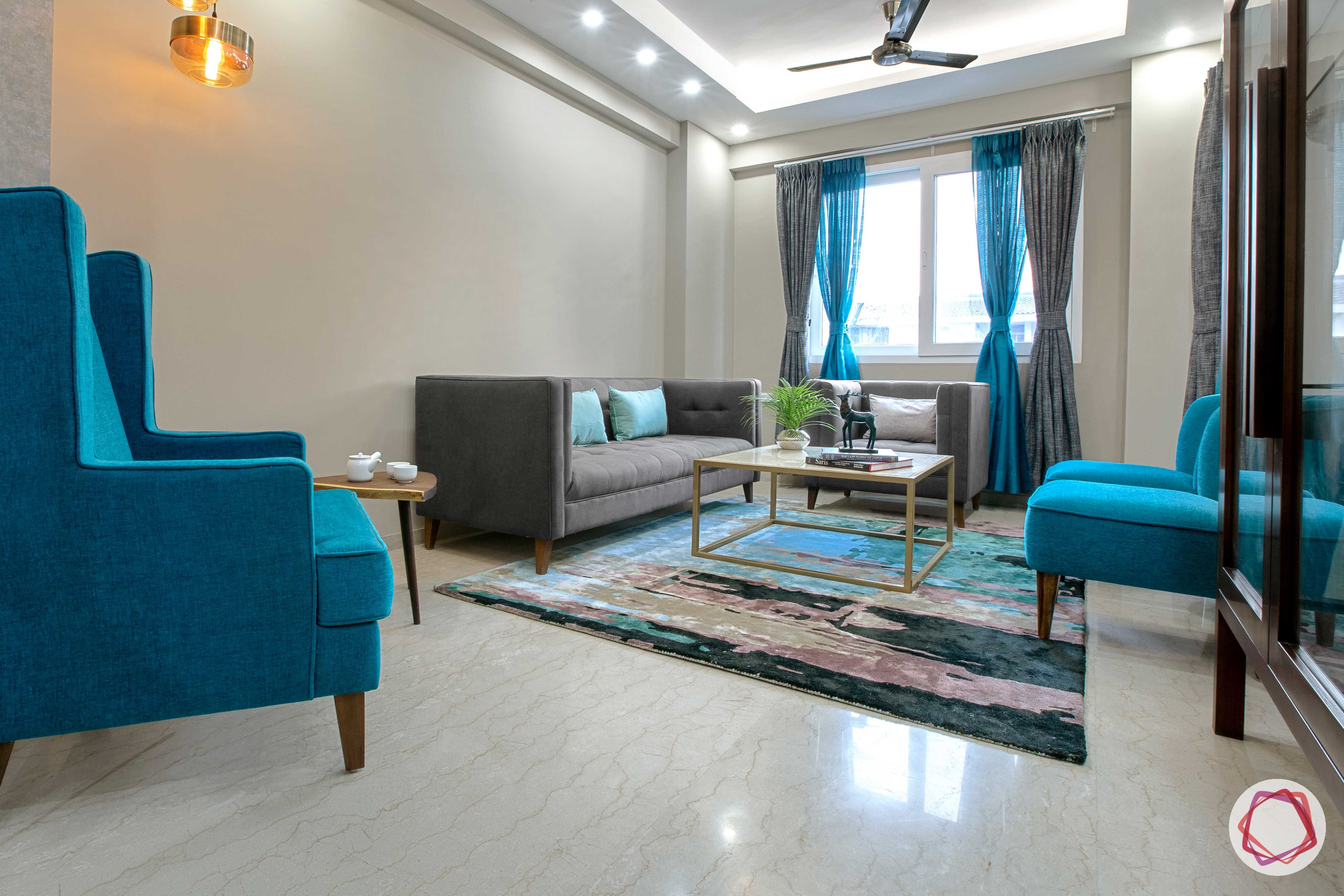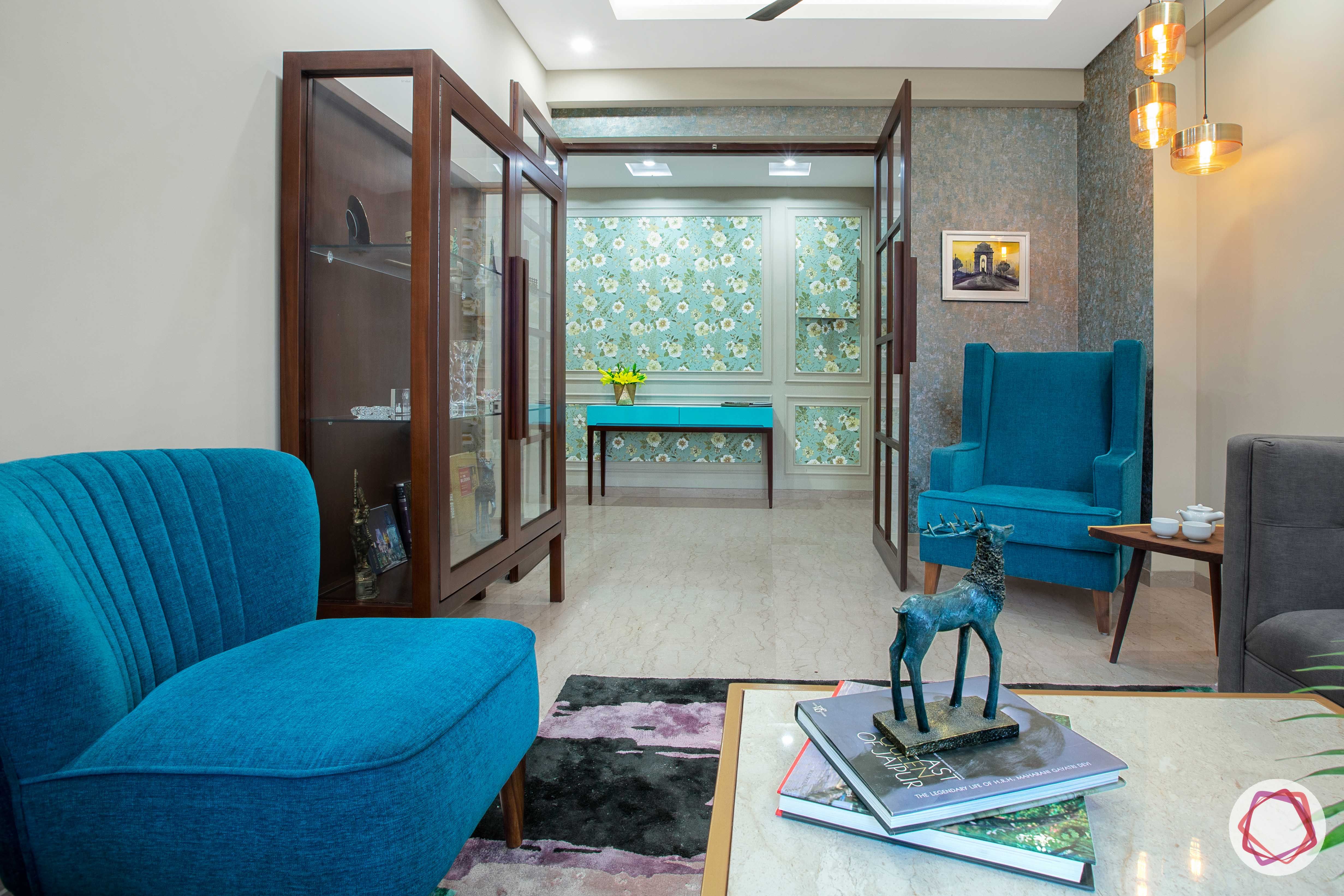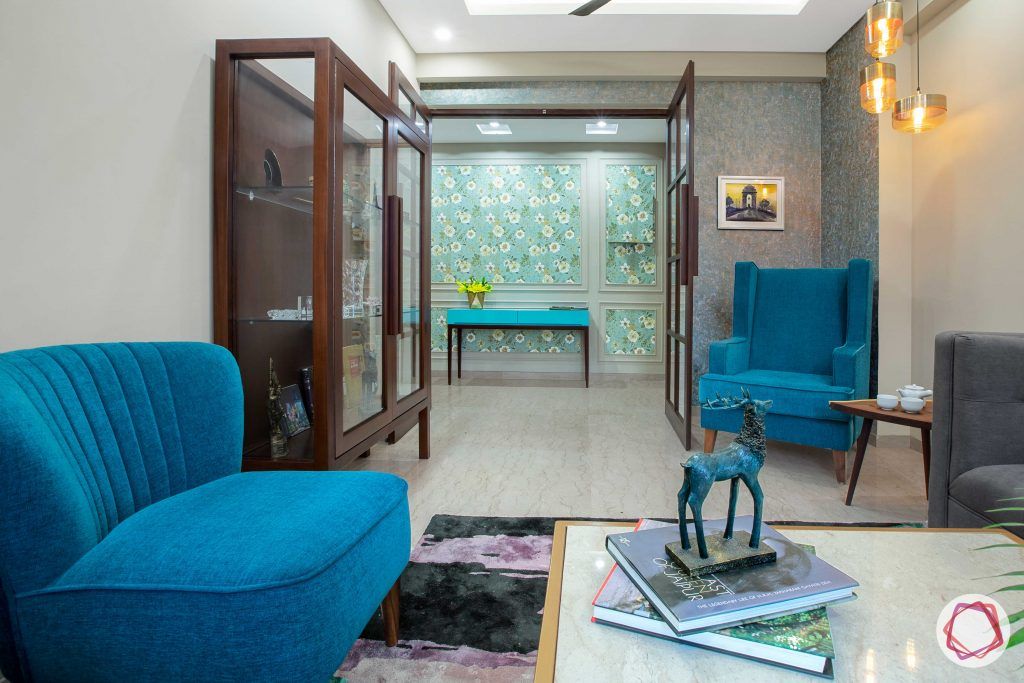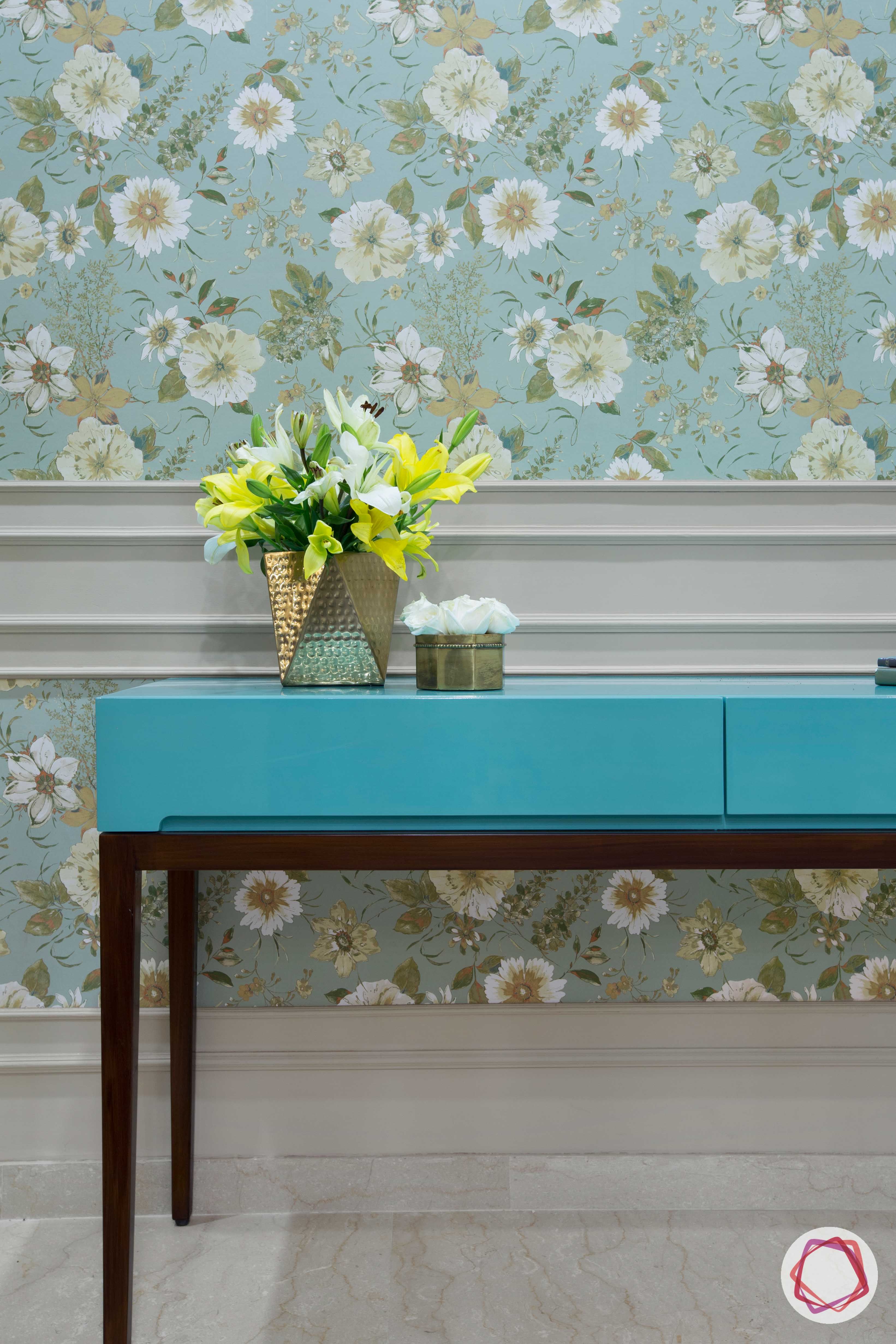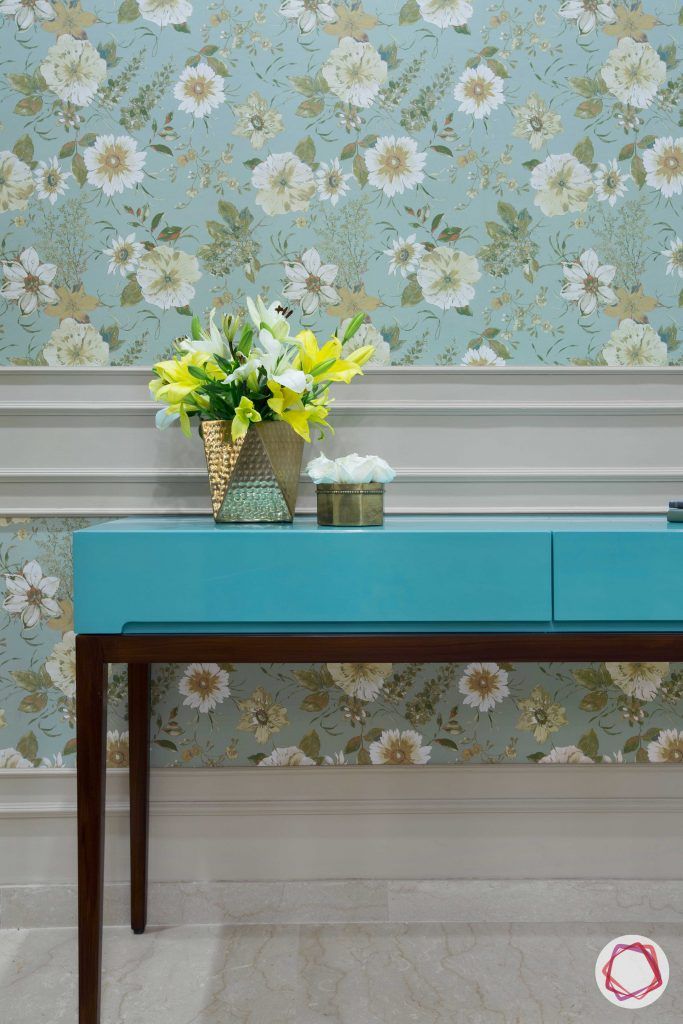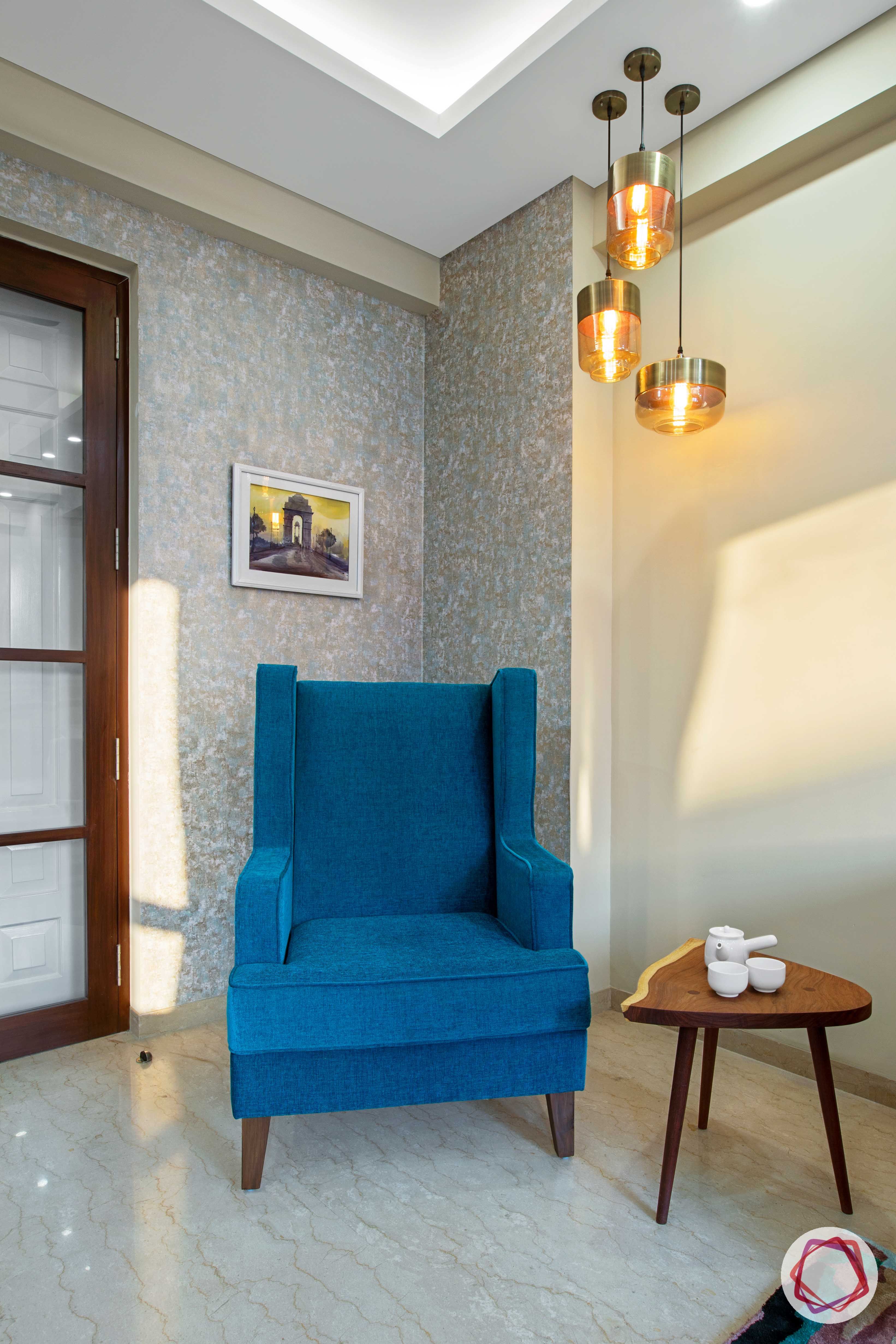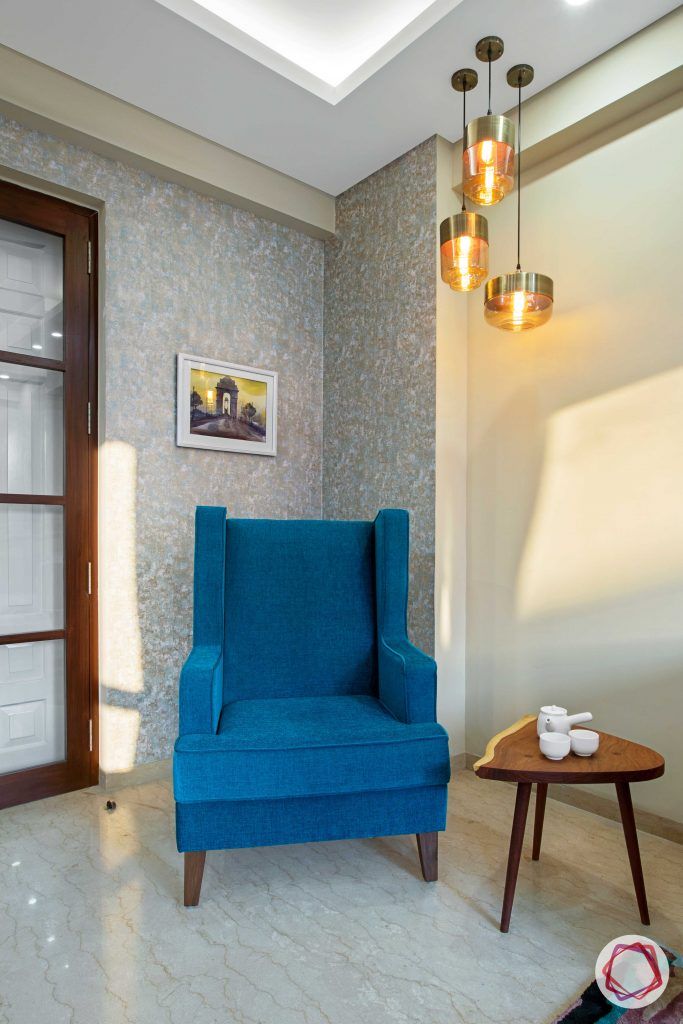 When entering the home, the passage will be the first to captivate your attention. The walls feature a beautiful floral wallpaper and white trims. It matches with the sleek console table in teal duco paint. Because the couple wanted to separate the foyer from the living room,
Amar put in elegant wooden glass doors.
Since the family love to host their relatives and friends, two living rooms was the perfect decision for more space. For the formal living space, Amar picked soothing colours and lots of wooden elements. The vibrant teal sofas are in harmony with the splash of grey hues all around it. For a hint of bling, the centre table has been done up in Italian stone with gold-toned frames.
We love the private nook in the corner of the room with a teal accent chair, pendant lights and subtle wallpaper that runs behind it. Right beside it, you would notice a classy cabinet done up with glass shutters, solid wood and glass shelves. This is to keep artefacts and books.
A Relaxing Entertainment Room at Prateek Stylome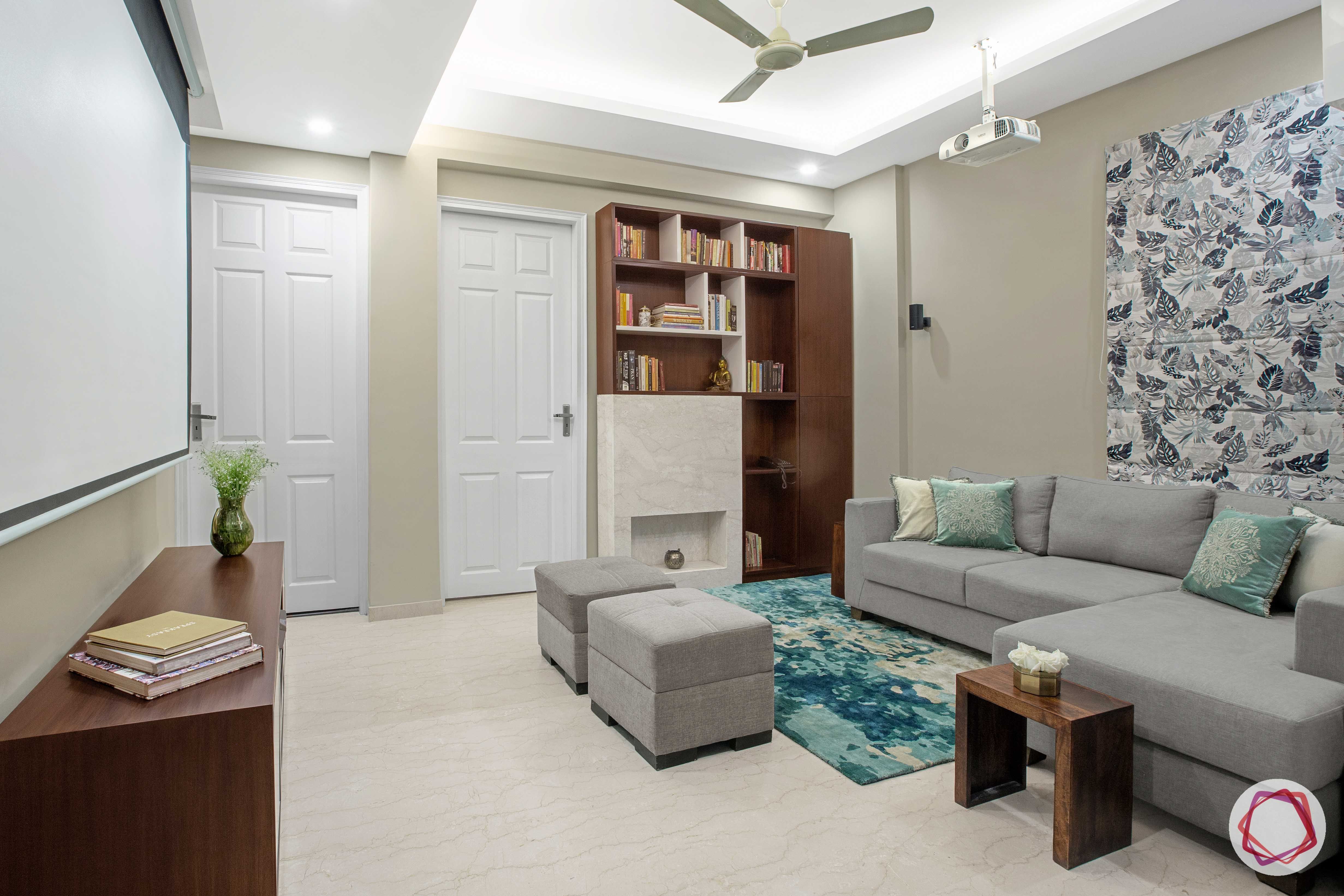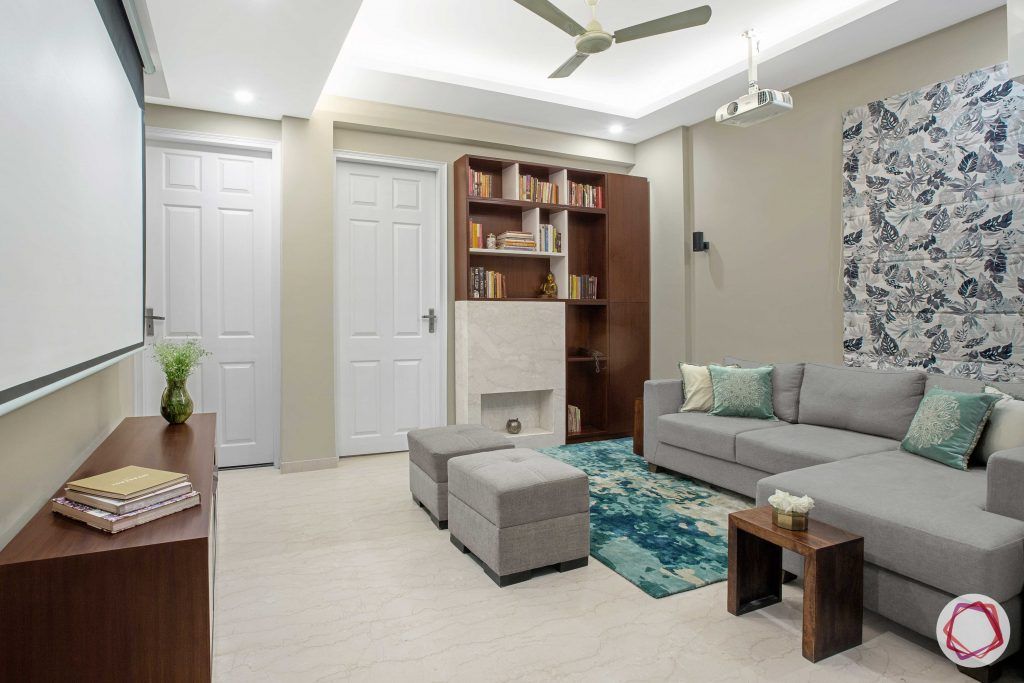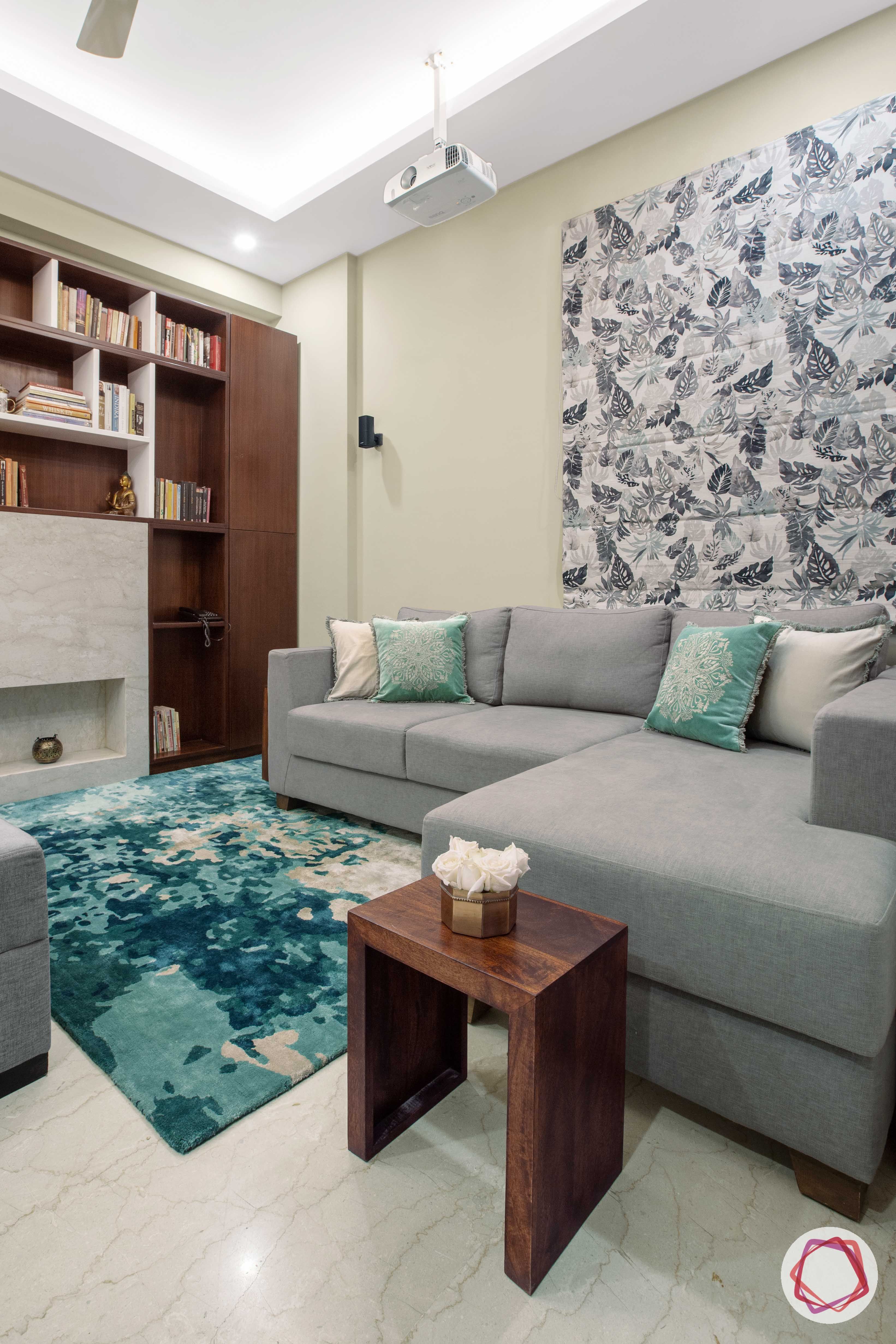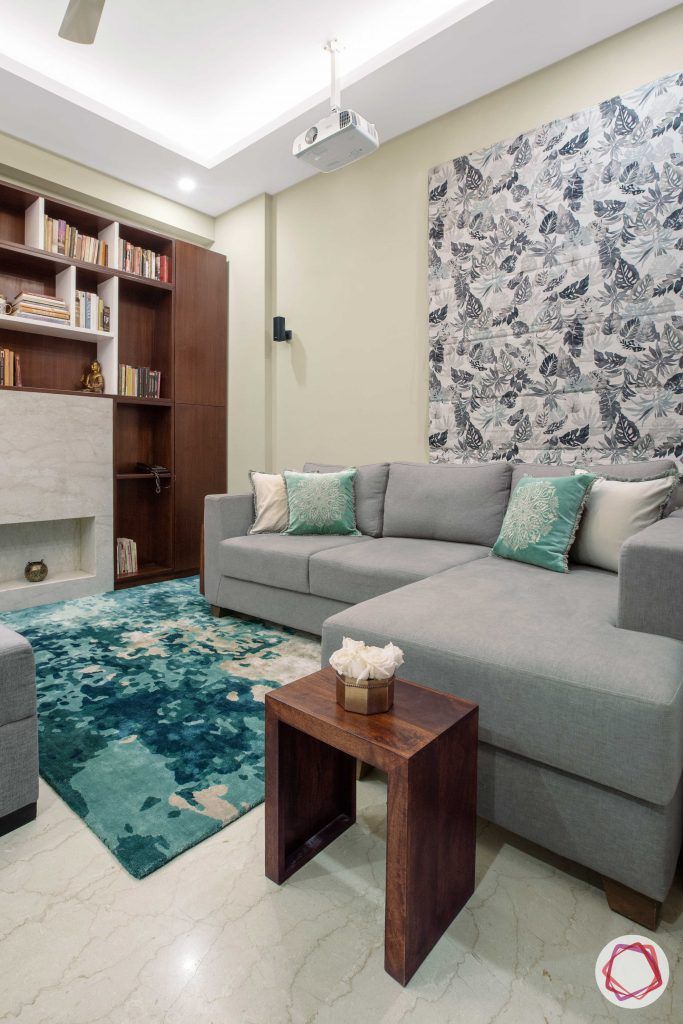 If you love unwinding spaces, the second living room that doubles as an entertainment zone is sure to give you goals. With a comfy grey L-seater and ottomans, this room looks cozy and perfect for some downtime. Beside the seating, Amar crafted an elaborate bookshelf in solid wood. If you look at its base, you can't miss the plush fireplace crafted out of Italian stone. Indeed a classy addition to the space!
Since the family required a projector wall, Amar kept one side of the wall bare and placed a minimal wooden TV unit to stash their essentials.
A Blissful Prayer Room at Prateek Stylome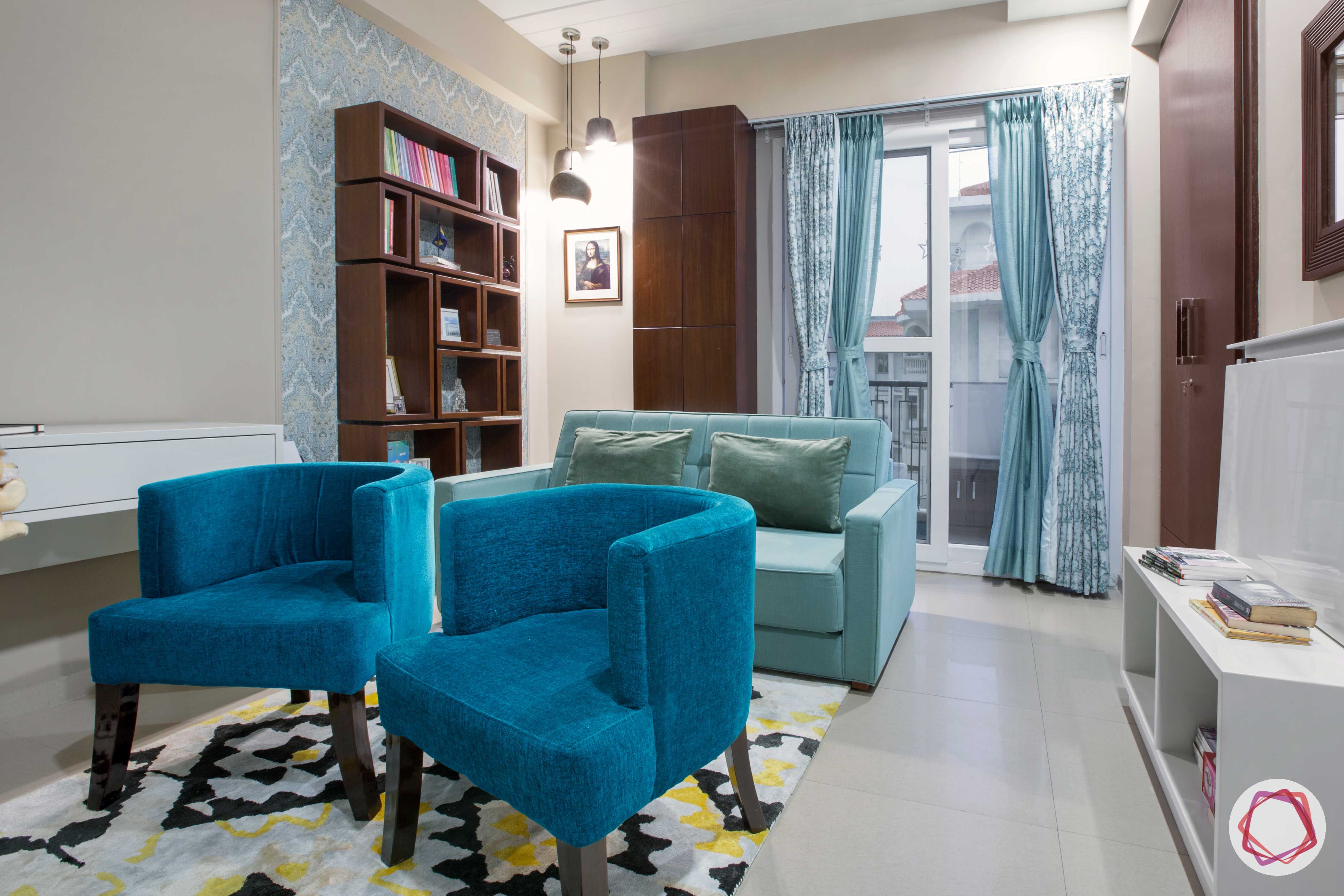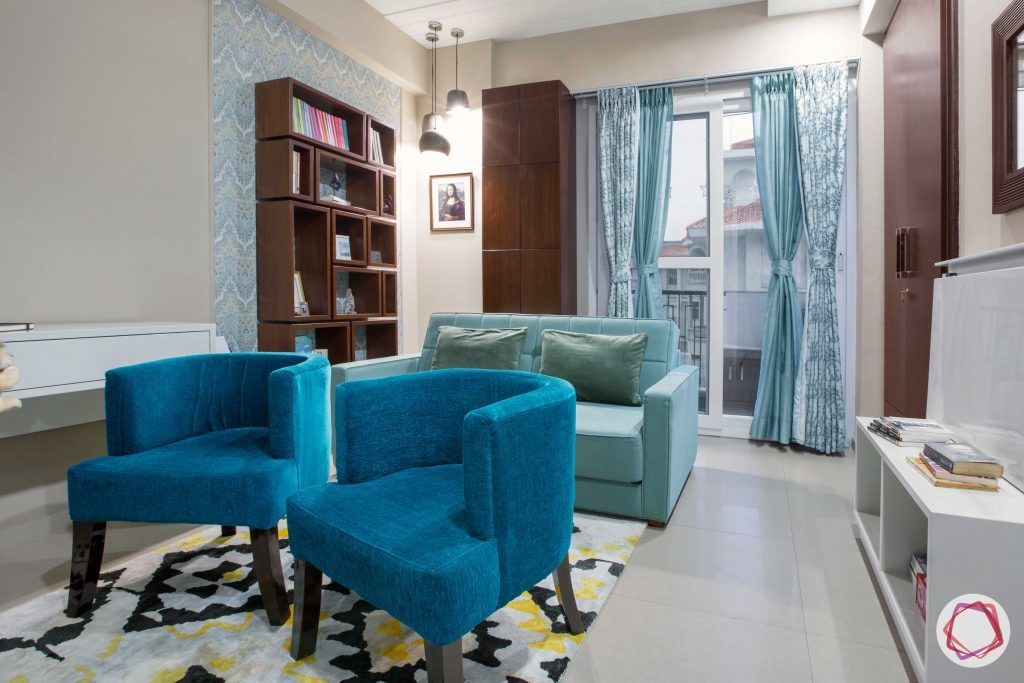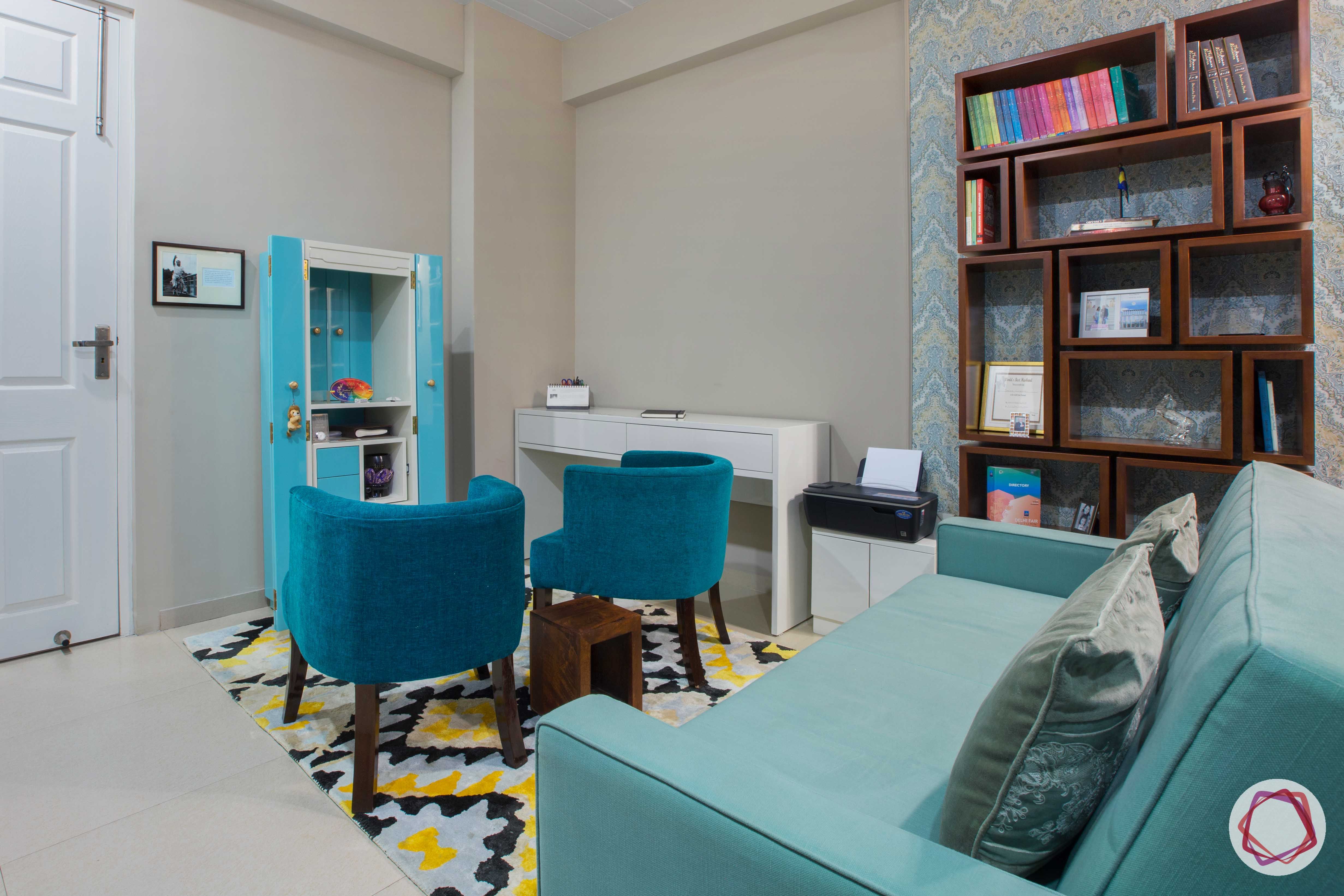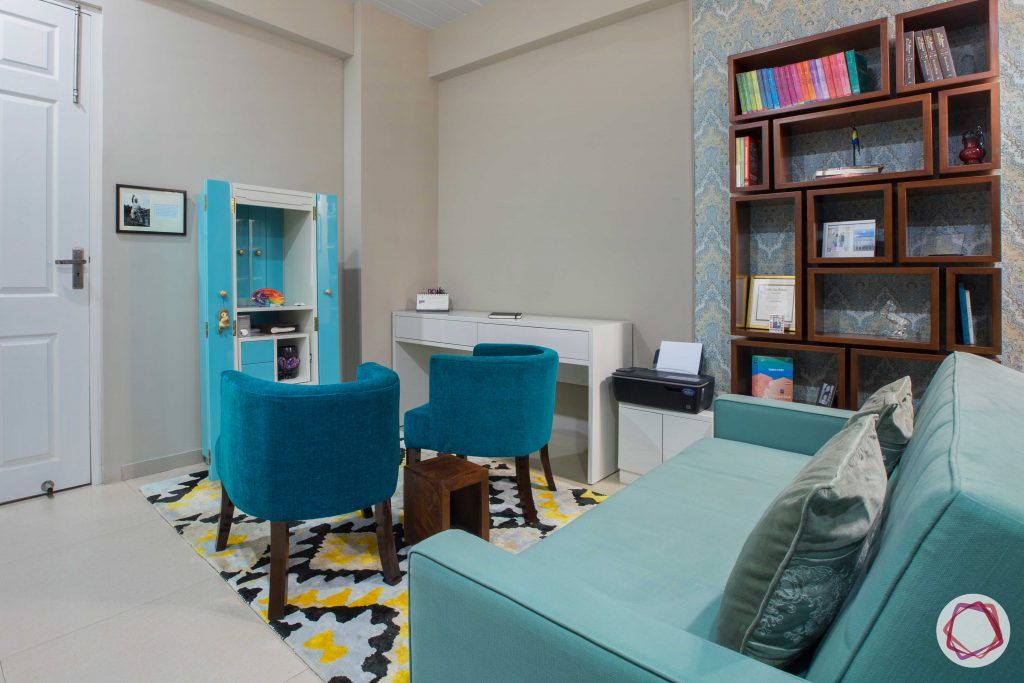 Since the family follows Buddhism, they wanted a special room where they could sit and chant with their friends. As a result, Amar converted one of the bedrooms into a prayer room. used soothing hues of teal, white and wood for this room. A sofa-cum-bed in pastel blue and two tub armchairs in royal blue offer comfy seating. To accommodate more people, a soft rug with tribal prints makes a perfect fix.
All the seating in the room face the beautifully designed teal and ivory butsudan, a Buddhist altar found commonly in traditional Japanese homes. The family had specific requirements for the altar and when on vacation to Japan, they discussed the details to Amar during calls. Indeed, the butsudan is a marvel to admire!
A solid wood bookshelf made out of open shelves is the next thing that catches your attention. It stands in front of a subtle blue wallpaper that complements all the elements in the room. If you look towards the balcony, you would notice a tall wooden cabinet. This has ample storage inside it, concealing a bar unit and even a mini fridge!
A Minimal Dining Space at Prateek Stylome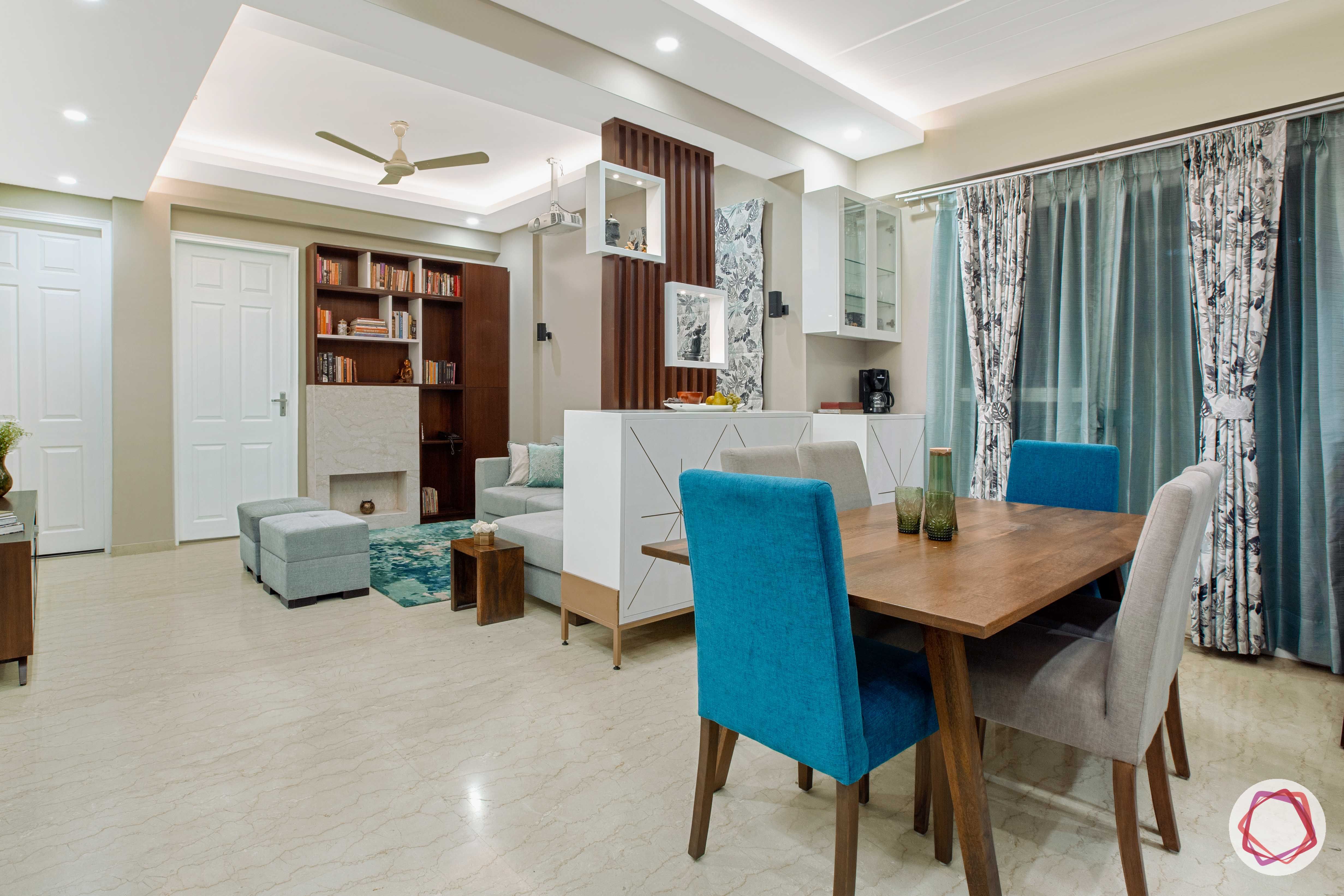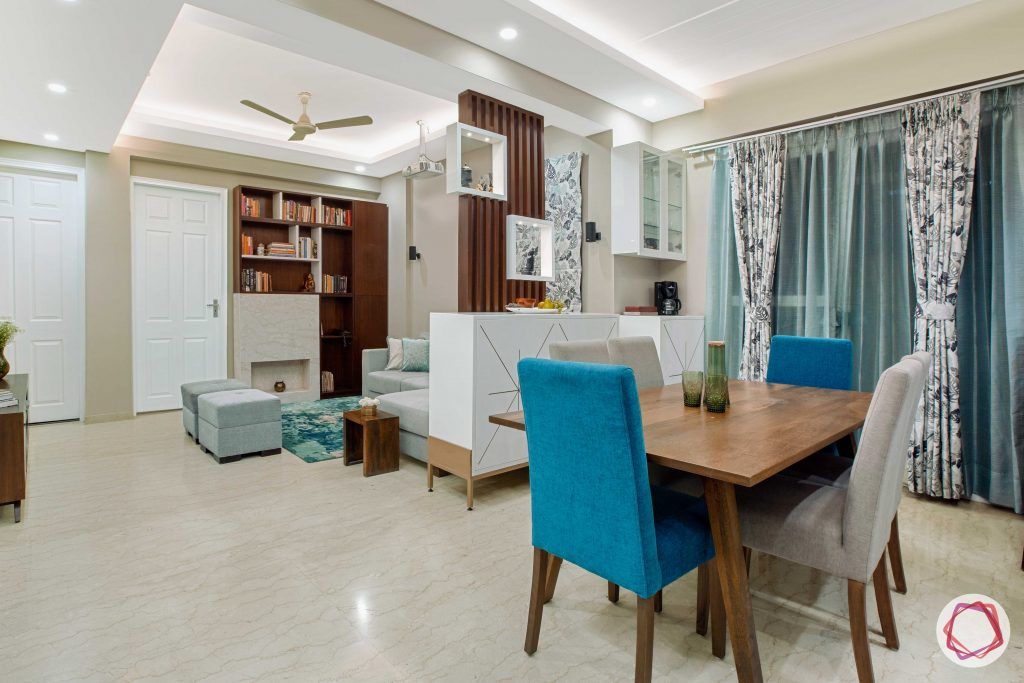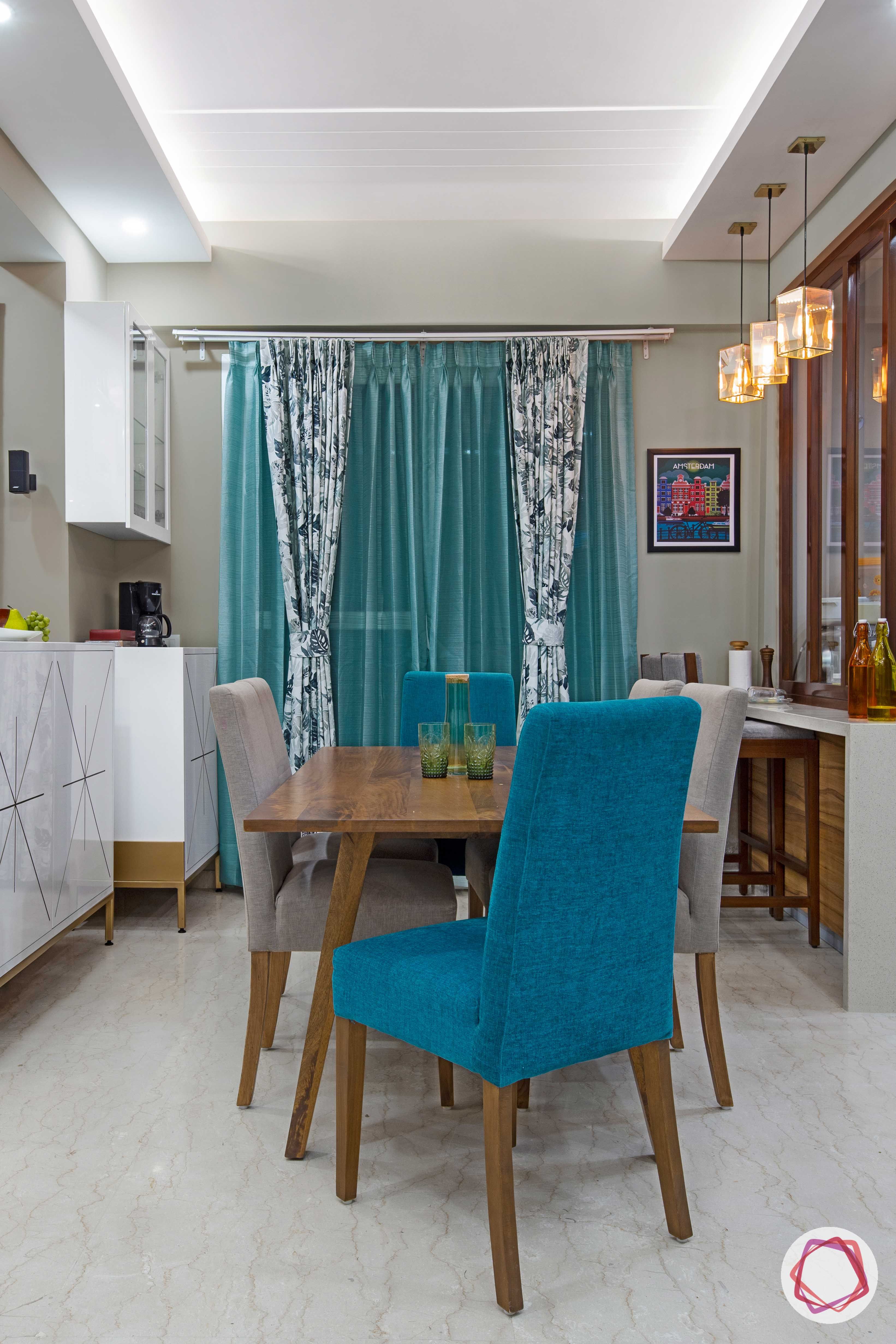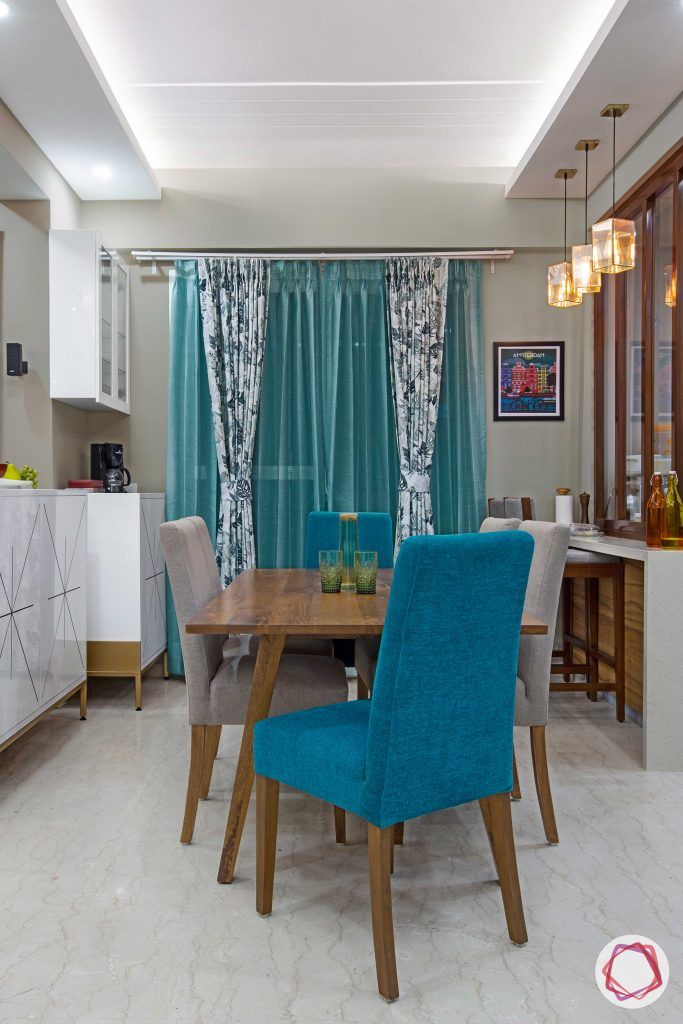 We love how Amar has utilized the open space in front of the kitchen. To serve as a partition between the second living and dining space, he put in a pristine white buffet table with golden strips. He added wooden rafters on top of it to distinguish the areas clearly. Also, he took the unit up a notch by putting open shelves in between the rafters to display artefacts.
The dining room is designed simple with a wooden table and upholstered chairs in both teal and grey.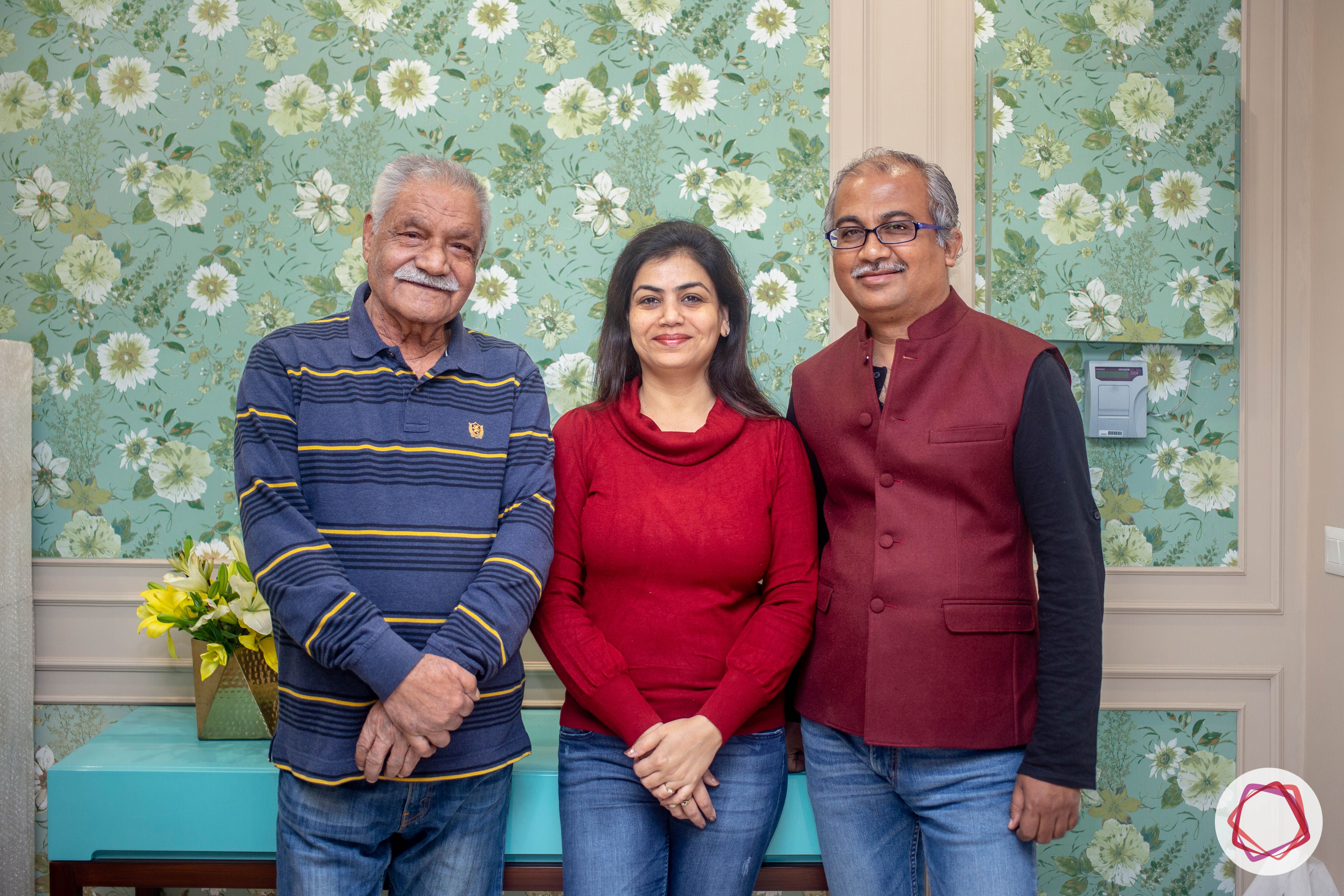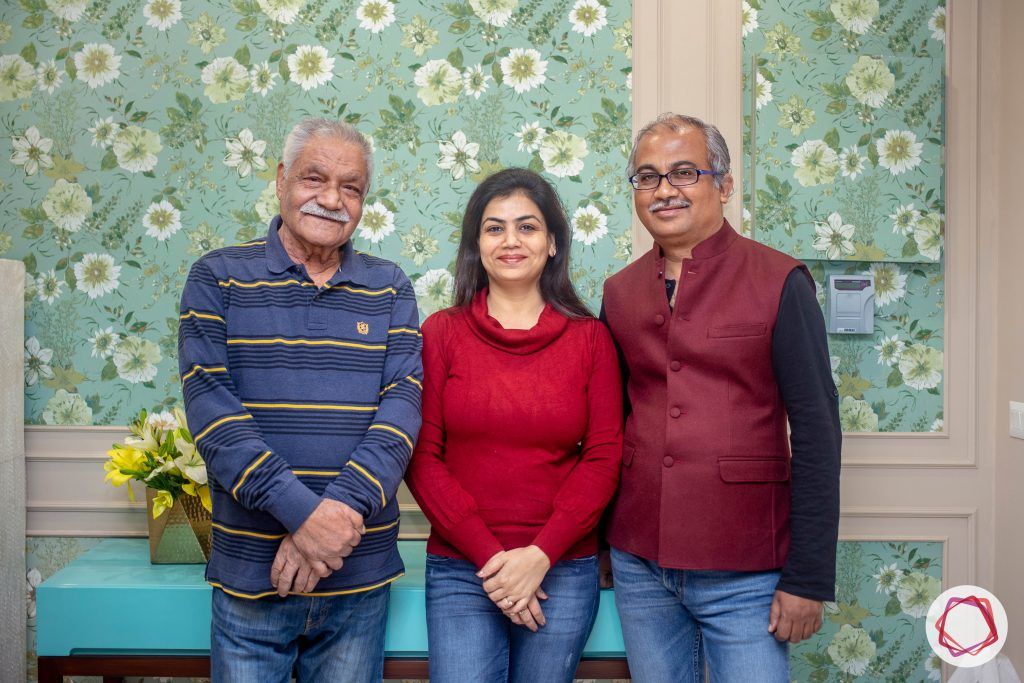 "Our design experience with Livspace was delightful, inspiring, engaging and super fun. At the right places, it allowed us a DIY experience as well. Every corner that is designed has a part of us because we were involved at every stage, thanks to our designer Amar."

– Mini Kohli & Sandip Sengupta, Livspace Homeowners
A Radiant Kitchen at Prateek Stylome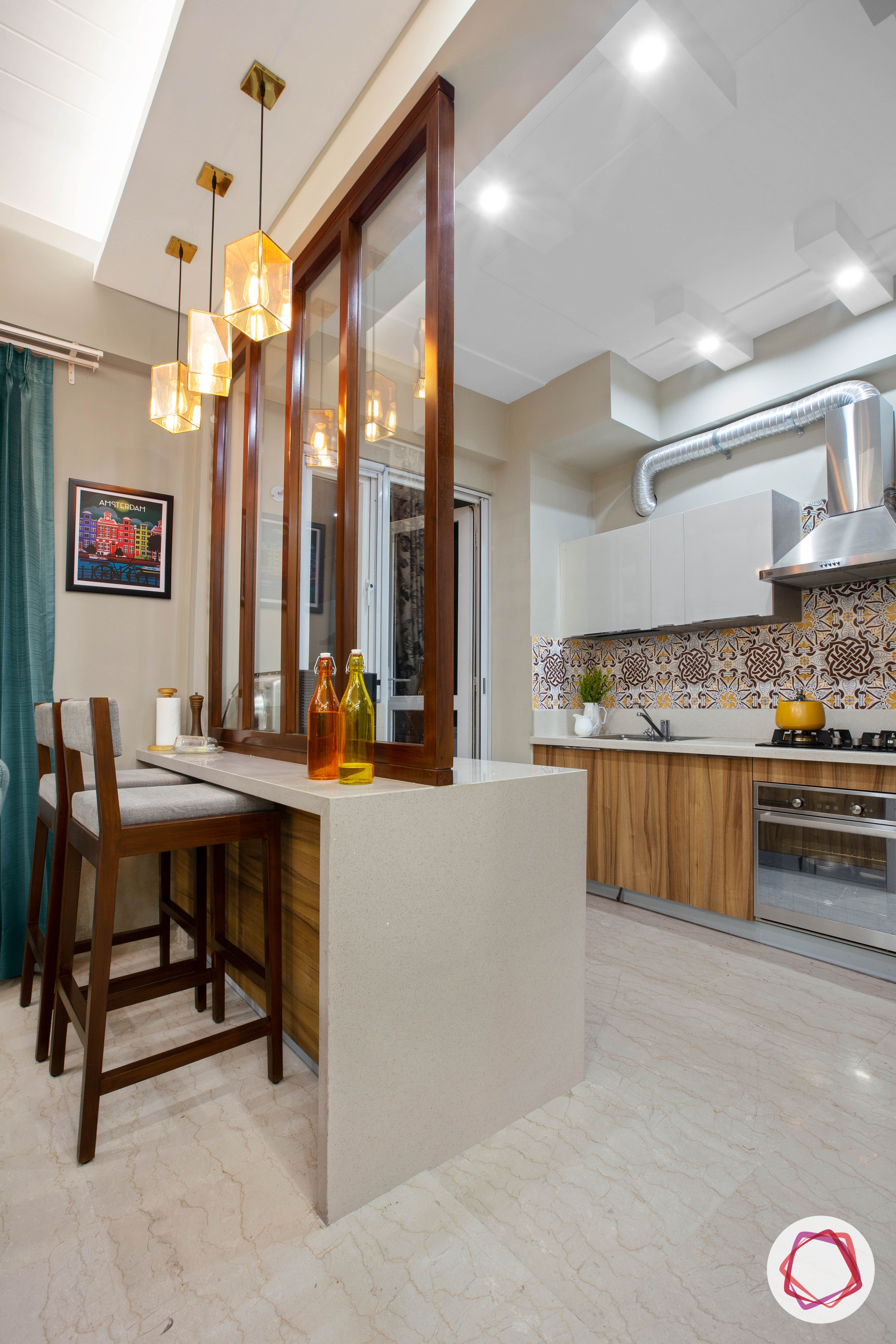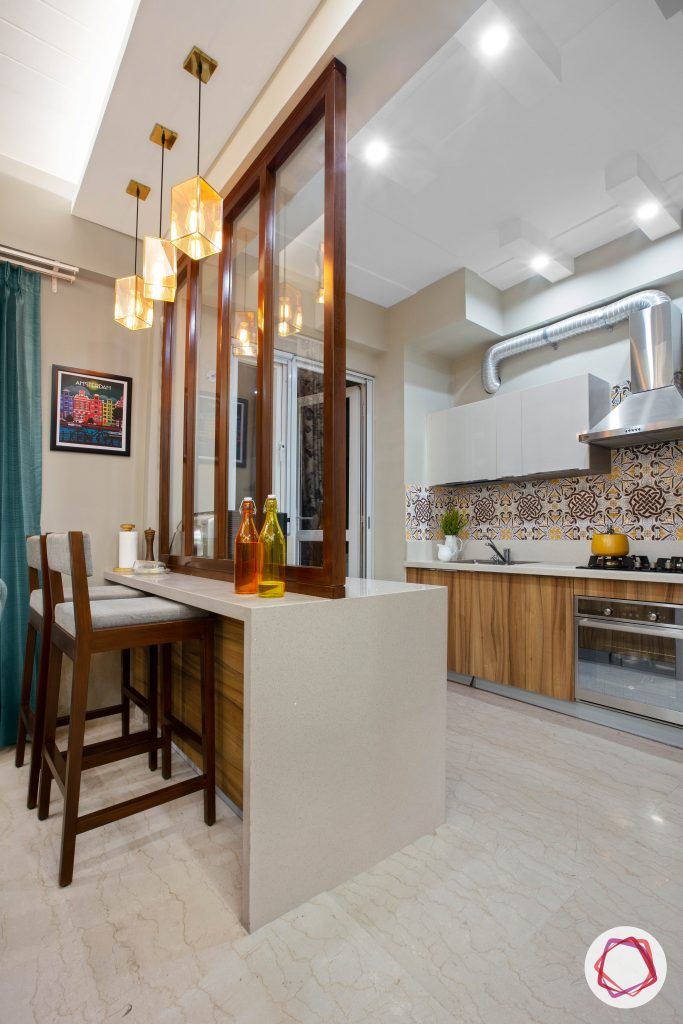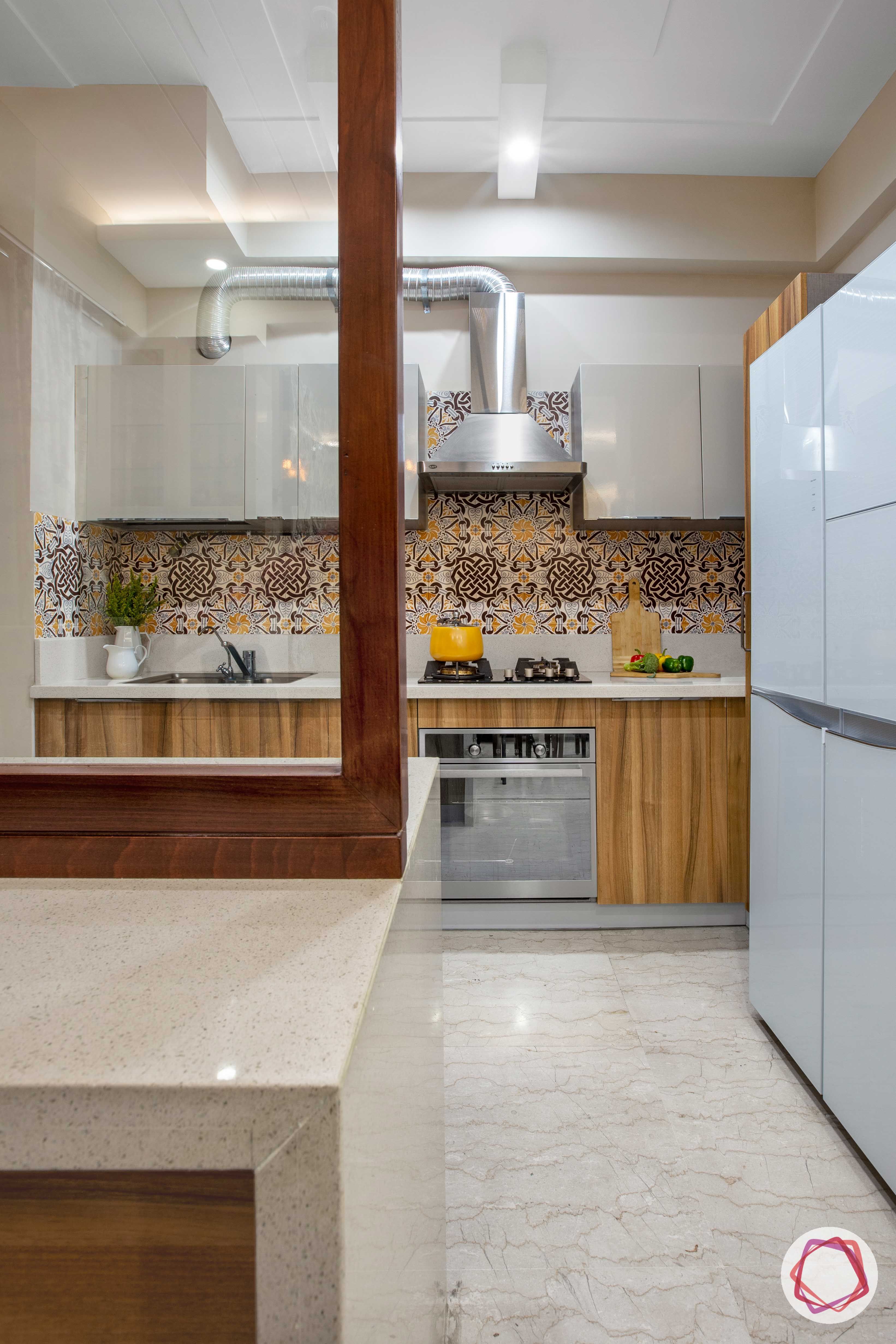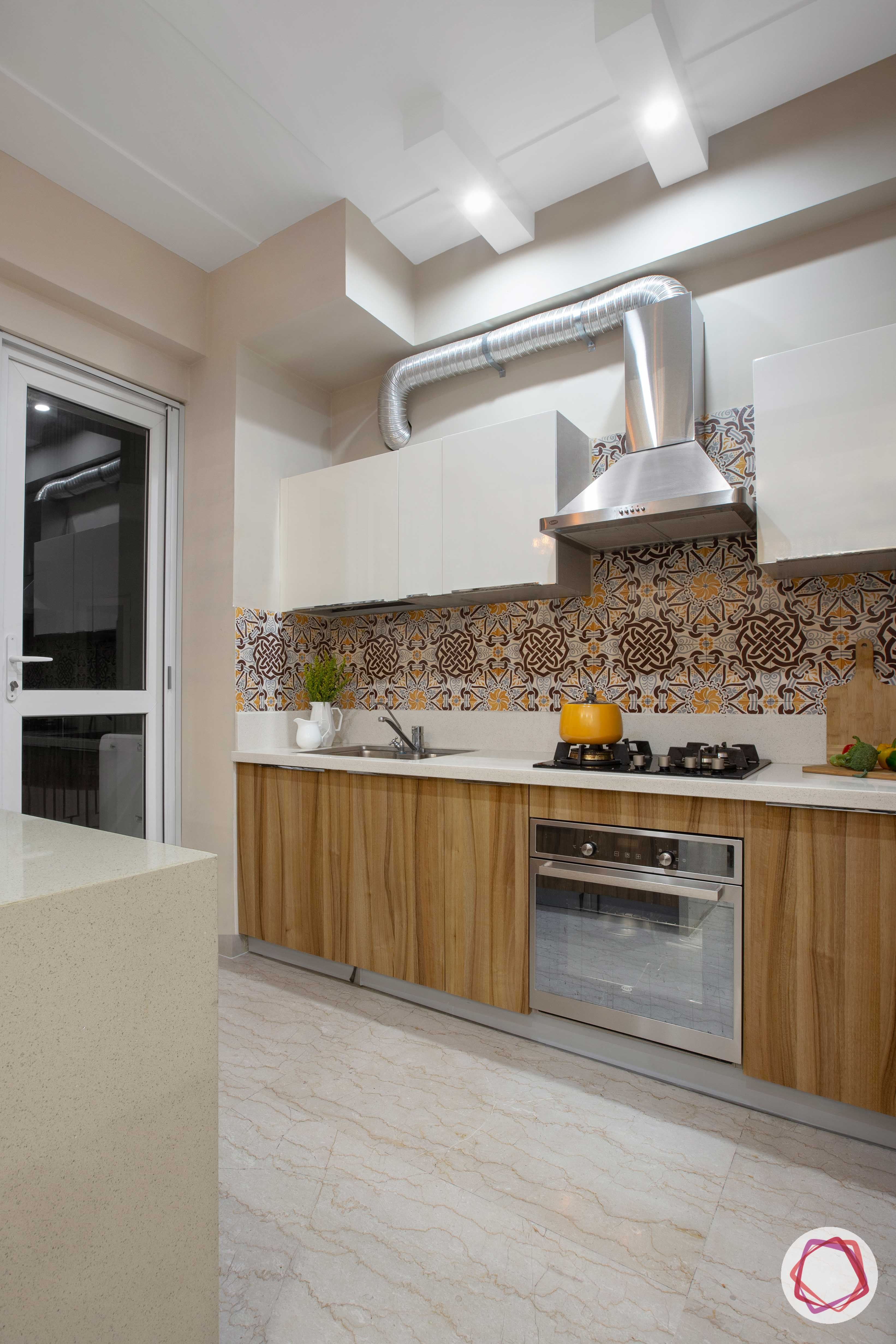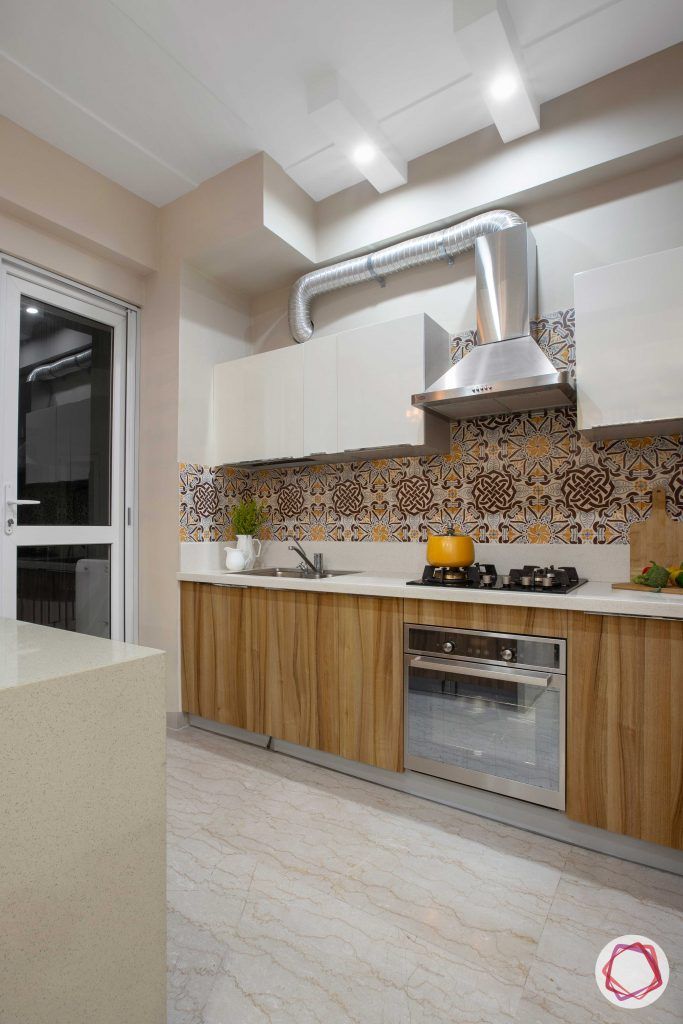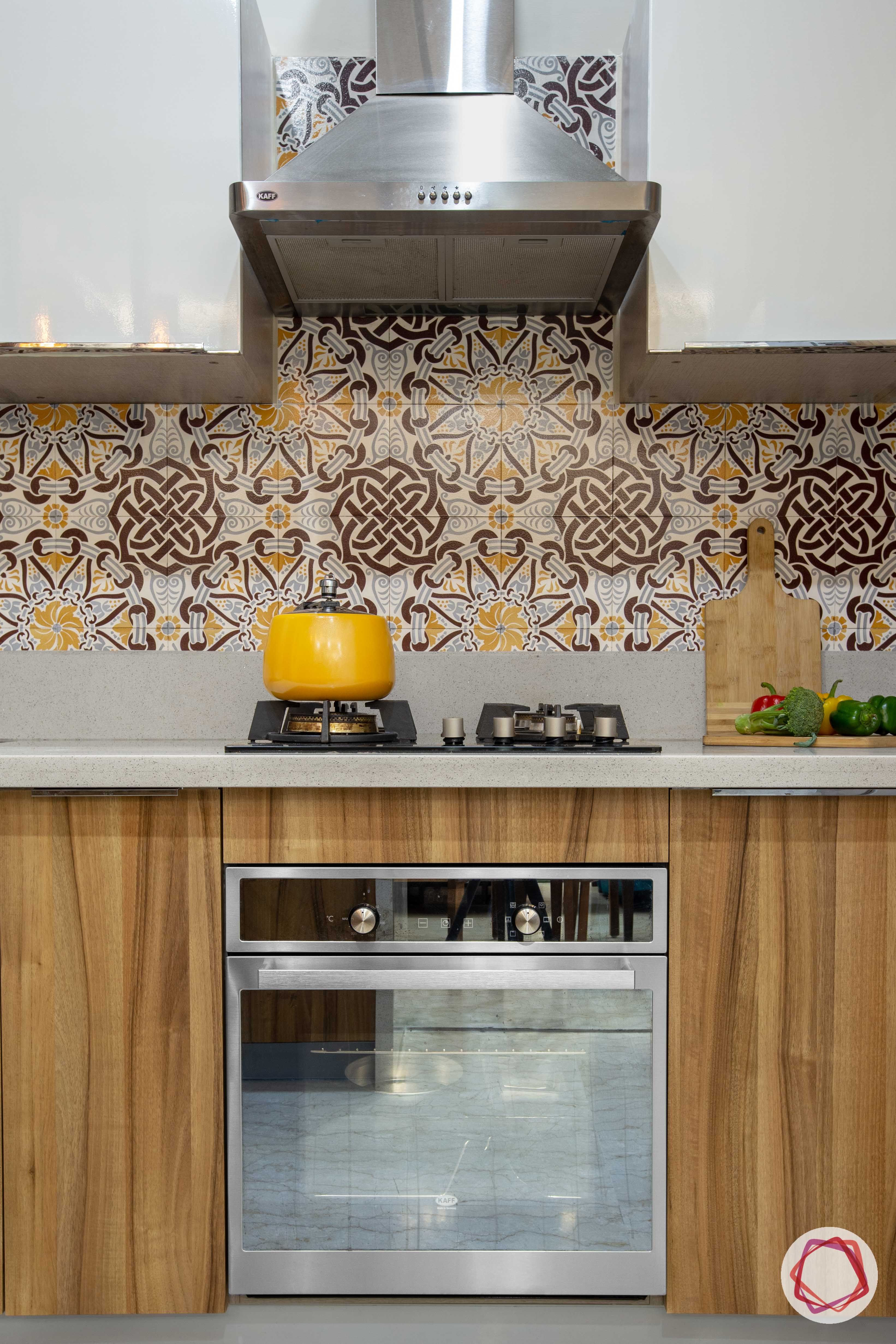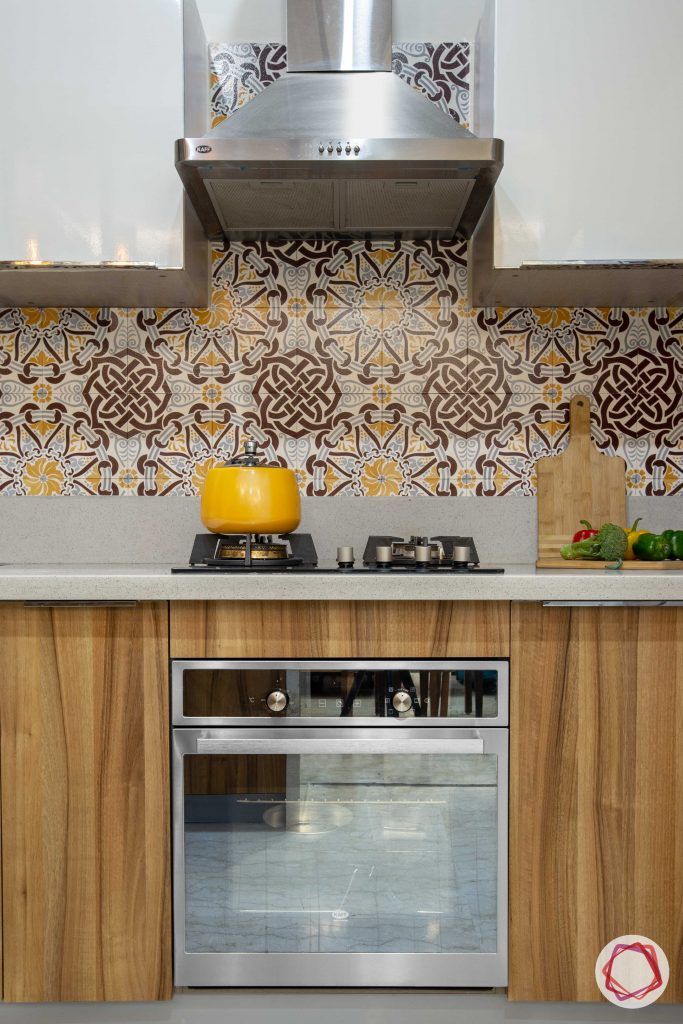 Busy mornings are typical for this particular Prateek Stylome household. As a result, Amar put in a breakfast counter which has been topped off with Kalinga stone. You can't miss the elegant wood and glass partition perched on the breakfast table that opens up when the kitchen isn't being in use. It has been added to limit fumes from spreading out of the kitchen when you are whipping out a meal. We love how the pendant lights here add a touch of warmth to the nook.
While the wall cabinets are in pristine white, the base units are in a subtle wooden hue. Both units has been finished off in membrane. To stir things up, Amar put in patterned tiles for the backsplash that complements the dual-toned cabinets.
Serene Dreams at Prateek Stylome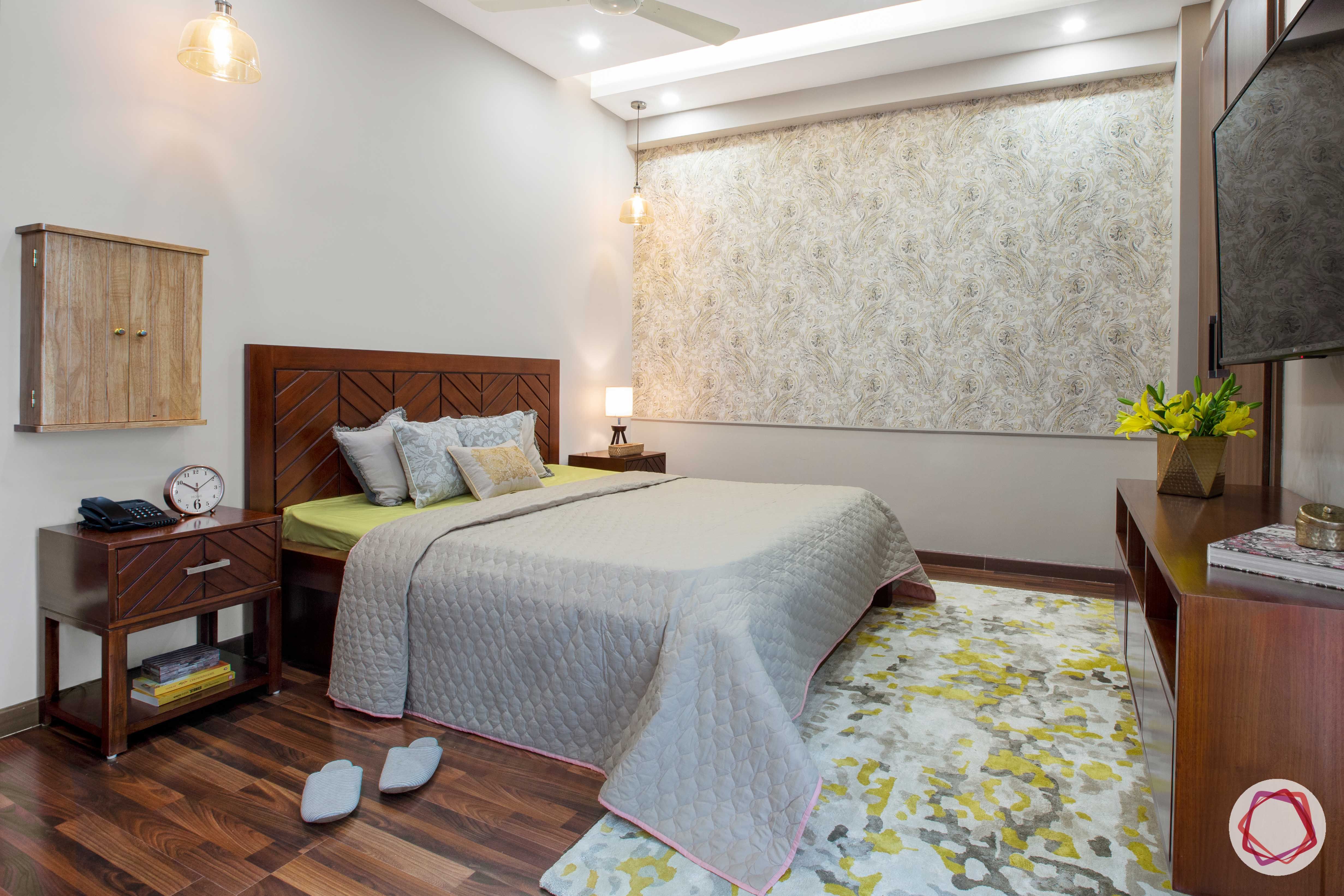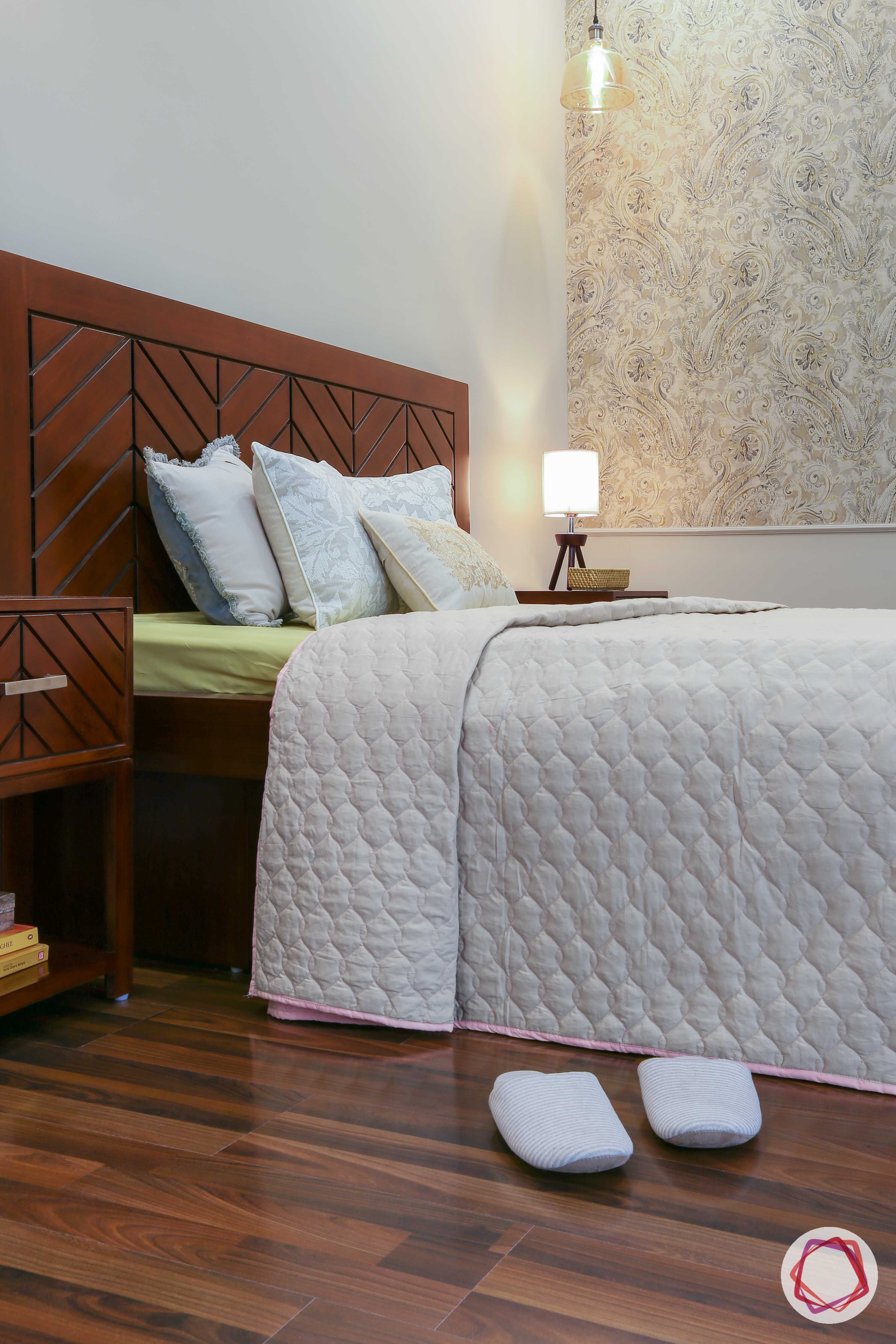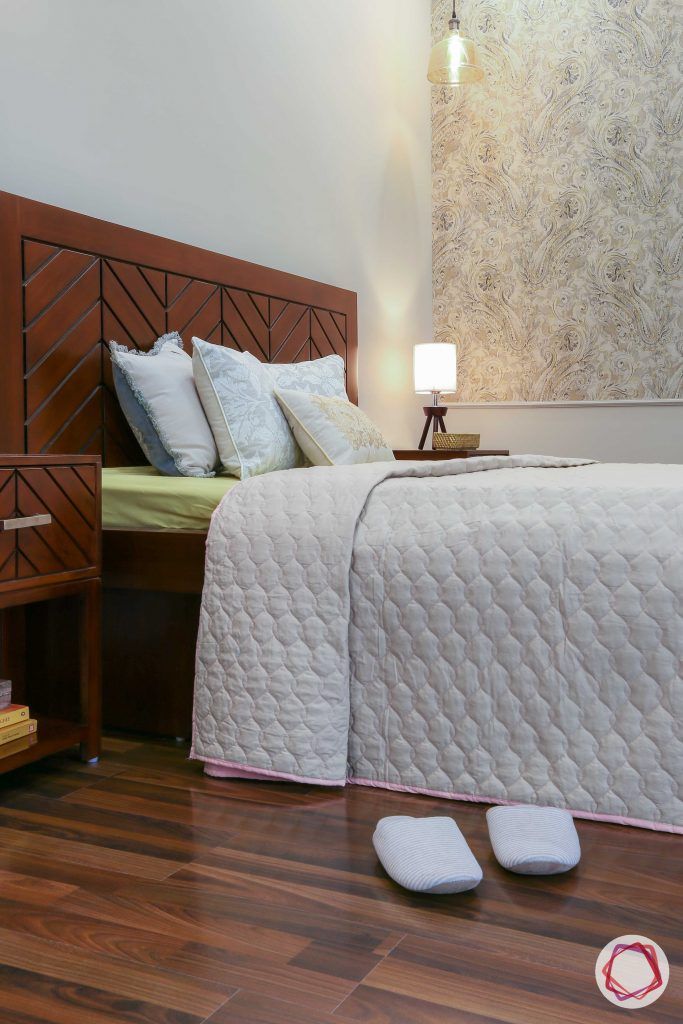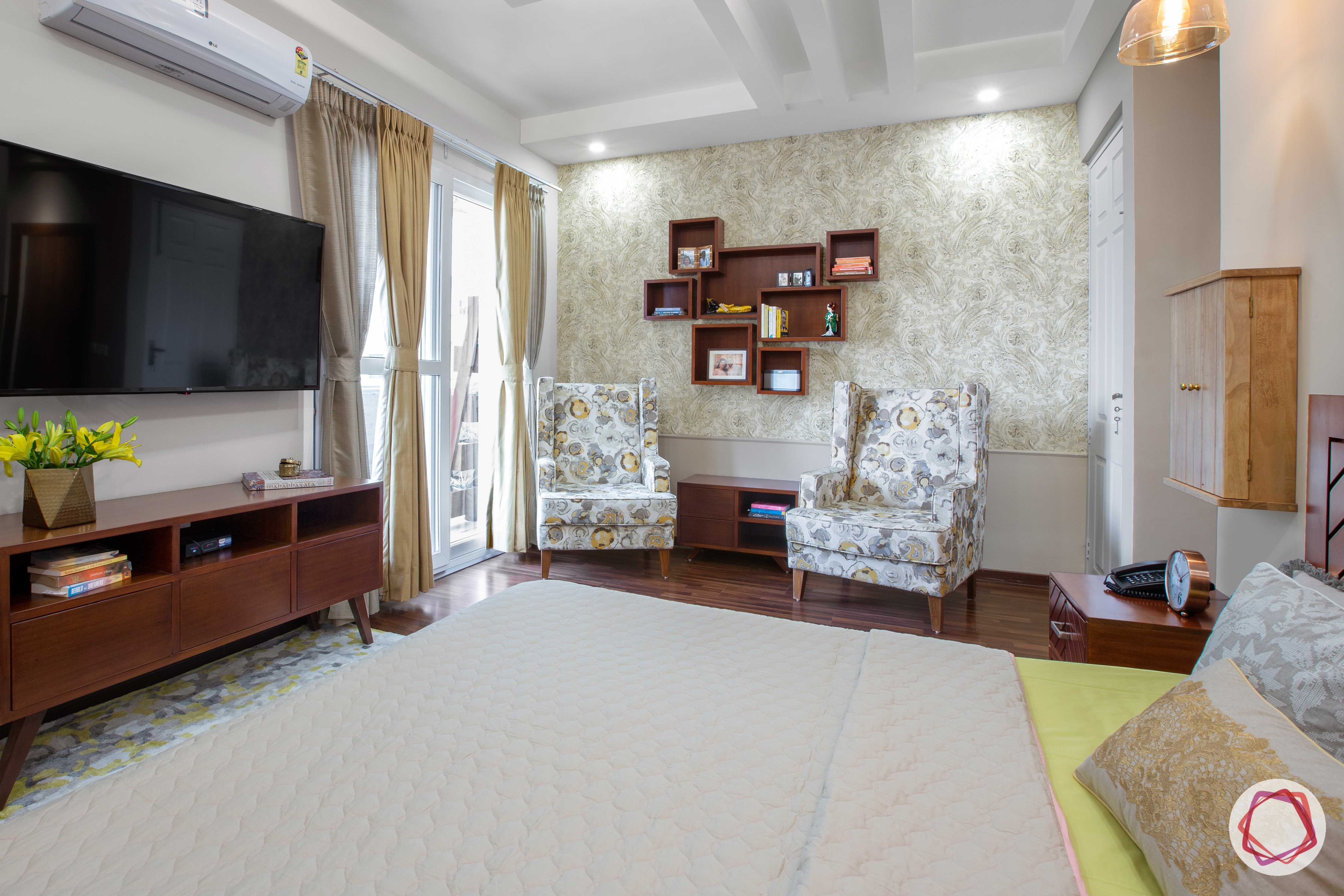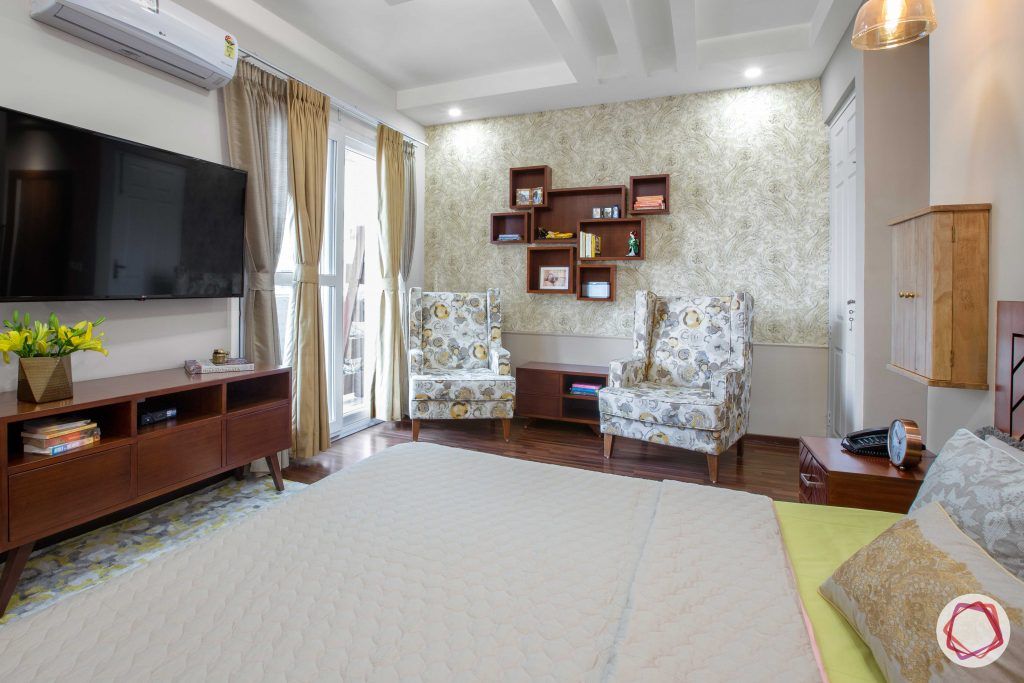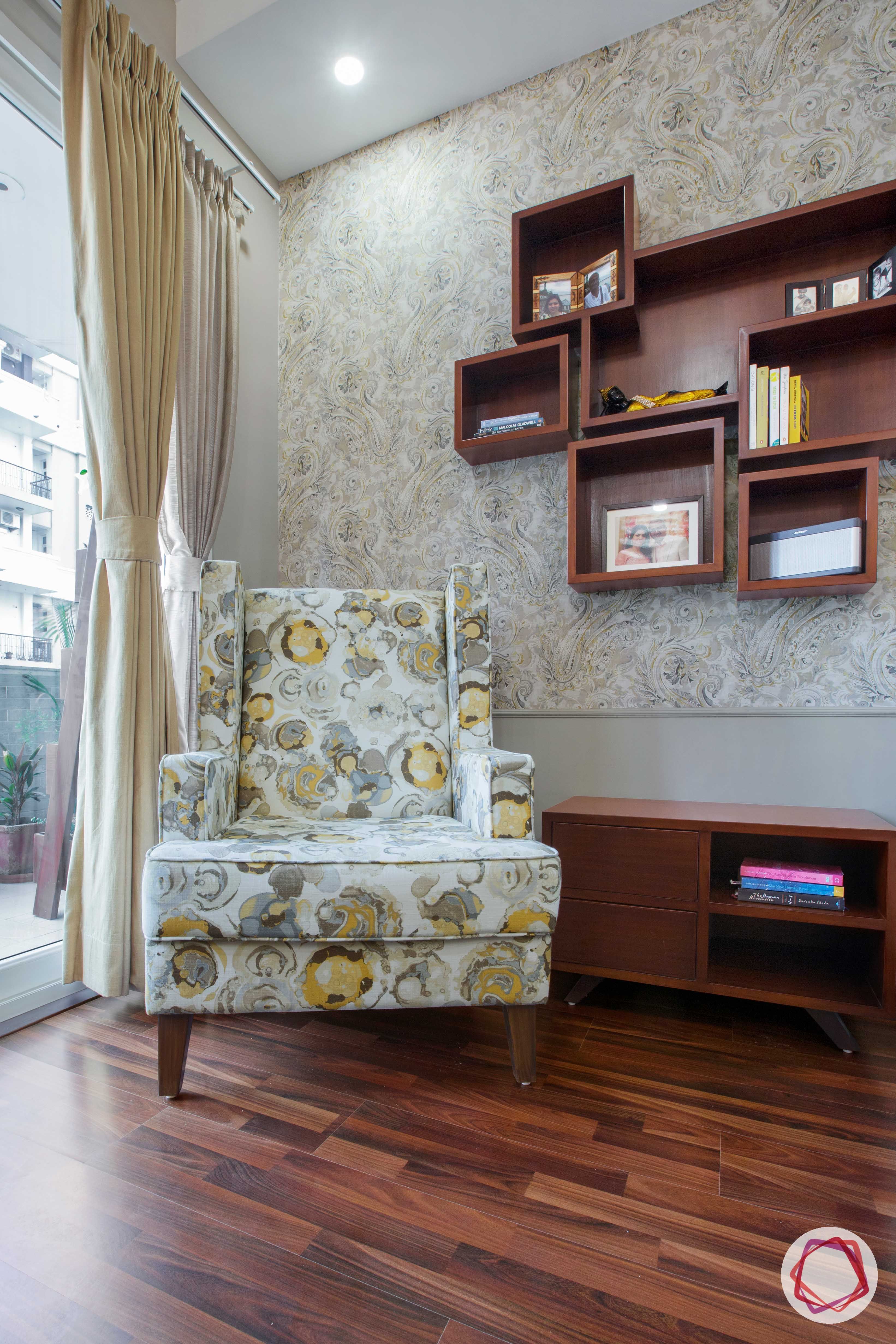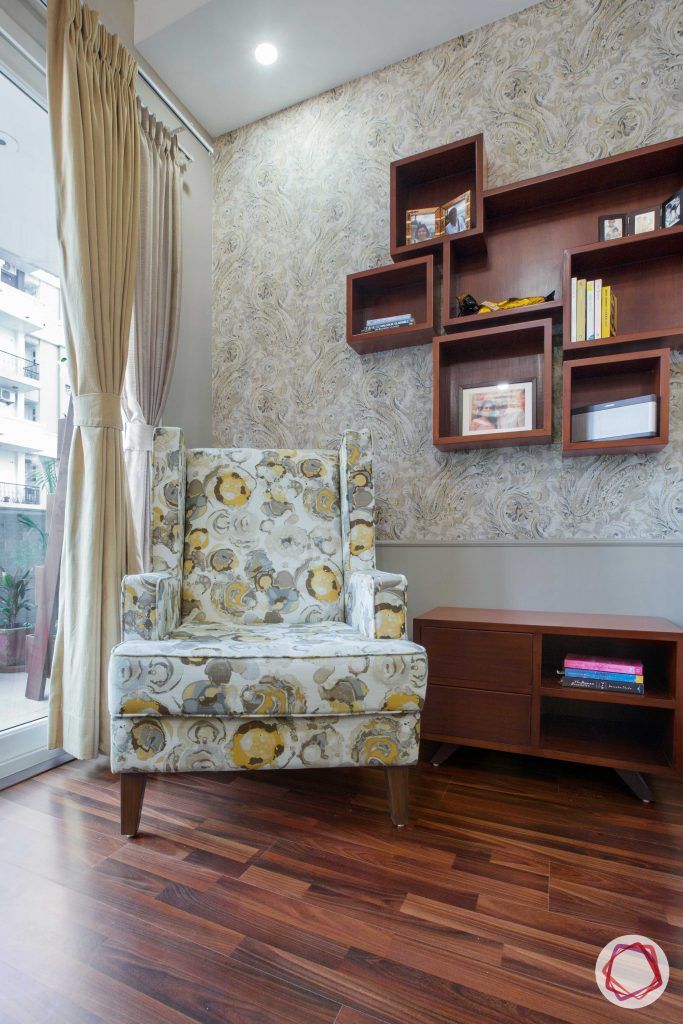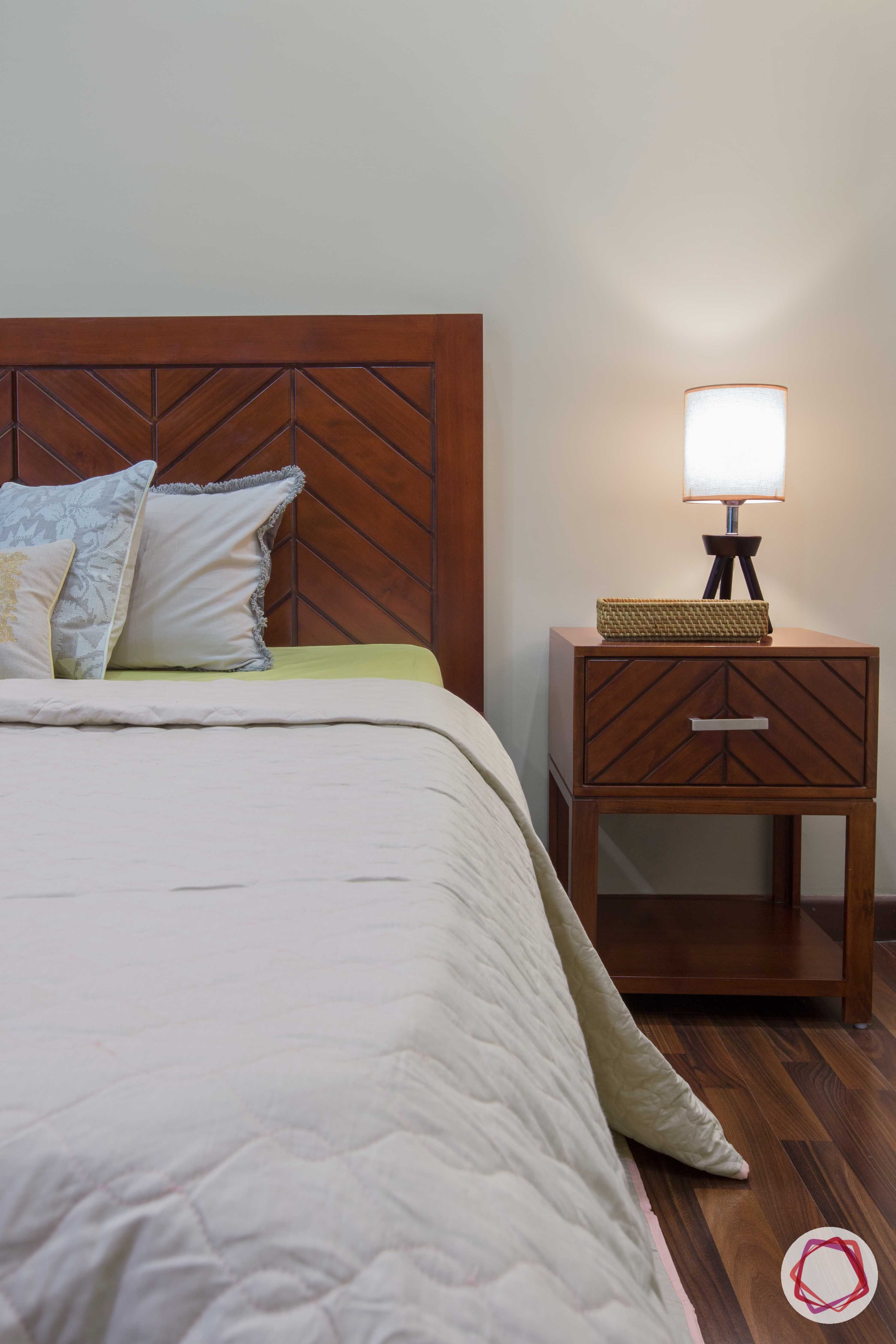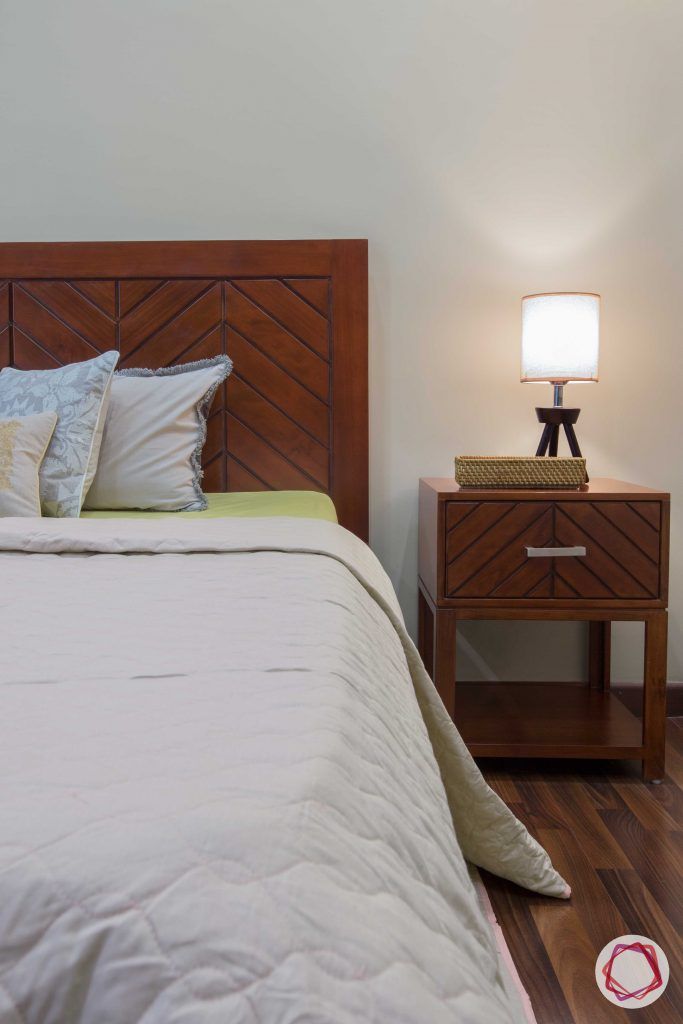 The family's partiality to wood is evident in the master bedroom. With solid wood for the headboard and bedside tables, the room oozes warmth. Two sides of the wall are dressed in subtle wallpaper and white trims. Right above the bed, a compact butsudan in wood has been crafted.
Bedrooms need to be personal sanctuaries – a concept that our designer
Amar and Mini strongly believe. For this, two comfy light-toned armchairs with pops of mustard are placed next to open shelves that's been mounted on the wall.
In conversation with us, Mini reveals "Every evening I come home to this cozy space to rejuvenate. Sitting on my armchair, looking at the view of the city from my 15th floor apartment, I look into the future and the limitless possibilities it holds for us! Even though there are many other corners I love about my house, since all of them have been almost hand-crafted, this one holds a special place for its dynamism and how it makes me feel."
Opposite the bed, a minimal TV unit in the same solid wood has been crafted. Above all, the elements perfectly complement the wooden flooring.
Dipped in Blue at Prateek Stylome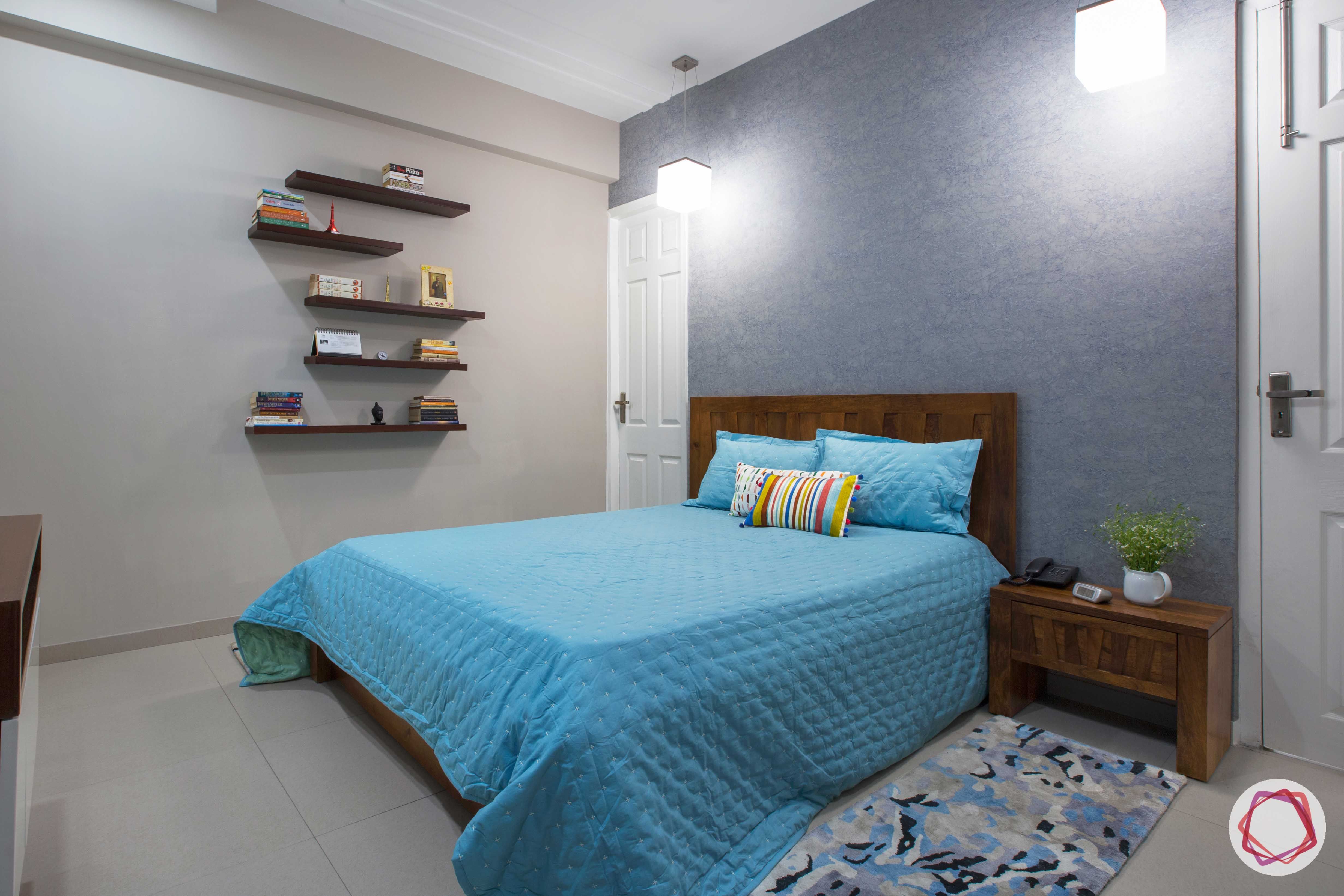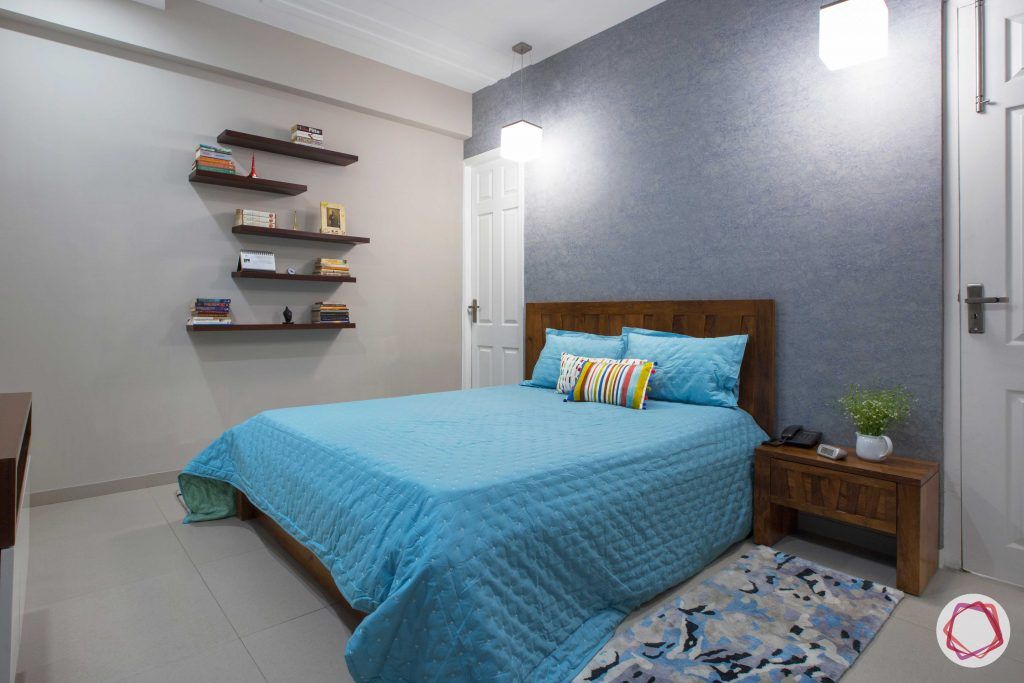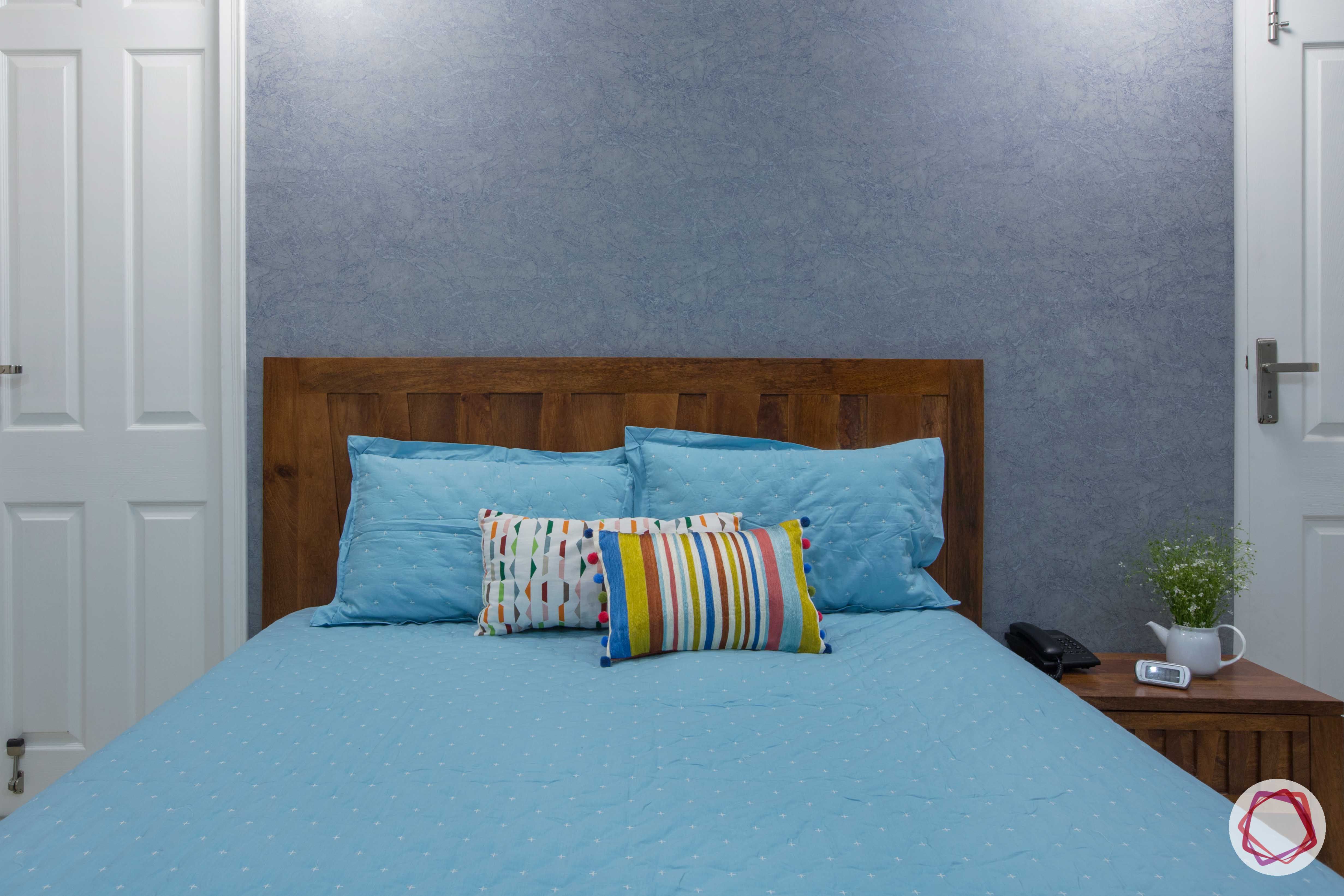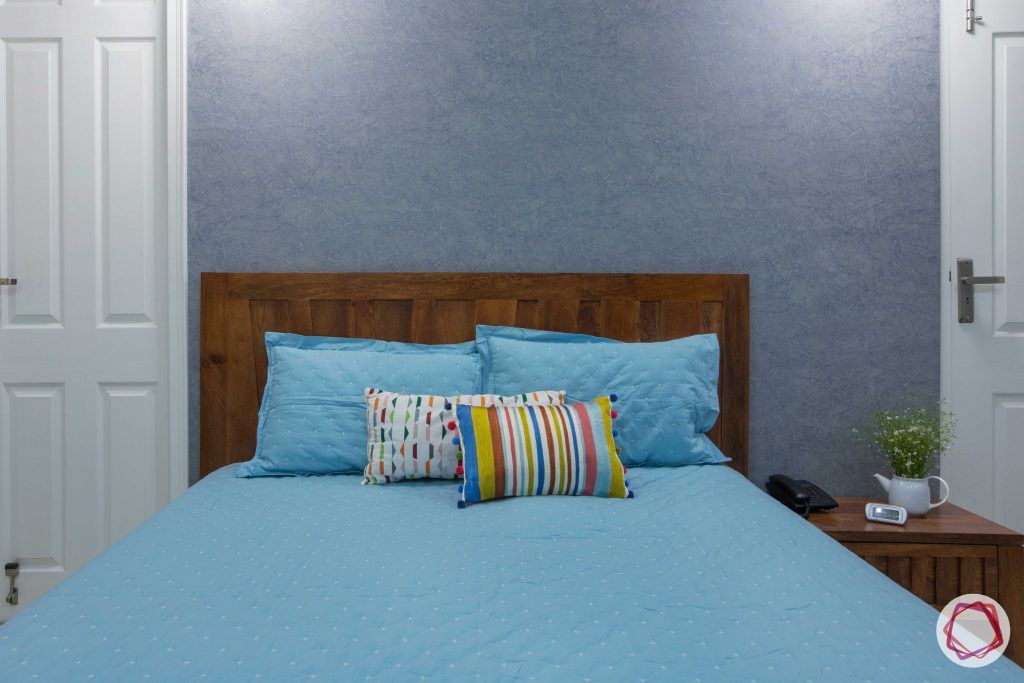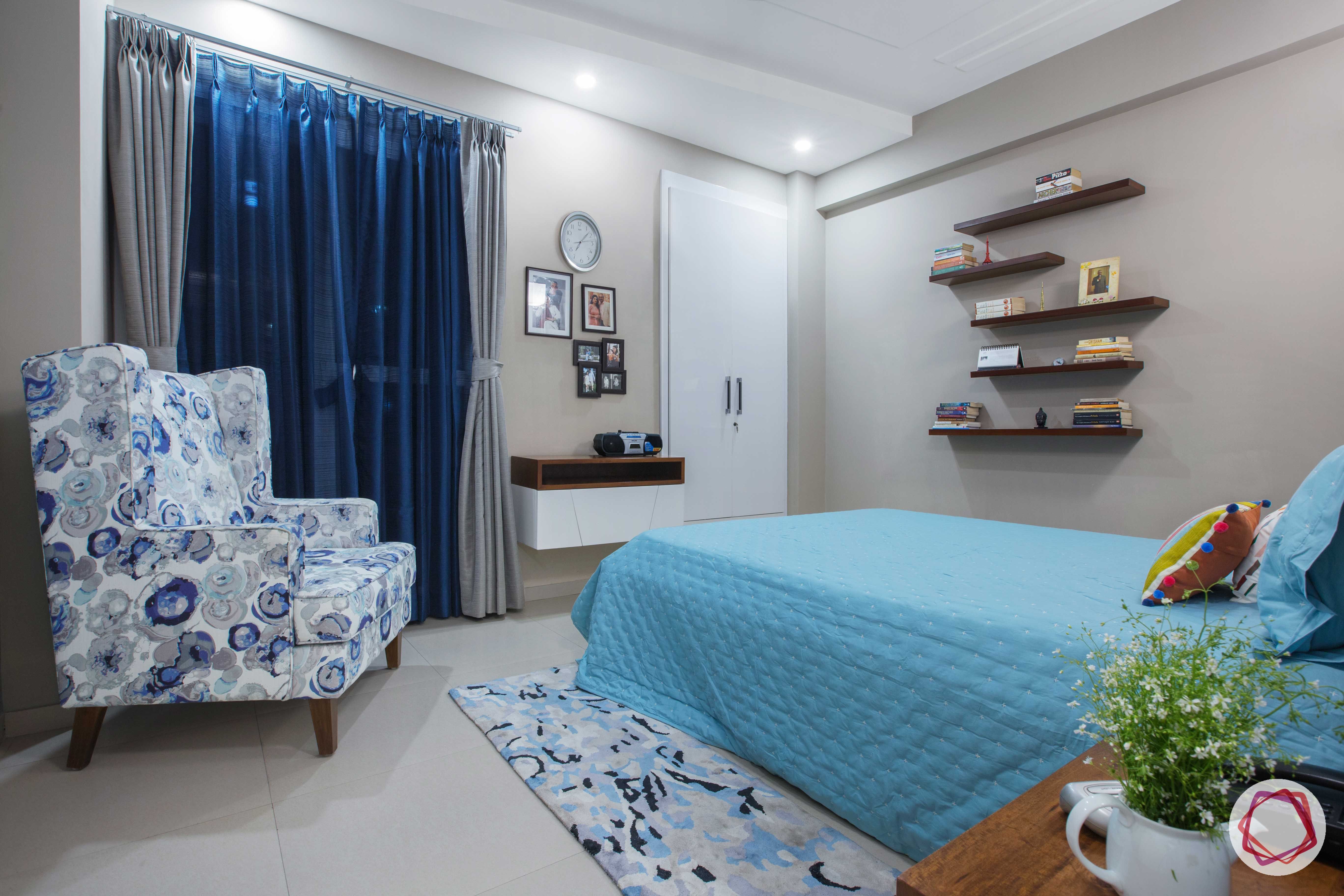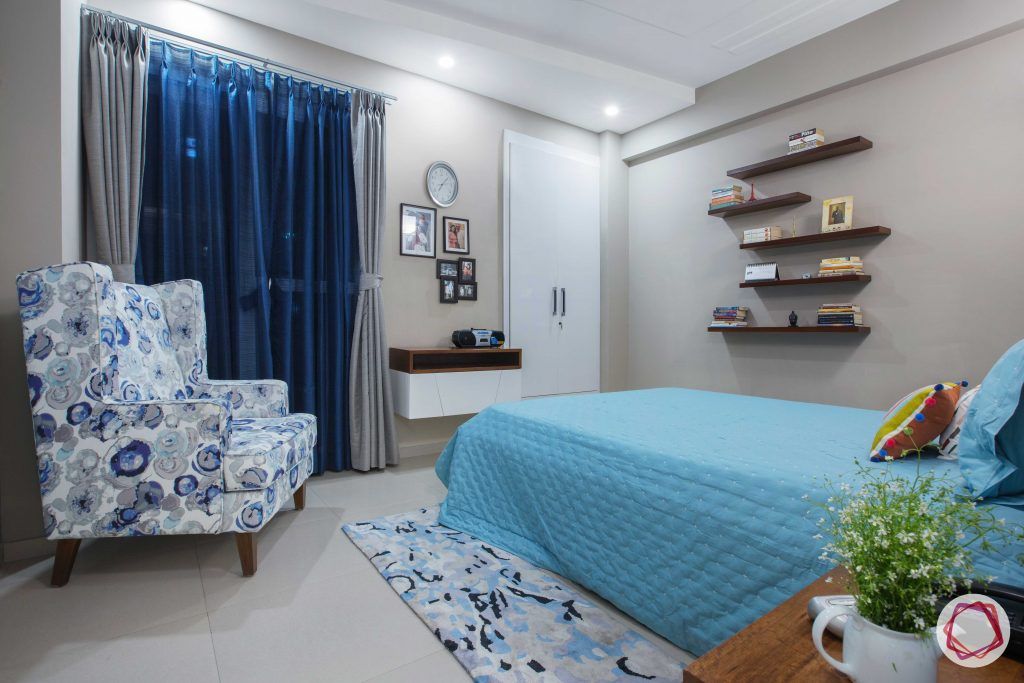 Mini's father's bedroom is kept minimal with blue-toned interiors taking the lead. Just like the master bedroom, this room too flaunts a lovely wooden headboard. Take a moment to notice the elegant and fuss-free open ledges mounted on a subtle grey wallpaper. An accent wingback chair next to royal blue curtains makes a cosy nook.
The Perfect Getaway at Prateek Stylome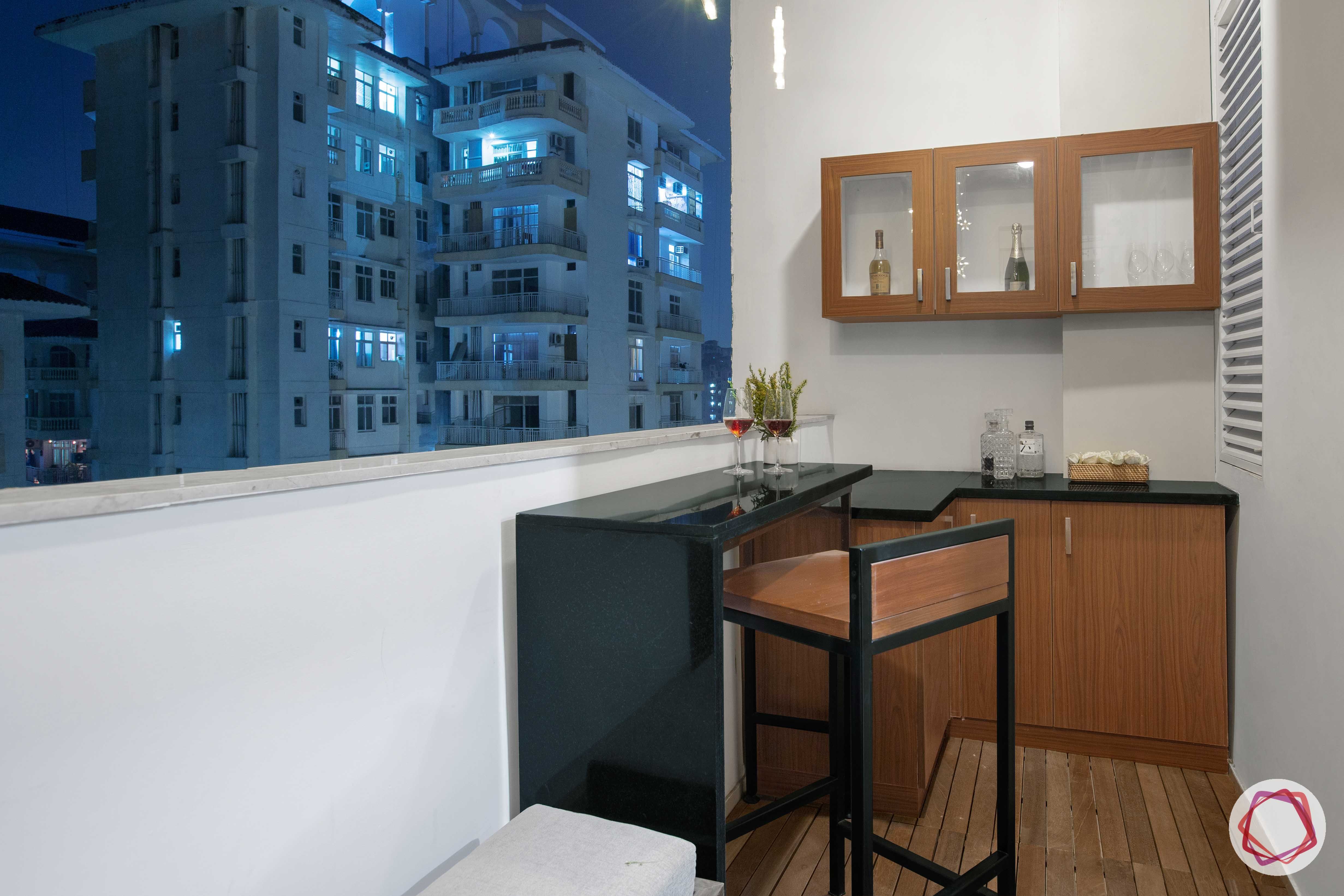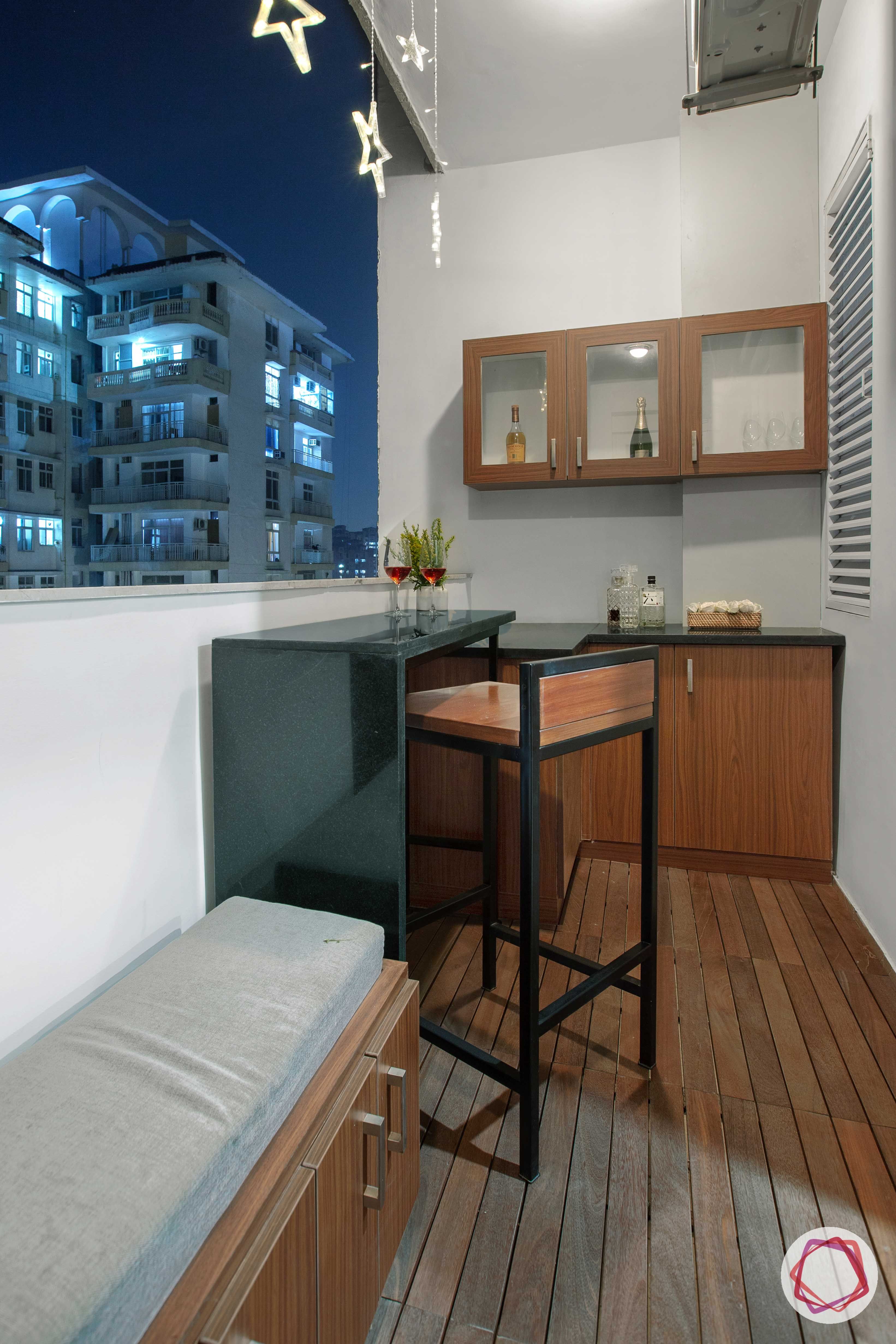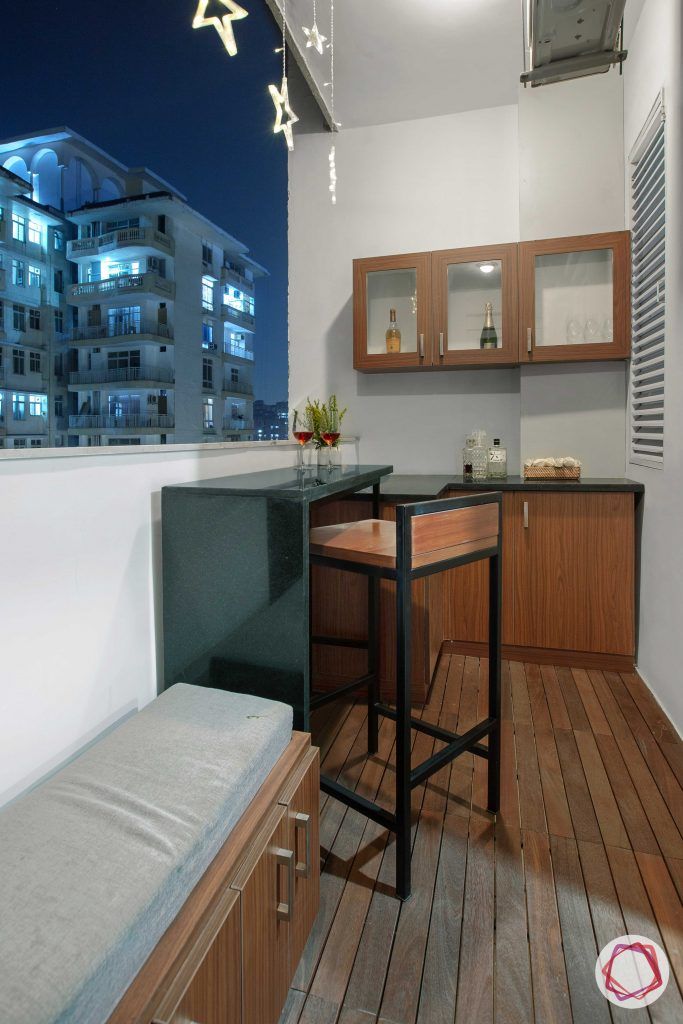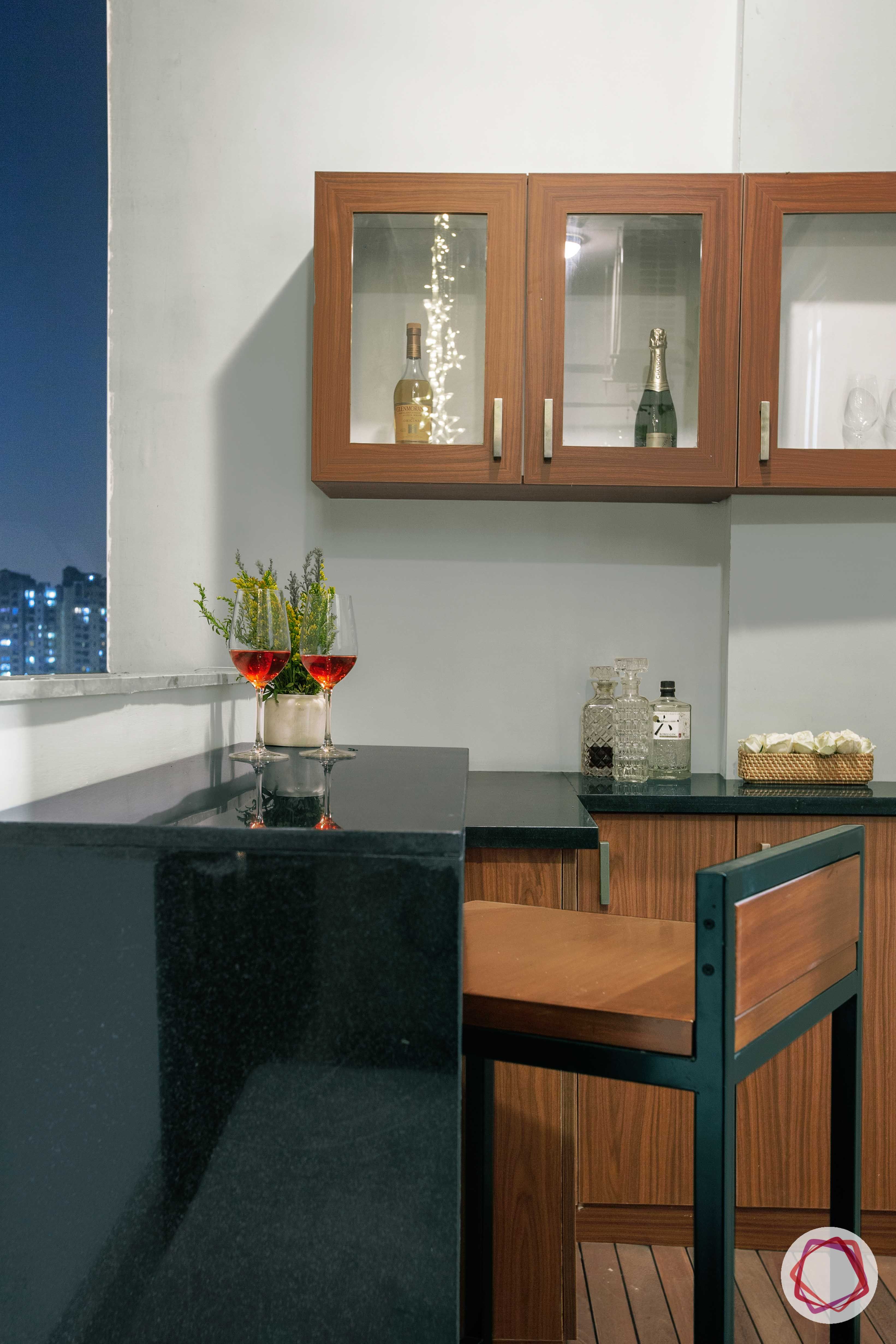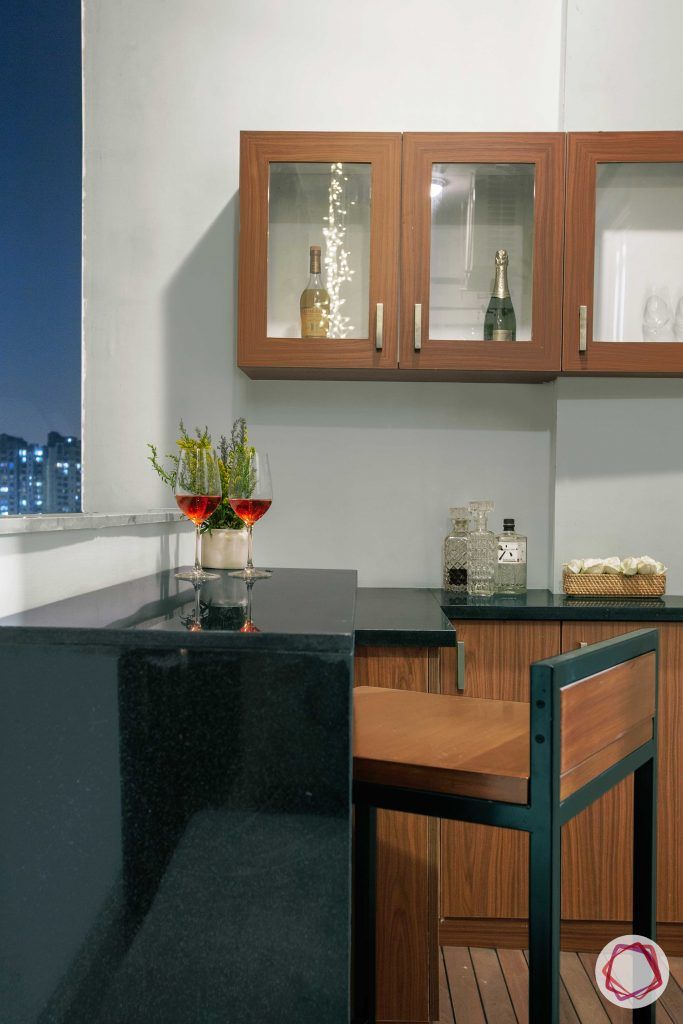 The family's balcony is sure to give you design goals. After all, it beautifully fits in a complete bar nook with plenty of storage and seating! The wall cabinets, where they could stash wine bottles, are done up with glass shutters and finished with membrane. The same finish has been used for the wood-toned base units as well. A polished black granite serves as the countertop for the table and base units. Notice the cushioned seating? The smart bench has ample storage within to keep extra things and knick-knacks.
Also, if you take a closer look, you would notice a ribbed wall. Amar put in the design to offer the space a bit of dimension. We love how the wooden flooring amplifies the casual vibe in this space.
"It was wonderful to work with Mini Kohli and Sandip Sengupta. I am glad they loved the outcome!"

– Amar Sidhu, Interior Designer, Livspace
If you enjoyed this tour, take a look at Bringing Modern Finesse to the Suburbs with this 4BHK
Send in your comments and suggestions.