A 4 bhk home design that's snazzy & comfy!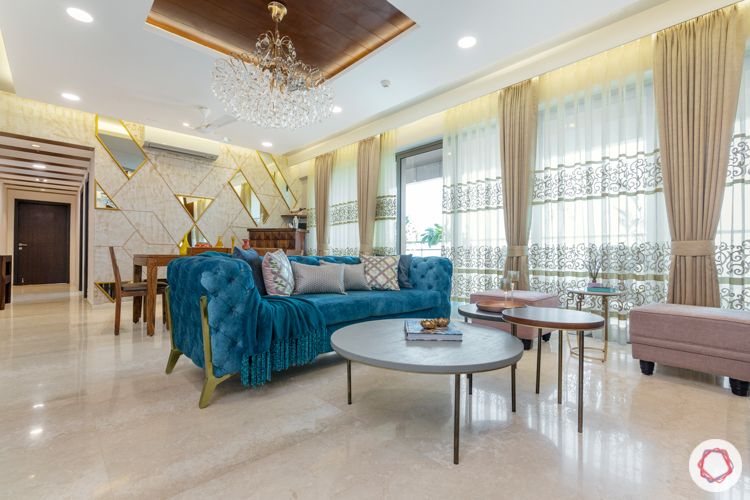 ---
Who livs here: Ankita and Abhishek
Location: Tata Primanti, Sector-72, Gurgaon
Size of home: 4BHK spanning 3,300 sq ft
Design team: Interior designer Neha Agarwal
Livspace service: Full home design (except kitchen)
Budget: ₹₹₹₹₹
---
Most people start picturing their dream home in bits and pieces over a span of years. Abhishek and Ankita are one such couple who dreamt the same too. So you could imagine their excitement when they bought a swanky new home at Tata Primanti, Gurgaon.
In the hunt of the perfect designer, both Ankita and Abhishek met several contenders. But none of them fit the bill of making a home that came close to how the couple have been picturing it in their minds. "We met several people," explains Ankita, "and even though some of them had years of experience, they tried enforcing their ideas onto us. But we wanted a home that reflected our personalities. It should be our home. That's when we decided to check out Livspace."
And checking out they did! "We probably looked at ten other homes that were designed by Livspace in and around Gurgaon, each house convincing us more and more and that's when we finally made our decision," Ankita says. The couple built a rapport almost instantly with our designer, Neha Agarwal and lo and behold, they got their dream interiors just the way they imagined. Also, for their 4 BHK home design, Neha turned one of the bedrooms into an entertainment room. Here's the tour of their lovely home!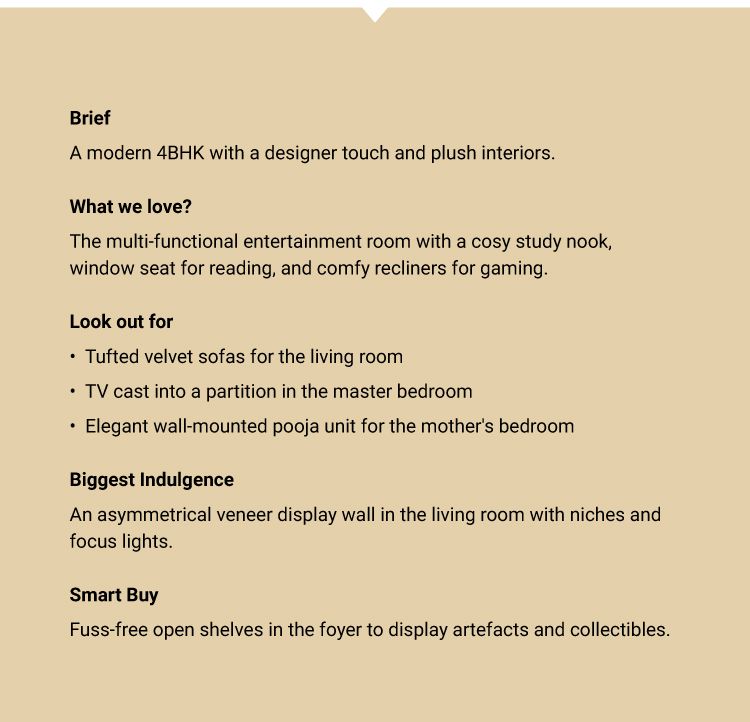 We created a snazzy foyer with seating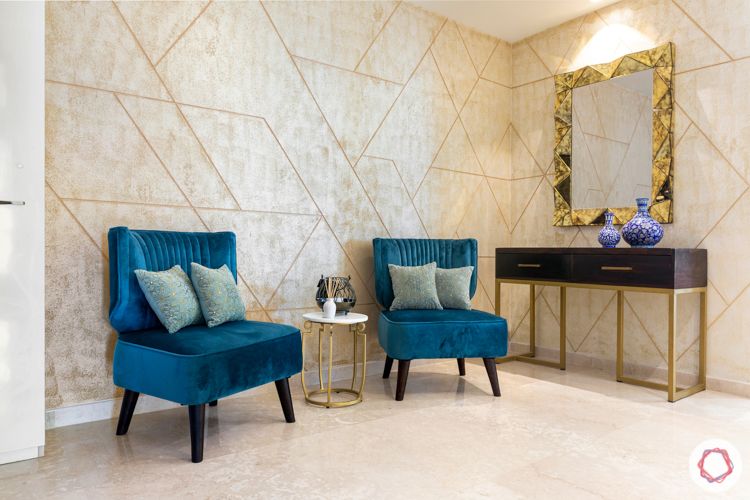 First impressions are everything and for this home's entrance, it's a great opening statement. Featuring velvet armchairs, a sleek console table with golden legs, and minimal open shelves, we love how glitzy everything is. Moreover, there's a peek into the family's personality here, thanks to the display of traditionally loved prints on ceramic plates.
We went big for the living room in style and textures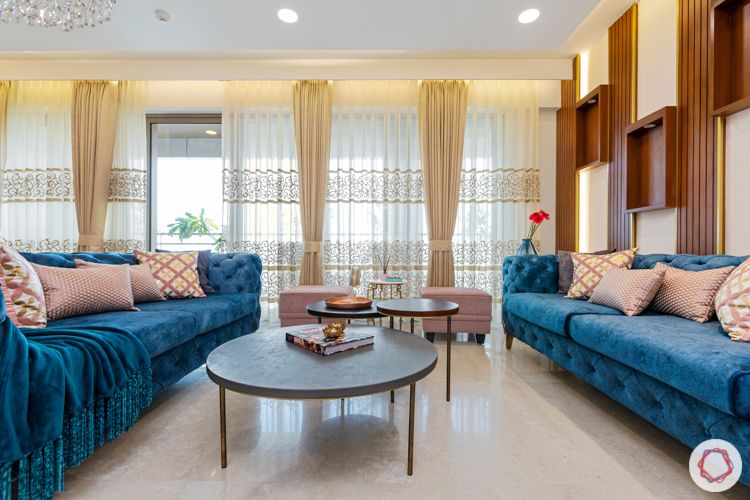 Have you ever stepped into a living room that simply takes your breath away? This is one such instance. Whether it's the two striking tufted velvet sofas or the expanse of the false ceiling, the space makes a power-packed statement. In addition, a compact wooden patch centres the ceiling with a dainty chandelier drop.
Take a moment to notice the asymmetrical display wall. Done up in veneer panels, Neha added niches so the family could showcase artefacts and other favourites under focus lights. We would love how the place would dazzle especially in the night!
---
"Out of all the designers we've met before Livspace, Neha is the only person who truly understood what we were looking for. We had several requirements and she turned everything into a reality, which was fun to see as well. This home looks and feels like a home for my family."

Ankita Shekhar, Happy Livspace Homeowner
---

We jazzed up the family's dining nook with mirror panelling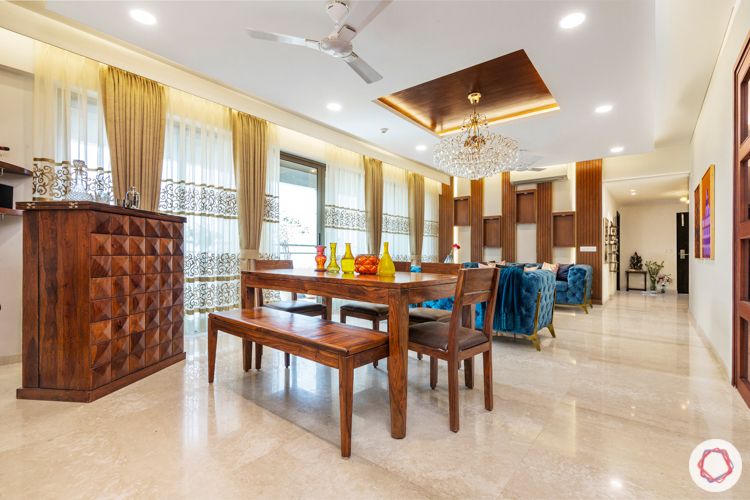 The other end of the living room holds the dining nook. Neha brought in the same textured paint from the foyer to the dining room wall, this time with a hint of drama. We love the combination of cut mirror panels with a yellow trim border to keep the look sharp. It's a befitting backdrop for the family's existing set of wooden dining ensemble and bar unit.
We put in a multi-functional entertainment room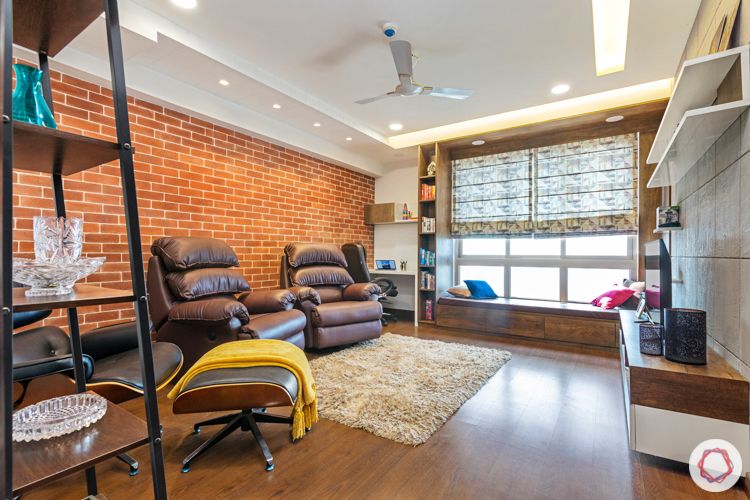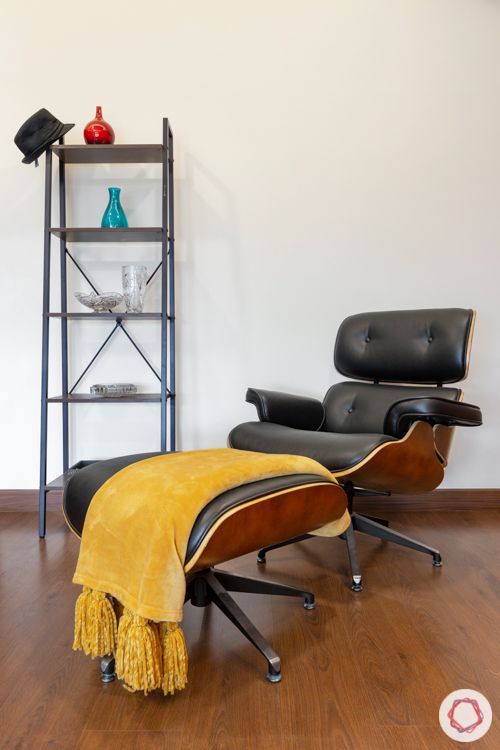 The family room is a perfect score on comfort. You have recliners placed in front of the TV for gaming, a window seat with an attached bookshelf for reading, and a dedicated corner for study. We love how Neha added two sets of wall designs opposite each other, one in brick cladding and the other in textured paint grooves. Ankita and Abhisek love unwinding in this room with their family and it's no wonder it's their favourite part of the house!
We gave the master bedroom lots of head-turning features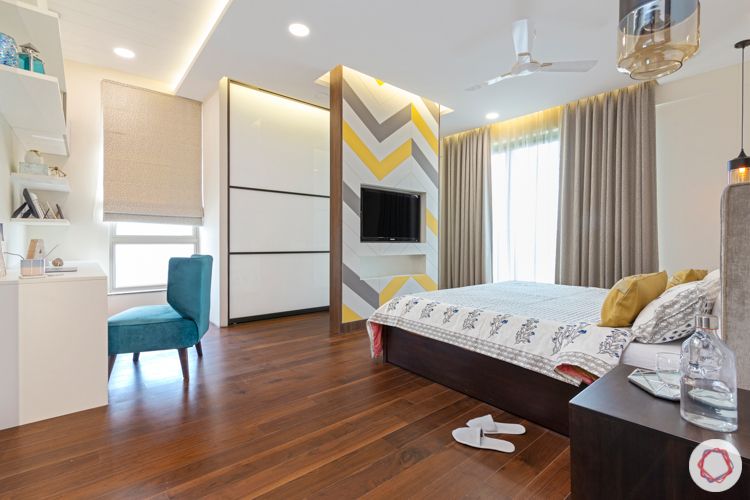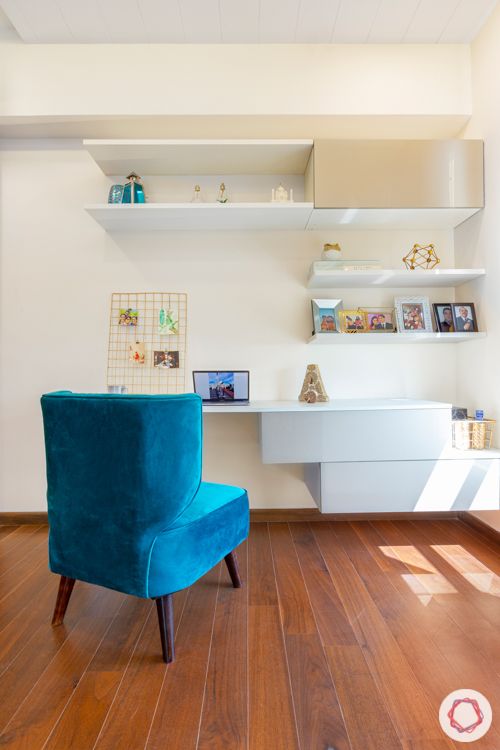 The master bedroom of this 4 BHK home design is probably the star of the flat. Whether it's the towering wooden head panel with fitted light strips on either of its sides or the chic study paired with a lush velvet armchair, the room has plenty to offer. Since Ankita wanted a walk-in wardrobe to complete her dream bedroom, Neha thought of an innovative way to do this without eating away all the precious floorspace: the sleek partition.
We know your eyes can't get over the TV cast into a compact partition. The refreshing divider done up in paint and grooves with a niche for remotes is the perfect solution to give an illusion of a walk-in wardrobe. Also, if you look closely, you would notice that Neha created an opening in the false ceiling to give the partition more height. The cove lighting certainly adds to the drama too!
We designed a blissful parent's bedroom with a pooja unit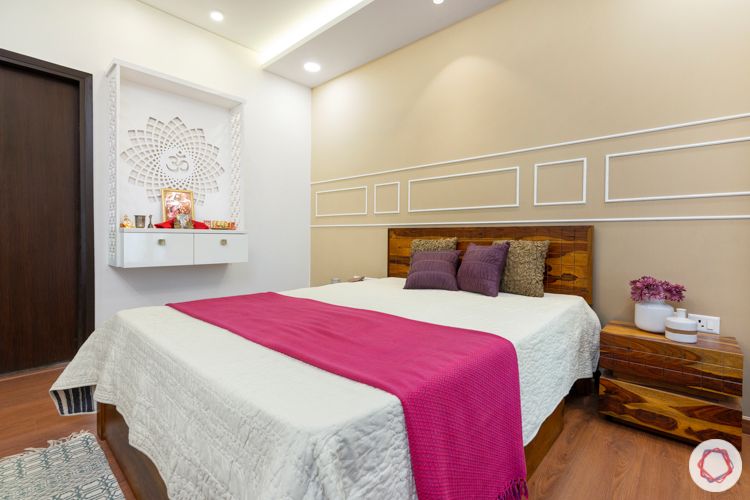 Something about this bedroom makes you feel right at ease. While the room is kept minimal in design, the ivory painted centre wall holds the fort with white trims. In addition, Neha also put in a chic and elegant wall-mounted pooja unit. From the "Ohm " inlay to the jaali side doors, the detailing makes the unit even more special.
We crafted a minimal & colourful guest bedroom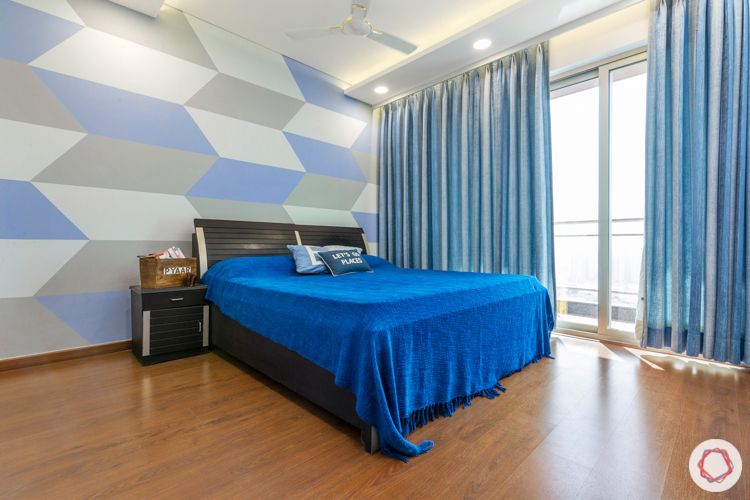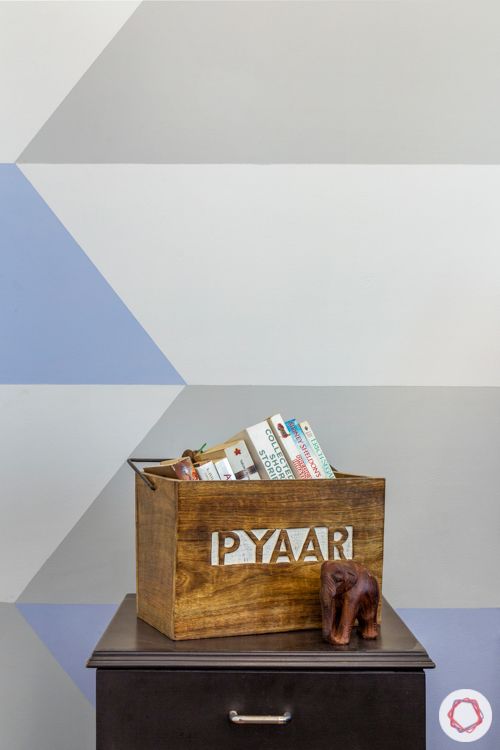 Among one of the family's favourite parts of the house is the guest bedroom. And we can see why! A colourful centre wall dominates the space in painted hues of blues and greys. We love how the colours splash across the room as well, whether it's for the tall curtains or the flowing bedspread. Moreover, the cove lighting from the false ceiling softens the room as well.
And we also designed a white vanity for the bathroom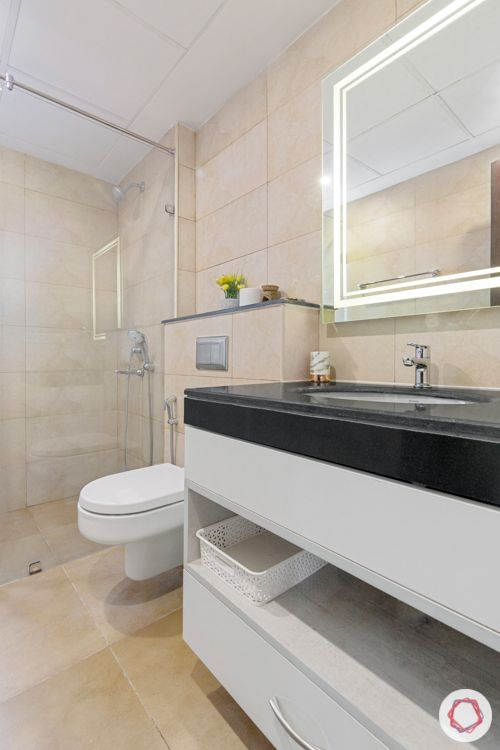 The bathroom stands in an elegant white and beige combination. Neha put in a laminate vanity unit with a pop of open shelf to stash things for easy access. In addition, she also put in a glass shower partition to seal the deal.
---
"This home holds a special place in my heart. In fact, it's one of my favourite homes because of how unique the interiors are. Right from the get-go, working with Ankita and Abhishek was such an enjoyable experience. I'm thrilled they love their new home and that I got to be a part of their forever home."

Neha Agarwal, Interior Designer, Livspace
---
Also, if you liked this 4 BHK home design, take a look at Villa Interior Design With Fabulous Woodwork
Send in your comments & suggestions.