Simplicity and elegance are the key players in this utterly gorgeous Mumbai home!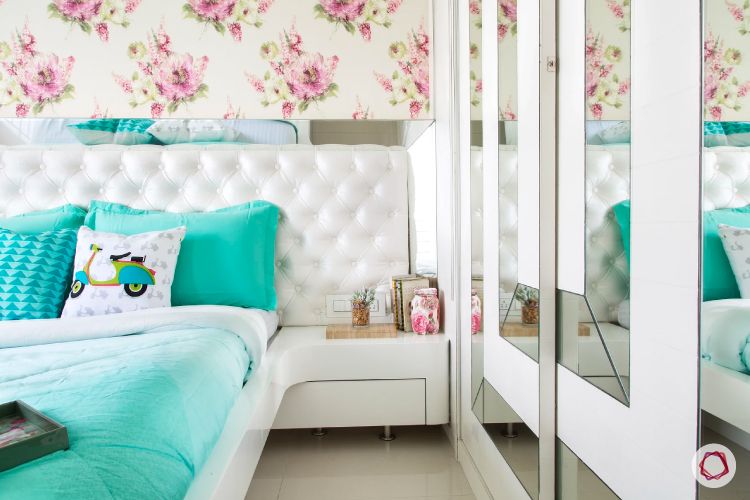 ---
Who livs here: Ganesh Pai with his wife Savita and daughter Smriti
Location: Prime Elegance, Dahisar West, Mumbai
Home size: 780 sq ft approx.
Design team: Interior Designer Pooja Pankaj Mehta with Project Manager Sachin Satam
Livspace service: Full home design
Budget: ₹₹₹₹₹
---
Everyone dreams of moving on to bigger and better things in life, and that is exactly what happened with this amiable family of three. Ganesh Pai and his family moved on to a 2BHK from a smaller apartment and thus, wanted their dream home to look elegant and classy. A humble couple who loves every inch of their new home was super excited to employ Livspace to interior their home. And we couldn't be happier!
In stepped the Livspace interior designer, Pooja P Mehta, who decided to give their cosy apartment a royal look. Take a tour of this home and see how things changed from a bare space to Livspace!
Beautiful in White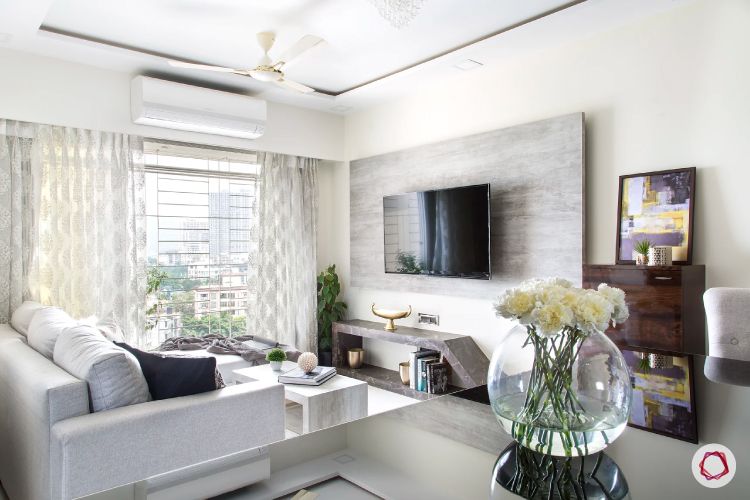 Ganesh Pai and his family always wanted a pristine white home and that's what we gave them! As you enter this quaint home, you are greeted by a pearly white living room that is bathed in natural light. The TV unit has a laminate back panel with a stone finish laminate storage unit at the bottom. Don't you just love how airy and light this room feels!
The couple opted for a single sectional for their living room since they did not want to clutter the space. Light greige was the chosen colour and they went fully upholstered for this one. One would feel like sinking into this couch and binge-watching television programmes while enjoying the view outside!
Dreamy Drapes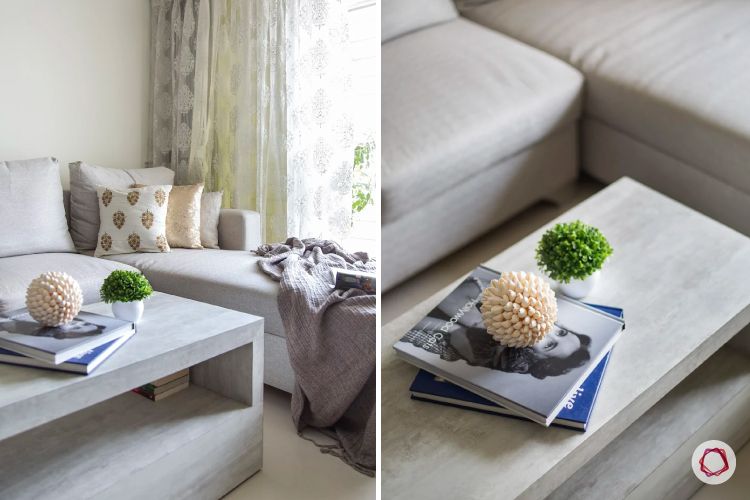 Since white was the chosen shade for the living room, Pooja suggested sheer white drapes with block prints on it that play match with the theme. The centre table looks like it's made of stone, but it is actually made from laminate. Additionally, it saves cost and maintenance trouble. Win-win, we say!


Dine and Divine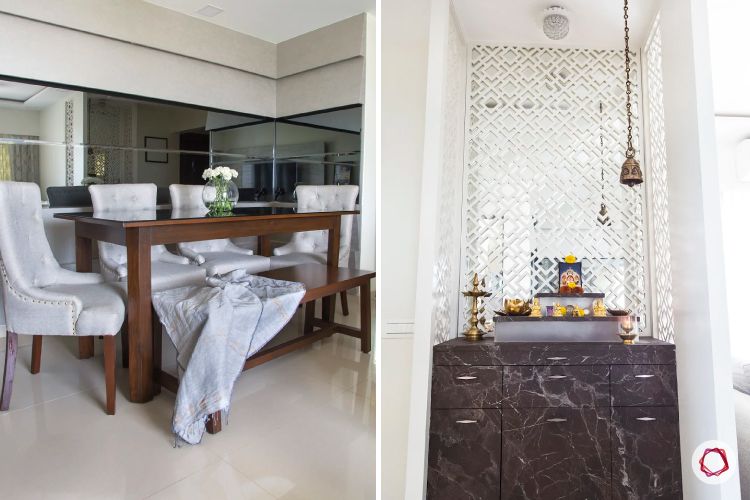 In conversation, the family said that they love mirror finishes and that they wanted to add a touch of it in parts of the home. The six-seater dining table can accommodate guests, while the mirrored panel under the switch-style wall adds glamour to this otherwise simple area!
The pooja room is also one of the favourite corners of the family. They love how Pooja has given them a stone finish, dark laminate pooja unit with jaali panels on all three sides. As a result, it blends in perfectly with the theme of the home.
A Teenager's Haven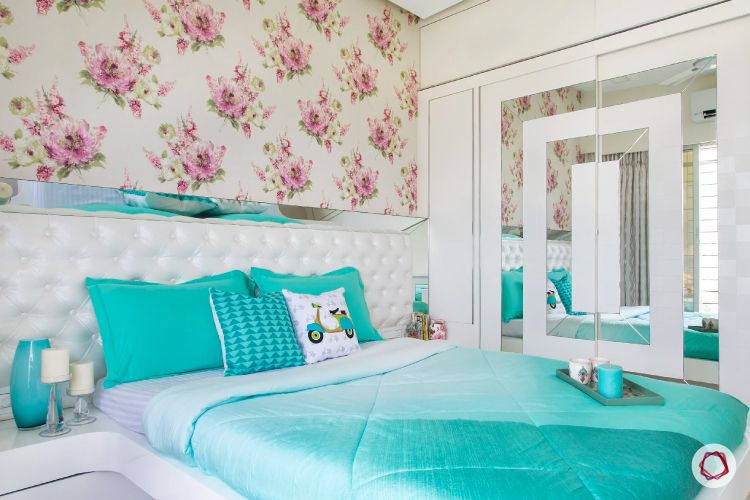 Smriti, their daughter, is kind of obsessed with mirrors, so much so that she wanted most of her room to be filled with mirrors in every place. A mirrored wardrobe and fresh floral wallpaper above the headboard makes this room so pretty and inviting.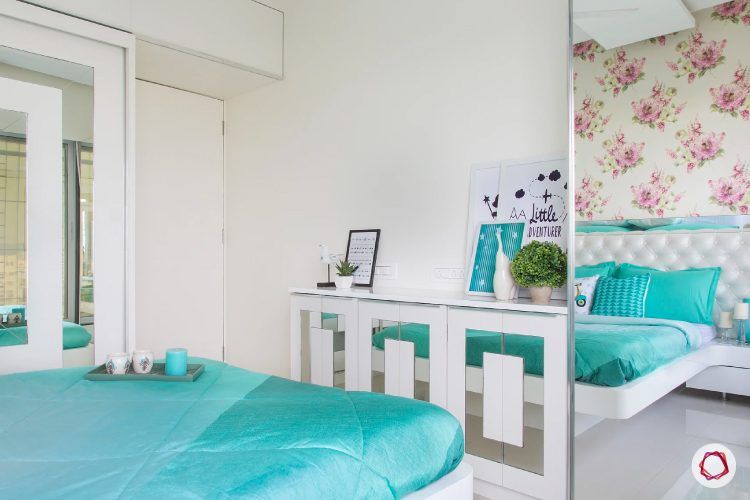 Being an avid reader and studious teen, Smriti required a lot of storage for her books. Therefore, a console table was set up opposite to her bed and the tall mirrored storage unit has ample space for all of it.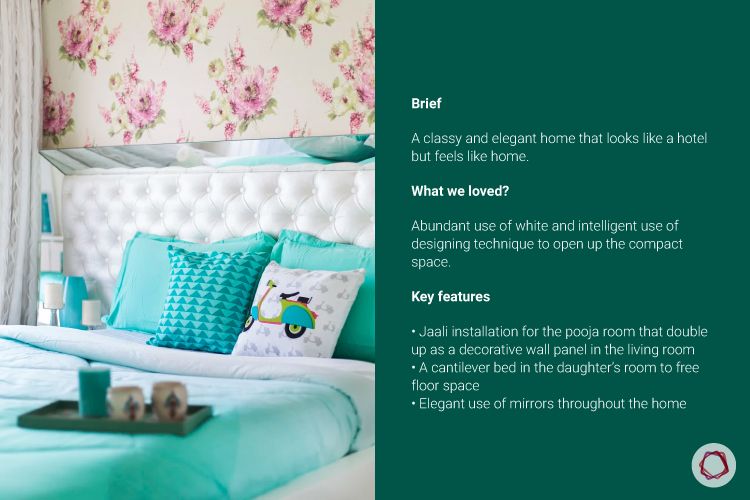 Sheer Elegance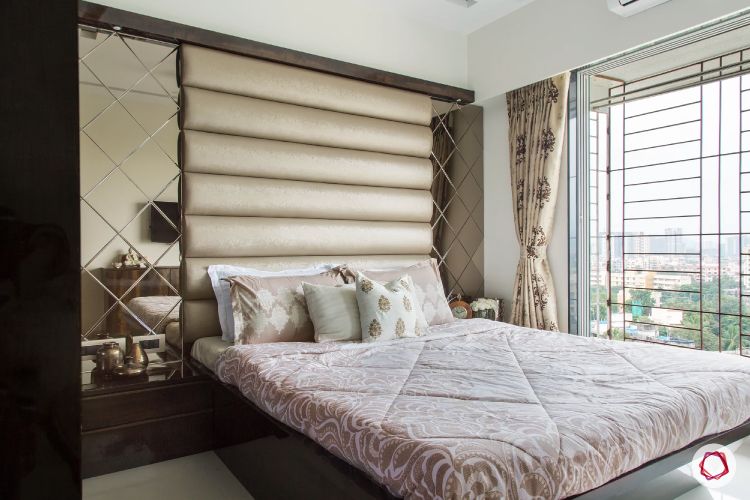 The couple's bedroom is a welcome change from the all-white interiors in the rest of the home. The tasteful use of shimmer in the headboard and the bevelled mirror panelling on the sides adds so much drama to this bedroom. We love it!
All that Gloss!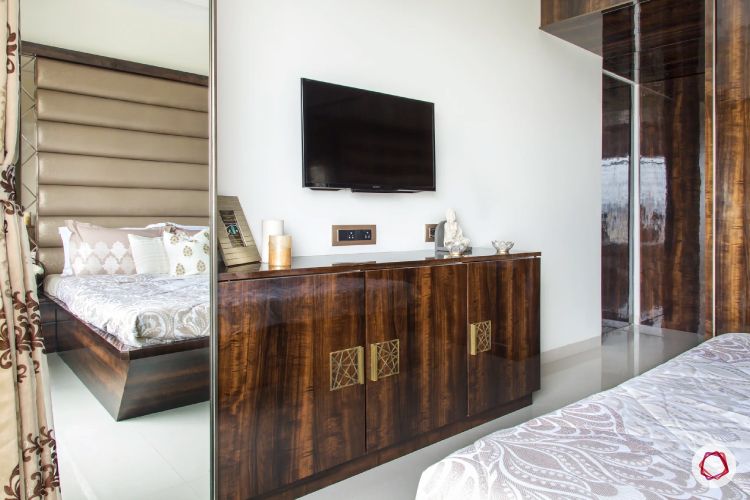 The wardrobes and the TV unit in the master bedroom are made of high gloss laminate. It complements the shimmer and shines in the room perfectly! As a result, the TV unit also doubles up as storage space for the trio's extra stuff.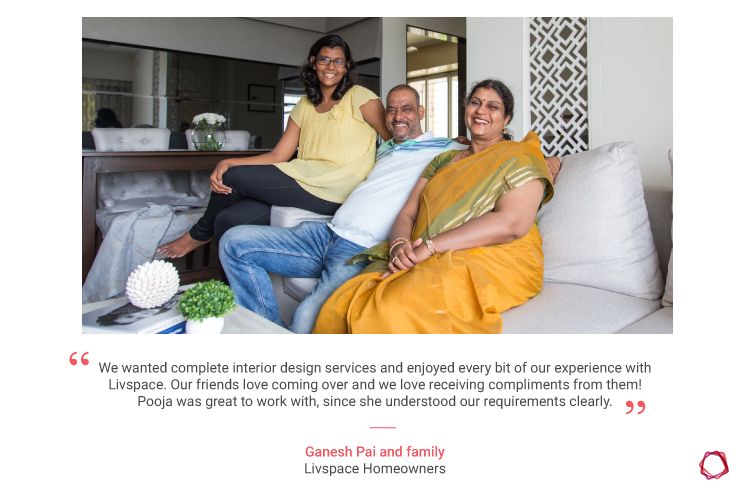 "Designing for this family was a very enjoyable experience and I loved designing for them. Opening up the space and giving them a home that they would love spending time it was my primary goal."
— Pooja Pankaj Mehta, Interior Designer, Livspace
While you're at it, also check out another stylish Mumbai home. Don't forget to let us know what you think!