Most homeowners are convinced that they need to spend lakhs and lakhs to get their dream home interiors. While that may certainly be true in some cases, we assure you that dream homes are possible even on a budget! In fact, Livspace has quite an experience in curating budget homes. And much of this is thanks to the modular home design phenomenon that offers good design solutions at pocket-friendly rates. These modular homes do not compromise on storage space or the style of the house. There are several aspects that go into making these homes. And the secret ingredient is modular furniture! Read on to find out how we created five homes and ensured they were high on style and comfort using this kind of furniture.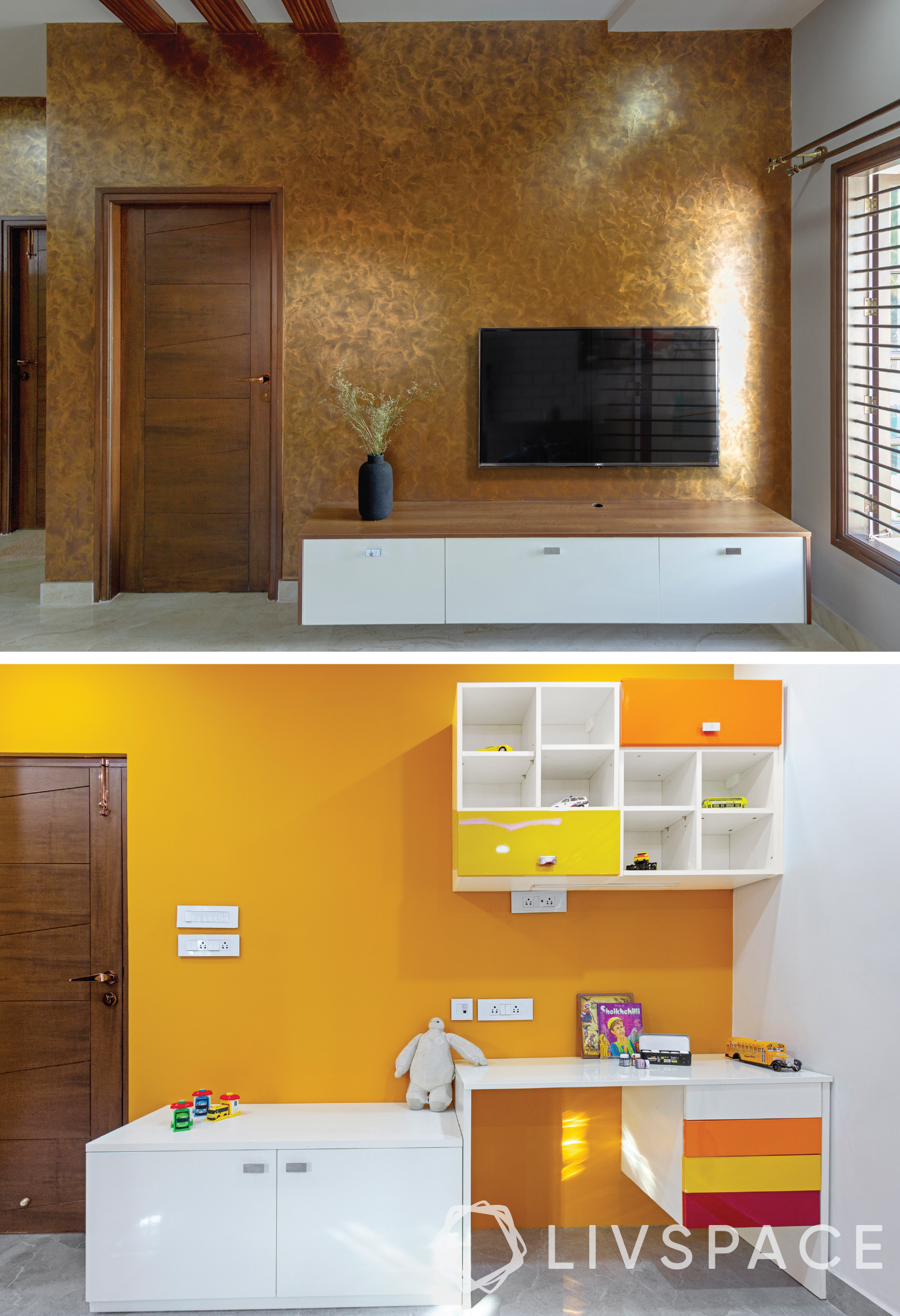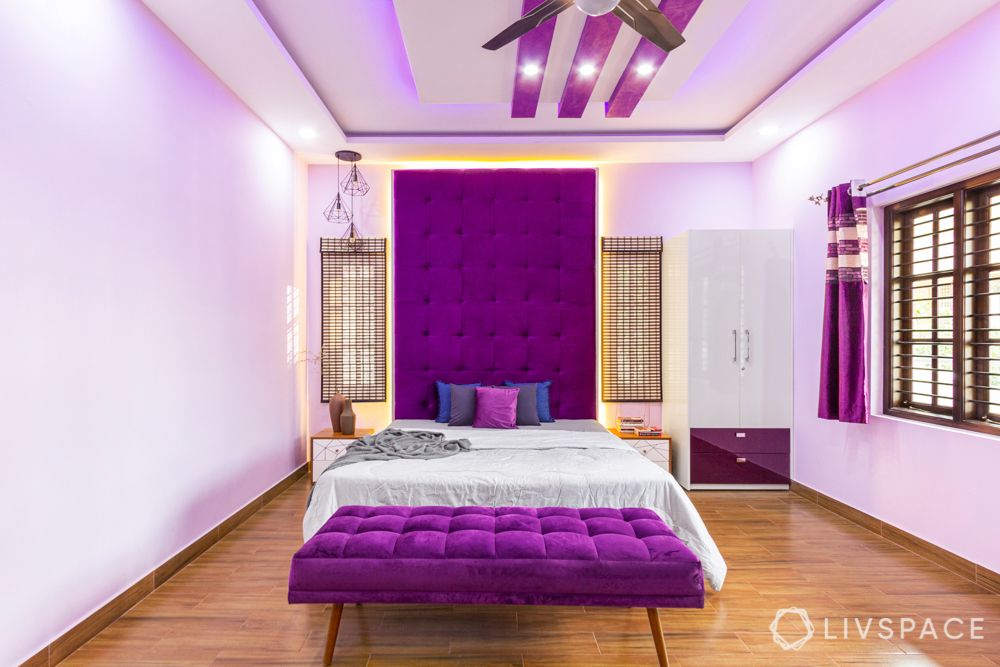 This Bengaluru modular home is all about bold colour and snazzy design. And we managed to achieve it all in a dainty budget too! The highlights of this home are the minimalist TV unit set against a golden-coloured textured wall, a bedroom with a dramatic purple floor-to-ceiling headboard and the study unit in the kid's bedroom. All of these are made with modular furniture.
What we love:
The couple wanted the house to look luxe while also keeping it storage-friendly. That is reflected in all of these pieces. While the TV unit is compact, it still packs ample storage. The headboard maintains the plush look in the bedroom. Say the same for the study-unit-cum-storage in the kid's bedroom.
Design takeaway:
The secret here is knowing how to mix and match custom as well as modular furniture to make a smart home.
Find more about this house here!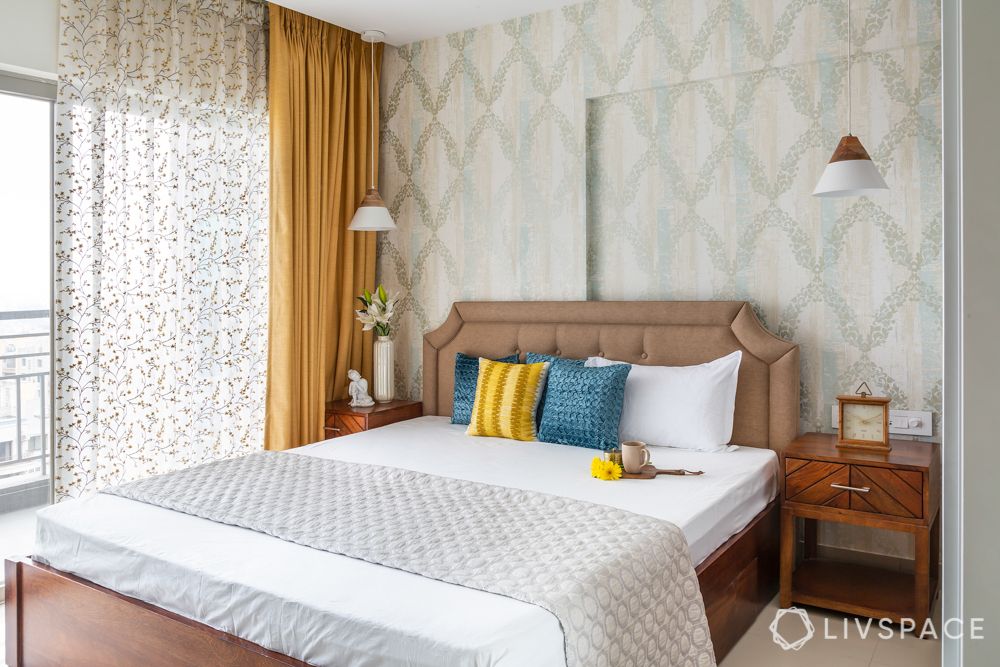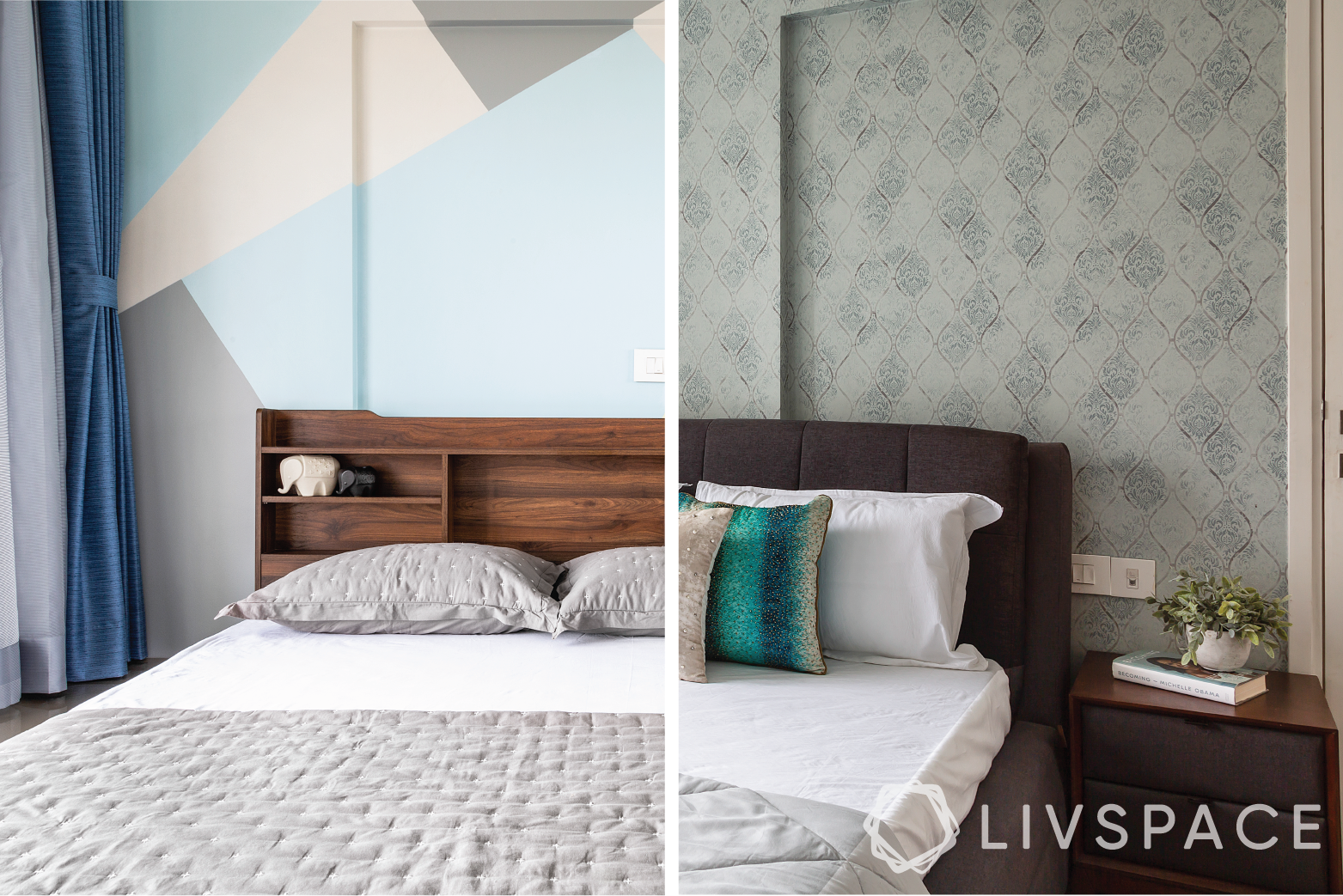 This modular home design keeps in mind the unique preferences of each member of the family. The designer had to tread lightly both on the budget as well as style to bring this Pune 3BHK together.
What we love
The bedrooms are the focal points of this home, with a modern bedroom for the couple, a contemporary bedroom for their daughter and a bohemian-style space for their son. The homeowners opted for modular beds from our catalogue for each of the bedrooms to stick to the budget requirement.
Design takeaway
It is important to choose furniture that will fit right into any compact space without compromising on the storage. These modular beds are easy on the wallet as they are storage-friendly and cost-effective.
Get the full home tour here!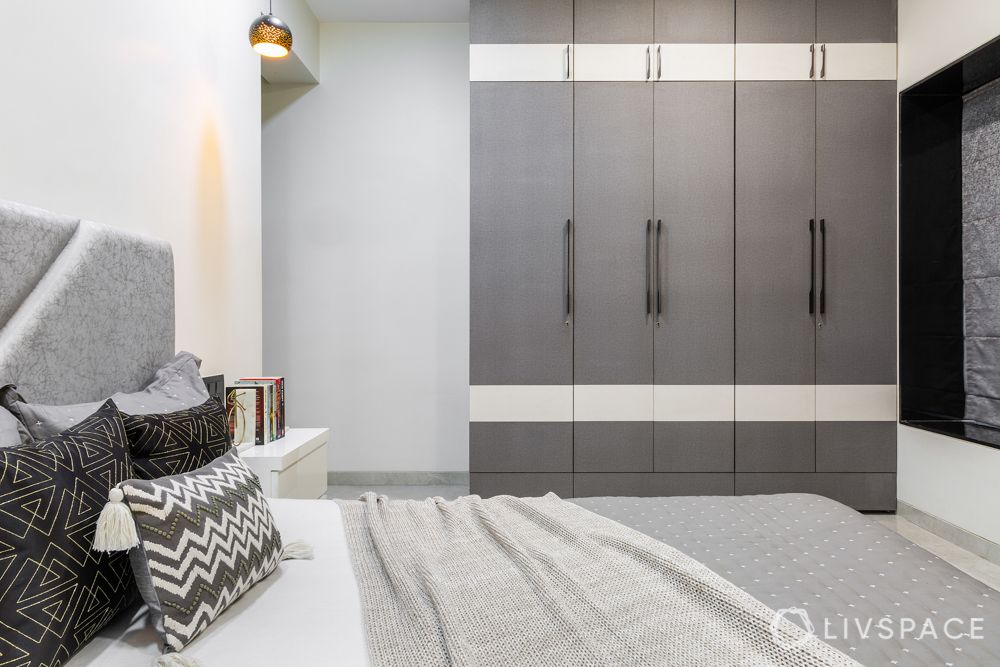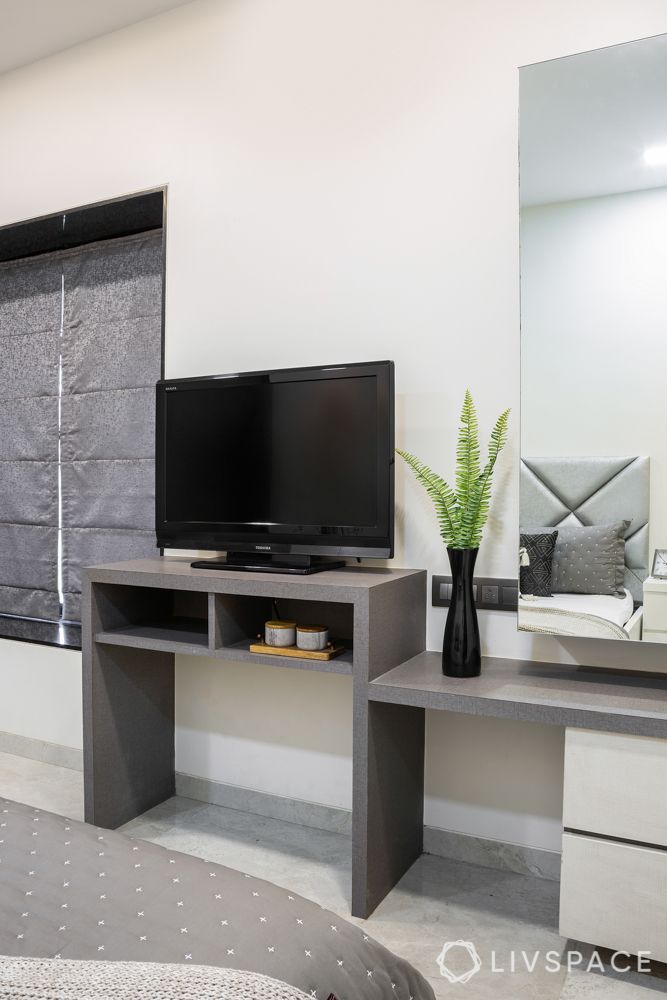 The bedroom in this Mumbai 2BHK modular home is all about that cool grey. The Totlanis were keen on getting their colour scheme right and with the right guidance from our designers, they were able to do so with ease and within budget. The wardrobe and the TV-unit-cum-dresser fill this grey-toned bedroom with a light and airy touch.
What we love:
While most custom-made furniture is specifically designed to fit into the aesthetic of the house, the Totlanis' modular furniture picks beg to differ. The grey monochrome theme goes on to fit the room even when the furniture is from from the Livspace catalogue.
Design takeaway:
Keep the colour scheme and space in mind before choosing your modular furniture. The key is to buy smart, not expensive. Keep the storage you need in mind as well.
Get a complete look at the house here!
Tour this Mumbai home: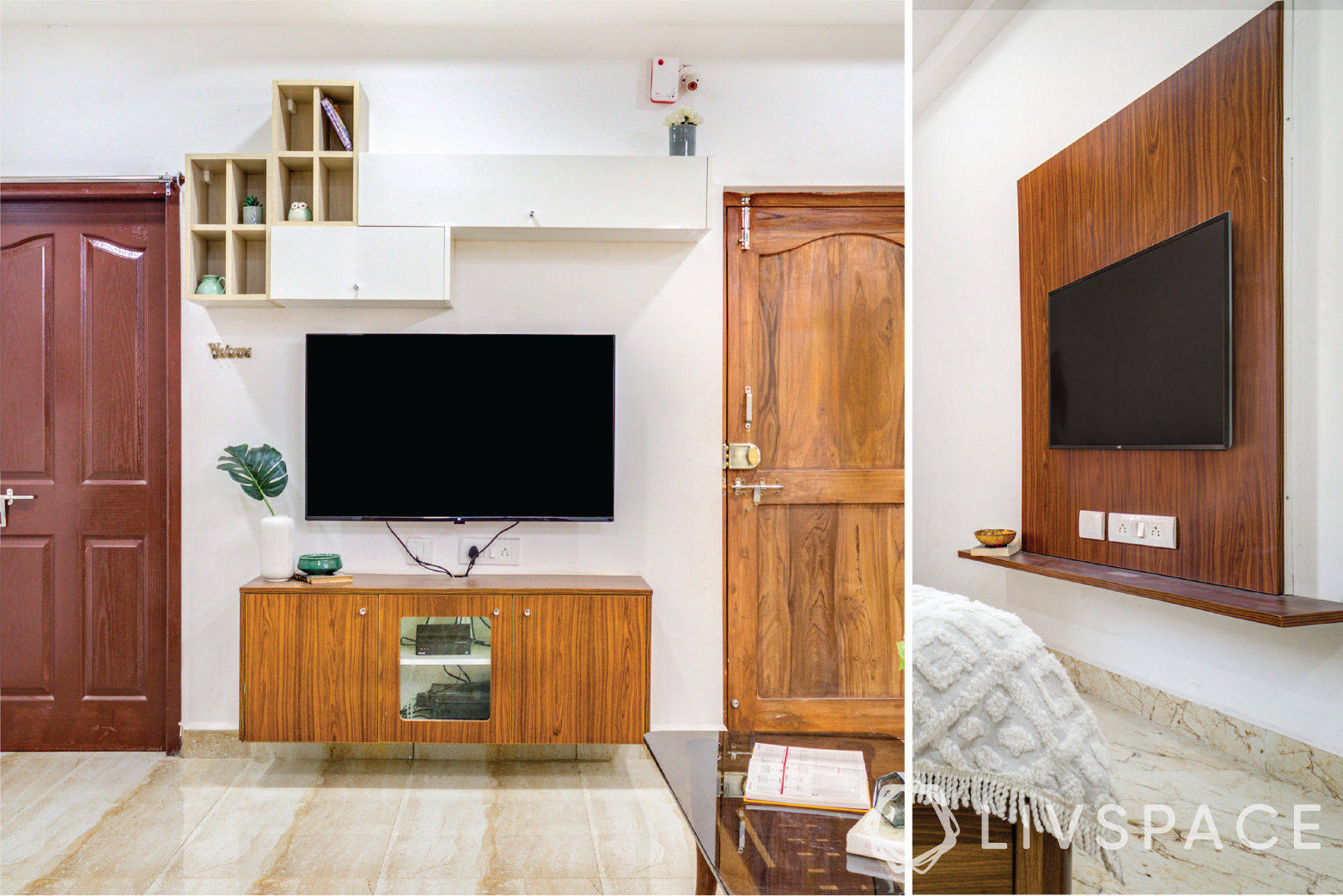 We love this particular modular home as it is a duplex under ₹ 10 lakh! While this amount is certainly not modest, given that this duplex spans over 2,100 sq. ft., it is quite a feat for our designers to achieve.
What we love:
The high-gloss laminate finishes throughout the house are not just cost-effective but known for their durability. The TV units keep in mind the storage requirements of both the rooms shown above. Additionally, the study table is impressive as it is modular units, together to form a compact unit.
Design takeaway:
Stick to reasonably priced materials that give you versatile features. It will make the job much easier along with giving you more flexibility to your choices.
Want to know more about laminate finishes? Click here! Also, take the full home tour here.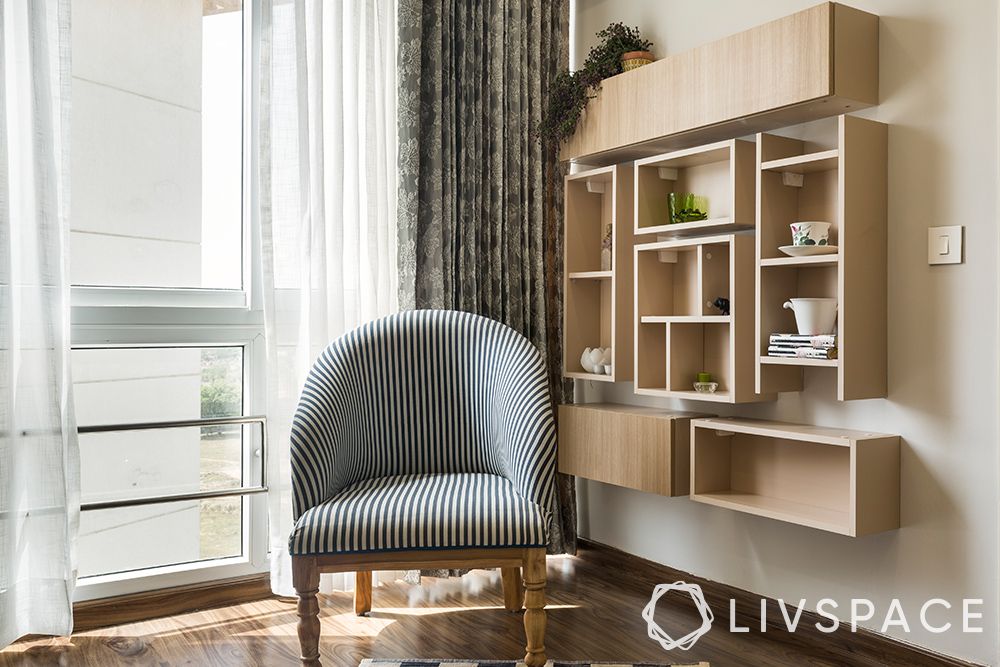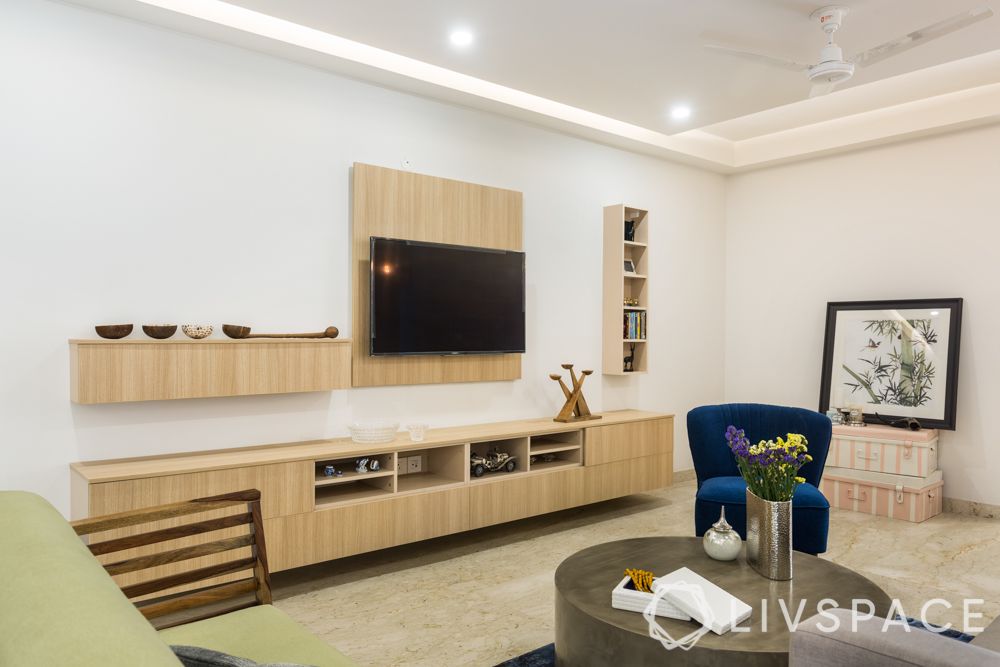 This Gurgaon home is perfect for anyone who likes to keep the budget, as well as the design, minimal. This modular home is adorned with warm tones and wood-like laminate giving it quite a modern touch. The focus was to keep things clean and classic so it just felt right to use modular units to bring this apartment together.
What we love:
The wood-like laminate for the furniture gives this modular home a Scandinavian touch. Assembled by putting together modular units from the Livspace catalogue, the modular TV unit and the reading corner sits peacefully with modular units serving as hanging shelves.
Design takeaway:
Use modular units to carve out functional spaces like the study corner or the TV unit in this modular home. These come in predefined sizes and are cheaper than custom-built furniture.
Want to know more? Take a look at the hometour here.
If you are still on the fence about modular furniture, read What Are the Benefits of Livspace Modular Furniture? Wondering how our customers feel about working with Livspace? You can check out the Livspace reviews here!
How Can Livspace Help You?
We hope you found our ideas useful! If you want your home to be just as beautiful, then look no further. Book an online consultation with Livspace today. Delivering safe home interiors has been our No. 1 priority. Click here to find out how interiors are being delivered following all safety protocols.