It happened to me after coming back from a friend's beautifully done up home. I walked into my own place and was aghast at the lack of imagination it showed. Was it space management or the choice of colours – I couldn't put my finger on it. In reality, there was nothing 'wrong' with my home. But it needed one of those big interior designing ideas that could change the entire look of your home! Sound familiar? We bet it does!
In all honesty, it actually takes just one killer idea to turn your home from drab to fab. But we will give you 15 to pick from, depending on what the design challenge in your home is. Moreover, these interior designing ideas are picked from our very own #LivspaceHomes, just so that you know that they are practical and completely doable.
#1: Make the best use of niches (that you can or cannot see!)
Design Problem
If you have lived in Mumbai, you are no stranger to cramped bedrooms. Once you fit in a bed, there is hardly any space to move round. So how should a family get its storage needs fulfilled in a small bedroom?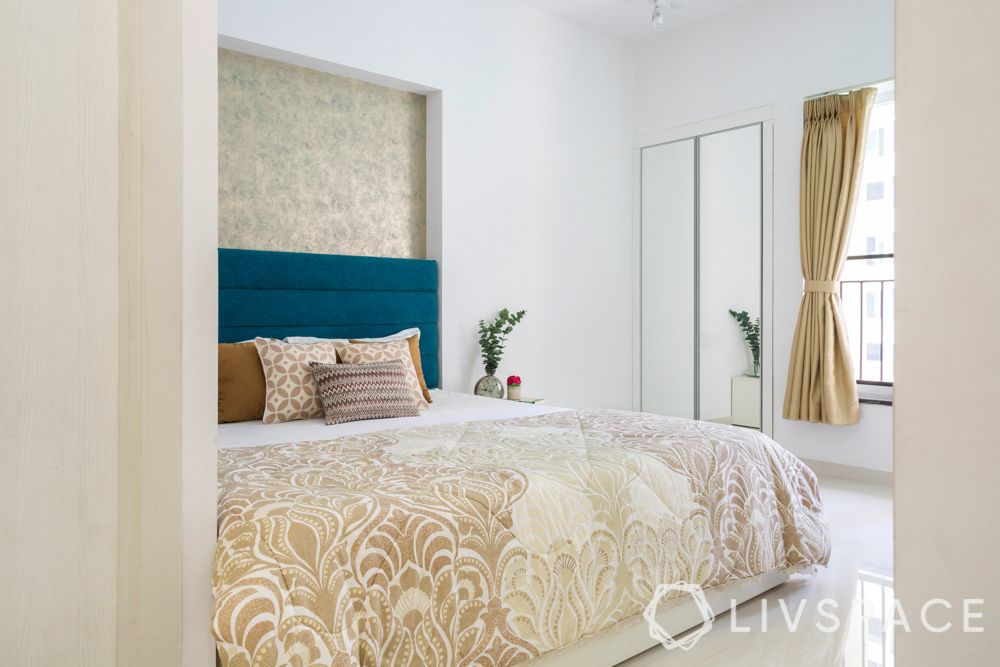 The Solution
In this case, niches can fulfill wishes. Some niches you can see, like the niche behind the beam here that is used to install wardrobes. Some niches are invisible too and it takes an architect's eyes to see it hidden behind walls. That is how we slipped in the mirror-shutter wardrobe right into the wall.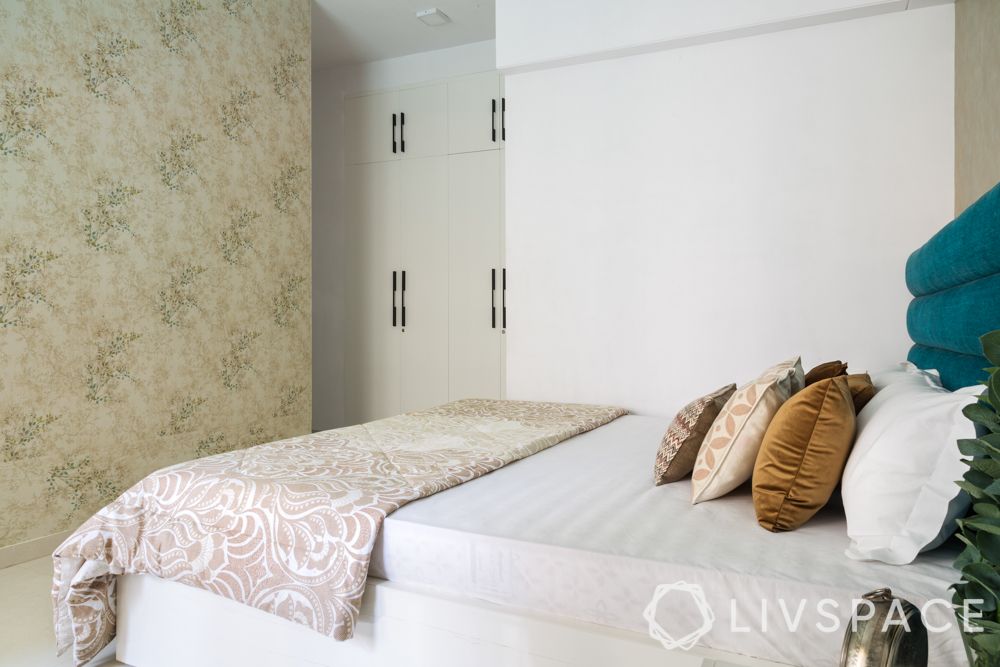 You can see more images of this home here.
#2: Having space is not enough. How functional is it?
Design Problem
Blessed are those who have L-shaped living rooms that naturally divide themselves into two parts. But those not so lucky, how can you make the rectangular space in your living room count?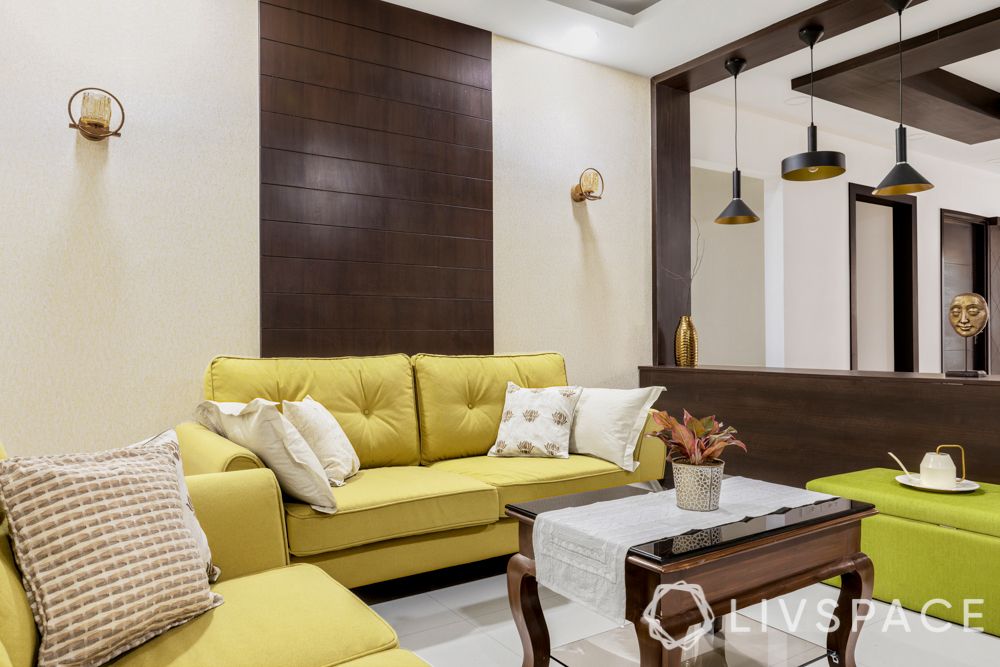 The Solution
You can take cue from one of the interior designing ideas used in this Hyderabad home. The designer installed a low-height console integrated with the wall panel that has storage on one side. You can also use the top of the console to keep potted plants or other decorative items. In this way, the rectangular living room is divided into two equal halves for drawing and dining areas.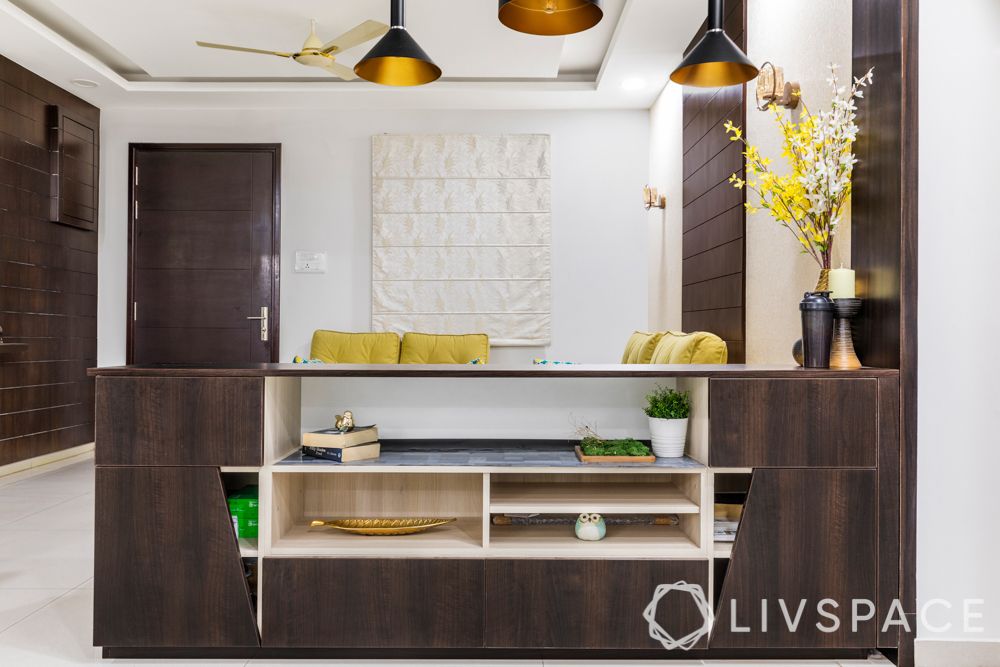 How did we do this? Get the full story here.
#3: When in doubt, customise
Design Problem
Who wants their home to look like it came out of a design magazine with no touches of personal style? Not me! Without imprints of personality, your home would be a dead design experiment.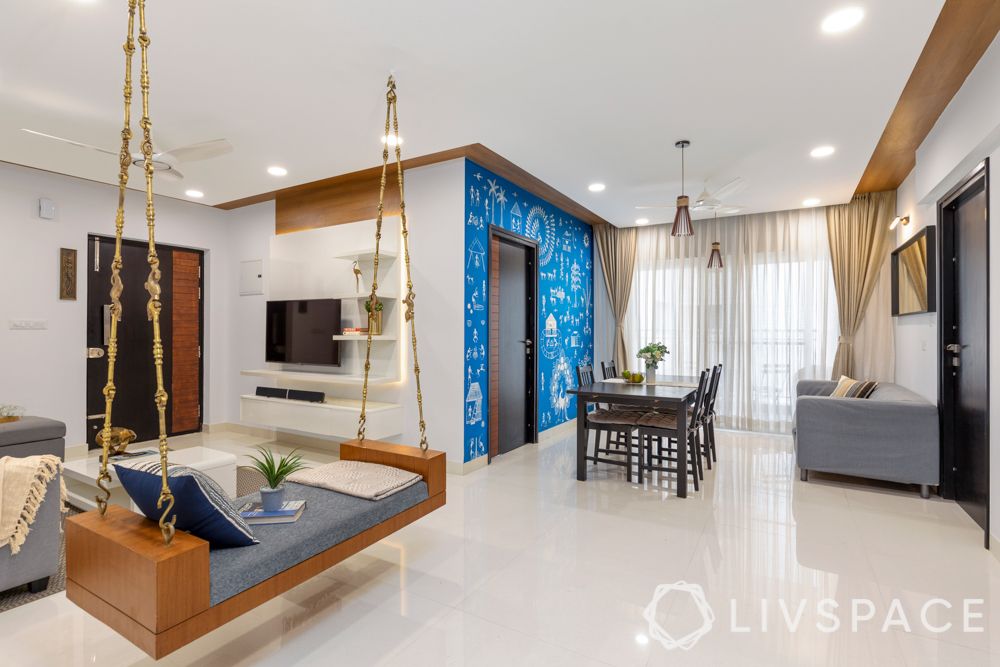 The Solution
Infuse life into it with crafty customisations. For instance, the wall in the dining area of this Hyderabad home has been painted by a local warli artist. Not only does this make a statement in favour of our folk arts but also helps support the local artists community. Similarly, in the bedroom, we see a low-height bed surrounded by fabric panelling on the walls for comfort. This bold and unusual design move is only possible if you choose to customise.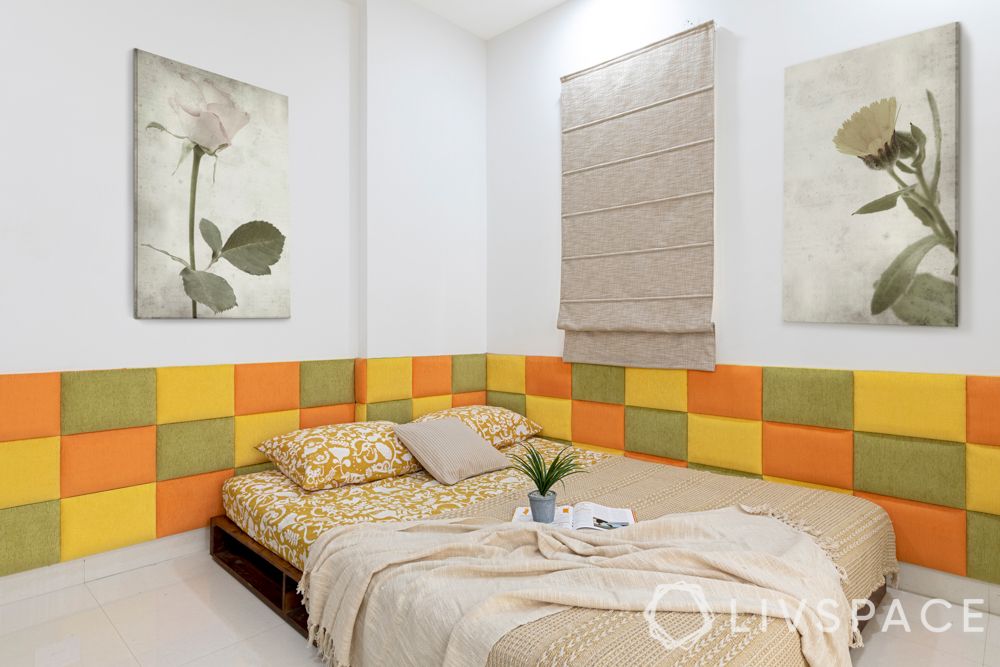 To the other cool customisations in this home, click here.
#4: Pull-out features work best in compact homes
Design Problem
Compact homes are a modern reality that we must live with. But that doesn't mean our needs are shrinking too. You still need basics like a bed and wardrobes in a bedroom.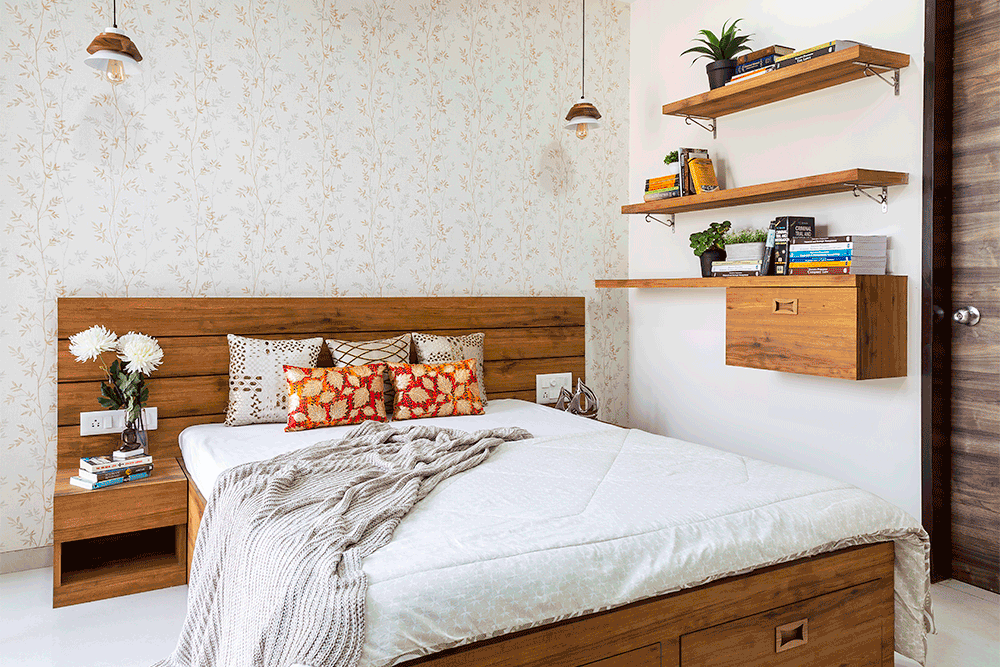 The Solution
For everything else, there can be pull-out features. When you have less space, every inch saved is an inch earned. You see how this bedroom is making its way with it's limited space by having a pull out workstation, ironing board and dresser unit!
Brush up on more space-saving interior designing ideas here.
#5: Every blank wall is an opportunity, make it count
Design Problem
Getting 'blank' stares from your walls? Well it's beautiful walls that make the difference between good and great homes.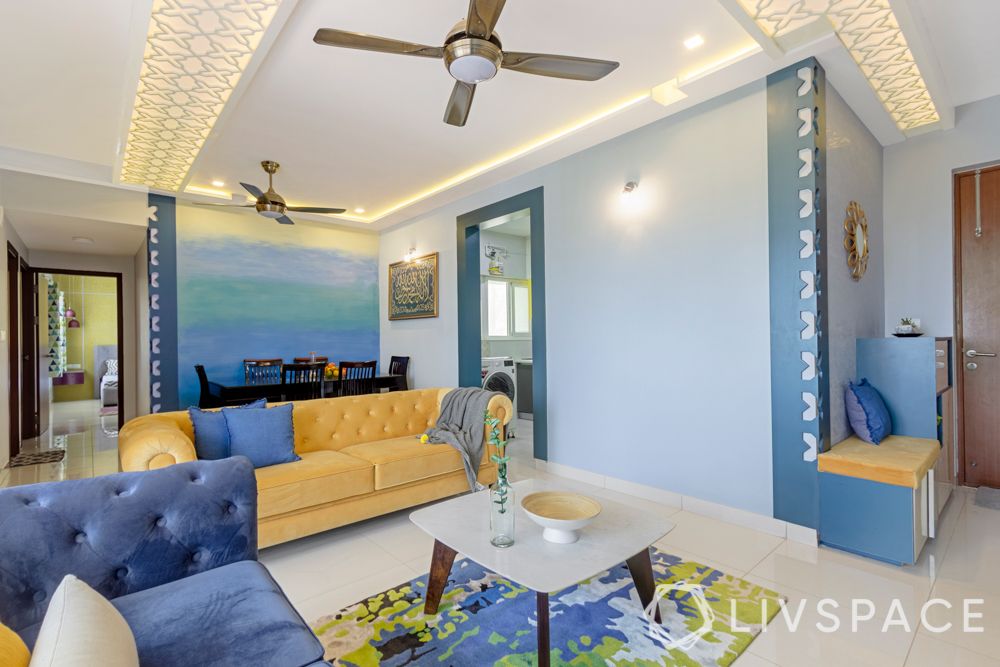 The Solution
Treat every wall like an empty canvas, totally filled with possibilities. In this home, we have a bunch of really cool wall treatments like jaali panels and a 3D backlit aeroplane in the kids' room.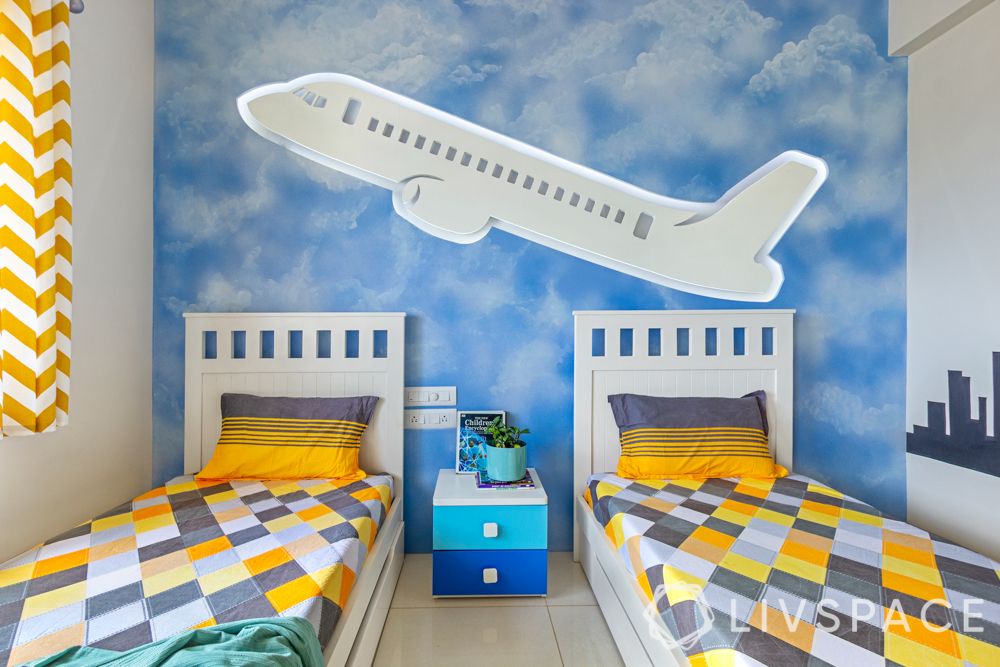 For more creative ideas, take a full tour of this home here.
6: Make the best of your existing furniture & save!
Design Problem
Whoever has moved from one home to another appreciates the effort involved in fitting furniture that was made for one home into another. So is existing furniture really such a liability?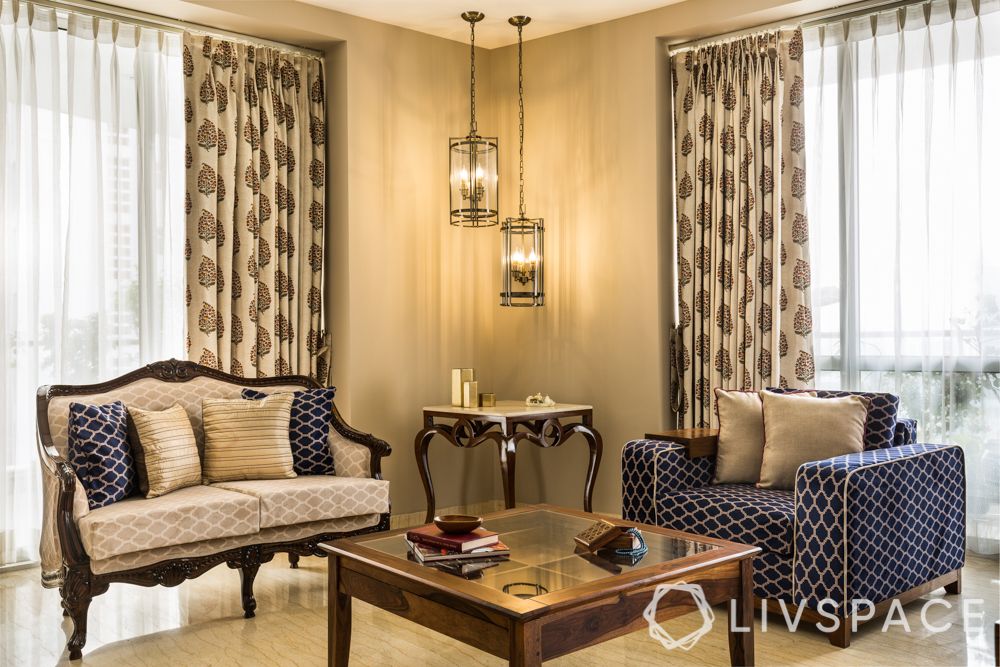 The Solution
Not if you choose to turn it into an asset by refurbishing it smartly. For instance, these classy solid wood sofas in the Goyal household needed a quick re-do of upholstery to look so regal. And their existing bed was given a brand you carved wooden headboard to match the antique vibe of their new home. The lesson being, refurbish, reuse and recycle. The planet needs you to!
Not if you choose to turn it into an asset by refurbishing it smartly. For instance, these classy solid wood sofas in the Goyal household needed a quick re-do of upholstery to look so regal. And their existing bed was given a brand you carved wooden headboard to match the antique vibe of their new home. The lesson being, refurbish, reuse and recycle. The planet needs you to!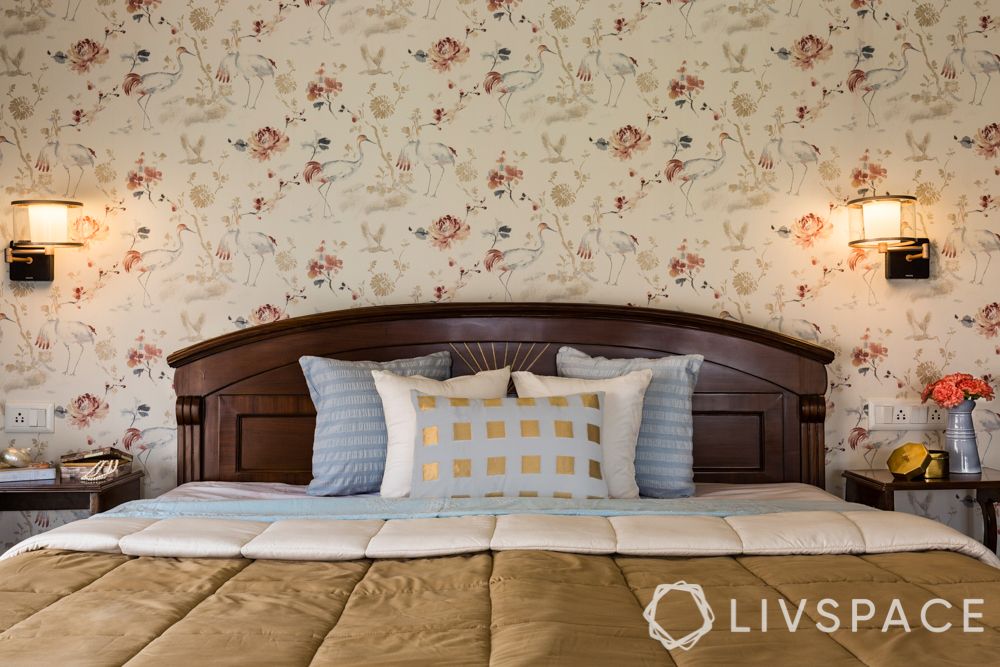 See more of this beautifully decorated but sustainable home here.
#7: The devil is in the details
Design Problem
Well-designed homes are often balanced in terms of colours, space and layout. But what distinguishes a home in terms of visual appeal is at least a few 'wow' elements that make you stand and stare. Is your home lacking that 'wow' element?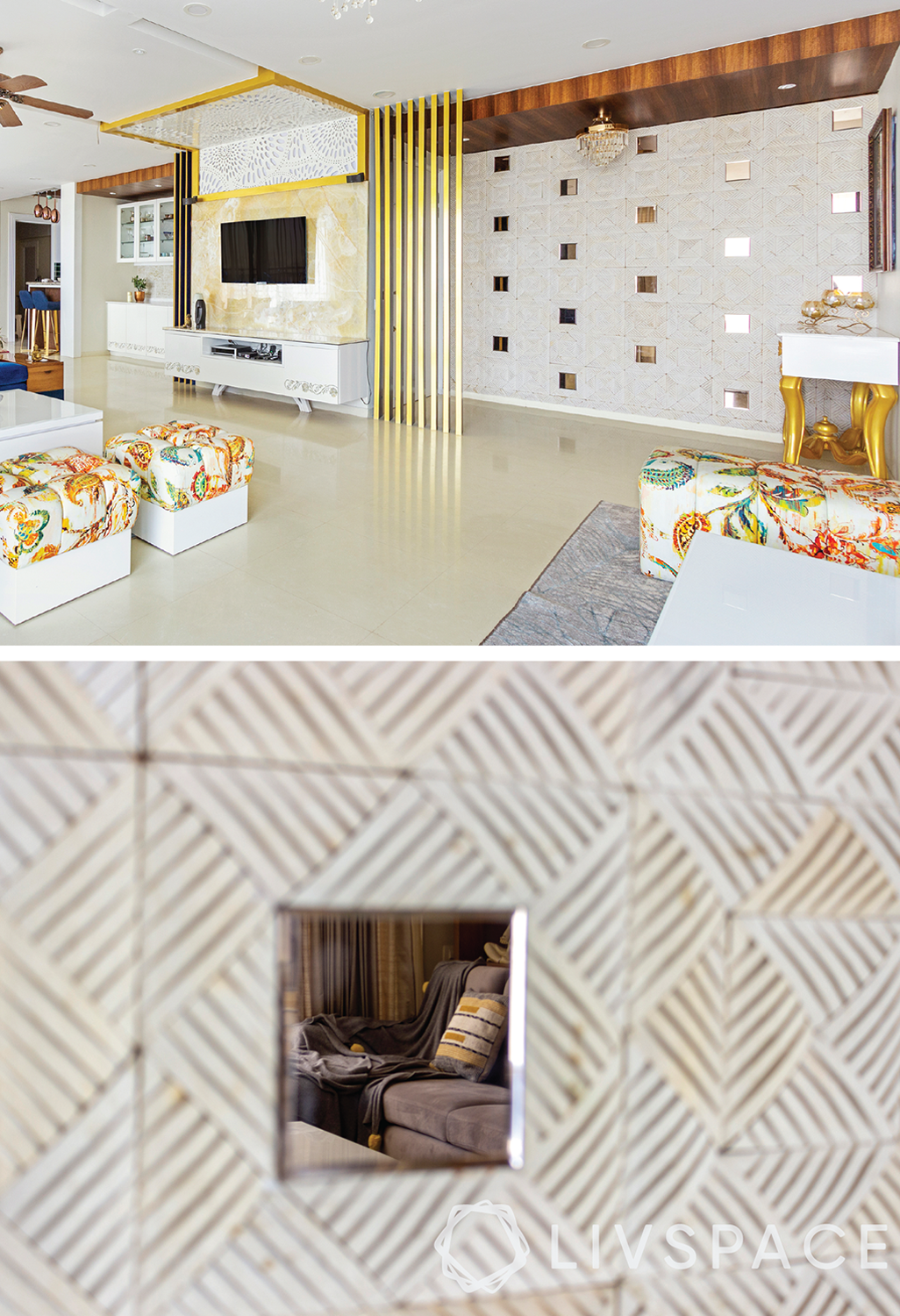 The Solution
You could use a number of interior designing ideas to bring in visual appeal but the best way to do it detailing. In short, the details that you have as part of your interior decor should be exquisite. What better way to illustrate this than showing you this POP wall with inlaid mirrors. For something equally artistic, also take note of this bed with an intricately carved wooden headboard.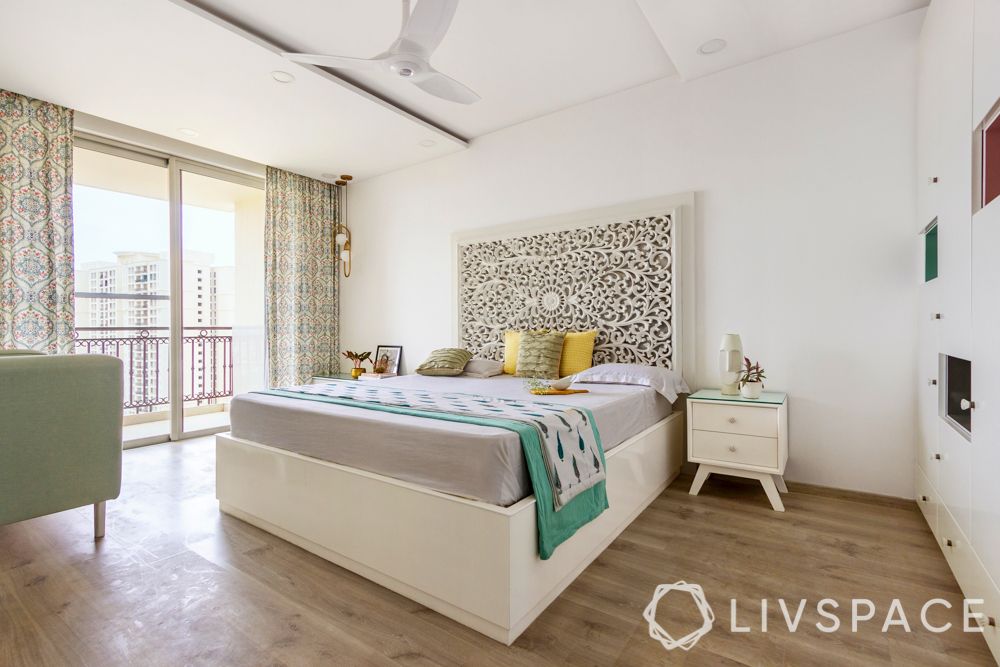 Check out more such exquisite details in this gorgeous 5BHK here.
#8: Want to avoid monotony? Try different finishes!
Design Problem
There is no harm in having just one kind of finish in your entire house. In fact, many people prefer that for the sake of uniformity. However, if you are the kind of person who dreads monotony, you need to mix it up.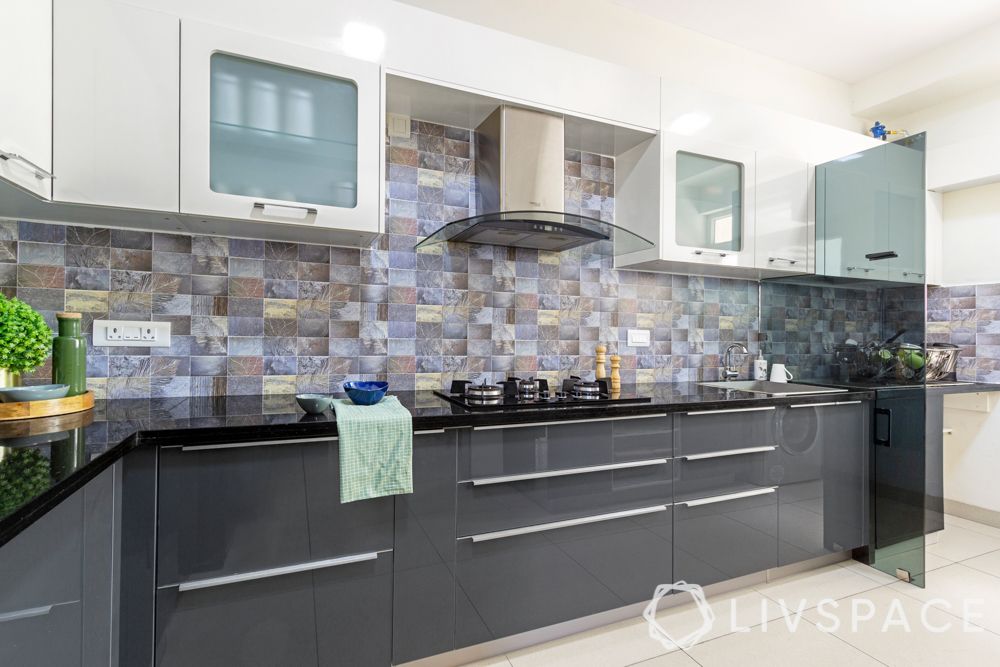 The Solution
Never shy away from using your own unique mix of finishes and materials because what is personal may never be wrong. This Bengaluru home with its unique mix of acrylic and laminate kitchen cabinets makes that point loud and clear. We also love how the matte membrane of the wardrobe contrasts with the glossy back painted glass strip in its centre.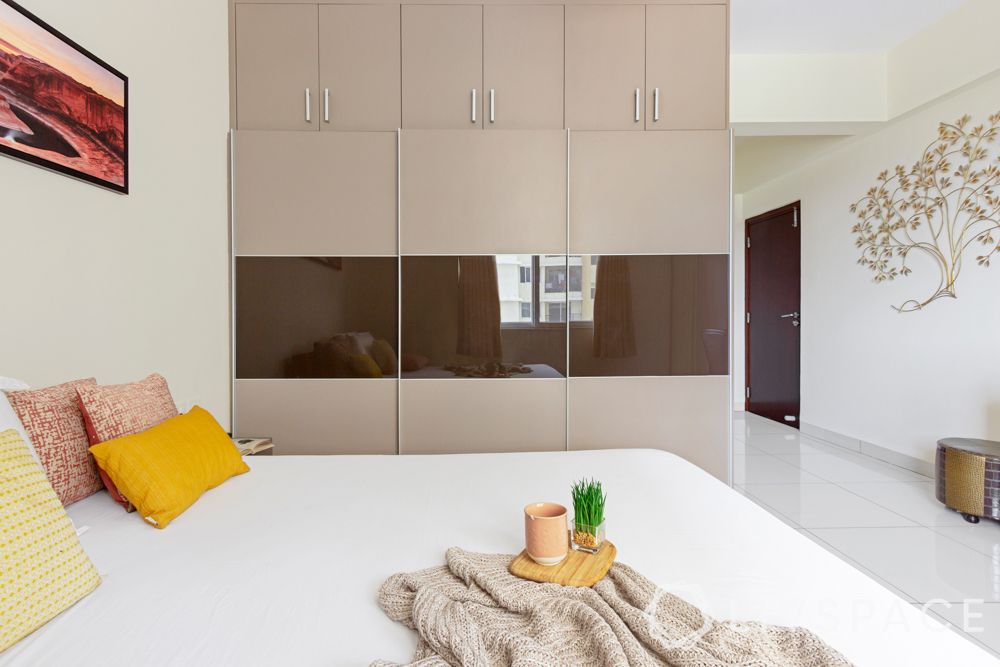 To explore more unique mixes of finishes, explore this Bangalore home here.
#9: Make the colours count
Design Problem
Are the colours in your home really serving any purpose? Or do they just exist for aesthetic reasons? If you don't make the colours in your home work hard for you, they ain't really doing their job!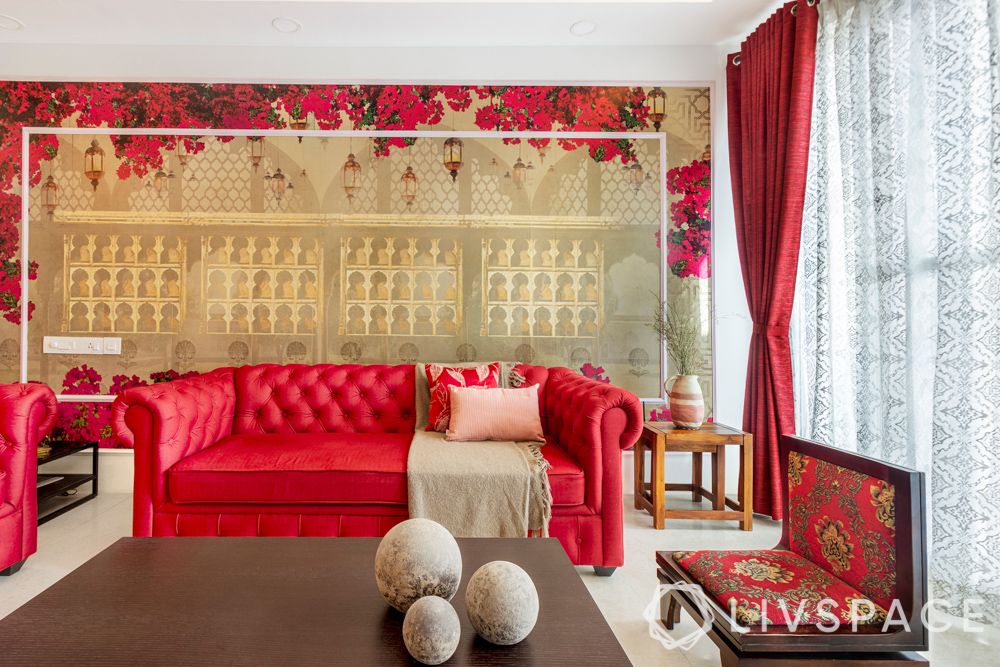 The Solution
Interior designing ideas using colours have many different purposes. For instance, in the living room you see here, there different shades of red in the sofa, the chair and the wallpaper. These gradients add texture to the space and give it a layered look. In the bedroom, however, we see the same shade of red repeated in the bench, headboard and curtains. Here, colour is a source of continuity. Of course, let's not forget how it doesn't fail to make an impression!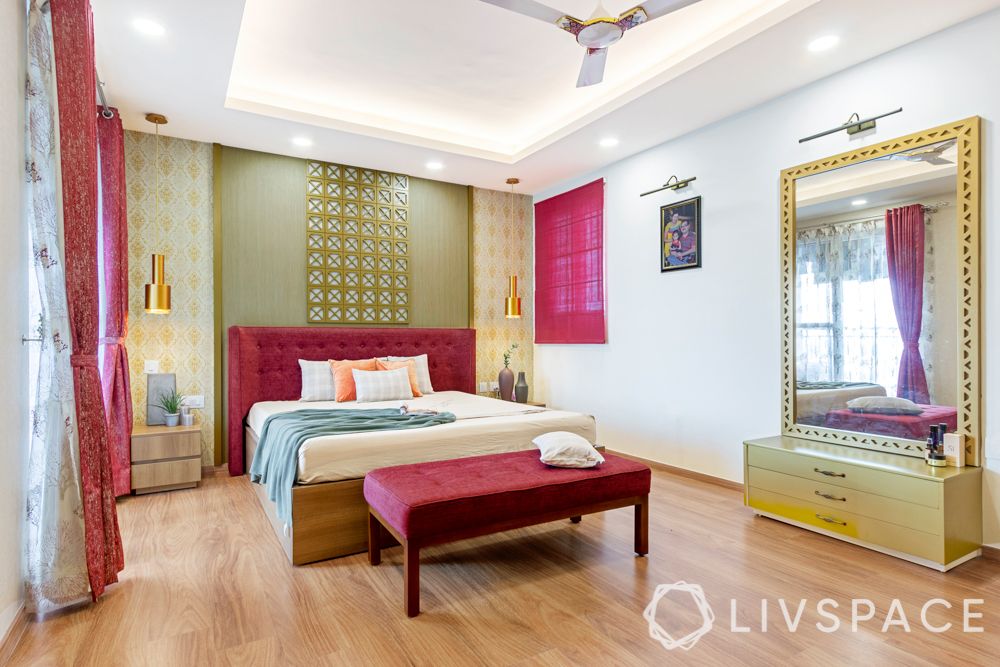 View this Bangalore 3BHK home in all its glory here.
#10: If you are in a hurry, get modular furniture
Design Problem
Timeline is just as important a consideration while getting your interiors done as price or aesthetics. So what do you do if you want to get your home interiors done at the earliest in order to move in quickly?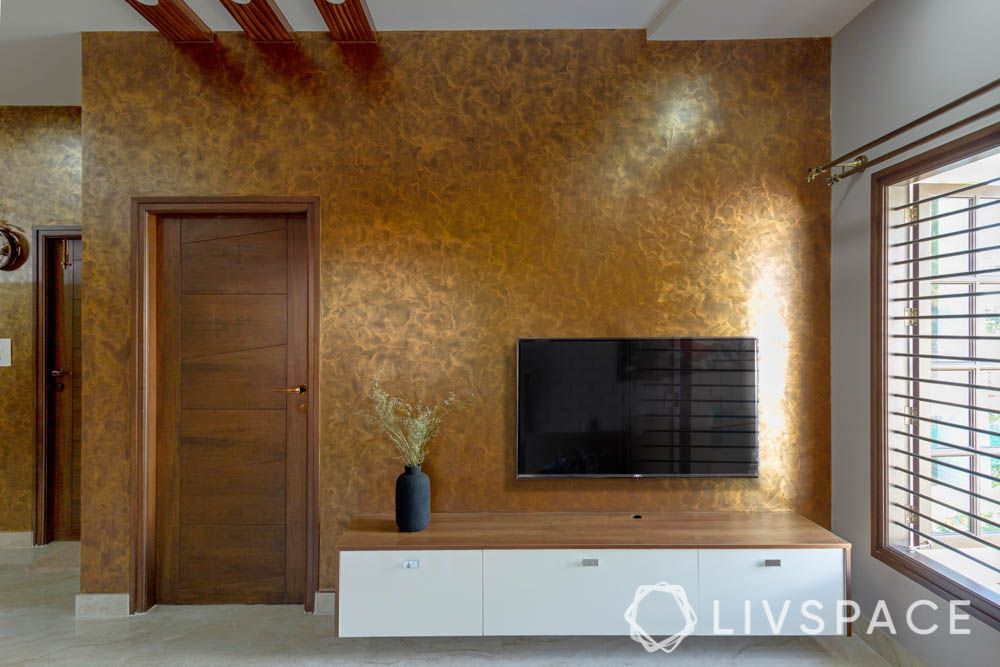 The Solution
You might have to put custom interior designing ideas aside in favour of modular solutions. The benefits of using modular solutions are manifold. But the most relevant benefit here is speed. As modular furniture comes in pre-determined dimensions and is made in factories, it can be assembled in a matter of weeks in your home. In this particular 2BHK, the homeowners have opted for all things modular including kitchen cabinets, store units and even their beds while customising it to suit their colour, finish and material preferences!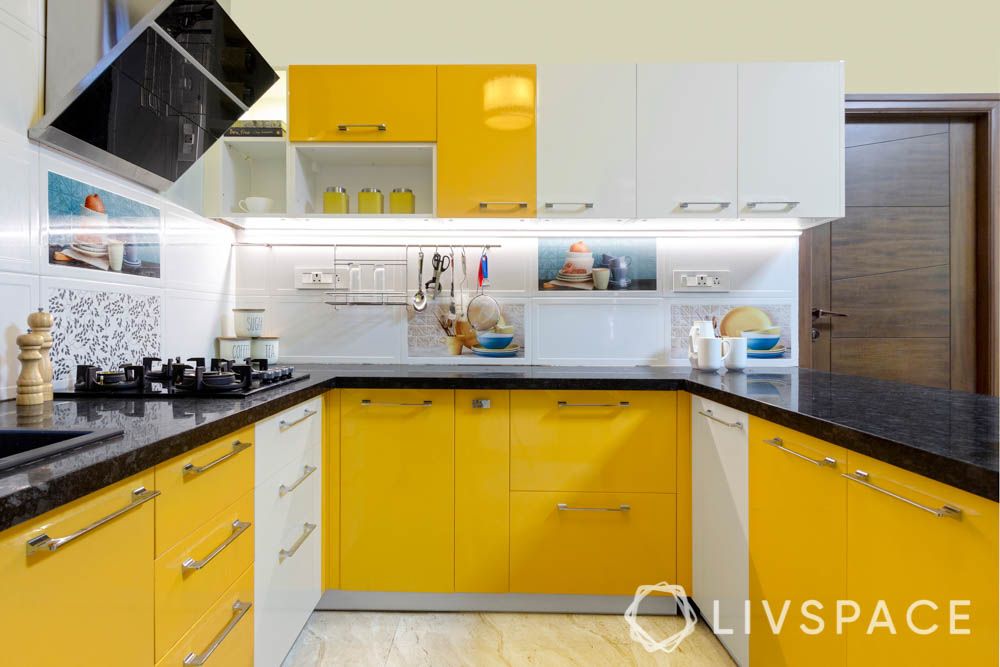 #11: Flooring is an essential component to setting the mood
Design Problem
We often think that flooring is a default factor in the scope of interior design. But it is not so. In fact, flooring can set the tone of a room all by itself. So what happens when there is a mismatch between the purpose of your space and the flooring there?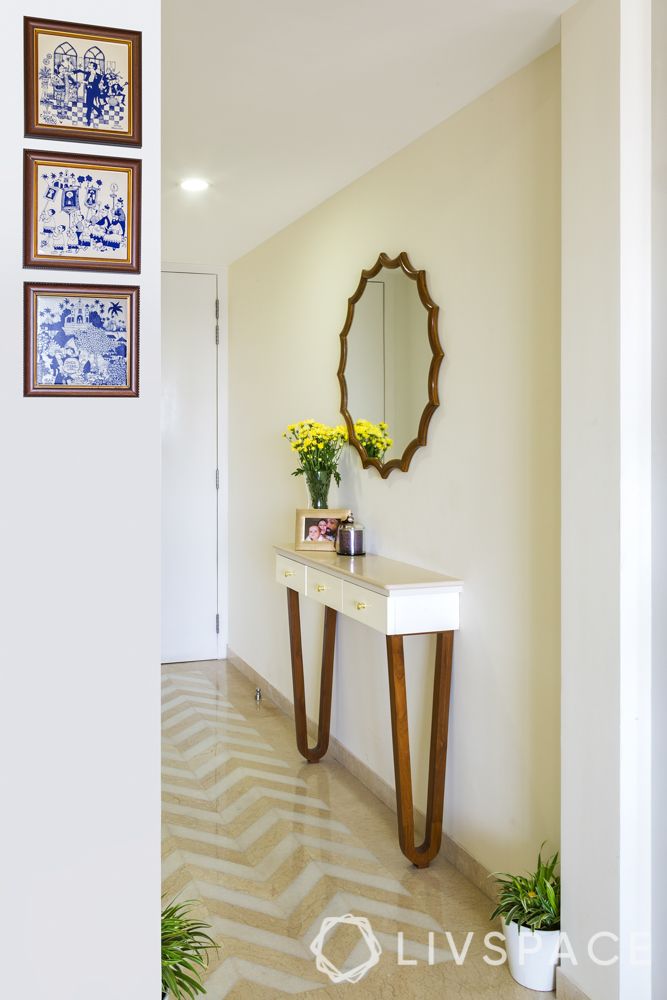 The Solution
In narrow spaces like the foyer, you can make an instant impression with statement flooring. Patterned tiles like the ones you see above add oodles of texture and spunk to passages when used correctly. Coming to the family room in this home (below), do you notice how it exudes warmth? Some part of the cosiness is because of the wooden laminate flooring.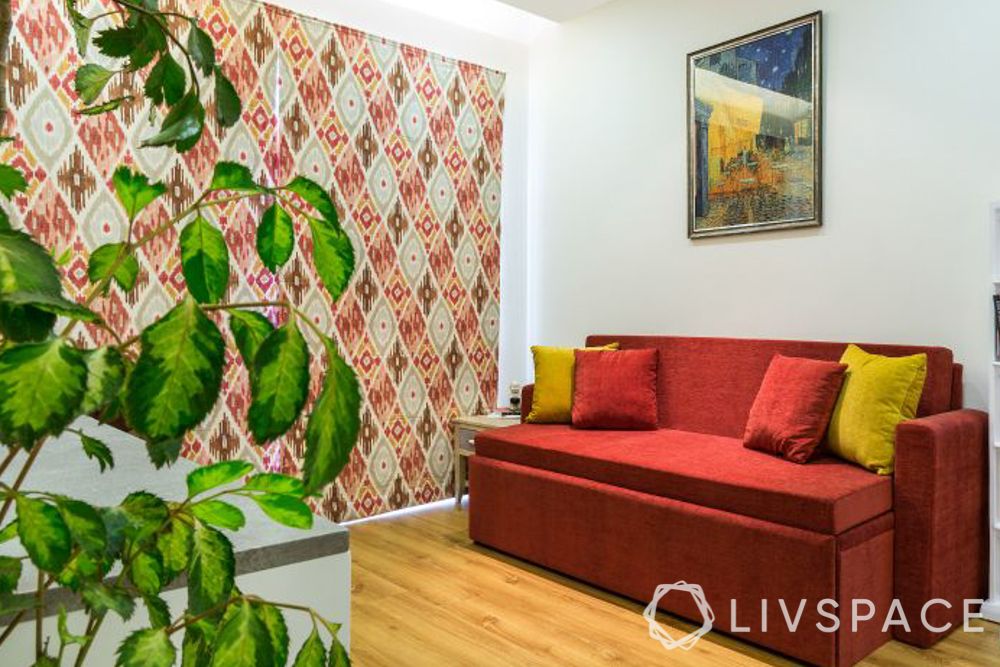 You can view the rest of the home here.
#12: Lighting aids function. Use it wisely
Design Problem
Lighting can make or break the ambience of your home. Even the most artsy decor can look ugly and common under relentless tube lights. Moreover, a blanket kind of lighting neither highlights the different areas of your home nor serves every purpose or need.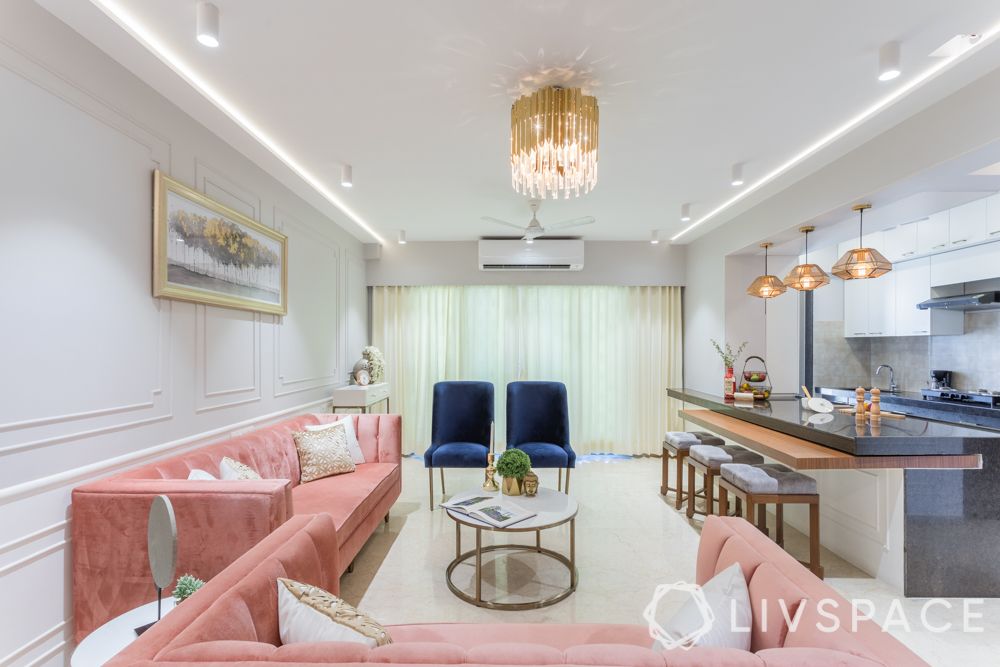 The Solution
The easy solution is to incorporate different kinds of lighting within every room that will work to its advantage. For instance, the living room of this Mumbai home has recessed lights in the false ceiling, spotlights to highlight lovely pastels, a statement chandelier and pendant lights to light up the breakfast counter. In the bedroom, the night lamps provide ambient lighting while the spotlights can be used for reading. Each type of light has its purpose and the home looks layered thanks to so many variations of lighting.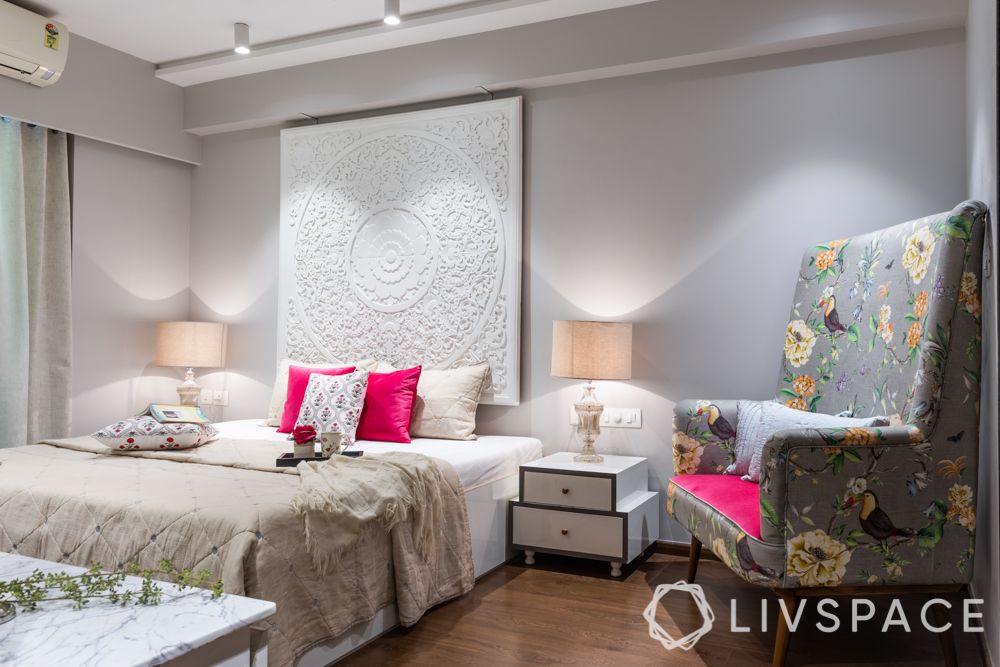 To see the rest of this resplendent Victorian home, click here.
#13: If space is an issue, opt for open layouts
Design Problem
Space constraint is the scourge of most Mumbai homes. It was no different for this 800 sq ft 2BHK. The biggest concern? The living room and the kitchen looked cramped. Besides, there was hardly any space for the dining area.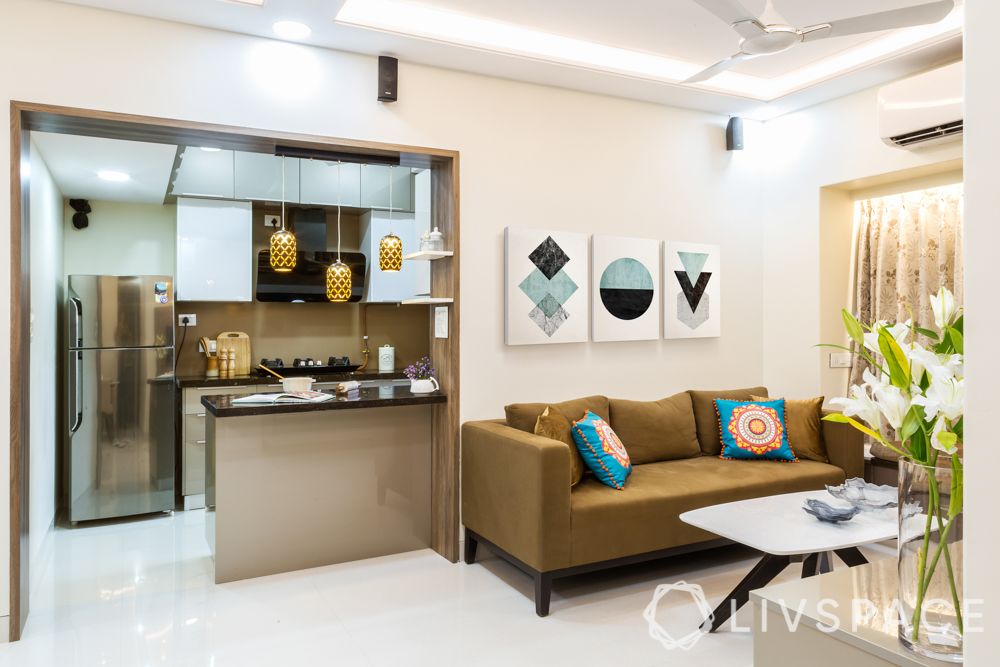 The Solution
When you have a space problem, the thumb rule is to open up the layout. As soon as you take solid walls out of the equation, the room looks bigger and there is a semblance of spaciousness. In this case, the family did not want the kitchen to be opened up completely so they settled for a breakfast counter with a bunch of stunning pendant lights to highlight the area. But guess what, it has done the trick! Also using lighter colours for the upper cabinets gives the illusion of space. Smart, right?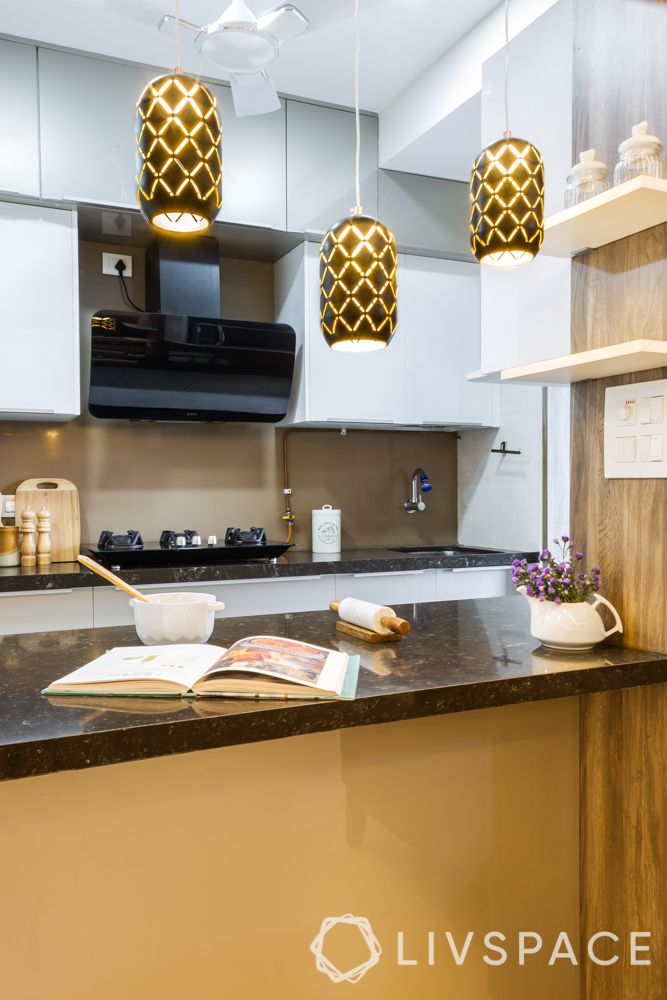 Check out how the rest of this compact home was space-optimised.
#14: Consider vastu to maintain a positive flow of energy
Design Problem
It is one thing to design as per the needs of space and functionality. That addresses your needs. But what about maintaining good energy in your home? That's when you add another variable to this equation – vastu.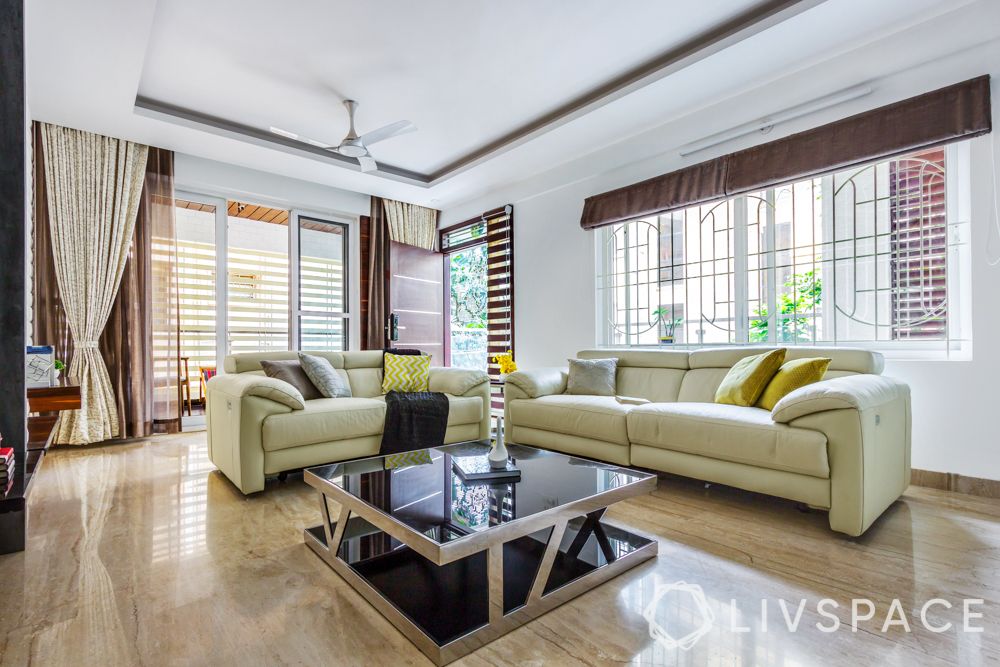 The Solution
We solved this problem by drawing out the basic tenets of vastu and then designing the home around it. Some of the core rules are, never block a window because natural light is good mojo. Also, the kitchen or the pooja room should not share a common wall with the bathrooms because bathrooms are energy drainers. And you will also see that most of this home is done in whites and warm neutrals. This in itself promotes serenity and peace using easy interior designing ideas .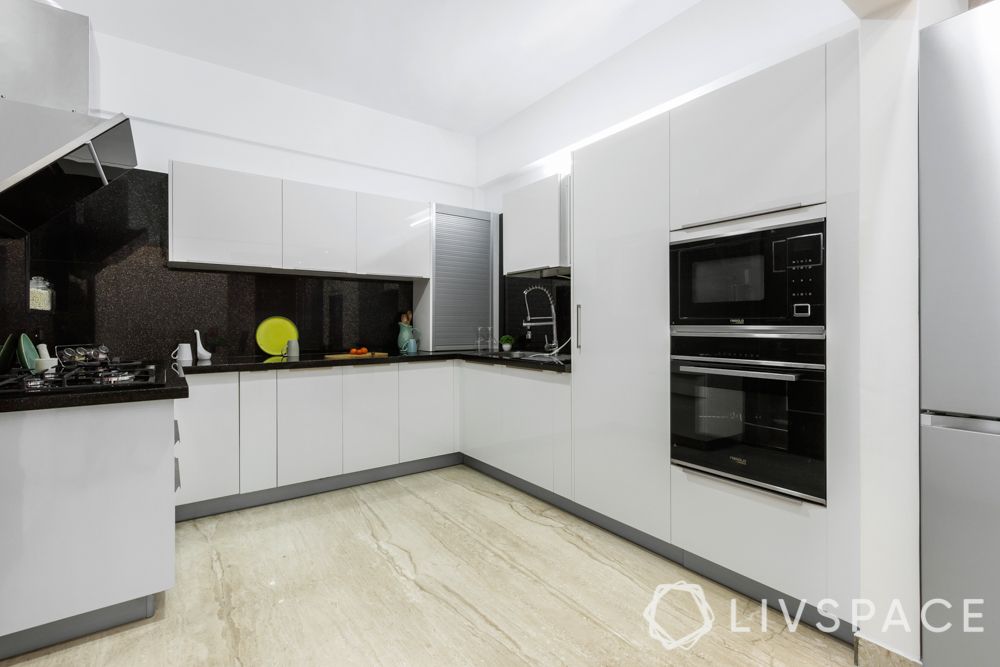 Borrow ideas on designing a white home from this 3BHK here.
#15: Have a rented home? Choose loose and modular furniture
Design Problem
Many of us have to move cities for work and we naturally have to live in rented homes. However, living in a rented home does not imply we do not want to design the space we are living in as per our taste. But there are many restrictions that come with a rented home and you will probably have to consider your budget too before buying furniture for a home that is not owned by you.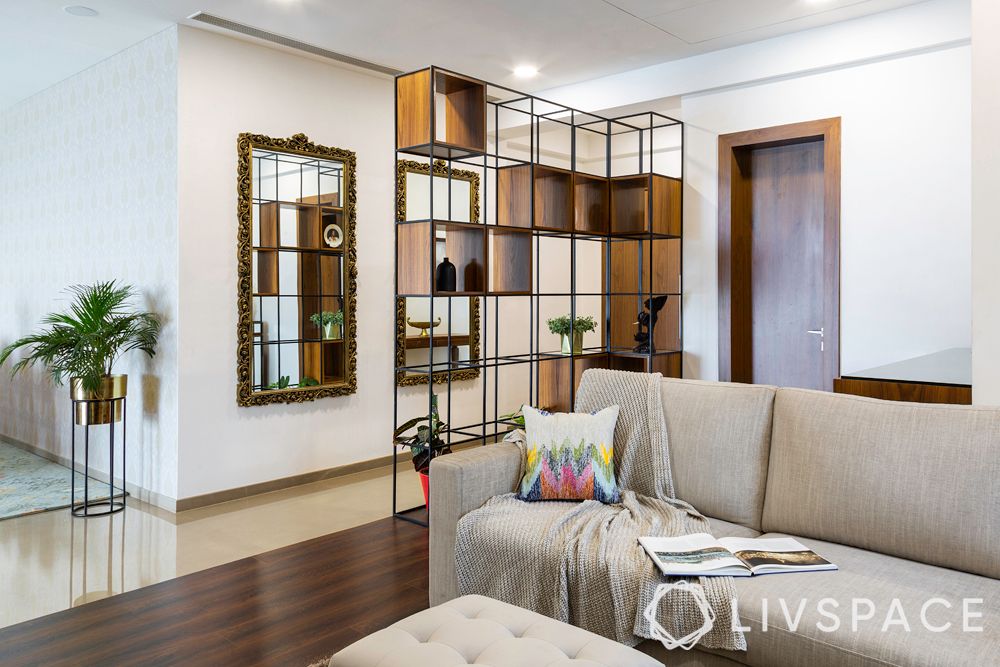 The Solution
For tenants doing up their leased home, like this massive 4BHK in Mumbai, loose furniture is the best bet. Buy furniture that you can pick and go and keep it as simple as possible. You can still invest in that one statement piece of furniture, like the console in this dining room, that will stand out. Buying furniture that is modular, as it can be open up into pieces and assembled, is even better. This will allow you to move with furniture easily.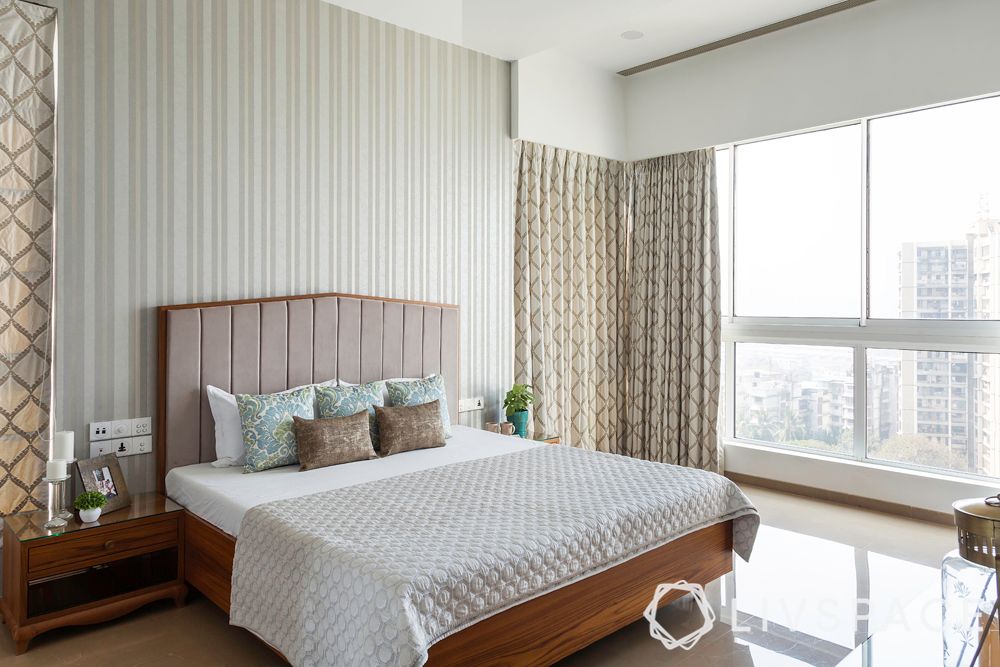 You must see this home here because it is hard to believe that it is a rented apartment!
We love hearing from you! Write to us at editor@livspace.com