Witness a burst of colours in this Mumbai flat design.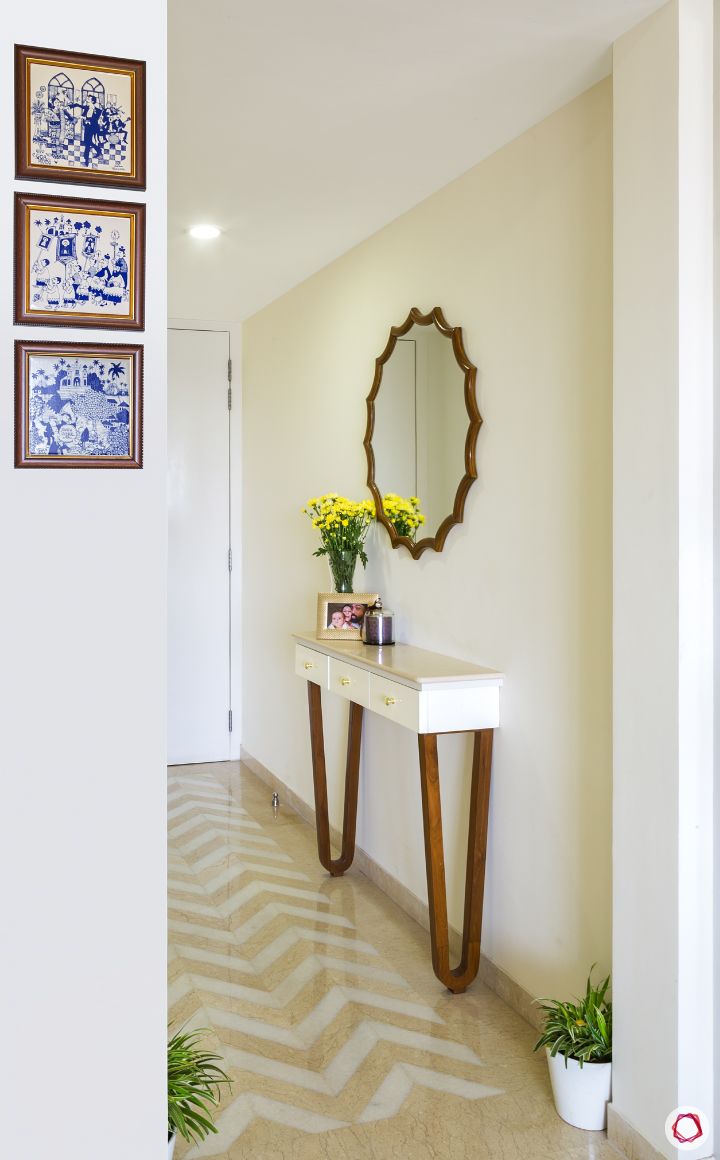 ---
Who livs here: Akshara Sanwal with her husband Paran Bawa and their daughter
Location: Lodha Fiorenza, Mumbai
Size of home: A 3BHK spanning 1,150 sq ft approx.
Design team: Interior Designer and Quality Manager Pragya Kothari
Livspace service: Living room, dining room and entertainment room design
Budget: ₹₹₹₹₹
---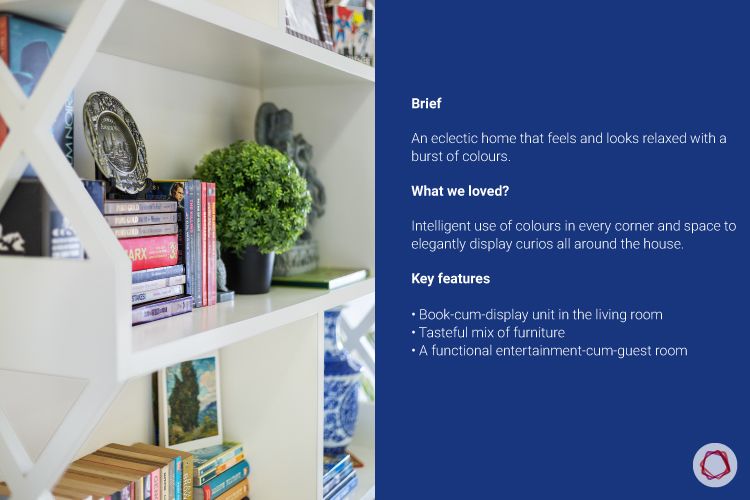 Nestled in Goregaon East, an apartment in one of the posh properties of Mumbai, Lodha Fiorenza, witnesses a burst of colours in this flat design. After a tough day in the maximum city, this young couple loves coming back to a home that feels bright and happy. Taking their demeanour and their joyful daughter and cute doggo into account, our designer gave them a design that would make their home the object of others' envy.
Furthermore, the common areas like the living, dining and the entertainment rooms needed an overhaul in this Mumbai flat. With some clear-cut designs in mind, when Akshara and Paran came to Livspace, Pragya had to do complete justice to their beautifully located apartment. Read their story to see how the colourful home took shape.
A Book Lover's Welcome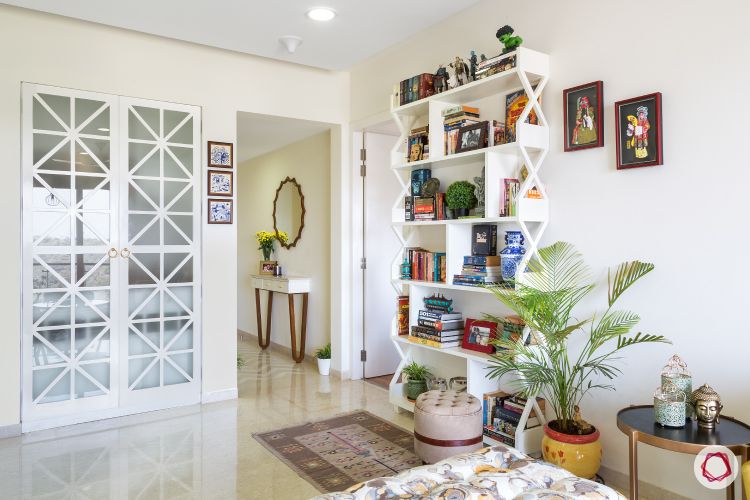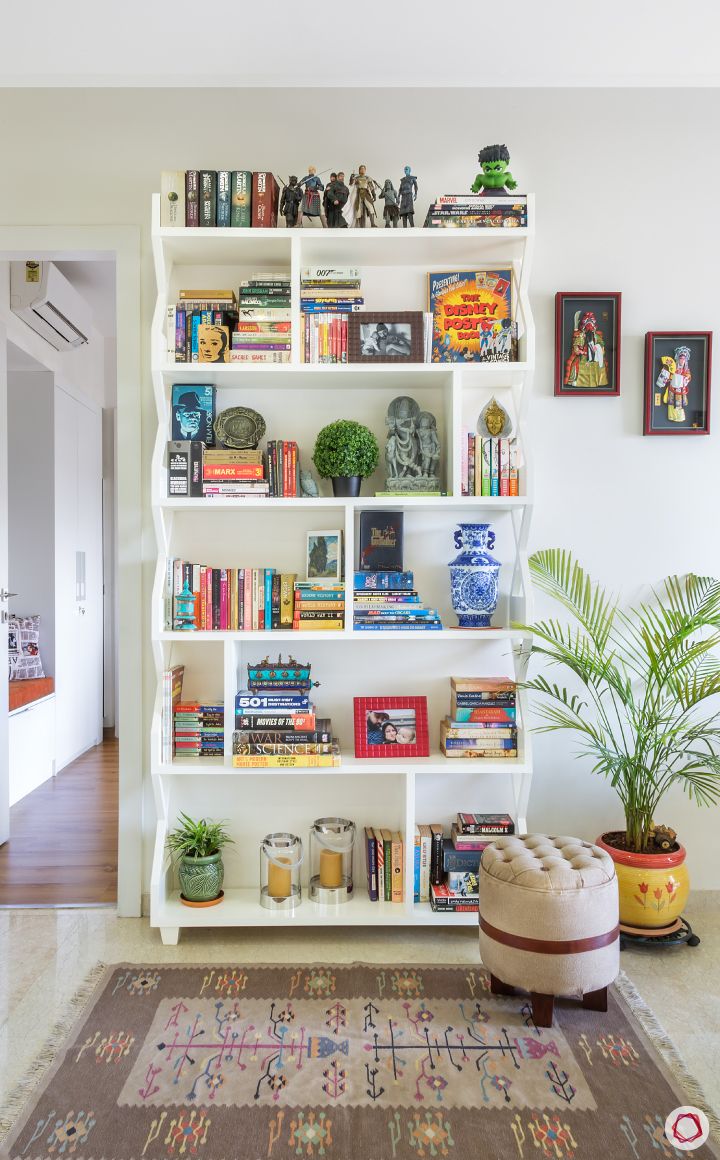 Some things find their own sweet spot at home, effortlessly. Such is the bookshelf that welcomes you into Akshara and Paran's home. Being avid readers and travellers, this couple always wanted a cozy nook for their books and curios. Moreover, they believe in perfection and wanted a space for everything. Paran loves collecting action figures and that is what you see atop this versatile wall-mounted library. As a result, Pragya gave the couple a reading corner-cum-display unit in this flat design which they loved. In addition to the pristine white bookshelf, the beige rug and matching ottoman make this area the talk of the house!
A statement dining room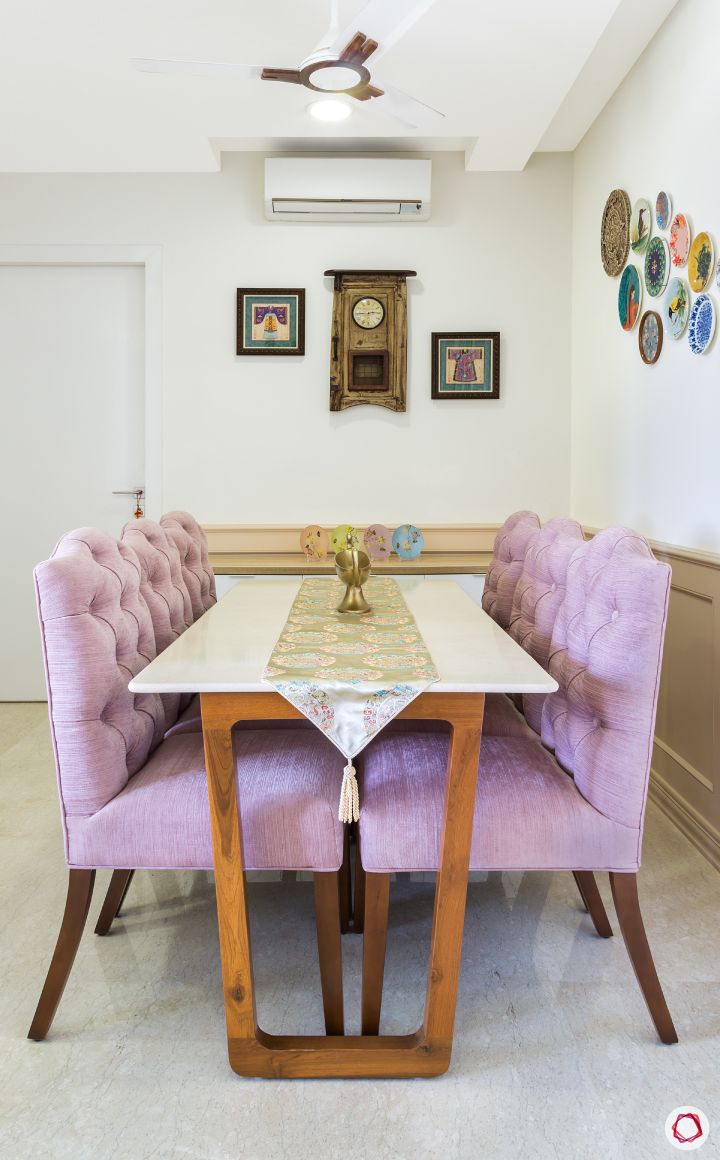 Designing a dining room with such intricacy is no easy task. Trust us when we say this because the couple wanted a very unique dining area with the limited space available. Therefore, Pragya ended up giving them trims on the wall in a lovely beige tone, that sets this space apart. Subsequently, Akshara also wanted to display the lovely collection of plates from all over the world and Pragya found the perfect spot for the same. Moreover, dreamy lilac Lexington dining chairs and a marble top dining table complete this space.
A bright and chirpy living room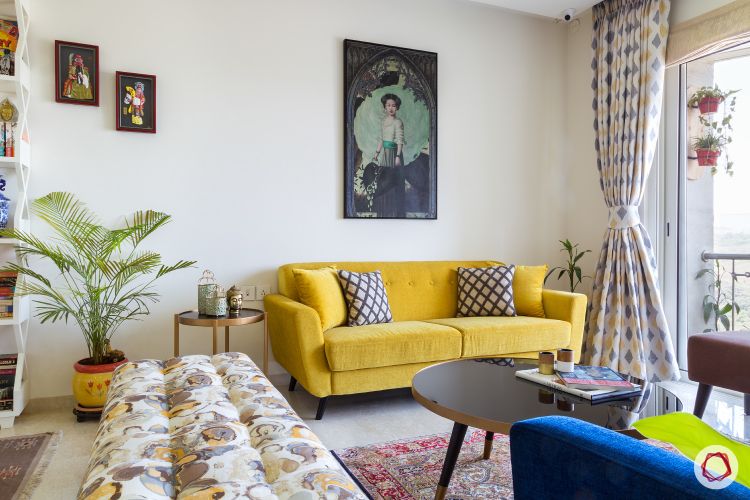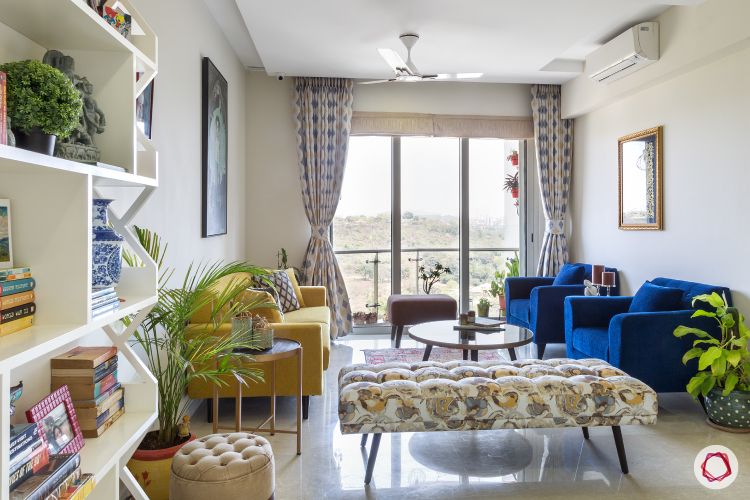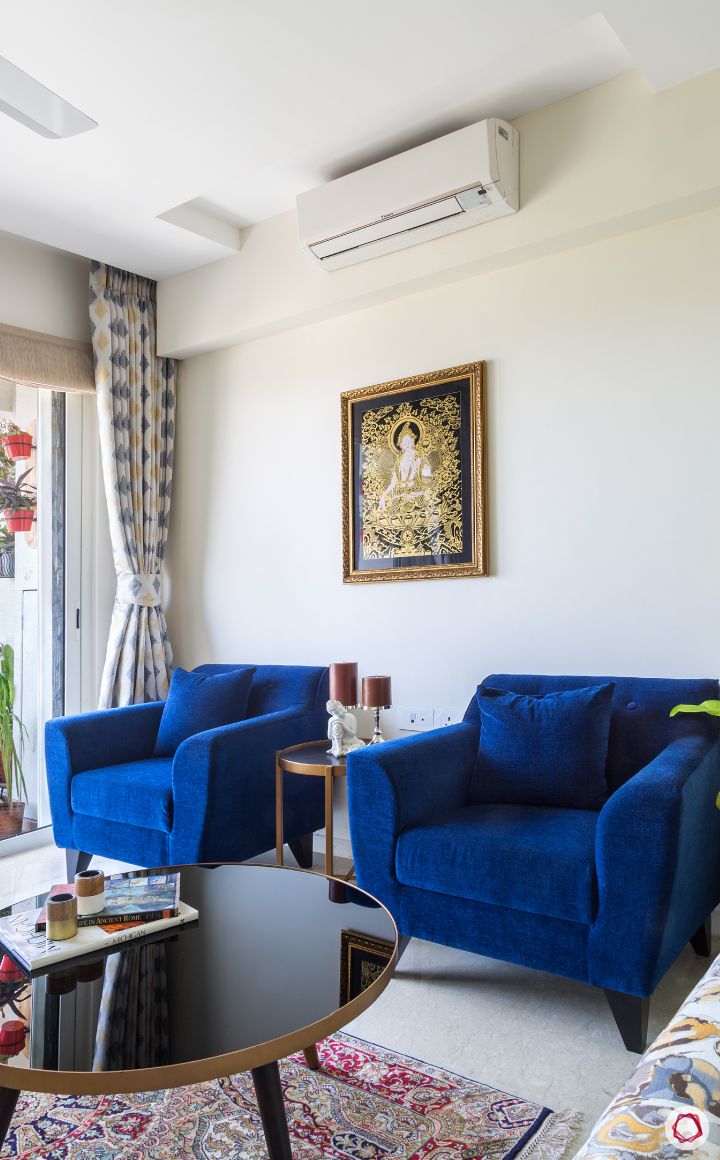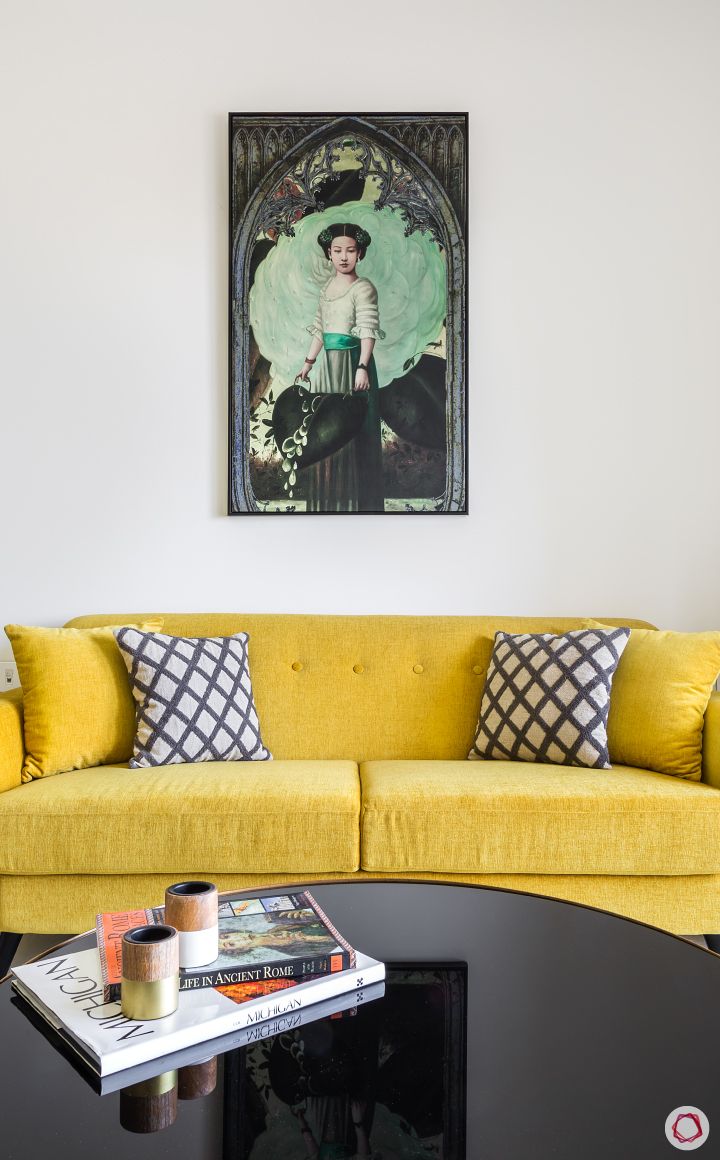 When you have a lot of friends visiting you over weekends, you just cannot make do with a regular living room. Therefore, Akshara and Paran wanted a casual setting for their living room, where they could entertain friends and family. In came Pragya with the best choice of seating for such a situation. Easy to move around and light on the eyes were two major factors in selecting furniture for the living room.
Hence, the two-seater sofa, chairs and the bench happened. Pragya also gave a burst of colour to this space, with the two-seater in bright ochre, chairs in cobalt blue and bench in abstract print. So, when the couple has friends over, they can easily move the furniture around and create a fun zone out of their living room, which is situated beside the bar!
A ravishing entertainment zone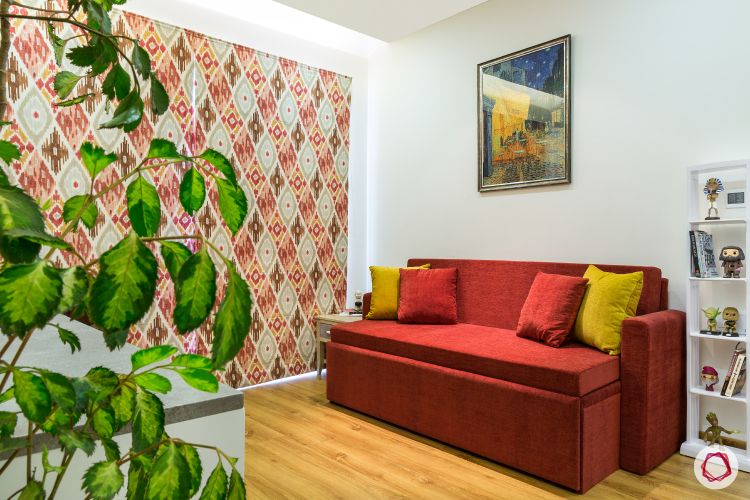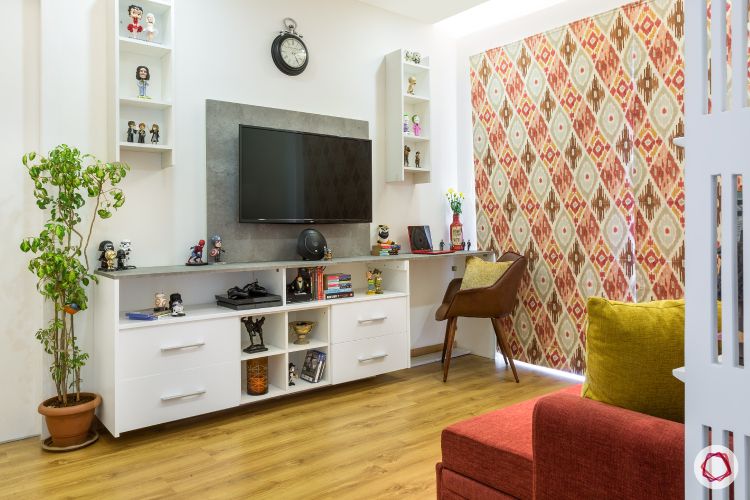 The entertainment room is the only room at home that has a television and it deserved a good design, meant purely for fun! Pragya suggested bright rust upholstery for the couch that turns into a bed for snooze time. Subsequently, the TV unit is also an integral part of the design, with stone finish paneling behind the television and frosty white finish for the cabinets.
In addition to this, a ladder-style display unit adorns the wall, where action figures take center-stage, yet again. The blinds are perfectly in sync with the couch and the vibe of the room. Also, a tiny work space finds place in this room. Mixing work and fun is not always boring, we say!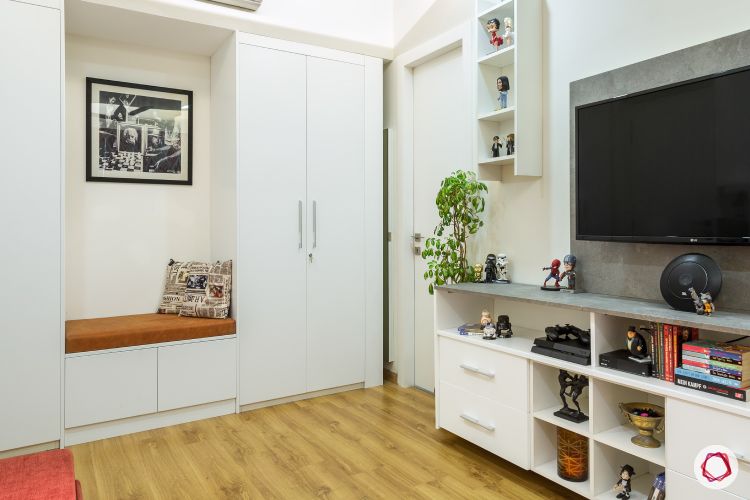 However, one of the striking features of this room is the cozy seating that breaks the monotony of the white wardrobes. Frames are also an important part of this flat design, and thus the empty wall serves as the perfect spot for hanging coveted photo frames. As a result, this room really packs a punch!
---
"Akshara had very specific requirements for a lot of things. Initially, it was a little difficult to come to a consensus, but eventually things fell into place. I enjoyed designing for this couple, since I had the liberty to design according to certain specifications. I love how the home turned out in the end!"

– Pragya Kothari, Interior designer, Livspace

---
Loved this home? Take a look at Actress Spruha Joshi's Dreamy 2BHK, that showcases tasteful Bohemian aesthetics!
Send in your comments and suggestions!