The key to make your compact home look spacious is to plan an efficient layout and pick custom multipurpose modular furniture. This can be a tricky task, but not so much for Livspace designer Shreya Awasthi who worked on this spacious 2BHK interior design for Hamilton Homes, Bengaluru. For Deepa Roy, this home is everything she dreamed of – a simple yet stylish home with a timeless design that she will enjoy for a long time to come.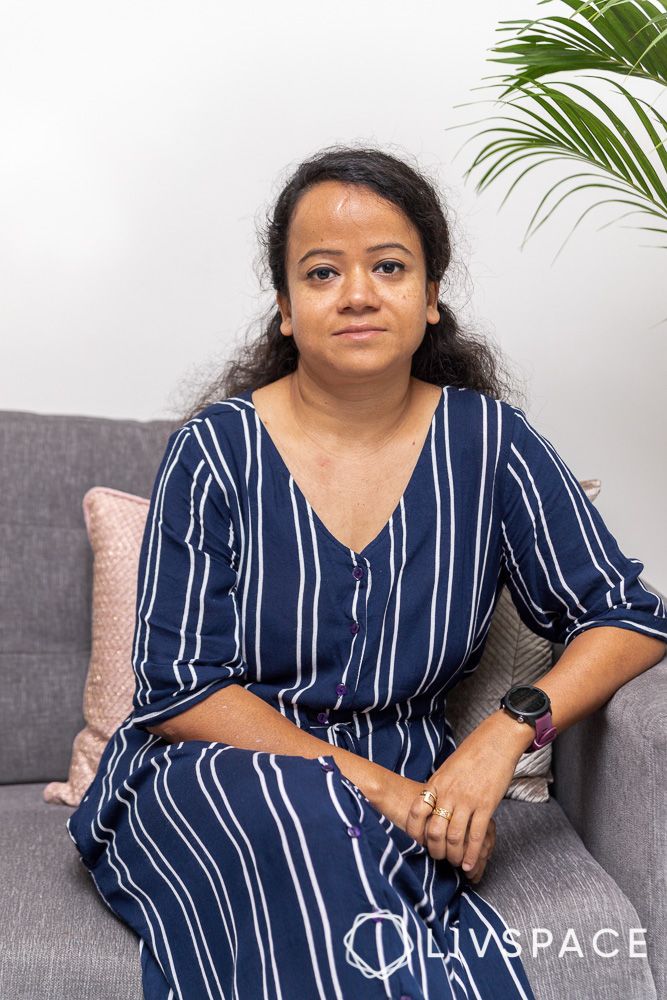 "I am really happy with Livspace's service, they did timely follow-ups, and they really took the ownership. I was handling everything alone, so I couldn't visit every day to supervise, but they took the ownership, the design is awesome and 3D design that they made, came out just like that. Overall, it was a nice experience, it sounds a little expensive but it was totally worth it."
—Deepa Roy, Livspace homeowner
---
Who Livs here: Deepa Roy
Location: Hamilton Homes, SJR Primecorp, Bengaluru
Size of home: A 2BHK spanning 940 sq. ft. approx.
Design team: Interior Designer Shreya Awasthi and Project Manager Sandeep P Mishra
Livspace service: Kitchen, wardrobe and storage
Budget: ₹₹
---
IN A NUTSHELL


Design Brief
A spacious design with mostly neutral colours and some pop colours for a bachelorette who is frequently visited by her parents.

What We Loved
The elevated granite countertop next to the kitchen window for Deepa's birds, so they get ample sunlight

Look Out for
– The wallpapers in the living room and the bedroom
– The bar-cum-crockery unit in the dining area
– The wardrobe-cum-study in her bedroom

Biggest Indulgence
The modular kitchen with a rustic backsplash and a breakfast counter

Smart Buy
The medal rack in her bedroom that was made with the left-over materials for her house


When Deepa started her journey with Livspace, she made it clear to Shreya that she wants everything in her 2BHK interior design for Hamilton Homes, but it should still look spacious and not cluttered. So, let's take a look at her home and see how her vision came to life.
How Did We Optimise Both Space and Budget in This 2BHK for Hamilton Homes?
1. We Did a Clever Space Utilisation in the Foyer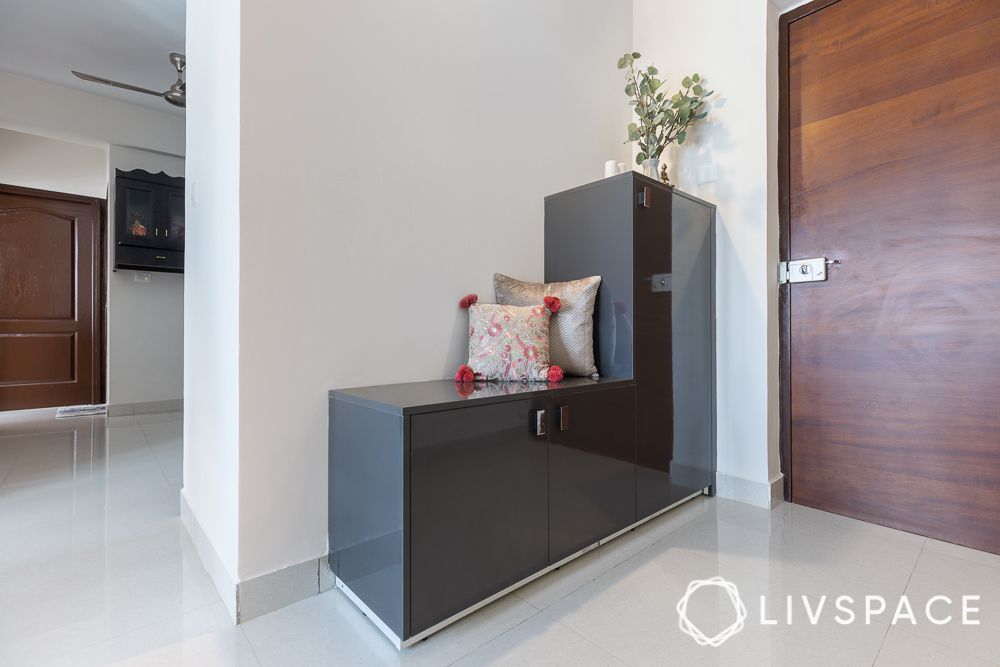 What do you need in your foyer and why? For starters, you need a shoe rack and a seat in your foyer so that your entrance looks clean and organised. The space in the foyer of this 2BHK interior design for Hamilton Homes, has a sufficient footwear storage and a seat that comes with its design. The height of the tall unit is restricted so that the foyer can still look spacious and bright.
2. We Opted for a Budgeted Modular Solution for the Living Room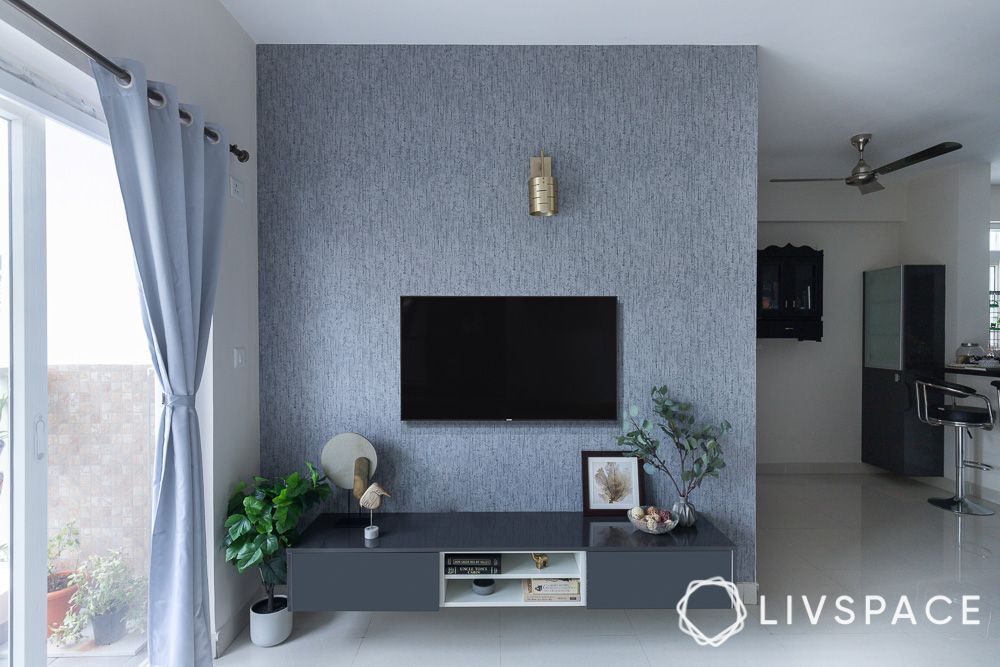 The floating TV unit is a budget-friendly Livspace catalogue item, and so is the shoe rack you saw in the above picture! The TV unit has an economical laminate finish that makes it easy to maintain as any stain, dust or dirt can be cleaned with nothing but a damp microfibre cloth.
3. We Added a Sleek Storage in the Small Dining Room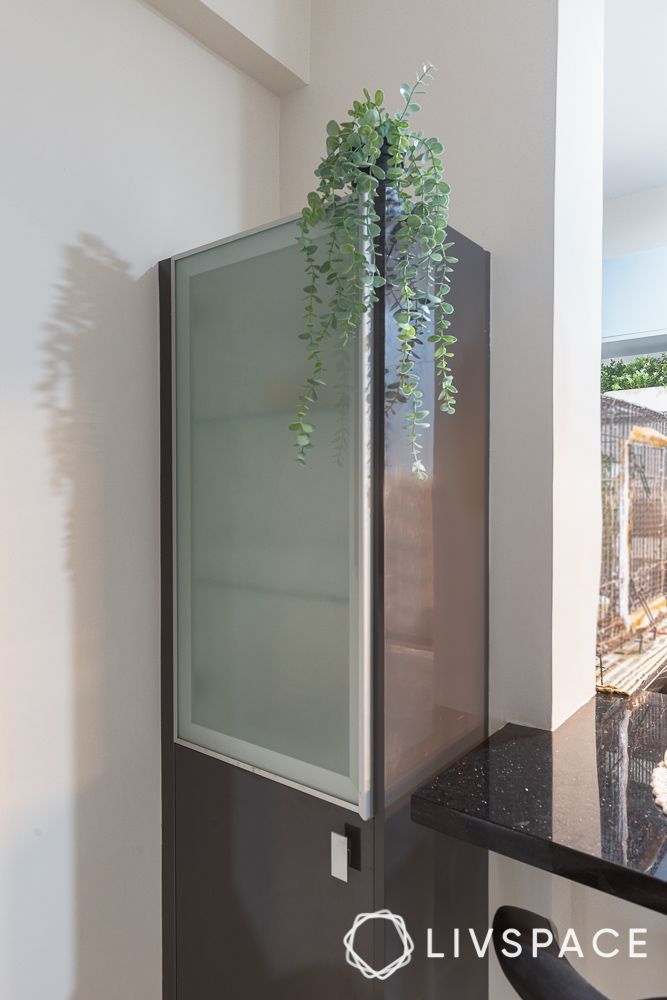 Initially, the plan was to open up the kitchen by breaking this wall, but since a column stood right next to the wall niche, this wasn't possible. But it was possible to add more storage in the dining room by mounting this bar-cum-crockery unit on the wall. Hence, this tall storage unit was added right next to the breakfast counter without compromising a lot of floor space in the dining hall.
4. We Went With Space-Saving Integrated Furniture in the Bedroom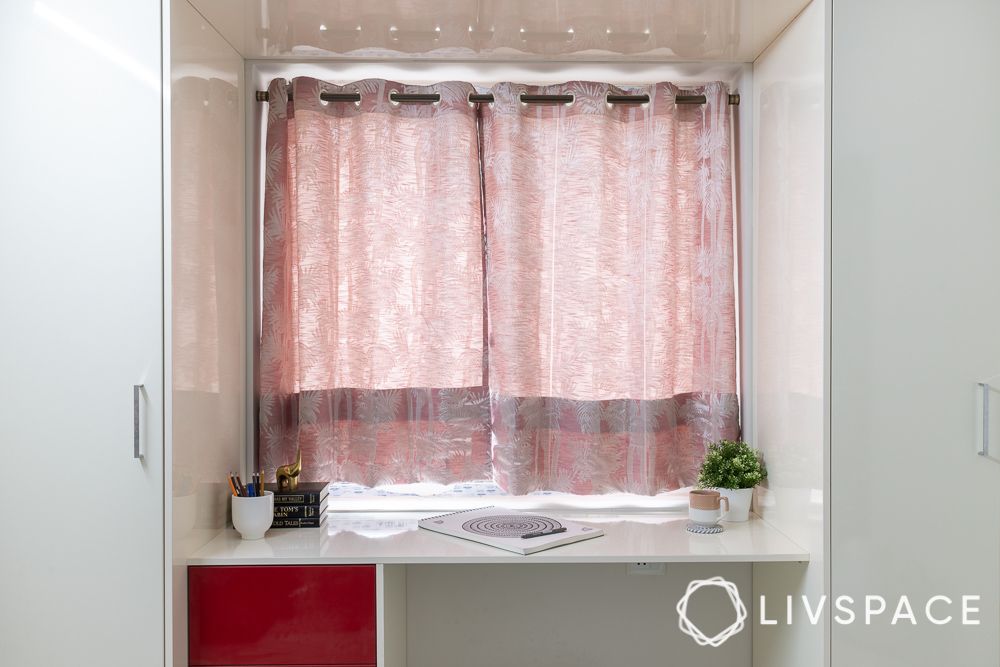 The room sizes were relatively small to accommodate a separate study table in this Hamiton Homes flat interior design in Bengaluru. So, when Shreya designed the table to be in front of the window, she surrounded it with storage to optimise the space. This made sure that all the modular furniture remained on one side of the room, while there was open floor space and the bed in the other.
5. We Also Did The Best Scrap Work in This 2BHK Interior Design for Hamilton Homes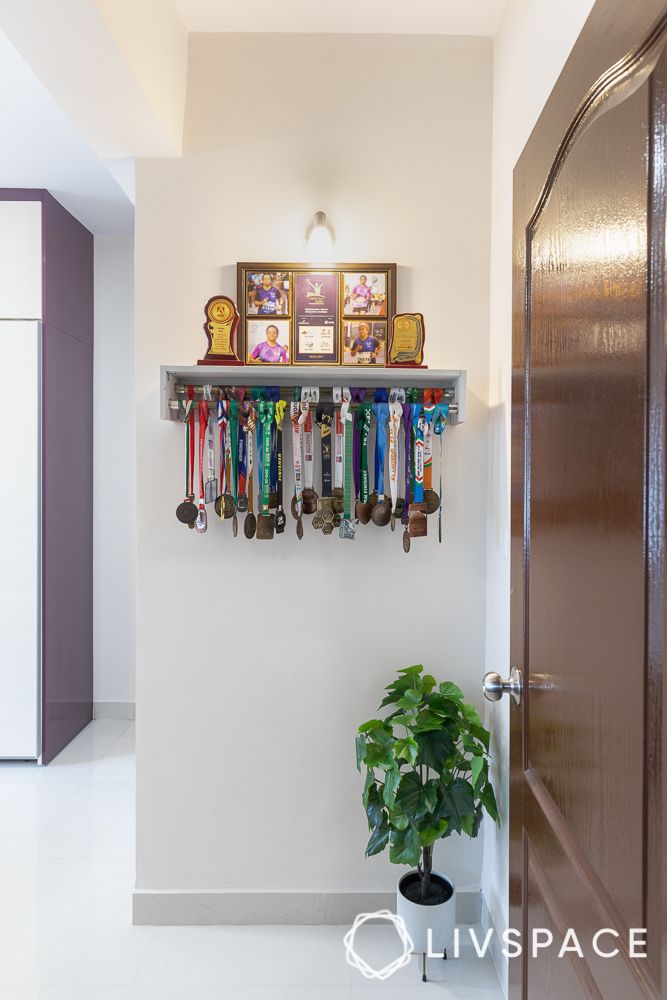 After all of Deepa's 2BHK interior design for Hamilton Homes was done, she was informed that there was some raw material left that she could use to add another design element. And she decided she'll get a medal rack for herself, and we love it!
How Did We Customise This Interior Design for Hamilton Homes, Bengaluru?
1. The Hacking for a Dining Counter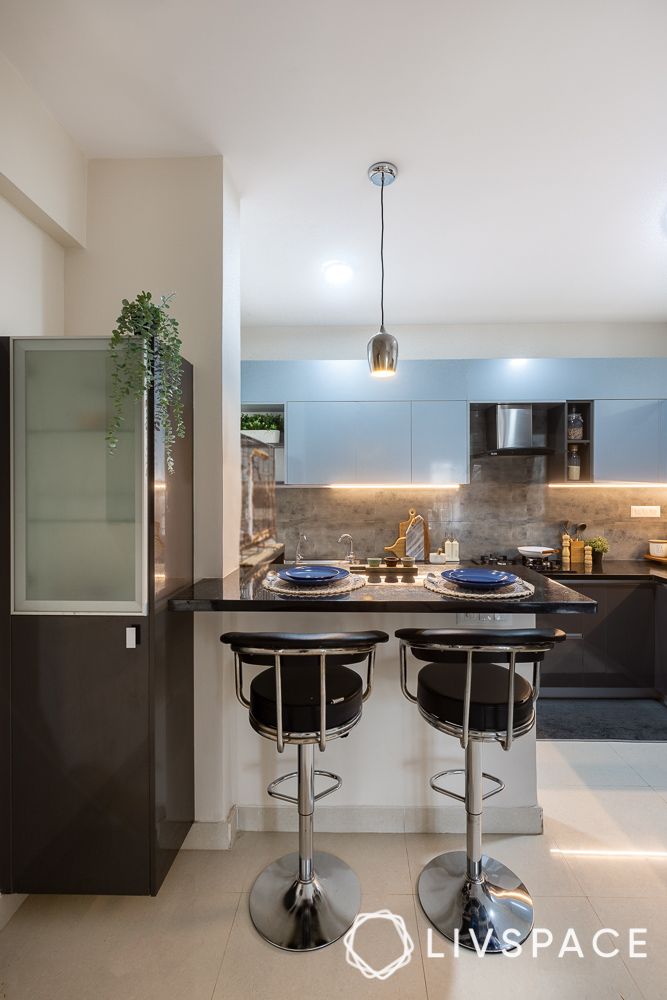 This wall has been hacked to create a breakfast counter that Deepa could use. That makes things better because she can now use this counter to dine instead of setting a dining table in this small space.
2. The Quest for Happy Birds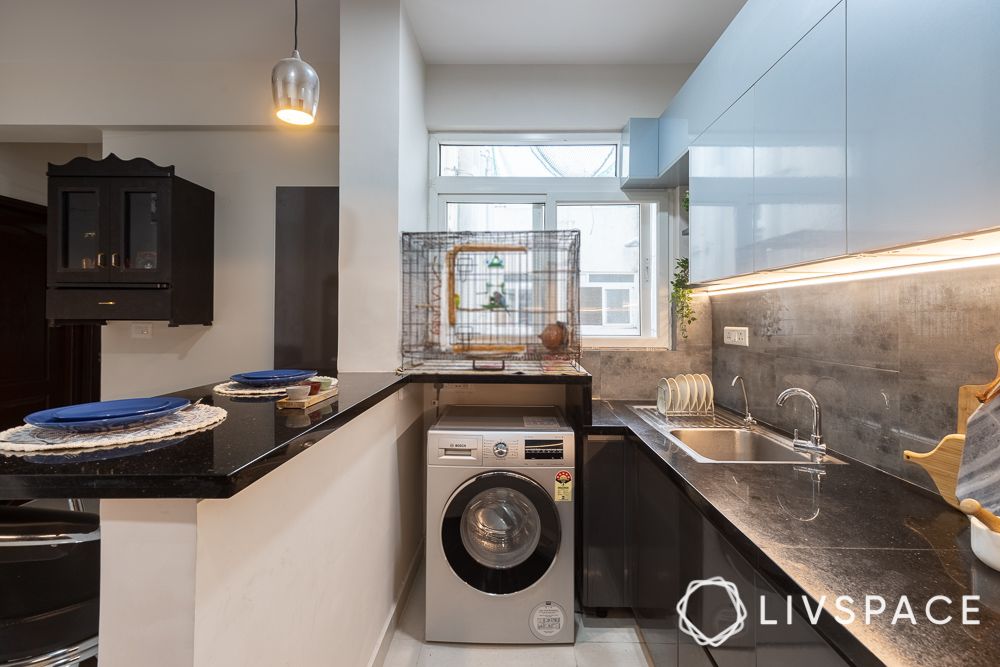 Since there was no separate utility area, our designer Shreya built the utility in the kitchen itself, where plumbing could easily be worked out. She also designed a raised platform for Deepa's birds, so they could enjoy the sun that gleams into the kitchen. And now, her birds stay safe where the sun reaches them but not the rain in this 2BHK interior design for Hamilton Homes.
What Modular Solutions Did We Choose for This 2BHK Interior Design for Hamilton Homes?
1. The Semi-Rustic Kitchen Design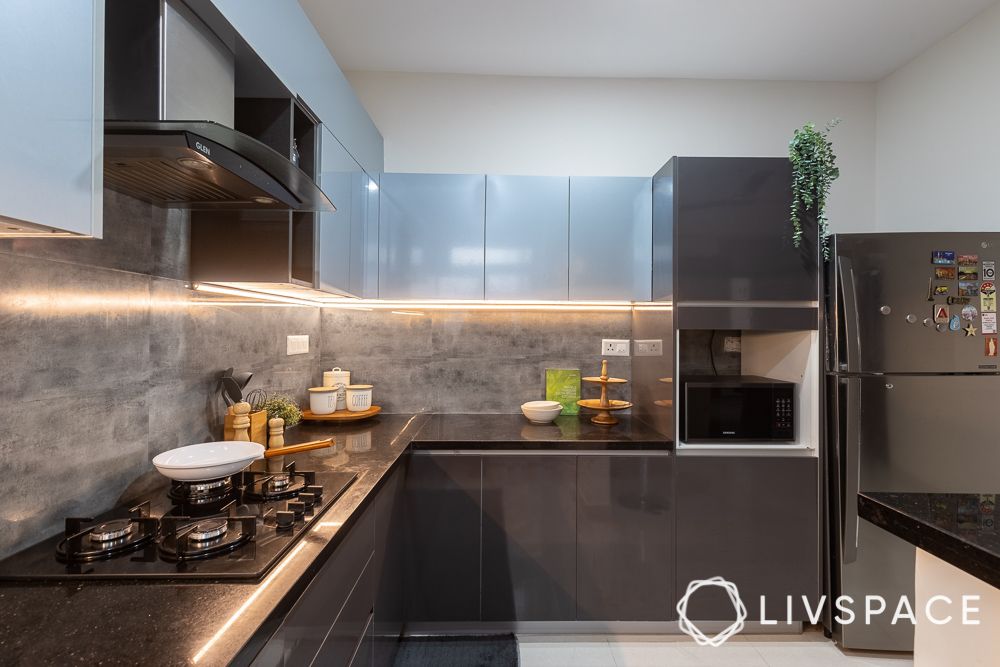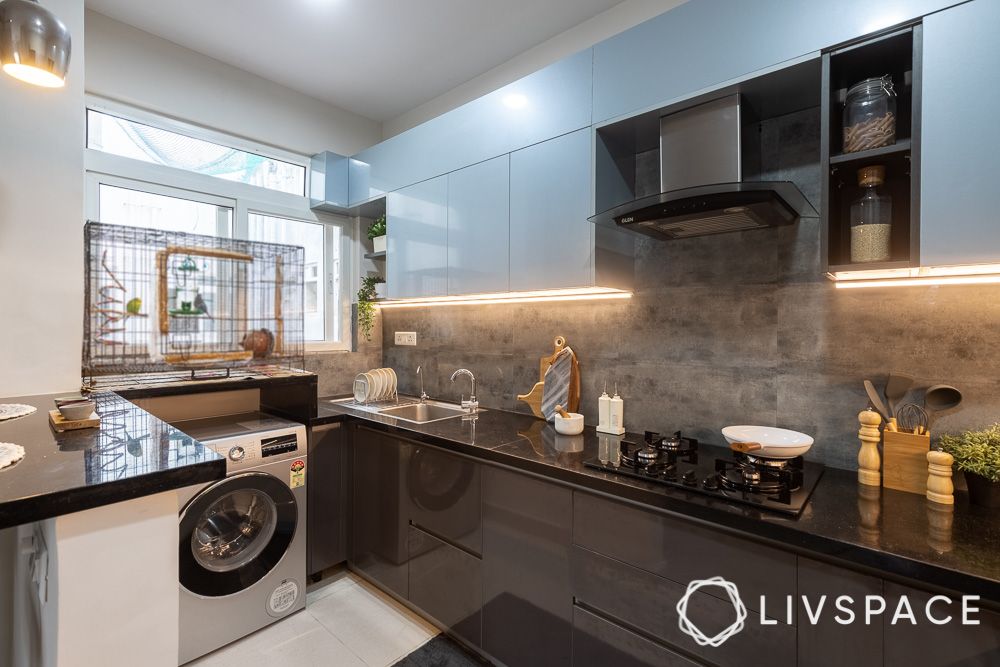 The semi-rustic modular kitchen with laminate finishes, a black granite countertop and cement-grey backsplash tiles is easy to maintain. This is because of the colours and the finishes used, as they can be cleaned effortlessly. Additionally, there is a tall unit for pantry storage and appliances to keep the kitchen organised.
2. The Space-Compliant Wardrobes in Bedrooms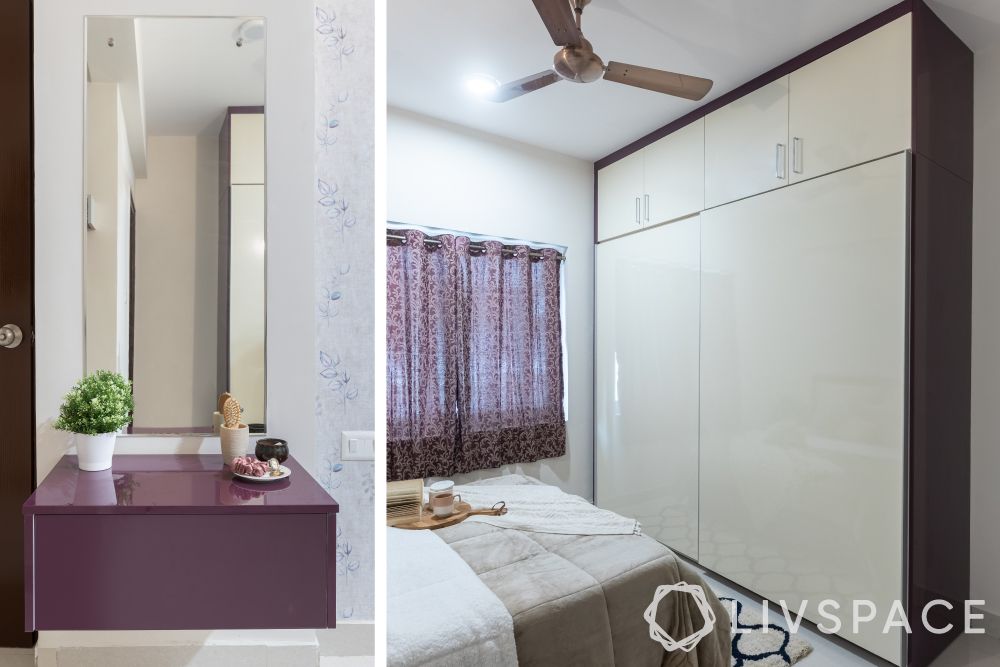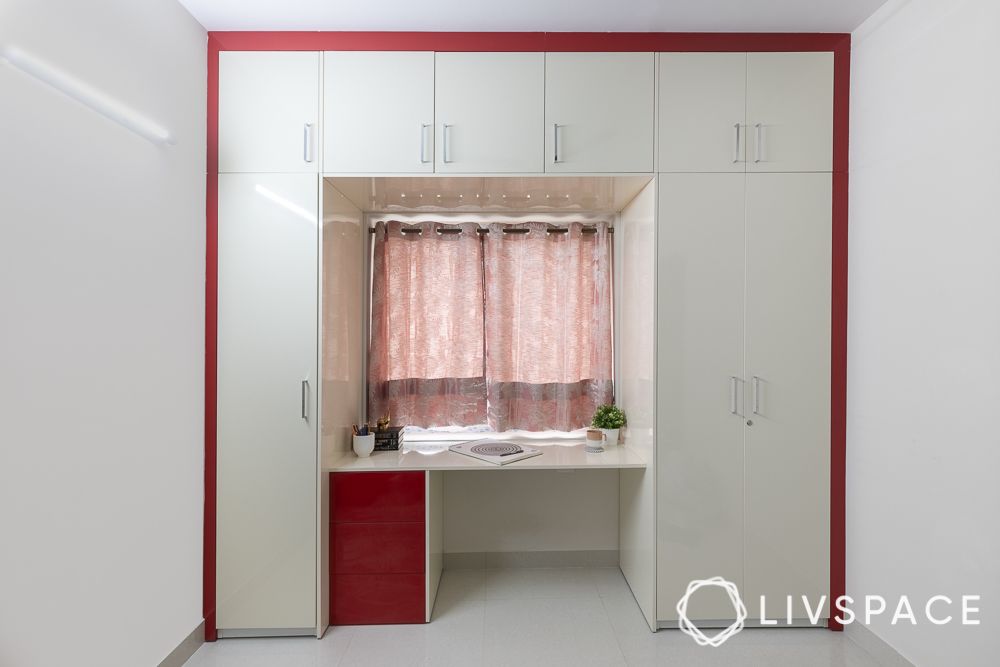 Since Deepa lives alone in the house, she could use both the rooms in her 2BHK interior design for Hamilton Homes for different purposes. She uses her guest bedroom to do her office work and her master bedroom for sleeping and relaxing. This allowed the designer to distribute the essential furniture in both the rooms instead of crowding each with all of them. This decision worked wonderfully in keeping this interior design for Hamilton Homes in Bengaluru, spacious.
What Colour Theory Did We Use in This 2BHK Interior Design for Hamilton Homes?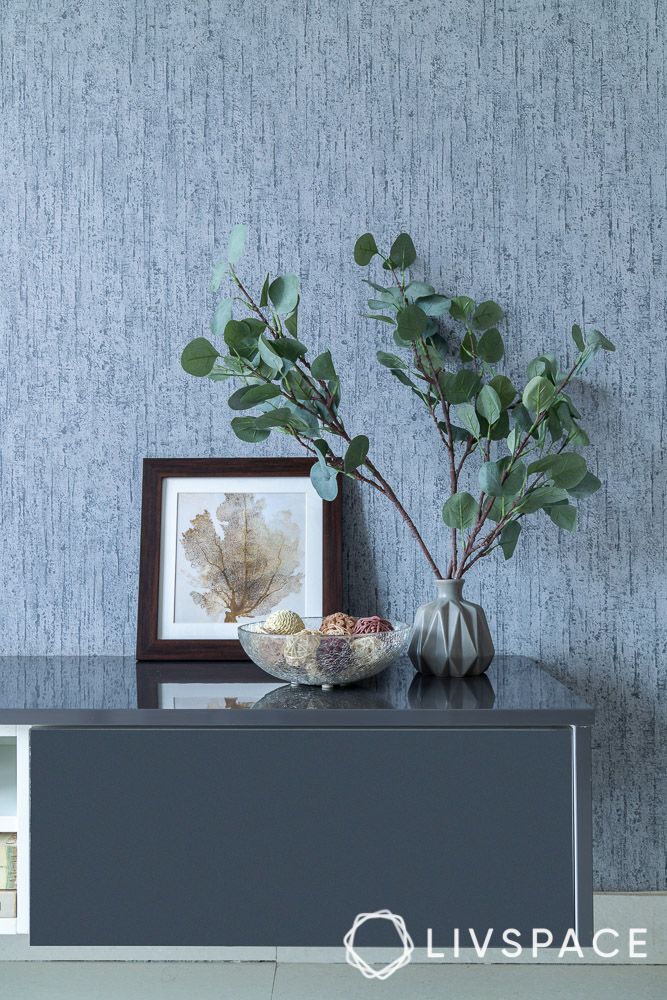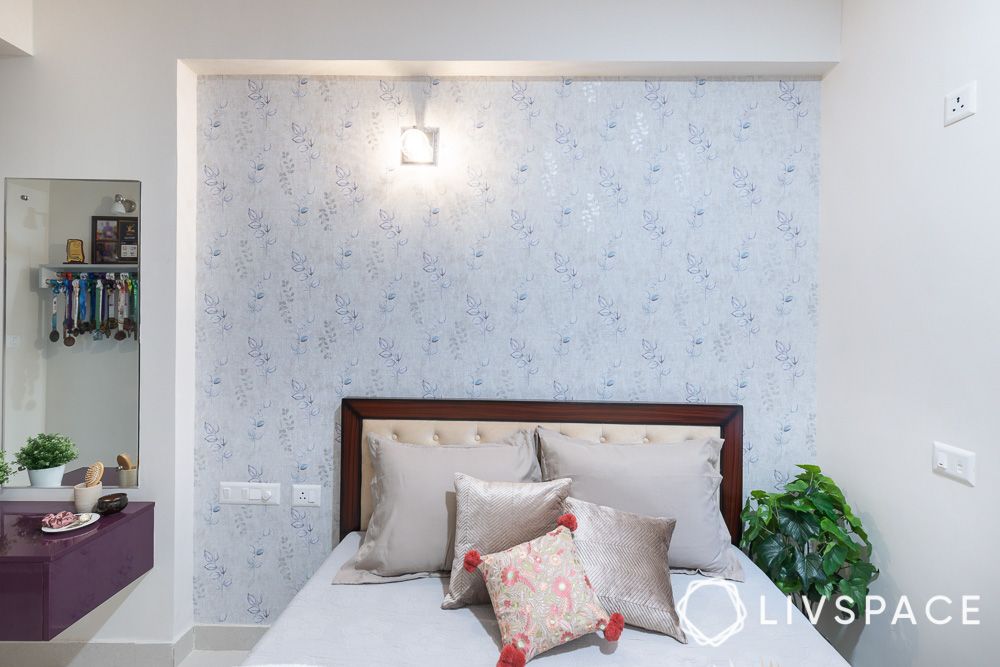 The blue and grey colours in the living room and kitchen of this 2BHK interior design for Hamilton Homes, have a calming effect on people. Meanwhile, the purple and blue in the master bedroom are colours of passion and calmness respectively. The second bedroom has hints of red, which is a colour of energy. Apart from red, there is also beige in this room, which helps in regulating the light and keeping the small room bright and airy.
We hope you liked our ideas used in this 2BHK interior design for Hamilton Homes and that they have inspired you in some way.
Also Read: An Easy Guide to Help You Calculate a 1BHK Interior Design Cost.
How Can Livspace Help You?
We hope you found our kitchen furniture ideas useful! If you want your home to be just as beautiful, then look no further. Book an online consultation with Livspace today.
We love hearing from you! Write to us with your comments and suggestions at editor@livspace.com