Interior design images that will have you longing for a place to call home!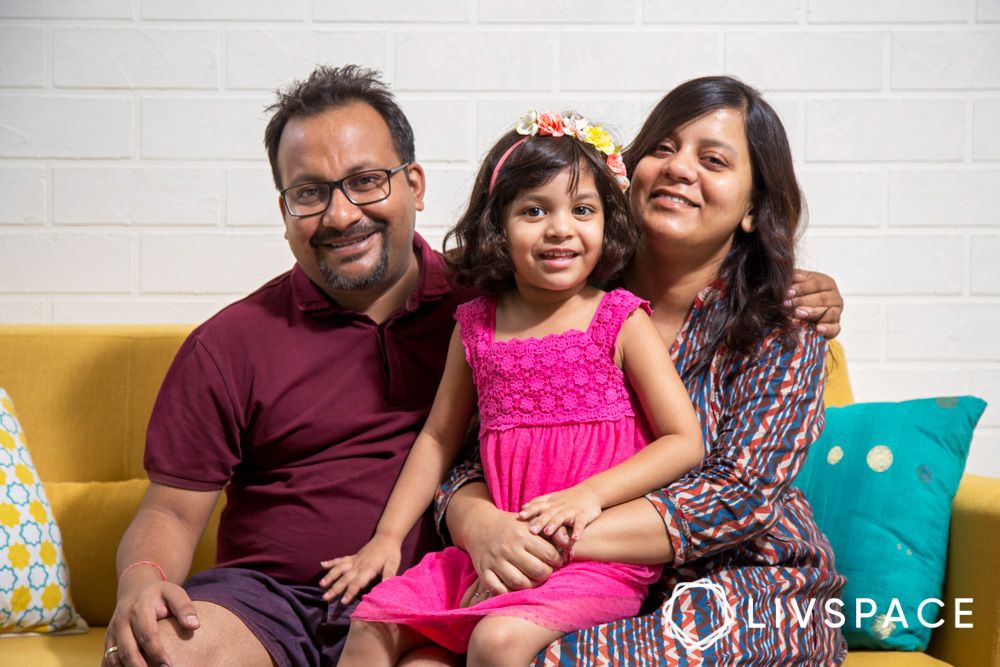 "We came to Livspace primarily because we keep very busy and we wanted professional interior designers to design our home. We wanted to retain a lot of furniture and told Disha that the design should be in accordance with it. The best thing about her was that she got our pulse almost instantly and understood what we were looking for. Sandeep, our Project Manager, was also very prompt and the entire team was available whenever we needed their help. It was a great experience to get our home designed by Livspace."
– Indraneel & Pranjoli, Livspace Homeowners
---
Who livs here: Indraneel Kumar Das with his wife Pranjoli Mukherjee, their daughter and his father
Location: Cleo County, Noida
Size of home: A 3BHK spanning 1,200 sq ft approx.
Design team: Interior Designer Disha Bafna and Quality Manager Sandeep Jain
Livspace service: Full home design
Budget: ₹
---
Here's How They Began Their Journey With Us
Indraneel and Pranjoli refer to themselves as probashi Bengali. True to the term, they keep their roots alive no matter where they go. Having lived in New Delhi for a long time, they wanted facets of their Bengali tradition to find its way into their new home design.
An NID graduate and a designer by profession, Pranjoli had some amazing design ideas up her sleeve. Add to it Indraneel's aesthetic sense, this power couple knew what they exactly wanted for their home. Filled with exotic artwork and strikingly distinct elements, this home is inspiring for anyone living away from home.
When Livspace designer Disha Bafna met this couple, their brief was clear – build them a home they could come back to at the end of the day. Travelling on work frequently made them sick of hotels. So all they wanted was soothing colours and some stand-out elements for their abode. And Disha's designs made every corner a conversation starter. See for yourself how this home came to life!
IN A NUTSHELL


Brief
A home that feels very welcoming and has a good mix of contemporary and industrial elements

What We Loved
The eclectic style of design that makes every room different from the other

Key Features
– Accent walls in every room
– Warm wood used in furniture and wall treatments
– Incorporating existing furniture in the new design



The Striking Entrance Design
It's hard to miss the eclectic collection of masks on the foyer wall. The couple love collecting masks as souvenirs from their travels around the world. And Disha found the perfect spot to make these masks a focal point, picking up the vibe of the entryway.
The Living Room with a Dollop of Sunshine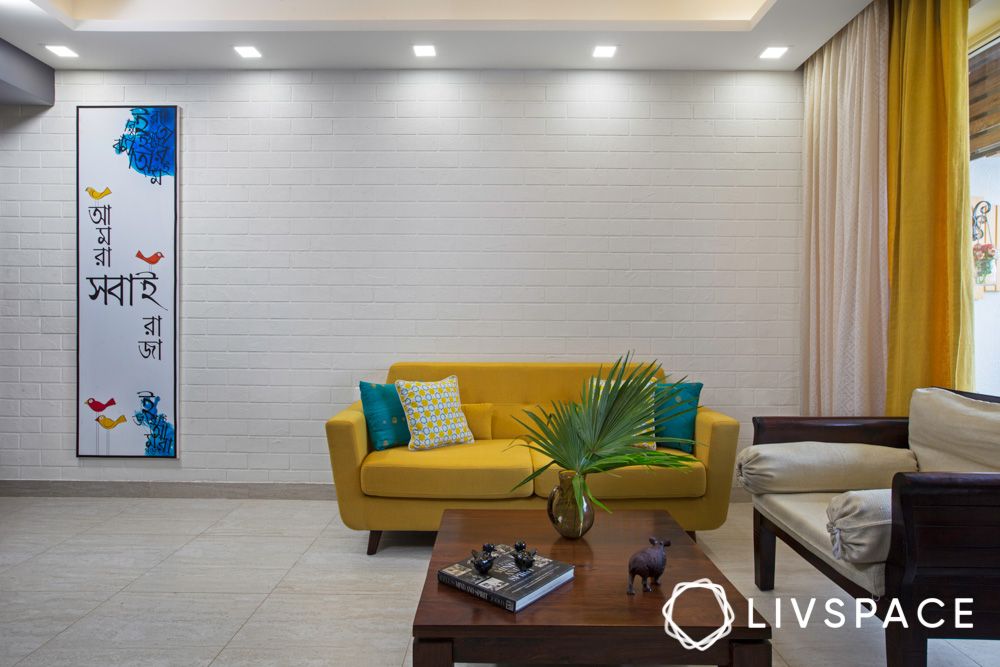 Since Pranjoli comes from a creative background, her colour sense was impeccable. While the family knew that they wanted classic colours for their home, they were open to the idea of adding pops of colour too. Hence, you see this tasteful mustard coloured loveseat that becomes a part of their living room furniture.
Another feature that they insisted on was an exposed brick accent wall. So, guided by Disha, they zeroed in on this amazing texture paint by Asian Paints. Also, do not miss the lovely canvas, painted by Pranjoli herself, with Bengali script on it that says "Aamra shobai raja", meaning 'we all are kings'. Fits right in, don't you think?
The Vibrant Balcony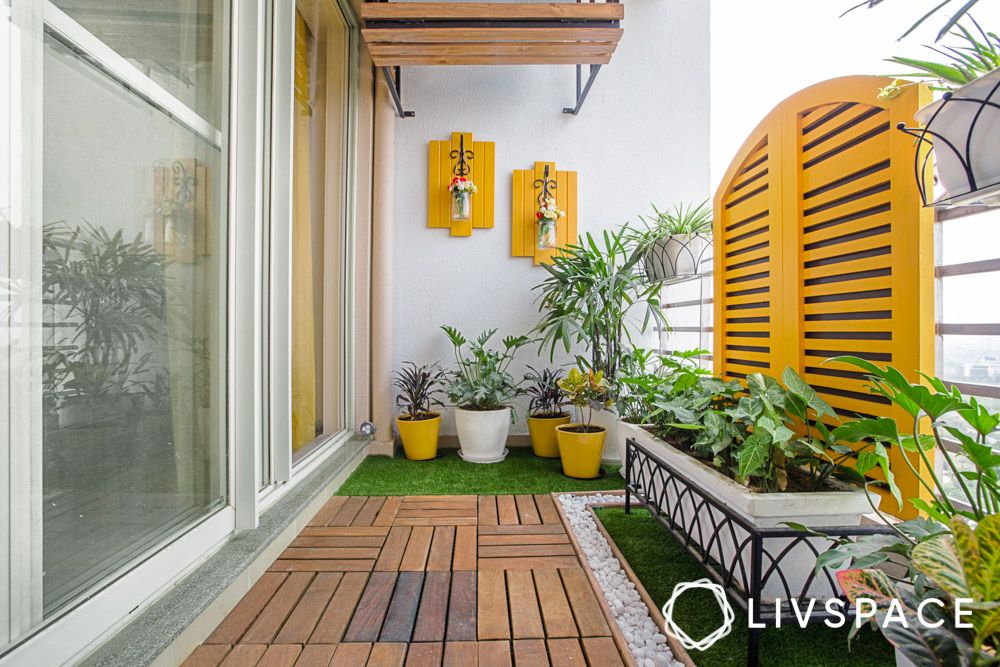 The attached balcony borrows colours from the living room and sports pops of a darker shade of yellow in planters and the railing. Having a young child at home, a large planter has been installed for safety. It blocks her from going anywhere near the railings. The wooden floor tiles camouflage wires and makes the space look like something out of a catalogue.
The Dining Room for Intimate Dinners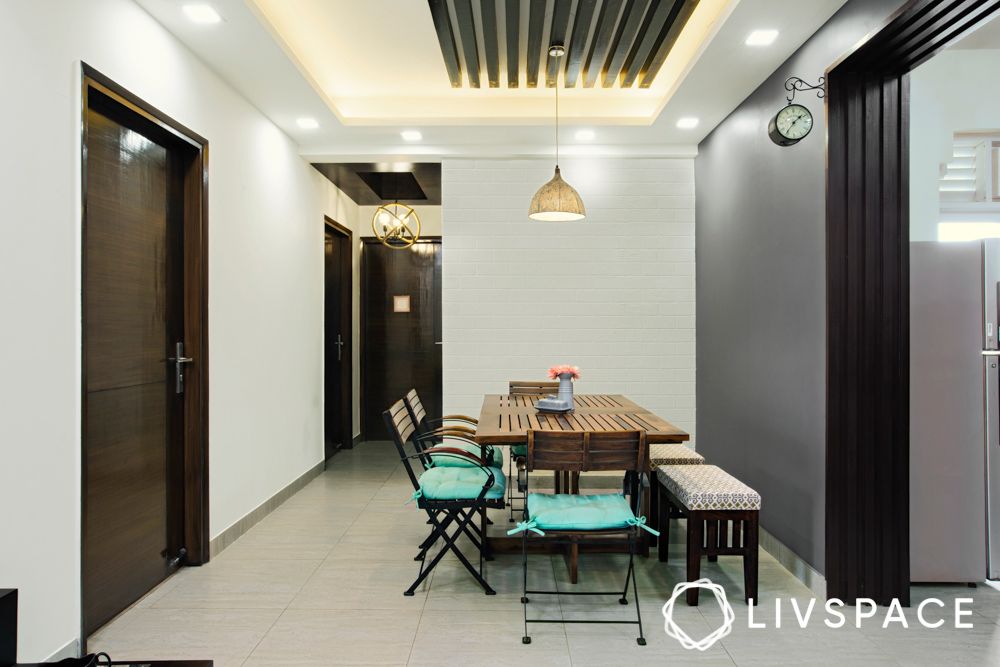 There were heritage pieces of furniture that the family wanted to retain, and the dining table set is one of them. They just threw in two benches and gave a brand-new feel to this space. Disha further exemplified the area by giving wooden ceiling rafters with a pendant light to highlight the look.
The Bedroom That Gives Golden Dreams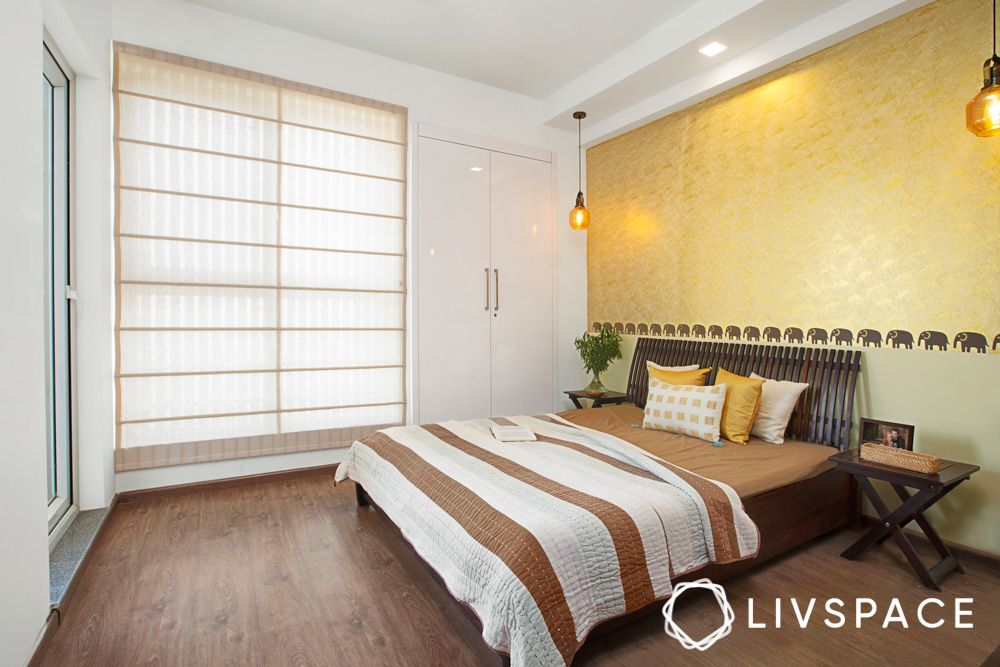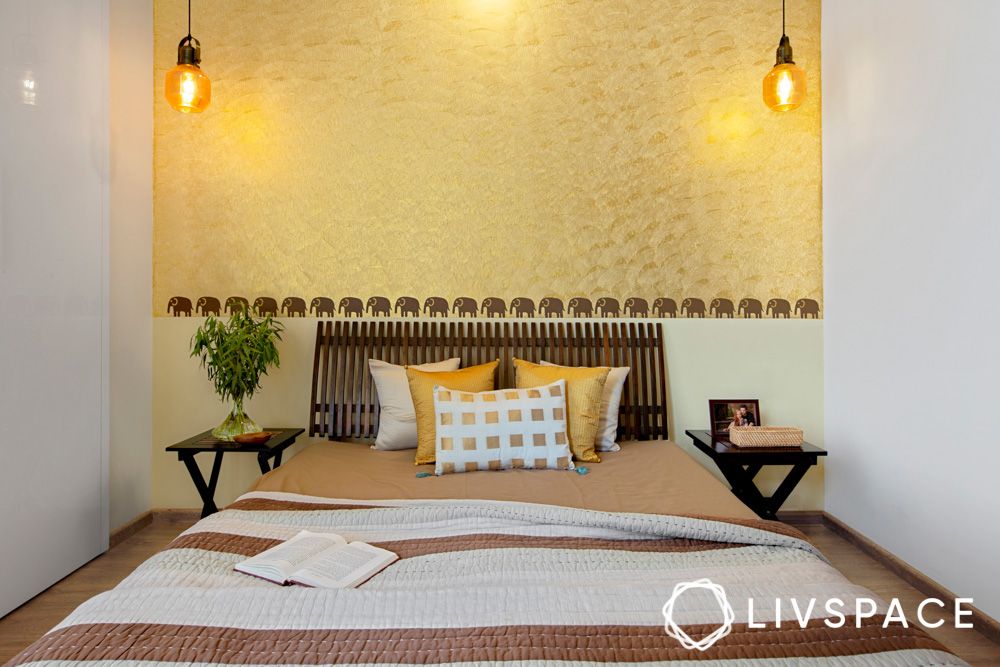 This room belongs to Indraneel's dad and therefore, it had to be very functional and minimalist. Since the bed and the side tables are made in wood, Disha decided to create a metallic accent wall with texture paint. For his love of Indian prints, elephant block prints line the wall. Good design is all about the details.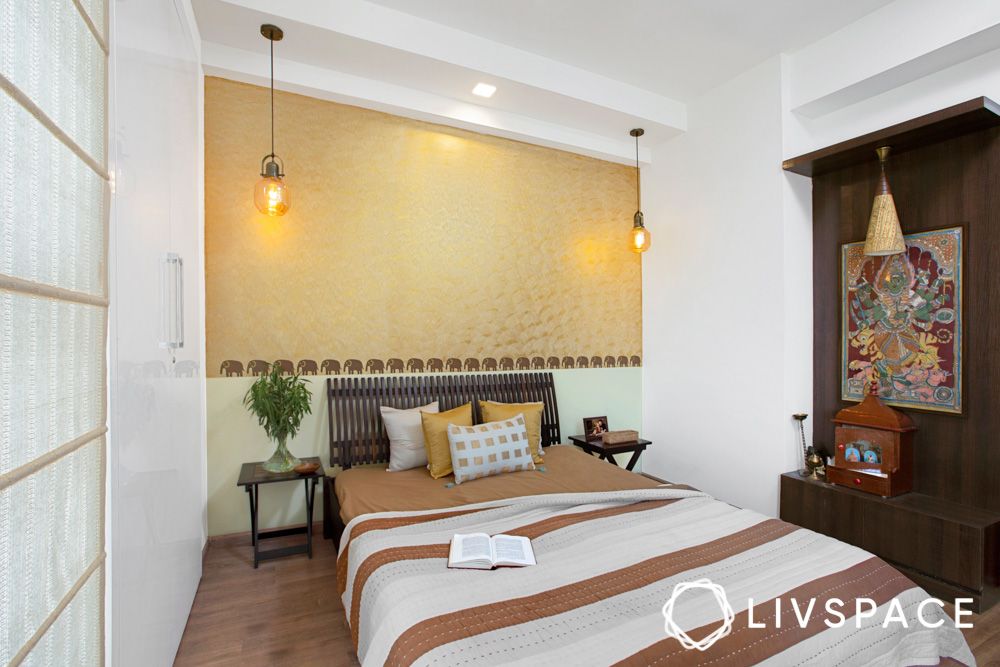 With him being very devotional, it definitely called for a compact pooja unit to be placed in his room. Laminated in dark walnut finish, this unit matches with the wooden theme of this room. A pendant light is hung there to illuminate that corner while he prays.
The Master Bedrooms with Soothing Blues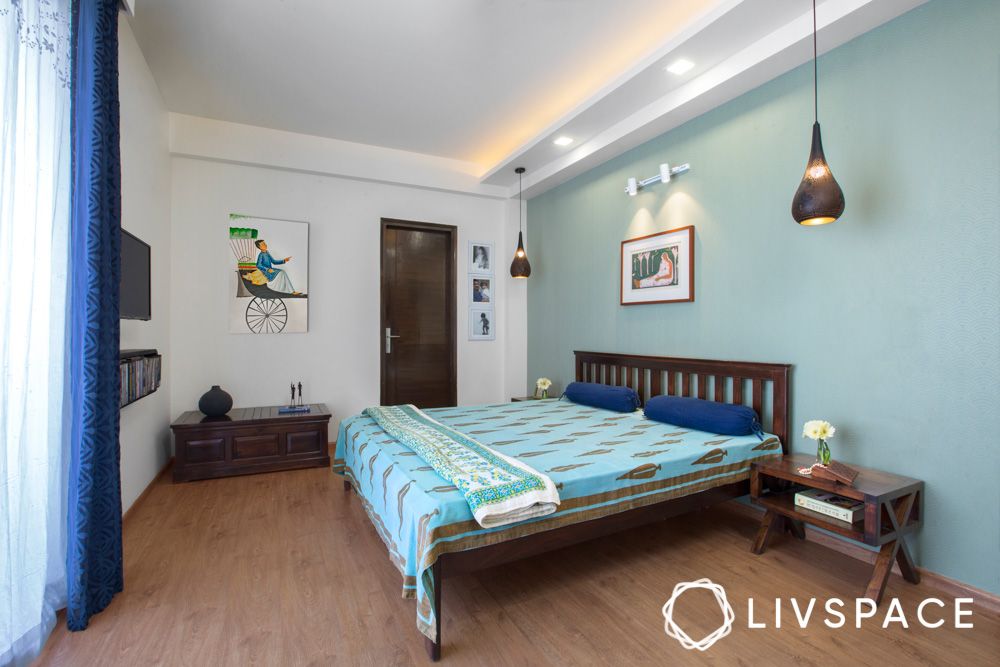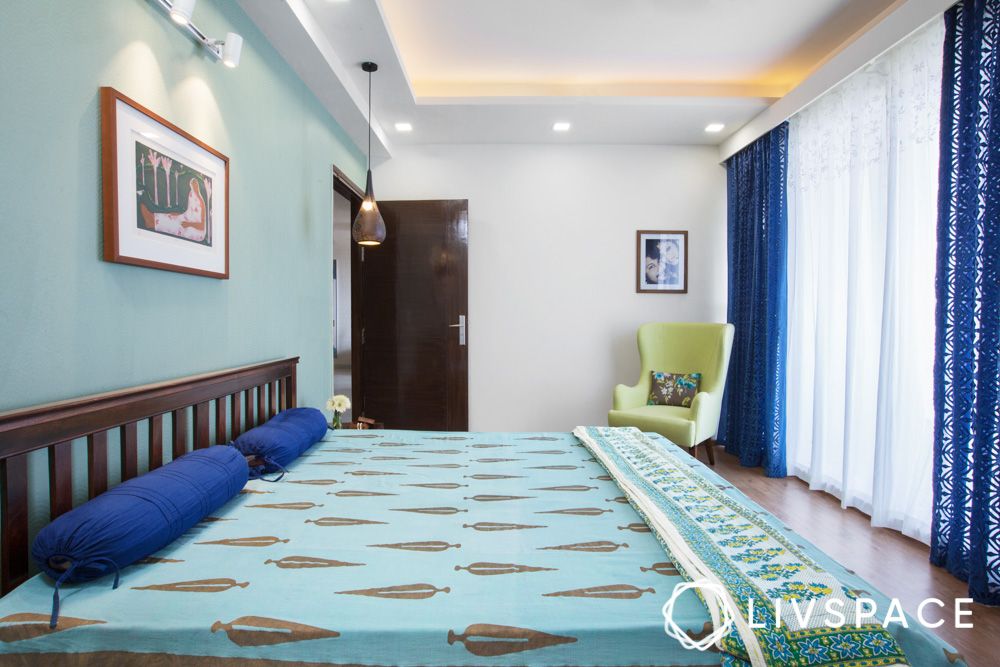 Both Indraneel and Pranjoli like soothing colours and they want to retreat to a space which makes them feel calm at the end of a hectic day. On entering the master bedroom, a serene blue wall and sheer drapery welcomes you. For the love of reading, Pranjoli also wanted a cozy corner to herself in the bedroom. Disha suggested placing a comfy accent chair that she can use to relax and unwind, with a book or a cup of coffee.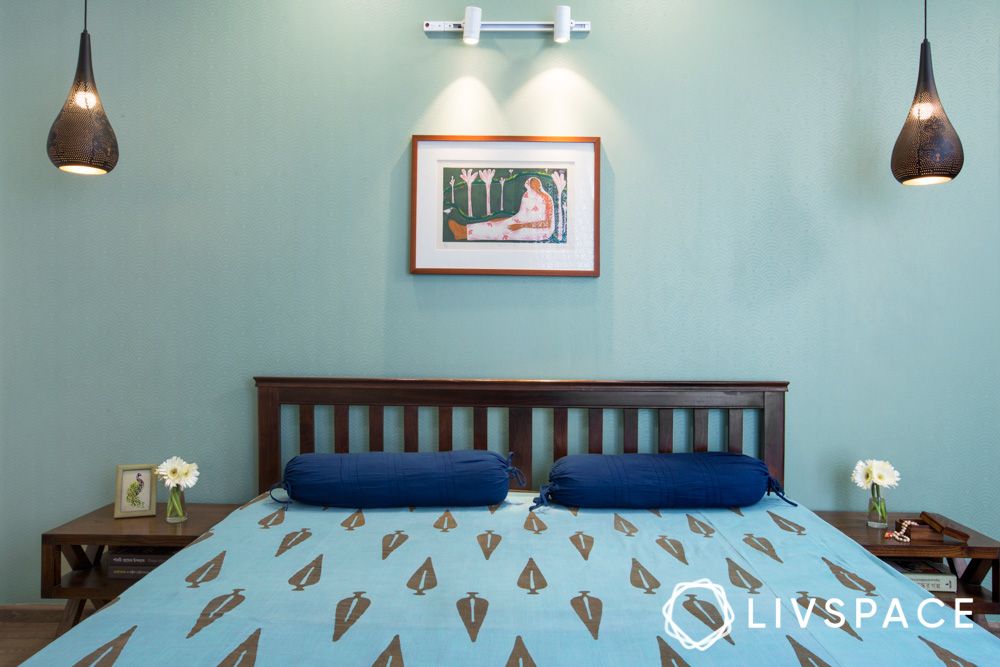 If you love art, you will definitely notice the Haku Shah painting on the accent wall. The track lights are helping by throwing a spotlight on it. The couple loves collecting art and displaying it at home. Furthermore, the wooden trunk is the only storage in this room and the dish TV unit is a refurbished version of a shelf.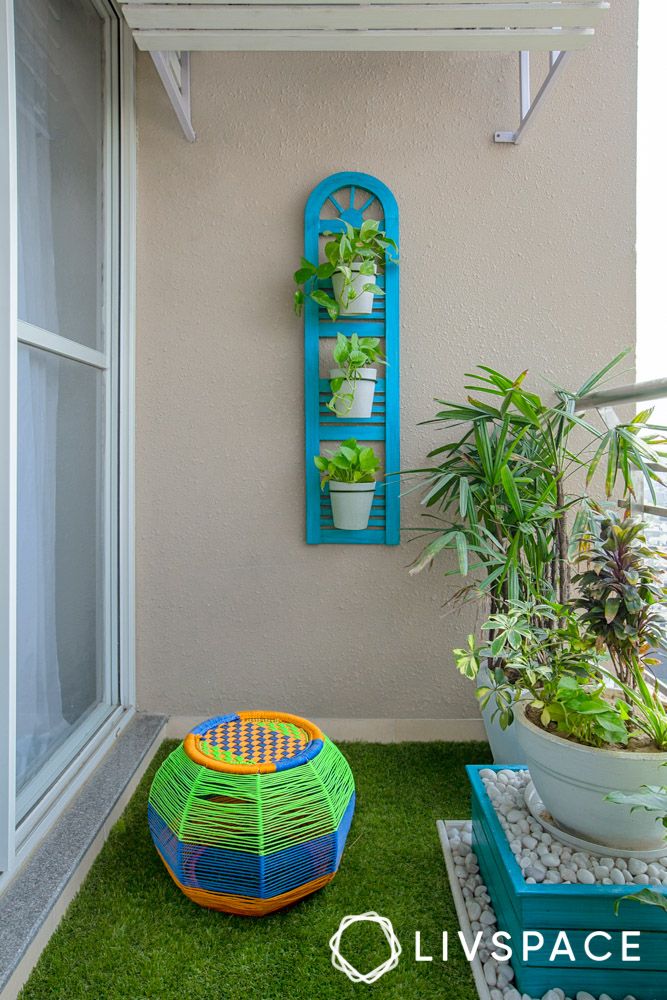 This balcony also takes inspiration from the bedroom colours and has a refreshing grass carpet to make things bright.
---
We hope you like touring Indraneel and Pranjoli's home with us. As you can see, we believe in fully understanding our homeowners before we design their dream homes for them.
Do you want to see an amazing makeover? Look at the interior design images of this quirky Noida home!
How Can Livspace Help You?
If you want your home to be just as beautiful, then look no further. Book an online consultation with Livspace today.
We love hearing from you! Write to us with your comments and suggestions at editor@livspace.com
Disclaimer: All contents of the story are specific to the time of publication. Mentions of costs, budget, materials, finishes, and products from the Livspace catalogue can vary with reference to current rates. Talk to our designer for more details on pricing and availability.