What's a proven way to beat stress these days? Some green therapy with plant decoration ideas! Decorating with plants or opting for a biophilic design is the "in" thing right now! And we believe it's an art to learn how to arrange plant room decor to strike up the right style statement. So, if you're in need of some indoor plants arrangement ideas, you might want to start taking notes. Here are some easy to incorporate plant decoration ideas at home:
#1: What Is Plant Room Decor, and Why Do We Use Plant Decoration Ideas?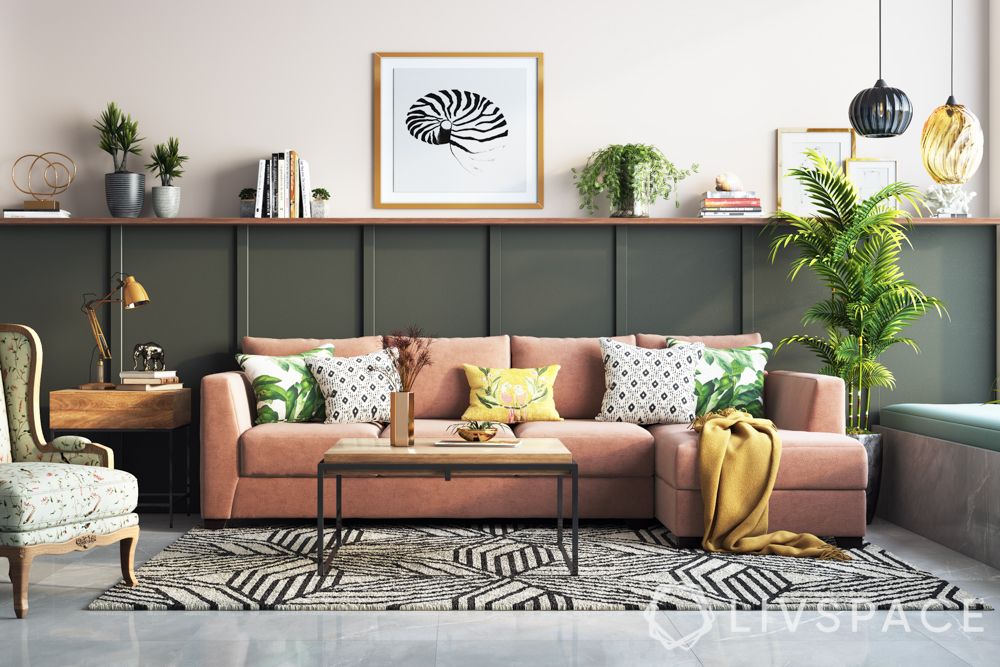 Before we get into plant decoration ideas, it's important to look at why we are decorating with plants in the first place. It is mainly because the colour green — found in plant room decor — has a profoundly soothing effect on us. Plus, some of these can be air-purifying plants that improve the quality of the air in your house, and literally, breathe life into the space.
In other words, plant room decor is nothing but the use of different plants to style your home. Moreover, you can use different plant decoration ideas to improve the overall quality of your living space.
What Plants Can You Keep Indoors and Where?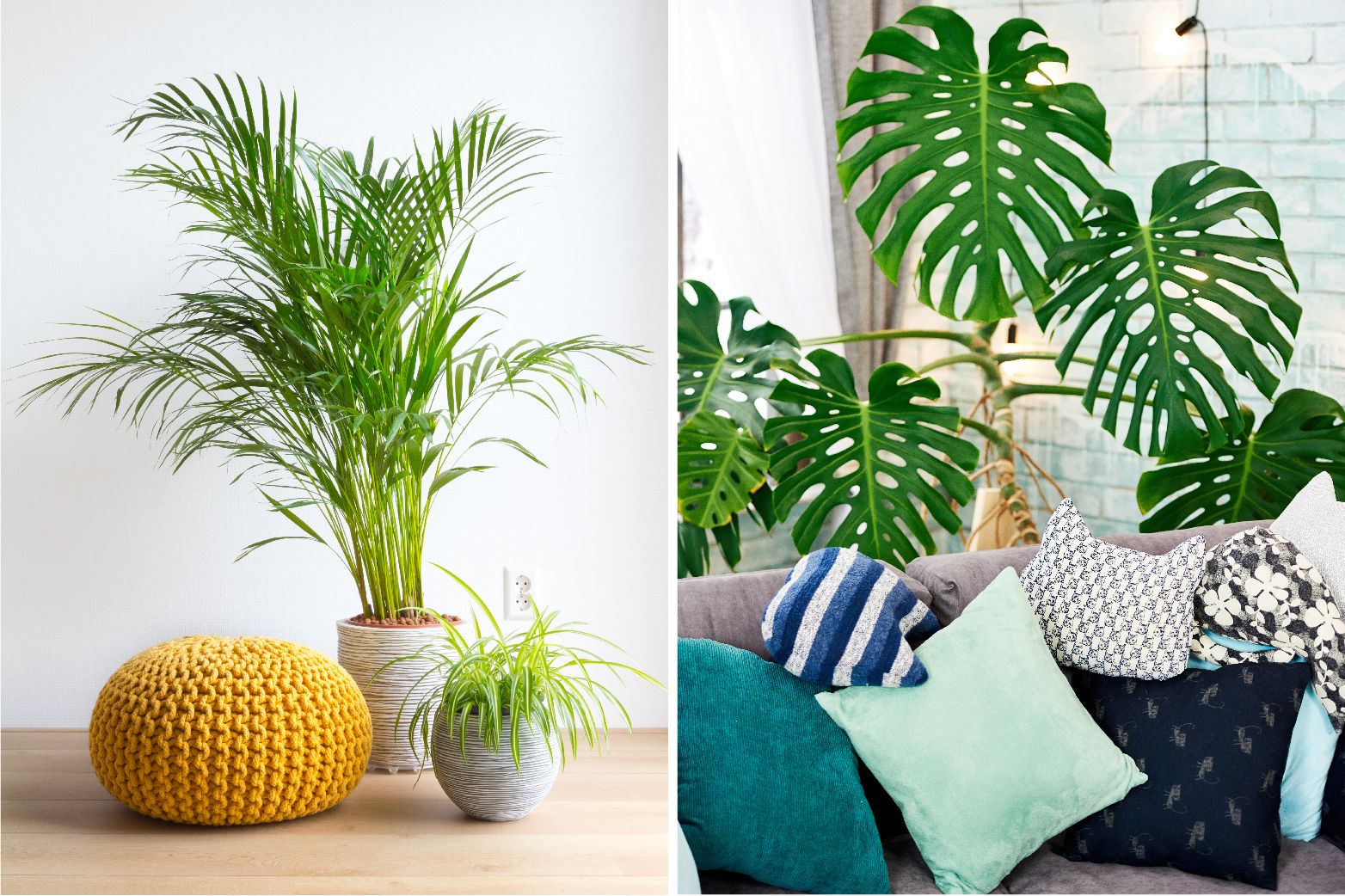 Now that we have established that decorating with plants is good for your home, it's important to know that not all plants can survive indoors. Unless you want to do plenty of moving around and maintenance, stick with this list of plants for lazy people. It includes indoor plants decoration ideas featuring the versatile palm, the unpretentious syngonium and the all-time favourite pothos!
If you're wondering where to use these plant decoration ideas, you've come to the right place. One of the most common areas is undoubtedly the living room, where we interact with family and guests. Therefore, this makes it an ideal place to experiment with living room plants decoration ideas.
Go for plants with lush foliage or cheerful pink syngoniums to add a pop of colour to the space. For more details on related plant decoration ideas, follow our room wise guide on how to arrange indoor plants.
#3: Indoor Plants Decoration Ideas — How to Decorate Your Home With Plants
There are some key rules to consider while decorating with plants and infusing popular plant decoration ideas. It helps to have a plan in place if you want a beautiful interior design with plants. Here are some easy indoor plants decoration ideas you can use to excel in this DIY venture.
1. Plant Decoration Ideas at Home That Play With Height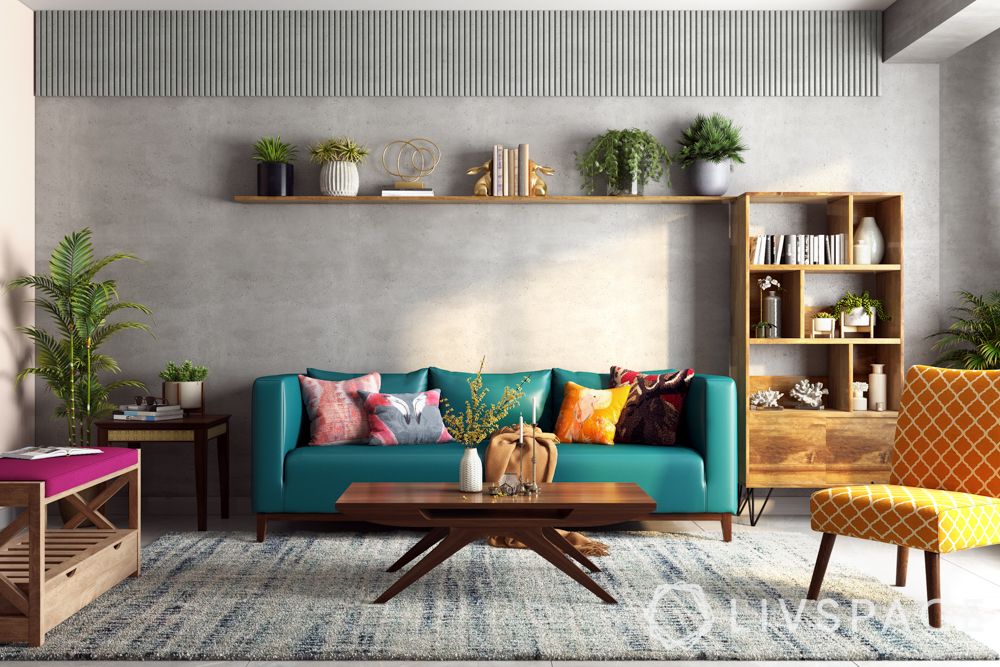 Add some depth to your living room plants decoration ideas by placing your plants at different heights. While implementing these plant decoration ideas, aim at keeping smaller potted plants on shelves or cabinets/consoles. For the taller ones, you can keep them on the floor. Likewise, medium-sized plants can go on windowsills or niches, depending on your layout.
What to Buy for Decorating With Plants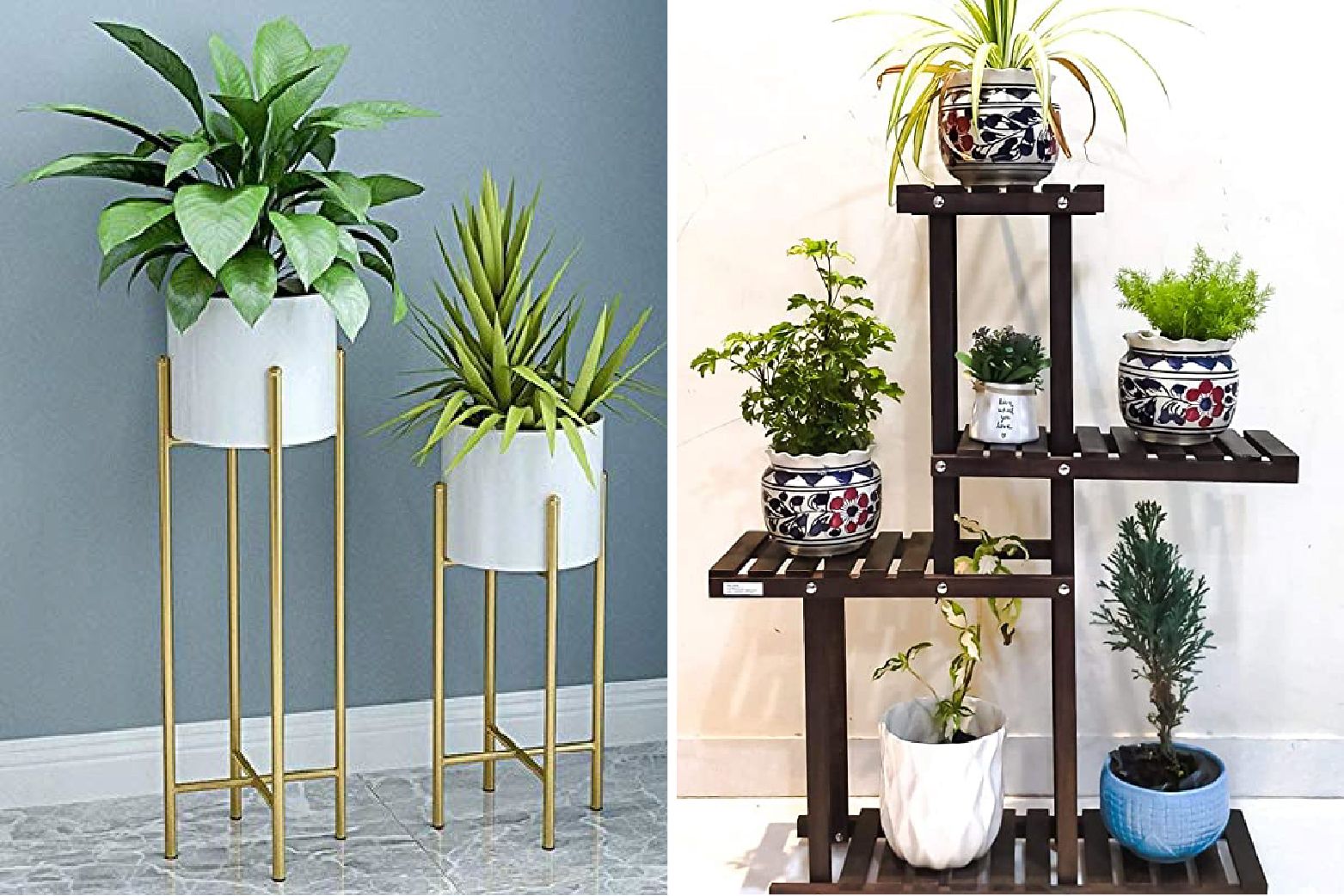 If your home design doesn't have different levels to display your plant decoration ideas, you can consider buying plant stands or racks to layer your space.
2. Mix and Match Containers for Plant Room Decor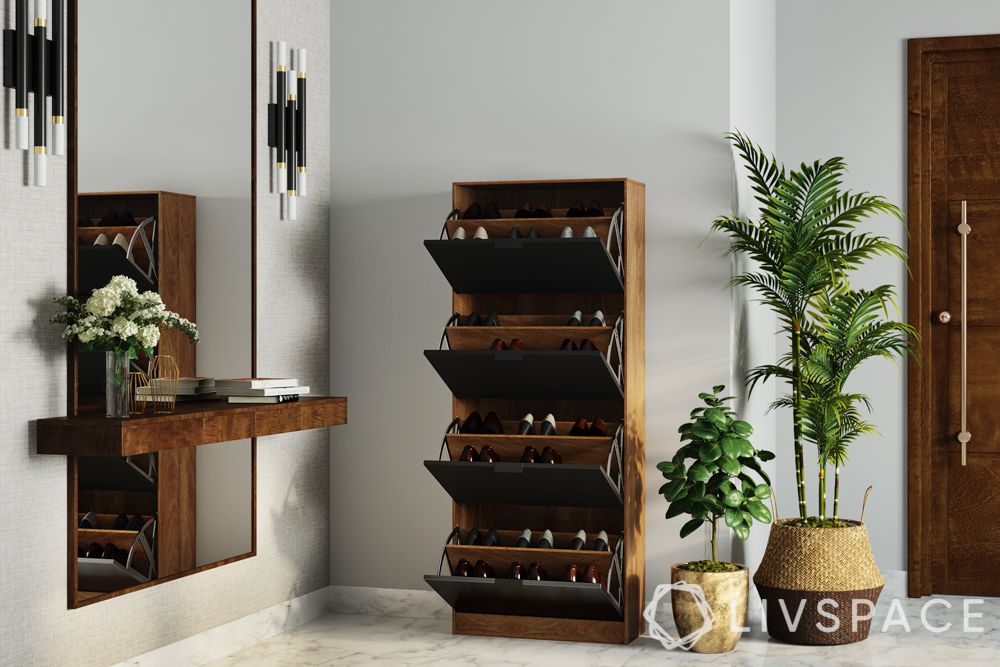 Uniformity is not something we are striving for while implementing plant decoration ideas. What you need is variety in your indoor plants design ideas. Pick different kinds of planters to mix things up in your home. While these pots and planters can be as different from each other as possible, they must be held together by a common thread.
What to Buy for Decorating With Plants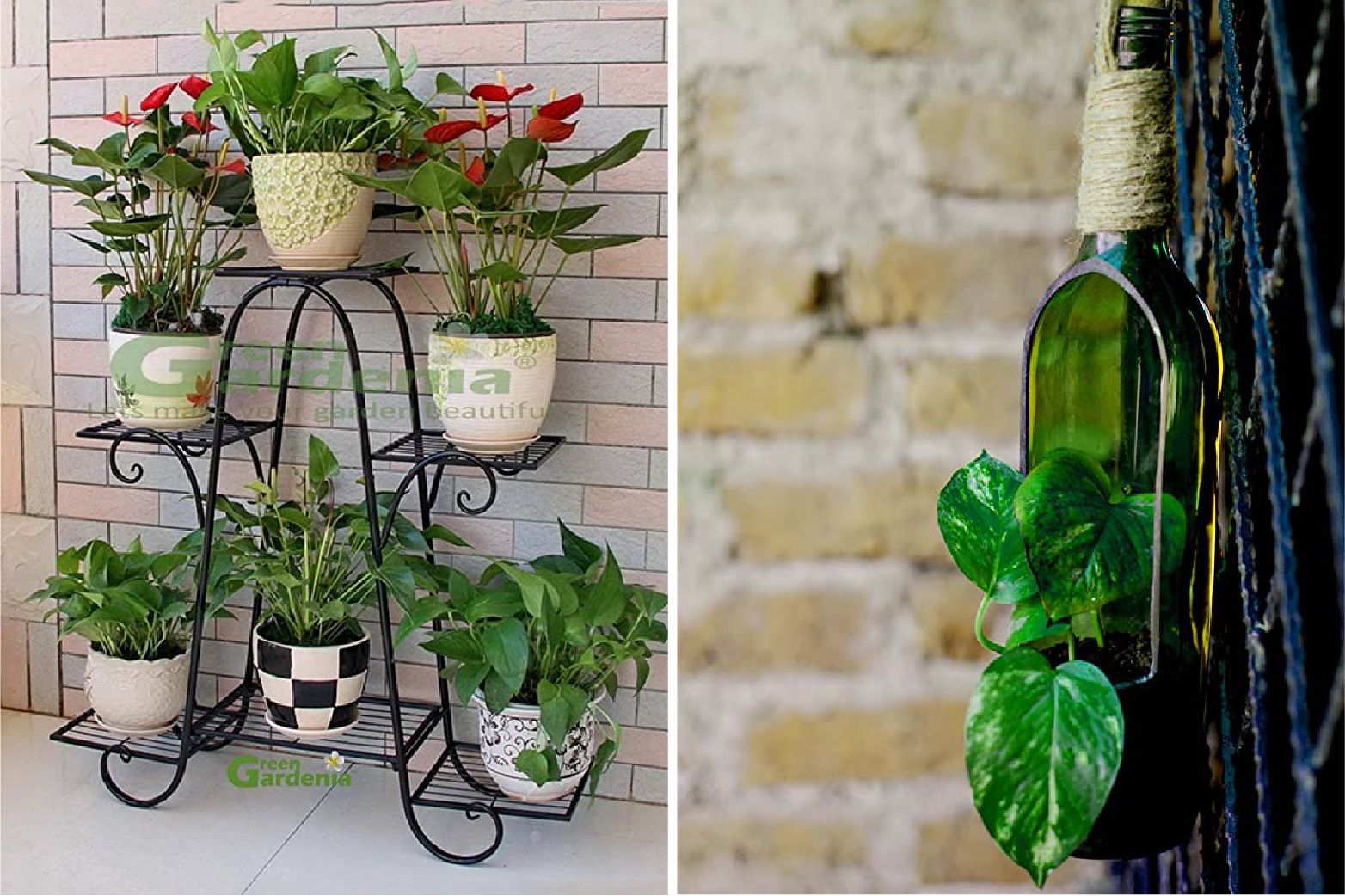 If you are looking for inspiration, consider the following means of decorating with plants. Pick up one of these bottle planters or wrought iron stands to add variety to your decor.
3. Consider Planters That Match Your Indoor Plants Design Ideas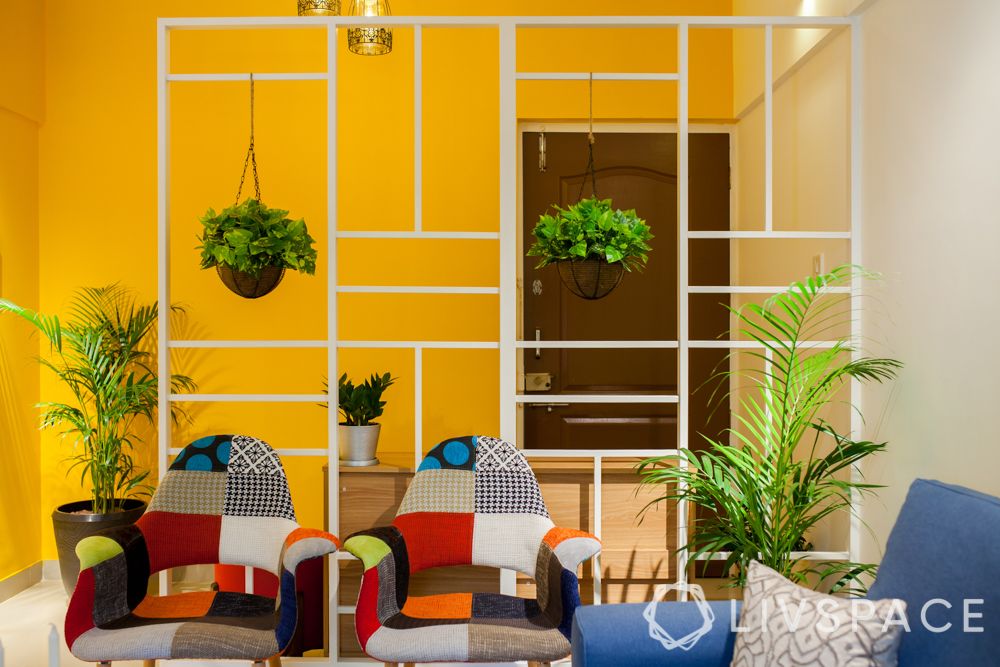 While we are looking for variety, it's also important to mix and match indoor plant design ideas mindfully. For instance, bushy foliage plants or creepers look better in hanging pots. Conversely, taller home decoration plants like palms are better off in floor pots. Succulents and cacti need tabletop-worthy pots. So, make sure that your planters and plant decoration ideas fit together functionally.
4. Introduce Patterns While Decorating With Plants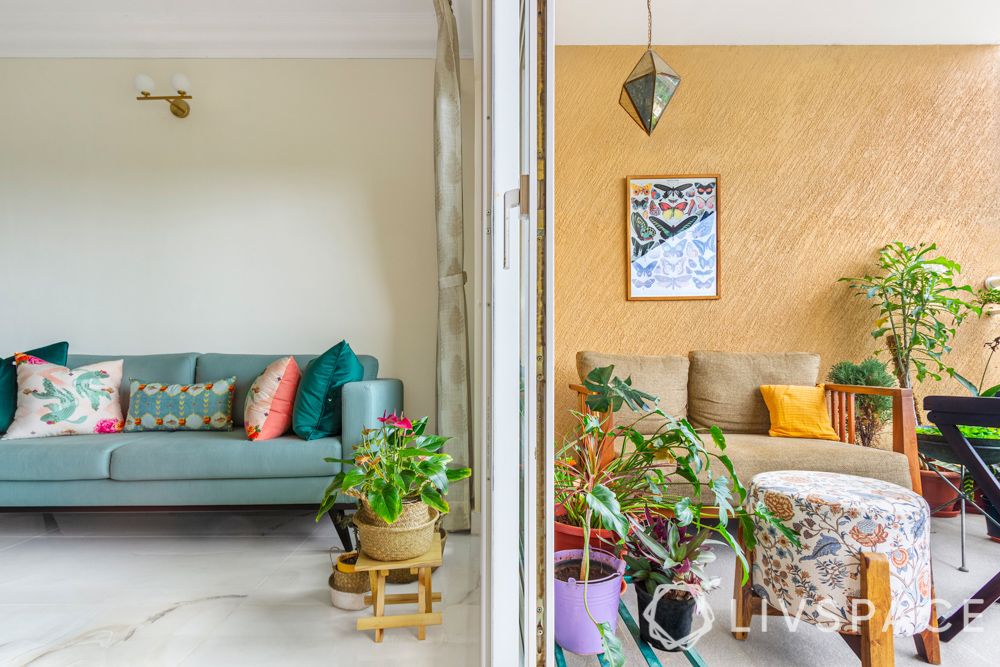 When it comes to living room plants decoration ideas, our stylists take texture quite seriously while interior decorating with plants. For a similar look, just pick plants with leaves in different shapes. You can pair bushy plants with leafy ones for starters. Similarly, consider introducing patterns that weave in texture while selecting your pots and planters.
What to Buy for Decorating With Plants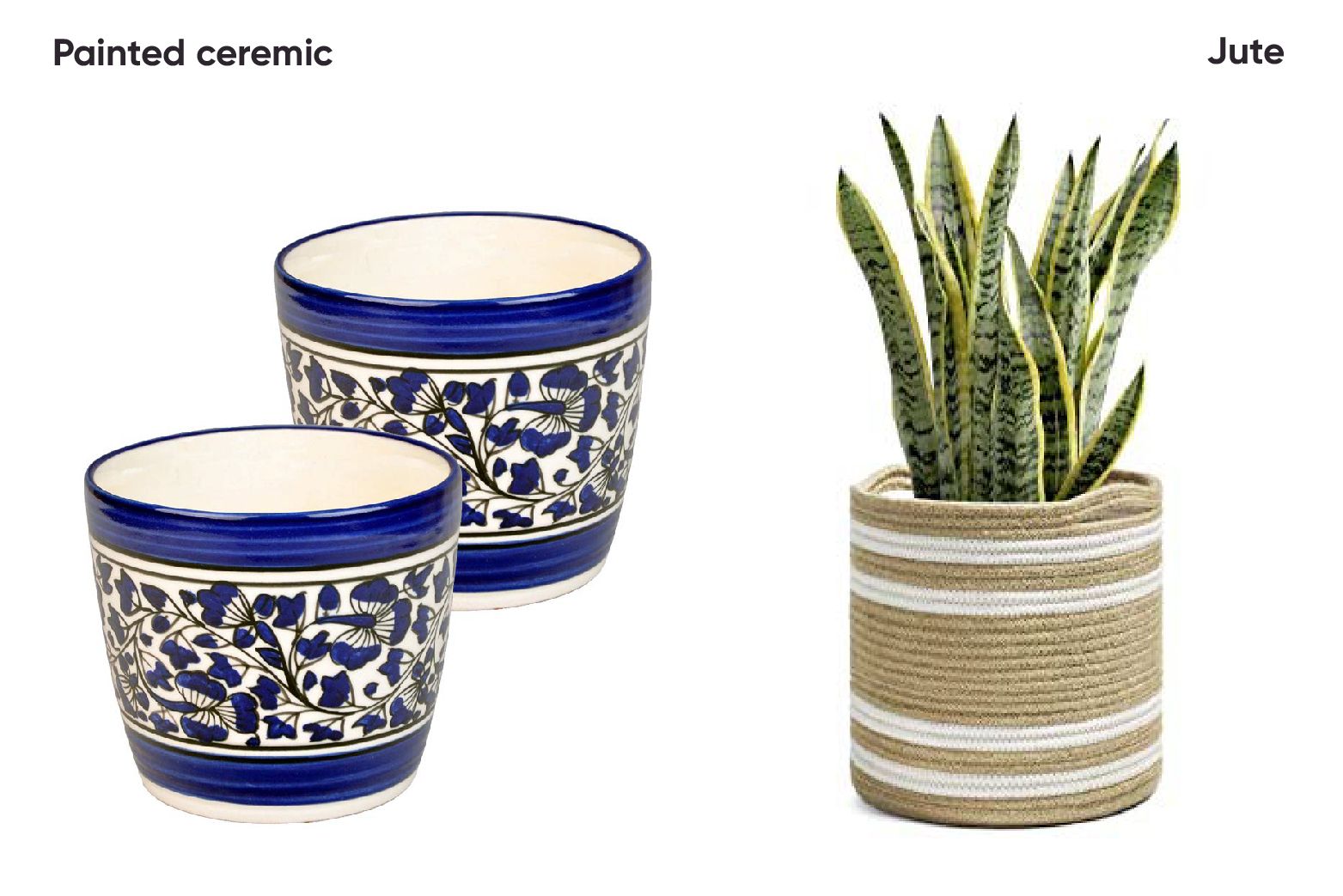 Keep your plant decoration ideas simple with materials such as ceramic and jute for your planters.
5. Create Focal Points While Decorating With Plants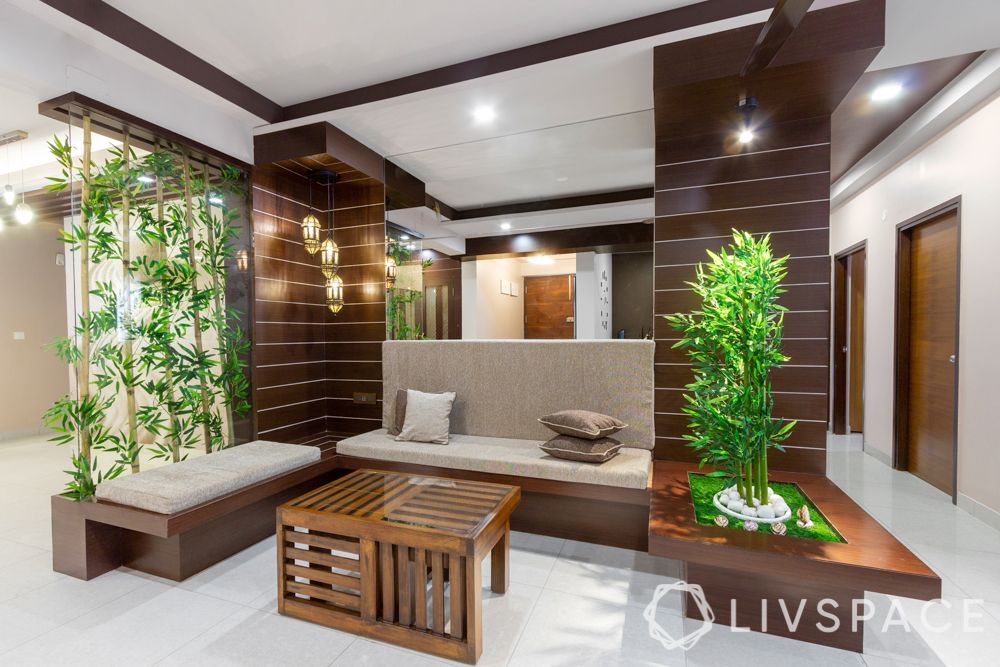 Large plants make for excellent centre or accent pieces when it comes to plant decoration ideas for spacious homes. One large and healthy plant kept at the centre of the room draws the eye instantly. In fact, you can also use tall plants to segregate space and work. It also does the job of being an aesthetic highlight of the room. Also, consider adding focus lights to help them stand out.
Also Read: 10+ Money Plant Vastu Tips to Bring Good Fortune into Your Life
6. Pay Attention to the Dull Corners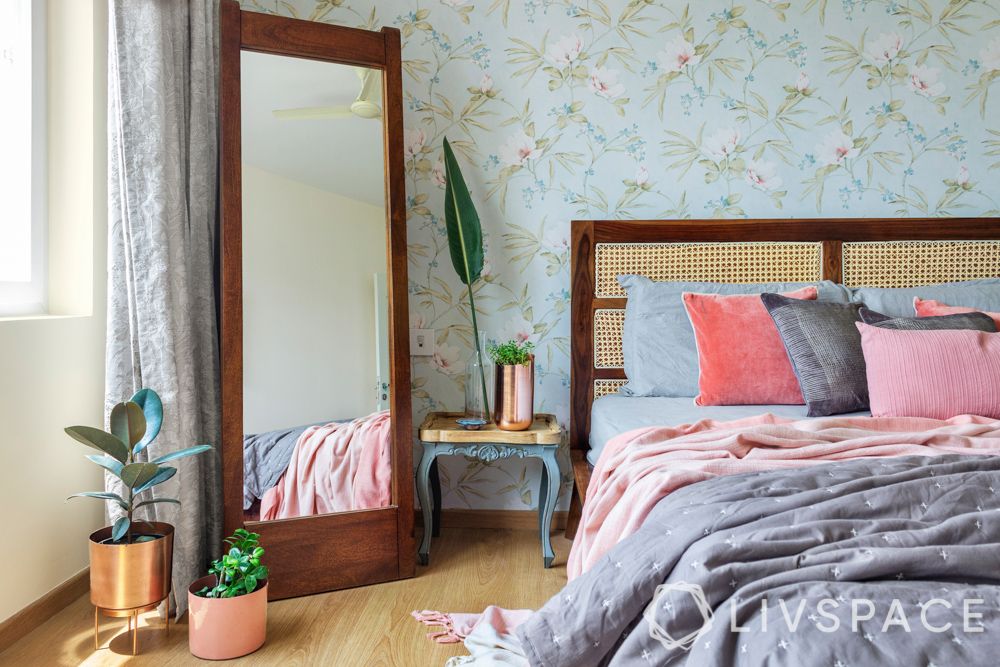 Any empty corners in your home waiting to be filled? Pick a plant and a pot that fits the corner perfectly and place it there. Alternatively, you could keep a bunch of potted plants together to fill up the corner. Also, tiny tabletop potted plants make excellent bedside plant decoration ideas.
7. Combine Plants With Works of Art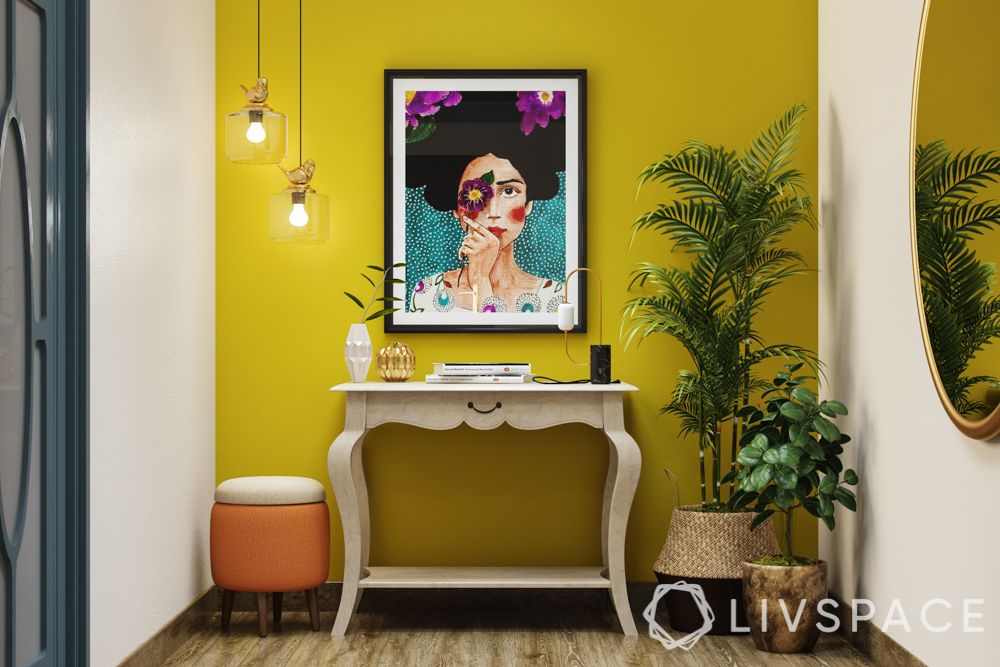 For the uninitiated, plants can be the perfect companion to artsy accents or paintings. This works particularly well if you have plenty of colour in the artwork to complement your plant decoration ideas. Altogether, it can help create a rich bouquet of colours to pep up your interiors.
8. Explore Vertical Placements for Your Plants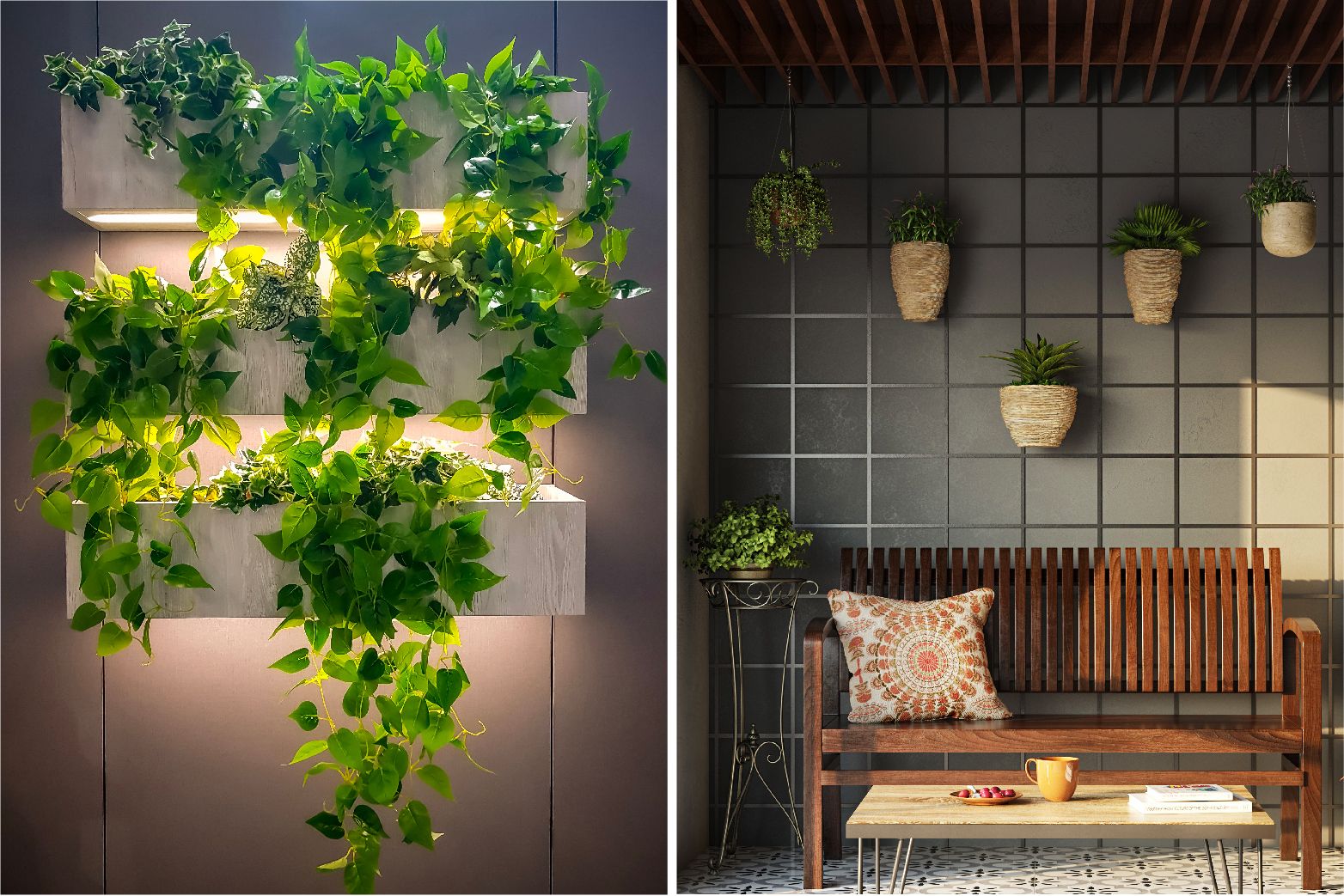 Plant decoration ideas for hanging plants is a whole new decor segment by itself. Typically, if you are aiming for a rustic look, opt for rattan planters. Glass planters are great for a clean and modern look. Alternatively, you can add LED lighting strips and turn this arrangement into an accent piece for the space.
What to Buy for Decorating With Plants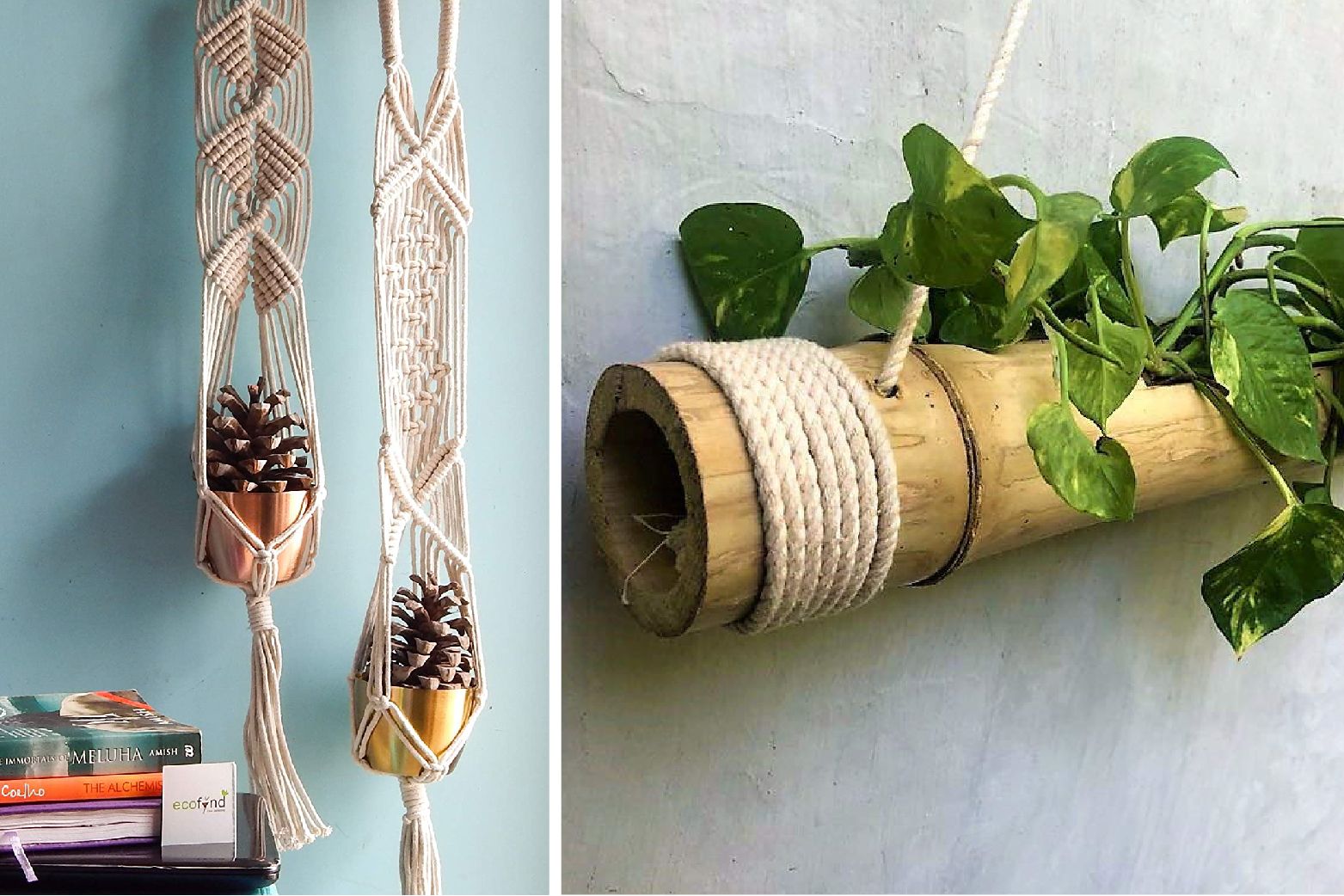 Go for macrame and bamboo while exploring plant decoration ideas for houseplants. They can help lend a cosy bohemian-feel to your space if you use them as part of your balcony design ideas.
9. Tap into Terrariums and Bonsai for a Showstopper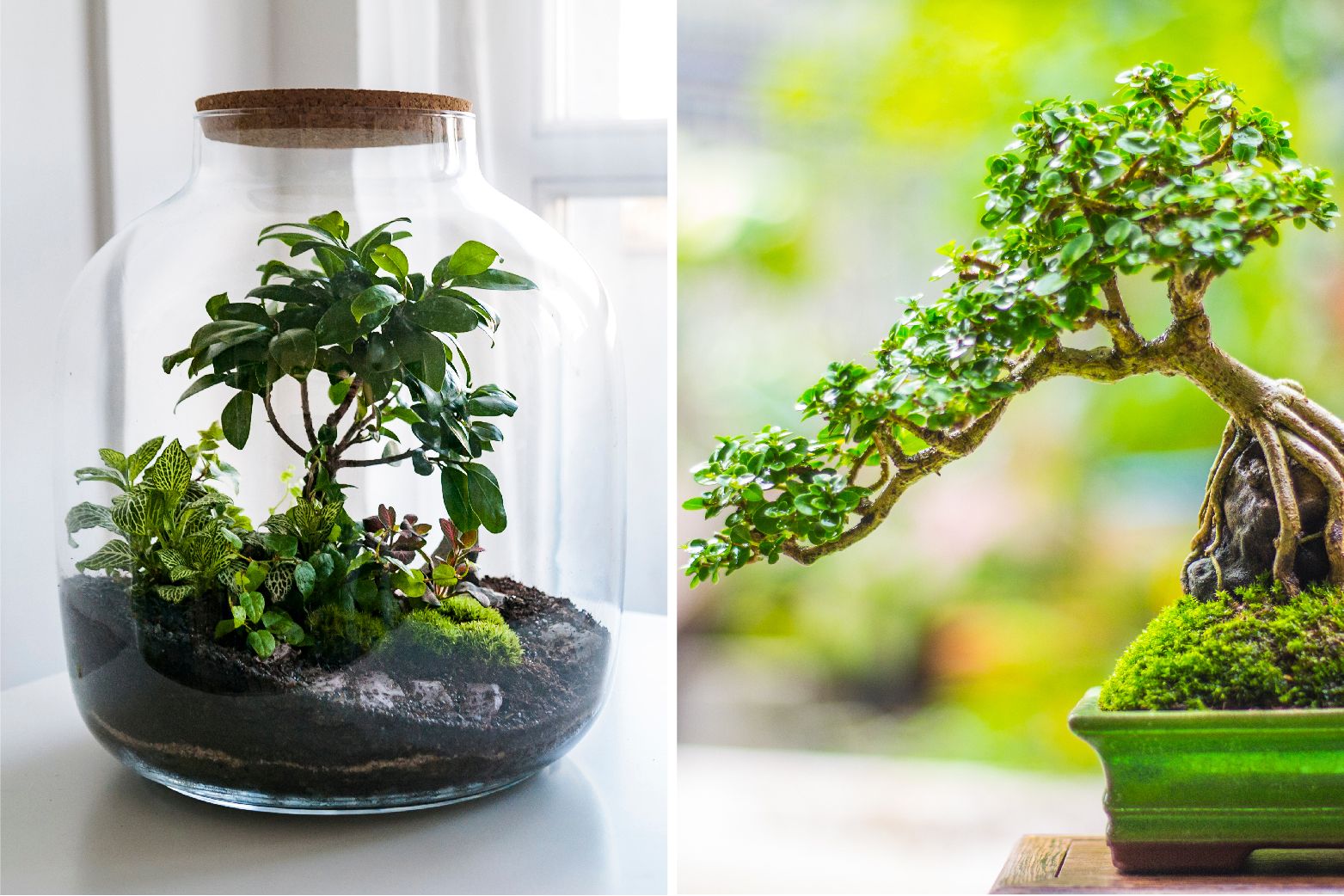 Apart from using quirky planters for your plant decoration ideas, you can bank on the novelty factor of certain plants too. One such example of this is bonsai. They stand out for their miniature form and are known to be great indoor plants. Similarly, terrariums, being decorative by purpose, also work very well while decorating with plants.
#4. What Are the Different Types of Houseplants You Can Use at Home?
While playing around with plant decoration ideas, you'd notice that there are a variety of shapes, sizes, colours and textures to explore. So, if you feel your home lacks something, it's probably some plant decor. Here are some of the most common types of plants we see as plant decoration ideas at home.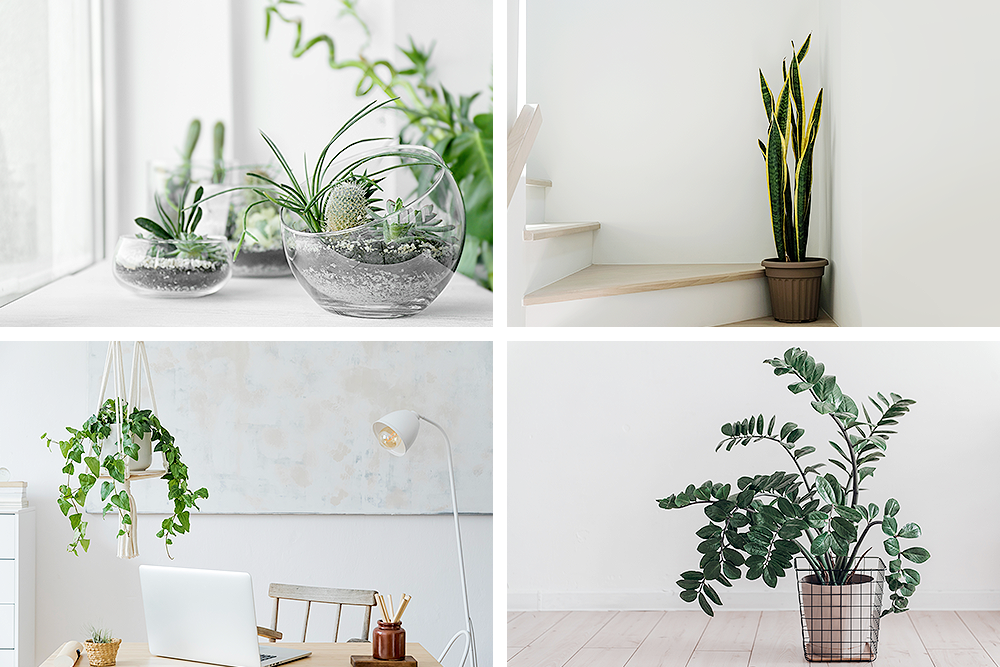 Low-light plants: Require limited exposure to the sun and can easily survive in areas without sunlight. Snake plants, spider plants and peace lillies are a few examples of low-light plants.
Succulents: Being relatively low maintenance, succulents grow well in hot climates like that of India. Echeveria, lace aloe and zebra haworthia are some common examples.
Hanging plants/vines: Consider using pothos, monstera or philodendron if you'd like to decorate your space with creeping or hanging plants.
Air-purifying plants: Chinese evergreens, boston ferns and bamboo are some typical examples of air-purifying plants.
Indoors palms: Areca palm, Chinese fan palm and the sago palm are a few good examples of indoor palms to consider. However, do note that each of them would have different requirements when it comes to maintenance and sun exposure.
#5. How to Start Decorating With Plants Based on Your Budget?
If Splurging is an Option: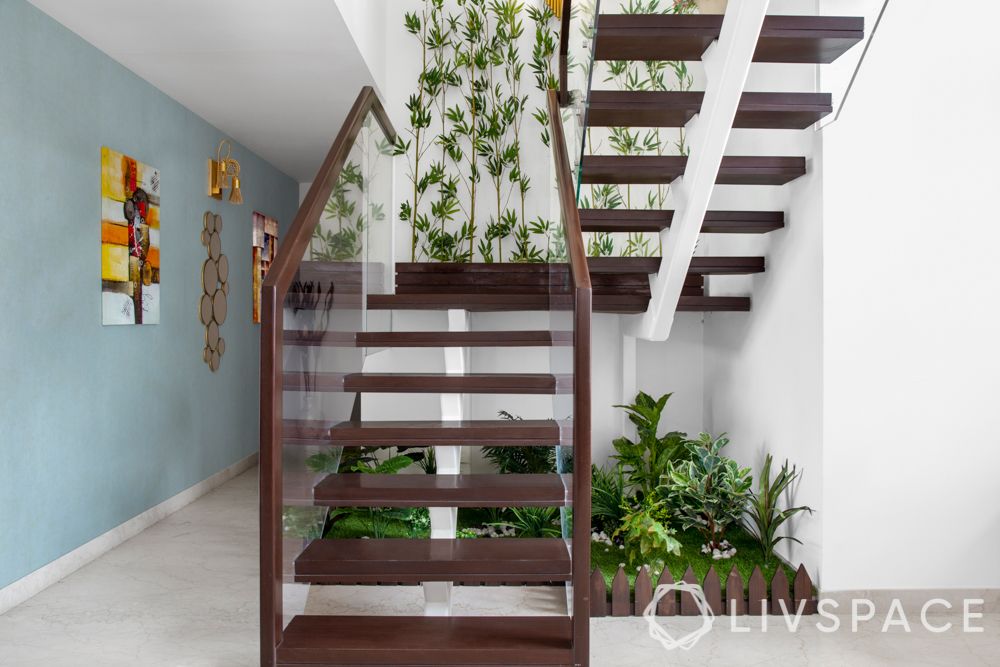 There is never a dearth of plant decoration ideas when you want to go all out with styling. Start with some elegant landscaping, which will require maintenance, and turn a portion of your home into a garden. For best results, outdoor spaces are ideal for landscaping. You can also use the area under your stairs like these homeowners have!
Layer your home with different types of plants in various shapes, sizes and colours. Use fancy planters that add spunk to your decor, and don't be shy to use exotic plants like bonsai.
If You're on a Budget: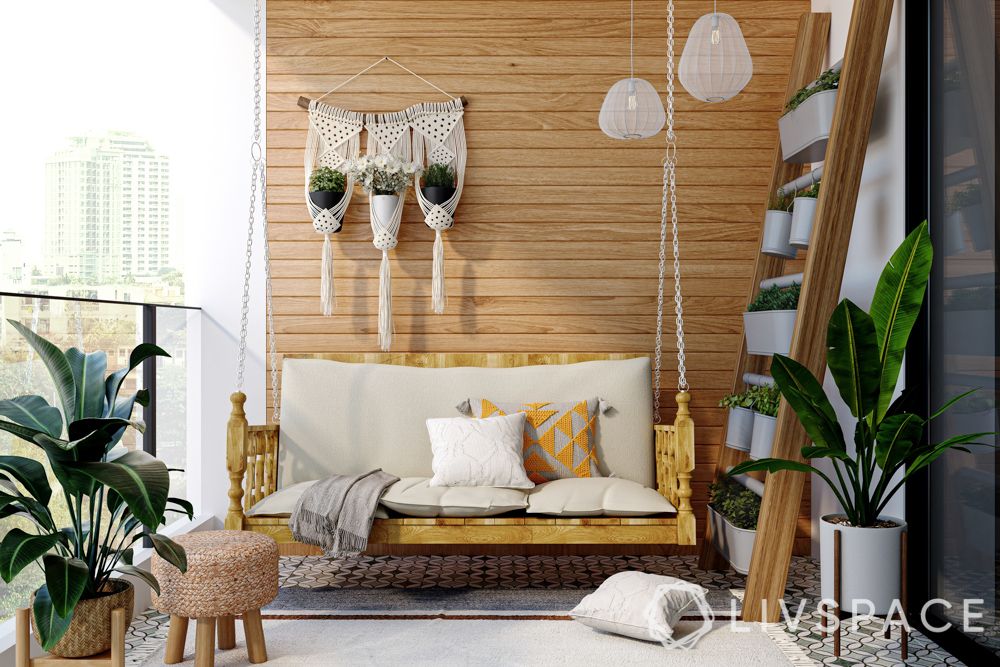 If you are decorating with plants on a tight budget, there are still plenty of plant decoration ideas at your disposal. For starters, use the simplest of earthen pots while avoiding plastic ones; this helps give your plants a more premium look.
As far as plants go, choose the ones that grow wild around you like money plants or that can be easily propagated from seeds like pumpkin and tomatoes.
Also Read: 25+ Balcony Design Ideas — The Top Trends of 2022
#6. How to Take Care of Indoor Plants?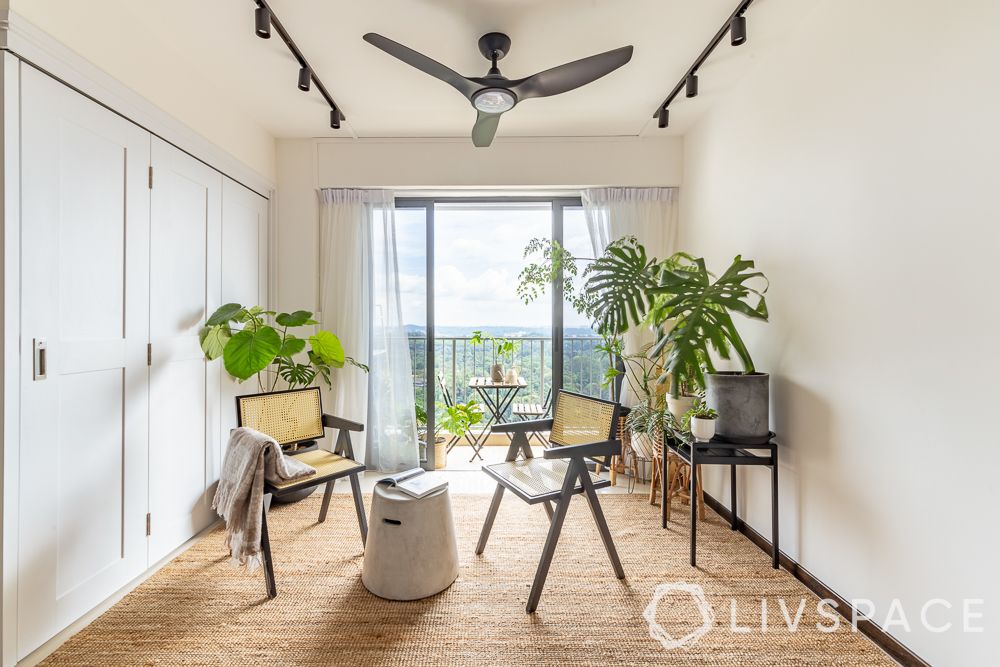 Ensure the soil in your pot is balanced; you don't want soil that's too dry or too wet.
Be sure to regularly water your plants to keep them hydrated and healthy.
Try to place them in a room that receives some amount of sunlight. However, this will also depend on the type of plant you have, as not all of them require the same amount of sun.
Make sure the potting soil you use is nutrient-rich so your plants can grow well. You might also need to re-pot your plant in tune with its rate of growth. At the time of buying your plants, be sure to check their care instructions from the vendor for best results.
Prune your plants as and when needed to promote the growth of new leaves.
How Can Livspace Help You?
We hope you found our plant decoration ideas useful! If you want beautiful interiors for your home, then look no further. Book an online consultation with Livspace today. If you have any thoughts and suggestions you'd like to share with us, we're all ears! Drop us a line at editor@livspace.com.