There's only one remedy to being cooped up indoors for all these months – some green therapy. We showed you How to Set Up a Stunning Balcony That's Low on Maintenance, now we're going to show you how to bring the green indoors. Decorating with plants or biophilic design is the "in" thing right now! And we believe it's an art to learn how to arrange indoor plants to strike up the right style statement. Start taking notes!
Why do we use indoor plants for decor?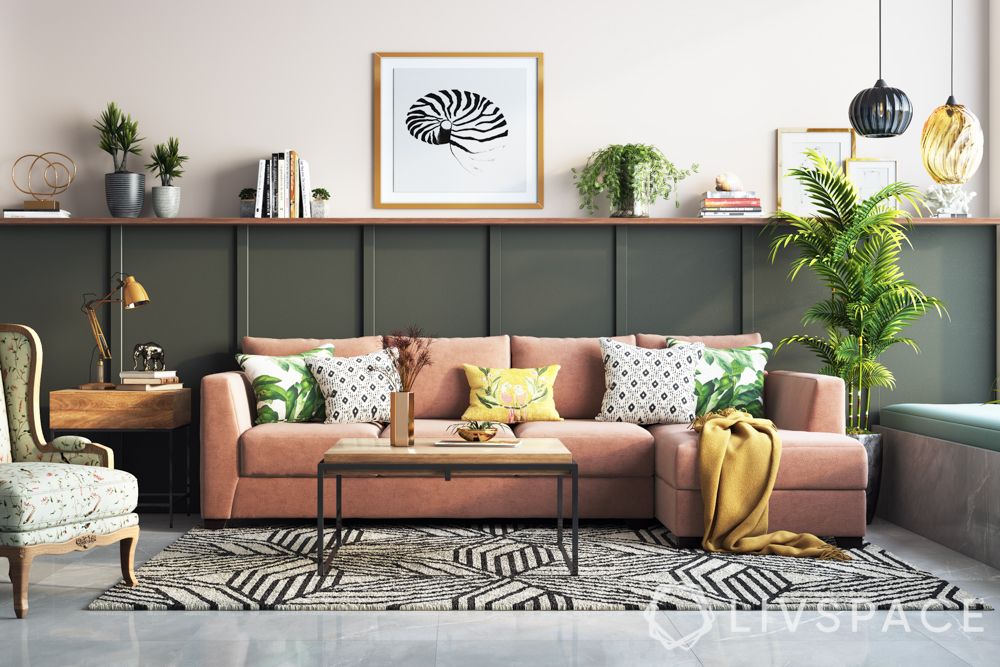 To begin with, the term "indoor plants" is misleading in itself as all plants are obviously meant for the outdoors. Thus, low light plants is the right term to address the plants we are talking about. Now, coming to the main question, why are we decorating with plants? It is mainly because the natural green we see in plants has a profoundly soothing effect on us. Plus, some of these can be air-purifying plants that improve the quality of the air in your house, and literally, breathe life into the space. Plants come in different shapes, sizes, colours and textures that can add so much drama to your interior design and elevate the aesthetic value of your indoors. Sometimes, if you feel your home lacks something, it's probably the presence of a plant. All in all, it's safe to say that decorating with plants is a win-win deal!
What plants can you keep indoors and where?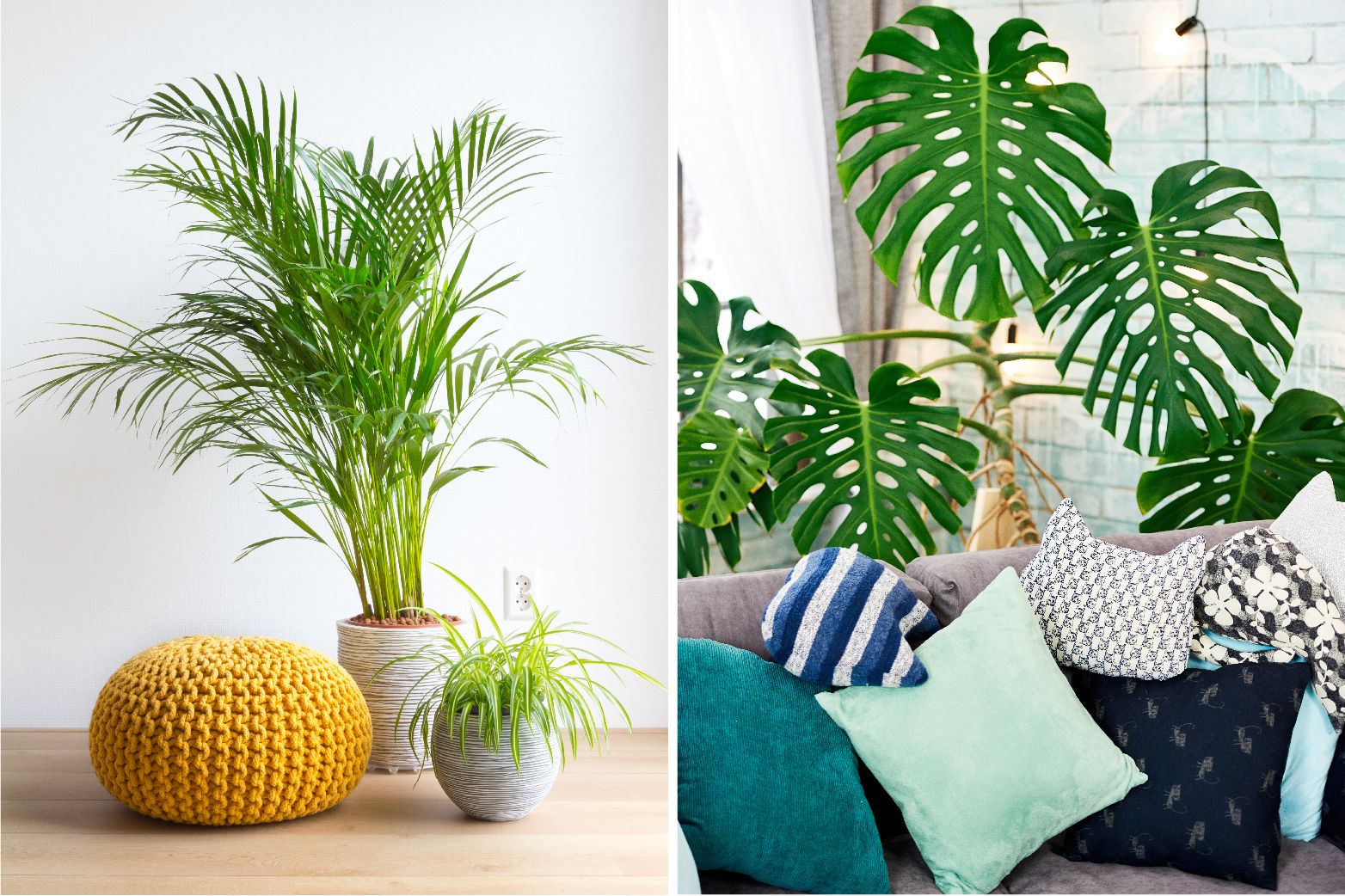 Now that we have established that decorating with plants is good for your home, it's important to know that not all plants can survive indoors. Unless you want to do plenty of moving around and maintenance, stick with this list of plants for lazy people, which includes the versatile palm, the unpretentious syngonium and the all-time favourite, pothos!
It is not enough to know which are the plants that can be kept indoors. You must also know where you can keep each of these plants within the house. For instance, the living room is where we interact with family and meet friends; foliage plants are an excellent choice for this space. Also, if your living area is missing colour, you can pick a croton or pink syngonium. The kitchen being a damp space is ideal for ferns and pothos. For more details, follow our room wise guide on how to arrange indoor plants.

How to style your home with plants like a pro?
There are some key rules to consider while decorating your home with plants.
#1: Add plants at different heights for intrigue & style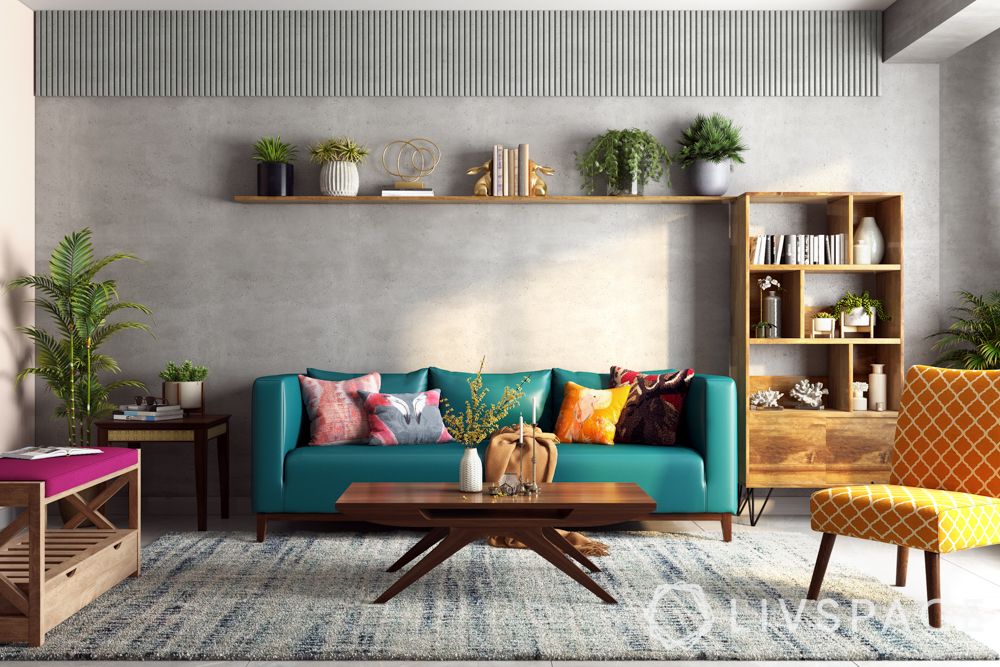 Firstly, adding plants of different heights to your interiors brings variety. Secondly, you having plants at different heights adds to building depth. For instance, the smaller potted plants can be kept on shelves or cabinets/consoles. The taller ones must be kept on the floor. You can place the medium sized ones on window sills or niches. Step back and take in the room as a whole. You'll see that a pattern begins to emerge in where they are arranged. Don't clutter the layout – remember plants are meant to add to the decor, not crowd it.
What You Can Buy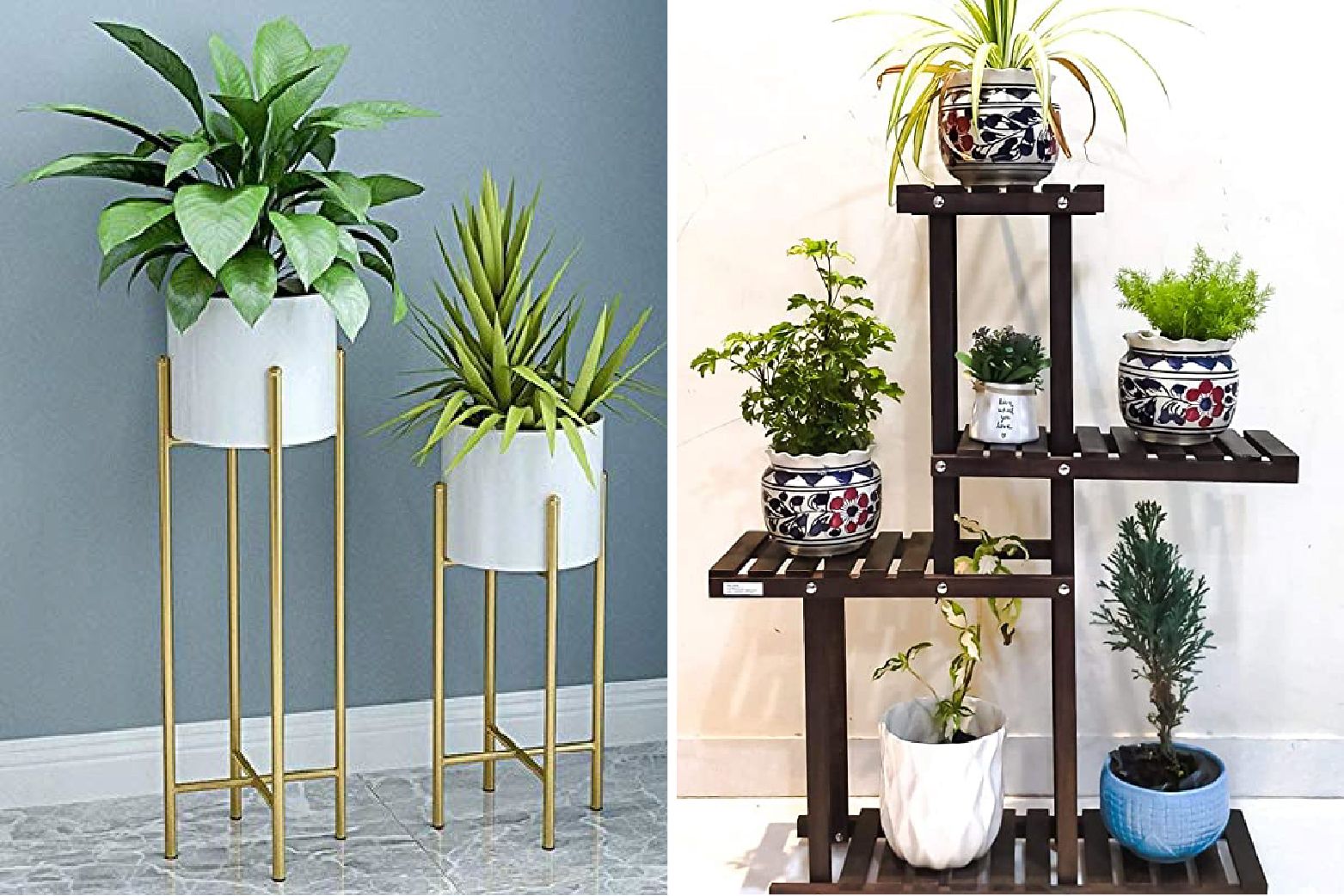 If your home design doesn't have a natural array of different levels to display plants, you can consider buying plant stands or racks online to artificially layer your space. We personally found the above options do the trick at an affordable price!
#2: Mix and match containers and planters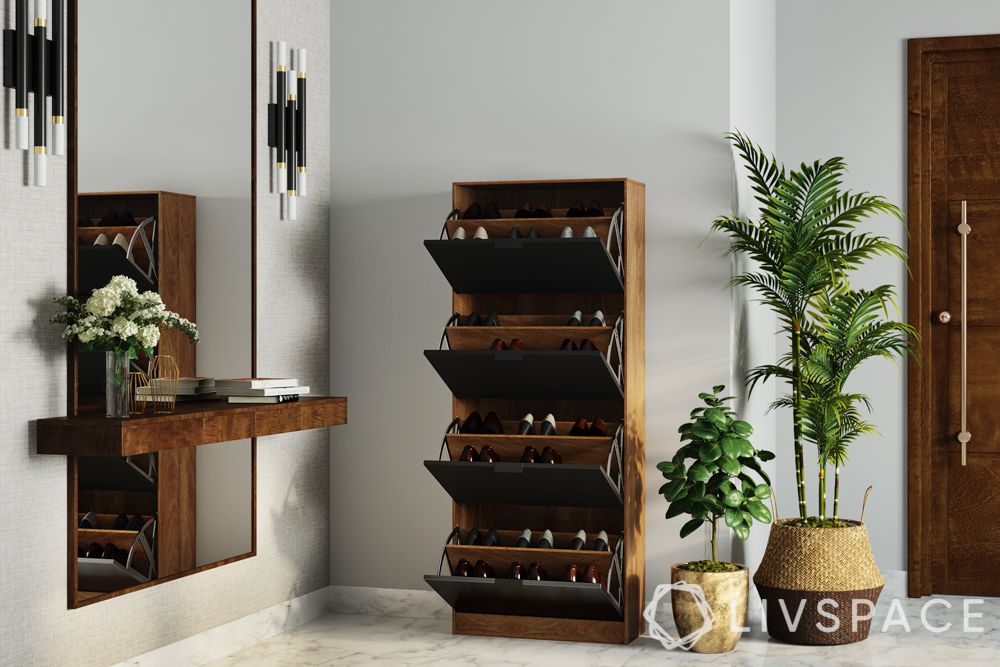 Uniformity is not something we are striving for while styling plants. What you need is variety. So the more, the merrier! Pick different kinds of planters to mix things up in your home. While these pots and planters can be as different from each other as possible, they must be held together with a common stream of design strategy. For example, in the room above, the planters used both go with the wooden theme going in the home. While one is a golden shaded planter, the other is one made out of wicker. You'll also notice, we picked plants of different heights for this entryway.
What You Can Buy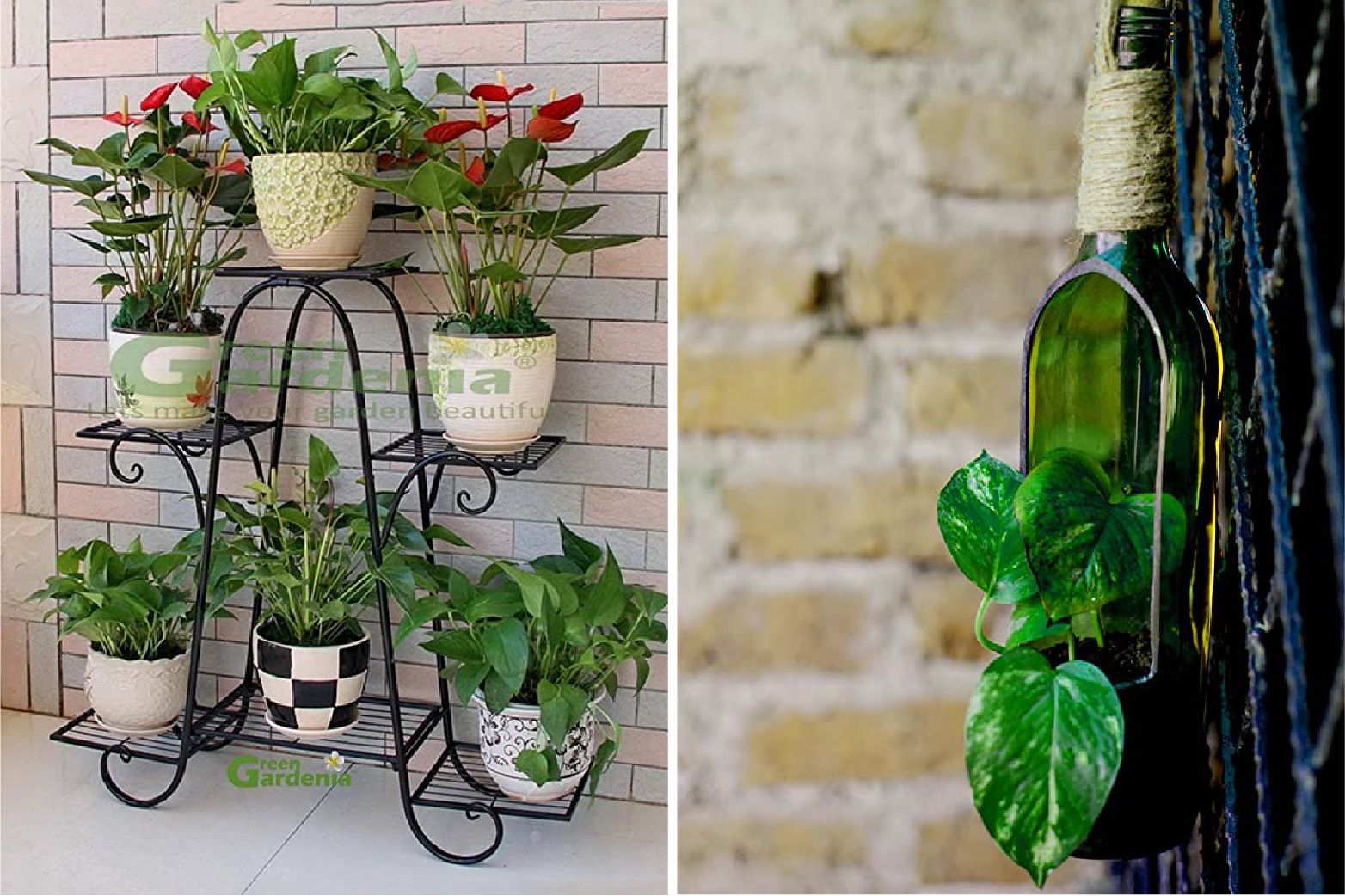 If you are looking for inspiration, consider picking up one of these bottle planters or wrought iron stands from Amazon to add variety to your decor. You'll also find your pick of plant baskets and pots.
#3: Pair the right plants with appropriate planters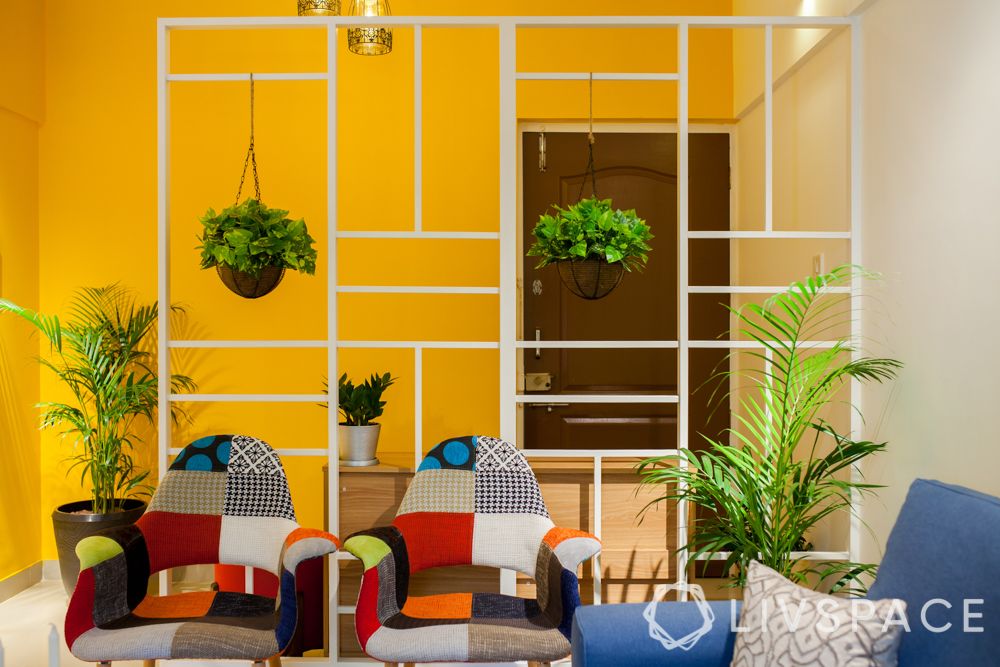 While we are looking for variety, it's also important to mix and match mindfully. Essentially, every plant can be potted in certain specific types of planters. For instance, bushy foliage plants or creepers look better in hanging pots. Taller plants like palms are better off in floor pots. Succulents and cacti need tabletop-worthy pots. Make sure that the pots and plants fit together functionally.
#4: Introduce patterns in plants and planters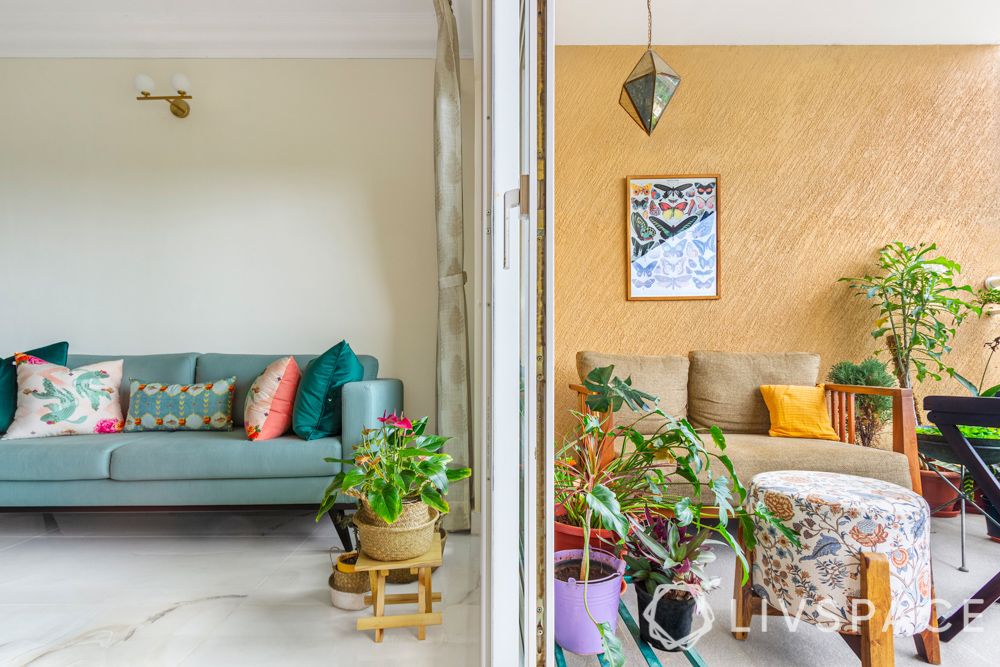 Our stylists take texture quite seriously while decorating with plants. When you get your plant babies, you can add plenty of texture with minimum effort. Pick plants with leaves in different shapes. You can pair bushy plants with leafy ones. Even with planters, you can introduce patterns that weave in texture.
What You Can Buy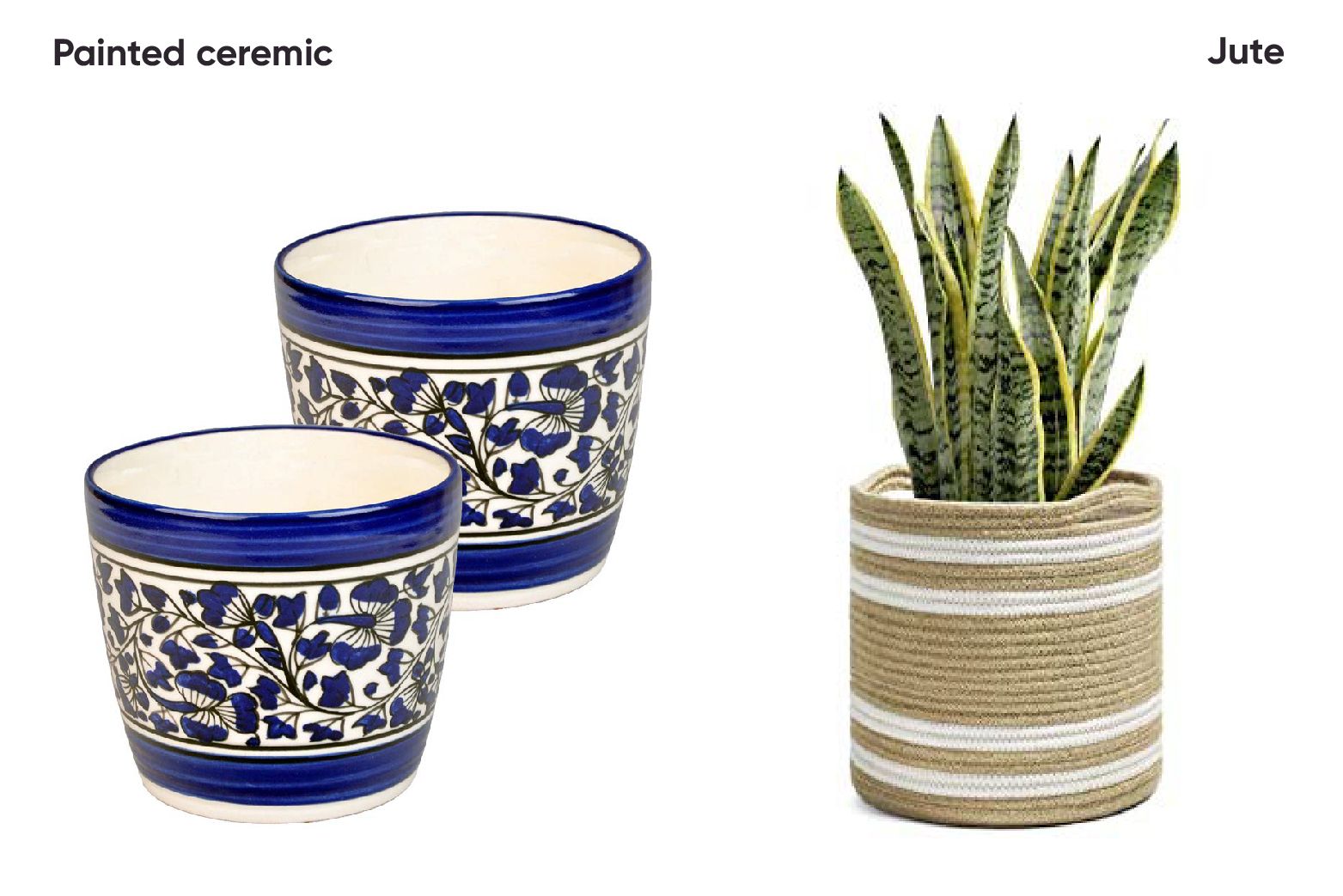 You can check out these simple planters online hand painted ceramic pot and jute planter are available online.
#5: Create focal points with plants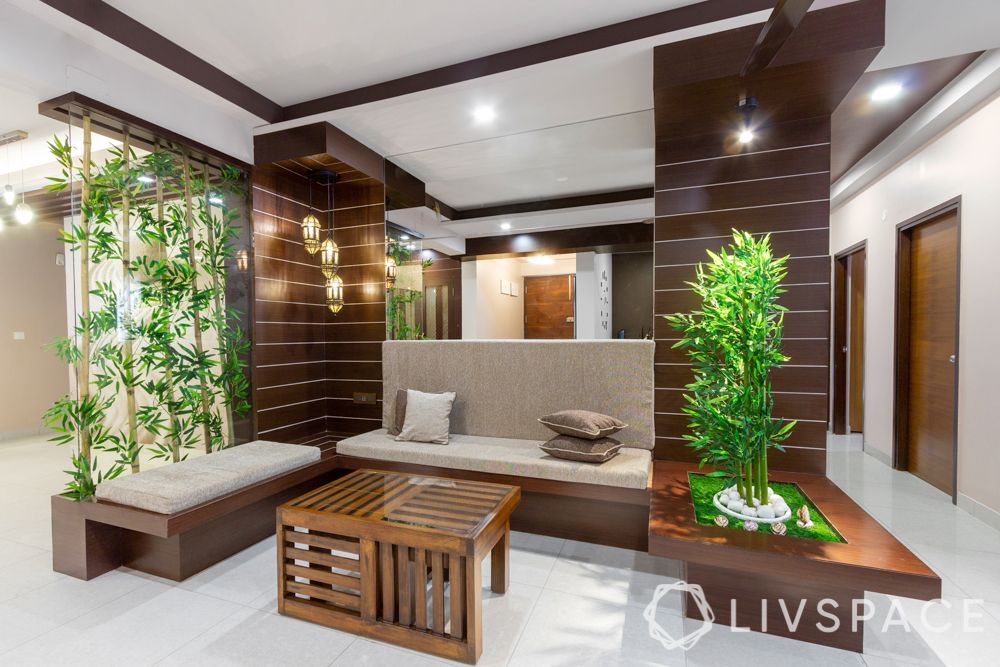 Large plants make excellent centre or accent pieces. They also look great in your empty corners. One large and healthy plant kept at the centre of the room draws the eye instantly. In fact, you can also use tall plants to segregate space and work as a highlight at the same time. Consider adding focus lights to help them stand out. You can definitely try this at home for that overall effect!
#6: Pay attention to the dull corners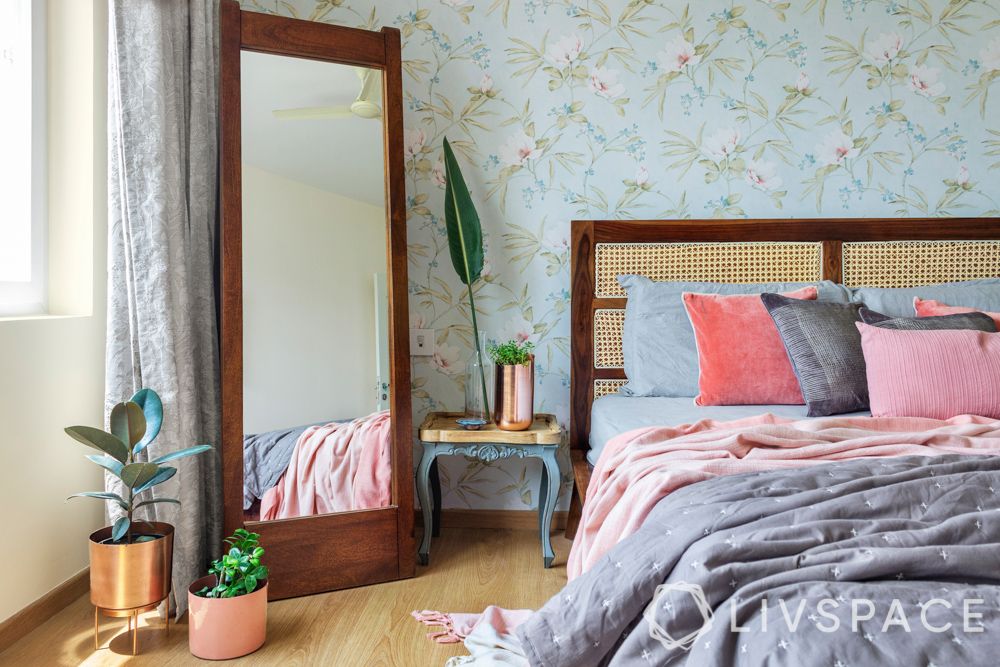 Any empty corners in your home waiting to be filled? Pick a plant and a pot that fits the corner perfectly and place it there. Alternatively, you could keep a bunch of potted plants together to fill up the corner. Also, tiny tabletop potted plants make excellent bedside companions.
#7: Combine plants with works of art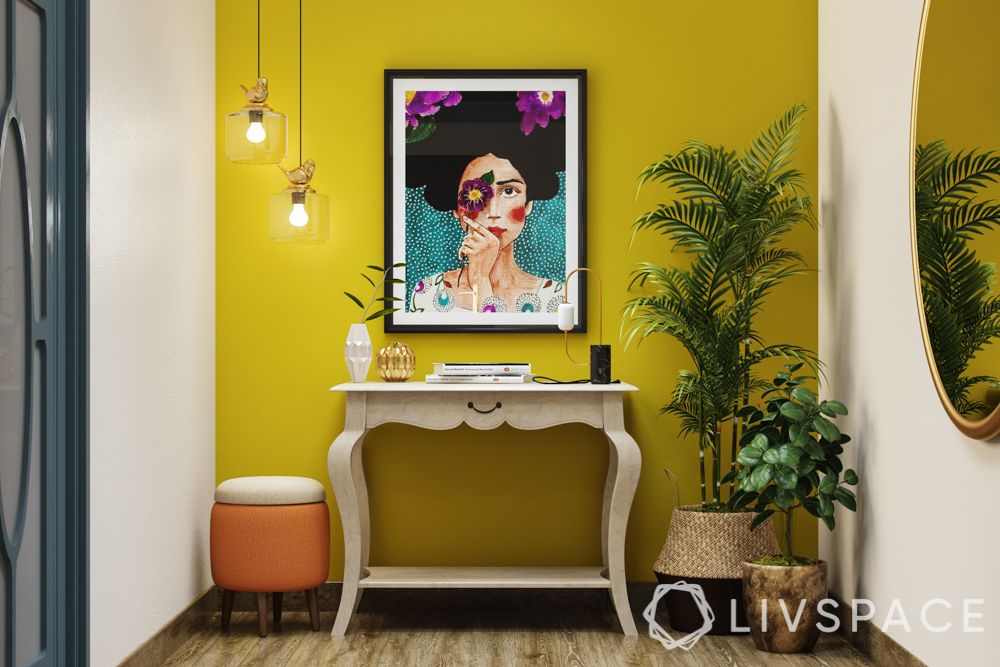 For the uninitiated, plants can be the perfect companion to artsy accents or artwork like paintings. This works particularly well if you have plenty of colour in the artwork. This is because some dappled greens can be the perfect tone-downer in such cases.
#8: Hang your plants innovatively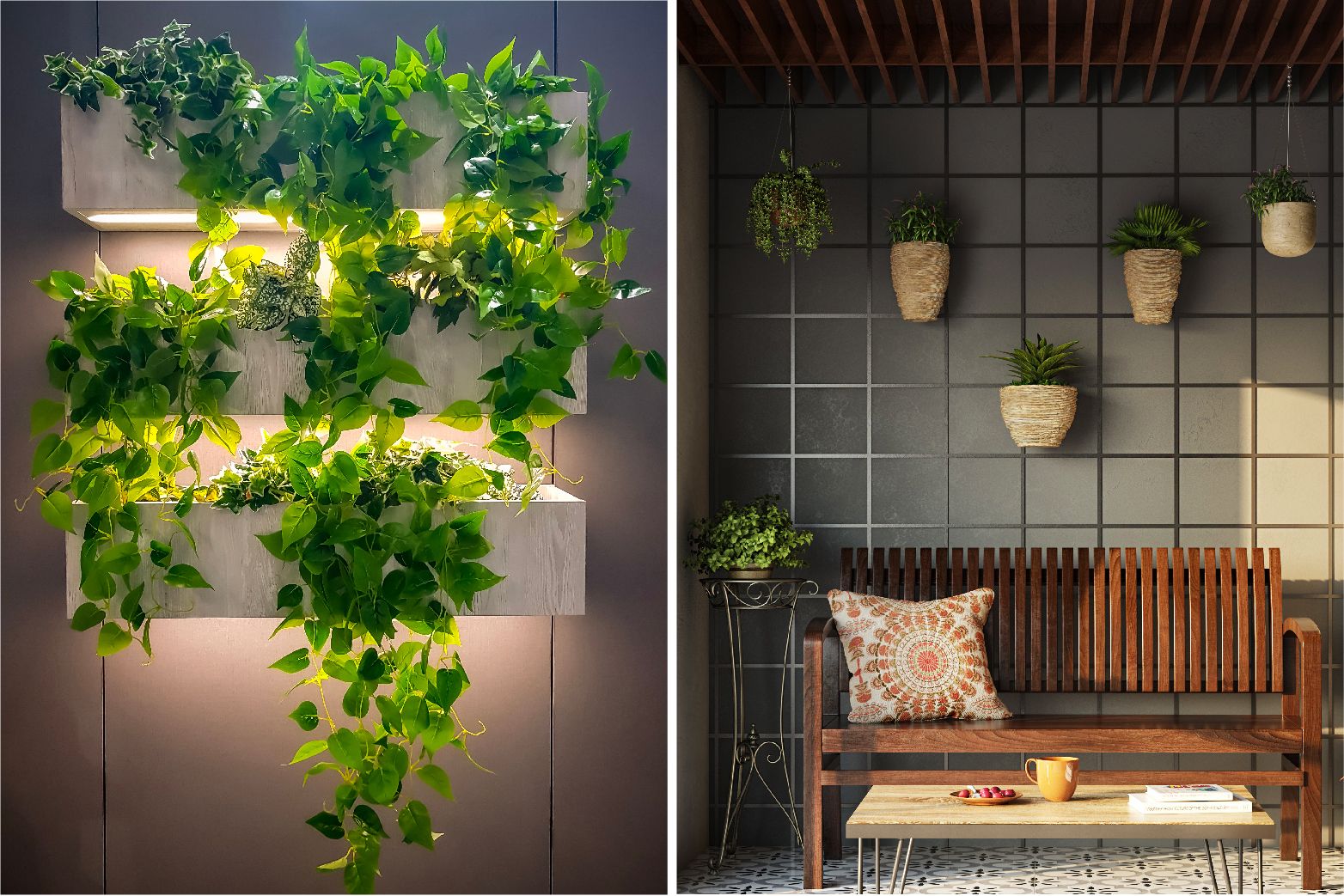 Plant styling ideas for hanging plants is a whole new decor segment by itself. Primarily because it is very easy to go wrong while opting for suspended planters. Typically, If you are aiming for a rustic look, opt for rattan planters. Glass planters are for a clean and modern look. To accentuate the hanging plants, you can add LED lighting strips and turn this arrangement into an accent piece for the space.
PRO TIP: Don't overcrowd your windows or balconies with hanging planters so much so that they block your view.
What You Can Buy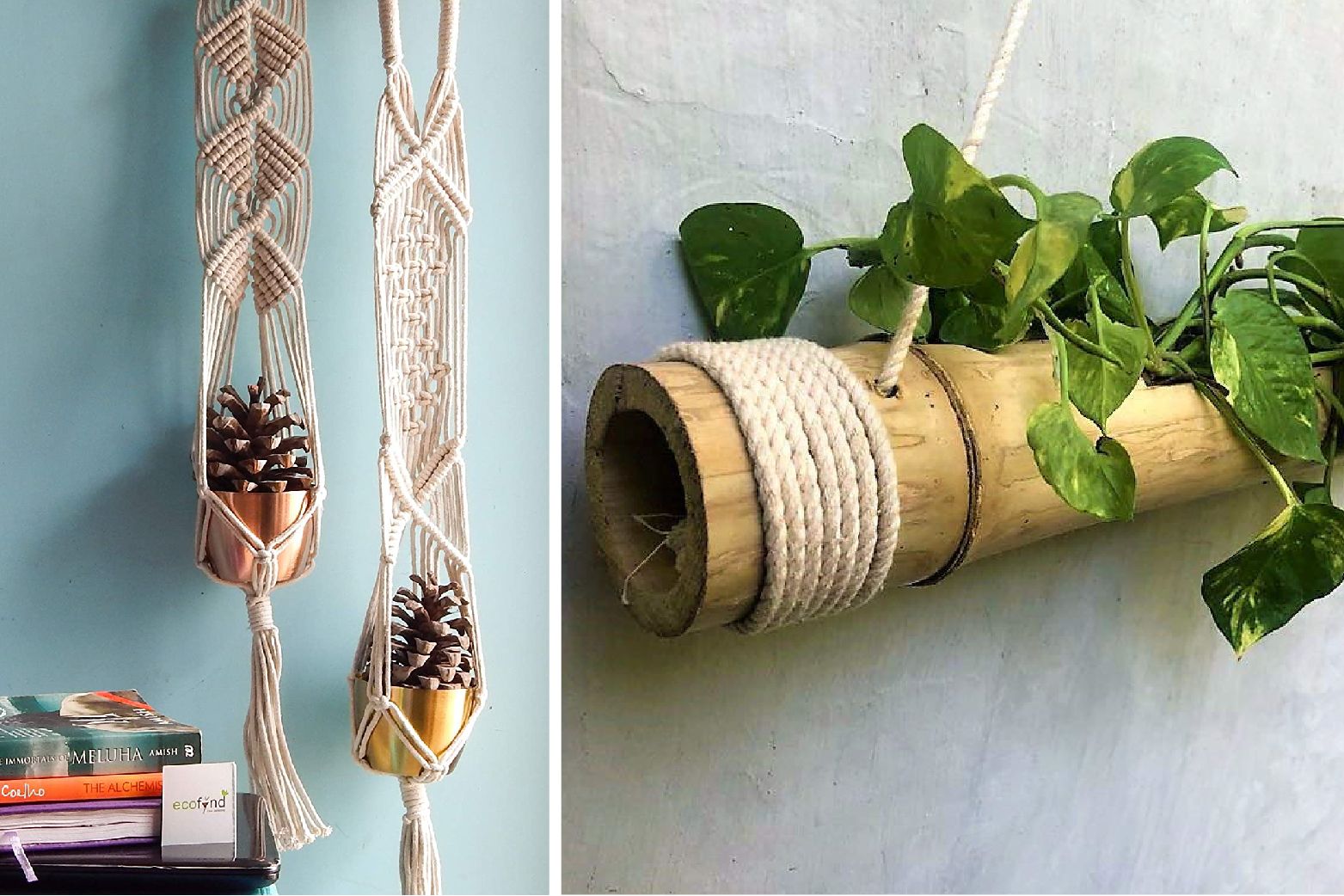 If you are in need of some inspiration, this macrame pot holder available on Amazon will catch your interest. You might also want to check out this hanging bamboo plant holder while you are surfing. 
#9: Tap into terrariums and bonsai for a showstopper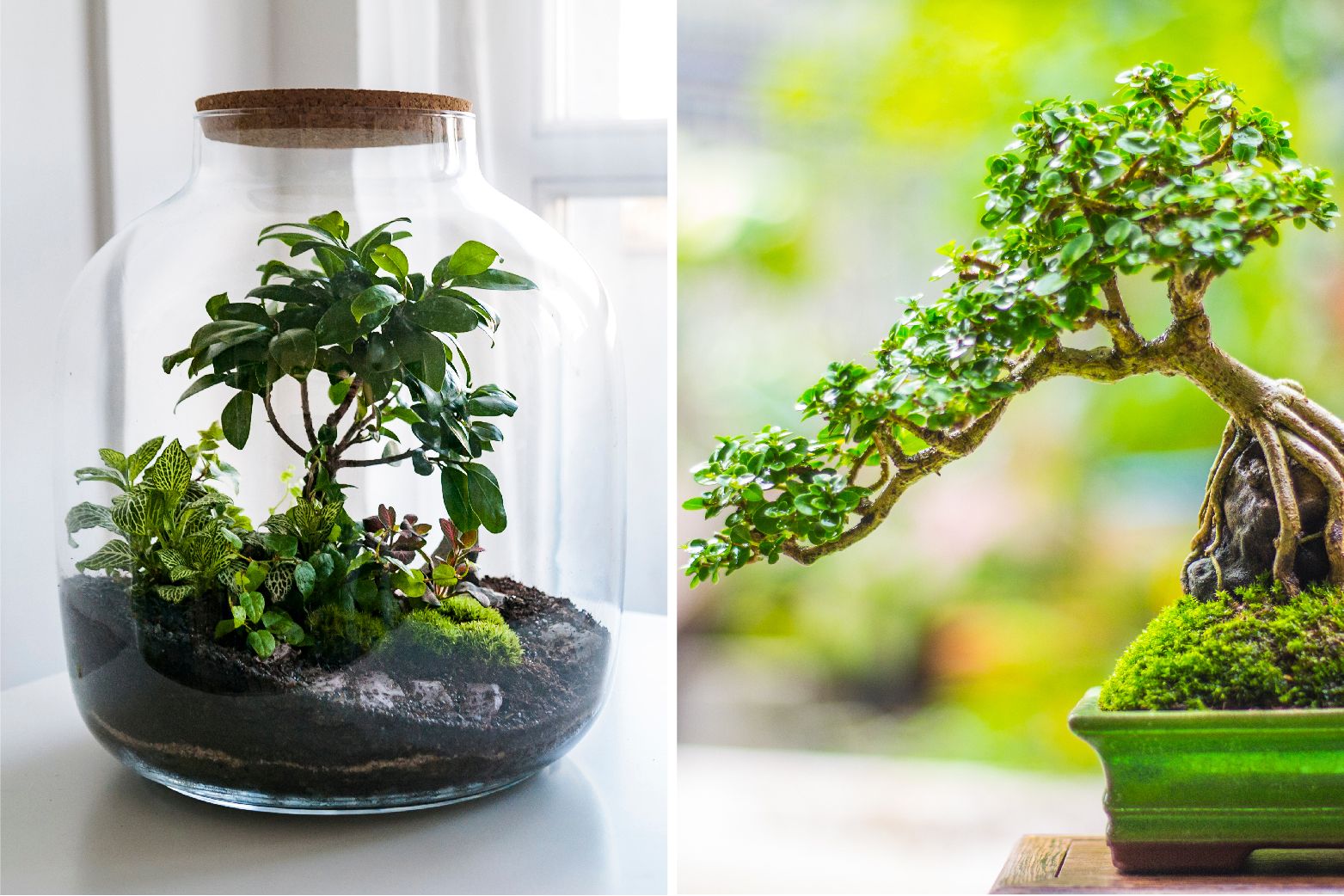 We have spoken much about novel types of planters or arrangements for styling your home. But it's not just the novelty of the planter that counts. Even the plant itself can be the star of the show! For instance, bonsai stand out for their miniature form and are known to endure indoors. Similarly, terrariums, being decorative by purpose, work very well while decorating with plants.
However, it is important to understand that all plants can't be turned into bonsai or terrariums. To know more, read How to Take Care of Succulents.
How to style with plants when you can splurge?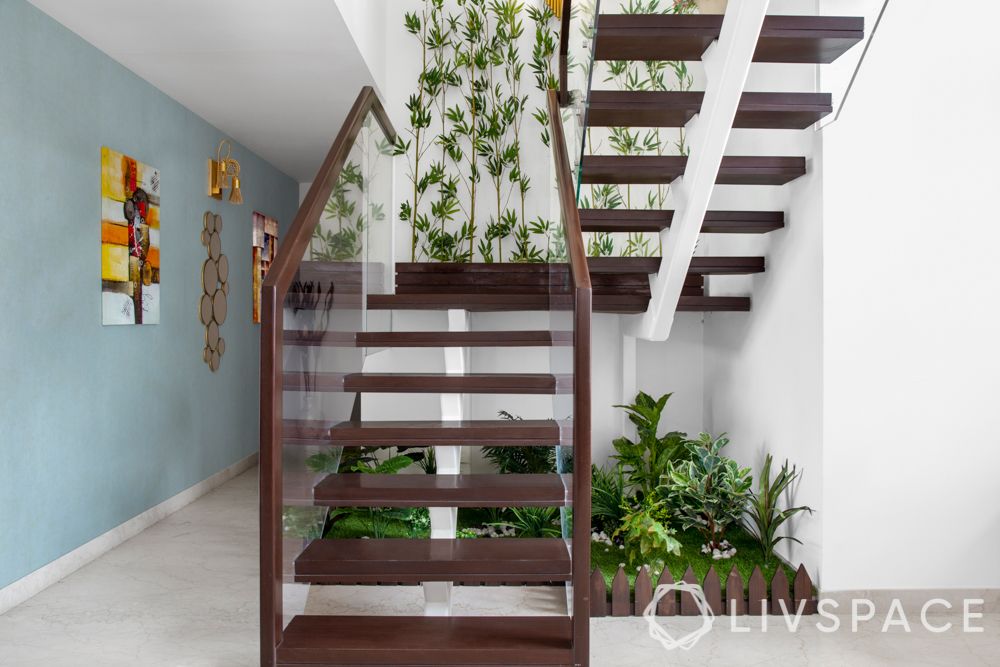 There is never any dearth of ideas when you want to go all out with your plant styling ideas. Start with some elegant landscaping, which will require maintenance, and turn a portion of your home into a garden. For best results, outdoor spaces are ideal for landscaping. You can also use the area under your stairs like these homeowners have!
Layer your home with different types of plants in various shapes, sizes and colours. Use fancy planters that add spunk to your decor and also don't be shy to use exotic plants like bonsai.
How to style with plants on a budget?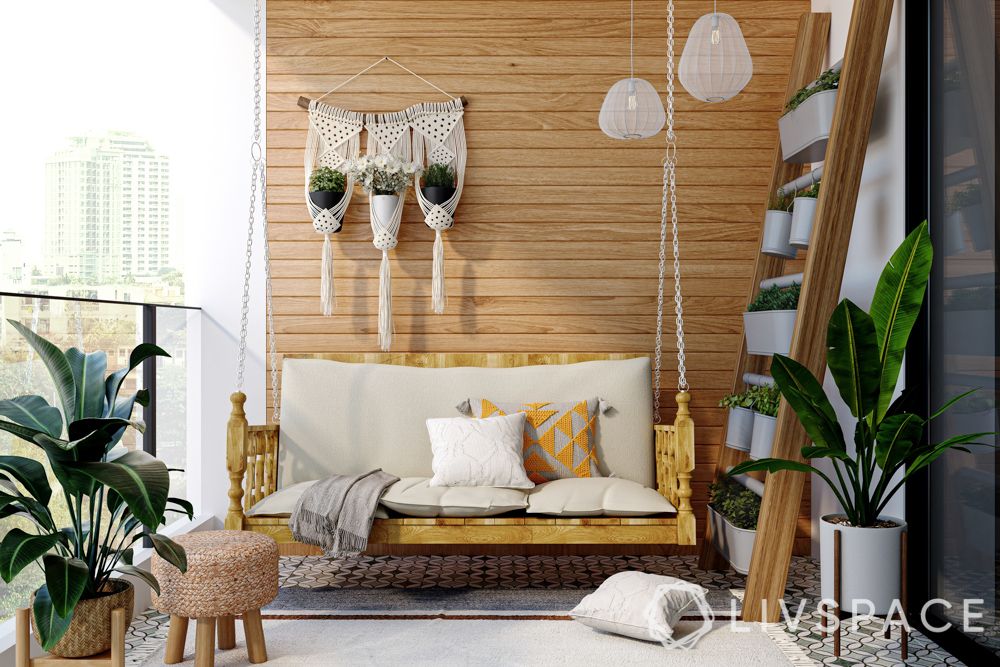 If you are decorating with plants on a tight budget, there are still plenty of options at your disposal. Firstly, use the simplest of earthen pots; avoid plastic ones. Also, you can turn any discarded item in your house into a planter including gunny bags and old bottles. As far as plants go, choose the ones that grow wild around you like money plants or that can be easily propagated from seeds like pumpkin and tomatoes.
Where to find inspiration?
#1: Twinkle Khanna's take on a balcony garden
When you have Mrs Funnybones on your side, great ideas flow with good humour. Twinkle Khanna takes us through her fairly simple yet smart ideas to use balcony space in this video. It is a comprehensive take on how to use almost any balcony to its fullest potential.
#2: Anushka Sharma's urban forest
#3: Instagrammers like That Yellow Trunk
If you follow brands or individuals who love doing up their home and garden on Instagram, (like yours truly!), The Yellow Trunk must have popped up on your feed. Instagrammer Anjari's balcony is essentially Boho-chic and her DIY projects oh-so-inspiring! You'll notice the quirkiness come through with the layered blending of colours, woven textures, prints and greens.
#4: And lastly, follow Livspace!
Follow Us on Instagram or Youtube for inspirational and how-to videos on all things interior!
If you found this guide for how to arrange indoor plants in your home useful then do check out some of our best balconies from #LivspaceHomes.
Write to us with your comments and suggestions to editor@livspace.com.