What matters most to you when it comes to styling your interiors? Is it all about making grand statements, or do you prefer something more understated? Sometimes, before we can even get to this point, we're overcome with confusion. With so many different sources of house decor inspiration, it's hard to zone in on one specific style. Here's where finding the right home decor ideas can save you a lot of time and energy. Not to mention money as well.
So, don't let the "overwhelm" of planning your interiors get you down. Allow us to take you through some home decorating ideas on a budget that you're sure to love. Here are 15 easy to incorporate house decor ideas that you can decorate your home with:
1. A Neutral Theme With Colourful Accents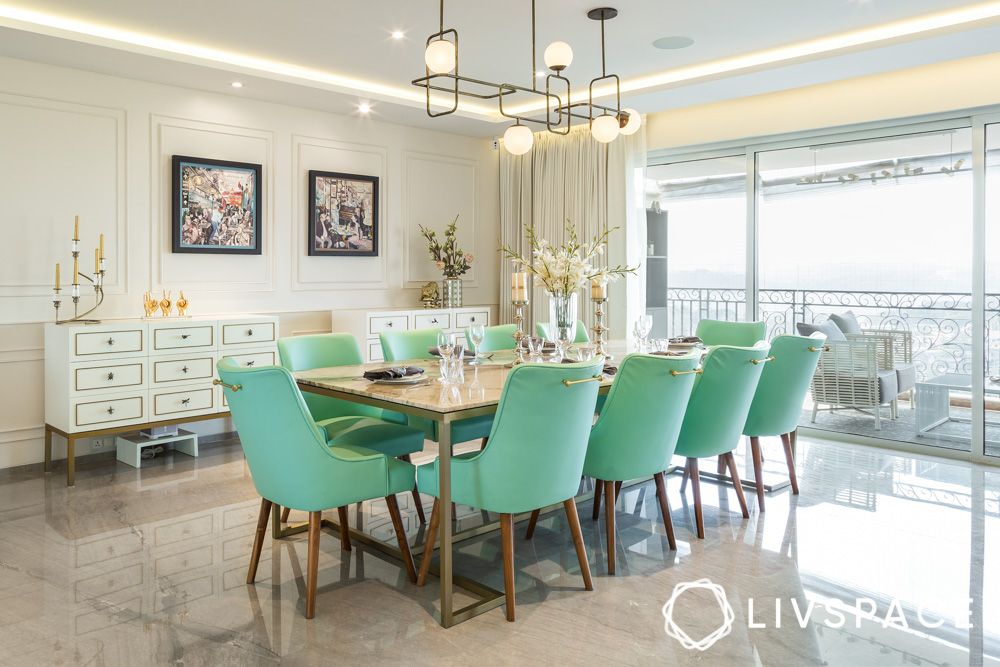 If there's one thing you'll notice in classy, spacious homes, it's that they follow neutral colour schemes. Though this doesn't hold true for all homes, there's just something about a neutral palette that exudes sophistication.
That being said, too much of a good thing can be overpowering. Here's where breaking the monotony with some colourful home decor ideas comes in handy. Use house decor like accent chairs in mint green to accentuate neutral palettes.
2. Play With Windows and Window Frames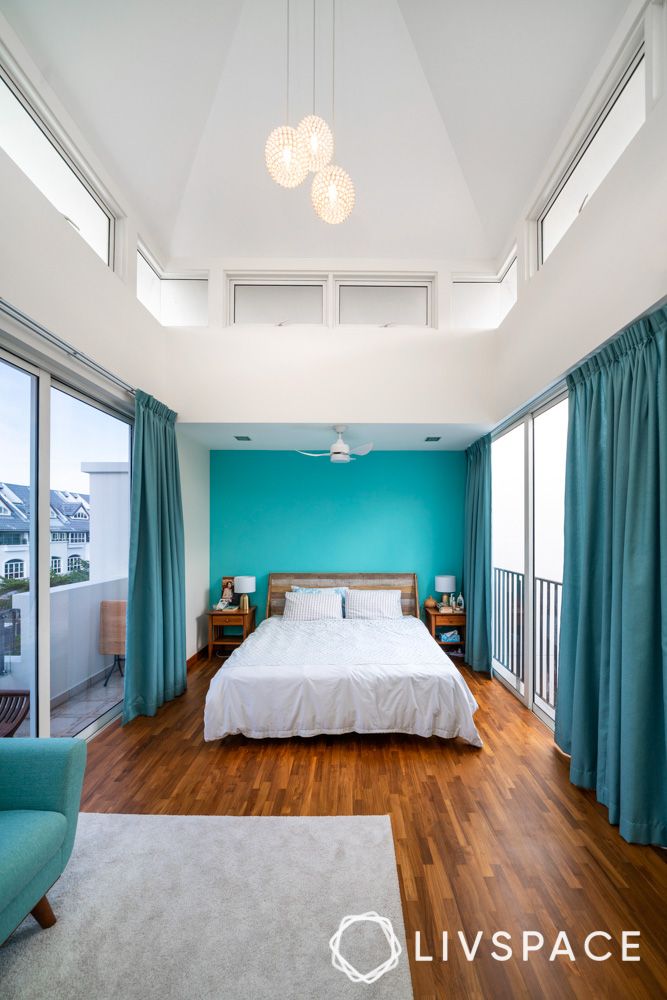 You might be familiar with home decor ideas that revolve around dressing up your windows. But, did you also know that the decorating ideas don't just end with the addition of curtains and blinds? While window treatments can amp up your modern home decor, you can even experiment with different window styles altogether.
Apart from the basic casement style window design, consider going for clerestory windows to decorate your home. These are an additional layer of windows that lay above eye level and are great for filtering in extra light and air.
3. Add Wall Panelling for Visual Interest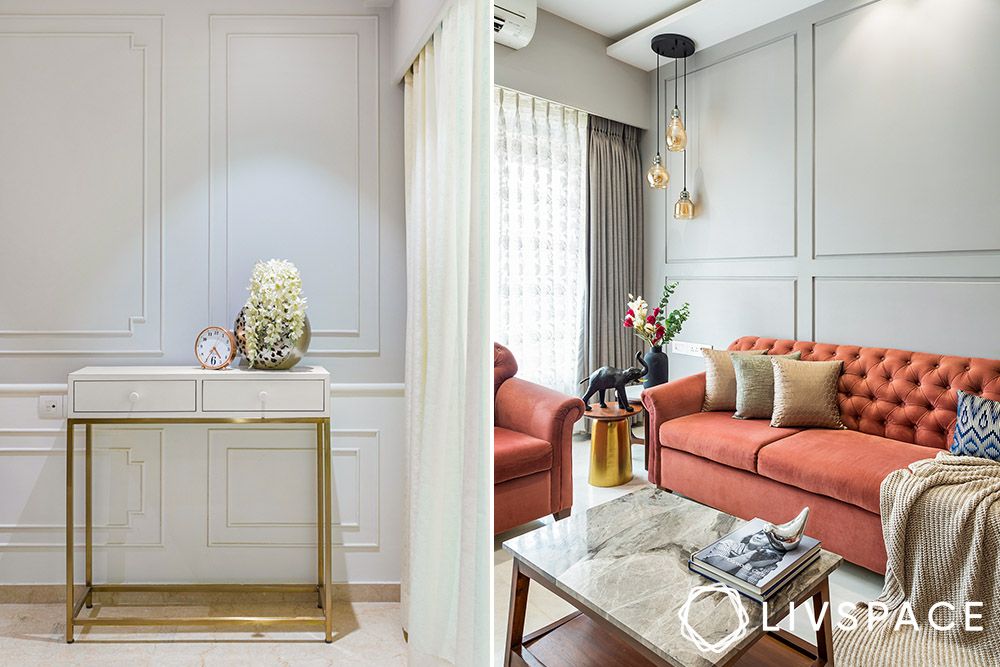 Wall panelling is probably one of the more obvious house decor ideas when it comes to styling. The reason being that they've been around for ages and are able to work in almost any style of interiors. If you're in search of contemporary style home decor ideas, consider going for wall trims in different designs to play up the look.
Also Read: 14 Wall Decor Ideas to Turn Your Simple Walls Stunning With Striking New
4. Add Trims to Curtains and Cushions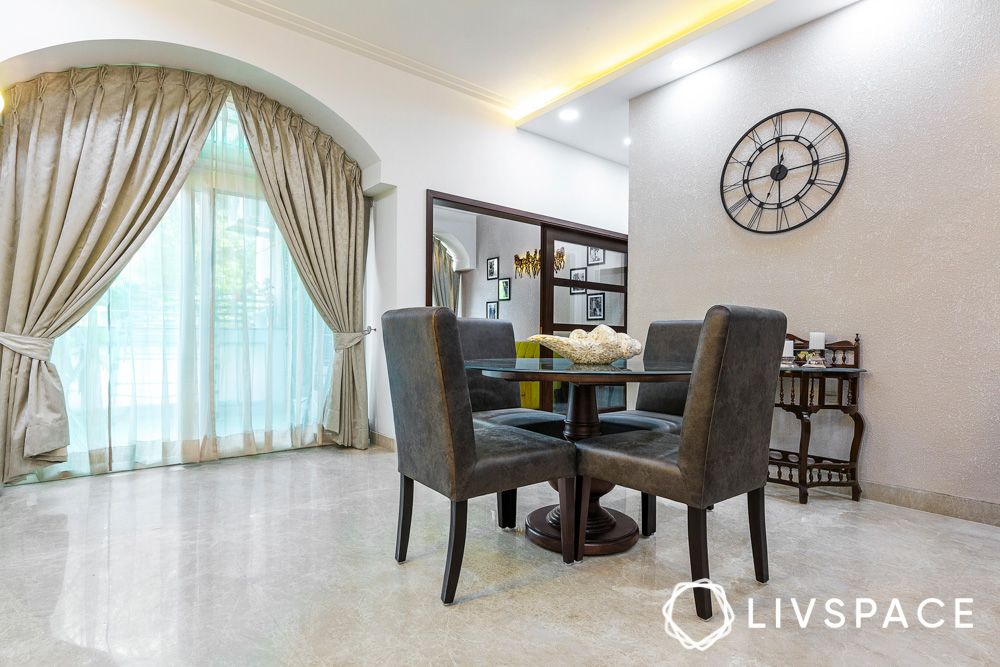 If making extensive changes to your interiors in the name of home decor ideas isn't feasible, we've got an alternative solution. Just use a simple window treatment instead. Add some stylistic trims to your curtains and voilà, house decor ideas made easy!
5. Decorate Door Panels With Latticework/Jali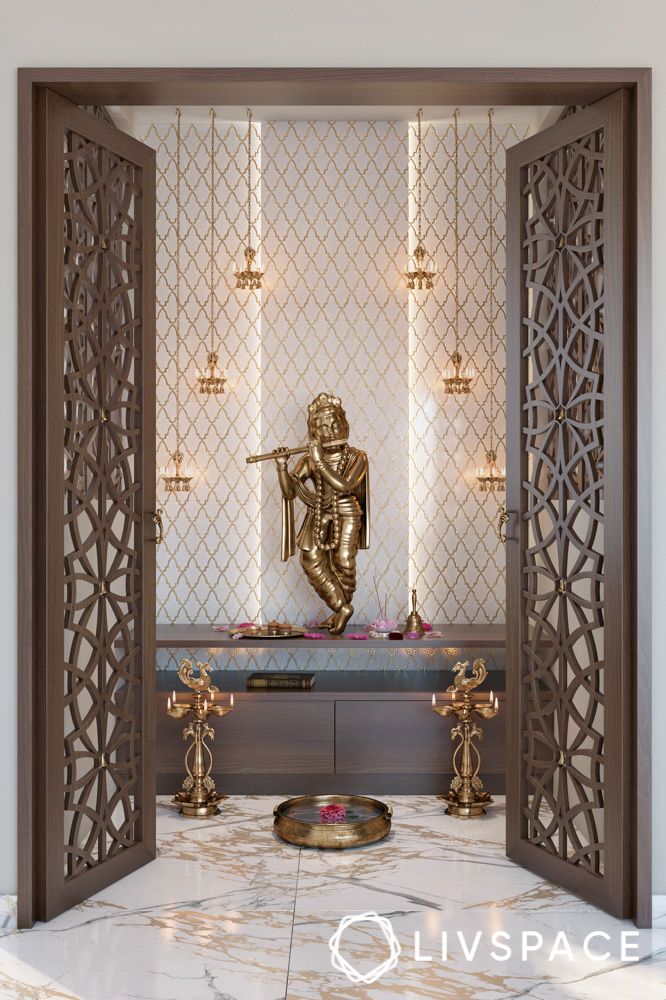 Though the main purpose of doors it to conceal items, it doesn't hurt to play around with its design. And when it comes to home interior decor, this can amount to an added layer of flair. Try to make use of jali work and designs wherever possible in your home decor ideas.
A simple way to introduce this is in the doors of your pooja room. A jali cut door can also give you a sneak peek of the altar even when the doors are closed. Nifty, isn't it?
6. Colour Coordinate an Arrangement of Flowers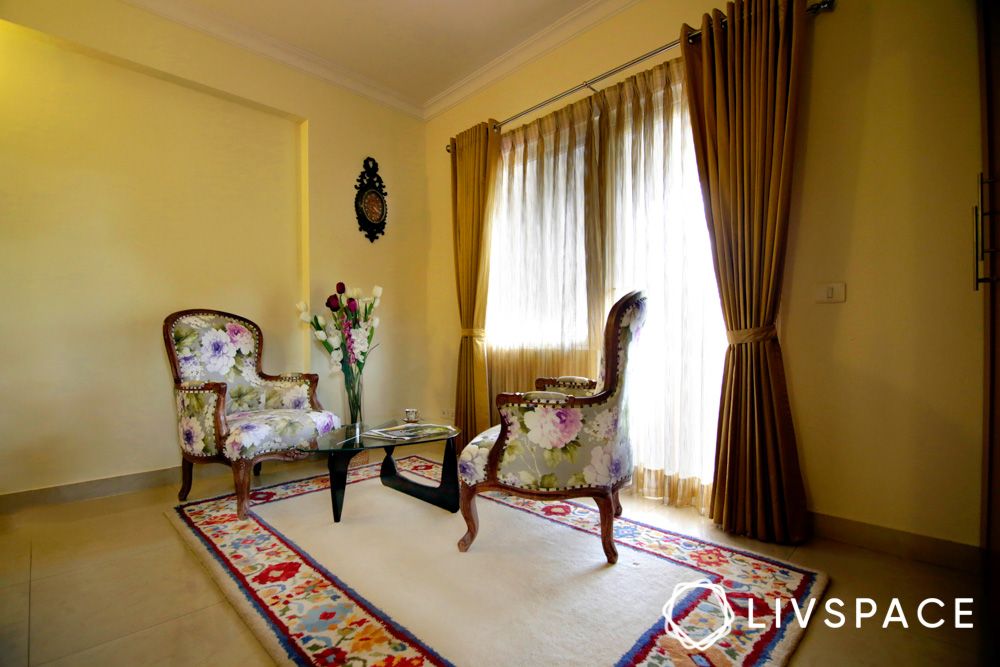 Flowers are one of the simplest ways to introduce home decor ideas to your space. In fact, you can even match it to your home interior decor. Take this room, for example, the floral upholstery on the chairs are complemented by the flower arrangement in the vase.
The same way, you can colour coordinate your bouquets to match the colours of your interiors. This is a fresh yet subtle way to add cohesiveness to your home decoration design.
7. Use Bold Colours to Make a Statement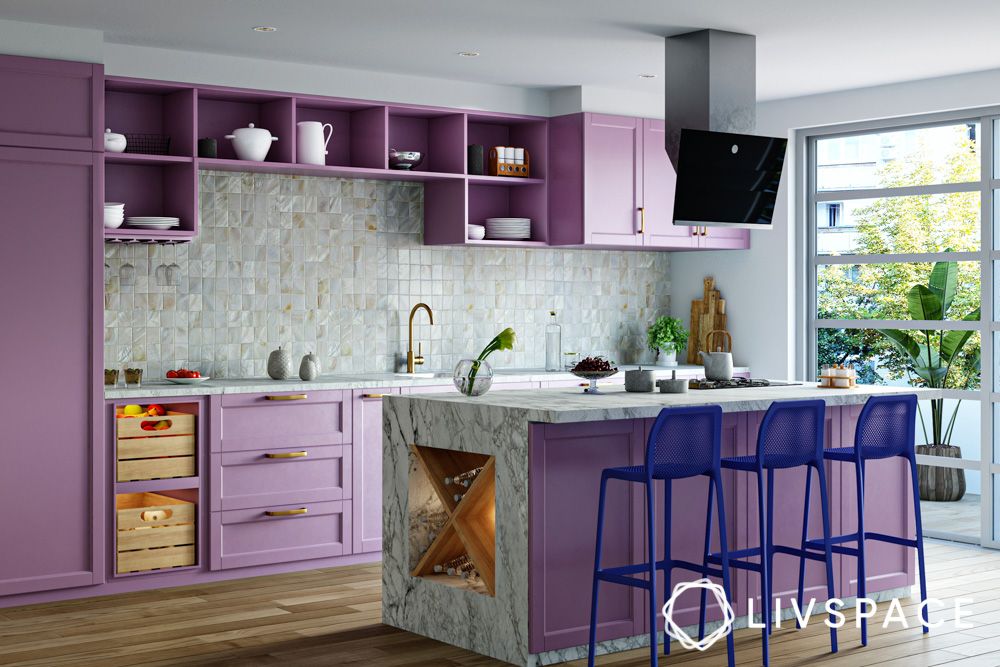 If you've ever flipped through a home decor magazine with bold interiors but felt sceptical about the home decor ideas in it, here's your sign to go for it. While vivid colours might not be everybody's cup of tea, it's worth trying out in your home decoration design. After all, if you have the right guidance, anything is possible.
Bold colours like purple, dark blue, orange, and red are a few such examples to consider.
8. Design With Different Styles of Wallpaper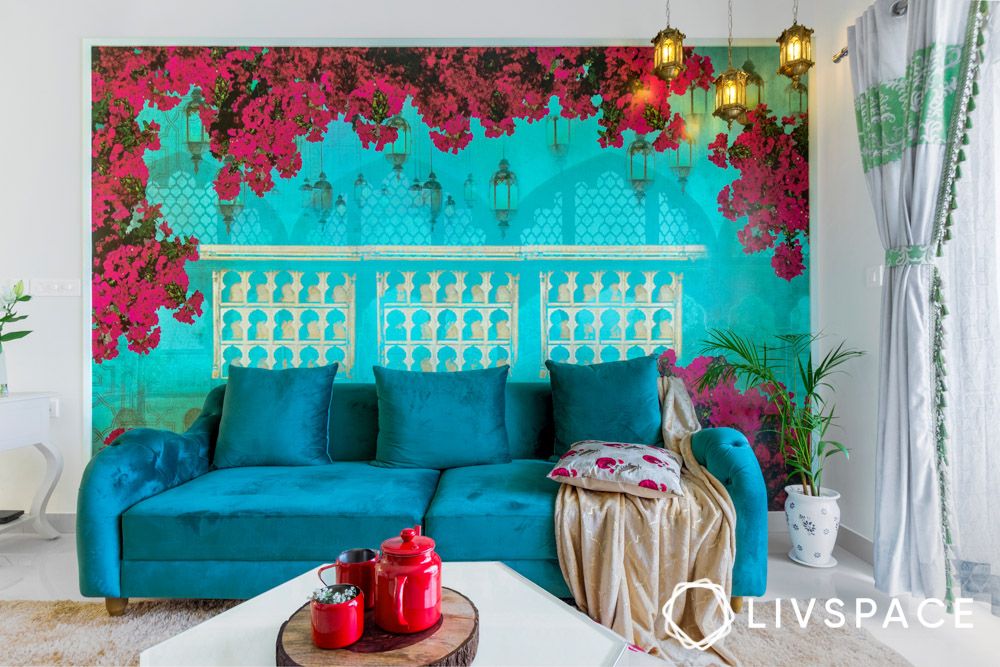 Not keen on making extensive changes while going about decoration for house interiors? No problem! Instead of civil changes, you can play around with wallpaper to spruce up the place. However, since we are talking about home decor ideas, take things up a notch with a detailed or a designer wallpaper.
9. Be a Plant Parent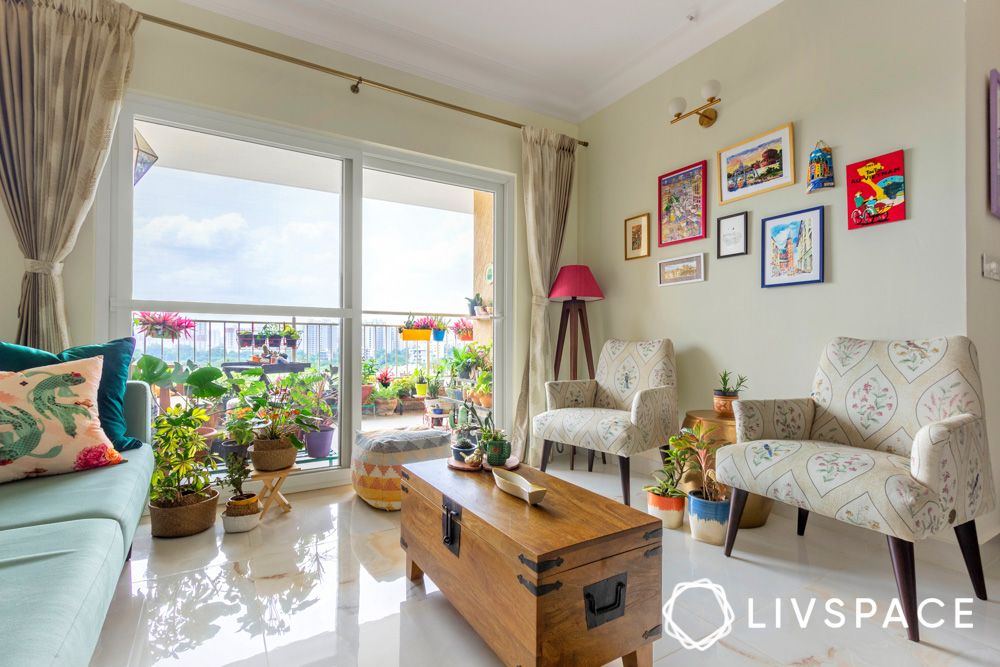 If pets aren't allowed in your building, you can go for the next best thing: plants. Besides being an easy to maintain pet, they can also double as home decor ideas. Whatever decoration for house interiors you choose, plants can help accentuate the overall look and feel of it.
Use them to brighten up dull corners, empty shelves, or even bare walls. Just be sure to select plants that can survive indoors instead of outdoor plants.
10. Style a Coffee Table Like a Design Expert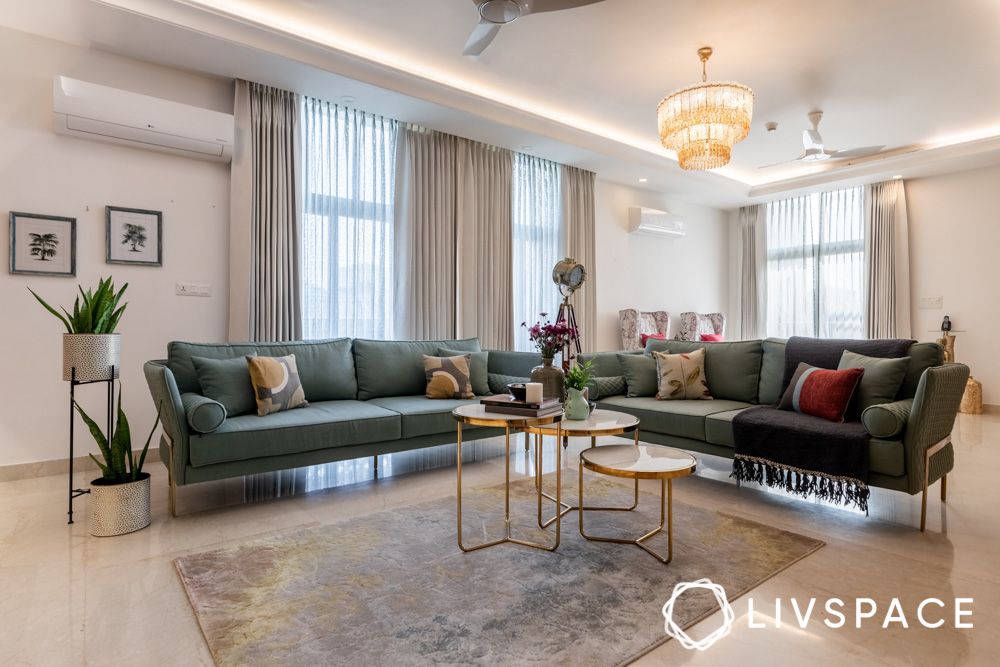 When you have guests over, chances are you will seat them in the living room right in front of a coffee table. This is one area where you can flex your home decor ideas to the best of your abilities. First, the choice of furniture here matters, as each coffee table has its own distinct look.
If you're keen on nailing your decoration for house interiors, choose tables that look the part. Nesting tables with brass accents can work especially well for this, as they are both space-saving and sleek. Next, consider placing a couple of coffee table books or table-top plants to complete the look. You can also use candles or showpieces depending on the style you're going for.
Also Read: 13 Vastu Items for Home Decor To Bring Good Luck and Positivity
11. Use Rugs and Carpets for a Trendy Look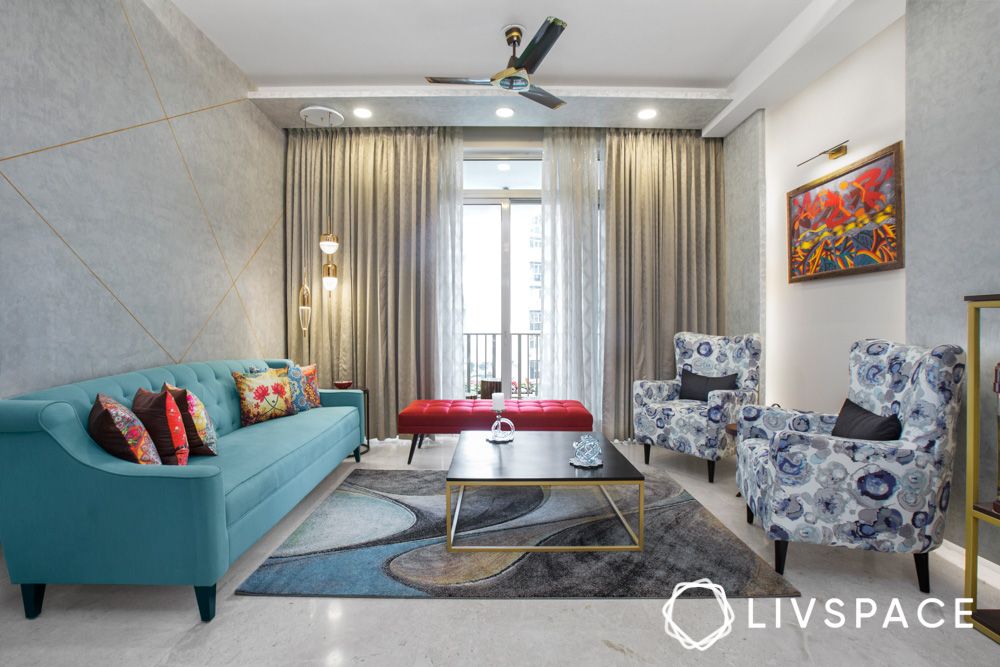 In some homes, the floors act as a unique highlight. But in others, it's the exact opposite. If you have old and weary floors that you're not too keen on showing off, a simple solution is to use a rug. What's more, rugs are simple yet effective home decor ideas that are very easy to implement.
Go for abstract designs or block patterns if you want a more modern look to complement sleek furniture. If your home has more traditional elements, you can go for Persian style carpets to complete the look.
12. Add Eye-Catching Details to Doors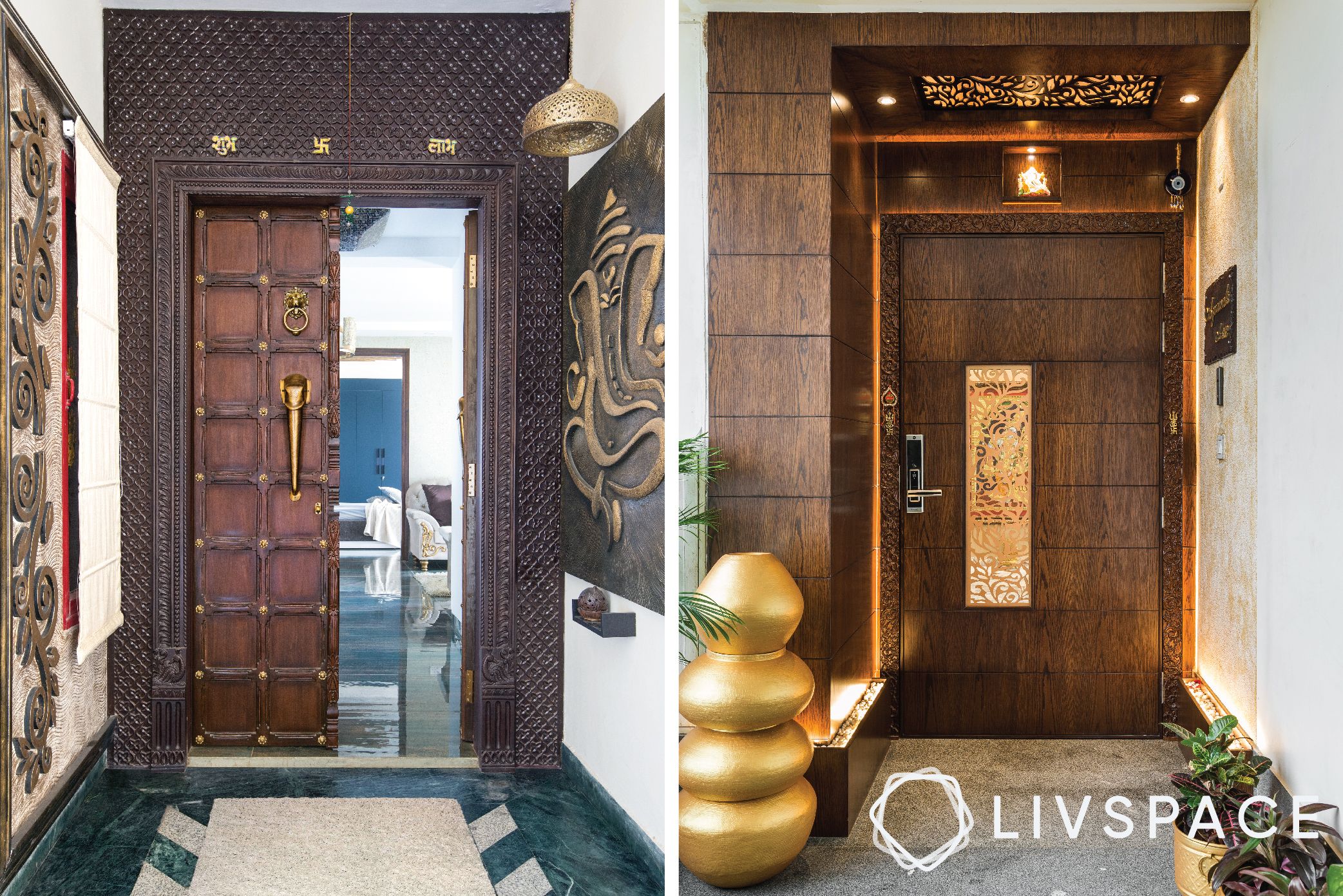 Who doesn't love a grand entrance? And in terms of home decor ideas, we mean that quite literally. Your door is one of the most neglected spaces when it comes to decoration for house interiors. You can fix that with ornamental decals and panelling to make the most of it. Consider using frosted glass panels, brass decals, or even intricate door handles for best results.
13. Learn How to Style Bookshelves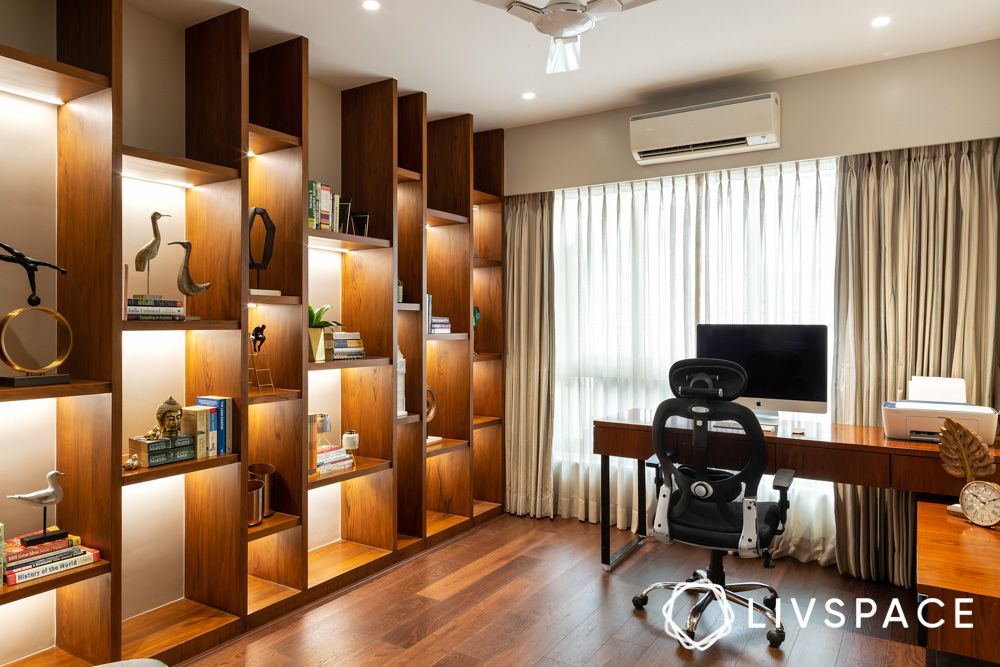 Buying a nice bookshelf is the first step, next you need to find the right home decor ideas to style it. If you have an open bookshelf design like this home, it's all the more important to decorate it accordingly. Here, we've used profile lights to highlight each shelf, making it stand out in the room.
If you have kids or pets, be sure to leave the bottom shelves empty, as it can be a potential hazard. Place your showpieces and decorative items away from reach, and you're good to go!
14. Make Staircases More Than Just Thoroughfares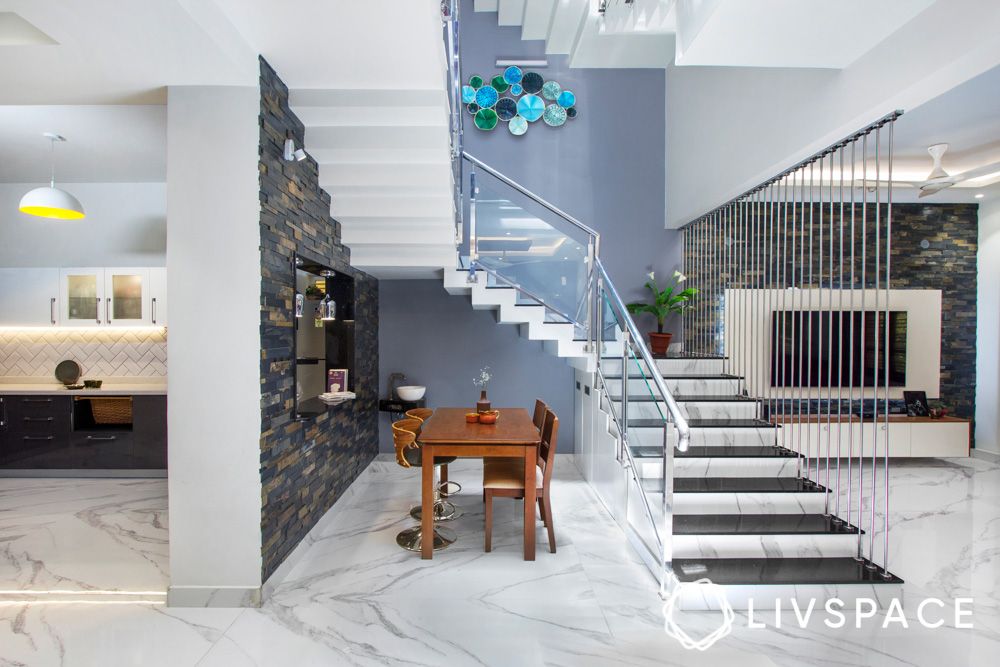 There are multiple home decor ideas to make use of while styling your staircase. You can throw in a seating area if you have a window niche by your landing, or you can even create a fun memory wall along the length of the stairs. Decorative plates can also be used to add a stylistic element to this space.
15. Play Around With Lighting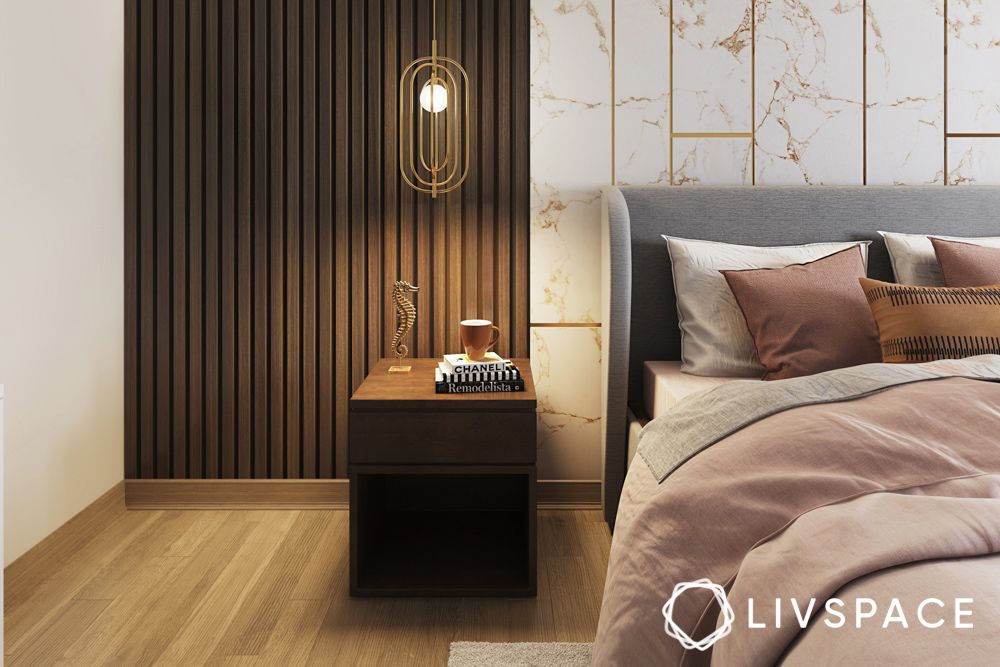 Among the various types of home decor ideas out there, lighting is one such element that can make or break your interiors. Even if you have a well decorated space, the wrong lighting can make it look unappealing or lacklustre.
To avoid this, use a mix of lighting systems like pendant lights, track lights, and recessed lights. Depending on the layout and style of your room, each of these options can further streamline the design.
16. Consider Decorating Your Outdoor Space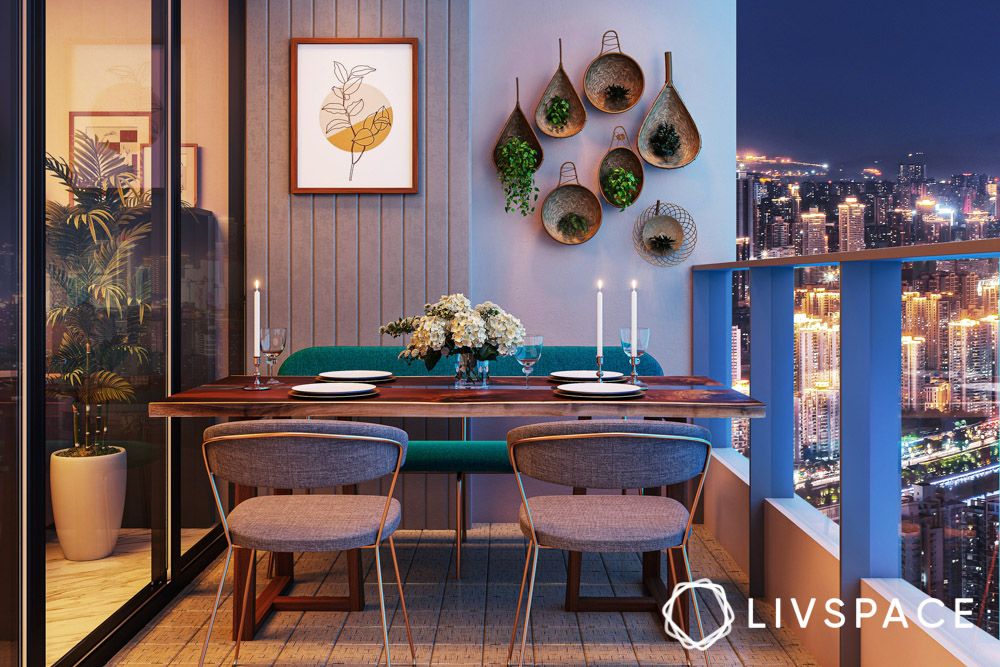 Your balcony is, undoubtedly, the perfect little escape from everyday life. So, it's only befitting that we give this space the respect it deserves when it comes to styling and decor. Use plants, planters, and even wall art to tie the space together. After all, this is a great space to unwind in, so be sure to add all the little trinkets that make you feel relaxed.
You can take it a step further by including a sit out area for meals and tea. If you live in a compact home, you can also move your dining area into the balcony for an alfresco dining experience.
17. Highlight Your Collections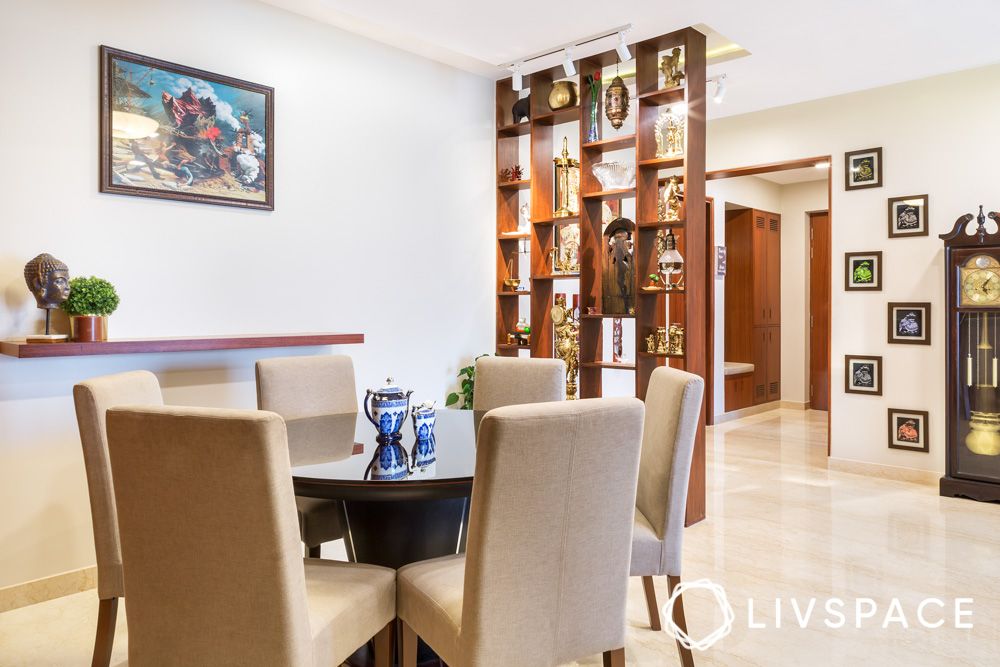 Do you love travelling and collecting souvenirs from all the places you've visited? If yes, the traveller within you will love these home decor ideas. Consider creating a partition wall that also serves as an open shelving unit. Here's where you can show off your collectibles and other ornaments.
18. Bring in a Pop of Colour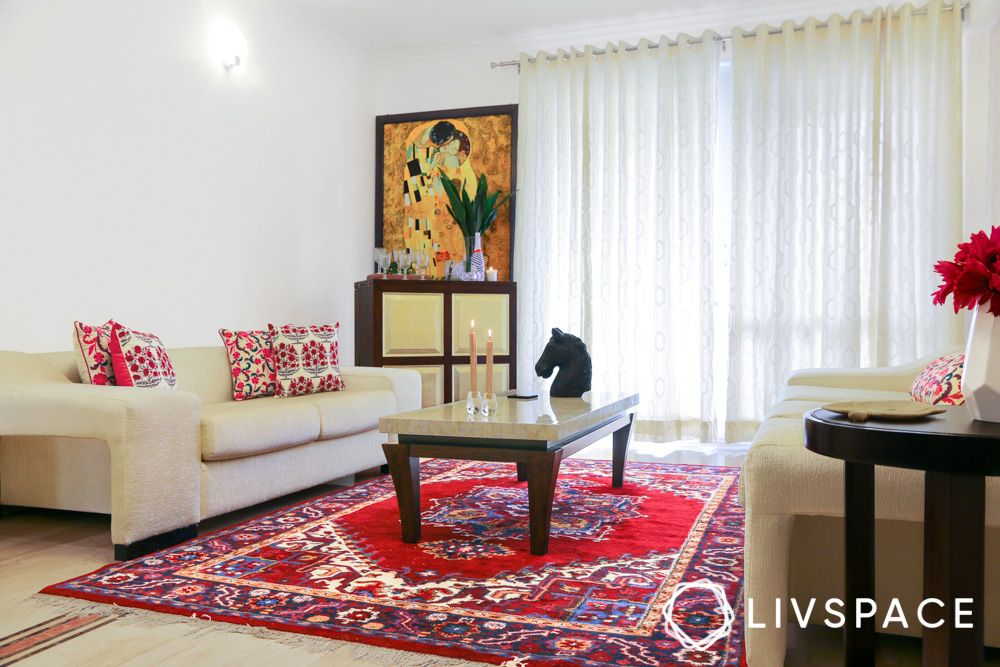 Sometimes, all a home needs are home decor ideas that include a dash of colour and Indian prints. Take a look at this home that's predominantly white, including the marble coffee table. Adding the colourful block printed cushions, Kashmiri carpet, and artwork just makes the whole room come alive!
19. Throw in a Wooden Jhoola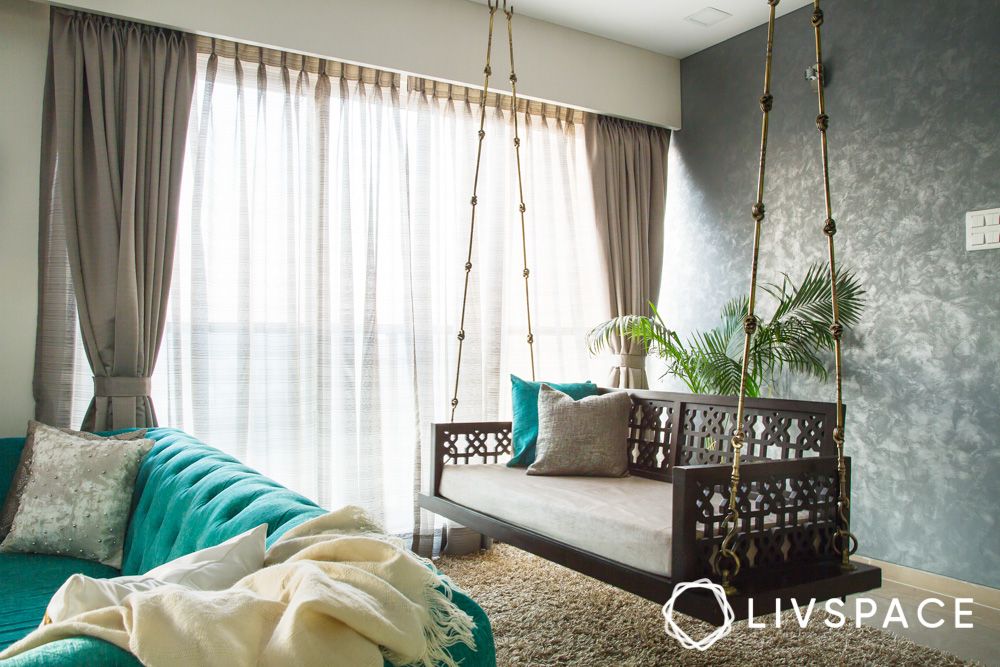 If the space in your home allows it, don't hesitate to splurge a little and get yourself a swing. It looks divine and will also bring back memories from your childhood. You can pick a design that's either simple or extravagant, depending on what you fancy. There's no better way to bring in that traditional desi element than with home decor ideas that feature jhoolas.
20. Add Regional Flair With a Wooden Rajasthani Jharokha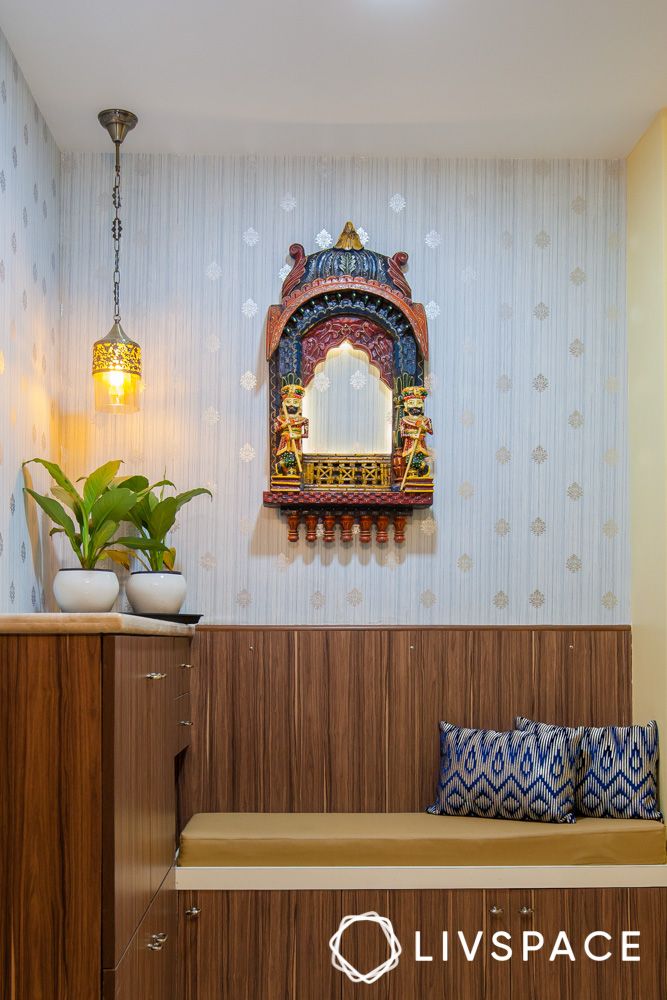 The mix of Indian elements in this foyer are an absolute delight. Can you decide which home decor ideas you'd like to steal from this space? With a colourful jharokha, foyer seating with Indian printed cushions, and some plants for effect, it's the perfect welcoming committee.
21. Don't Shy Away From Designer Additions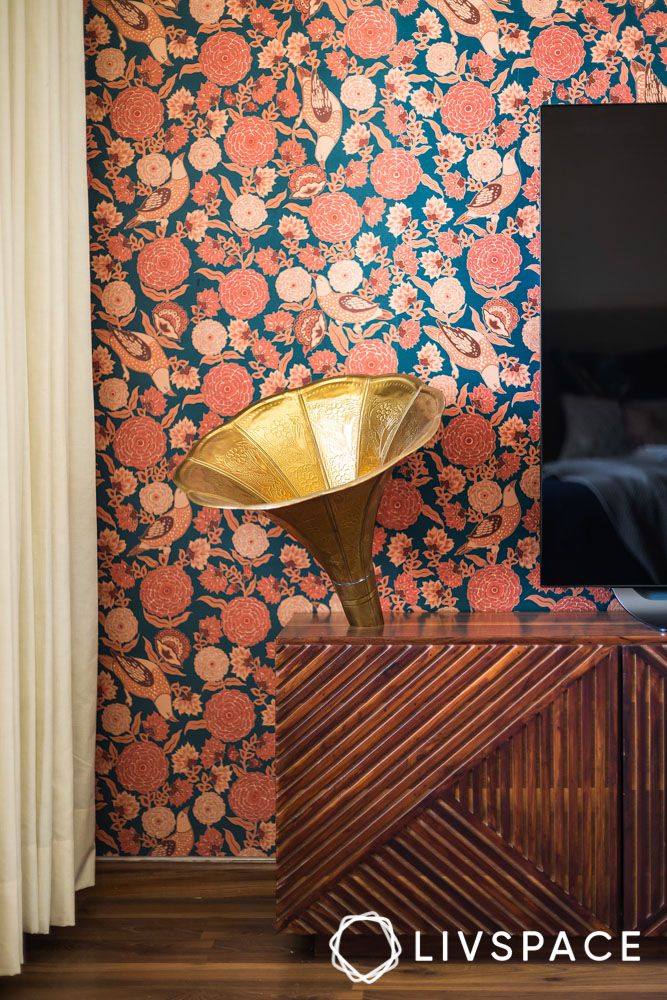 Some nooks and corners deserve that designer touch. Much like this home that wanted to show off an antique gramophone next to a big modern screen TV. So, what home decor ideas can we use to complement this look? We go ahead and use a beautiful Sabyasachi wallpaper as a backdrop, of course!
22. Personalise Your Space With Wall Art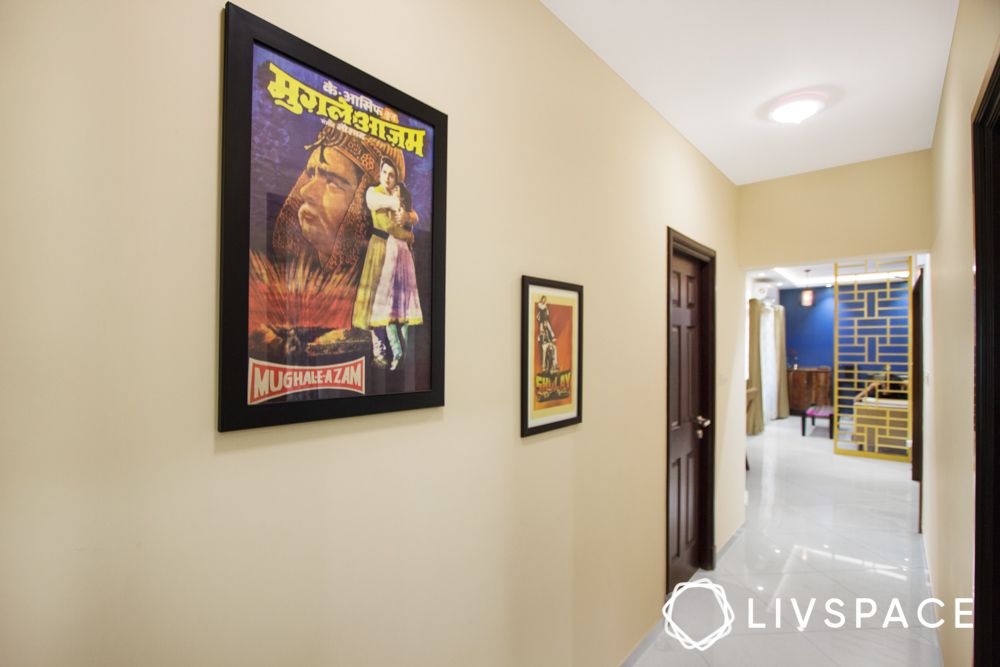 Are you a fan of classic Bollywood titles like this family? You don't want to miss out on sharing your favourite flicks on your walls in that case. This family wanted a collection of movie posters for their hallway. And what could be better than an epic historical drama like Mughal-e-azam? Likewise, you can use similar home decor ideas to show off your personal watch list.
23. Invest in an Accent Piece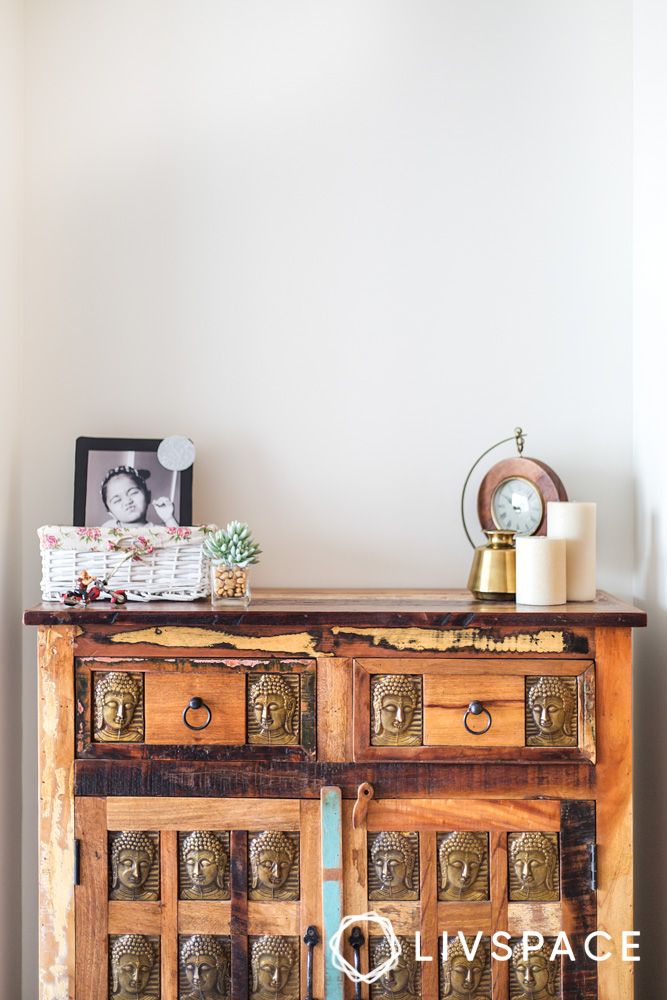 Antiques are a great way to add some old-world charm to your space. Especially when they have to do with a gorgeous chest of drawers with brass trimmings. You can use it as a focal point in your living room to show off some traditional decor.
24. Show Off Your Indian Roots
If you don't like to go all-out, you can still express your love for your heritage in smaller ways. Take this glass top table that's been given an Indian touch with patchwork fabric for example. The same way, you can use these patchwork details as wall hangings/tapestries or table runners to decorate your space the desi way.
How Can Livspace Help You?
We hope you enjoyed our take on these home decor ideas. To know more about the basics of Indian home decor, check out these decor essentials for Indian homes.
If you want beautiful interiors for your home, then look no further. Book an online consultation with Livspace today. Have some thoughts or suggestions you'd like to share with us? We're all ears! Drop us a line at editor@livspace.com.