Most Indian homes today follow the principles of Vastu Shastra to usher in a positive environment. However, if you don't live in a vastu-compliant home, you needn't worry either. Instead of going for a full renovation, all you require are a few decorative vastu items, and you're all set. So, what exactly are these positive energy vastu items for home interiors that you can use? Here's a simple list that covers different vastu products for each room.
Positive Energy Vastu Items for Home Decor
1. A Tortoise Sculpture Can Bring Good Luck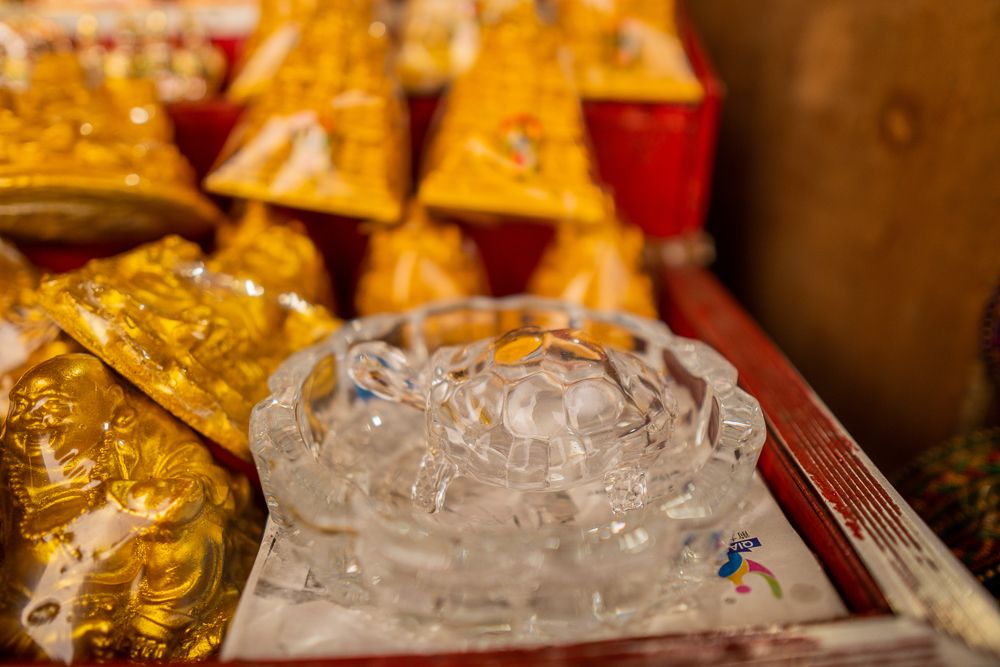 Vastu items for home decor such as the crystal or wooden tortoise is a great way to add some positivity to your space. This is because the shell of a tortoise is hardy and protective. The same way, it symbolises protection from calamity and misfortune for you and your family.
If you're using a crystal tortoise, consider placing it in the south-west or north-west directions for best results. For wooden tortoises, the east and south-east directions help remove negativity from your space. Depending on the direction these vastu products for home decor are placed in, they can either bring you fortune or fame.
2. Peacock Feathers Add Positive Energy to the Space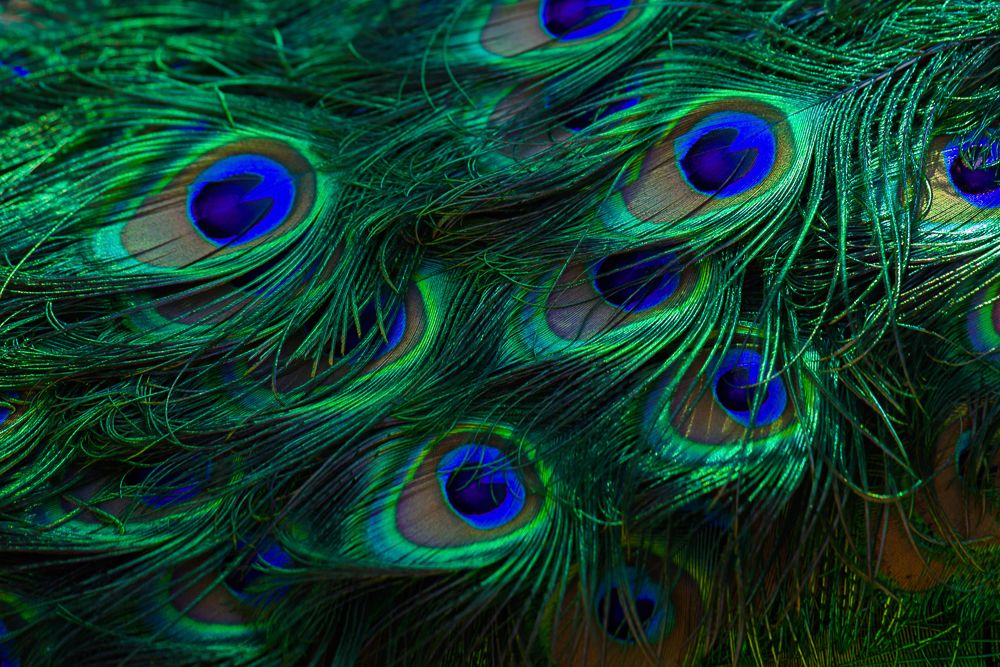 If you're a spiritual person, chances are you probably already have a few peacock feathers at home. The iridescent colours of this beautiful bird's feathers symbolise spirituality and harmony. Moreover, if you don't plan on using them as positive energy vastu items for home decor, you can still use them to keep lizards at bay!
3. Get Your Hands on a Shree Yantra/Shree Chakra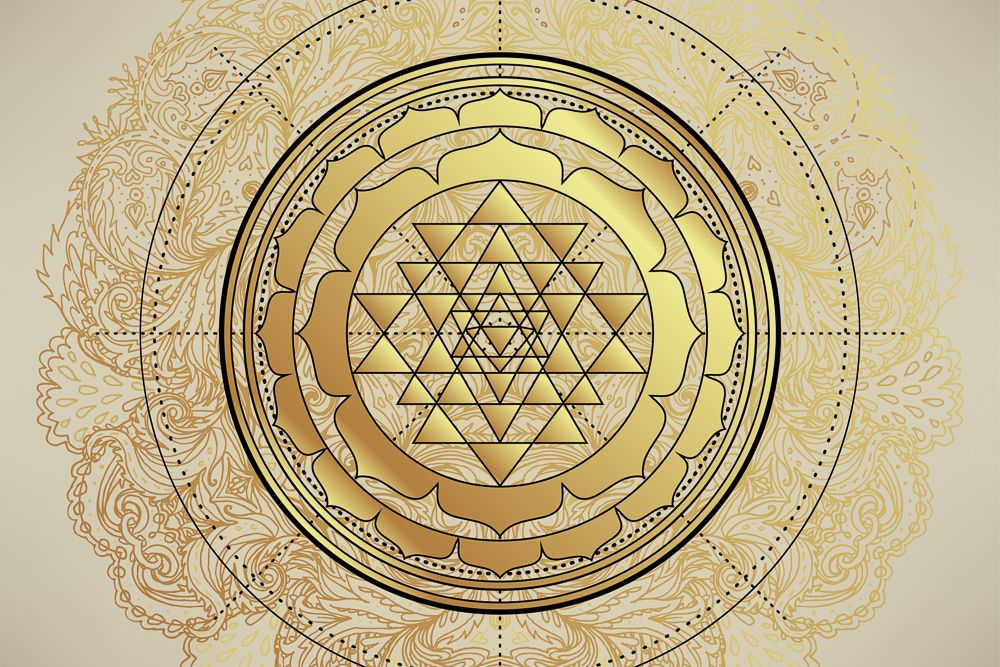 Money troubles on your mind? Consider using a Shree Chakra to invite wealth and opportunity to your home. When used as vastu items for home decor, this instrument wields great power associated with fortune. Placement in the east is ideal for this decor item.
4. Place Flowers in Water to Spread Positivity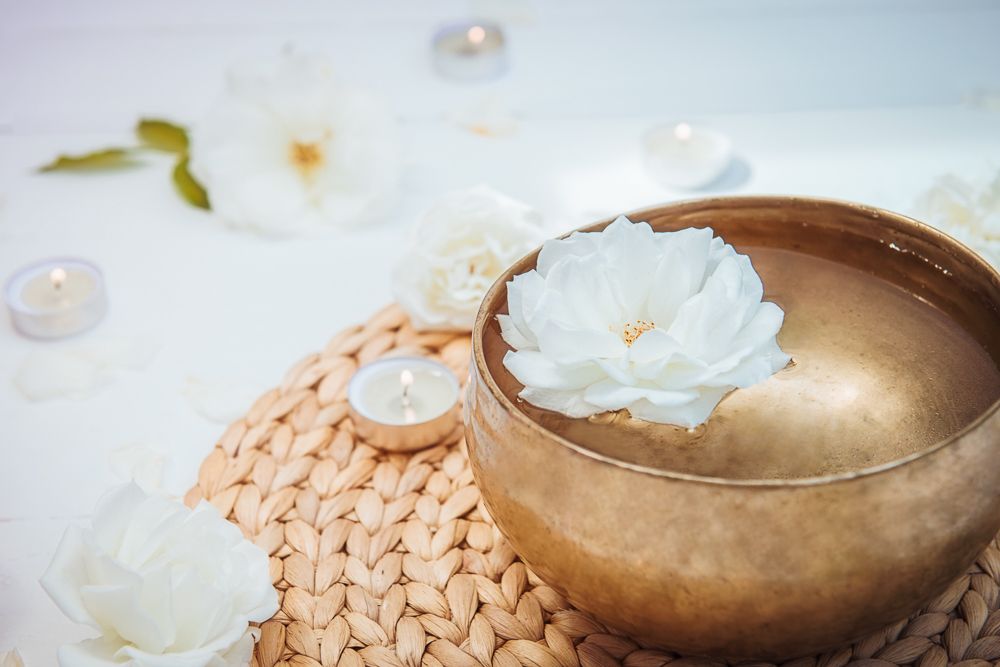 This is one sure-fire way to recreate the vibe of a spa at home, while also doubling as positive energy vastu items for home decor. All you need is a big bowl filled with water and sprinkled with flowers or rose petals. Apart from making your space look serene and inviting, it also helps draw wealth and positivity into your home.
5. Ring in Positive Vibes With Wind Chimes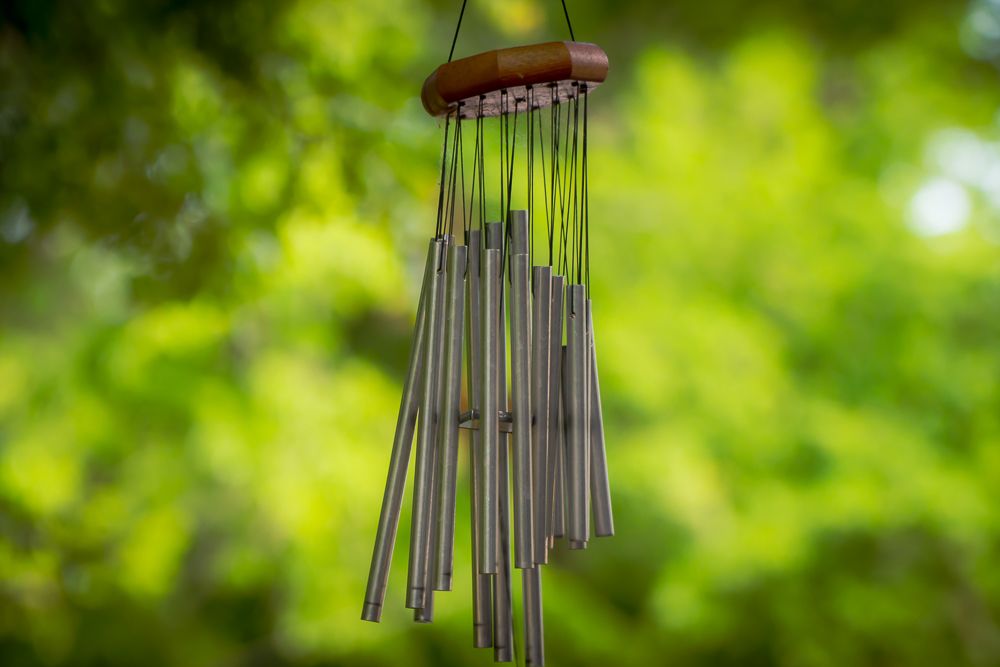 Besides making the most tranquil sounds, wind chimes can also be used as vastu items for home decor. In terms of materials, wood and metal are the most common owing to the different notes they can produce. For metal wind chimes, stick to north west placements; whereas wooden wind chimes can be placed in the east or north east direction.
6. Safeguard Your Home With a Buddha Statue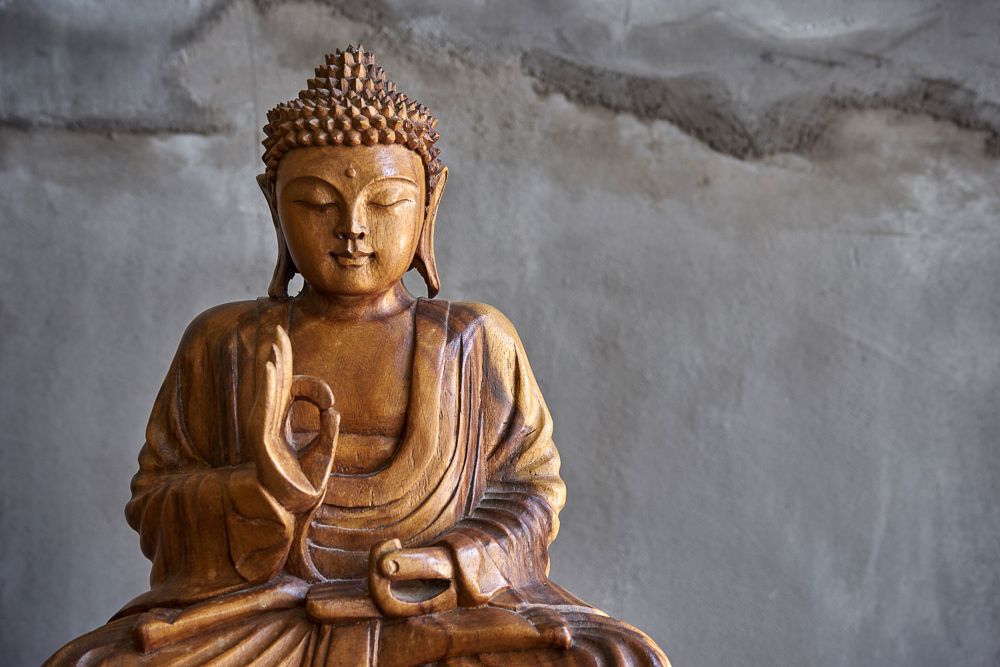 Buddha statues are commonly used at the entrance of homes to greet the area with prosperity and good fortune. Among the vastu items for home decor, Buddha statues are typically known to help eradicate negative energy. Keeping your Buddha statue in the east is most auspicious, so be sure to place it accordingly.
7. Attract Wealth With the Arowana Fish Statue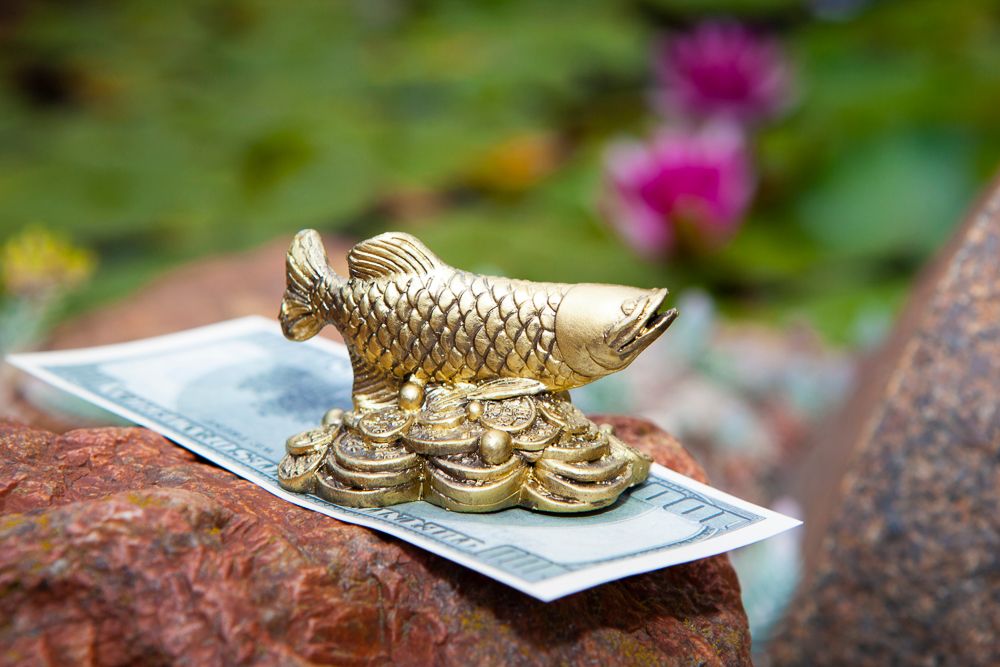 Similar to the Shree Chakra, the arowana fish is equally auspicious when it comes to vastu items for home decor. It is responsible for attracting wealth and fortune to your home. In terms of placement, you can keep it in the east or north east direction to maximise its benefits.
8. Consider Using an Aquarium Too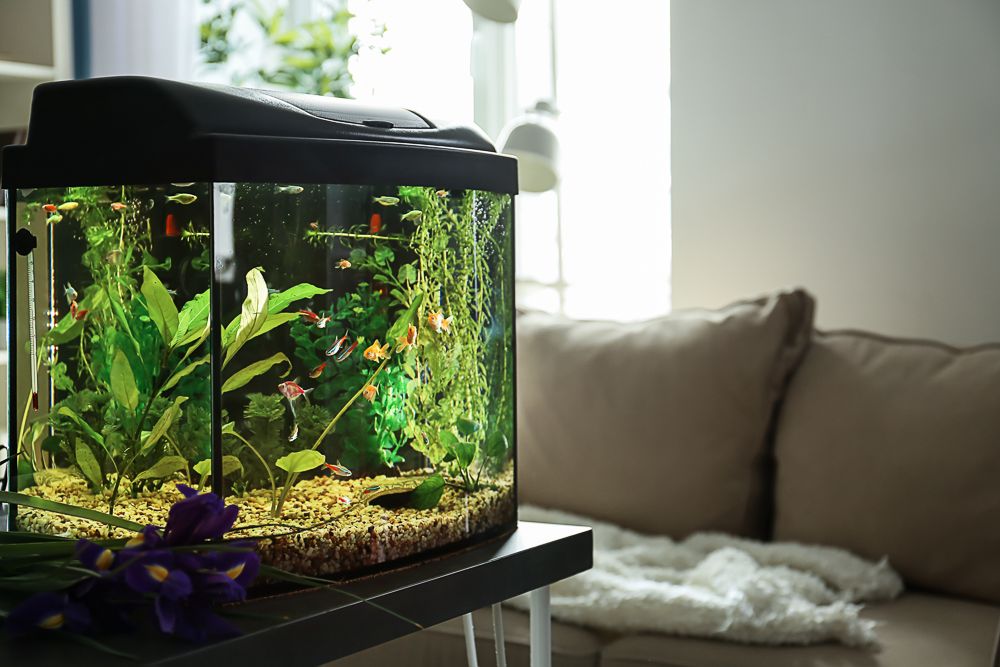 Apart from the arowana fish statue, an aquarium can also be used as vastu items for home decor. Doing so has many benefits both in terms of vastu and psychology. As vastu items, aquariums help reduce the risk of vastu doshas in your space. Psychologically, the use of aquariums can help promote a calmer environment especially for those of us who are prone to anxiety.
9. Frogs, Elephants, and Tortoise Trinkets Are Powerful Combinations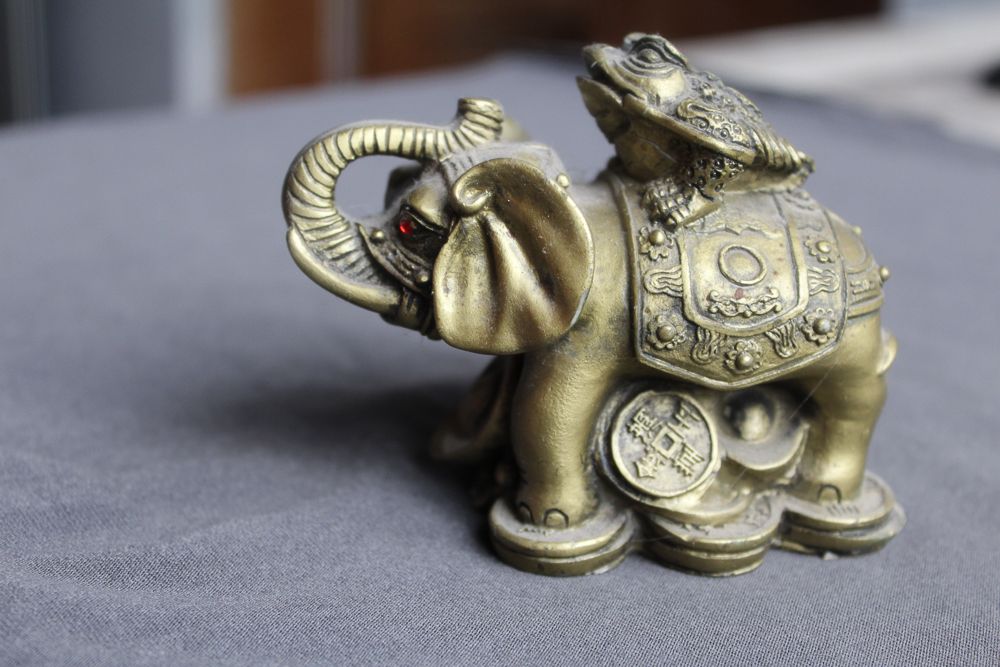 The tortoise isn't the only vastu item that lends positive energy to your space. According to Feng Shui principles, statues of an elephant and frog combined are powerful vastu items for home decor. In fact, elephants symbolise strength, while frogs symbolise wealth. When joined together, they form an auspicious combo for success.
10. Don't Forget Your Gomati Chakra Tree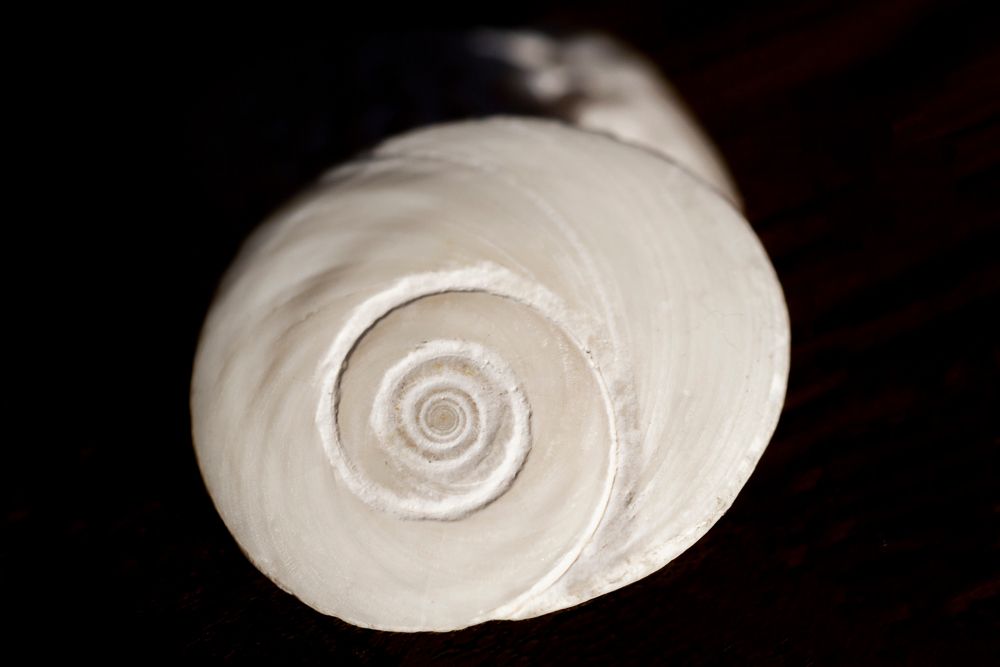 What better way to improve the prosperity of your home than by inviting Goddess Lakshmi into it. With the use of a gomati chakra tree, you can certainly make this happen. As per mythology, this ornamental tree is supposed to be the place where the goddess resides. Vastu items for home decor that feature the gomati chakra in the form of bonsai are best placed in home offices.
11. Ward Off Negative Energy Using a Horseshoe Amulet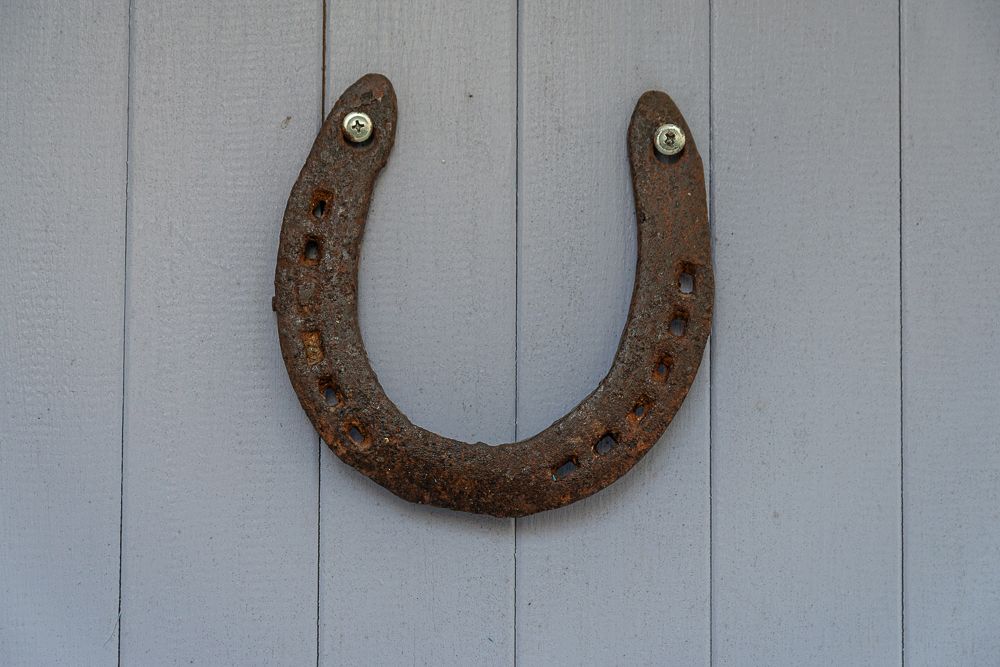 One of the less conspicuous vastu items for home decor is the horseshoe amulet. Though it is meant to symbolise luck and good fortune, it can also be used as a simple decor item styled in different ways. If you're familiar with the concept of the evil eye, horseshoe amulets can be a great solution to safeguard against it.
12. Flowing Water Bodies Are a Must for the Home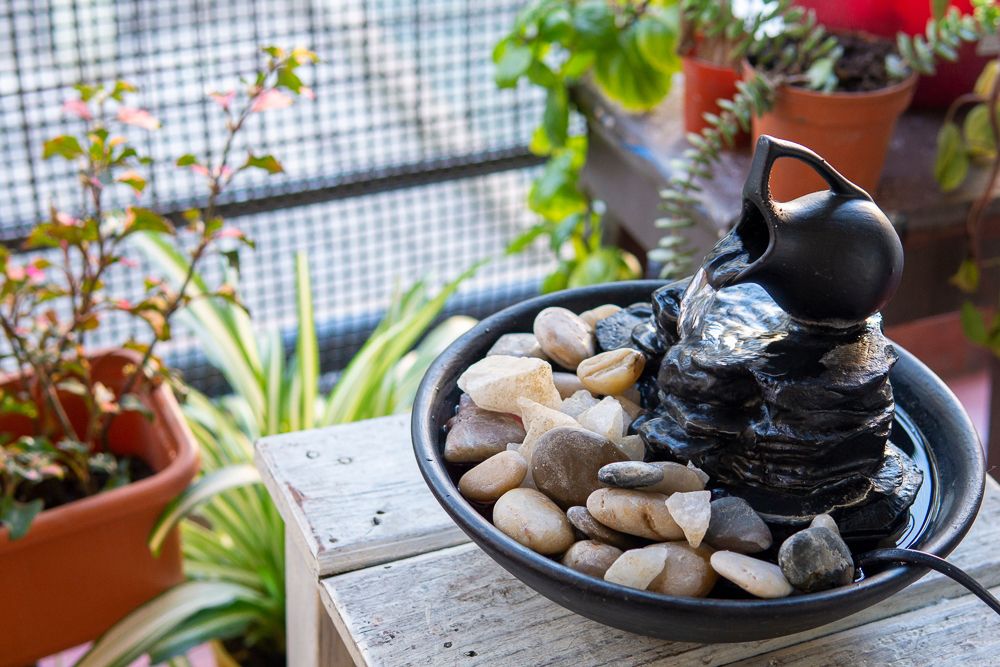 Flowing water can help improve the overall vastu of your home since it represents the flow of prosperity. Similarly, you can consider styling your space with vastu items for home decor that have flowing water, such as fountains.
13. Use Select Idols to Boost Divine Energy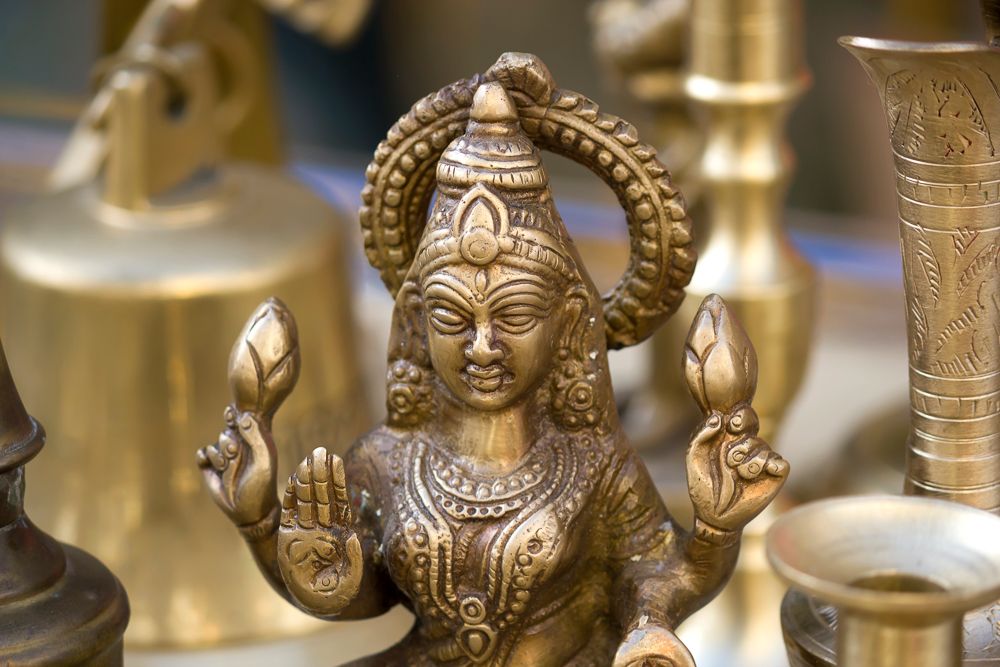 Idols of gods and goddesses such as Ganesha, Hanuman, and Lakshmi are auspicious to use at home. You can either use them in your pooja room or place them by your entrance to ward off bad energy.
Also Read: Bring Happiness Into Your New Home With These Vastu Tips
Vastu Items for Home Entrance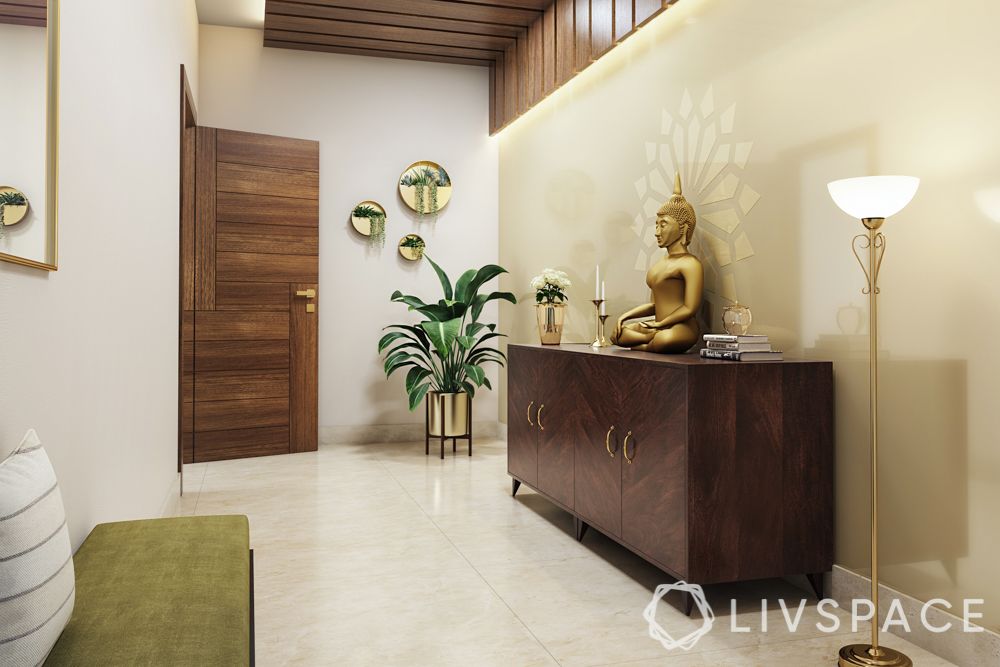 The main door is an important space when it comes to vastu, as this is the entry point to the rest of your home. In fact, how you decorate this space can dictate the type of energy that enters your home. Look at adding vastu items for home entrances that can enhance the positive influence of the space.
For the main door, you can explore using religious designs like rangolis, Ganesha door handles, and Om CNC cuttings. Other positive energy vastu items for home entrances to consider are Buddha statues for home, decorative water bowls with flowers, and torans.
Vastu Decorative Items for Living Room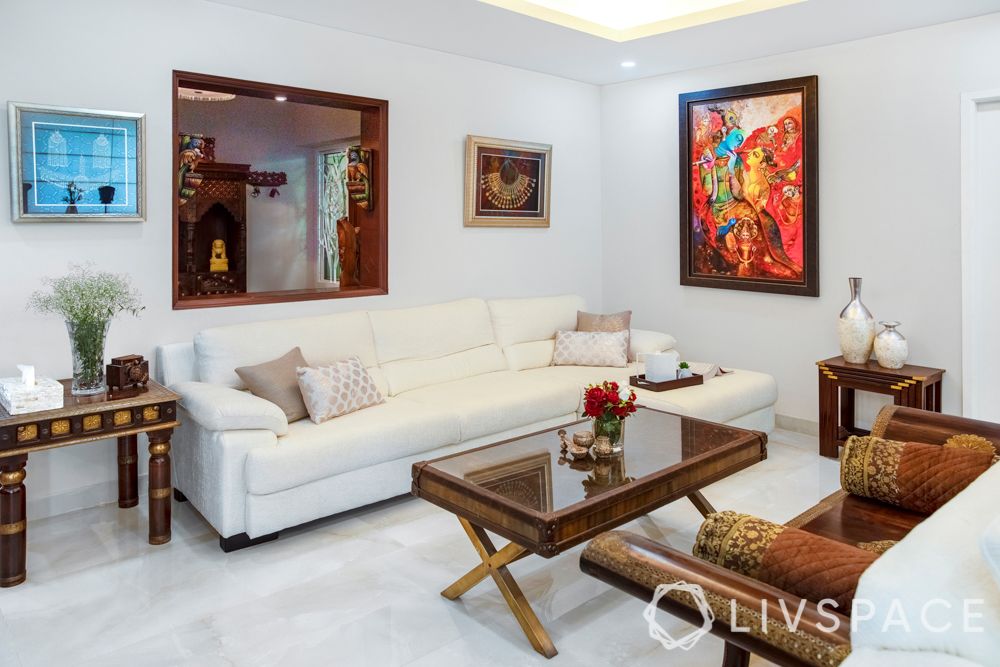 Some common vastu decorative items for the living room include paintings and houseplants. These vastu items are relatively easy to infuse in your space, and they blend in naturally with the rest of your interiors.
While selecting paintings as vastu items for home interiors, go for calm landscapes or sceneries in soft colours. Similarly, pick artworks that depict a sunrise, a waterfall, birds or flowers to boost positive energy in your living room.
Avoid paintings that depict war, devastation, sadness or poverty. Moreover, abstract paintings are not really favoured according to vastu either. In the same vein, avoid thorny plants like cacti, as they can bring in negativity.
Also Read: 15 Vastu Shastra Tips To Help You Stay on the Right Side of Luck
Vastu Products for Dining Room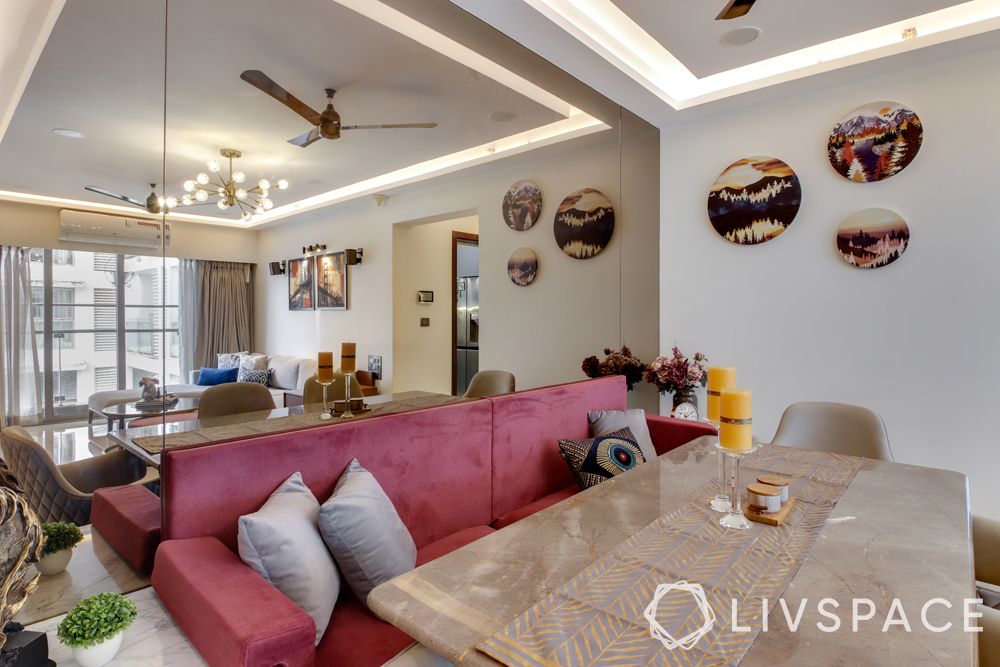 Mirrors hold a significant position among positive energy vastu items for home interiors. You can place them on walls facing east or north for best results.
Similarly, try to keep these vastu items for home interiors at least four to five feet above the ground to attract positive vibes. However, if you are considering mirrors for bedrooms, do note that it is inauspicious to have a mirror placed directly in front of the bed.
Vastu Items for Bedroom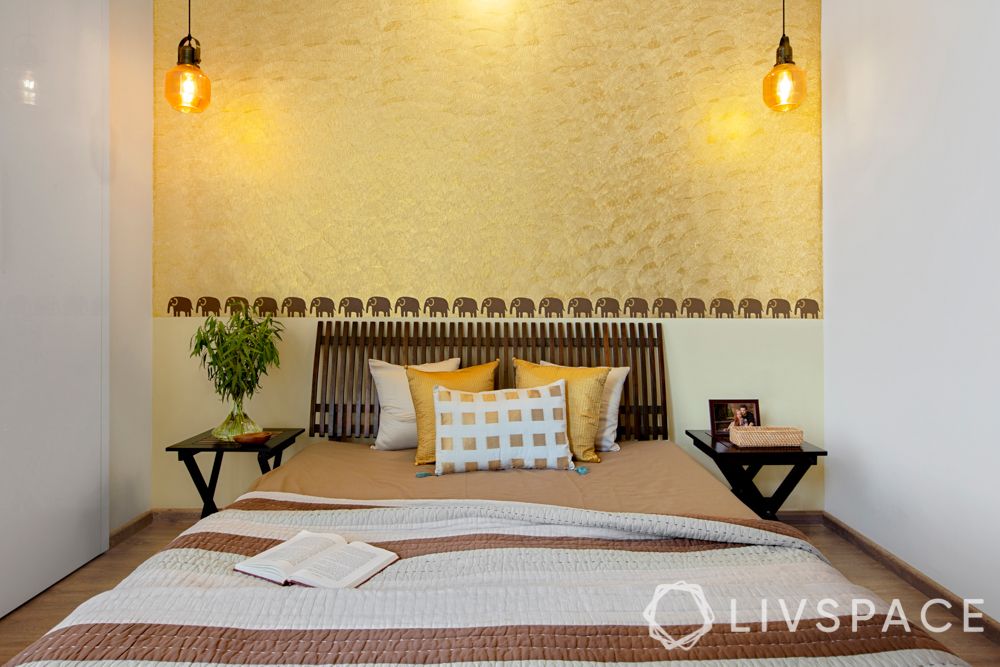 Since the bedroom is vital to getting ample rest, it's better to avoid keeping devices that can disturb your sleep, such as television sets. Instead, focus on getting the right furniture and vastu products for home interiors to improve the overall functionality of the room.
Elephant figurines and prints are a good example of positive energy vastu items for home interiors. Use elephant-themed motifs or accessories in the bedroom, as they are quite auspicious for couples. If your bedroom is in the north-west direction, consider using metallic wall decor to amplify the space.
Enjoyed reading about these vastu items for home? You might also want to read 6 simple vastu tips to design your pooja room.
Check out vastu tips for pooja room:
How Can Livspace Help You?
If you want beautiful interiors for your home, then look no further. Book an online consultation with Livspace today. Wondering how our customers feel about working with Livspace? You can check out the Livspace reviews here!