Wood and stone can be easily incorporated into your home design for a more rooted, earthy feel. Not to mention, it promotes sustainable living, when used the right way. These can easily spruce up your room without much effort as well. Here's why you should consider using these natural elements.
The advantages of using wood and stone in your home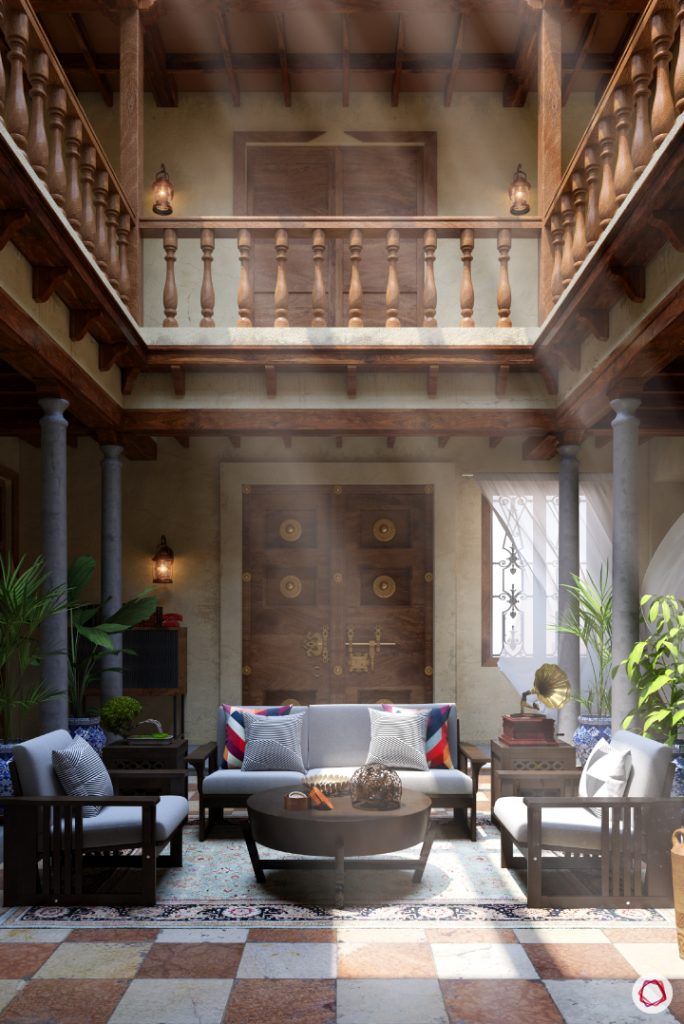 Wood: If sourced legally and responsibly, it is a sustainable way to do your interiors. This is because it can be easily recycled, unlike plastic, and don't use harsh chemicals that might be harmful to the residents. Unlike metal, wood does not expand due to heat; in fact, heat helps dry out wood and makes it stronger.
Stone: When it comes to stone, durability is the biggest advantage. Stone structures can sustain the ravages of time as is obvious from historical structures like the Pyramids or the Leaning Tower of Pisa. It is also a natural and sustainable material for building. Using natural materials soothes the senses and brings a fresh aura to the home.
Take a look some of these room decor ideas using wood and stone.
Room Decor Ideas #1: Foyer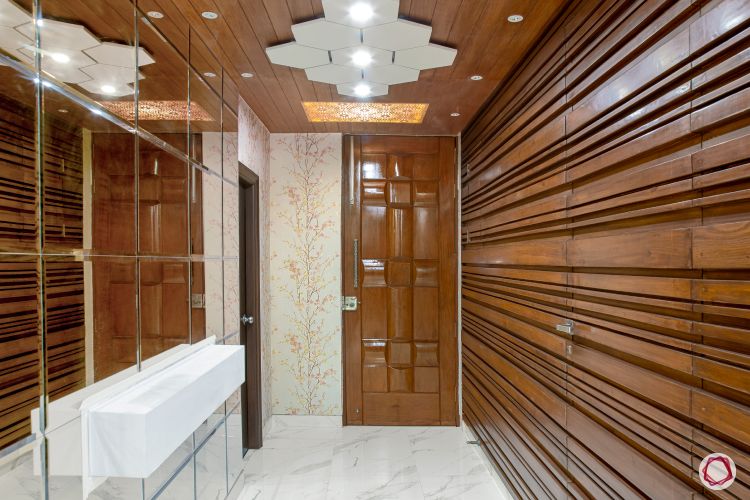 Elaborate wood work can make a powerful statement. Take the foyer of this home for example. This features extensive floor to ceiling wooden panelling on one side and mirrors on the other side. The ceiling is done up in wood as well, fitted with a hexagon mirror panel and an elegant jali as light fixtures.
Room Decor Ideas #2: Geometric Wall Panel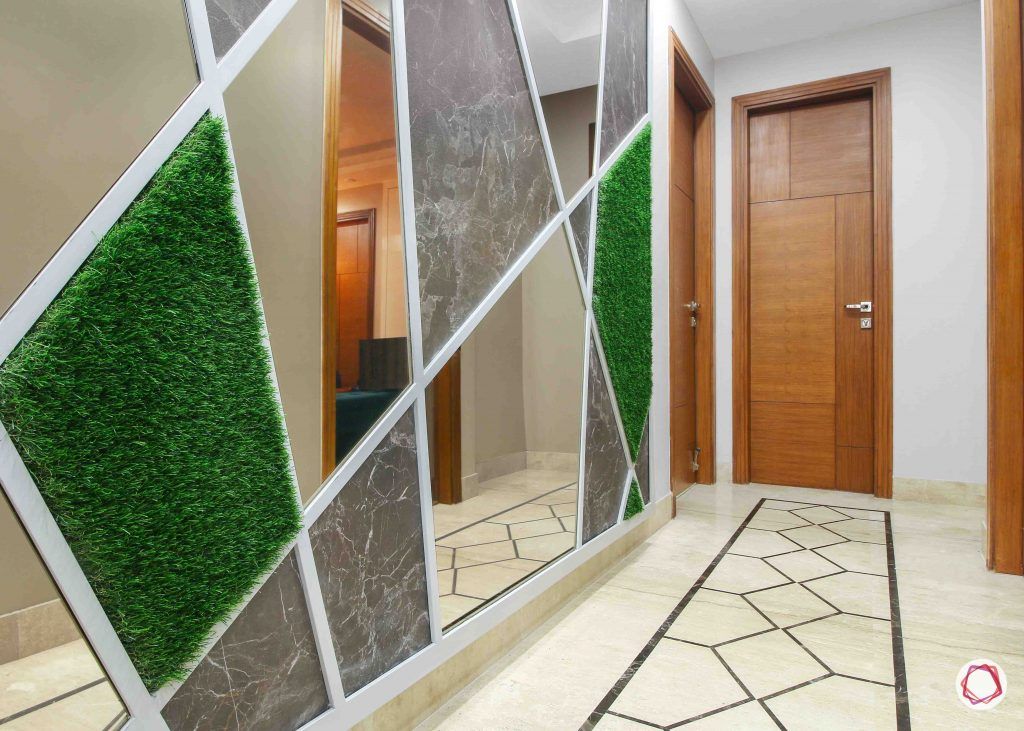 Looking to add drama to your home entrance? Put up a geometric wall panel that has sections of tinted mirror, artificial turf and stone. We love how the elements are separated with white panels.
Room Decor Ideas #3: TV Panel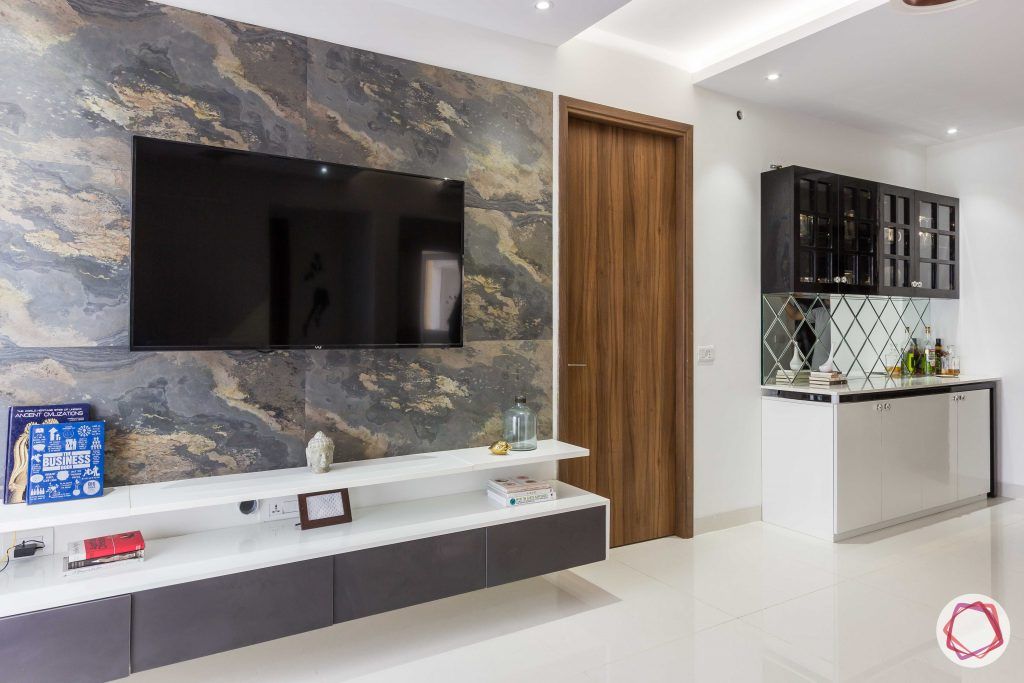 If you're thinking of dark or dull colours for stone interiors, think again. The TV panel for this home is a beautiful stone veneer with a rustic tint. We love how it complements the white interiors of the living room.
Room Decor Ideas #4: Living Room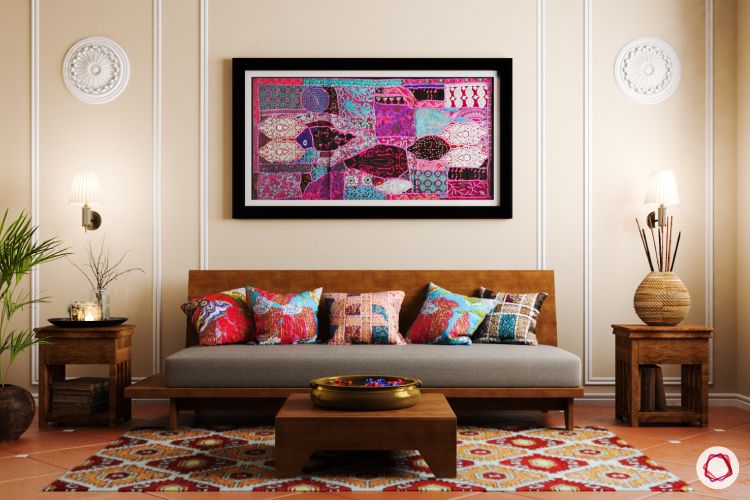 Nothing can beat the influence of wood on your emotions. This living room pays homage to warm wooden interiors without being overwhelming. Doesn't it elevate the ambience in the room? Pair these will brass decorative elements to complete the look.
Room Decor Ideas #5: Bed Panel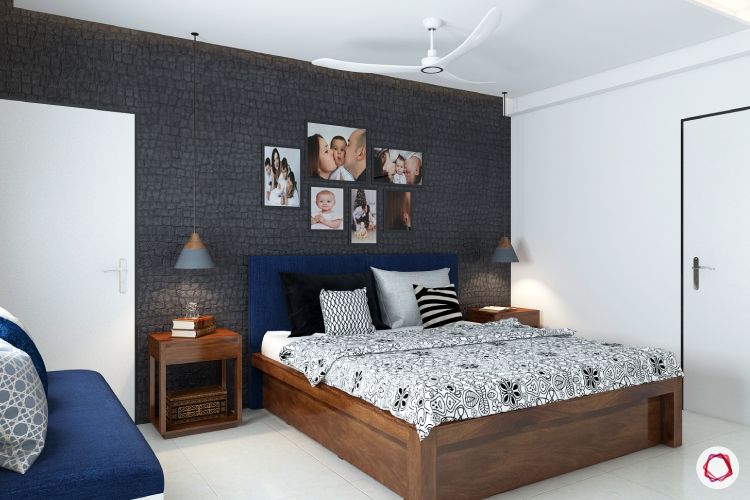 Textures are a lovely way to add a pop of design to any space. For this reason alone, stone makes for an intriguing touch to a room. Take a look at the centre wall for this bedroom. The standing pebble wall certainly makes a statement here!
Room Decor Ideas #6: Bedside Table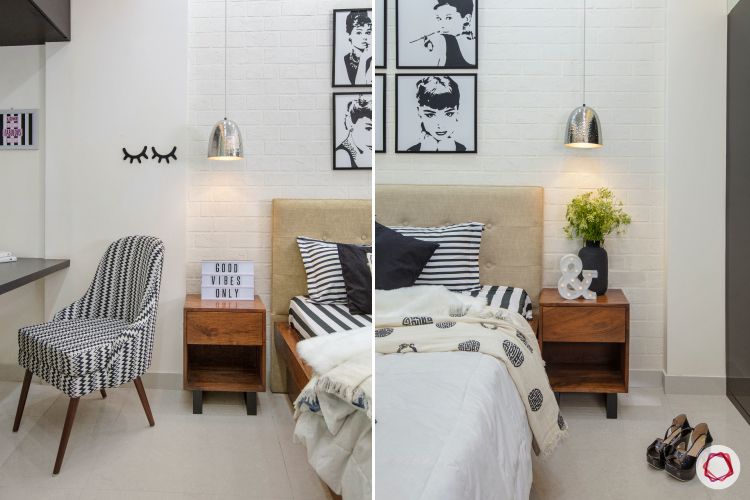 There's nothing like a to-the-point wooden bedside table. For this one, you've got a drawer and open shelf at the bottom. If minimal and classy define your personal style, you will love these tables.
Room Decor Ideas #7: Pooja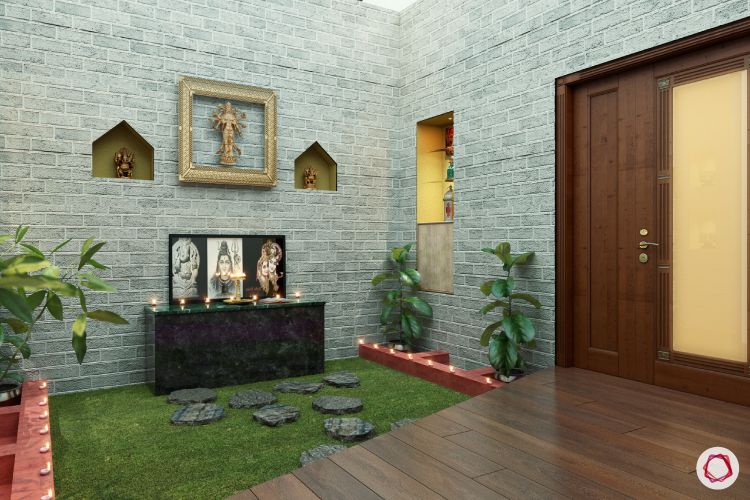 If you have enough space for an elaborate pooja, wood and stone are stellar choices to mix into your divine space. We love the combination of a wooden platform and stone steps on a grass patch that lead up to the pooja unit for this home. The brick wall tiles in grey completes the look.
Room Decor Ideas #8: Staircase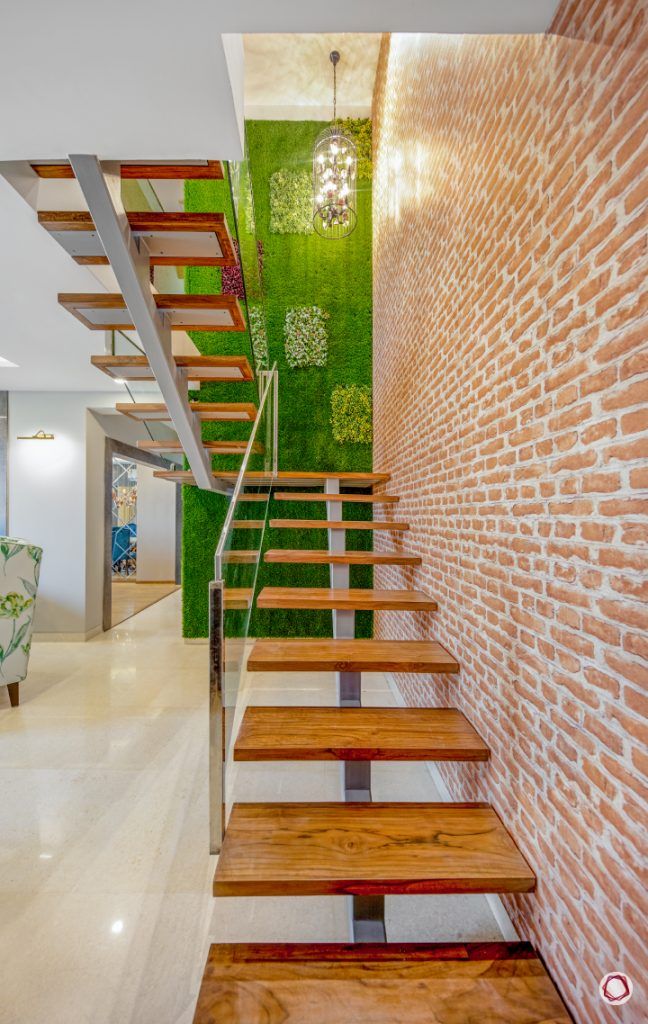 This staircase is sure to give you goals. We love how the wooden stairs are paired with other natural elements like brick textured wallpaper on one side and the artificial grass up ahead. The look is complete with a birdcage chandelier that adds a bit of sparkle to the space.
Room Decor Ideas #9: Balcony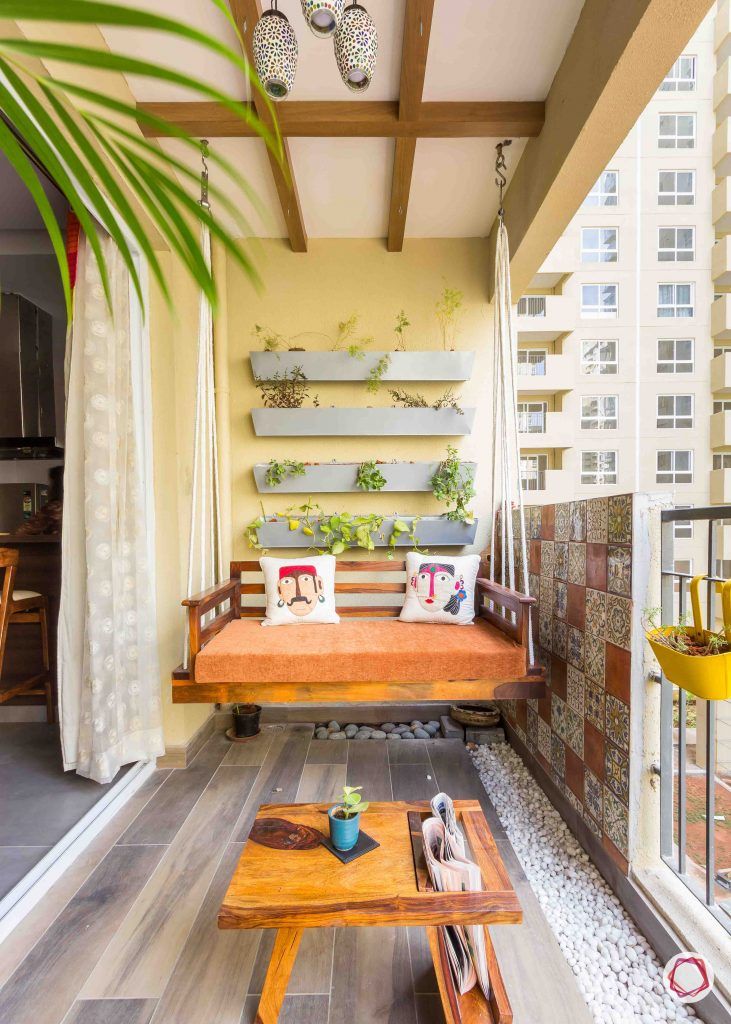 The balcony of this home is perfect for both people and pets alike! While the patch of pebbles beside the railing are for your furry friends to rest, the wooden swing is for the family to relax and unwind. It pairs well with the other wooden elements like the matching coffee table and rafters that run across the ceiling.
Room Decor Ideas #10: Bathroom
While this bathroom is kept simple, the stone grey wall tiles definitely makes an impression. Doesn't it add a rustic and earthy vibe to the bathroom? It also sits well with wooden cabinets and the brown bathroom tiles.
If you loved these ideas, you might enjoy Balconies from #LivspaceHomes That Will Floor You
Send in your comments & suggestions!