'Tis the season to be merry! Christmas is just around the corner and our excitement knows no bounds! Whether you're hosting friends or family, you're surely going to want to explore some decor ideas to set the festive mood. Livspace stylists are here to make your Christmas at home a memorable one with these stunning Christmas decor ideas. You can even pull them off over the weekend! Check them out.
#1: A Simple and Elegant Welcome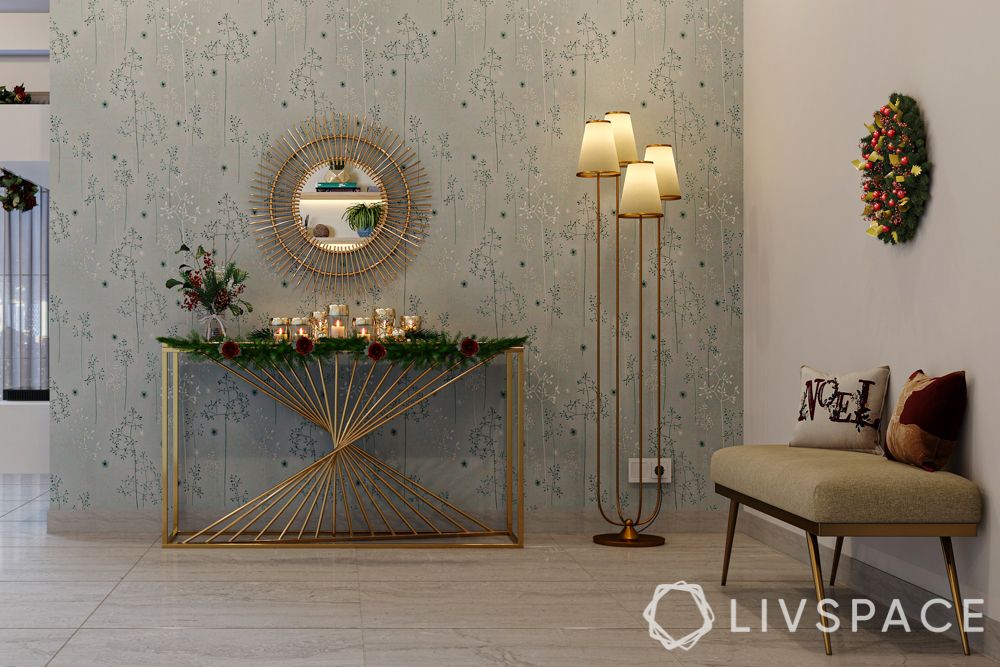 When you think about Christmas décor, you would, in general, consider living room and dining area decorations. The foyer is often overlooked. This Christmas, give your foyer the love it deserves! While decorating your entrance area, the trick is to not go overboard. Minimal but tasteful festive elements are an easy way to get that perfect Christmassy look! Our stylist, Sunanda Pandey, has achieved the ideal balance of elegant and festive with some simple table candles and a wreath of holly on the wall.
PRO TIP: Keep it clean and neutral – You don't have to stick to red and green for a festive mantel display. Keep your palette neutral, then add in metallic accents. Gold feels celebratory, but still cool enough to not cramp your normal décor style.
#2: Go Contemporary This Christmas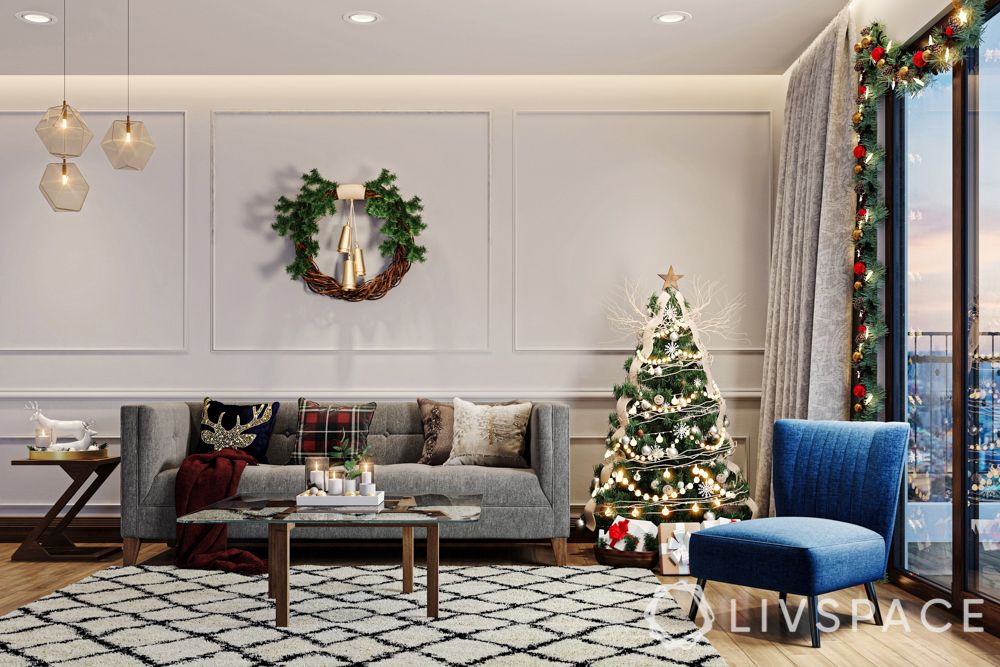 Most of us live in modern apartments, where bright, festive colours might clash with the existing décor. So why not opt for a contemporary theme this Christmas? Livspace stylist, Sunanda Pandey recommends you keep it simple by sticking to the basics. Make the Christmas tree the focal point of your living room by decking it up with pretty fairy lights. Keep the rest of the room uncomplicated and sophisticated with holly, bells and Christmas garlands.
PRO TIP: Keep it simple – You don't have to go bold to make a statement. A simple garland on the window and wreath is enough to make it modern and chic.
#3: Good 'ol Red and Green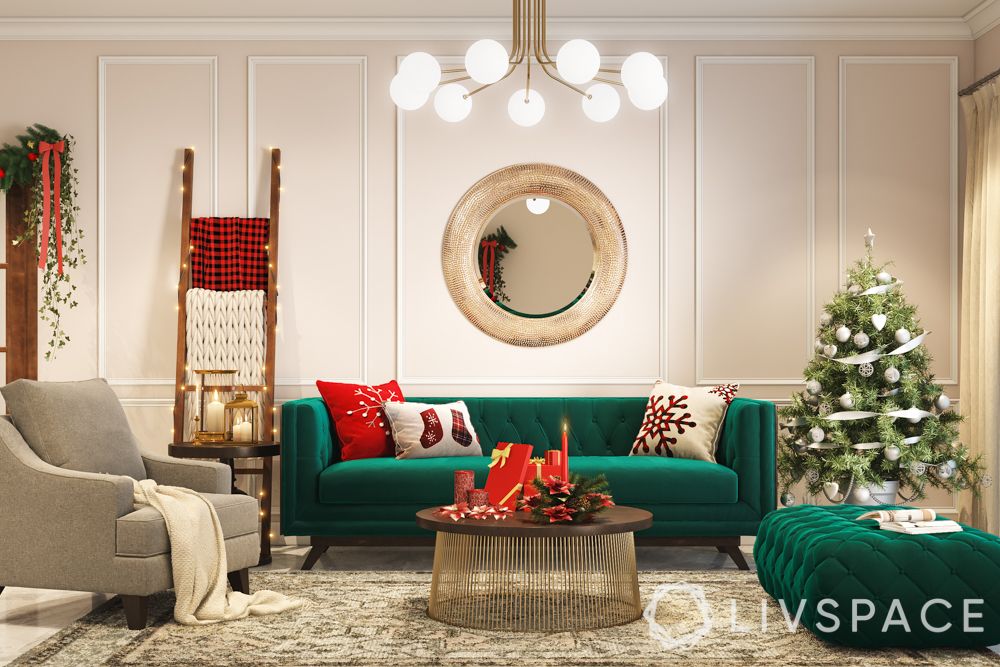 While contemporary Christmas décor looks elegant, nothing beats the traditional red and green Christmas colours! If you can't imagine Christmas without the conventional colours, then take tips from this stunning living room. Get some green sofa covers and throw in some Christmas-themed pillows to create a merry ambience. Holly, garlands, mistletoe – go all out in welcoming the Christmas spirit into your home! But don't forget to keep it interesting with some unconventional elements. Sunanda says that if you are going to go with a red and green theme, use white and silver decorations for your Christmas tree to keep it tasteful.
PRO TIP: Classic always scores – Something about lighting and decor complimenting the contrast of the furniture by making it aesthetically appealing.
#4: A LIT Affair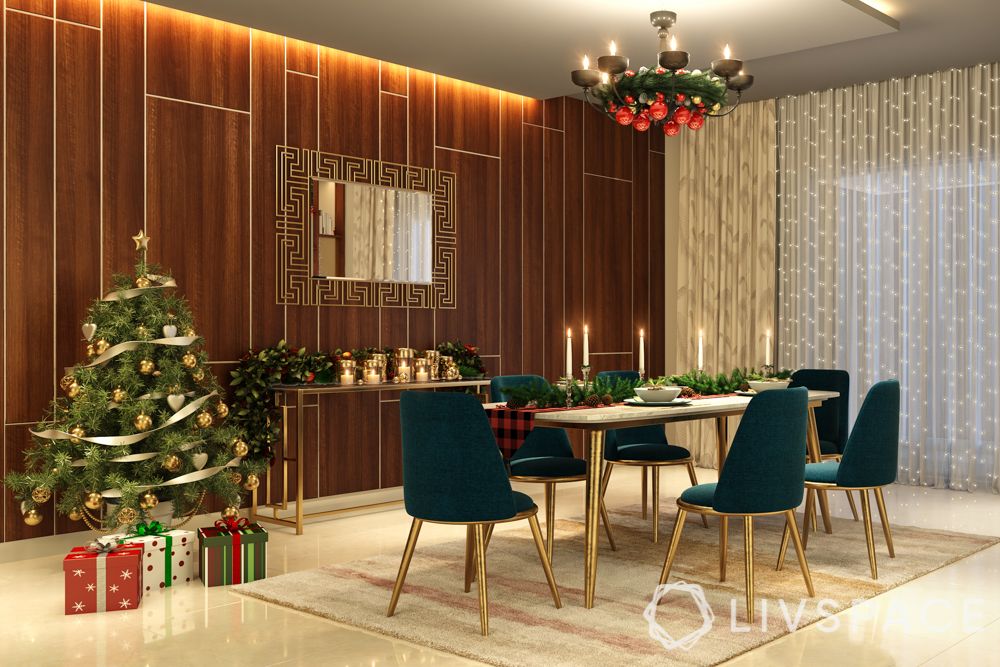 When it comes to the festive season, lighting plays a pivotal role. Be it Christmas or New Year, all you need is some gorgeous lighting choices to glam up your home. This year, we say go with a subtle and intimate theme and choose candles as your lighting option. Candles are versatile and can be used to light up every nook and cranny of your home. For instance, you can give your chandeliers an extra level of oomph by placing some pretty candles on them. Also, use unconventional candle holders to take your Christmas décor to the next level!
PRO TIP: Layer, layer, layer – decorate using objects of different heights. Start by building the table with tall candlesticks with pine cones and green garlands. Don't forget to deck up your chandelier too.
#5: Deck the Balcony With Boughs of Holly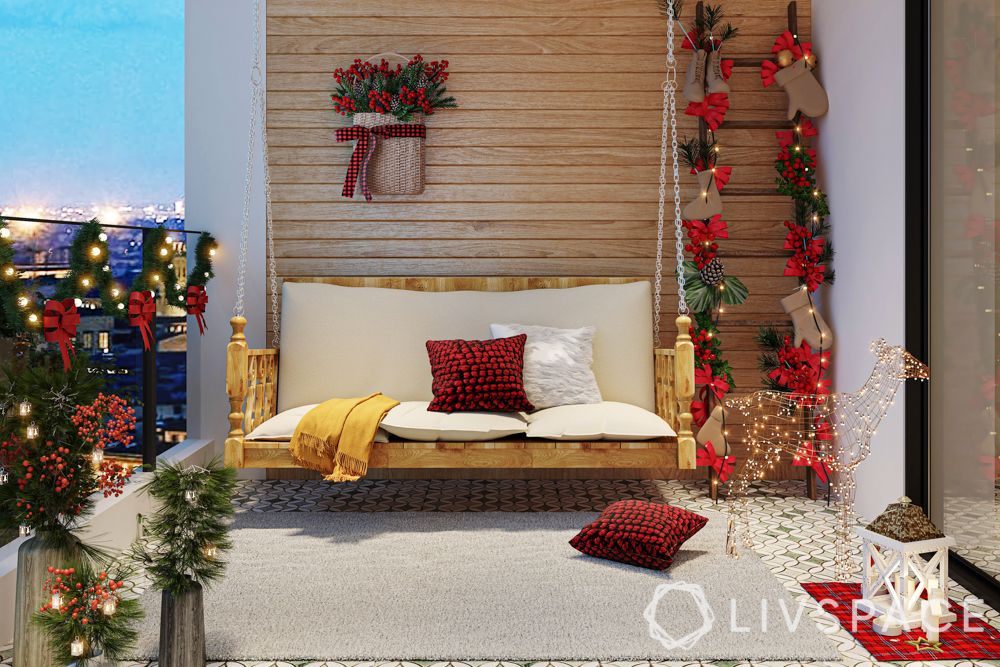 If you are planning a small, private get-together with your loved ones on Christmas, then the balcony is the perfect place to party! Decorating your balcony with wreaths and garlands of holly is a no-fuss and easy-to-implement way to get your balcony Christmas-ready. Add in some fairy lights and you have a magical space for your Christmas festivities!
PRO TIP: Use a ladder – Instead of opening a flimsy cardboard gift box, hang up your stocking. Decorated muslin craft bags conceal treats, toys and messages from Santa—and you can fill them again next year, too.
#6: A White Christmas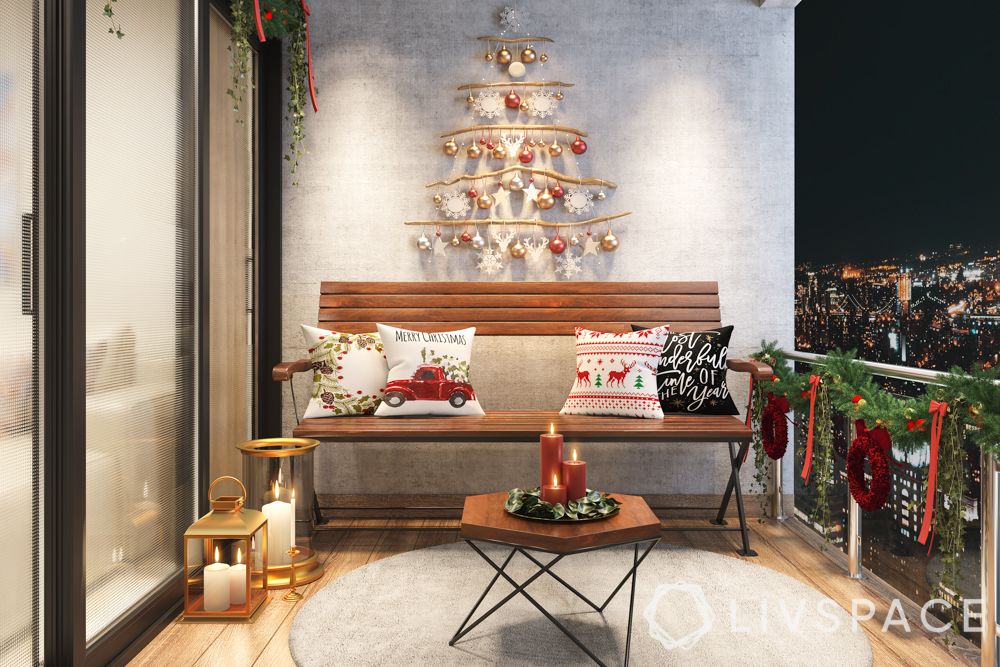 It might not be possible to jet off to some snow-covered paradise to enjoy a white Christmas. However, you can transform your home into a white wonderland! Deck up your balcony wall with a DIY Christmas tree made of beautiful white baubles. Some pristine candles in elegant candleholders and white Christmassy cushions and your white Christmas-themed balcony is ready! Don't forget to add some greenery to keep it festive!
PRO TIP: Decorate your walls – If it just isn't Christmas without a Christmas tree for you, try this DIY. Just glue greenery to wooden dowels, then stack on your wall in the shape of a tree.
Now that you have some stunning Christmas décor ideas for your celebrations at home check out these unique decorating ideas for Christmas that are not red or green!