When there is a nip in the air and the year is dragging to an end, it's time to bring out the Christmas trees from our lofts. While we all love this annual ritual of setting up an evergreen tree and decorating it with goodies, we cannot ignore the environmental cost of this tradition. Ironically, though it is called a tree, the Christmas tree making is not really 'green'! Most of the Christmas trees we find in the market are made of plastic, and hence, they are far from being eco-friendly!
So an environment-conscious individual, who also loves Christmas and the merry mores around it, what are your options? Our friends at the LazyGardener have found a pretty smart one! Their X-mas tree is a living and breathing one. Essentially, they have assembled a DIY Christmas tree using potted plants and recorded the steps for us to follow.
You can watch the video of this DIY Christmas tree here.
Christmas Tree Making Step #1: Pick a Corner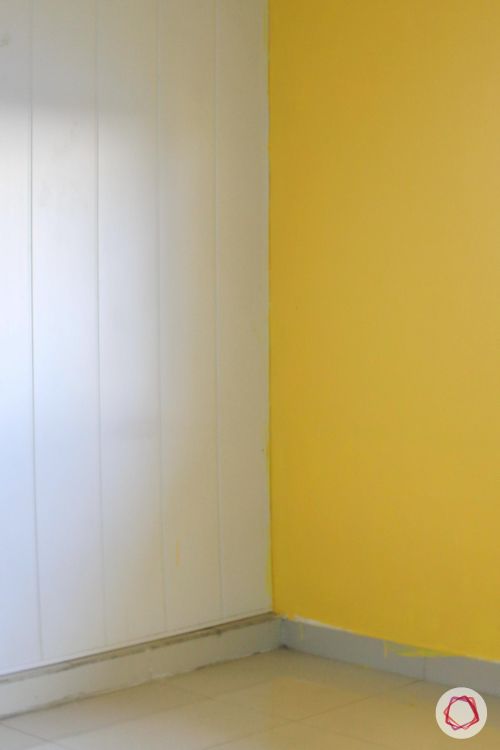 The hardest thing is finding the perfect corner for your DIY Christmas tree. Once you have found it, the rest will just fall into place!
Christmas Tree Making Step #2: Place a Bamboo Structure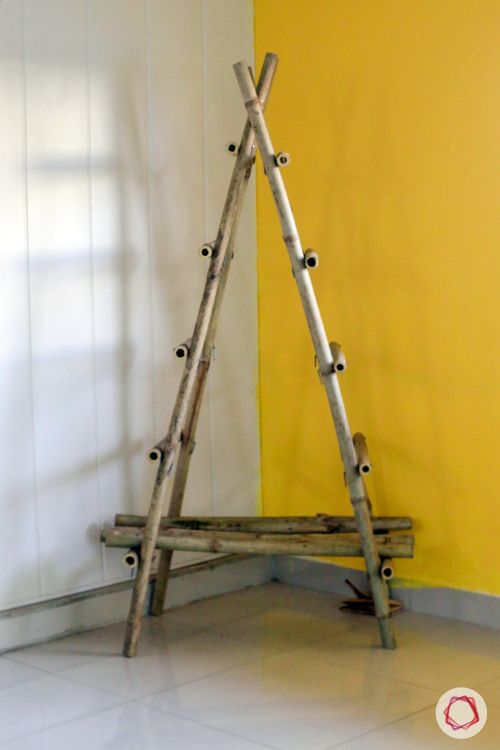 The structure of a pine tree is conical. So make an inverted cone-line structure with bamboo sticks. Make sure you have steps in it to support the ramps that will turn into platforms for placing the potted plants.
Christmas Tree Making Step #3: Create Levels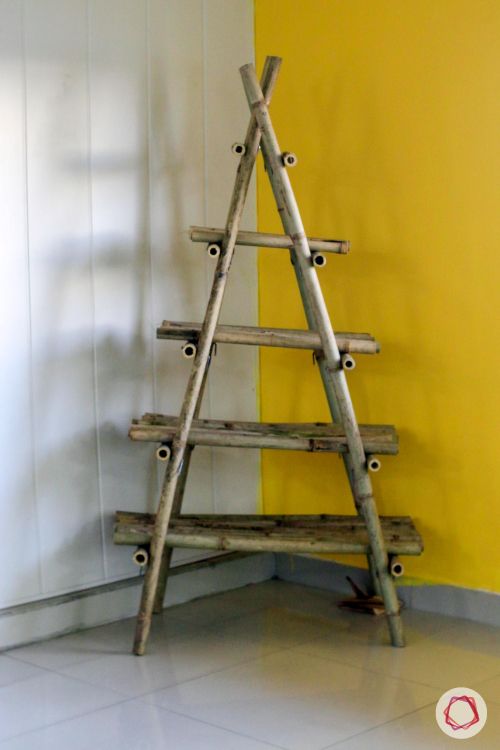 Place planks made by tying up bamboo sticks together on the steps of the tree structure. You can also use pieces of plywood for this purpose. Whatever you use should be able to support the weight of the potted plants.

Christmas Tree Making Step #4: Start Adding Potted Plants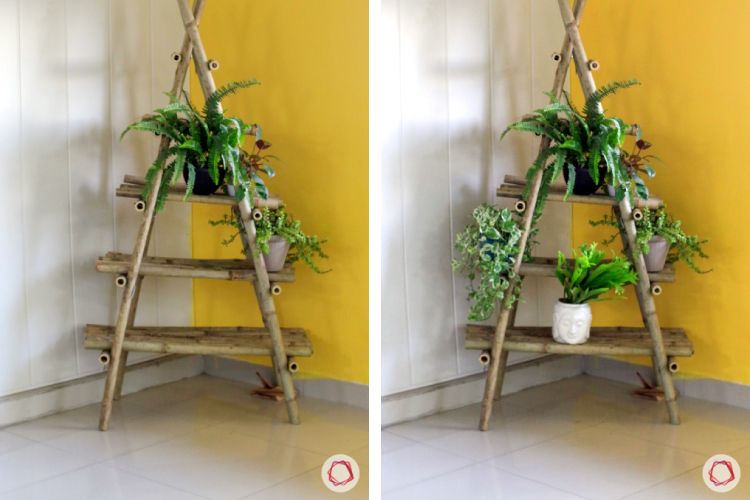 Place potted plants on different levels of the structure. Use lightweight pots for the plants so that the structure can easily support them.
Christmas Tree Making Step #5: Add Different Varieties of Plants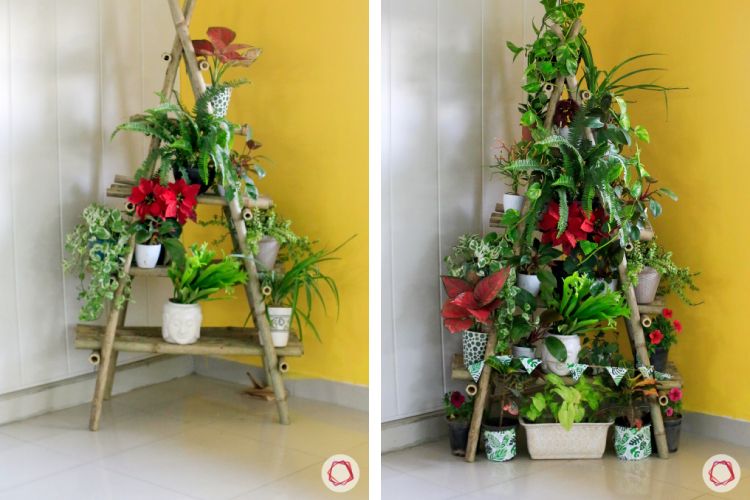 The basic idea here is to use a wide variety of plants so that the tree has different shades of greens, red and specks of white. The levels give this ensemble a layered look.
Christmas Tree Making Step #6: String up the Lights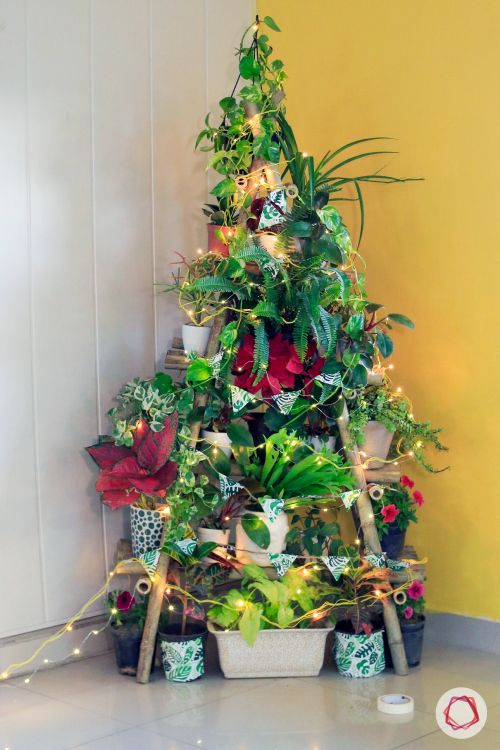 The festive feel comes to life only with Christmas lights! Once you have added the greens, cover the tree with string lights. You can also hang decorations on the leaves of this assembled tree.
Christmas Tree Making Step #7: Time for the Gifts!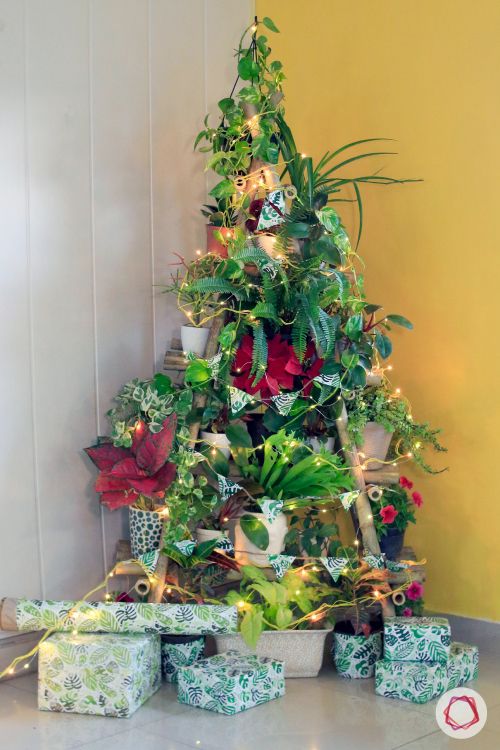 Now placing the gifts under the tree is all that remains to be done!
The Plants we Used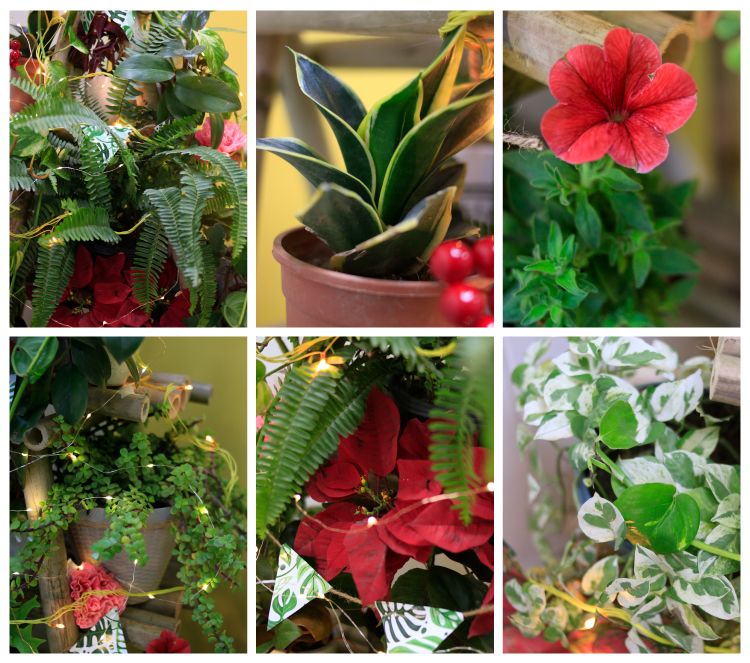 You do not need to stick to a fixed set of potted plants to put together your tree. But if you need inspiration, we can give you a list of the plants used by LazyGardener. They have used evergreens like fern with the snake plant for a crisp shape. Succulents like Jade have been included for good luck and volume. Creepers like money plants give a slender flow to the tree, while flowering plants like Petunia add colour to this ensemble. You always use your own assortment of plants too.
If you loved reading this tutorial, also explore 5 Ways to Reuse Holiday Lights.
Send in your comments and suggestions.