The concept of laying out a spectacular dining table is far from being irrelevant, even today. A well-appointed table enables good conversation while enjoying every bite of a meal. Depending on the type of meal and time of day, there are various ways to set a table. Regardless, table etiquette comes in handy for any meal. From casual brunches to formal dinners, we at Livspace are aficionados of the perfect setting when it comes to hosting a party. So what better time to host family and friends than Christmas? Even the most casual Christmas meals constitute of some basic Christmas table setting.
However, all the pretty tableware in world renders pointless if you don't know how to set it properly, or even worse, use it the right way. To help simplify this process for you, we have streamlined a daunting array of tableware into the essentials required for every place setting.
Christmas Table Setting Step #1: Opt for a Sturdy Table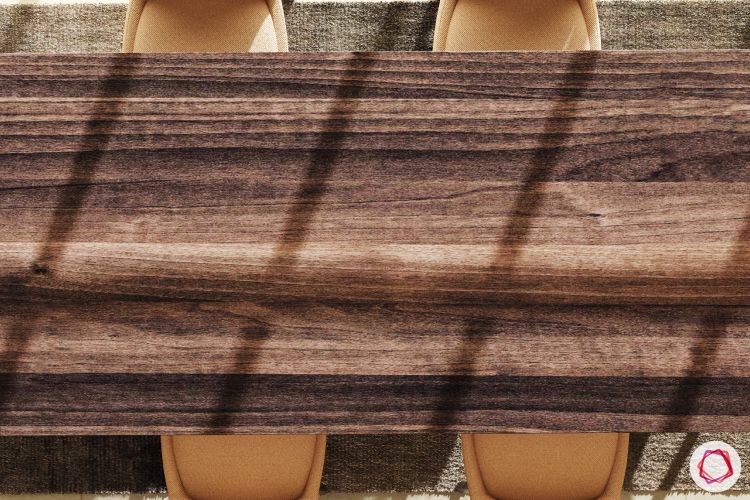 While hosting or attending a party, if a table along with tableware is set in place, it indicates that guests should be seated through the duration of the meal instead of being left to roam around with a plate of food in their hand. In order to ensure a seamless experience, opt for a sturdy table, such as, a hardwood table that can seat everyone comfortably.
Christmas Table Setting Step #2: Get Creative With a Tablecloth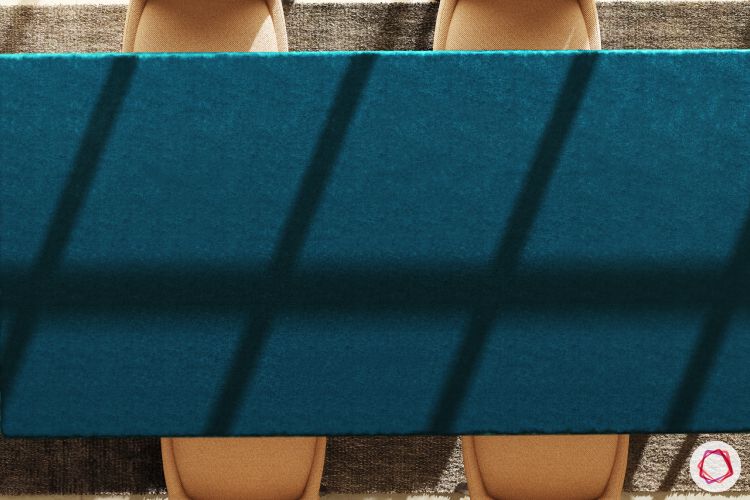 Whether used for ornamental purposes or to protect the table and flatware, tablecloths and placemats are a must while setting a table. Traditionally, tablecloths were made of white linen that would protect beautifully carved tables from food spills. However, in recent times, tablecloths come in an array of materials, designs and colours to dress up an ordinary table. This year, for Christmas, we have switched things up with a classy teal blue table cloth as opposed to a traditional red, green or white covering.
Christmas Table Setting Step #3: Number of Plates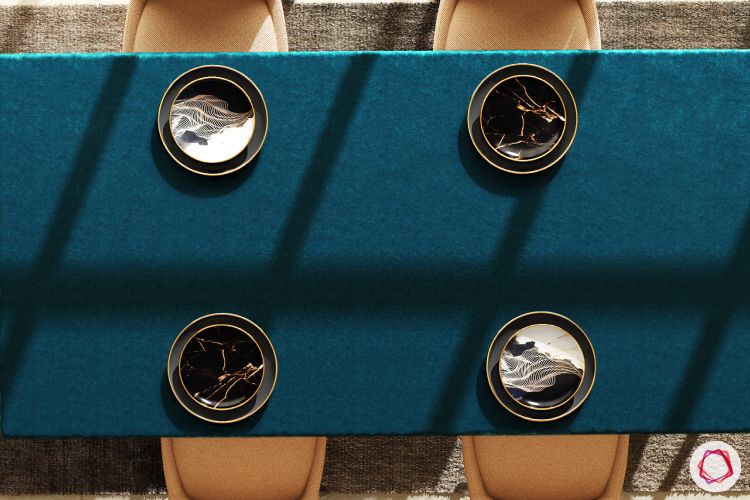 Don't get so hung up in decorating a table that you forget to add plates. Formal or casual, plates are a must for every meal, unless, you have chosen a meal that is best served in a bowl and enjoyed in front of a television. You can set the dinner plates in the middle of the place settings. If a salad is being served, place the salad plate atop the dinner plate. However, this is a formal addition. Consequently, a single dinner plate will suffice for a casual meal.
Christmas Table Setting Step #4: Placement of Cutlery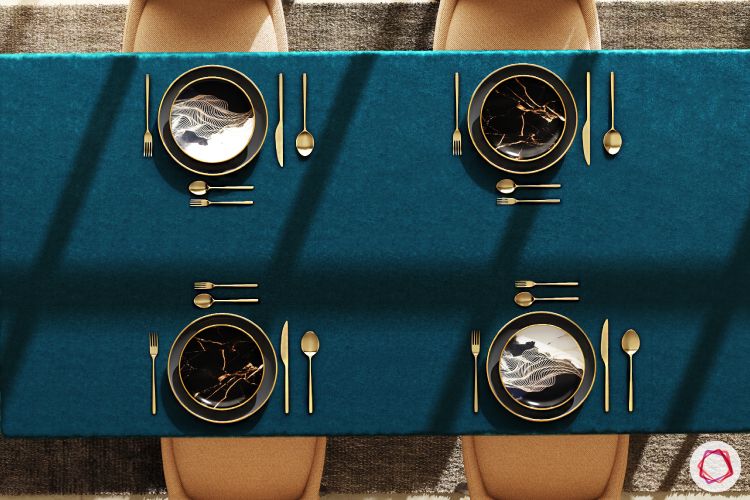 We have all been in a confusing situation where we have faced plenty of cutlery before us and can't figure out how to use any of it. While setting or using table cutlery, as a rule of thumb, always work it from outside in. This means, the outer set of cutlery corresponds to the first course and so forth. However, for this Christmas table setting, we have kept it simple with golden cutlery that are essential for every meal. We have placed a fork on the left that is held by the left hand. Furthermore, we have placed a knife and spoon, parallel to each other on the right, to be held with the right hand. In addition to this, we have placed the dessert spoon and fork above the plates.
Christmas Table Setting Step #5: Choice of Glassware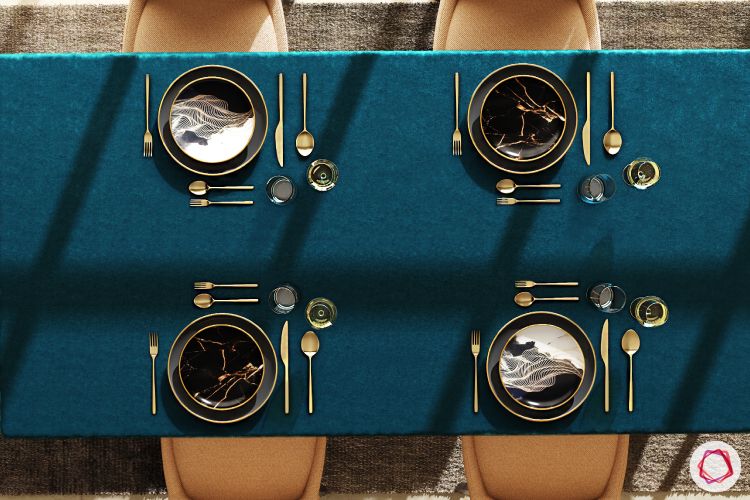 If your tabletop is not crowded, choose between a water goblet or tumbler. Add a wine glass only if wine is being served. Glassware is almost always placed above the knife and spoon on the top right of the Christmas table setting.
Christmas Table Setting Step #6: Place a Table Napkin or Serviette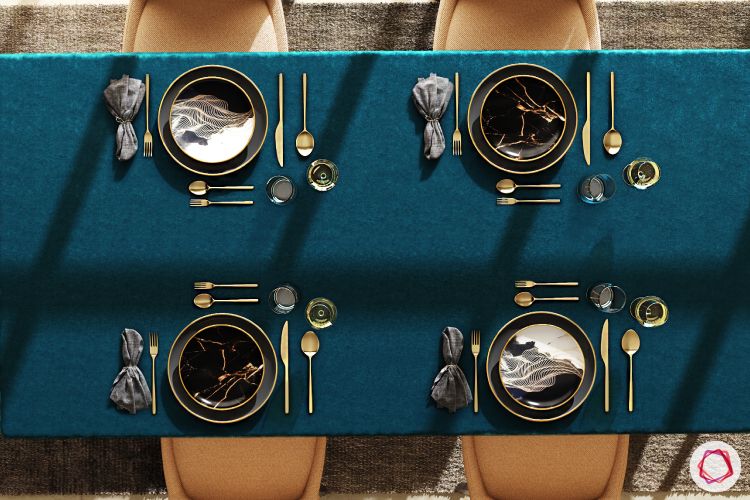 A table napkin or serviette serves as a piece of cloth that can be used to wipe your mouth or fingers while eating a meal. The napkin can be placed atop the plates or tucked neatly beside the fork.
Christmas Table Setting Step #7: Add Centerpieces & Christmas Treats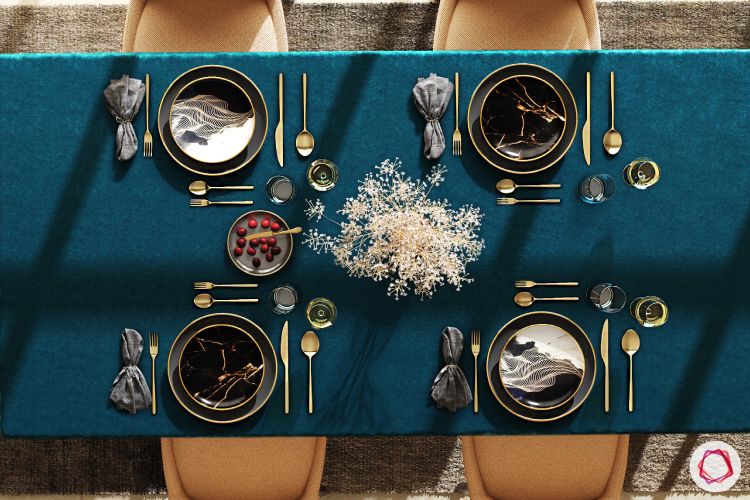 It's not Christmas without festive decorations and tasty treats. Our Christmas table setting includes a frosty centerpiece. However, you can gather up all the kids to craft together a personalised centrepiece for a fun family activity that can turn into a Christmas tradition.
Kulkuls, plum cakes and cookies are the icing on the cake. Therefore, Christmas is incomplete without these treats. We have picked plums and cherries to snack on, here.
Christmas Table Setting Step #8: Lighting Accessories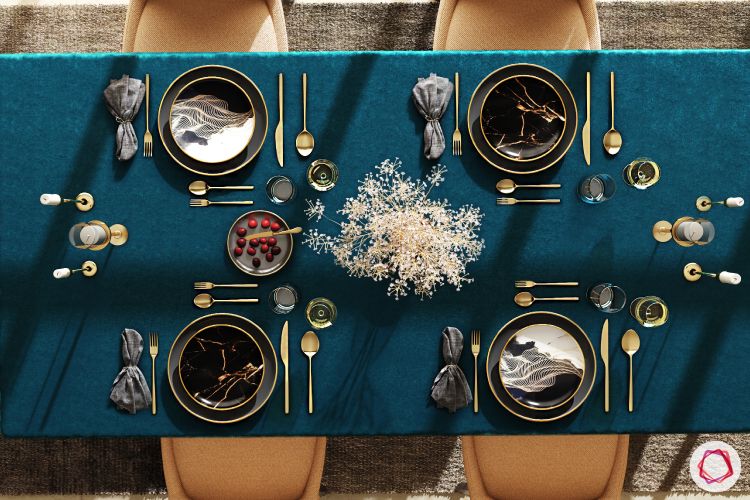 Here, we have used candles on either side of the centrepiece for a festive yet formal feel. Skip this step completely if you feel candles can be hazardous around children.
Now that you are familiar with the basics of a Christmas table setting, you can get creative by mixing and matching dinner plates with cutlery and learning creative napkin folding. The amount you would like to build up from here is entirely up to you. You can put in more effort for a formal Christmas lunch or dine it down for a cosy dinner by reducing the number of elements.
If you found this article helpful, take a look at Christmas Decorations That are Not Red or Green.
Merry Christmas!
Send in your comments and suggestions.