Have you ever discovered a local store with exclusive pieces made by local artisans and felt a sense of joy and community? Maybe it was clothing with stunning Kalamkari work, a piece of room furniture with detailed Mandala work or even colourful hand painted ceramic planters! All these prints, patterns and materials are the heart and soul of the country.
Collections from Fabindia, The Armchair and Fabuliv are just a few of the many brands that capture the essence of India's rich culture with their functional furniture pieces. You will most definitely find space for these pieces in your authentic assortment of furniture and decor.
Take a look at some these handpicked furniture pieces from the Livspace catalogue and get inspired!
#1: Going back in time with classic living room furniture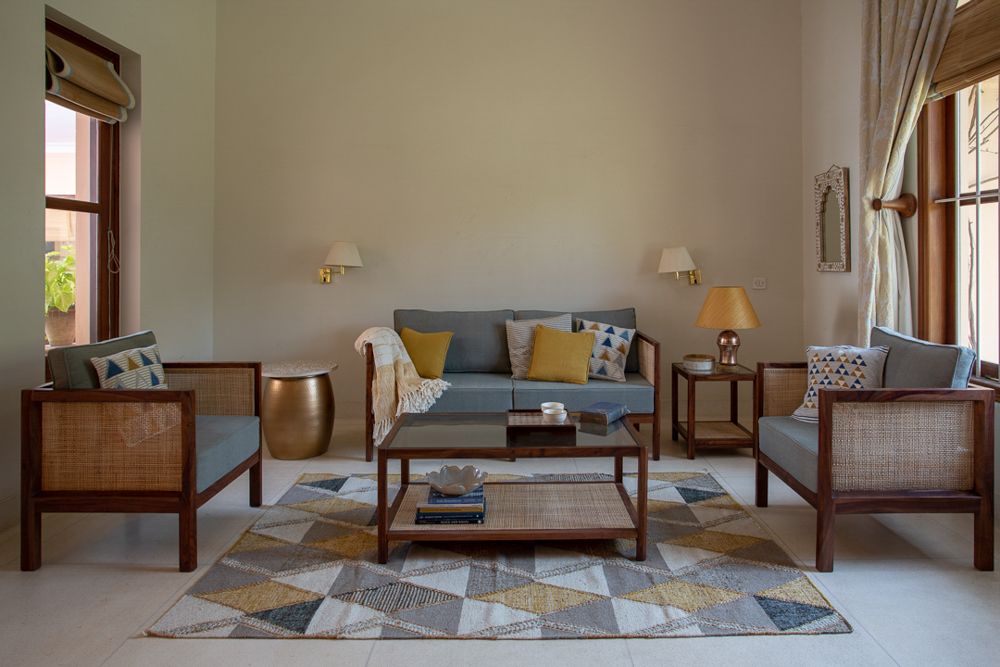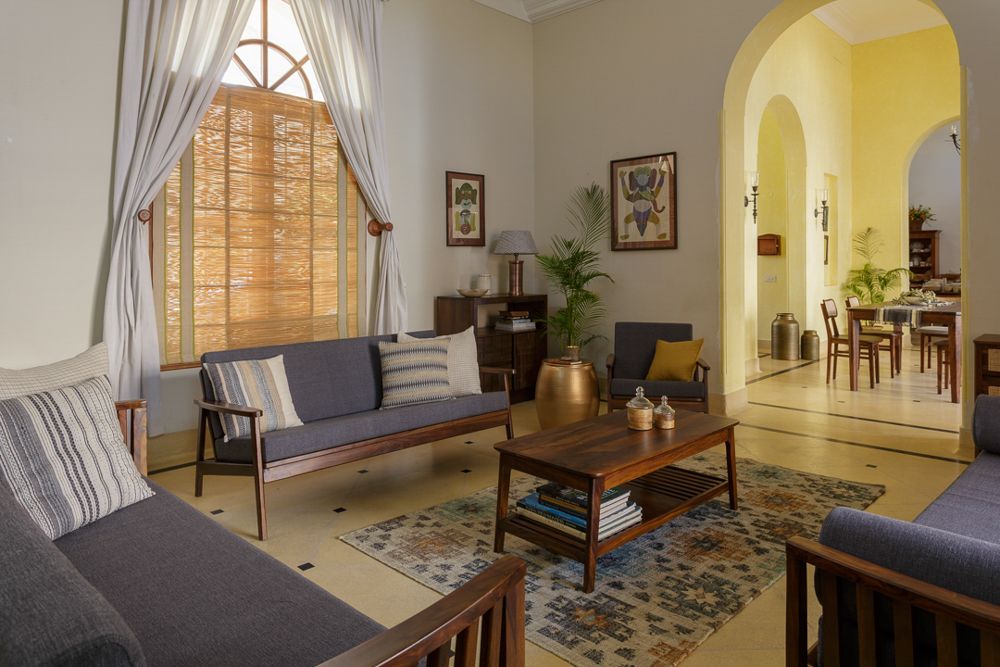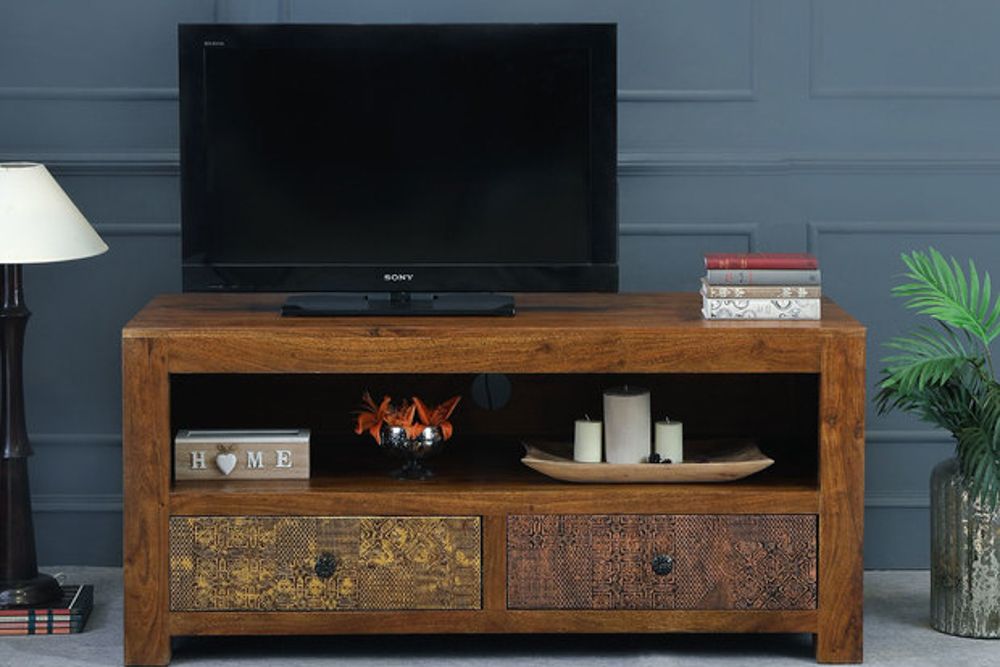 The living room is arguably the most important room in the house. It's the common area where friends and family get together and bond. Therefore, plenty of thought and attention to detail goes into designing this room. Revolving around superior quality craftsmanship and sustainability, Fabindia and The Armchair have just the furniture for your living room!
Fabindia aims at blending traditional designs with contemporary elements and these furniture sets are the perfect example of their philosophy. Made of solid wood and rattan detailing these sets are the only thing you need to give your home a traditional look!
Here's a great find for compact living spaces from this one-stop shop for solid wood furniture, The Armchair. Furthermore, this sheesham wood TV unit is in 51.2 x 21.7 x 23.6 inches and can fit into any bedroom or living room. It comes with two closed drawers and an open shelf to hide away your clutter as well as display your curios.
#2: Essentials for a cosy dining experience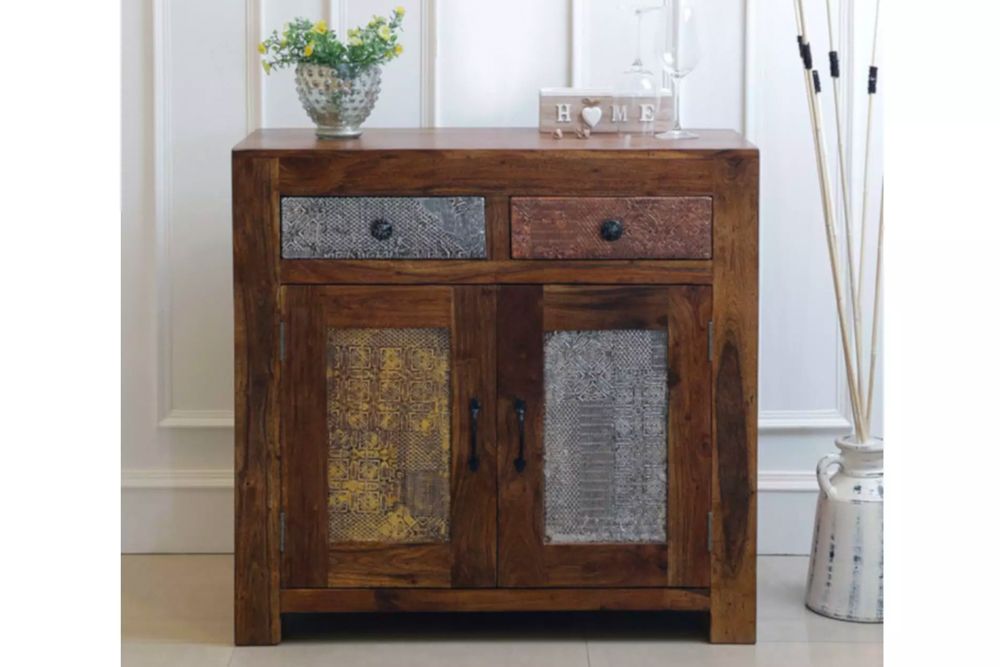 While our eating habits have changed over the years, this furniture collection is sure to make you fall in love with eating a hearty meal at a dining table! There's always something comforting about eating with family and friends while laughter and chit-chat echo in the room.
So gather all your family members and design a lively dining room!
These two royal looking-esque articles from The Armchair are made to fit into any setting and style. This dark wood six-seater dining table has a contemporary design and is made of solid sheesham wood.
Subsequently, the vintage style cabinet is made of acacia wood and focuses on being a space-efficient addition to the dining room. It's perfect for storing crockery, cutlery and even books or magazines.

#3: Beds frames for a good night's sleep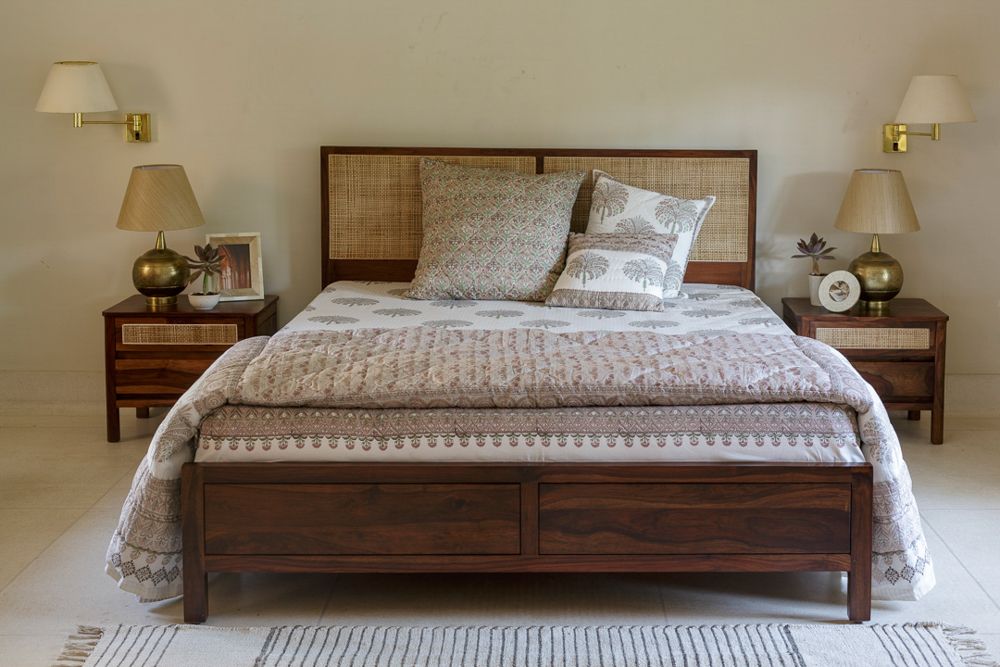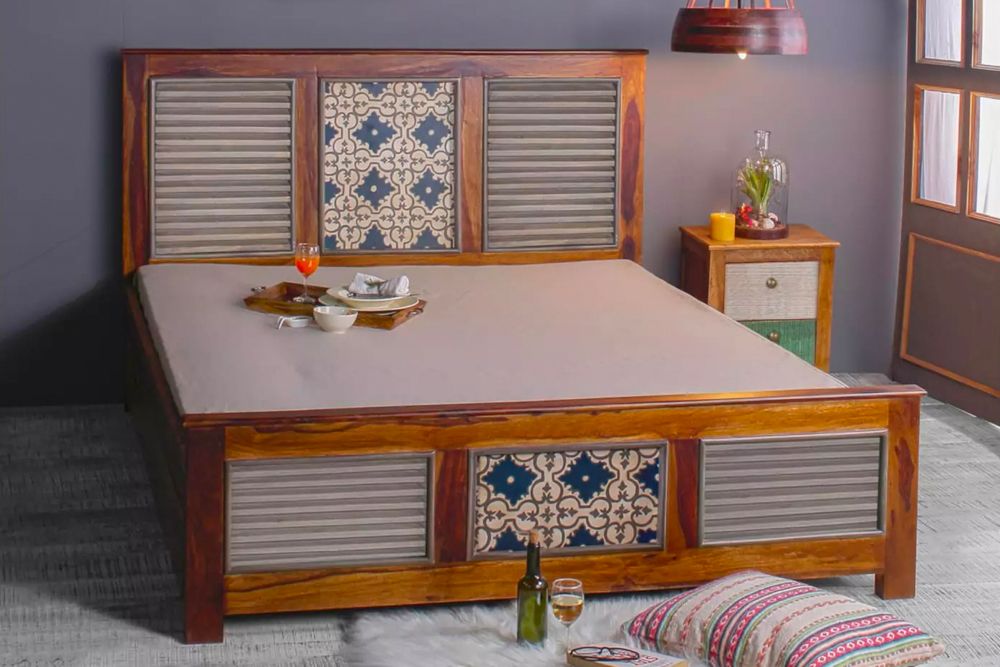 Historically speaking, for many centuries India did not give a lot of importance to furniture. However, a bed frame was a must. Moreover a comfortable one with intricate detailing. Keeping those factors in mind, these traditional designs are some of our favourite articles from Fabindia and Fabuliv!
The Bunai double bed goes beyond its classic look with its hydraulic mechanism. Whereas, the Kolam bed form Fabuliv will take you back to the 19th century with its hand-painted detailing. Moreover these beds work in contemporary, rustic, bohemian or even country design styles.
#4: Accompanied by these perfect bedroom accessories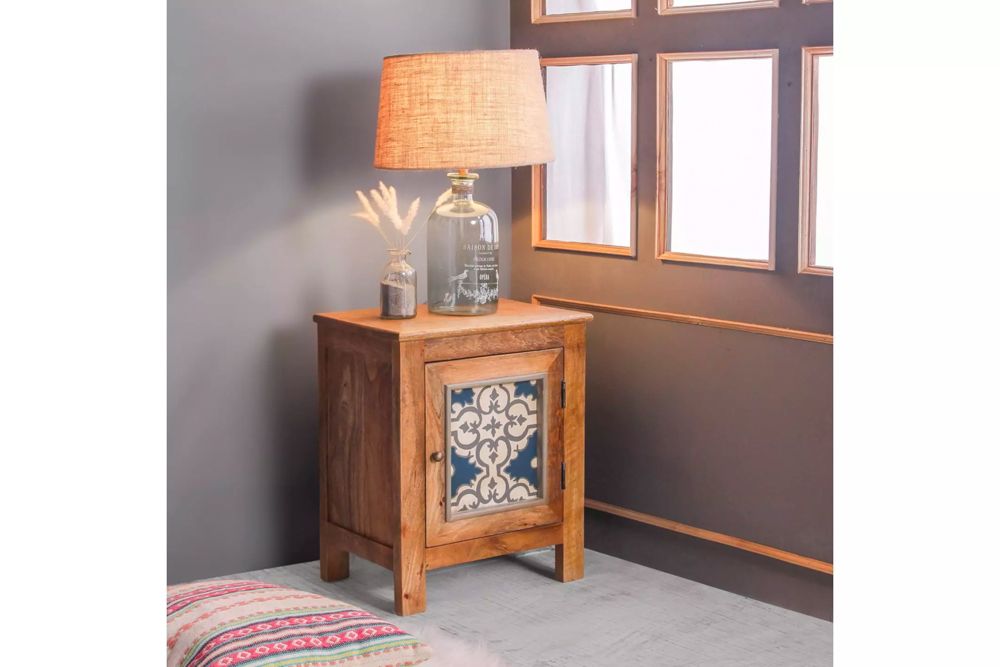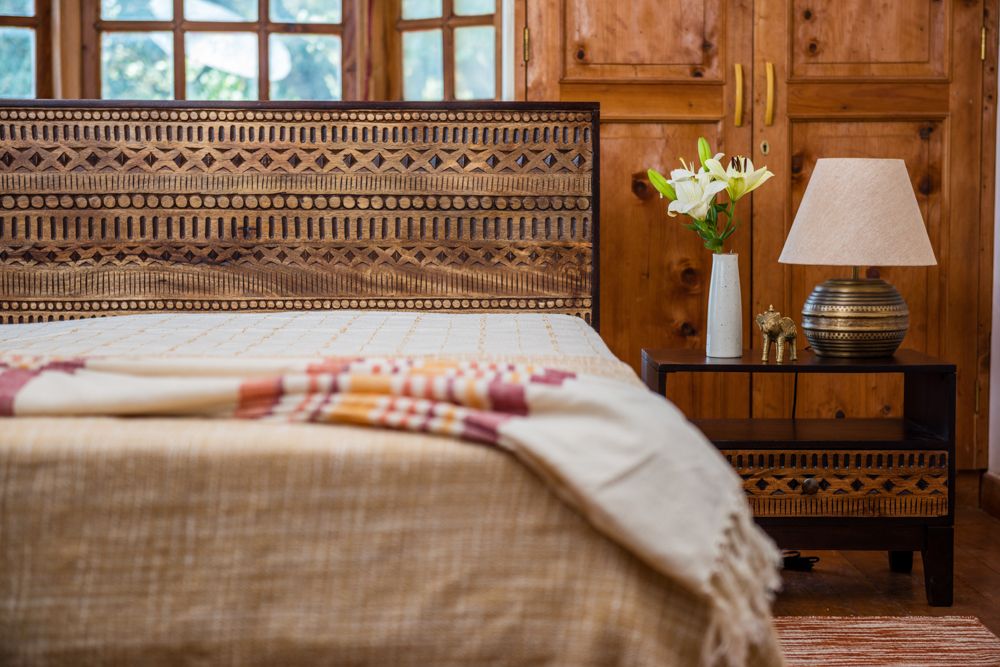 Now that you've found the perfect bed frame for you, top it off with any of these bedside tables and you're good to go! There are multiple reasons you will need a bedside table that go beyond finding a place for your phone. A bedside table or nightstand is used for placing a night lamp, storing medicines, keeping a glass of water within reach or even anchoring the bed.
These two nightstands from Fabuliv and Fabindia have just the traditional touch we have been swooning over all this while. While they are part of sets, they also work great as individual pieces as well.
Look out for: This piece is sure to take you back to an yesteryear era and remind you of a Chippendale and Sheraton era. Moreover, this solid wood study table can double as a vanity unit by adding a mirror.
#5: Get gorgeous with these chic coffee tables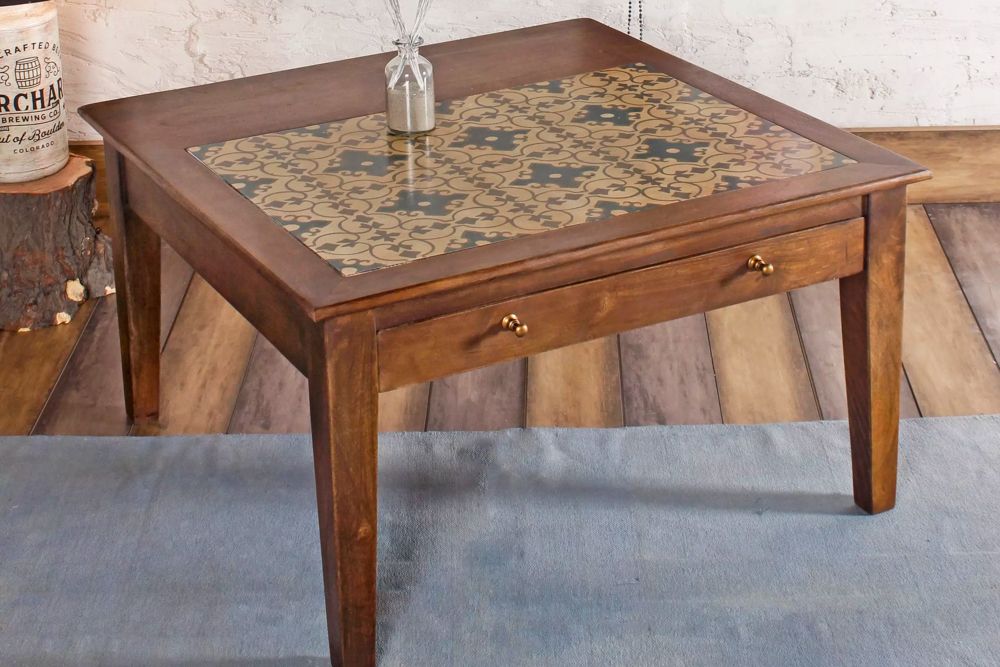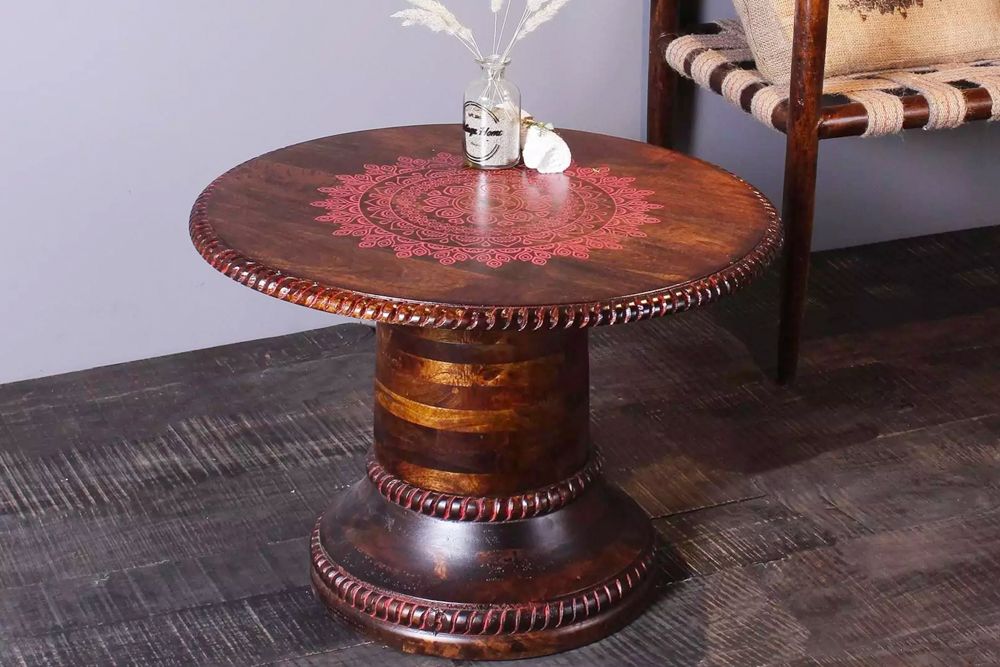 An important element in any home is a sturdy coffee table that's the right size for the living room. These two coffee tables from Fabuliv exhibit diverse craftsmanship and traditions in India. Moreover, if you love rustic style furniture opt for these sophisticated handcrafted coffee tables and give your living room a twist!
If you liked this article, take a look at another one Explore Southern Vibes in Home Decor
Check out living room designs:
Send us your comments and feedback.