Not one for a dining room that's all decked up for fancy parties? If a simple and functional design is all you need to get started, look no further! Here are the essentials of a dining room design for no-fuss meal time.
Dining Table: Shape & Seating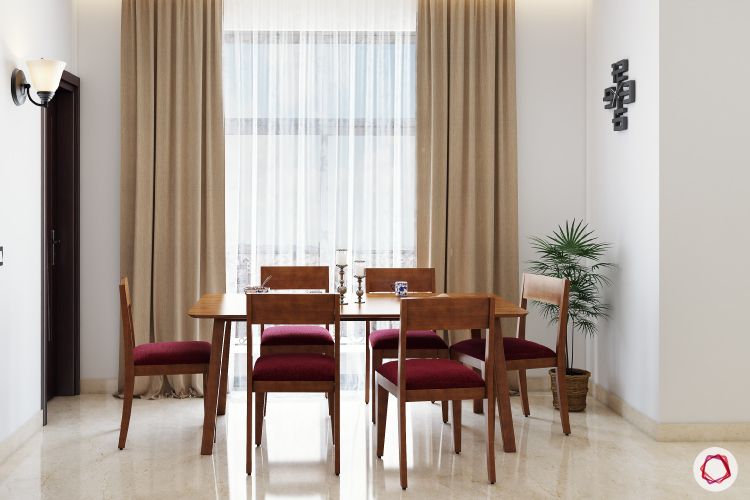 Finding a perfect table is the foundation for creating a warm and cosy dining space. Start with understanding which shape fits the room. As a thumb rule, rectangular or oval design works for large rooms and a round or a square table suits compact spaces.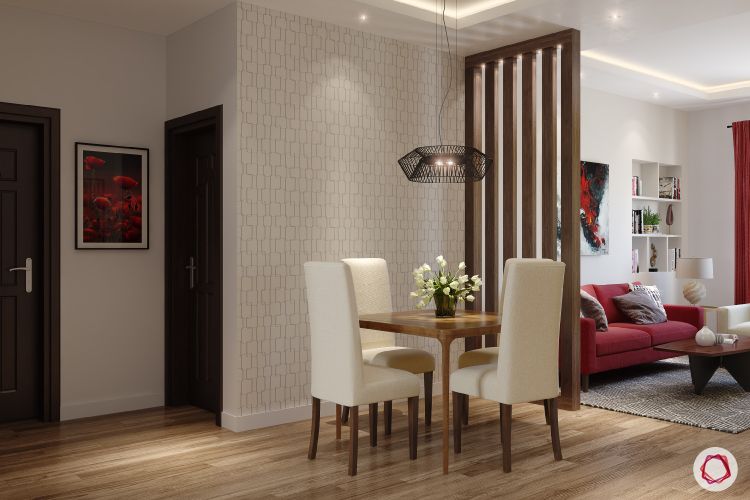 However, figure out the seating capacity as well as the bigger the table gets the ergonomics get complicated too. It is tough to reach dishes placed at the centre with large square or round tables. Here, it will suit you well to use a Lazy Susan. That said, rectangular and oval seating offer more arm space for comfortable experience.
Dining Chairs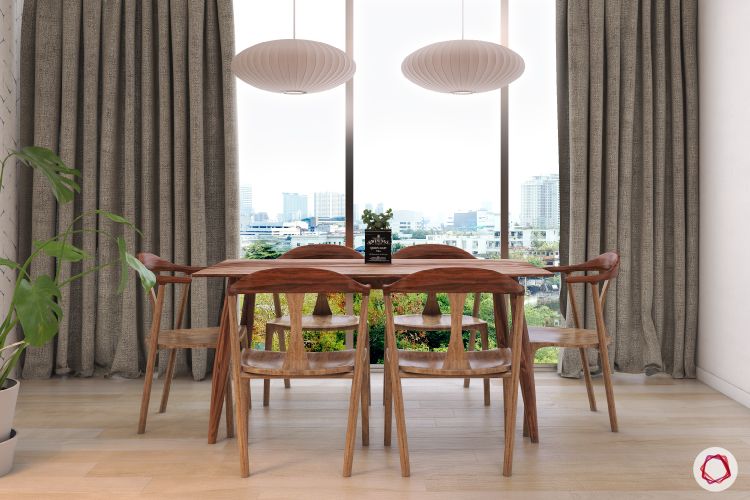 Picking dining chairs are more flexible owing to the mix-n-match trend in the industry. However, make sure you find a comfortable one that can let you extend your conversations without feeling stressed out.
If you're going to opt for different chairs, then ensure the seating height is equal.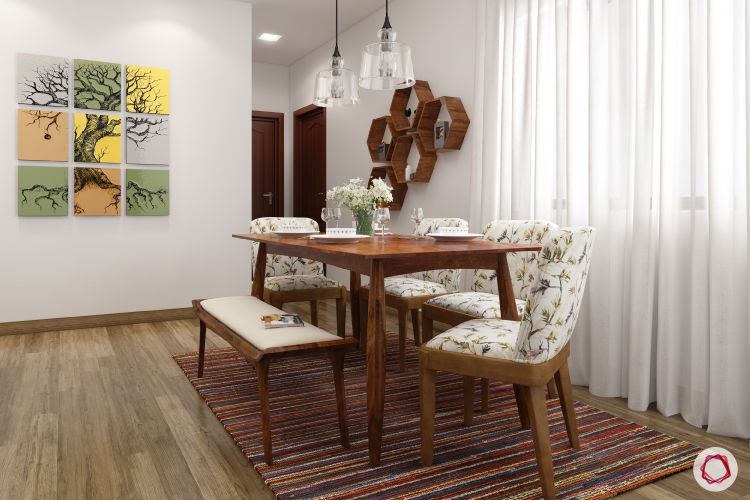 Take a look at these pointers to pick a comfortable dining chair. You can also use benches to add more seating.You can choose to line it up against a wall so that your guests have enough back support.
Crockery Unit or Console Unit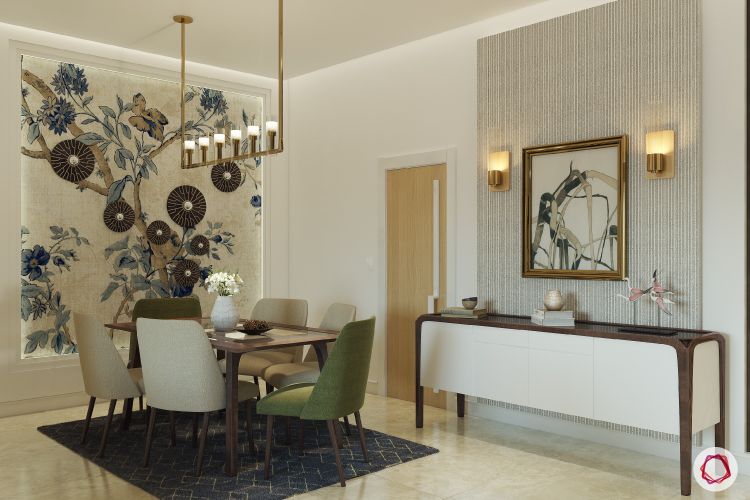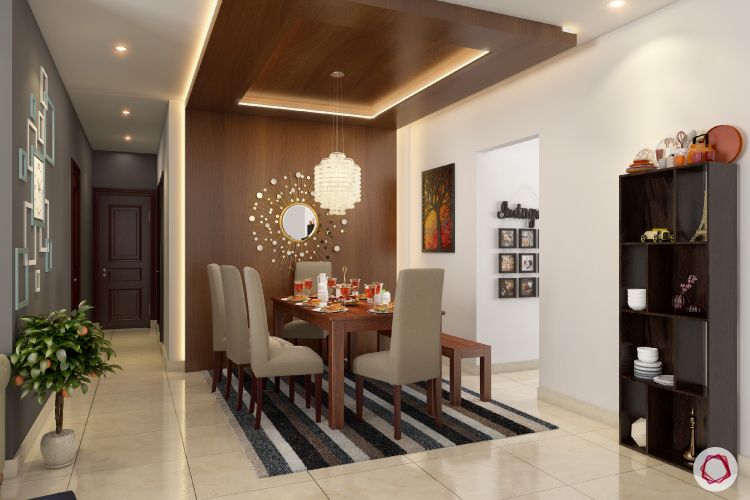 Storage is essential to every room, and dining rooms are no exception. You'll need a crockery unit for crockery, cutlery, napkins and more. They come in a variety of sizes and shapes. It doesn't always have to be a tall unit. A compact unit customised to hold all the essentials can work well. A stylish bar can also be an option to explore if you're a perky personality who loves to throw parties at home.
Lighting Options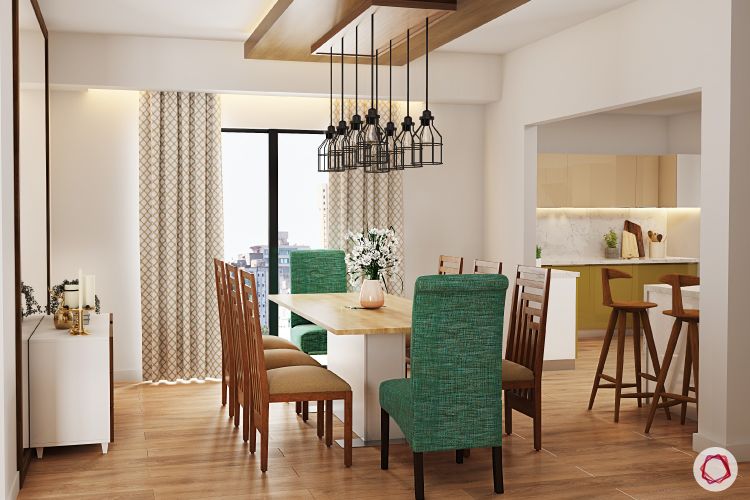 The dining room features fewer elements when compared to other rooms, so you will have to focus on creating a little drama in lighting. Designers seek options like chandeliers and pendants to create a highlight. Choose linear light fixtures for rectangular or oval tables which is at least one-third the table's length for balance. In case of round or square tables, a cluster of pendants will work great.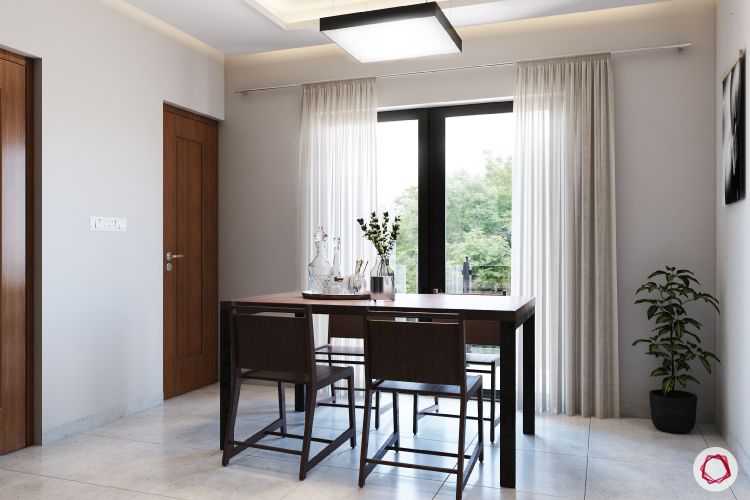 You will also have to consider the height of your ceiling here. Have at least 36-40 inches of gap between the light fixture and table. If the ceiling height doesn't permit this, go for recessed lights, that work just as well to give you mood lighting.
Soft Furnishing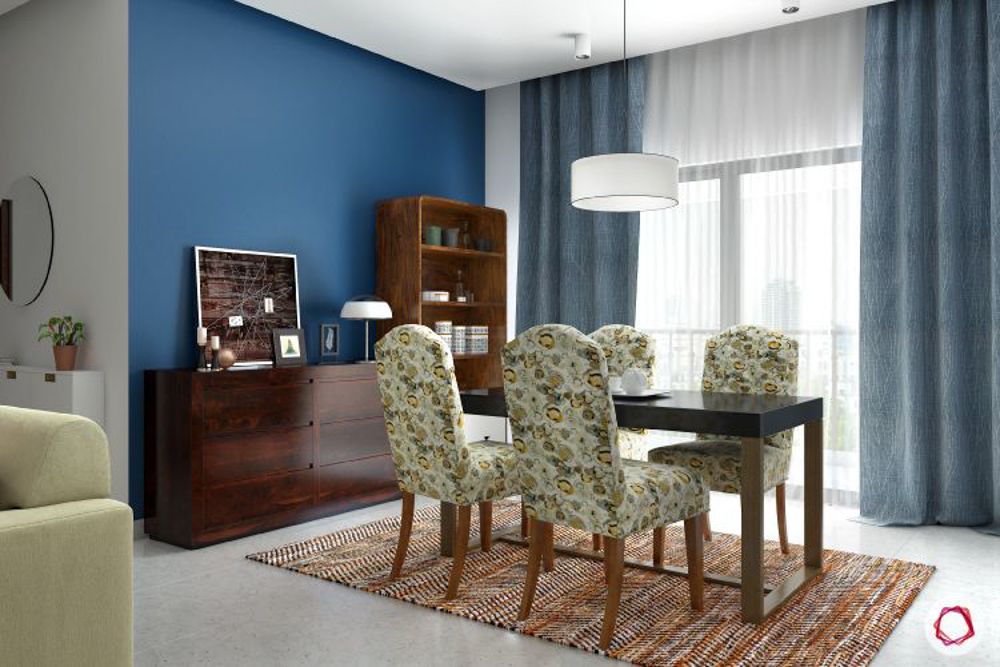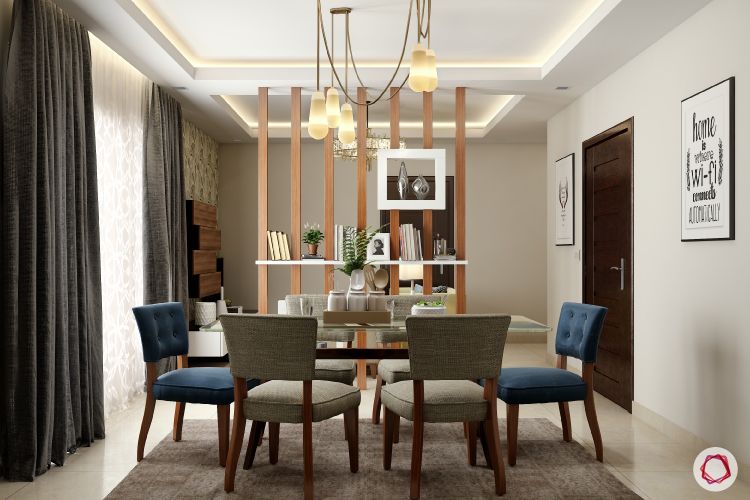 It's not mandatory to have a rug, but adding one can enhance the look. However, make sure you pick an area rug that can cover the floor space of your dining table and chairs combined. Sheer curtains work great for dining rooms for a graceful appearance and lets in ample natural light to make the setting welcoming. You can also opt to combine solid-colour curtains with sheers to complement the room.
Decor Ideas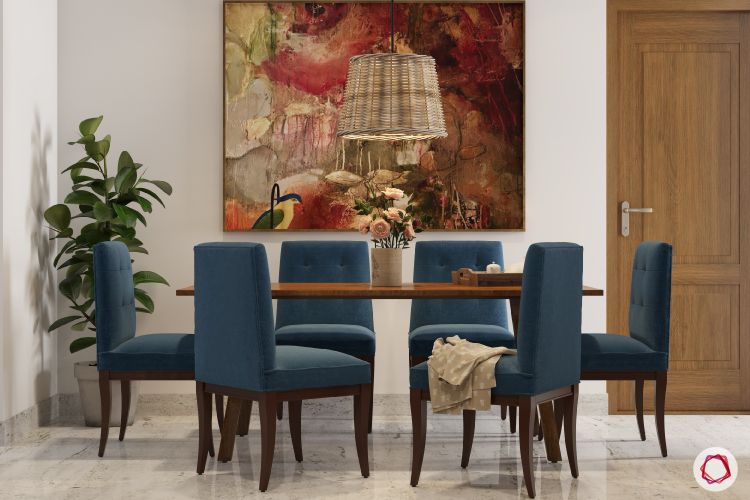 We know you're probably leaning towards a minimalist design, but bare walls are a big let-down. You don't have to go all out on decor, but a large painting, an ornate mirror or even a simple display of crockery on shelves can be a conversation starter.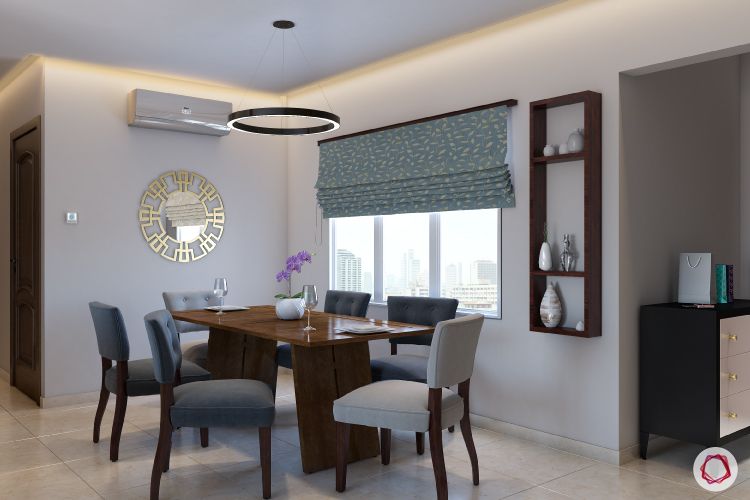 After all, dining rooms are not just about indulging in great food but enjoying lively conversations and family time. Let it reflect your love for life!
Whatever you choose, ensure it mirrors your persona. You get to play the perfect host and be complimented on your tasteful picks! Let us know how these tips worked for you.
— editor@livspace.com