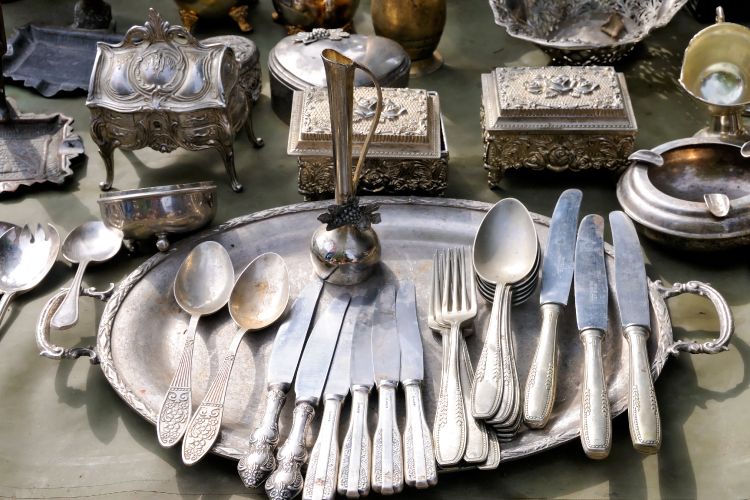 Silver has always played a cultural, traditional, and ornamental role for Indians. From figurines in temples, coins, dinnerware, key chains, lamps, and intricately handcrafted jewellery, these heirlooms of the past, have been passed on and treasured through the generations.
In an average Indian home, this precious metal will usually find its way into a locker or cupboard — except on religious occasions and family festivities. Along with the flowers, candles, and incense sticks, you'll find these treasures polished and gleaming.
We're telling you, don't wait for the big celebrations to break out your heirloom silver. Don't let these beauties lie in a cupboard and gather dust. Instead take them out and give your home, whether it's contemporary, very English or shabby chic, an ethnic twist.
Play by numbers
Sources: El Ramla Hamra & Cactus Creek Daily
If you are fortunate to own not one, but several similar heirloom silver pieces, then remember, there's strength in numbers. From your chandi ki katoriya (silver bowls) to glasses, display them all either on a floating shelf or a coffee table. If you want to add some real ethnic eclecticism, assemble several handheld silver mirrors or spoons on the wall.
Let silver take the centre stage
Sources: Stormy Girls Castle & Ana.RS
If you have a single silver artifact then let it stand out and take the limelight. Bunch feathers into a silver glass, arrange a silver teapot amongst several contemporary ceramic teapots on a tray or frame silver keys like art — the choices are aplenty.
Silver in bloom
A lazy yet stunning way to repurpose the life of silver urns, pots, pitchers, and bowls is by turning them into flower vases. Swap your dining table centre piece with your grandmom's silver bowls filled with tulips and lilies, or show off floating petals on your mom's silver urli (traditional Indian urn) in the foyer. There is something so wistfully beautiful about giving contemporary roles to vintage heirlooms. So, let the world arrange their flowers in ceramic mugs, glass vases, and porcelain bowls, you should pick your silverware.
Pearly beacons
Sources: Labl Studio & Mjlid
Silver lamps can never go out of style. If you happen to own an heirloom silver lamp then don't shy away from using it to set the mood in the dining area or enjoy the somber, filtered lights in your balcony.
The place for your silver baubles and vessels shouldn't be behind lock and key. Bring them out and enjoy its radiant beauty every single day.