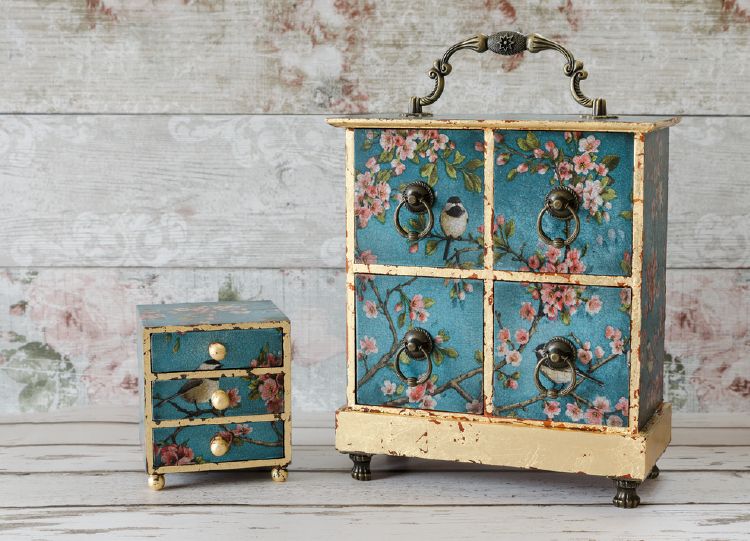 We, Women, love jewellery! Don't we? Bracelets, bangles, rings, chains, anklets, necklaces; you name it, they all seem to catch our fancy.
Buying them is one thing, however, keeping them untangled is a completely different story. I hate it when I have to disentangle chains from one another and rummage and rummage some more to find the exact pair of earrings I'm looking for.
The solution? Brilliant jewellery storage ideas of course!
From jewellery boxes to organized drawers to even cups, saucers, trays, frames and more! Wondering what I'm talking about? Read on to learn about ingenious tricks to help you with your jewellery organization.
Jewellery organization tip #1 The good old jewellery box
Who can ignore the humble jewellery box? Mine is an old one that's seen years and was passed on from my grandmom. A jewellery box is an absolute must-have even for women who aren't all that much into accessorising. Because guess what? It gets the job done, and keeps your baubles in one place.
Antique, wooden, silver, velvet wrapped or even in a leather case, these come in various shapes and sizes, so there's definitely one out there for everyone.
Jewellery organization tip#2 Upcycling kitchenware & crockery
Source: Paige Smith Designs & Paige Smith Designs
Teacups, glass jars, bowls, spice containers, trays, plates, muffin trays — the options are endless! Don't sound like jewellery storage ideas? Oh, but they are!
You can create a little party of tea cups on your dresser for your trinkets. You can line up a drawer with a bunch of muffin trays, and I promise, you won't be rummaging anymore.
Jewellery organization tip #3 Art attack
Source: Monaluna & My So Called Crafty Life
Do you consider yourself to be bold and art-inclined? Try these eclectic yet unique jewellery storage ideas to solve your junk jewellery woes. Insert hooks into a victorian picture frame, and voila you have your very own customized jewellery holder. You could also convert a few figurines, toys and artefacts into jewellery organizers, like the elephant and dino pictured above.
Dreamcatchers, cork boards and something inane as a branch from your backyard can all be repurposed into hip jewellery storage ideas.
Jewellery organization tip #4 For those own too much!
Source: Fresh American Style & Design Sponge
If you're anything like me, then I'm sure your shelves and drawers can't contain your habit of hoarding jewellery. If you're there already, then invest in a fully customised jewellery dresser (of Carrie Bradshaw fame). It doesn't have to be a dresser, a standalone cupboard or cabinet also works. But this also means insane commitment and could mean spending quite a few bucks.
The cheaper alternative? Use a combination of dividers and trays to get neat drawers with mini compartments.
If you've run out of space, then remember there are walls. Funky hooks (like the antlers pictured above) are a brilliant way to create vertical storage for all your necklaces. Got a ladder to spare? Turn that into an interesting necklace holder. Hangers do the job too. And the best part? They all add to the general funk of your room.
I hope you have fun with these ideas as much as I did. Try a few and let me know, which jewellery storage ideas have truly made dressing up a pleasure every day.