Shrinking space and the ever-increasing volume of all the 'stuff' we are hoarding together comprises an eternal challenge. Unlike our fictional friends from the wizarding world, we cannot summon a room of requirement at whim. Thankfully, we can counter this challenge by knowing how to create smart multi-functional living spaces. While magic cannot come to your aid, creativity and innovative design certainly can.

Take a look at how we have offered customisation options to our clients to create non-magical (read muggle) equivalents of the wondrous room of requirement.
Multi-Functional Living Spaces Idea #1: Study, Play, Sleep, Repeat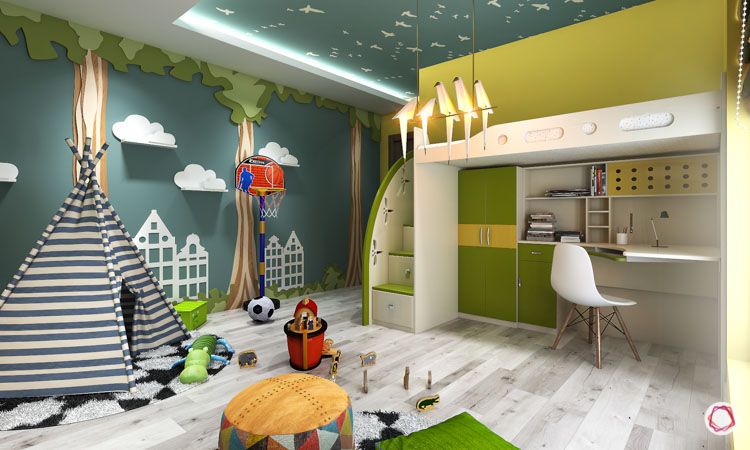 The consolidated sleep and study arrangements in this kids' room leaves plenty of space for the play area. The space saved is used for installing a tent, a basketball net and other tidbits. The wardrobe has also been fitted into the fixture to allow the child plenty of room to play.
Multi-Functional Living Spaces Idea #2: Partitioned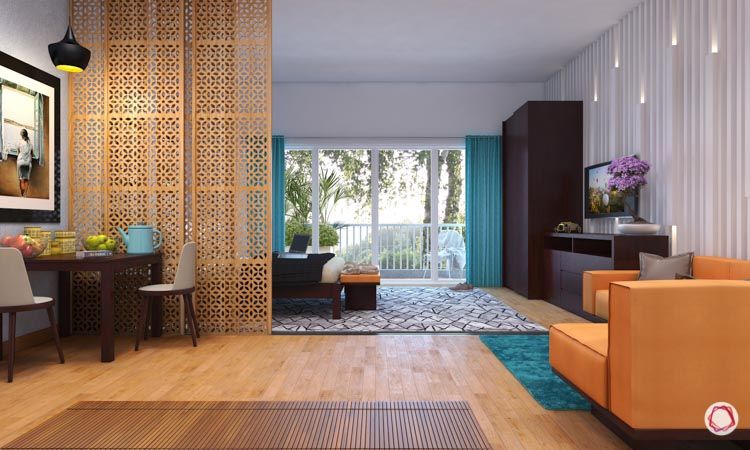 Sliding Doors: The perforated wooden partition works like a sliding door here to separate the dining and living spaces from the entertainment zone.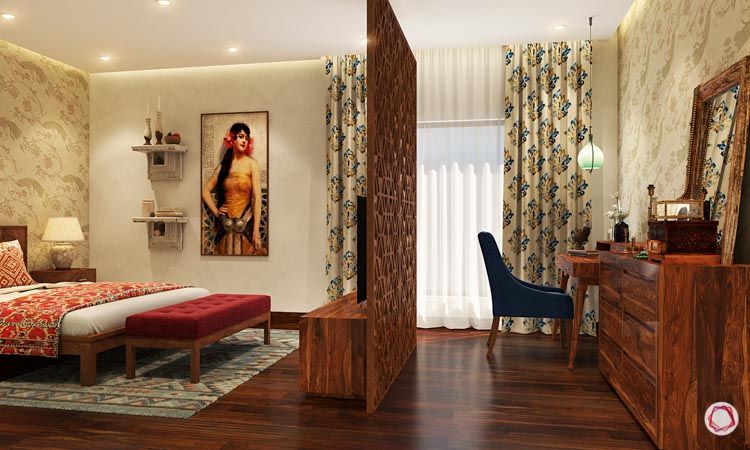 A bedroom for all seasons: This bedroom is being used for four purposes: sleeping, entertainment, work and dressing. One half of the bedroom contains the bed and a small TV unit placed against the partition, while the other half has a sleek study table and a dresser with an ornate mirror.
Multi-Functional Living Spaces Idea #3: Recreation Room
The third bedroom in a 3BHK is usually slated to be the guest room. While this may be a practical thing to do, using the room as a third bedroom reduces its usability. Instead, it can be the recreation or hobby room.
Devotional reading room + Gym: This family has transformed their third bedroom room into a reading room with a bookshelf and a reading chair. There is also a coffee table for casual banter, a pooja shelf fitted on the wall and a treadmill, which makes it a workout space as well. You can always customize and have a sofa-cum-bed instead of a reading chair so that the room can function as an extra bedroom when you have guests.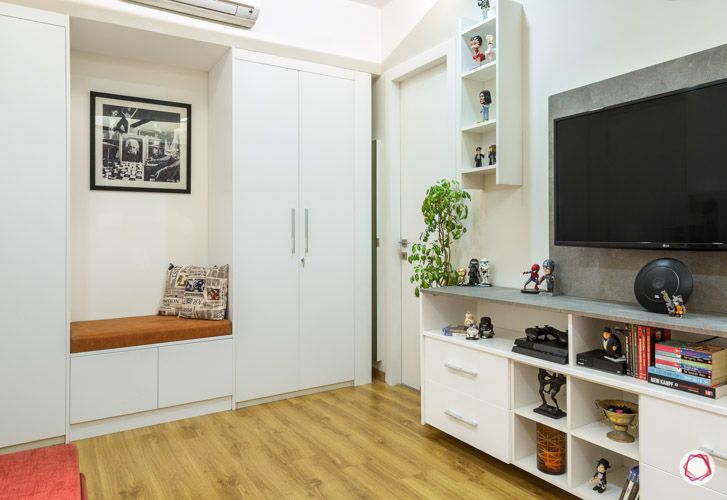 Cozy Cove: When space is scarce, it makes sense to fit everything close to the wall. This home has a cozy sitting spot with pull out drawers within the cabinet. The TV unit indicates that it is an entertainment room that also as wardrobes for storage.

Multi-Functional Living Spaces Idea #5:The Work Station

Traffic is getting worse everyday, so it is no surprise that people are increasingly preferring to work from home. However, lounging on your couch with a laptop is not the best position for your back if you are going to work long hours. You need a working table if not a home office or study.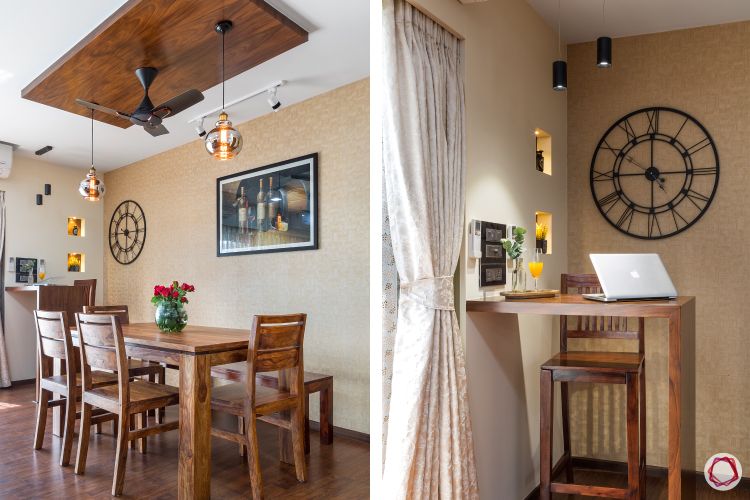 The room with a view: This home has a workstation with a lone high chair at the corner of the living room. The spot is perfect for a quiet evening of catching up on work, preferably with a glass of wine to go along.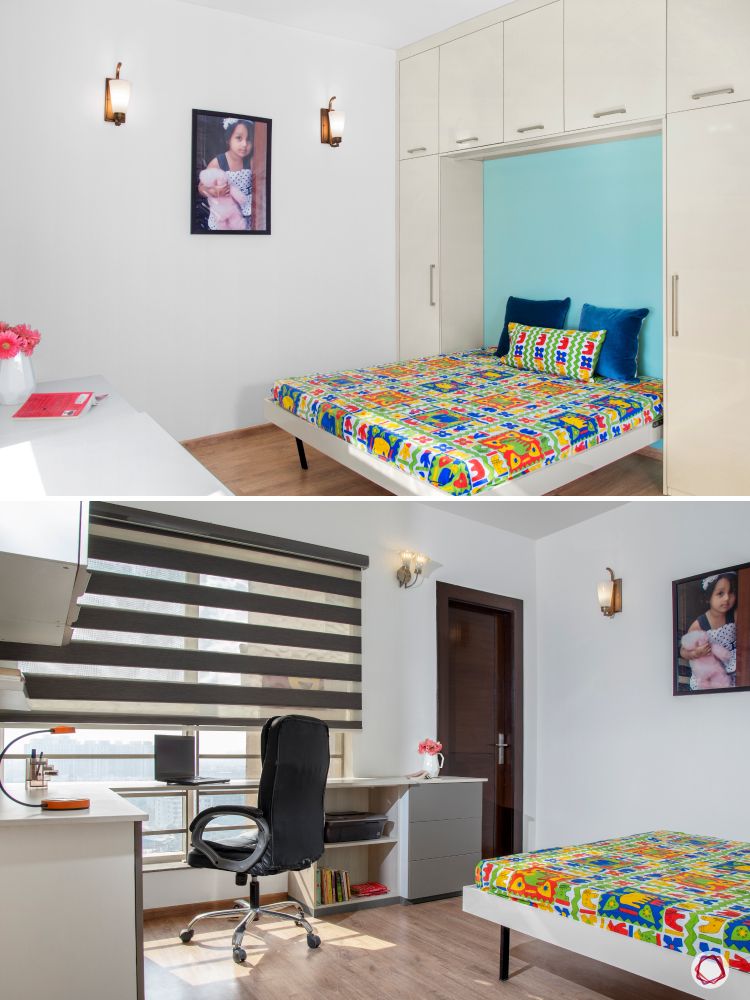 Working Corner: This home has fitted the fold-able bed in its third bedroom right into the wardrobe. This leaves one corner free to set up a cozy work table with a proper high back chair. In fact, the bed can be folded back into the wardrobe completely.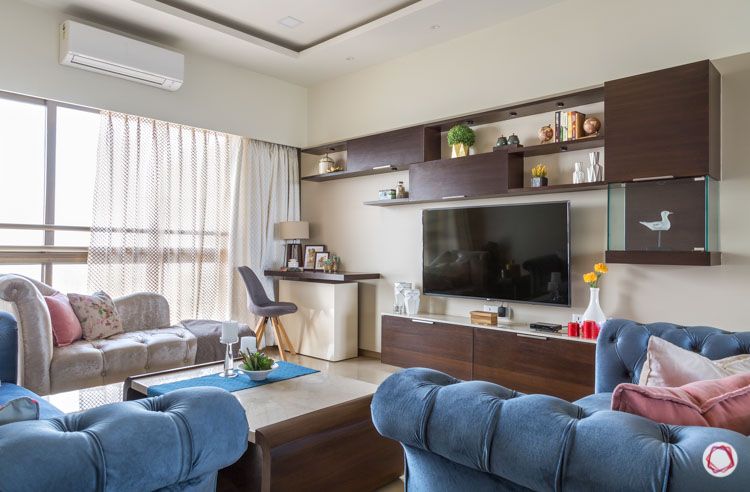 Sunny Side Up: The sunny corner in this living room has a side table that works perfectly as a work station. The chair has been upholstered in grey fabric to fit in harmoniously with the colour scheme of the room.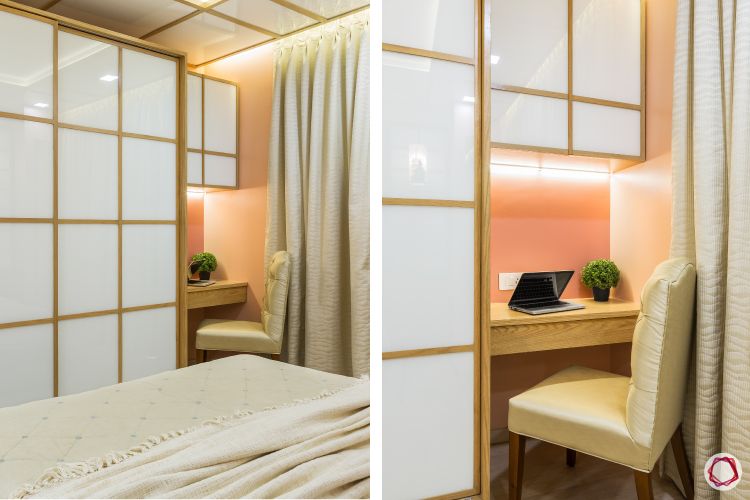 Boxed-In: Working in the privacy of your bedroom – is there anything more comfortable than that? All you have to do is fit in a work table within your storage unit.
Multi-Functional Living Spaces Idea #6: Breakfast Counter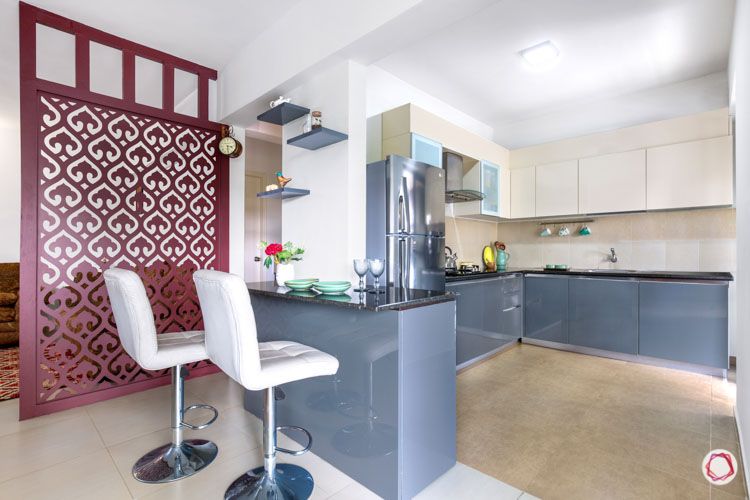 If you are just a couple sharing the house and you do not entertain much, two chairs are all you need make a breakfast counter out of your kitchen slab. This will allow you to use the dining/living room space with more creativity and purpose.

Effective design is all about efficient use of space and minimizing clutter. So it is no wonder that the above design ideas can help you get more from your existing space.

Check out living room designs:
If you like these ideas, also explore 9 Ways to Free Your Home from Clutter to further optimize space.
Send in your comments & suggestions.