When faced with a compact room and open floor plan, you will need a deeper-than-deep pool of design inspiration. There are countless ways to approach a see through room partition ideas beyond the layout of a room and how you position it. The colour you use, the materials you incorporate and various other tips are all ways to make a partition the most eye-catching and unique element at home.
These see through partition ideas for every room will help you take a hassle-free plunge into the partition world. Whether it's to help you demarcate a room or to camouflage a nook that is prone to getting messy, partitions can be a decor saviour. Here's how:
Room Partition Ideas #1: Glass with Wooden Frame for Entryways
There are different reasons for taking this decor route. An entryway is a great place to remove your shoes, put down your keys and drop your mail. However, not all homes come with an entryway. If you want to create an entryway when there isn't one, a room partition is what you are looking for. A glass partition with a wooden frame works best if you don't want to separate the foyer from the living room completely.
Room Partition Ideas #2: MDF Partition for Living Rooms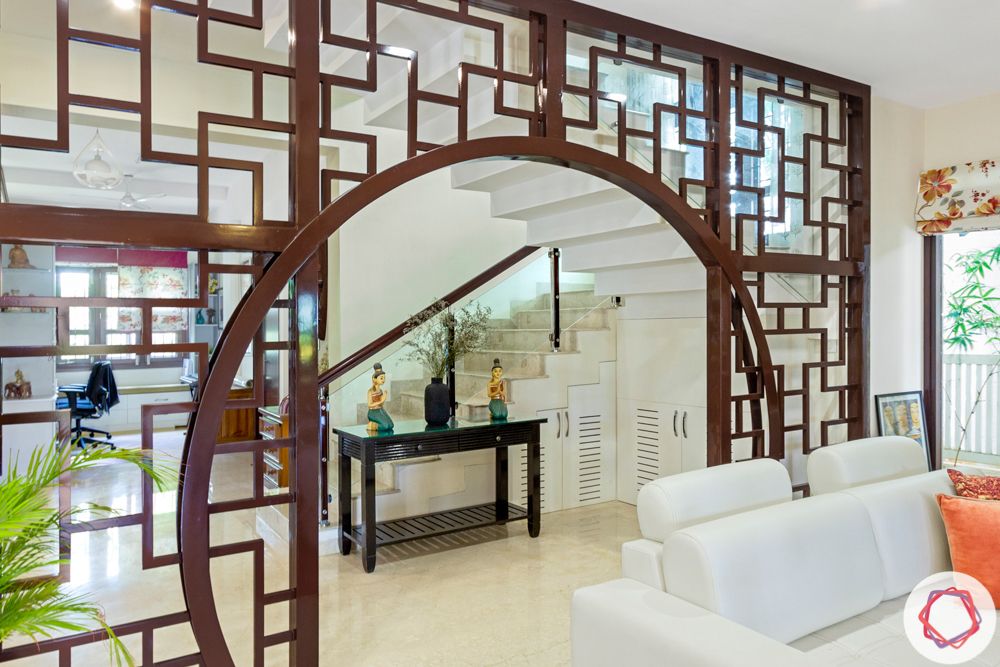 If you have something of an architectural interest, this structure is sure to spur on your creativity. Apart from dividing the living room, this grand MDF partition is a great way to further dramatise its functionality. As it separates the living room from the staircase, it is see through enough not to close off the entire room. So, use a sizable structure to display your practical yet artistic side loudly and proudly.

Room Partition Ideas #3: Stained Glass Partition for Dining Rooms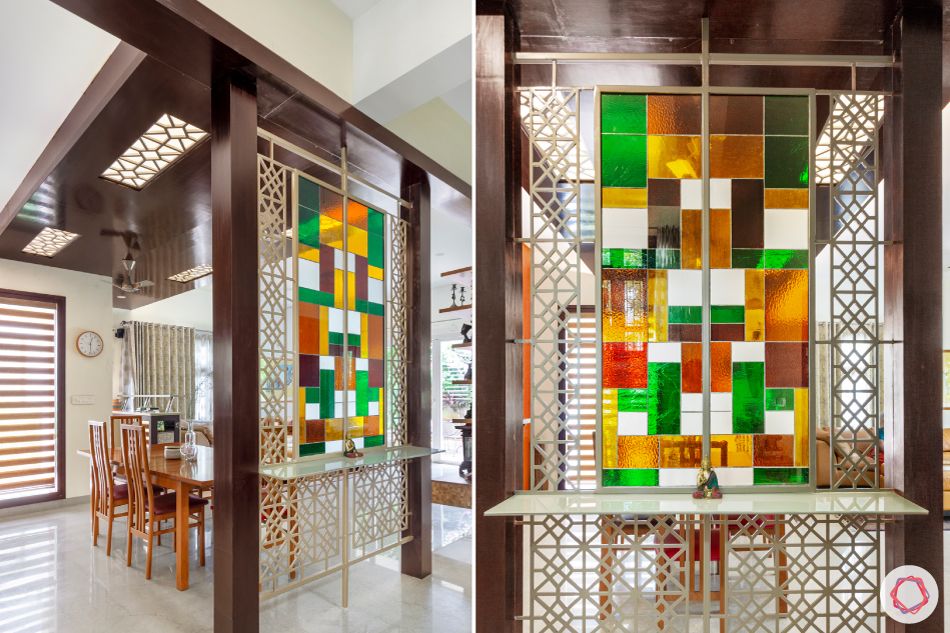 With the upsurge of open or compact layouts in homes, it is possible to add dining spaces into fluid area. Dining rooms that merge into other living spaces with no distinguished boundaries can be separated with the help of partitions to give it a more formal feel. Adding plenty of colour and pomp to this dining room is a CNC jaali partition with stunning stained glass. Designed perfectly for a bright sunlit room, this see through partition can create magic.
Room Partition Ideas #4: Wooden Partition for Kitchens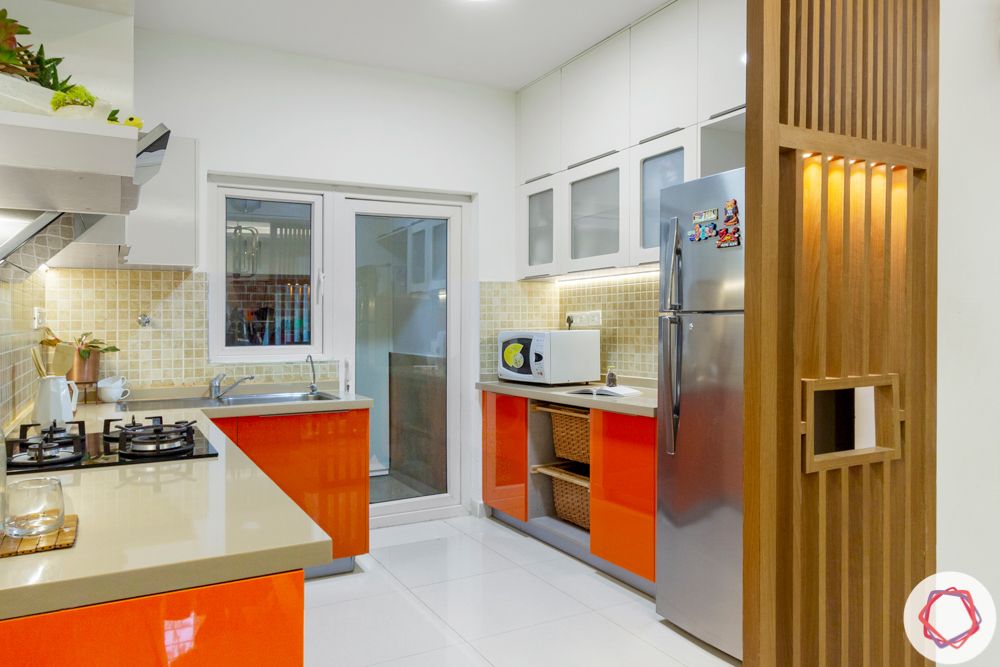 In homes where kitchens open up into the living room, visually separating these spaces can be a challenge. Besides a breakfast counter or dining table that separates the two areas, a partition can help define boundaries. These wooden rafters create that boundary without completely blocking the light and ventilation between these two spaces.
Room Partition Ideas for Bedroom #5: Panelled Partition for Bedrooms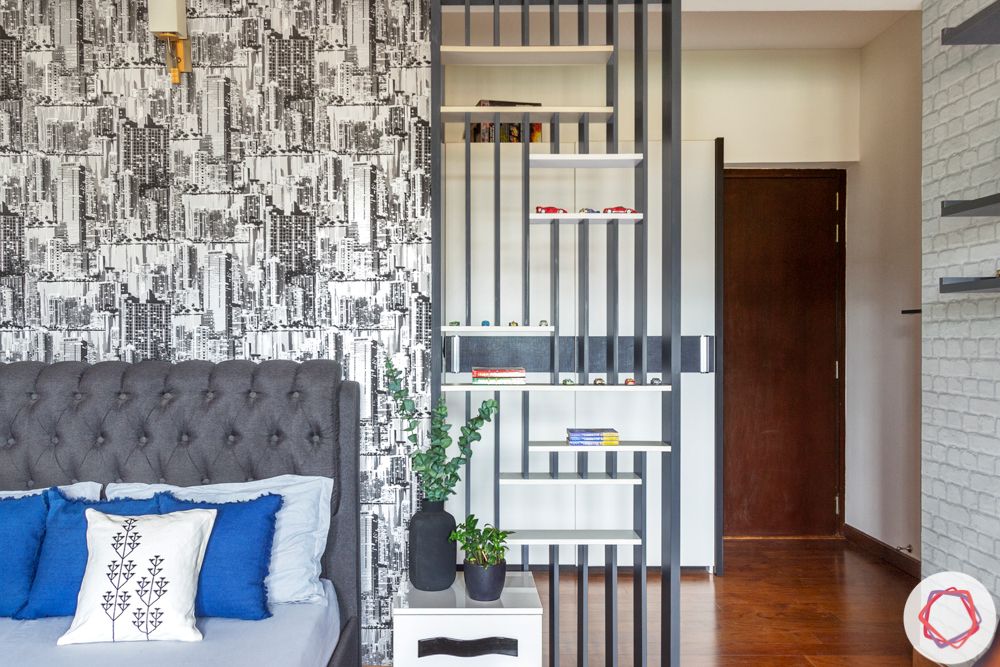 If you're thinking of constructing a wall to section-off your bathroom door from the rest of your bedroom, then think again! Opt for a panelled partition with built-in shelves to make it a multifunctional element. Keep in mind, a minimally designed partition can do wonders to a compact room without hampering the aesthetics and functional aspects of it.
Room Partition Ideas #6: Glass and Wood Pane for Pooja Rooms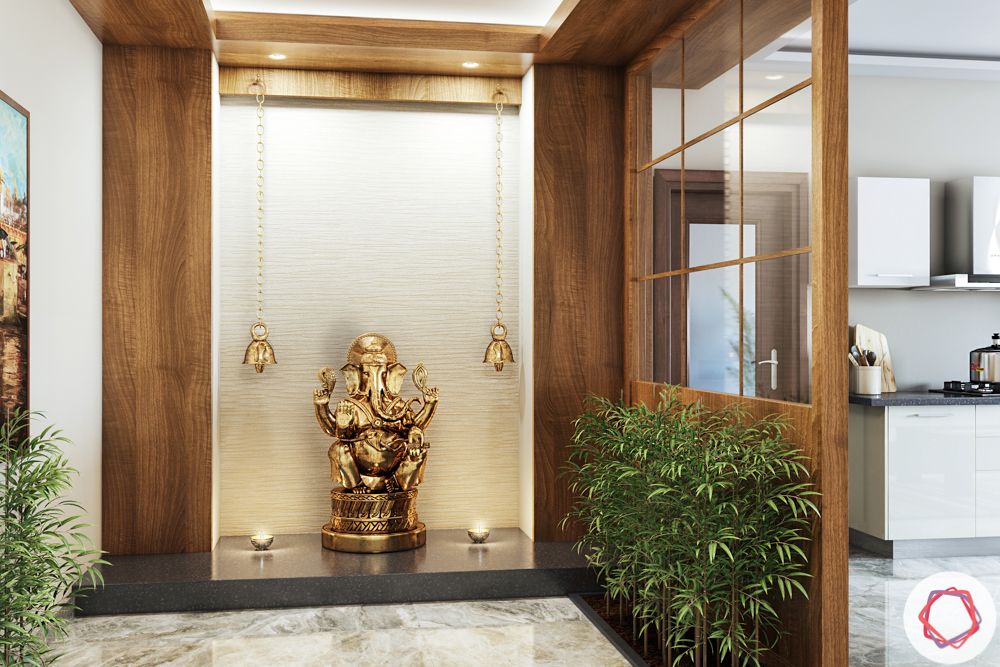 When a home does not have a dedicated pooja room, you can create one. Make a warm and well-lit boundary by adding a wooden partition with glass panes. If you are not short on floor space or simply want the pooja room to look as serene as possible, add a few planters to this partition.
If you enjoyed reading this article, take a look at Stylish Divider & Partition Ideas
Send in your comments and suggestions.