When we wake up each morning, it is up to us to be happy or sad. Unless something terrible has happened, we should always choose to look at the brighter side of life. One way to do that in the literal sense is to promise yourself to make your day a happy one, when the sun shines through your "glass" windows.
Out of all the materials that you use at home, glass is probably already used in a lot of places. It is often perceived that glass can only be utilitarian, rather than decorative. But did you know that it can add to the aesthetics of your home, if used in the right way? Let us tell you how.
Room Decor with Glass Tip #1: Tabletops
When it comes to glass, this material is capable of helping us achieve the goal of making space appear less cluttered, visually. Its property of transparency gives a feeling of cleanliness and spacious interiors and helps transform spaces. Getting tabletops made out of glass is a great idea for anyone who's trying to add that dainty touch to their tables.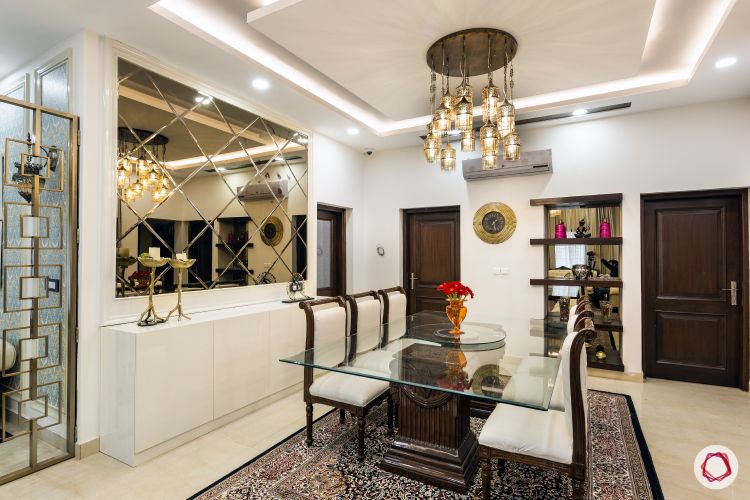 The contemporary world of design revolves around the concept of minimalism and how to add an aesthetic touch to interiors with the right choice of materials. In this race to the top, glass tabletops stand a fair chance to win the award for being a classic addition to your home. Get one for your dining table and do not forget to finish it up with statement legs, since that is what will be in focus.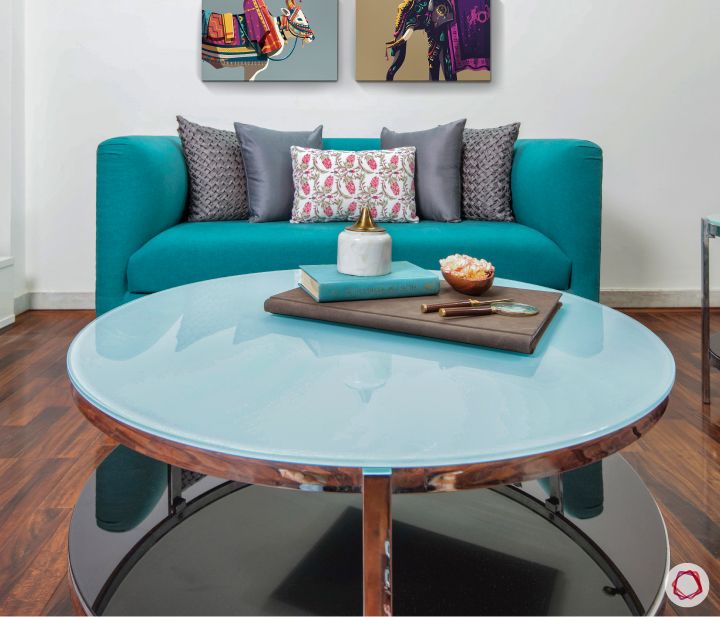 How about matching your interiors with your furniture? This home has interiors that are perfectly in sync with each other. Match your sofa or any living room furniture to the centre table to make a statement. Here, the designer has given the clients a stained glass tabletop that resembles the colour used for the upholstery of the sofa.
Room Decor with Glass Tip #2: Glass Doors & Partitions
Glass partitions can do both — divide and decorate. Glass doors and dividers are perfect for compact apartments where you are required to make the most of available light and open the space up. These transparent beauties are best used in common areas where privacy is not a concern.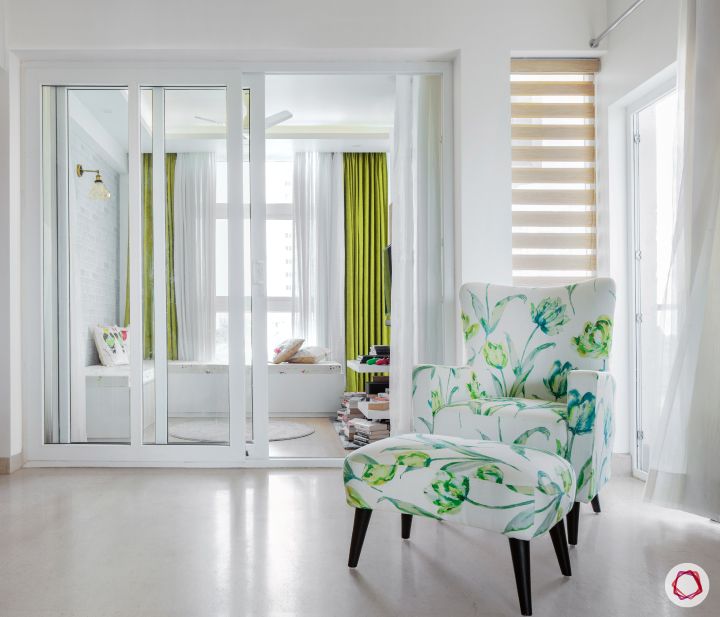 If your home enjoys a lot of natural light then make sure you do not obstruct it with solid doors and windows. Allow all the light to flow in through glass doors and windows to illuminate your interiors. A glass partition is ideal when you're trying to divide a common area into different sections.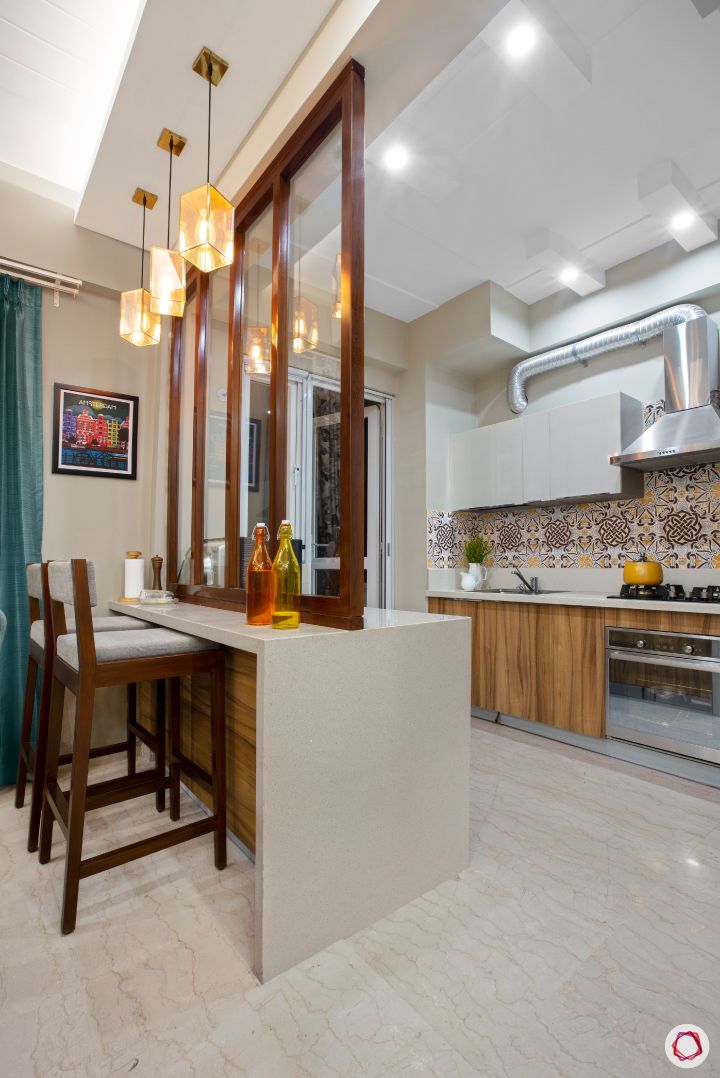 How about creating a see-through partition with the help of glass shutters? Create a divider to separate your kitchen and the breakfast counter so that you're away from all the huddle, but still not completely isolated. This is great for families where one person spends a lot of time in the kitchen. It helps to maintain connectivity with the rest of the family members.
Check out partition ideas:
Room Decor with Glass Tip #3: Closets & Cabinets
Typically, a clear variety of glass is used for display and crockery cabinets. Frosted glass can be used for cabinets in the kitchen, bedroom and study areas where the primary function is storage. Glass has been historically used for giving finishing touches to cabinets but its use in closets is an essentially modern phenomenon. The use of glass for closets suggests an openness of design that is characteristic to minimalistic style, which is catching up worldwide.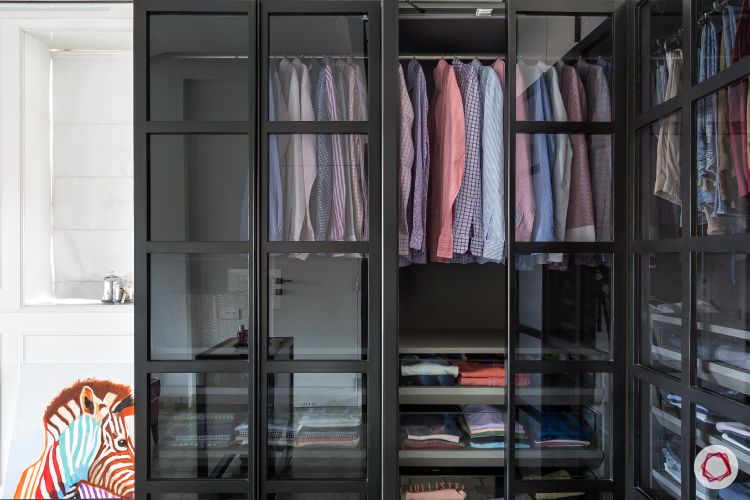 This particular walk-in-closet features clear glass on a checkered metal frame. This design works for people who can manage to keep the inside of their closet tidy. If you do not swim in that pool, pick frosted or tinted glass instead!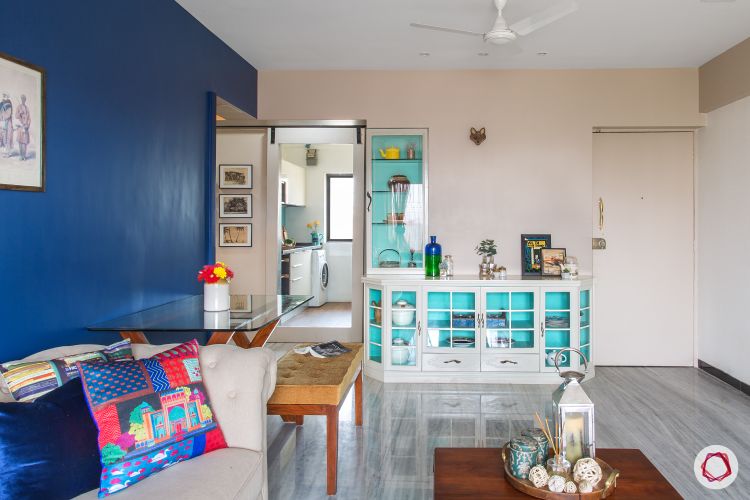 This crockery cabinet has a traditional Victorian design, but its white finish with a sky blue backsplash gives it a modern edge. This transitional piece would fit into any kind of setup be it contemporary or ethnic.
Room Decor with Glass Tip #4: Lanterns & Lighting Fixtures
Lighting is an integral part of setting the tone for a home. It can accentuate or highlight some elements within the space and underplay others. It basically changes the entire look and feel of the house. Glass is extensively used in lighting fixtures. In fact, a variety of glasses such as stain glass, tinted glass and plain glass can be used for mood lighting.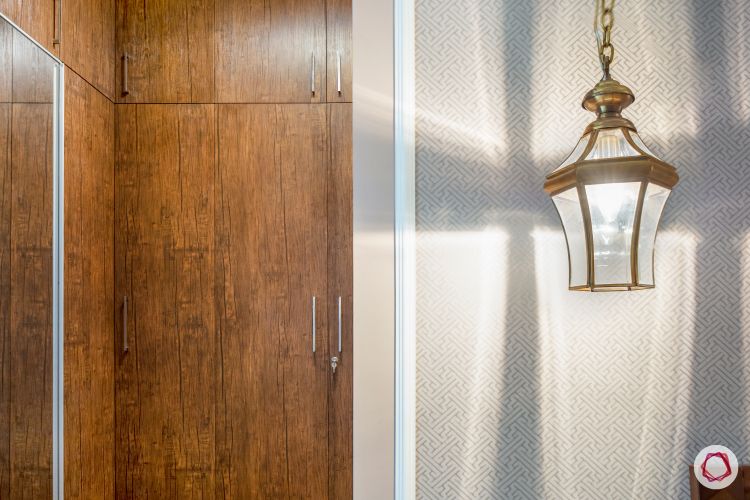 Lanterns have come a long way from holding candles to sporting LEDs. However, they are still, almost always, made of glass.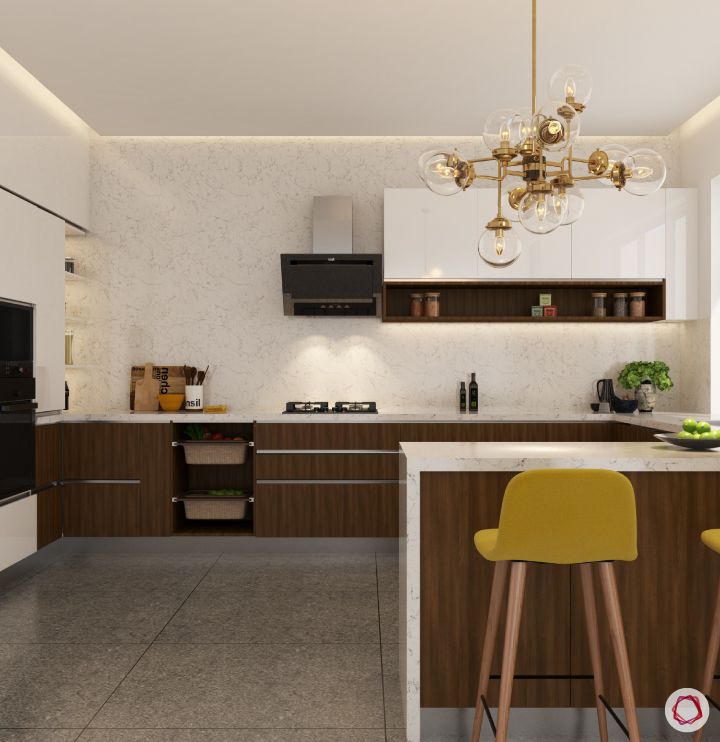 What we see above is a lighting fixture that is industrial in style with naked bulbs and stark metal rods.
Room Decor with Glass Tip #5: Decorative glass
If plain glass seems a tad ordinary, you could turn to decorative glass to stir in a little drama. These can spruce up your interiors with beauty, class and a pop of design. There are several types of decorative glass as well like back painted glass, stained glass and etched glass. So just take your pick!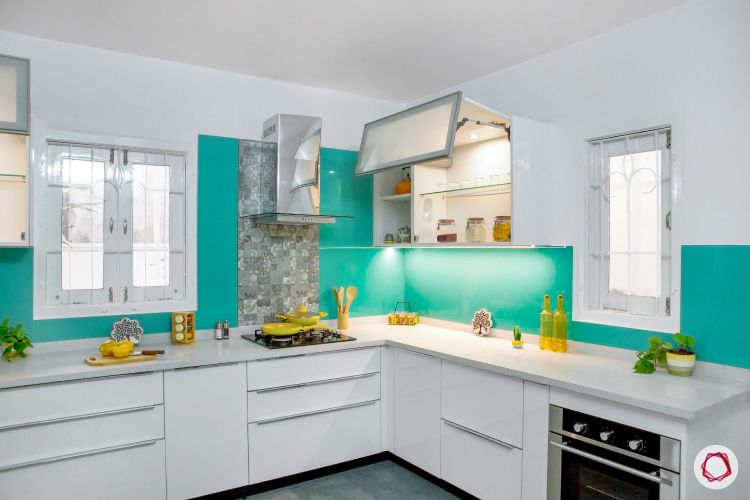 Back Painted glass: This kind of glass is just what its name suggests; it is glass that has been painted on one side. So it is no longer see-through but a solid opaque colour. Here it is has been used as a backplash instead of ceremic tiles.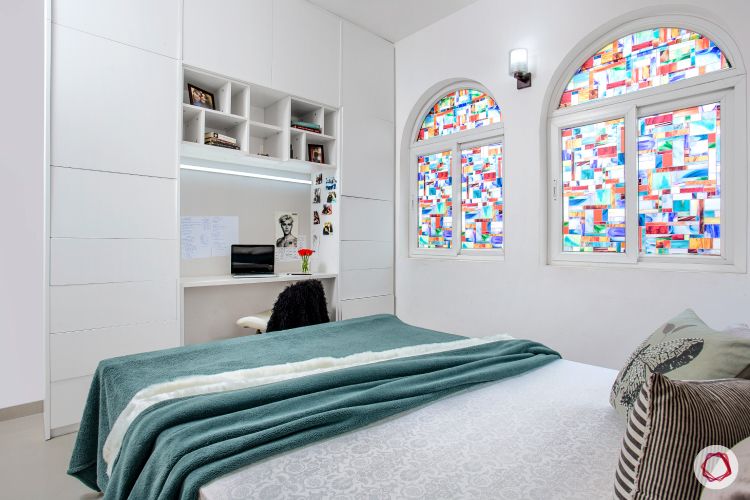 Stained glass: This variety of glass is tinted with colours by adding metallic salts while manufacturing the glass. It is not completely opaque but offers a mystic or kaleidoscopic effect especially when light passes through it. It can used for ornate window or groovy lanterns.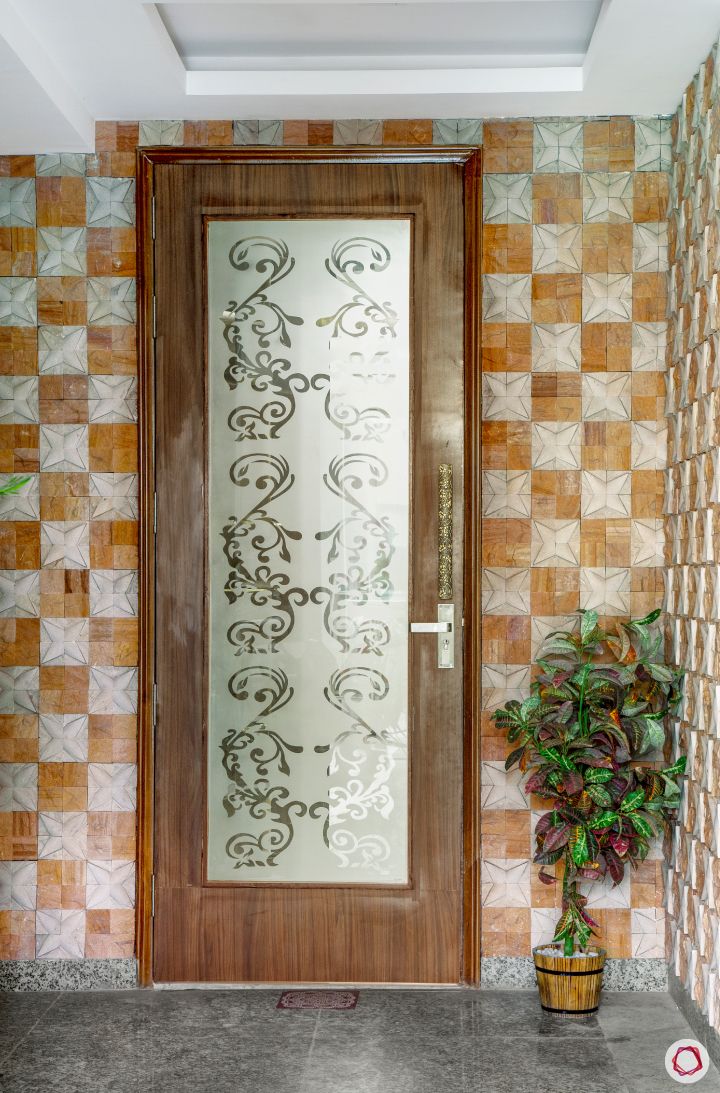 Etched glass: This type of glass is created by using abrasive or caustic elements to form patterns on the glass. Etched glass is ideal for dainty windows or doors and even glass partitions.
Glass is a material that instantly adds glamour to the interiors or a home. Moreover, it is not very expensive. It is also a very versatile material as can be seen from the list of its uses. These tips will help you explore all the options for using glass while decorating your home.
If you enjoyed reading this post, also read Glam & Grace: Glass Wardrobes for Trendy Folk.
Send in your comments and suggestions.