Wondering how to divide an open plan house or compact space without cutting off light? Living room divider cabinet designs to the rescue!
Can cabinets act as a divider in a living room?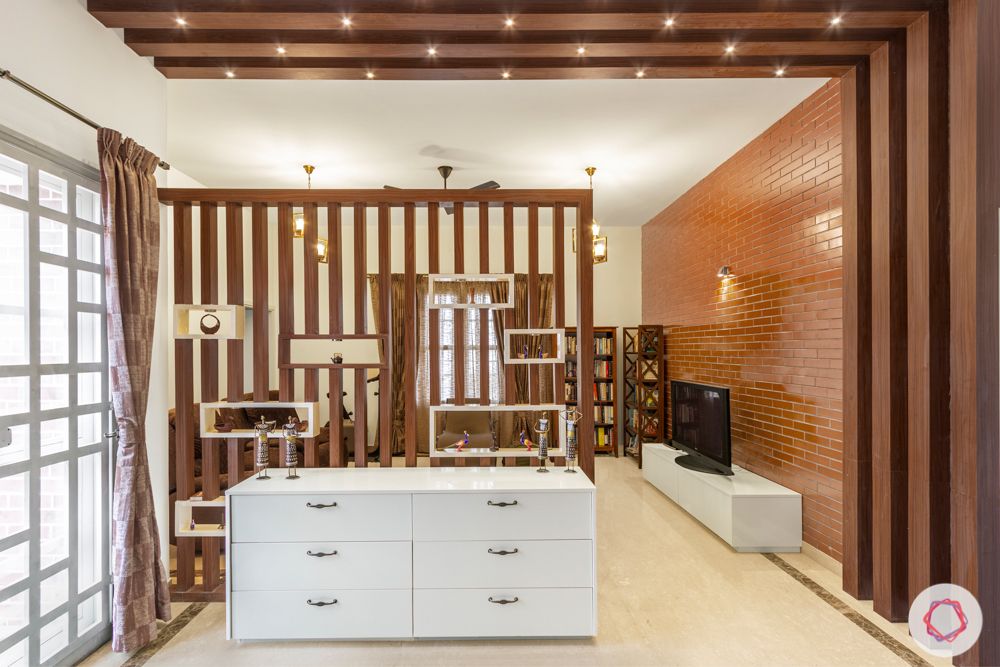 Cabinets make for great living room dividers as they use available space to practical ends. They're ideal for open plan houses and compact spaces where dedicated areas would be nice to have but storage is an important consideration. It also allows light to pass through without compromising on privacy or cosiness.
How to use cabinets as room dividers?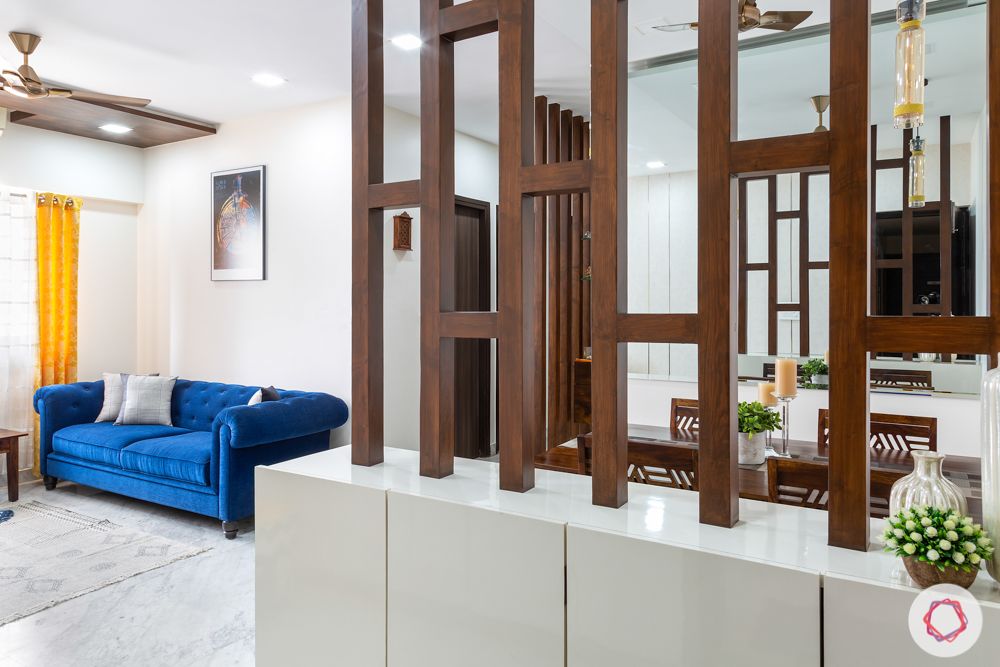 Many modern homes follow open plan designs where the living and dining rooms are merged into one large space. To create a task-oriented distinction between the two without the construction of an actual wall, living room divider cabinets can be used. They can be placed as is if they're long enough because they function as a fence of sorts. Long cabinets efficiently divide a space into two while also providing storage space. Cabinets with additional vertical details such as wooden pallets add dimension and grandeur, enough to forget that the basis of the divider was a humble cabinet!
Types of cabinets that can be used as dividers in living rooms:
Living Room Divider Cabinet Designs #1: Display Unit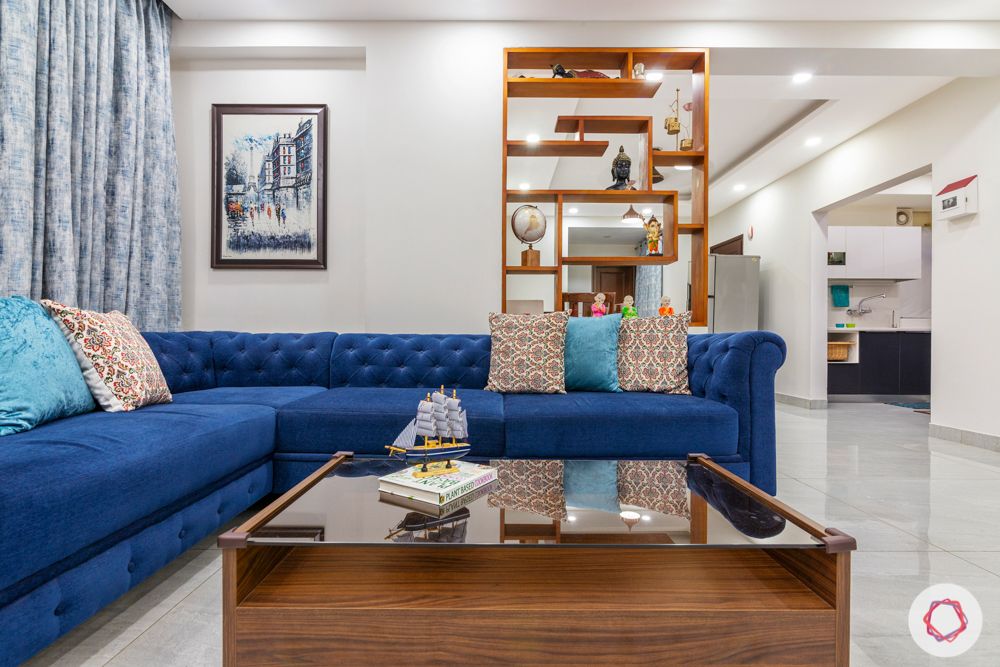 Open shelf cabinets are great living room dividers because they allow the flow of air and light between rooms without causing visual hindrance. These work especially well homeowners that don't necessarily need privacy between rooms but just separate spaces.
Living Room Divider Cabinet Designs #2: Bar Unit
Want to create a quirky bar area for when you have friends over but don't have the square footage? This divider successfully divides the room into two while eliminating the need for a separate bar cabinet or shelf. The open design allows the bar to be accessed from both sides, which is ideal to allow flow of people and talk between spaces.

Living Room Divider Cabinet Designs #3: TV Unit-cum-display unit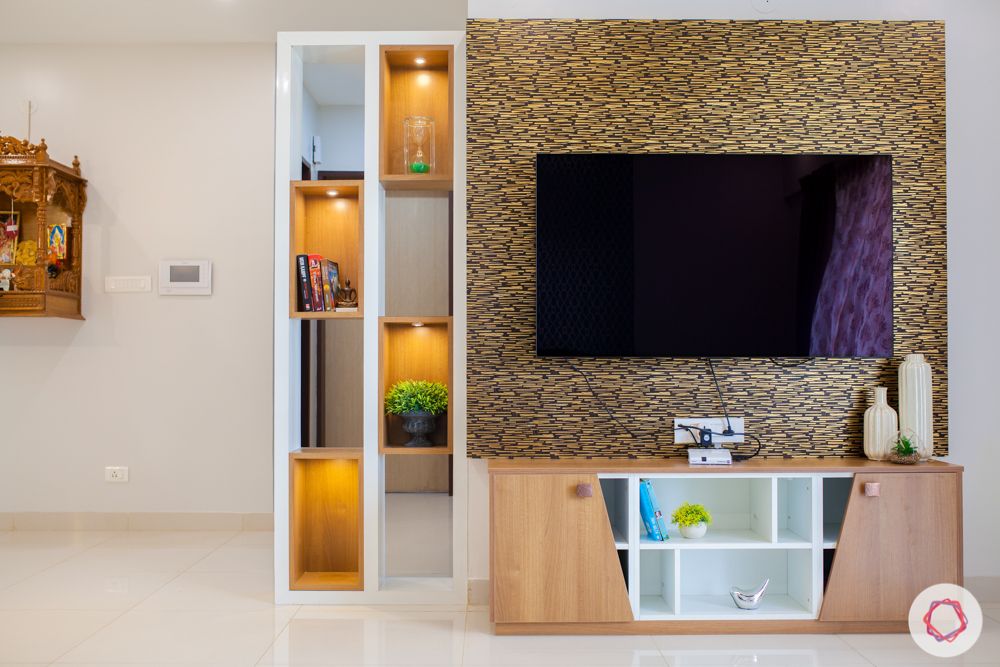 If your house doesn't have a dedicated wall to build a media console, living room divider cabinets will do the job. In this design, the wall-mounted TV is backed by an eye-catching stone pattern and flanked by a rectangular partition shelf that also extends the existing TV unit.
Living Room Divider Cabinet Designs #4: Wooden Cabinet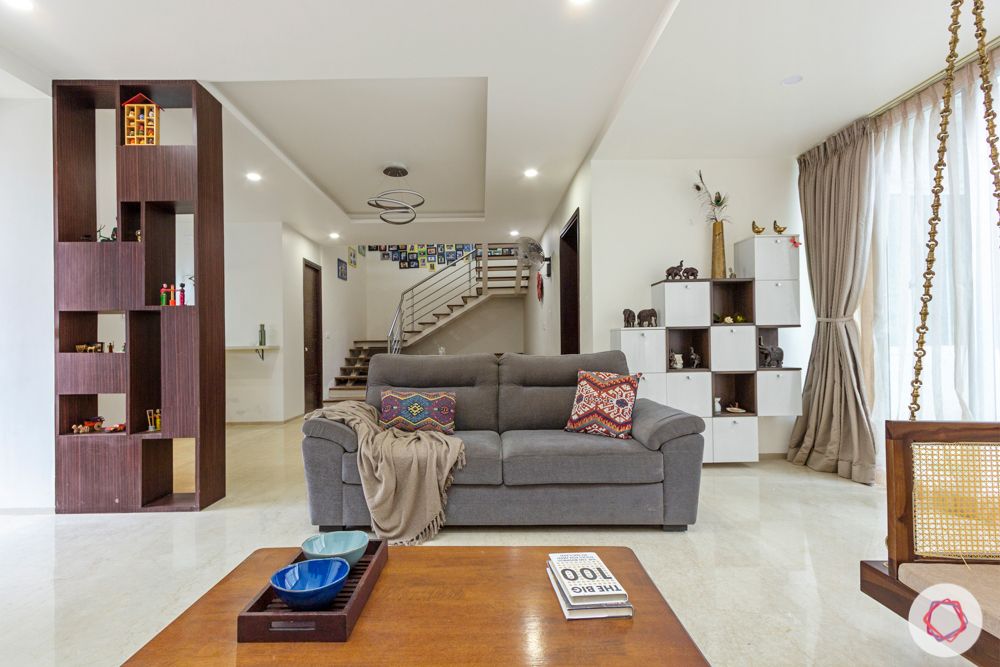 Create drama and dimension with peek-a-boo style divider cabinet designs. In this home, the brown cabinet features open shelves perched on filled-in blocks of wood. The open shelves are ideal for displaying trinkets while the closed blocks demarcate the space without blocking off light.
Living Room Divider Cabinet Designs #5: Stylish Storage Unit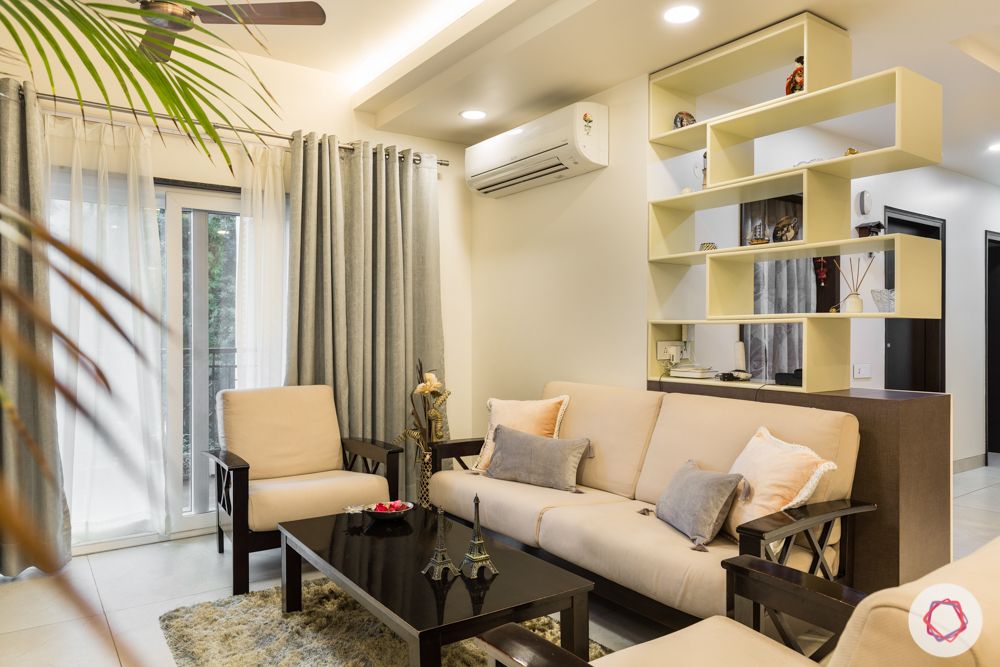 If your living room is extending out into another task-oriented space like a dining room, a good way to demarcate the two is to use a divider cabinet that pulls double duty as a display. In this home, the storage cabinet is accessible from the dining room, but the layered open shelves add interest on both sides of the house.
Living Room Divider Cabinet Designs #6: Bookshelf or Magazine Rack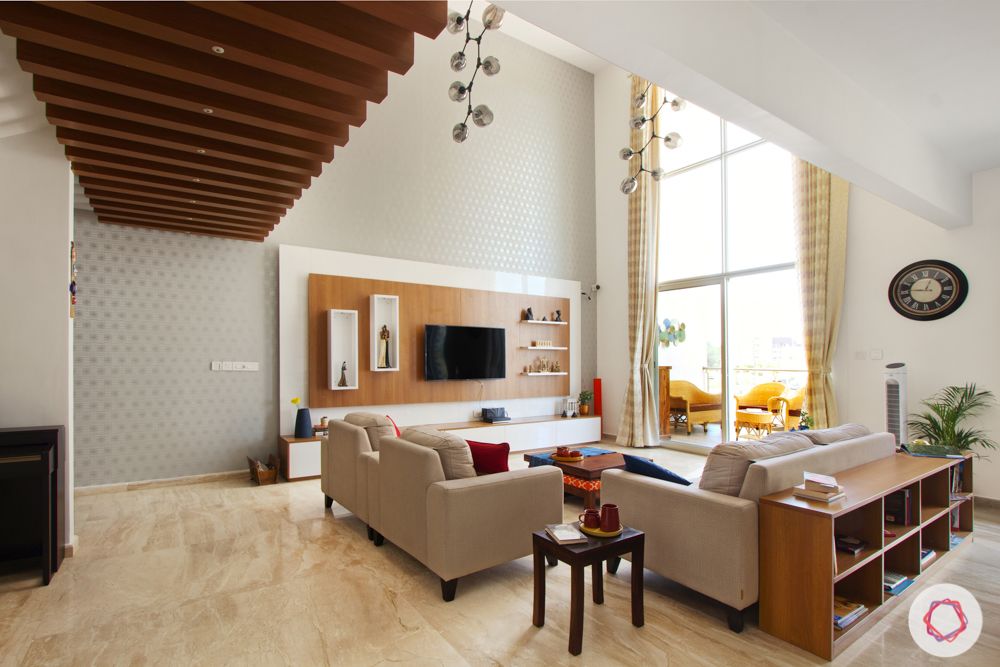 Use low bookshelves to add more storage to a living room without taking over an entire wall. This tactic is discreet in that it doesn't tower over the space but provides cubbyholes to store books or magazines.
Living room divider cabinet designs are fool-proof ways to split an open plan area into two and also bring in more storage and dimension into the space!
If this was interesting, you might like reading this too: Discover New Jali Partition Designs.
Send in your comments and suggestions.