Your dining room is one of the most common gathering zones in your home after the living room. The dining room decoration can range from lighting ideas to different decor and colour options. There are a multitude of dining room decorating ideas that you can explore for an interesting design.
Whether you're looking for a modern dining table design or dining room decor items to use at home, you're bound to find it here. So, check out this list of dining room decorating ideas to get started.
#1: Dining Room Decoration Ideas With Lighting Options
Lighting is a no-brainer when it comes to dining room decoration ideas, as it instantly uplifts the look of your space. While chandeliers are a typical option for your dining hall decoration, you can also achieve a more contemporary design with sleek lighting options.
Lanterns, pendant lights and cascading bulbs are a few examples of the fixtures you can use in your dining room. Similarly, there are a variety of styles you can choose from, and they help you create a beautiful focal point.
Also Read: 9 Beautiful Dining Room Chandeliers You Will Love
#2: Dining Room Wall Decor Ideas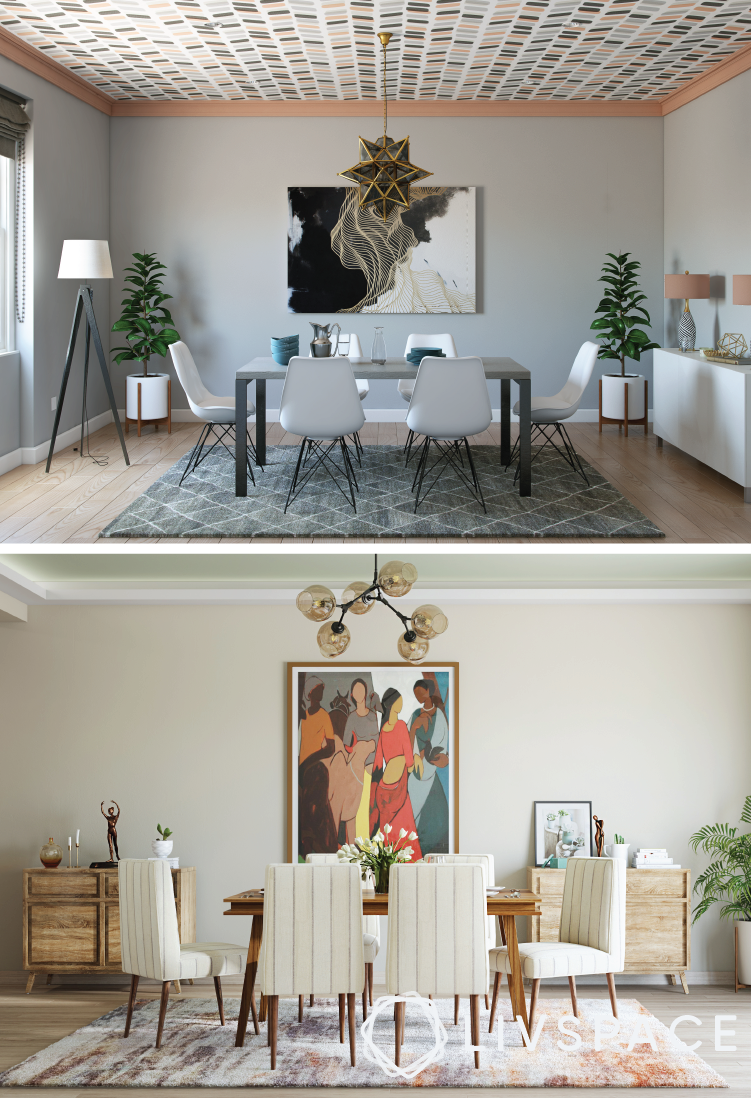 A great way to bring in an element of art into your dining room decoration is to choose artwork that speaks to you. This way, you can easily lend a personal touch to your space. Hang a quirky painting or an illustration or even a framed photograph to elevate your dining room wall decor.
You can even add a mini blackboard to scribble recipes or drawings every now and then. If you're wondering about how to select the right dining area wall decor, check out these 5 effortless ways to pick art for your walls.
#3: Dining Table Decor Ideas Featuring Indoor Plants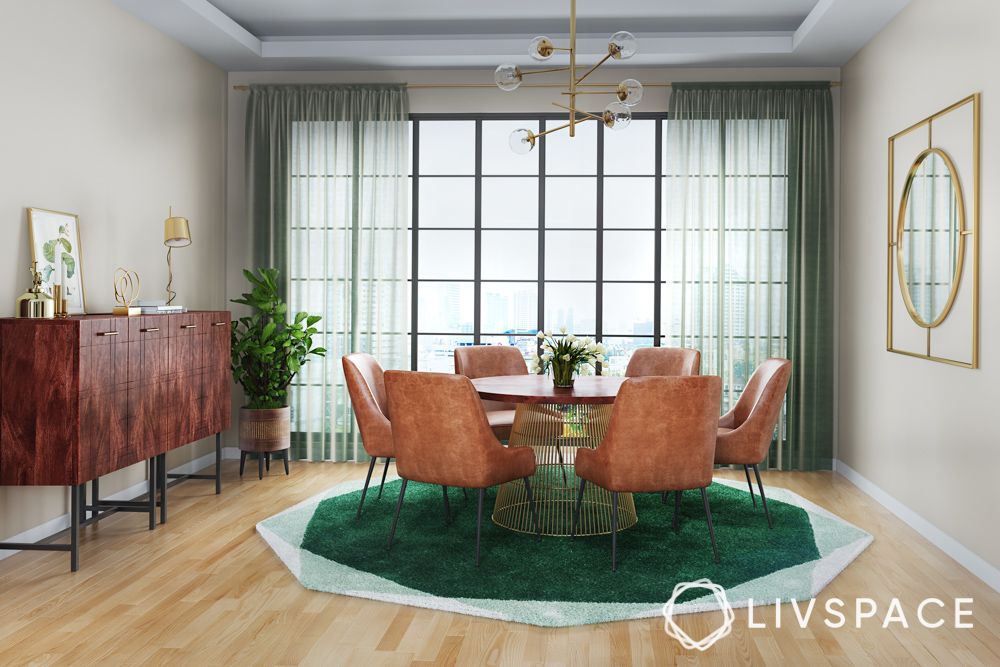 When it comes to dining table decor ideas, nothing works better than incorporating some natural elements. Plants serve as great dining room interior design, especially as a centrepiece. Similarly, you can also put plants and flowers in the corners to lend a positive and fresh spin to the ambience. They cost next to nothing and brighten up your dining table decor beautifully.
#4: Dining Room Decoration With Mirrored Panels for Space-Optimisation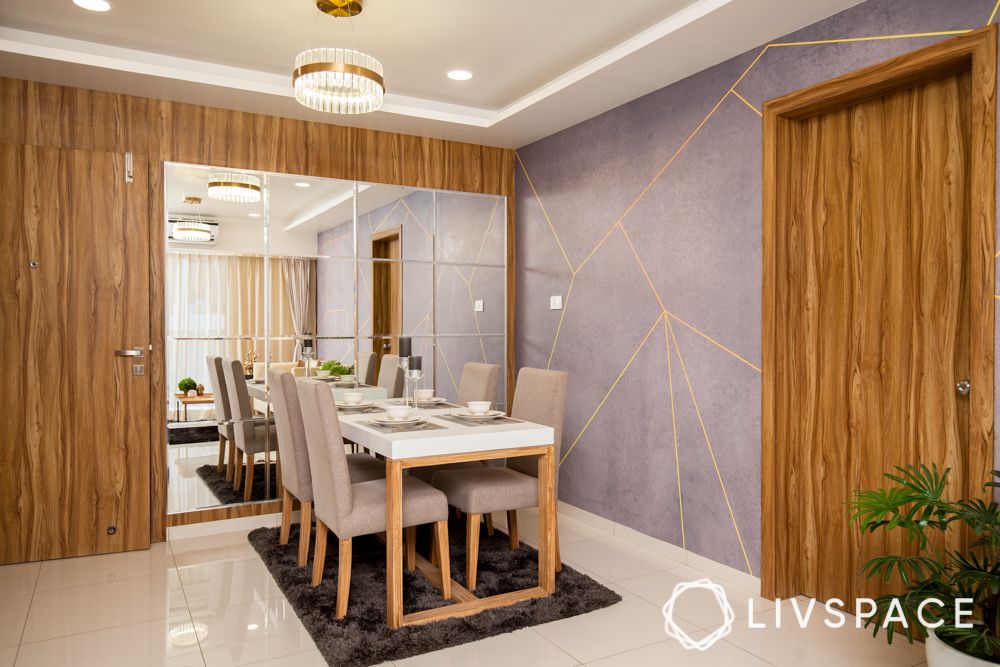 Apart from elevating the look of your modern dining table design, mirrors create the illusion of space. In the above setting, the mirrored panels play up the length of the large dining area. Similarly, if your dining room is in a very narrow space, you can add depth by adding a tall mirror as dining decoration.
#5: Dining Room Decor Ideas With Statement Pieces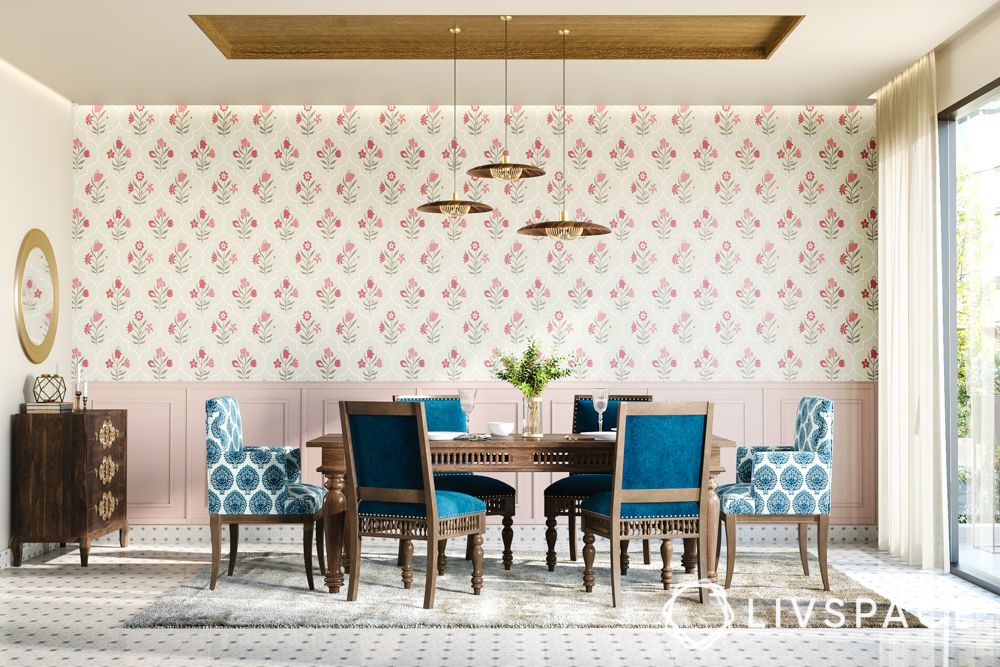 With just a single statement piece, you can set the tone of your space while setting up your modern and classy dining room. You can either make this happen with a smart dining table design, or you can introduce accent chairs and wallpaper to add to the look of your dining room decoration.
Similarly, the warli wall art in this dining area beautifully complements the furniture, thus creating a cohesive look. Give it a try, and you won't be disappointed.
#6: Bring in Some Texture With Rugs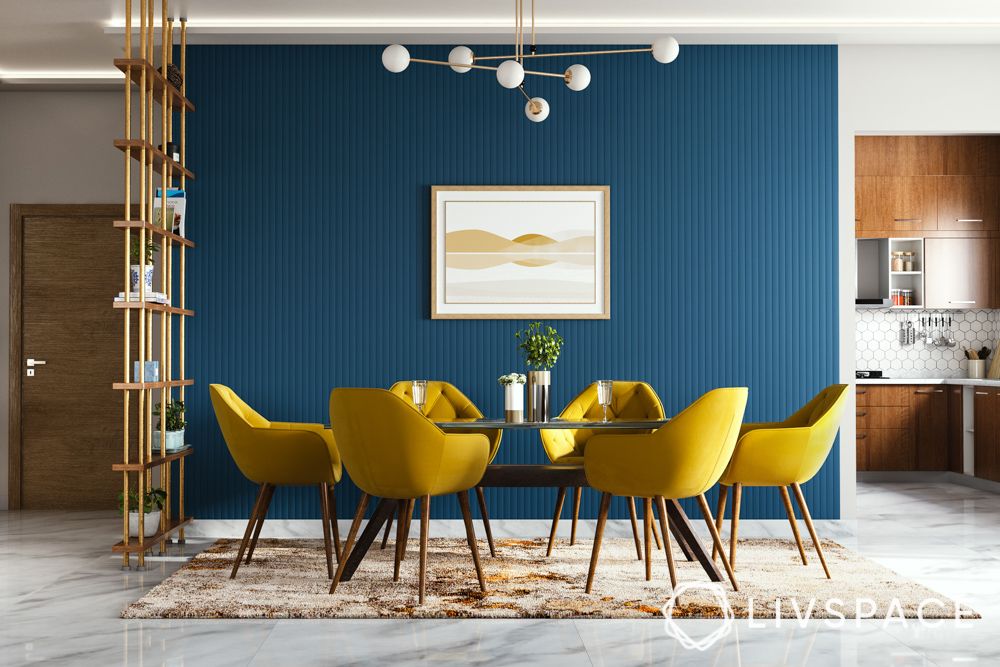 Out of all dining room design ideas, rugs are the easiest way to play with textures. Most Indian homes today have an open layout, and rugs are the best way to demarcate the dining space from the adjoining kitchen or the living area.
Similarly, Indians love wood finishes and most dining area decor have wooden furniture. That leaves us with plenty of rug colours, prints and patterns to pair with a versatile colour like brown.
#7: Decals As Dining Room Wall Design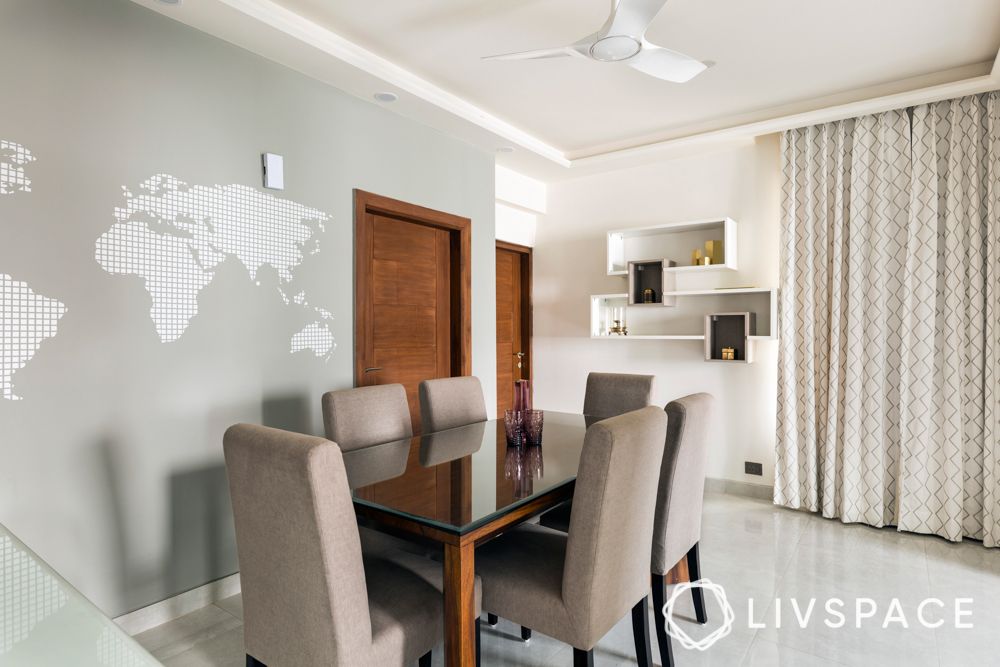 Walls have immense potential to change the design of any room. For the same reason, adding decals to your dining room wall design can work wonders in lifting the vibe of your space. Not just that, it's an extremely fun DIY project to try out as well!
#8: Painted Walls Never Go Out of Style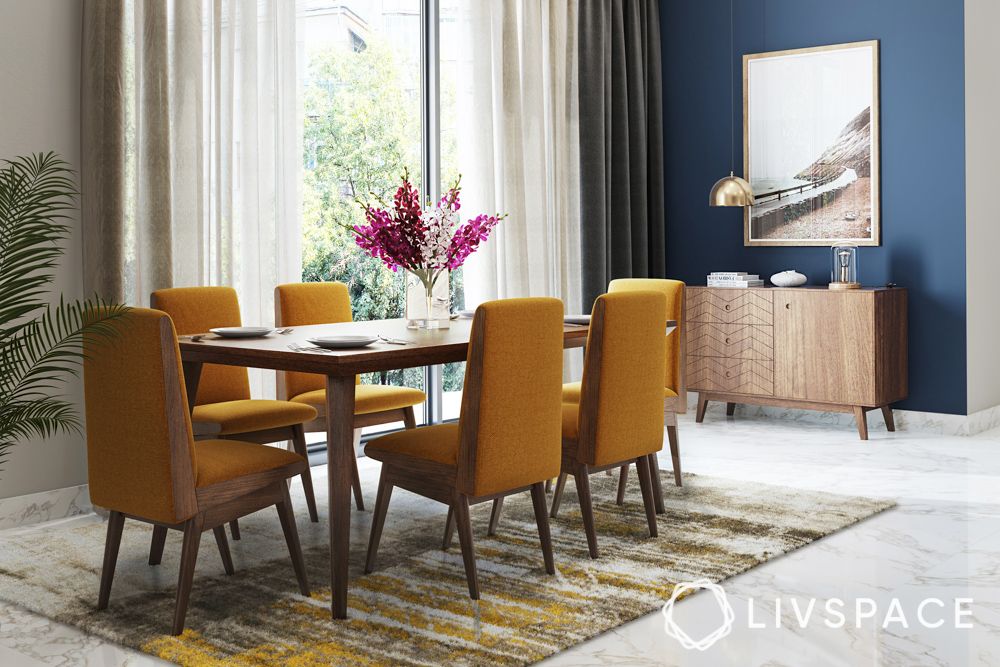 Simply painting one wall of your dining area in a different colour can change the mood of your space. Choose cool blues, appetising reds or happy yellows—whatever you feel reflects your personality best. These dining room decoration ideas are not only pocket-friendly but easy to follow too, leaving you and your guests always looking forward to mealtimes!
#9: Feature Wallpaper As Dining Room Decoration Helps Add Personality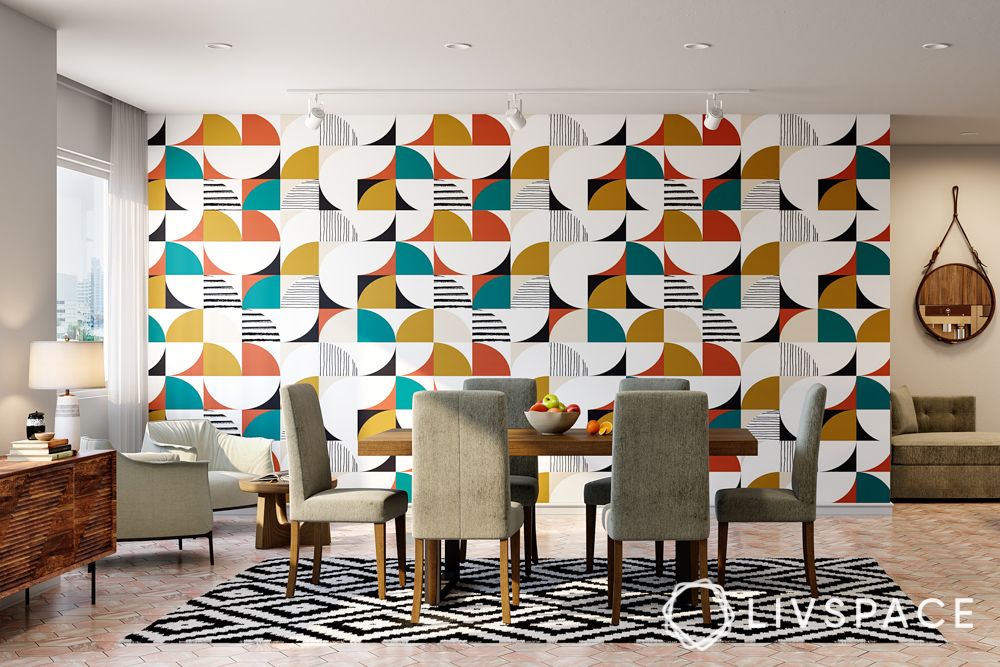 No attempt at dining room decorating is complete without looking at some fun wallpaper ideas. Similar to painting one wall of your dining area in a different colour, you can achieve the same look with feature wallpaper. Go with colourful prints and patterns for your dining room wallpaper design if minimal interiors aren't your thing.
#10: A Modern Dining Room Design With Accent Chairs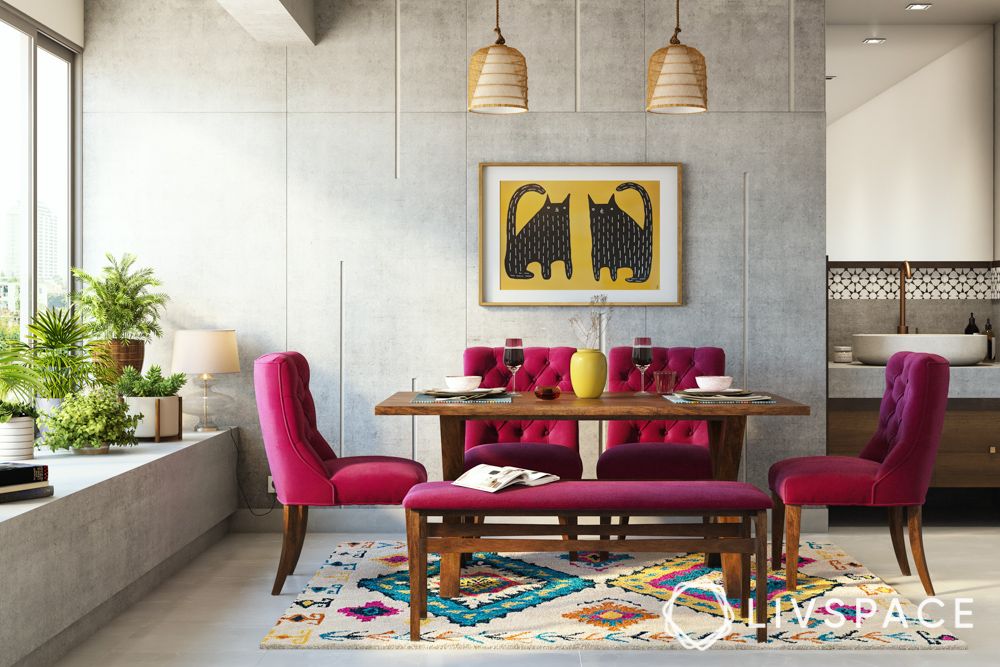 We've covered how you can make a statement with your walls and modern dining table design. But in addition to how to decorate a dining table, what about some ideas for your dining chairs? To liven up minimal interiors, all you need are some accent chairs in bright contrasting colours to bring in vibrancy to your dining room decoration.
#11: Colour Ideas for Dining Room Interiors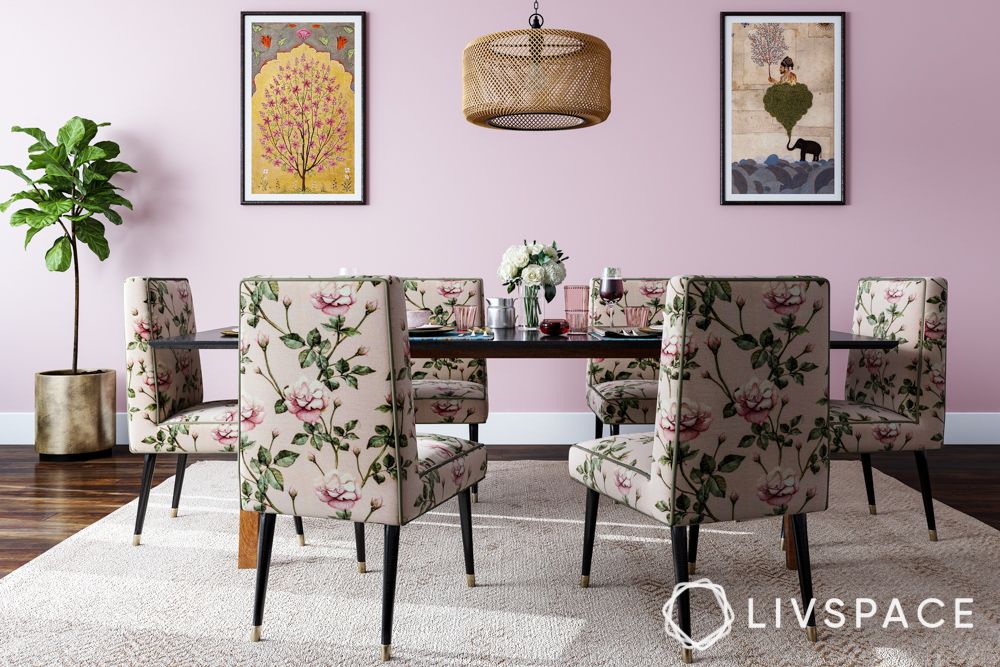 There isn't really a set rule when it comes to choosing the right colour ideas for your dining room interiors. The choice you make solely depends on the type of interior style you're going for. Moreover, it also depends on how well these colours blend with the rest of your interiors. Choose from neutrals to light pastels if you like to keep the space calm and airy.
#12: Play With Your Ceiling Design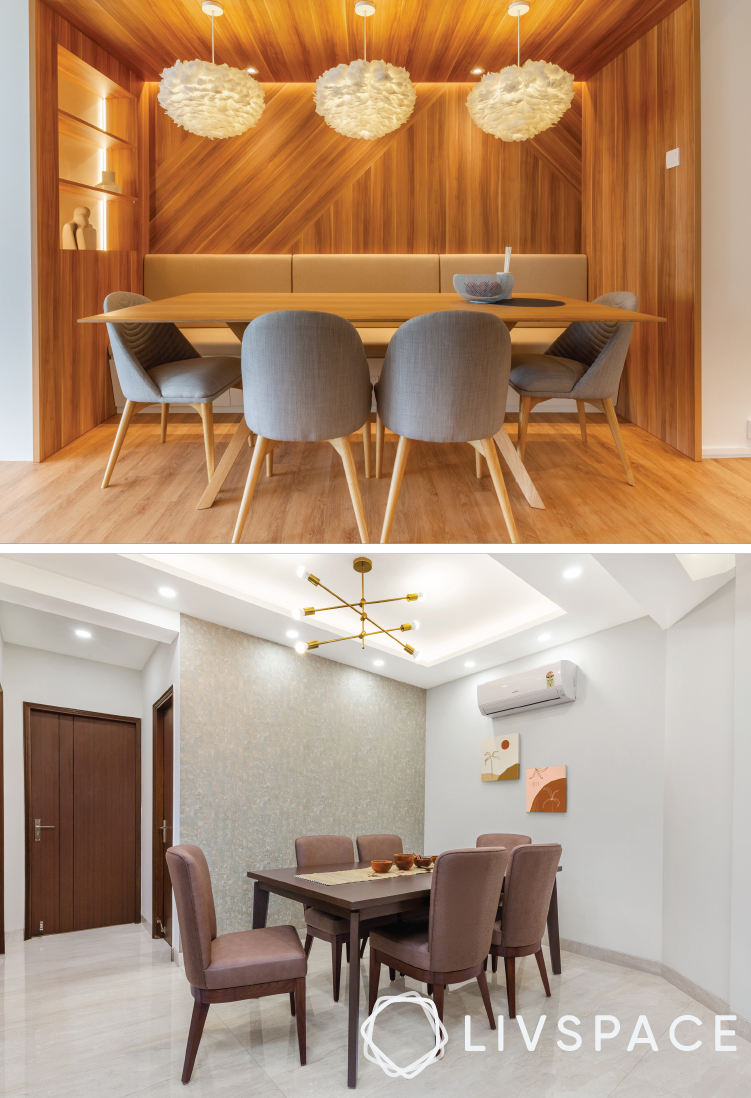 Who said the walls and floors are the limit when it comes to simple dining room ideas? If you've run out of dining room decorating ideas, looking upwards might be your best bet. Here, you can even choose to play with different materials such as wood, POP or wallpaper for your ceiling design.
#13: Use Storage Solutions As Dining Room Decoration
Storage is always a blessing to have—even more so in crowded dining rooms. So, if you're in need of multifunctional wall decor ideas, built-in shelves are the way to go. These shelves also double up as storage spaces and display units based on the way you use them in your dining room interior design.
#14: Dining Table Ideas to Explore for a Modern Look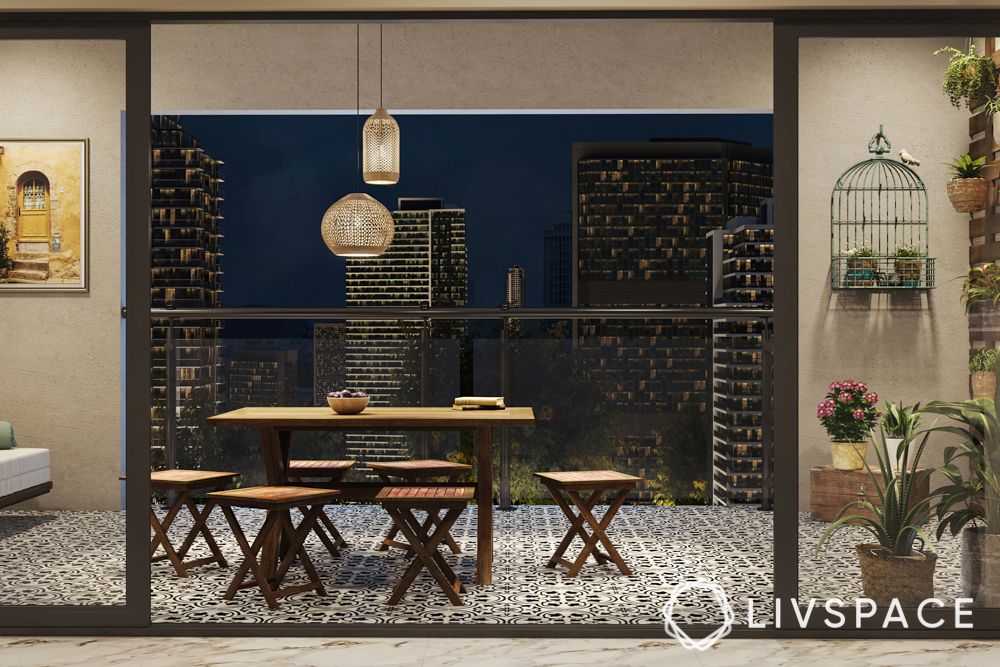 Besides the same old types of tables you're used to seeing, why not explore some modern dining table design options too? Choose from wood, marble or even glass for an interesting look. Other than materials, you can also look at dining table ideas for placement in unconventional spaces such as the balcony.
#15: Ideas on How to Decorate a Dining Table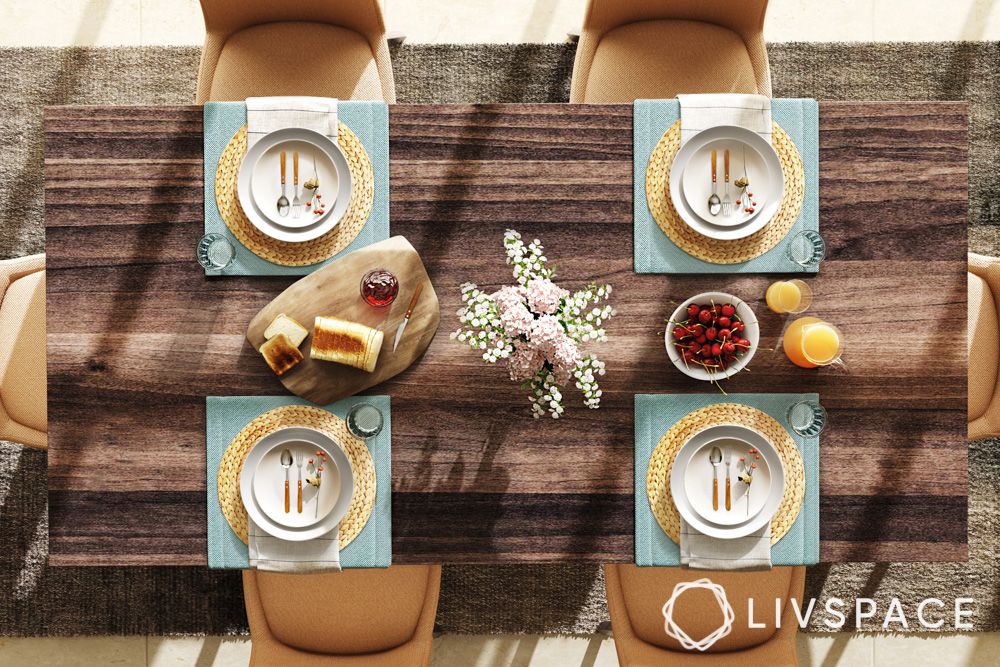 The first thing you might think about when it comes to decorating your dining table is probably the centrepiece. Go for flowers or plants as your centrepiece if you prefer keeping the dining table decor minimal yet fun.
To boost the functionality of your dining table decor, you can also consider adding a lazy susan turnplate to make items on the table accessible to all members at the table. Other dining table decoration items to consider include: coasters, condiment trays, chic table runners and fun placemats.
#16: Dining Decor Ideas With a Bar Cabinet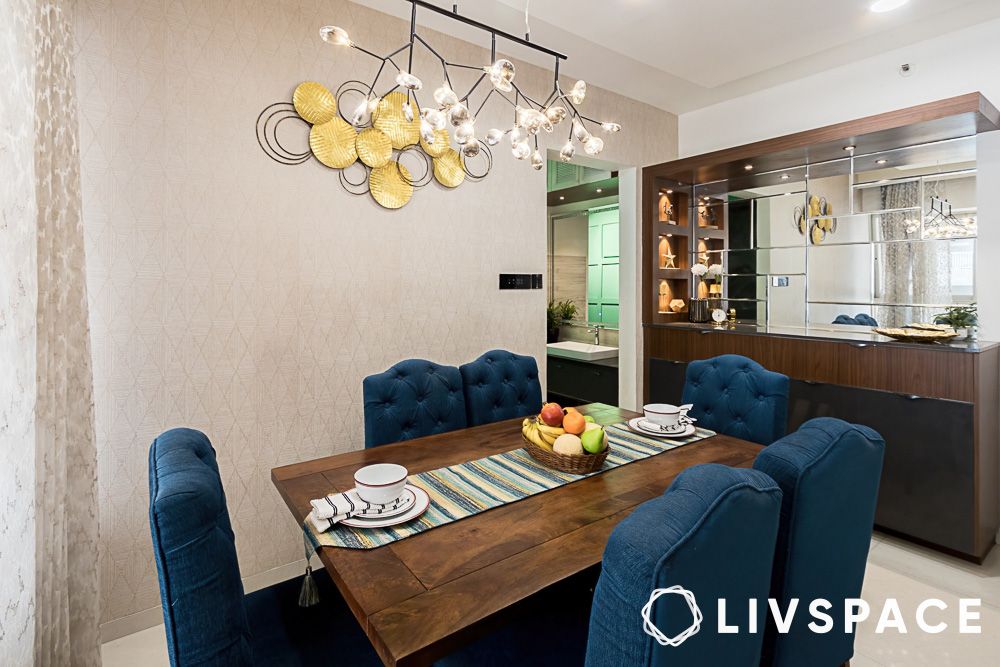 When it comes to small dining room ideas, it's best to look for multifunctional options. Here, the gorgeous glass and wood bar unit serves dual purposes—storing your bottles and displaying decor items. The unique chandelier and wall art adds to the modern vibe of this dining room.
#17: Kitchen and Dining Room Design Ideas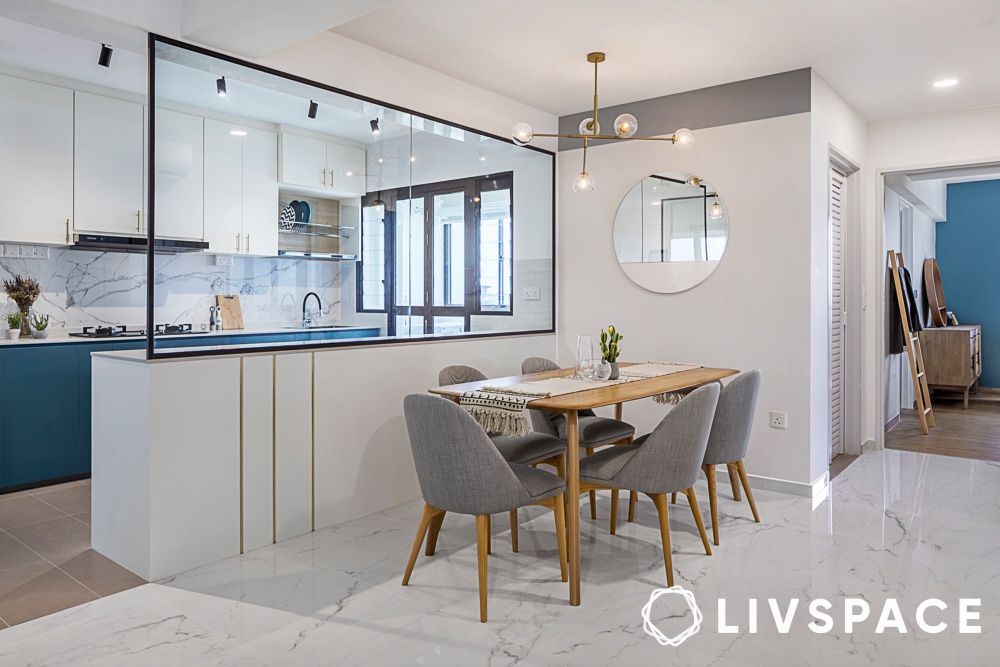 If you're looking for kitchen and dining room design ideas, you must bookmark this! A simple glass partition helps in segregating the kitchen from the dining area. In addition, the colour combination of white and grey with gold accents looks both royal and contemporary.
Wondering about the cost of your kitchen makeover? Use our kitchen cost calculator to find out.
#18: A Dining Room Interior Design With Ample Storage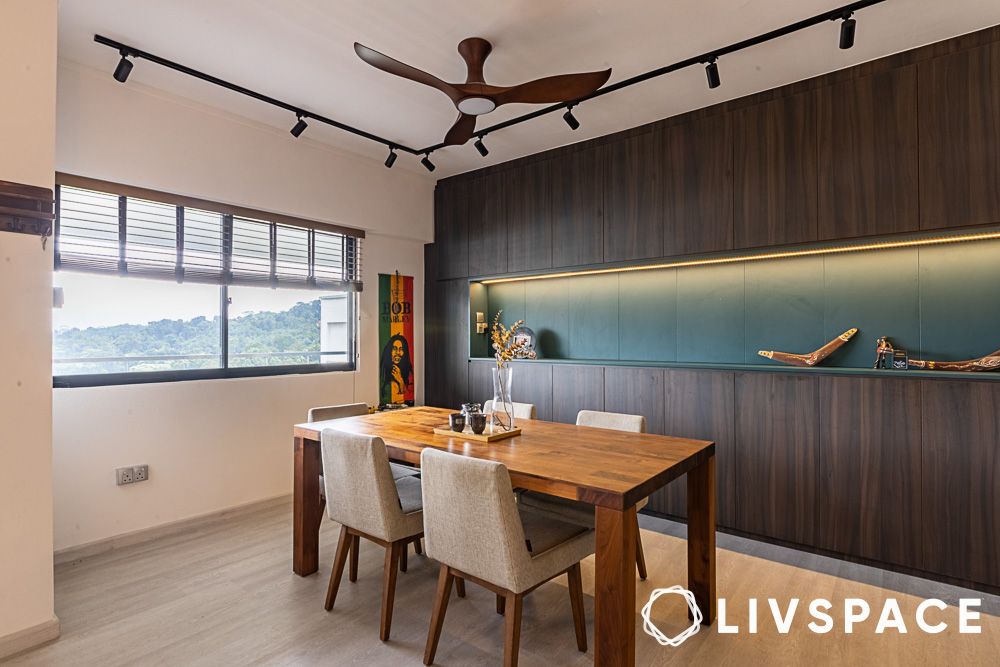 Another modern and minimal way to add storage in your dining room is with the help of a wall-to-wall storage unit. For instance, this dark wood storage unit looks sleek, due to the handleless design. Additionally, the middle portion with lighting acts as a display rack.
#19: Pretty in Pastels!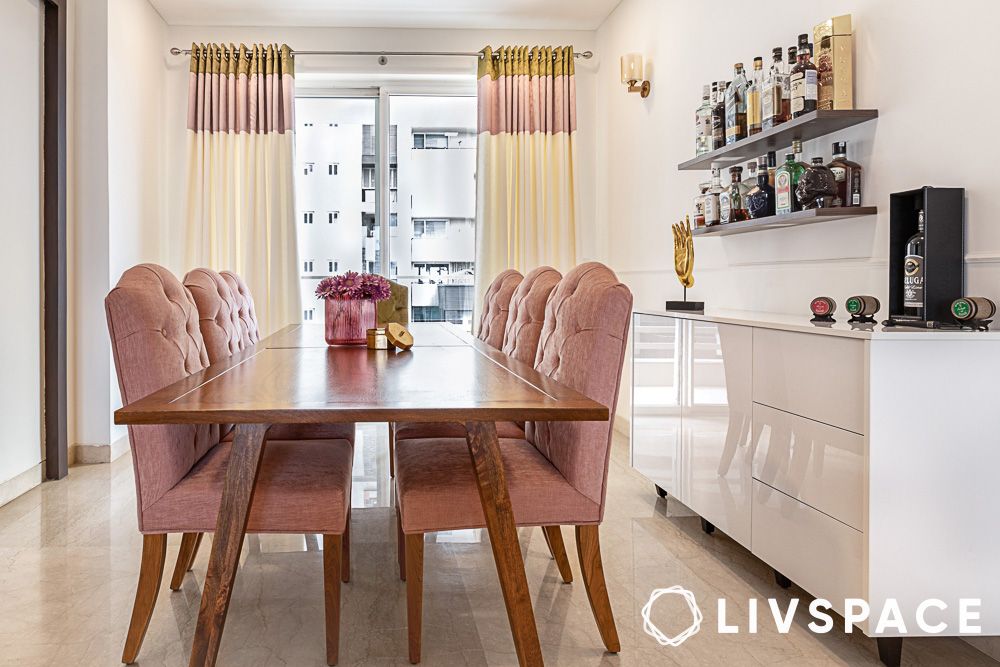 If you have a compact space, your dining room decoration should feature lighter colour schemes like pastels and neutrals. Additionally, if you have any furniture in this area, like a bar cabinet, opt for glossy finishes and open shelves to create a more spacious look.
#20: Comfortable Sofa-Style Seating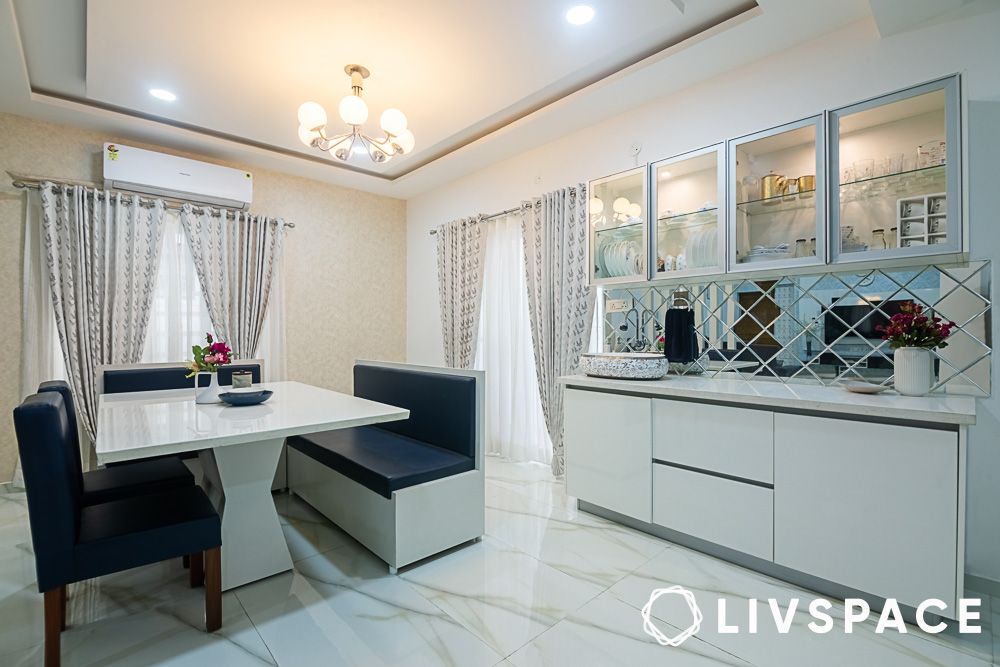 Food and comfort go hand-in-hand! Thus, why not opt for comfy sofas instead of chairs in your dining room? Additionally, a gorgeous chandelier and a functional bar cabinet can also act as your dining room decoration.
More Dining Room Decoration Ideas for Your Home
Also Read: Simple Guidelines to Decorate the Dining Room
Check out dining room design ideas:
How Can Livspace Help You?
We hope you found these dining room decoration ideas useful! If you want beautiful interiors for your home, then look no further. Book an online consultation with Livspace today. If you have any thoughts and suggestions you'd like to share with us, we're all ears! Drop us a line at editor@livspace.com.