Dinner time is for sumptuous food, gatherings and fun conversations. Make the experience better by a stunning dining room design. Here are 20+ images to spark your imagination on creating a perfect setting for your family and friends.
Dining Room Design #1.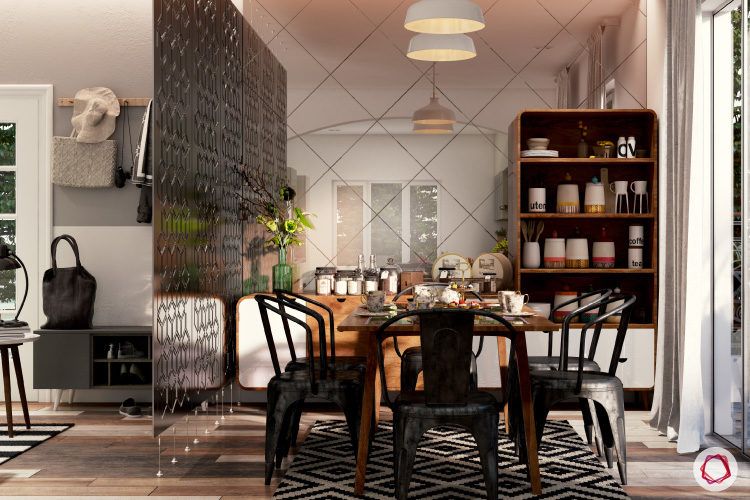 The monochromatic palette gives this space an edge, enhancing the appeal of this room. This works best for an open layout, with clean lines and a beautiful partition.
Dining Room Design #2.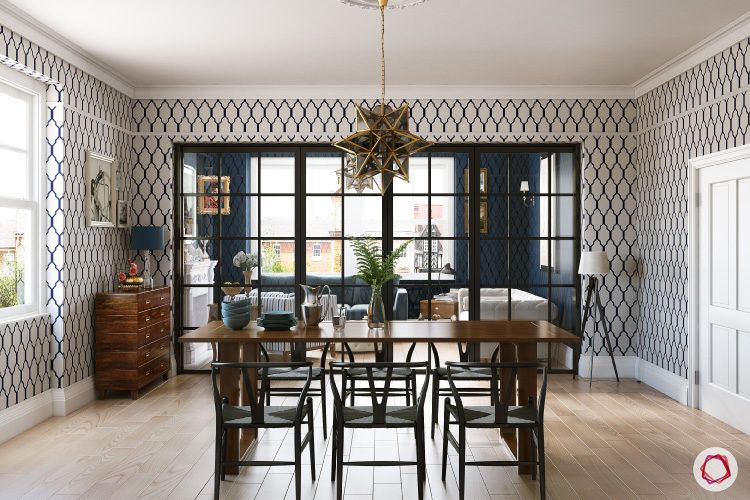 Inspired by a European design sensibility, this room sports playful patterns for a quirky twist while keeping it minimal. The wooden furniture keeps it cosy.
Dining Room Design #3.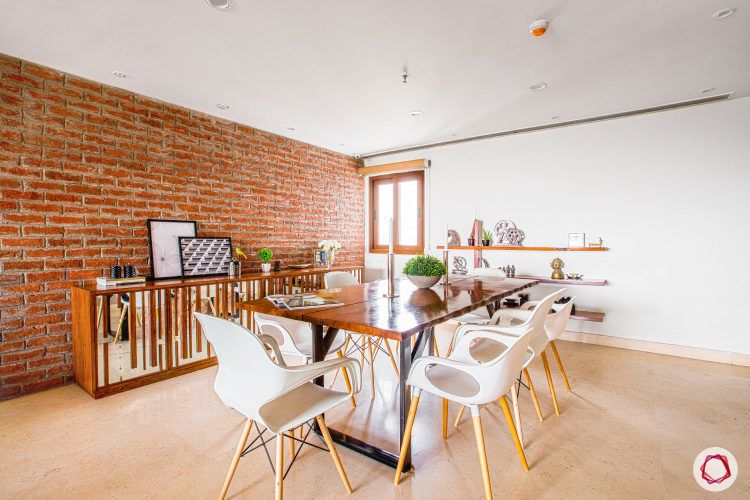 Industrial is another way to go! Although the design is minimal, it keeps the vibe rustic and subtle. Check out the entire home here!
Dining Room Design #4.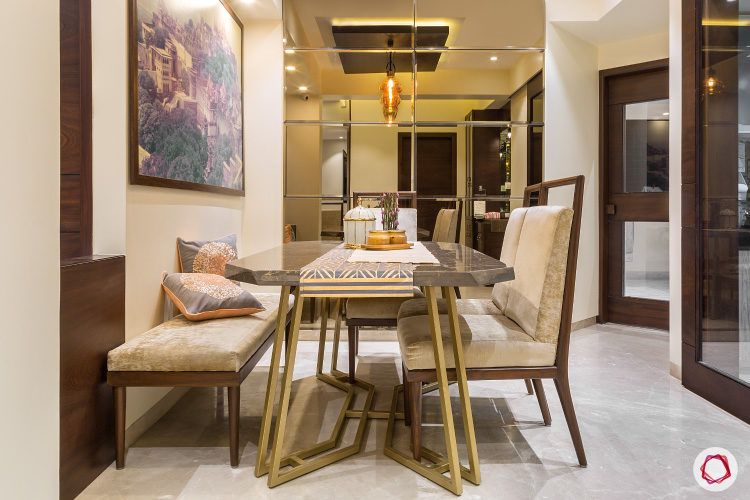 Compact spaces are never an issue! Our designer made a smart move by using a bench against the wall which can act as a backrest. Along with aesthetics, the comfort levels are also worth mentioning here!
Dining Room Design #5.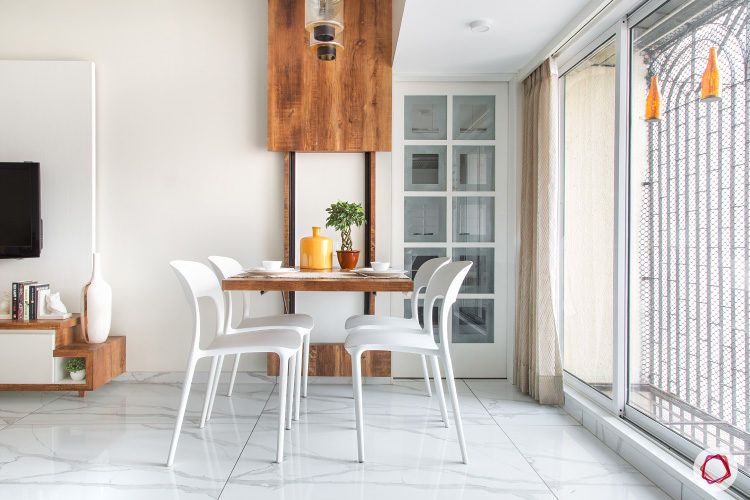 Bring a cafe feel to your home with this dining setup. Compact and smartly positioned, the table is foldable and can be packed away after supper. A great design for studio apartments and small spaces. More space saving ideas at this home designed by Livspace!
Dining Room Design #6.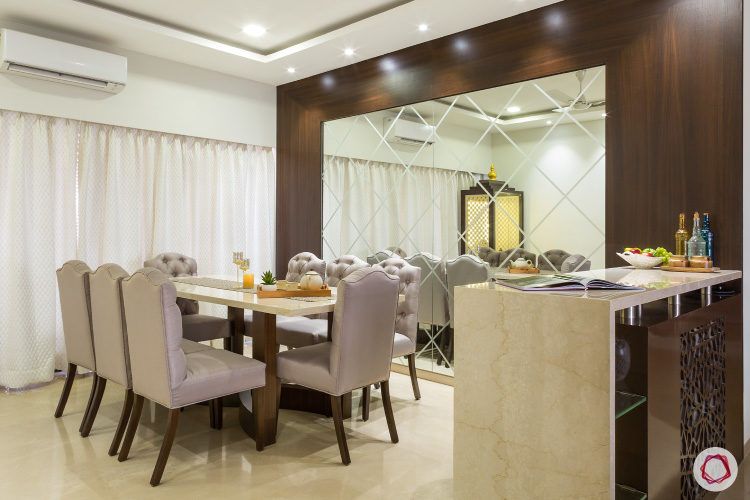 The mirror-panelled wall matches the sophisticated design of the dining set. It lends the room a classy ambience. The soft textures of the button-tufted upholstery exude a cosy invite. The half-sized partition can be used as a bar or crockery unit.
Dining Room Design #7.
It's tough to appreciate the interiors of other cafes when your dining room looks like this! The rugged textures of the exposed brick wall are beautifully highlighted with the focus lights.
Dining Room Design #8.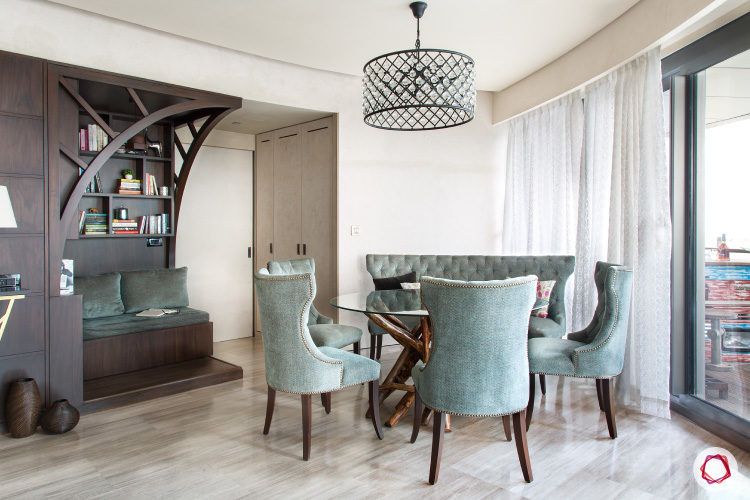 An exuberant design featuring wingback chairs and a round table is not just stylish but luxurious too. The best part is that it fits perfectly into a nook without leaving the space looking cramped.
Dining Room Design #9.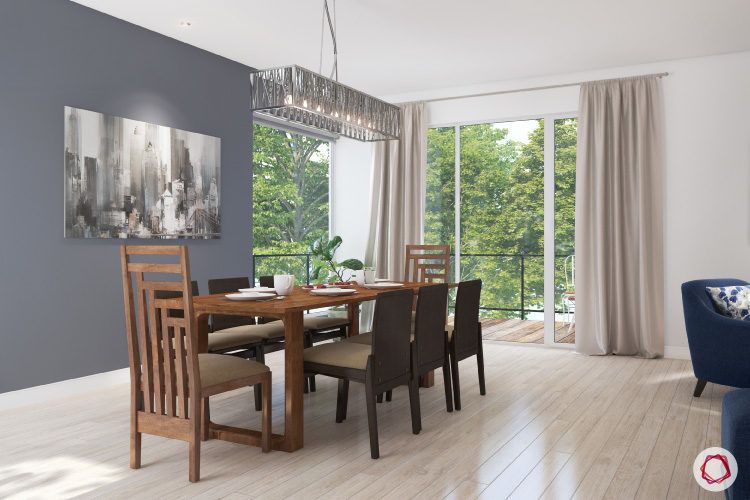 A stylish chandelier hanging overhead your dining table like this is an instant attraction and conversation-starter! It not only adds to the luxurious feel, it sets the ambience for intimate dinners with your loved ones!
Dining Room Design #10.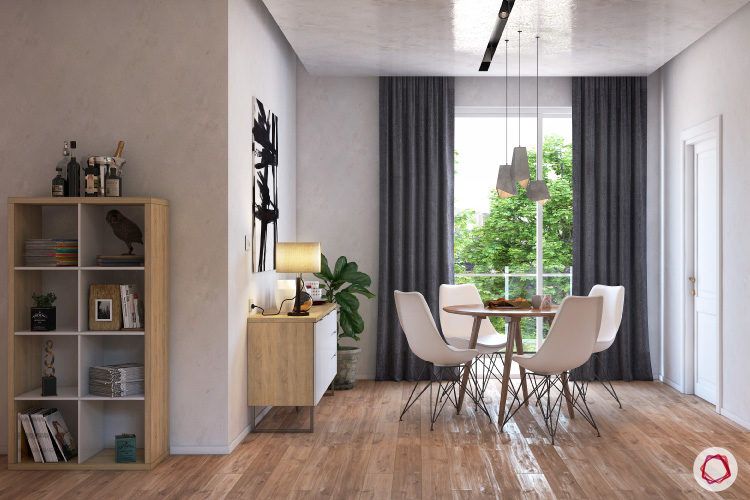 Another compact dining room that is perfect for young families. The round base Eiffel chairs have a casual demeanour that can make guests feel instantly comfortable. Also, the white on wood is in vogue!
Dining Room Design #11.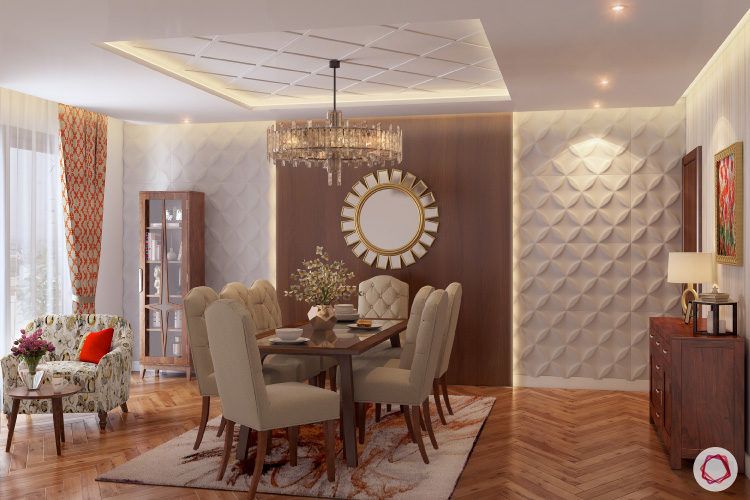 Those who love glitz and glam will love this dining room ensemble. With a stylish chandelier, an embellished mirror and tufted upholstery, the space comes together quite beautifully.
Dining Room Design #12.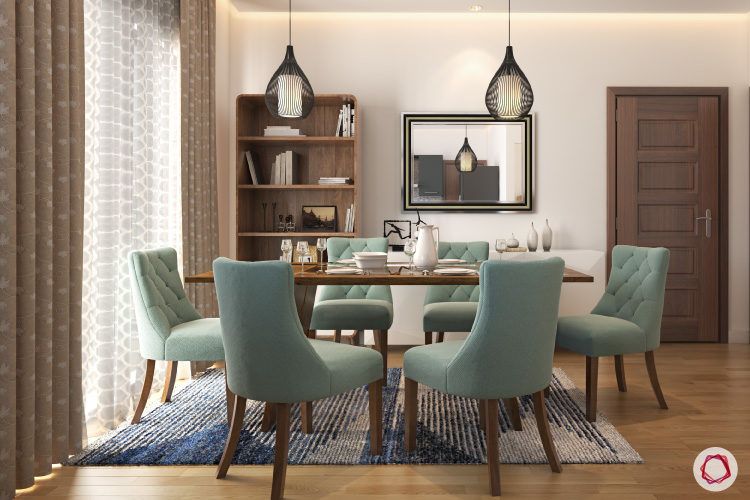 A perfect addition to a slightly larger space, these dining chairs will make you want to sink into them to enjoy dinner with loved ones!
Dining Room Design #13.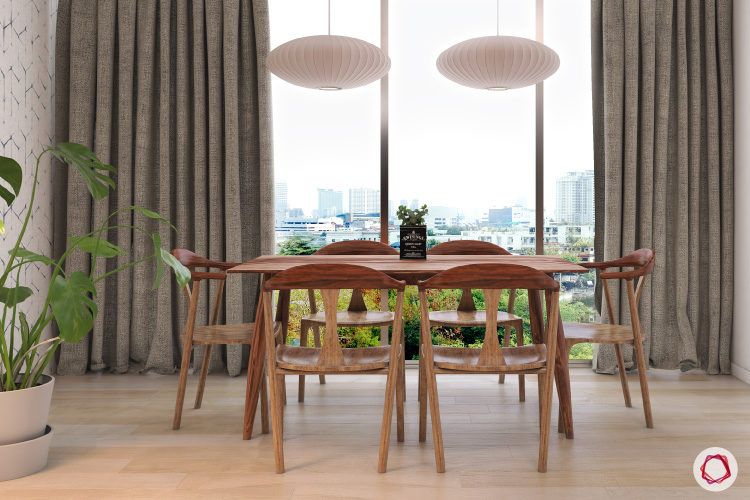 Talking about the tone-on-tone trend, this dining table set is made out of solid wood. The wooden flooring in a lighter shade enhances the warmth in this room. It's simple and basic, but stylish nevertheless.
Dining Room Design #14.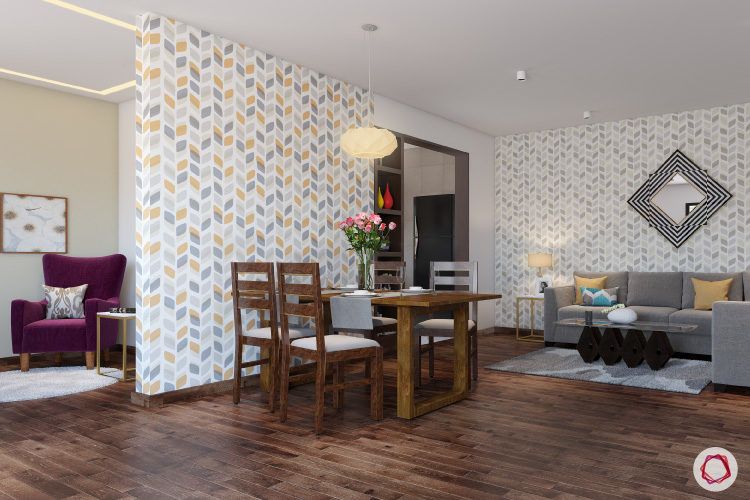 Gorgeous abstract wallpapers in your dining rooms that play match with the living room, can really amp up the style quotient of your home while tying the large space together. Try it out!
Dining Room Design #15.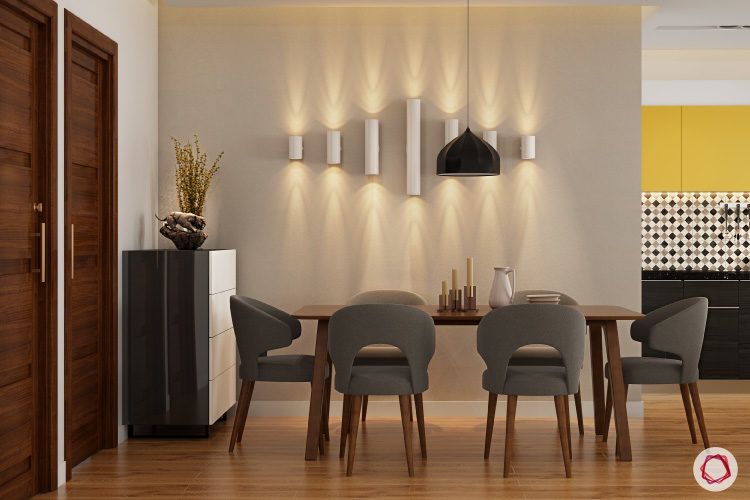 Greys and warm woods are a match made in heaven! You can also add diffusing lights to it, to keep the vibe calm and elegant.
Dining Room Design #16.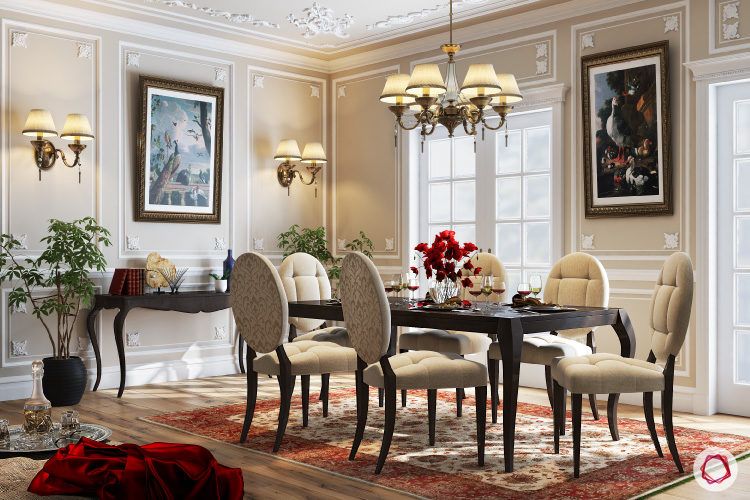 Love hosting dinner parties? Make this look yours with a vintage dining set and Victorian rug. Wall trims, a grand chandelier and other accessories add character to this space.
Dining Room Design #17.
Geometric wallpaper and assorted seating options make this dining room really stand out! You can maintain a casual but fun vibe with a setup like this.
Dining Room Design #18.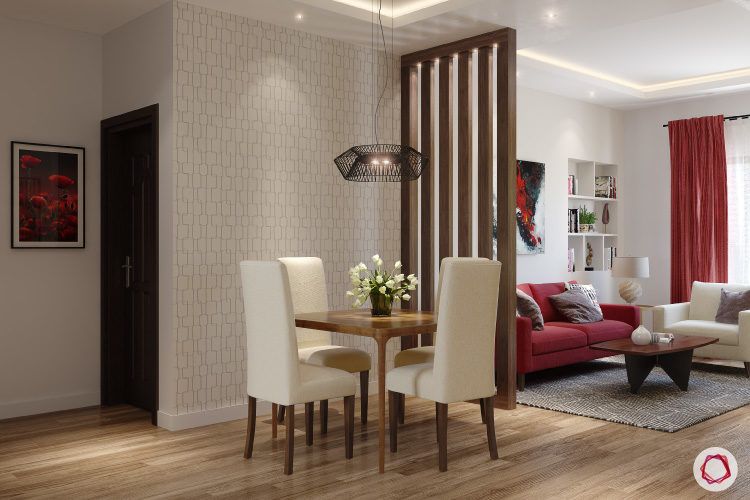 Compact dining rooms are taking centre stage in more and more homes nowadays. This cosy four-seater dining table with upholstered chairs is your best bet if you have a compact home.
Dining Room Design #19.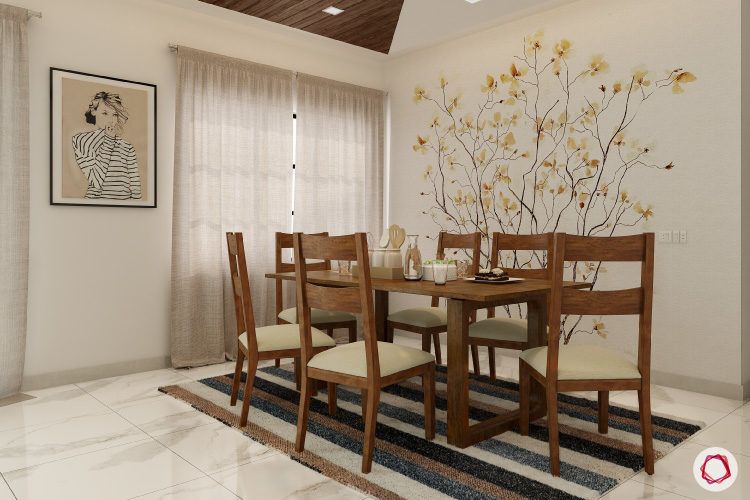 Treat yourself and your guests to this lovely autumn-spring themed wallpaper in your dining room. The dining set is basic with a striped carpet, but makes this whole room so appealing!
Dining Room Design #20.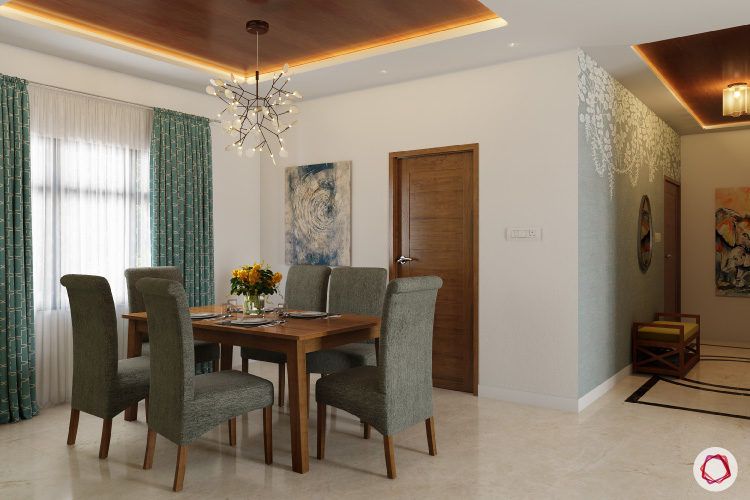 We love how the ceiling has a niche that acts as a false ceiling, with strip lights on all four sides. It adds just the right amount of drama to this dining room made for 6.
Dining Room Design #21.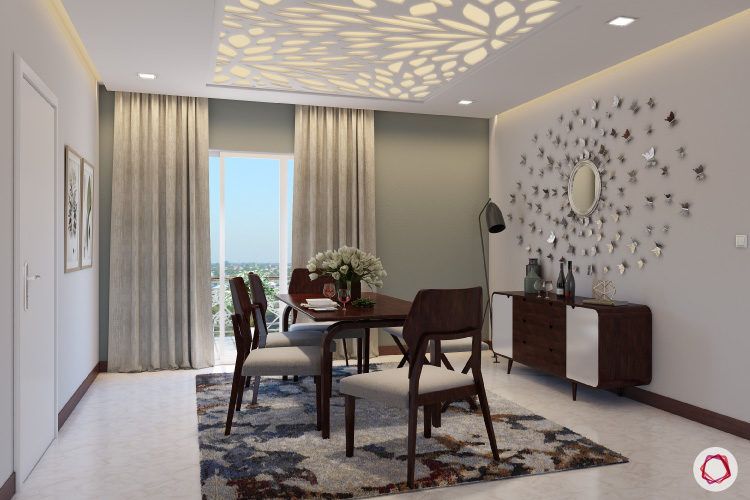 Everything about this dining room is so dreamy! Look at the mesmerising jaali backlit panel on the ceiling and the butterflies around the mirror. To tone down the glam factor, the dining table set is kept minimal, with a matching crockery unit.
Dining Room Design #22.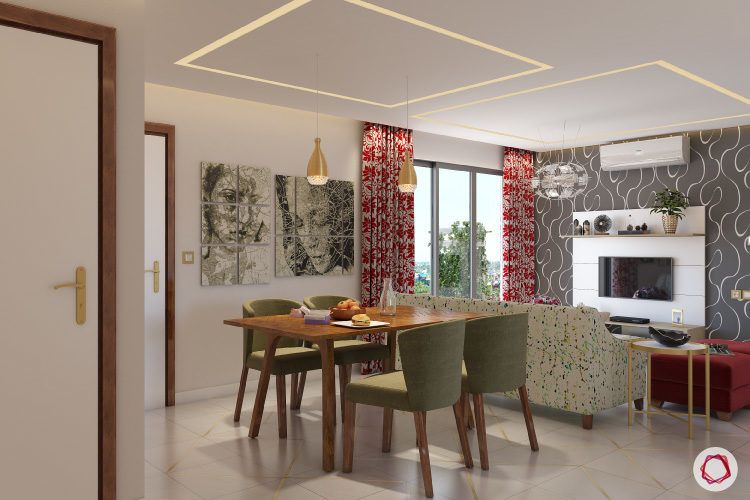 Fern or light moss are such offbeat colours for your dining room! Add dining chairs in these colours and keep the table simple and streamlined for a sober look.
Dining Room Design #23.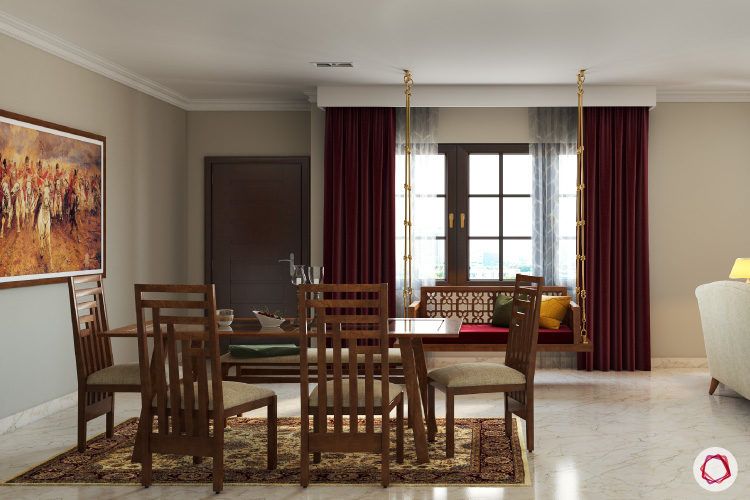 This open layout accommodates the living, dining and a swing! The wooden tones of the jhula blend with the warm tones of the dining set, keeping the room looking earthy and playful.
These stunning designs can adorn your home too. Talk to our designer!
For more inspiration visit our #lookbook collections.