More often than not, decorating the dining room often takes a backseat, especially in Indian homes. A clever way to ornament this area would be to add a novel and beautiful chandelier that's not only practical but eye-catching as well. Our collection of stunning dining room chandeliers will leave you enthralled.
1. Mealtimes aglow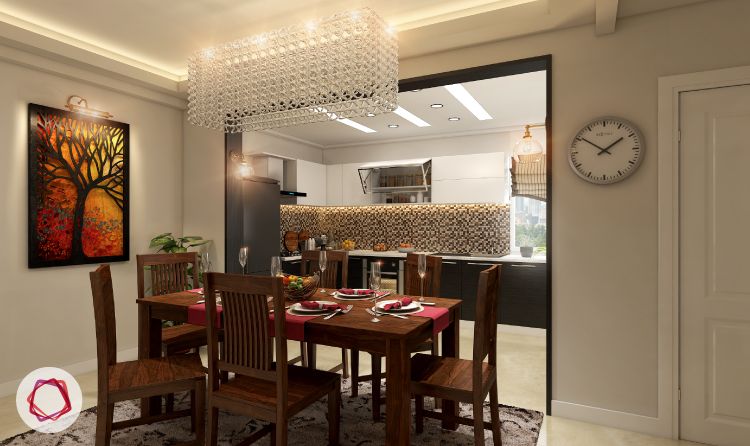 This simply-styled, traditional Indian dining room gets a touch of sophistication when layered with a beautiful, beaded chandelier. This scintillating beauty is a versatile piece that can easily glam up modern and traditional themes alike.
2. A feast under the stars
For top notch style, look no further than this stylishly executed dining area that features beautiful, cascading pendant chandeliers. This modern Indian dining room uses a simple three-hued palette so that the focus lies entirely on the chandelier.
3. Humble and handsome
Brimming with modern character, drum chandeliers add a sleek touch to dining experiences. You can either opt for one large centerpiece or a combination of two smaller ones, depending on the size of the table or the illumination desired. These dining room chandeliers are usually preferred where the focus is meant to be on the dining set instead of the light fixture.
4. Unparalleled grace
With elegantly curved arms imitating a candelabra, these dining room chandeliers easily steal the show in most settings. In this transitional themed space, the chandelier is in perfect harmony with the dining set, which comprises classical, button-tufted chairs and a simple wooden table.
5. Unconventional allure
From minimalist to Scandinavian to mid-century, this chandelier is a perfect fit in a multitude of dining room themes. Its airy, boxy frame outfitted with lights, easily takes center stage in this space replete with wood finishes.
6. A mingling of styles
Give your dining room a fresh, exciting update with this unique chandelier that boasts traditional and modern elements in equal measure. We love how the crystal chandelier enclosed in a globe-like cage lends vintage style and glamor to this refined space.
7. August statement
This crusted, gleaming chandelier is a quintessential piece for those who love luxurious, grand banquets. With its extremely ornate details, this dining room chandelier instantly adds an opulent touch to gatherings.
8. Ethereal dew drops
Another modern chandelier that is stylishly captivating. These delicate droplet-like bulbs are an ideal match for this dining area's contemporary look. These light fixtures can be easily grouped together or spaced apart to create the desired effect.
9. Old world touch
These Spanish colonial-styled dining room chandeliers are a must-have for those who wish to imbue old world charm to their home. Featuring a mix of candelabra and drum design elements, this chandelier works as a tasteful update in traditional and transitional themes.
Mixed themed living spaces are trending and many like to blend different kinds of chandeliers with a style that is different from their interiors. Crystal chandeliers can easily feel at home in a modern setting or a rustic chandelier can be used to make a statement in a contemporary home. Now that you have an idea on how to style your dining room with chandeliers, choose one that can instantly perk up your dining experience.