Amongst all the common areas at home, the dining area holds a special place in our hearts. It brings family and friends together for conversations over some good food. Wouldn't you love to shine some light on this zone and in style? From cascading pendants to subtle recessed lights, whatever your style is, we have something for everyone. Take your pick!
Dining Room Lighting Idea #1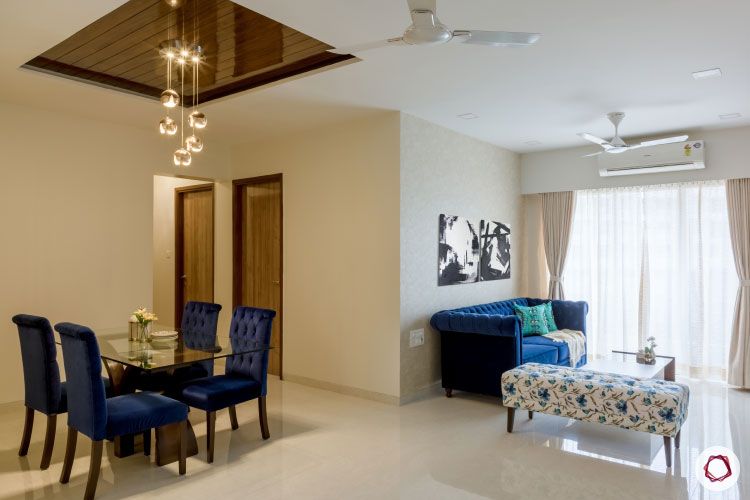 These pretty cascading pendant lights are such a great idea to add some depth to your dining room ceiling. Add a false wooden ceiling and hang pendant lights like these for that warm glow. Make sure your ceiling is finished in gloss to add that shimmer effect.
Dining Room Lighting Idea #2
If minimal and rustic is your style, then this lighting idea is just perfect for you. Statement edison bulbs paired with a wooden dining table look so edgy, yet so subtle!
Dining Room Lighting Idea #3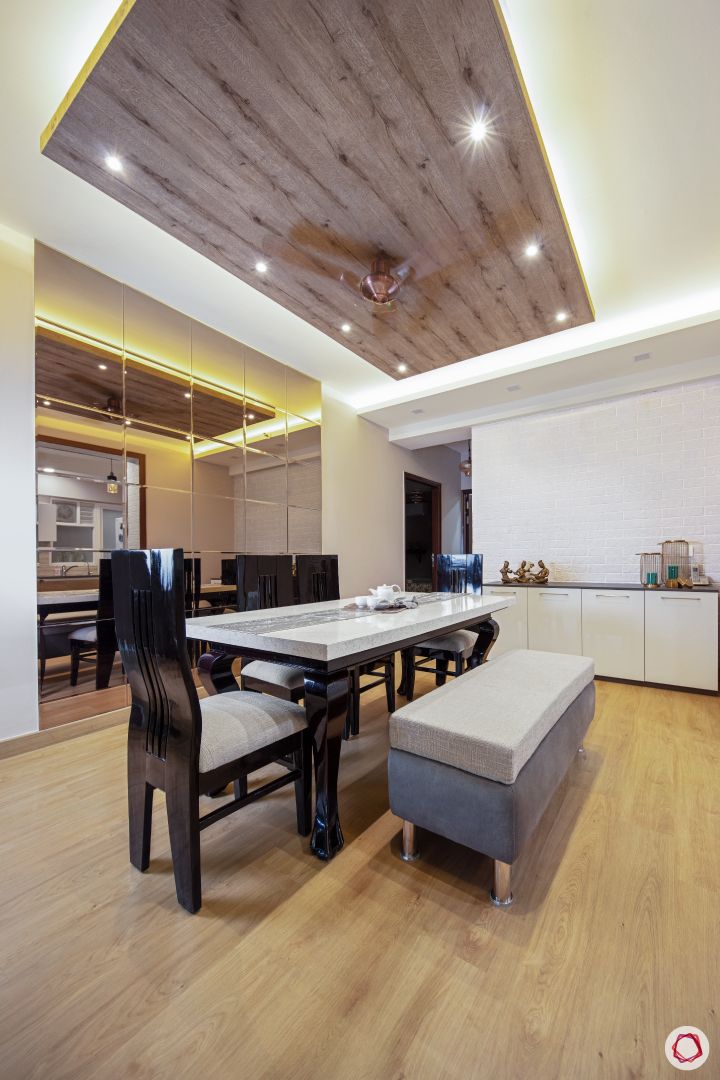 Match your flooring with the false ceiling above your dining table, just like this one. You can also opt for a wallpaper instead of wood to bring down the costs. Light it up with a combination of LED lights and recessed lights peeping through. A mirrored wall will further reflect light and make the room look brighter!
Dining Room Lighting Idea #4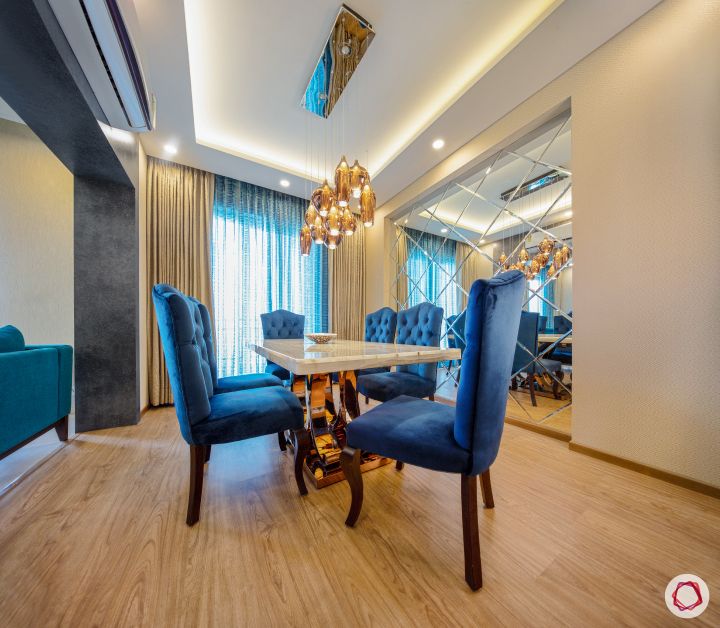 If you own a dining table that sports a luxurious marble top like this one and plush chairs, then it deserves to get some attention. A cluster of low hanging pendant lights is your best bet in such cases!
Dining Room Lighting Idea #5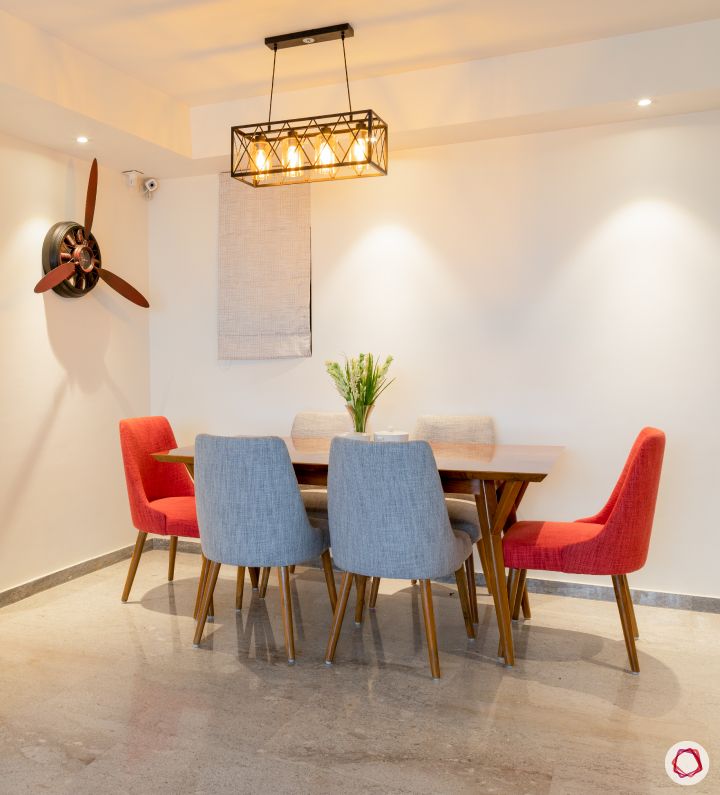 If industrial style is what you're looking for, then check out these lovely box-y cage lights. Looks unique and creates warm lighting in your dining room. It also adds an edge to an otherwise simple room.
Dining Room Lighting Idea #6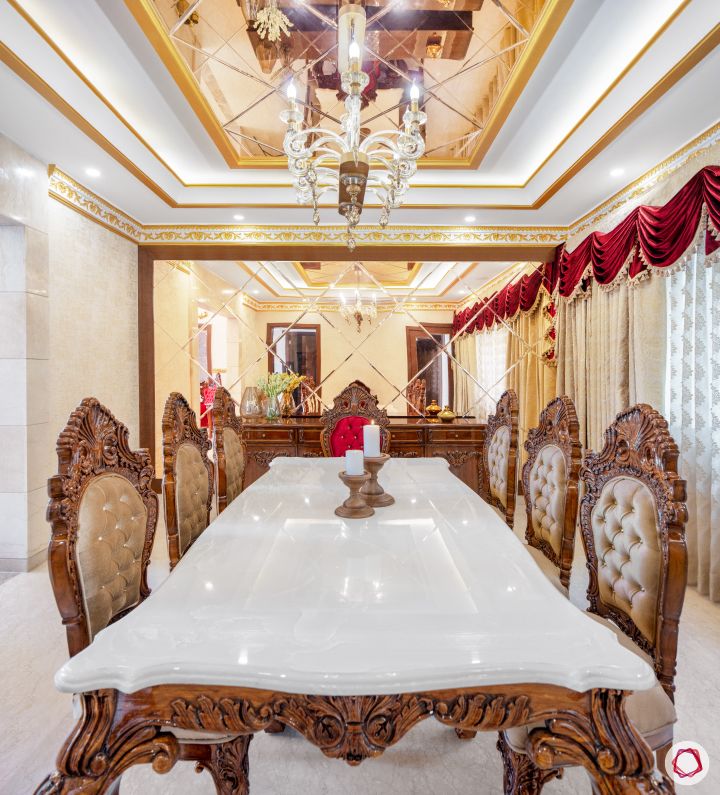 Doesn't this dining room exude opulence and grandeur in every corner? It has a bit of every kind of light, be it recessed, LED or chandeliers. When you have interiors like this, you shouldn't miss the chance to illuminate it in a grand way!
Dining Room Lighting Idea #7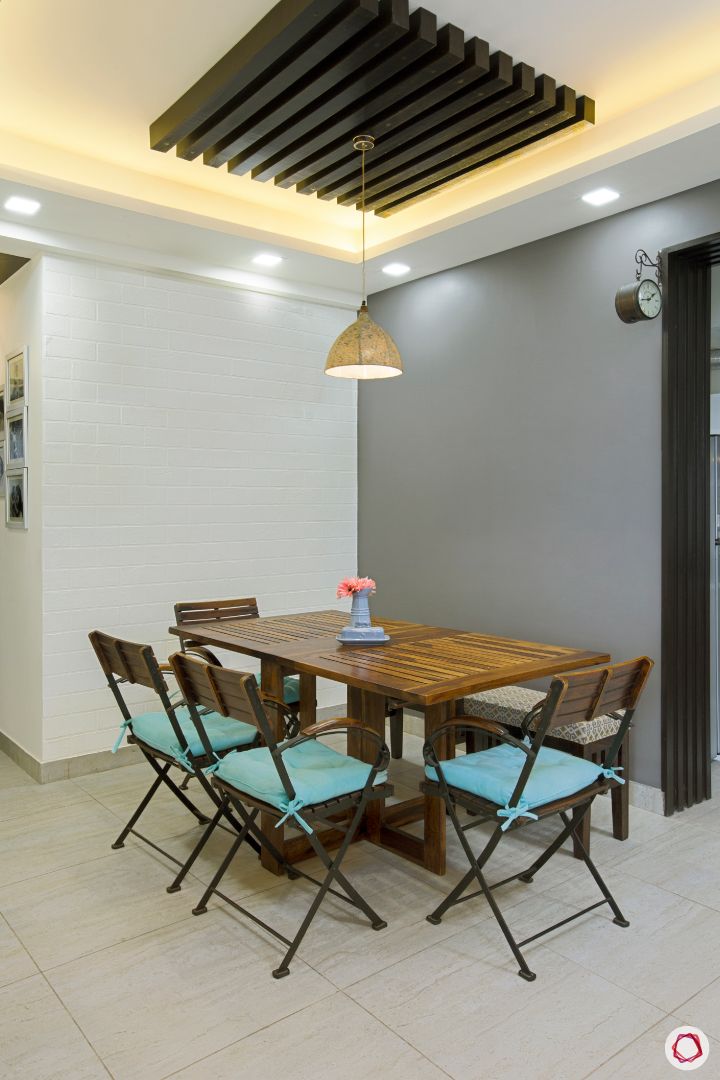 Wooden rafters as false ceiling and beams all over define this space. Simple lighting is what looks best in a dining room like this one. So go for cove lights and a classic pendant.
Dining Room Lighting Idea #8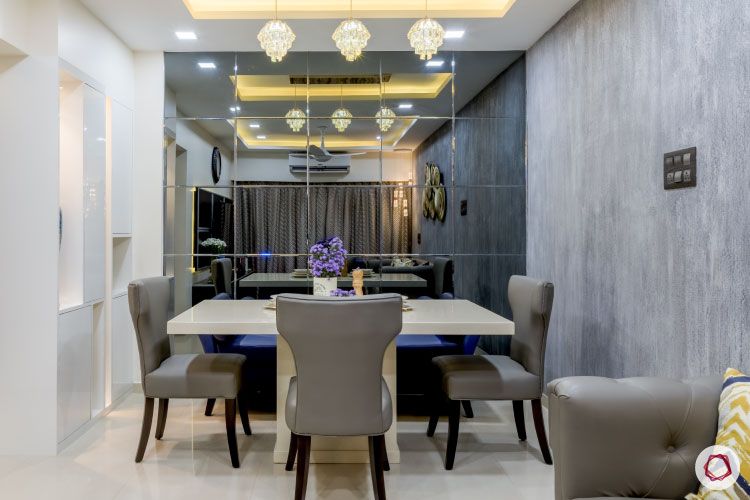 Pendant drop lights can make an elegant statement in any dining room. Pair it with spotlights from a false ceiling and you've got a stunning dining experience! The lights play well with a panel of mirrors that acts as the backdrop in this Mumbai home.
Dining Room Lighting Idea #9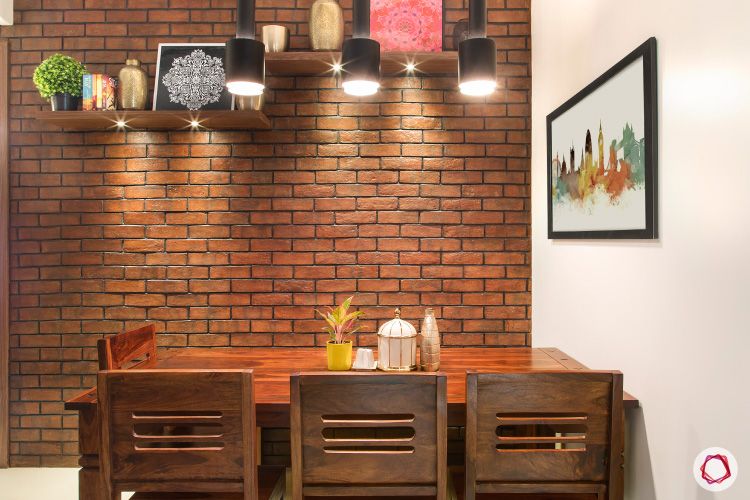 Focus lights can definitely take your dining experience up a notch! It helps to set the ambience – perfect for those casual conversations at the dining table. This one works well against an exposed brick wall backdrop.
Dining Room Lighting Idea #10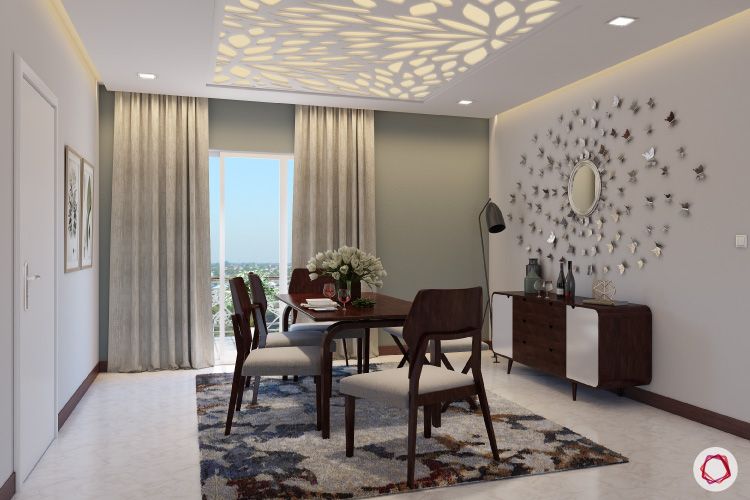 This one's certainly a head-turner! Instantly stunning, this jaali backlit panel is sure to add glam to your dining room! The false ceiling also features spotlights around its perimeter. This exquisite light would work well for a minimalist dining table set. Very contemporary and in vogue!
Dining Room Lighting Idea #11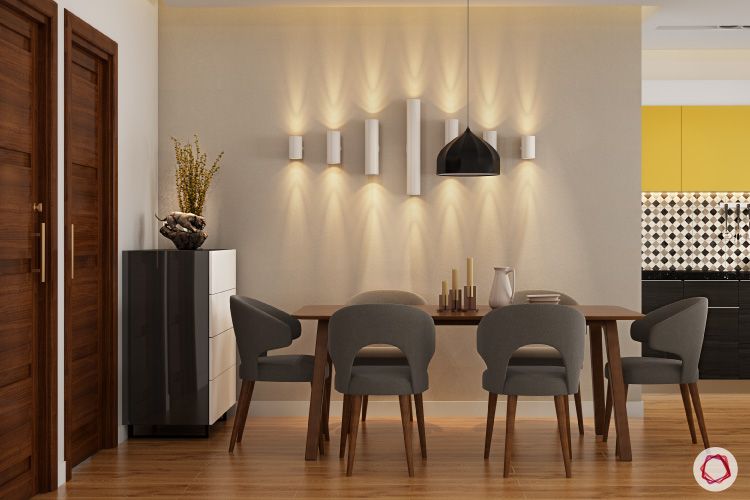 If you want to make a statement, you can't go wrong with this beautiful diffused light piece on the wall. Notice how it sets a different ambience? It pairs well with the comfy ash grey chairs and wooden table. It will also work as the perfect break in a minimalist home.
Dining Room Lighting Idea #12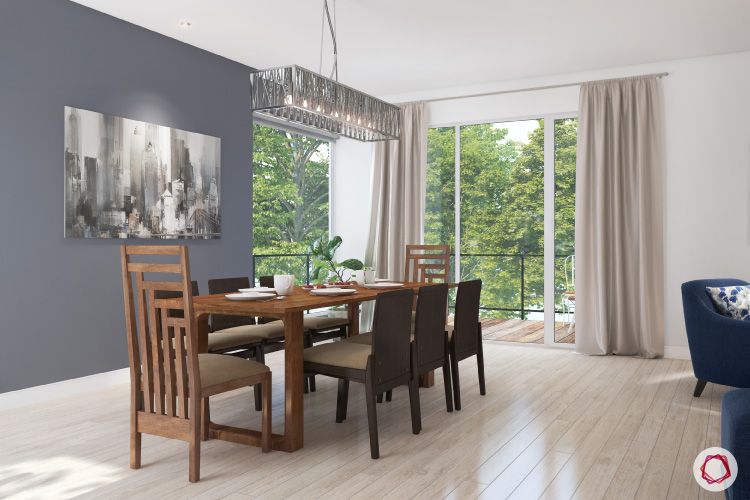 If luxurious lighting is your thing, here's a stunner that is sure to capture anyone's attention. This stylish chandelier above a wooden dining set can instantly set the mood, like it does for this contemporary home.
Dining Room Lighting Idea #13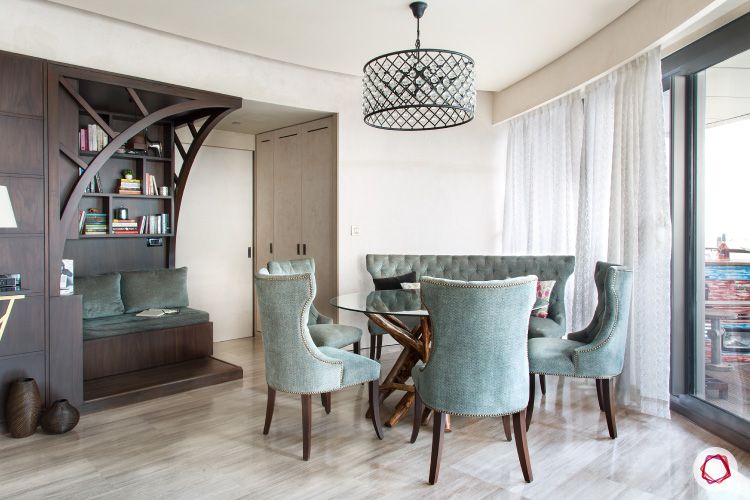 Who said you can't hang chandeliers in a corner? This drum chandelier lightens up this cozy dining nook. It complements the powder blue wingback chairs and glass round table featured in this gorgeous Mumbai home.
Dining Room Lighting Idea #14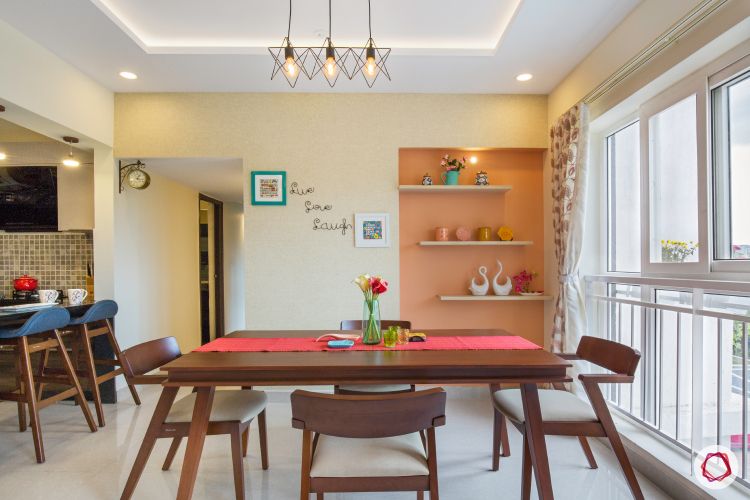 Take your dining experience up a notch with these geometry-inspired lighting pieces. It is sure to bring in that much-needed sparkle during meals! These are hanging from a false ceiling with added spotlights for an extra bit of warmth to the room. It makes a great addition to this spacious Bengaluru home.
Dining Room Lighting Idea #15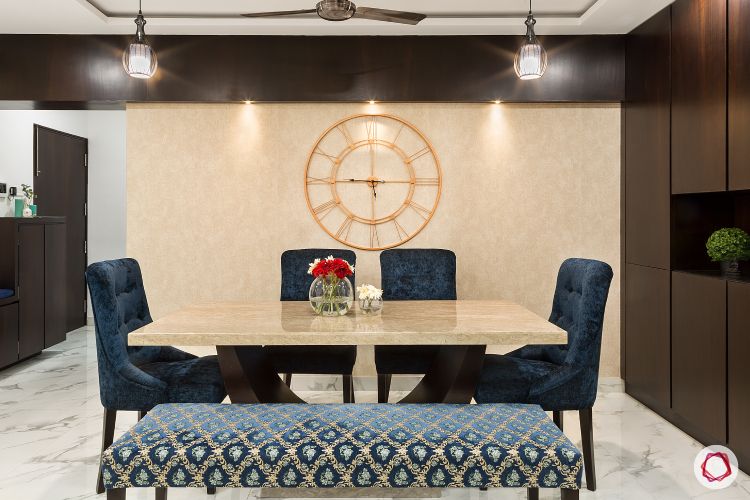 Love to sit under the glow of lantern lights? Here's a lighting pair you would love! It makes for a romantic setting, don't you think? Complementing these lights are plush blue suede upholstered chairs, a patterned bench and a sturdy marble top table. The lights just bring this wonderful Mumbai home to life!
If you liked these dining room lights, take a look at 5 Amazing Lighting Trends that Will Suit Any Home as well for a bit of inspiration.
Check out lighting tips:
Send in your comments and suggestions.