Preparations for Diwali are in full swing at many homes, but not all of us may have the time to decorate our homes this ahead of time. So, we thought we'd add a little more excitement and lend a helping hand to those who are short on time. These Diwali decoration ideas for homes can serve as a final checklist to deck up your house before your guests come calling. Here are some of the simplest Diwali decoration ideas that you can execute even at the last minute.
#1: Start With the Pooja Room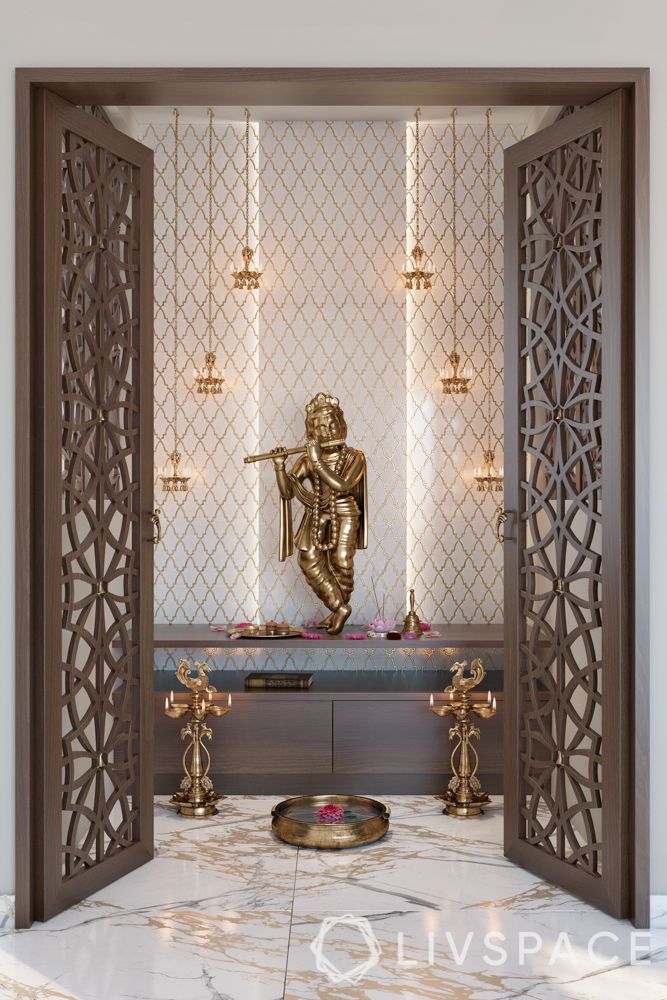 Your pooja room is essentially the centre of all activity during the holy festivities and needs special attention at this point. Go all out while decorating your pooja corner. Diwali house decoration can never be complete without pooja room decoration, so use some lights to highlight the backdrop. Hang garlands or play with candles.
Whether your pooja room is spacious or compact, you can get some antique brass-finished lamps and place them around the pedestal. Also, do not forget to decorate your pooja room with fresh flowers and diyas on all the days of the festival.
#2: Get Going With Genda Phool
We can't talk about Diwali decoration ideas and not come to genda phool, can we? Do you know why homes are decorated with marigold flowers during this season? These flowers are also called the 'herb of the sun' and their fragrance helps improve your mood and ward off stress! The vibrant yellow and orange colours also mark new beginnings and prosperity in life.
So, we suggest you grab some fresh bundles of these from a nearby flower market and decorate your entryways with them! In fact, you can use marigolds for Diwali decoration ideas for living room as well. You can also have an arrangement on your dining table where the sweets and namkeens will be served. We'll leave it to your imagination as to how to best use these flowers for your Diwali home décor!
#3: String up Lights Outside the House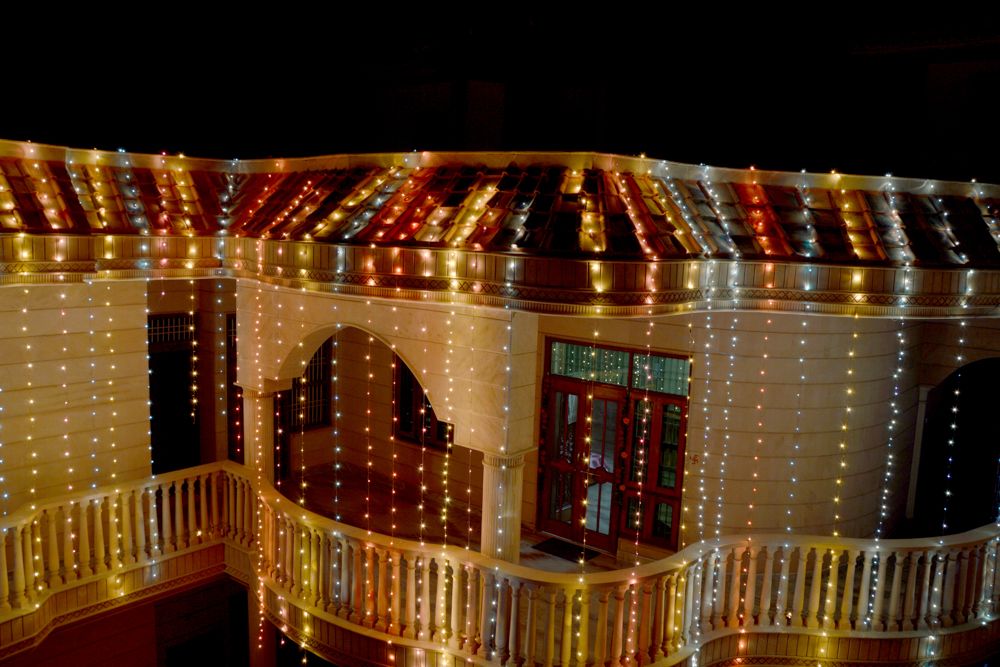 While diyas light up your home interiors and become the focus of Diwali decoration, string lights are the popular choices for home exteriors. In fact, string lights that cover the length of your walls serve as great Diwali decoration ideas for home.
Why not go for some LED options and be eco-friendly in the process too? Diwali is the festival of lights. Celebrate it by using beautiful Diwali decoration ideas that are easy to execute and, as far as possible, environment-friendly.
Also Read: 10 Warm and Beautiful Diwali Decoration Lights to Decorate Your Home
Check out lighting ideas:
#5: Deck up the Door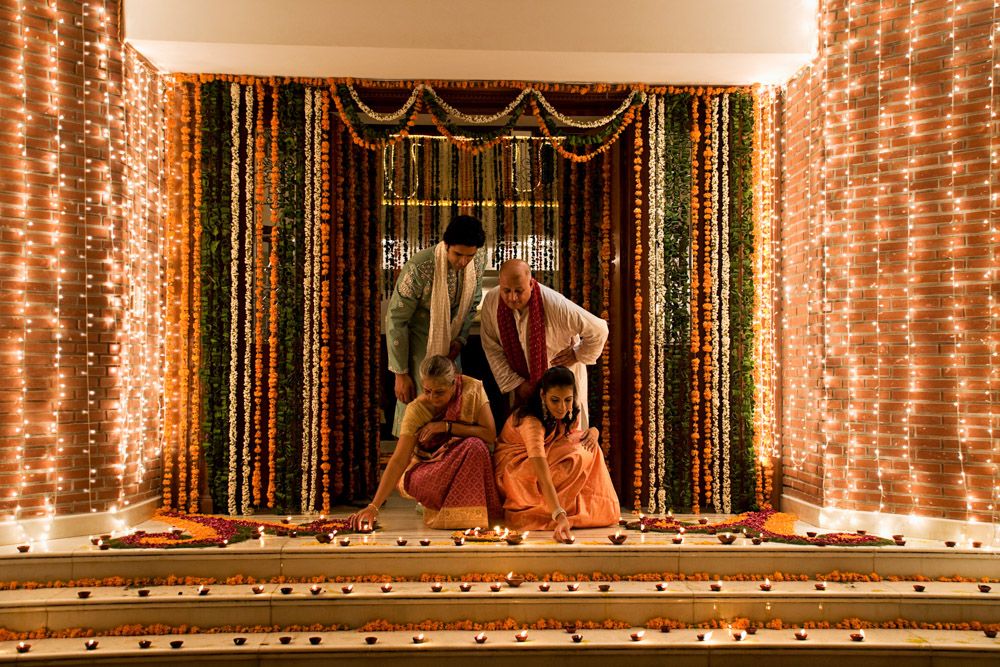 Looking for Diwali door decoration ideas? While decorating the door for Diwali, don't forget to use garlands, string lights and diyas. This way you can welcome Goddess Lakshmi in style!
While you're at it, remember to get your hands on some pretty torans, which are typically available in various shapes and sizes. You can keep these hanging even after the festivities to make your home look welcoming through the year. Torans are usually used to decorate the main door to welcome guests and Goddess Lakshmi with colour and happiness. This is the first thing that people see when they enter, and it is certain to lift their spirits.
#5: You Can't Go Wrong With Diyas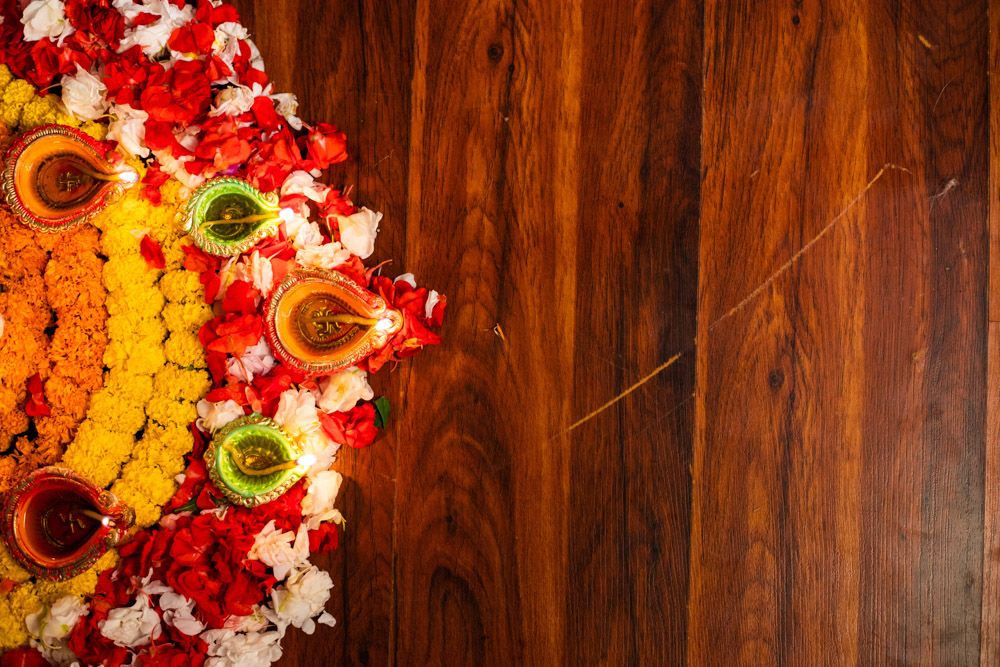 Diyas are symbolic of Diwali and the more diyas you light around your home, the brighter your home is bound to look. Grab some decorative and embellished ones from the nearest store and light up each corner with them.
We all usher in Diwali with a festive mood, beautiful decoration and crackers, but the essence of this festival is obviously in the diyas we light to ward off the darkness. So, Diwali house decoration can never be complete without diyas – use them to create some beautiful visual memories with your family. Also, never run out of home décor ideas again with this brilliant list.
#6: Ramp Up Decorations With Rangoli Designs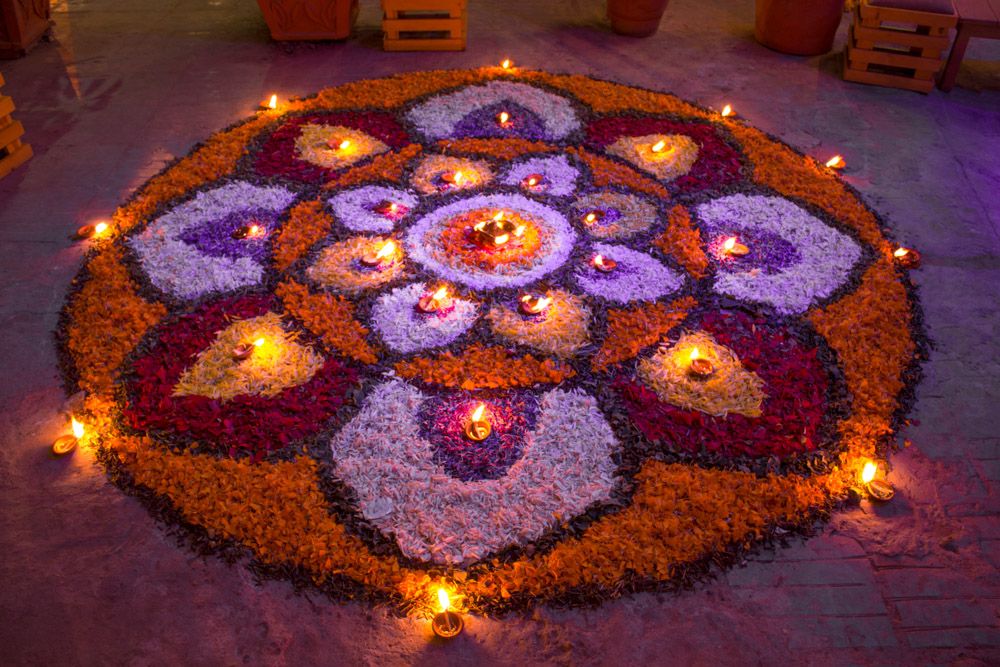 Drawing rangoli as a Diwali house decoration on the eve of the festival of lights is an age-old practice that we still follow. Draw colourful patterns at the entrance of the main door to welcome guests and please Goddess Lakshmi and Lord Ganesha. You can use colour or flower petals in your rangoli, making this one of the most beautiful Diwali decoration ideas.
While traditional motifs are a popular design for rangolis, you should avoid drawing Swastika and Om symbols on the floor. Also, draw small footprints made from a mix of rice flour and vermilion leading towards the entrance of the house. It symbolises the goddess's entry into your home.
#7. Beautify Your Home With Petals Across Furnishings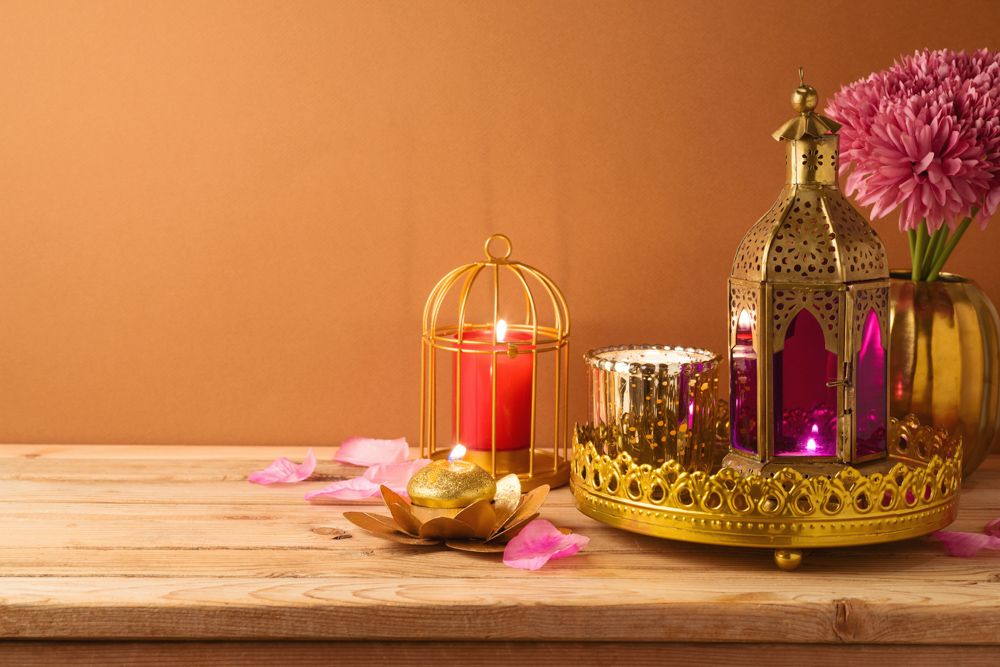 Diwali flower decoration is one of the best and brightest ways to light up any home. We believe loose petals can beautify any part of your home – no matter the size, shape or the style.
So, use flower petals to add more festive charm to your home décor. Embellish little corners of your home, or brighten up your window panes. You can also add flower petals to rangolis and sprinkle them around diyas to add a beautiful enigma to your décor.
#8. Try Some Diwali Wall Decoration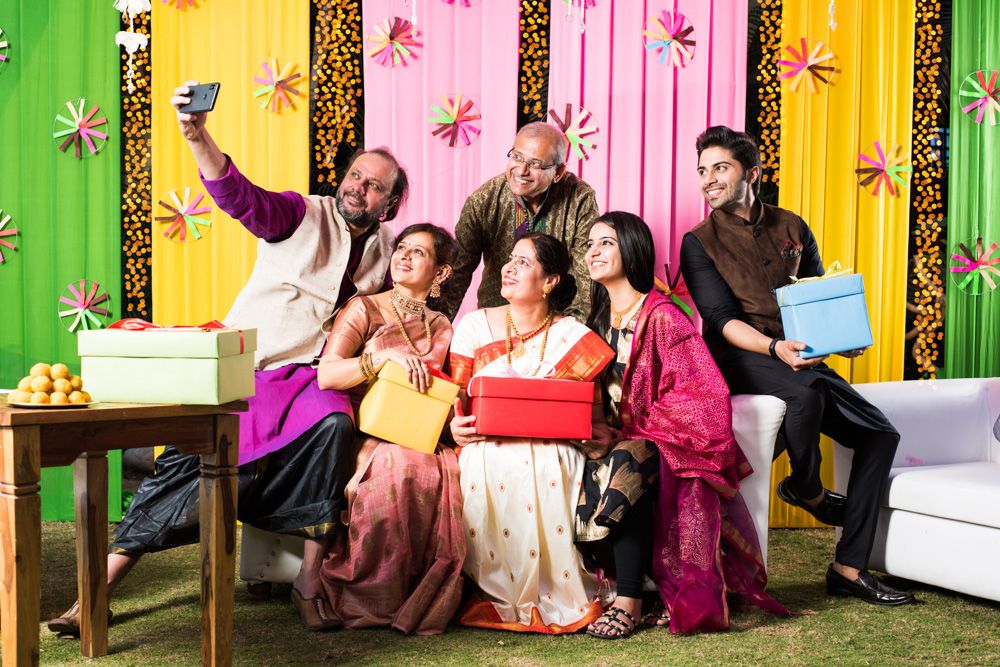 You can never run out of Diwali wall decoration ideas. They are easy to execute and yet give your home a magical sparkle that Goddess Lakshmi or your guests can't miss.
Want a fun, colourful vibe and yet don't want to opt for real flower garlands? Let paper garlands come to your rescue for Diwali wall decoration. In fact, paper streamers (like the ones in the picture) can also give your home a fantastic vibe.
Also Read: 3 Diwali Décor Tips That You Need to Try Out This Season
#9. Don't Forget Garland Glory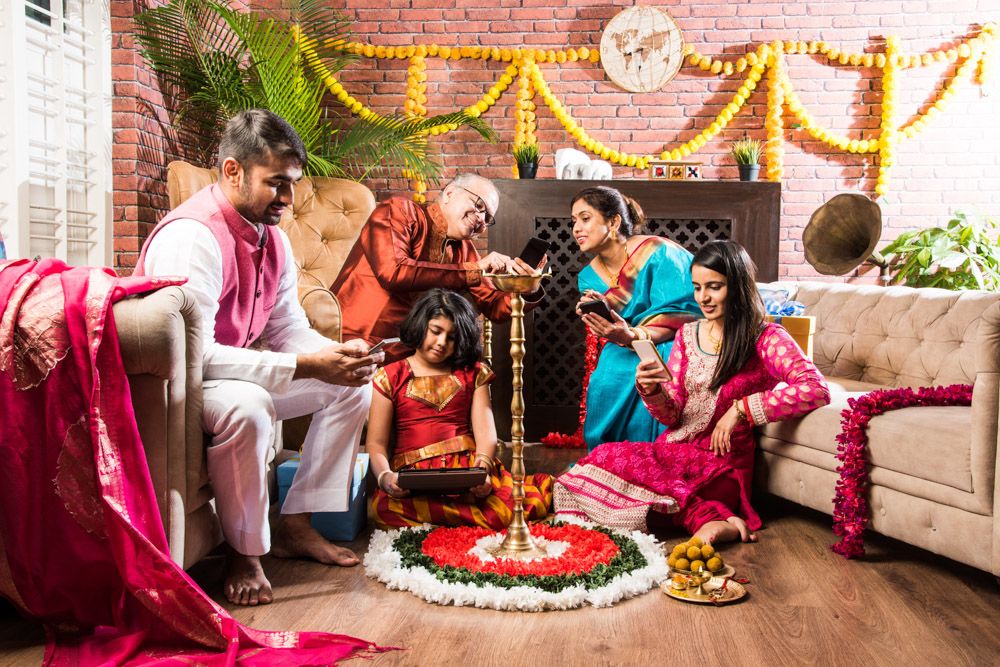 Want to keep things simple for Diwali home decoration and yet kick things up a notch? Try lining your walls with garlands. Strings of marigold or roses work exceedingly well when it comes to creating a beautiful visual glow.
In fact, Diwali flower decoration also makes your home smell like a flowery paradise. So, what are you waiting for? You can place them close together or keep some gap and create a pattern like the one above. Amazingly simple, isn't it?
#10: Diwali Home Decoration Ideas for Your Corner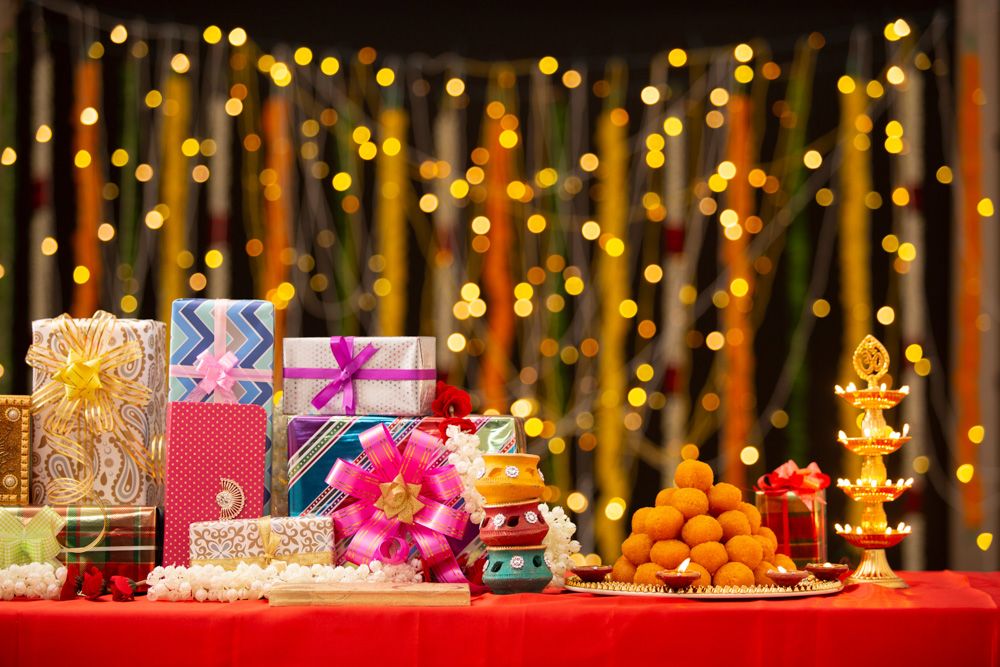 Diwali decoration ideas can never be complete if we don't mention the special corner in your home. Diwali means so much more with gifts, laddoos, sweets and diyas. Why not brighten up a corner with the most symbolic items for Diwali?
Arrange some flowers, add some diyas, place the gifts for your special day and give your home a bright and beautiful touch.
#11: Take Your Table Setting to Another Level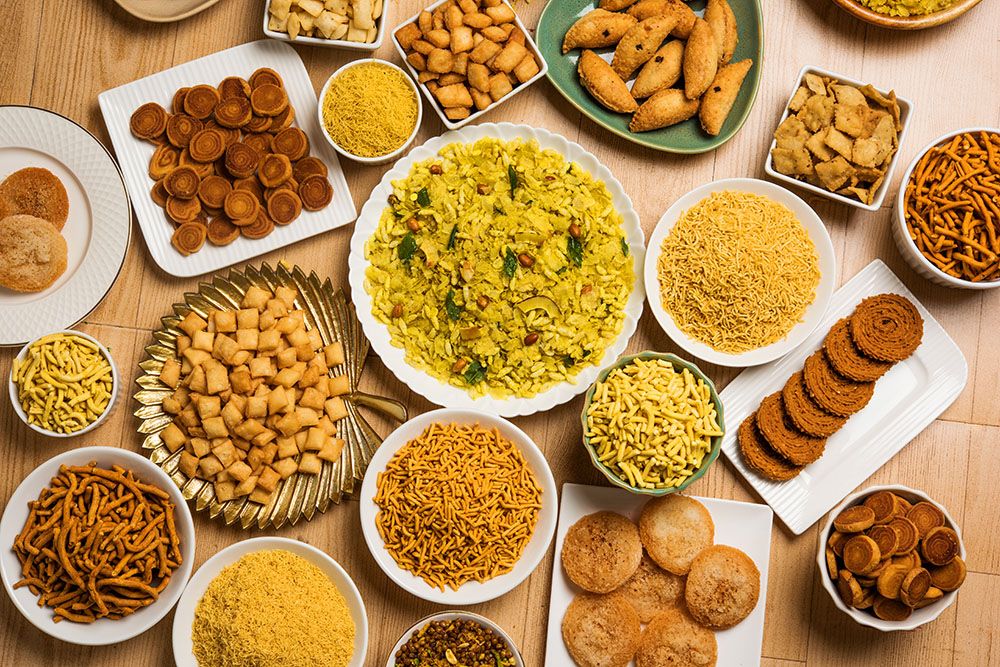 What's Diwali if there are no special food items being served? As you usher in the festival of lights, what do you have planned for the family dinner? When you include Indian delicacies that are everyone's favourites in the meal, you don't have much to worry.
However, remember to have some plans for your Diwali decoration ideas when it comes to table setting protocols. If you're thinking about having a buffet setup, you can lay out all the delicacies on a beautiful table in bronze and brass serving plates. Or, you can match your cutlery to your décor.
#12: Never Miss a Beat With the Sweet Corner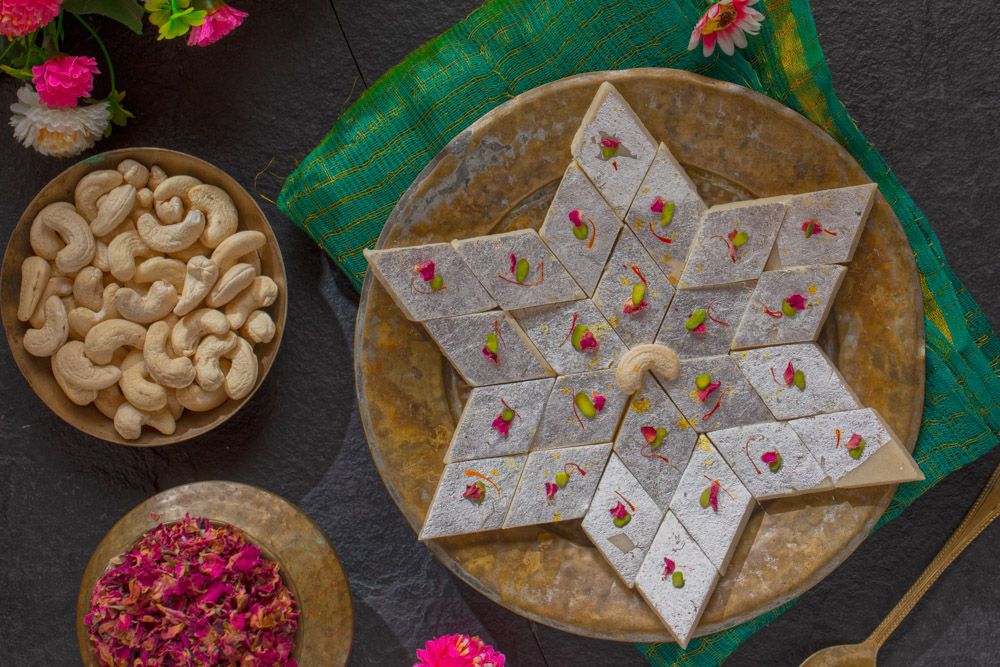 Diwali can never be complete without kaaju katlis, laddoos and all your favourite sweets, can it now? So, why not plan ahead for a sweet corner for you and your guests?
May the beauty of Diwali season fill your life with the sweetness of your favourite mithai. Don't forget to curate a special corner at your home for the sweetest spot.
#13: PRO Tip: Cleaning is the Key!
Diwali cleaning in Indian homes is the equivalent of spring-cleaning in the West. So, before you start executing your Diwali decoration ideas at home, cleaning up is an inevitable task. But if you have been lazy and kept your cleaning chores until the absolute end, you need these shortcuts to clean up quickly.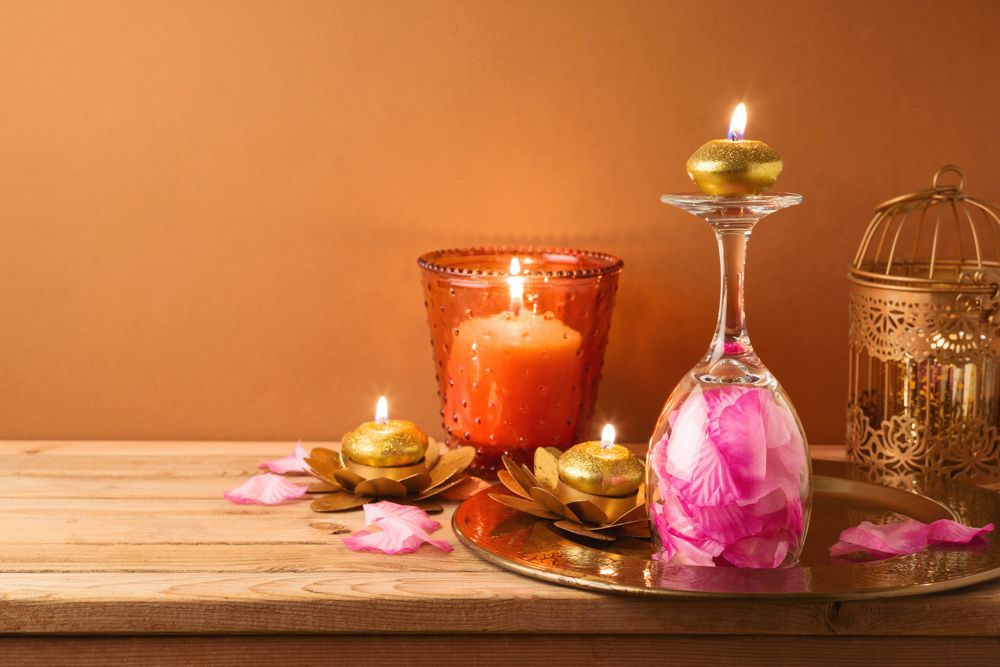 While you round up your Diwali preparations, keep this checklist handy to avoid missing out on little things. Finally, enjoy the festival of lights with gratitude in your heart and a gleam in your eyes with these Diwali decoration ideas for home.
Here's wishing you a safe and fun-filled Diwali from the Livspace family!
If you enjoyed reading this article, you can also look at A Vastu Expert's Guide to Diwali Prep.
How Can Livspace Help You?
We hope you found our ideas useful! If you want beautiful interiors for your home, then look no further. Book an online consultation with Livspace today. If you have any thoughts or suggestions you'd like to share with us, we're all ears! Drop us a line at editor@livspace.com.