Getting your interiors done and think you've covered everything – rooms, flooring, walls, etc? But are you forgetting something? Yes, it's the stairway! Not all homes have staircases, but for the ones that do, the design element is essential. An unflattering staircase can make even a well-designed home look bad. So here are some stunning stairs design ideas that will look amazing in Indian homes!
Stairs Design #1: A Mini Garden
Who doesn't want a dash of lush greenery in their home?! This stairway design boasts a cute garden right under it! This is a great option when you want some greens in your home but lack the space. Also, don't miss the hanging shoots on the wall leading to the first floor. Reminds us of a tropical rainforest!
Staircase Design #2: Elegance of Glass and Marble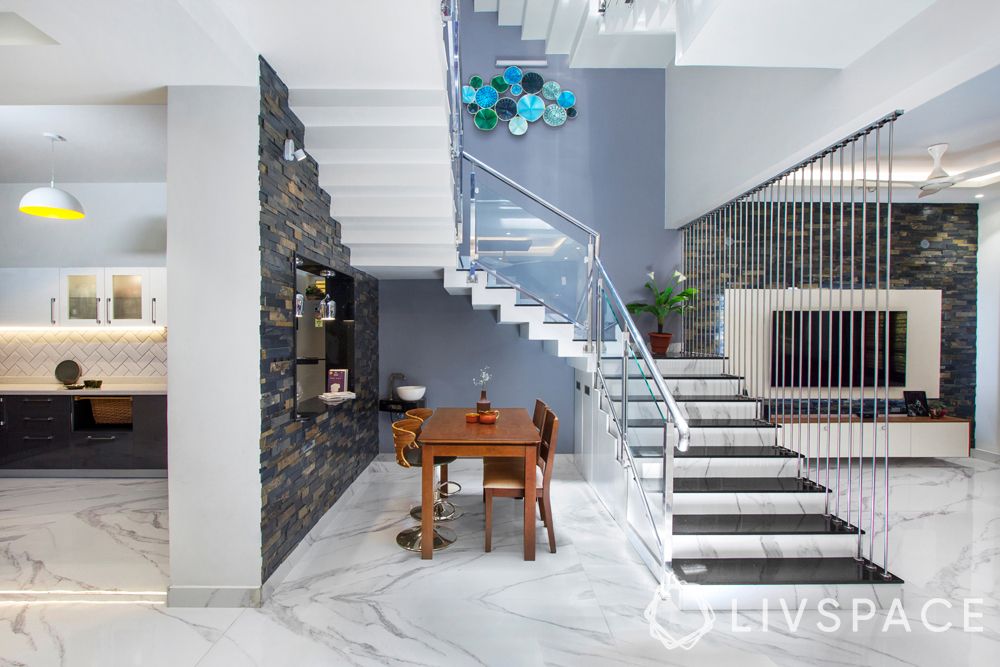 If you are looking for an elegant stairs design for Indian houses, then opt for a glass and marble look. Nothing looks quite as grand as marble! A marble staircase along with a glass railing is a combination that will look great in modern apartments. You can also use steel rods as a partition and decor item as our designer has done.
Stairs Design #3: An Industrial Endeavour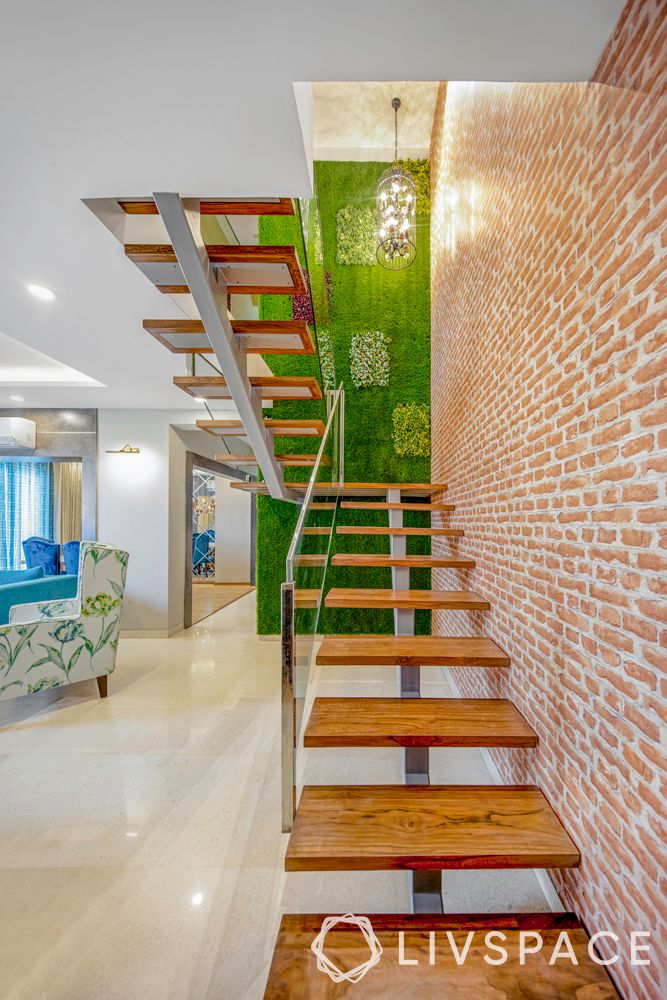 Industrial is one look that never goes out of style! And the best part? It's not even difficult to achieve! All you need, to give your stairway an industrial twist, is an exposed brick wall. And don't waste the wall leading to the first floor. Just add a vertical garden for an alluring and fresh look.
Staircase Designs for Homes #4: One With Some Hidden Storage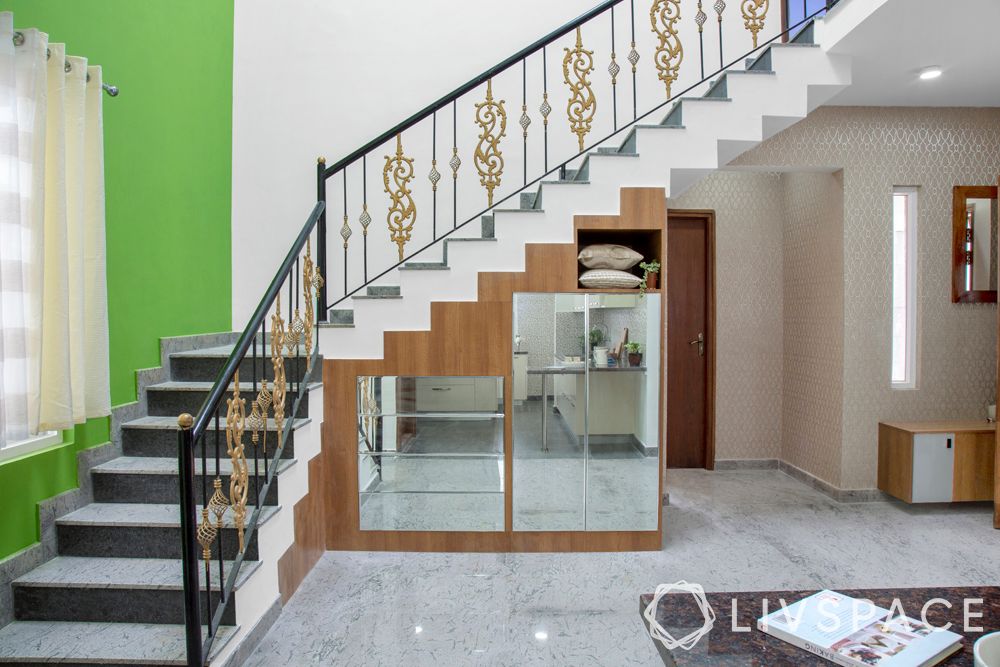 The biggest bane in almost every Indian's life is the compact size of our homes. So what do you do? Use space-saving designs, of course! This stairs design is a lesson on how you can use the dead space below the stairs. You can add cabinets and storage units instead of wasting the space.
Stairs Design #5: Stairway to Heaven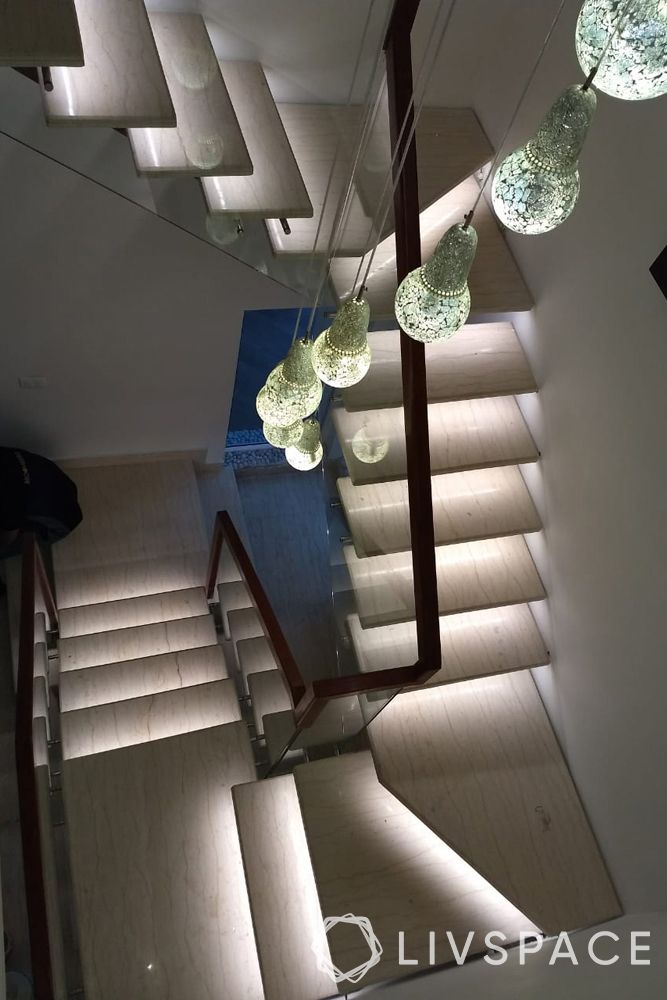 Already have a staircase but don't want to make any civil changes? No problem! Use statement lighting to revamp your stairway design. These cascading light fixtures look so grand and create such a romantic ambience! The LED lights below the stairs just add to the look!

Staircase Designs #6: Zigzagging Away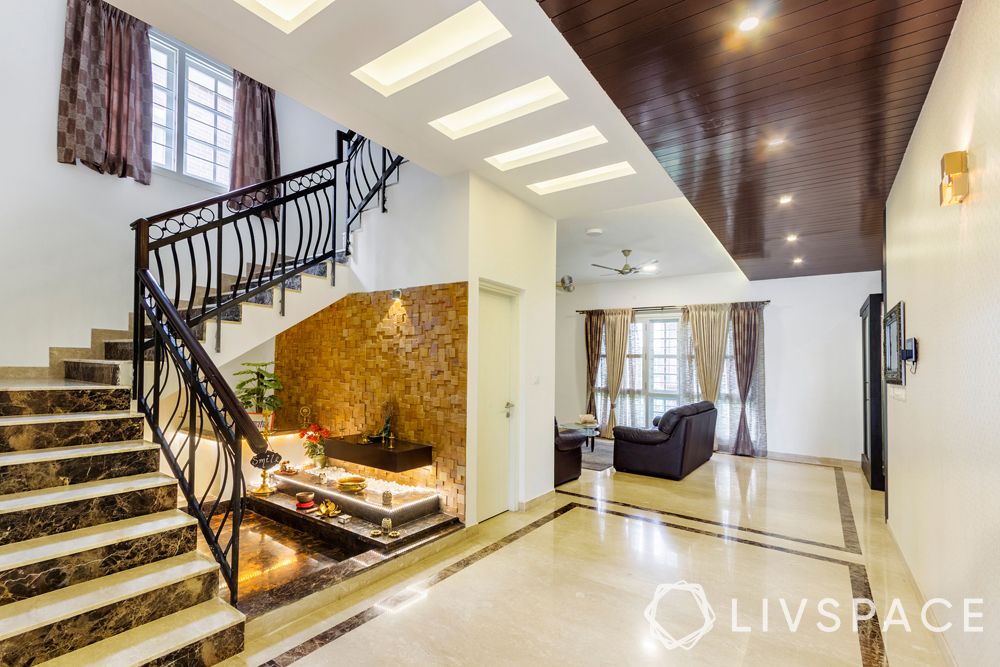 A stair design for a small house is incomplete without a zigzag staircase. Zigzag staircases can be as simple or grand as you want! For instance, this staircase design with a wrought-iron railing has an old-school charm which is so grandiose! And we just love the stair pattern, which adds to the charming look!
Stairs Design #7: Sleek and Simple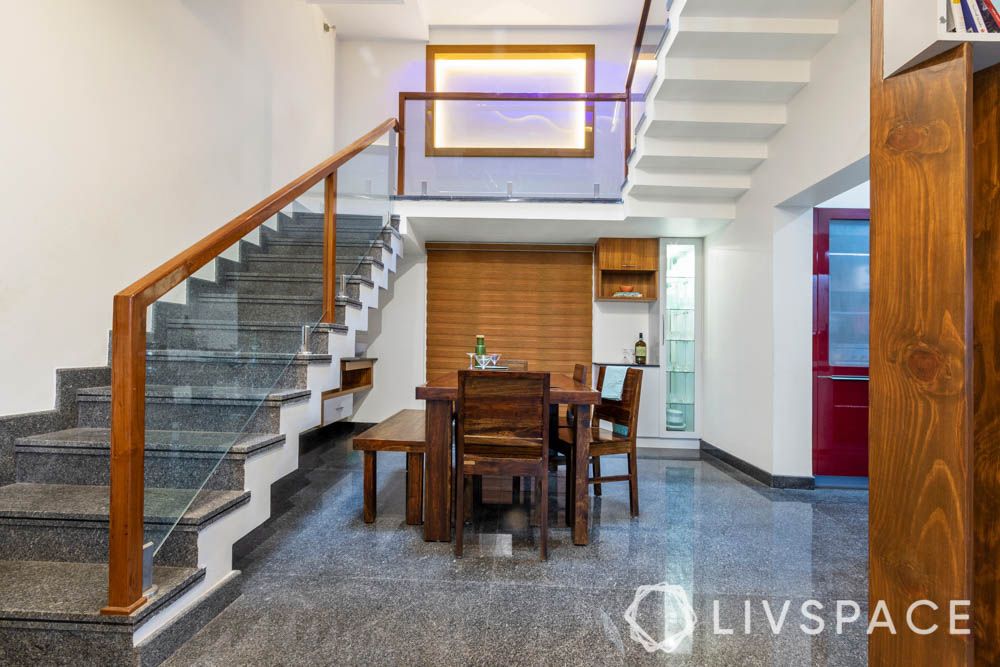 When it comes to stairs design for Indian homes, simplicity always wins! A design that has too much going on might overpower the look of your home. So choose a staircase design that is minimal and elegant. This stairway, with the glass railing and the wooden border, is the perfect option for modern apartments.
Staircase Designs #8: White and Wooden Delight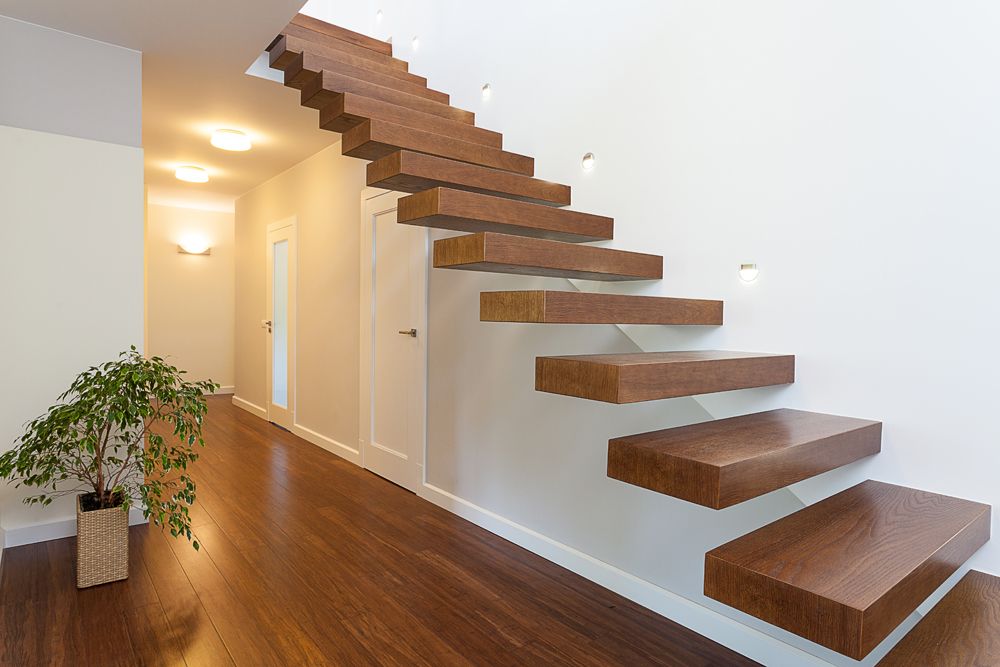 There's something beautiful about the simplicity of wood and white! No wonder this staircase design is one of our favourites! For a homely look, choose wood as your staircase material and play it up with a bright colour like white.
Stairs Design #9: Warm Wooden Vibes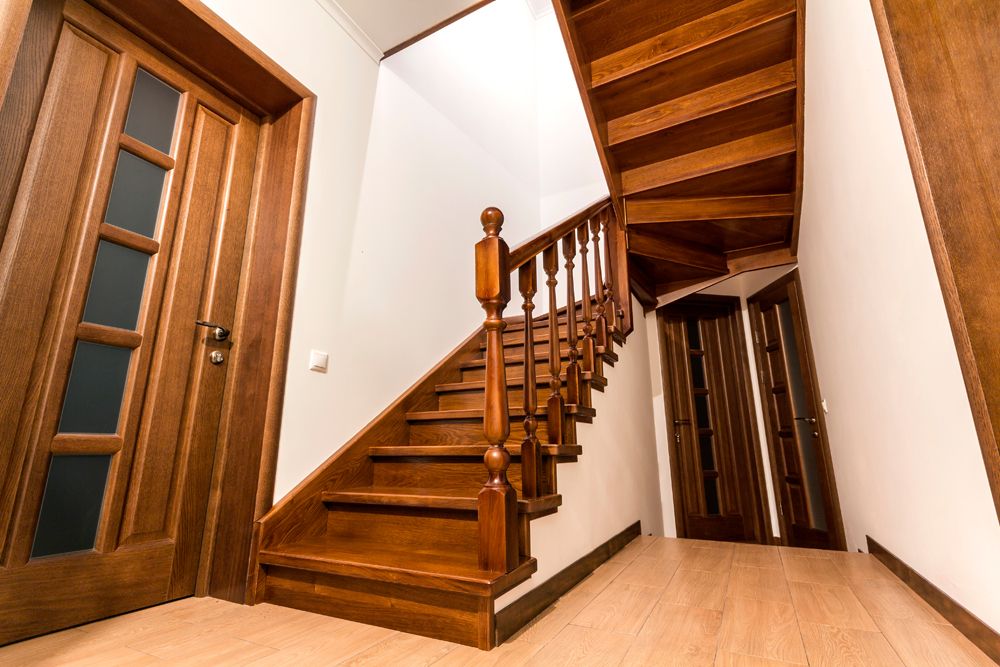 Whilst we are talking about wood, let's also talk about a complete wooden stairs design for Indian houses. Exuding warmth, wooden staircases are a stunning choice! Doesn't this wooden stairway remind you of a warm home up in the hills?
Staircase Designs #10: Spiral Outdoors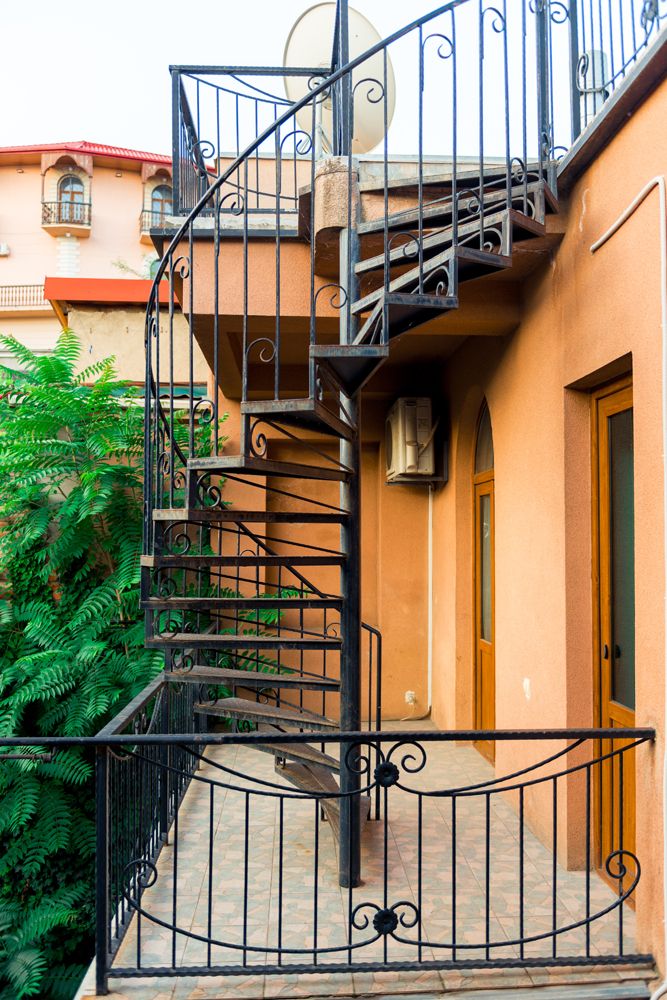 If you have a stairway outside your home, it needs to be well-designed as it is one of the first things people will notice. Spiral staircases are an all-time favourite! This spiral stairway design has a timeless charm that is reminiscent of castles and palaces.
Stairs Design #11: Modern Metal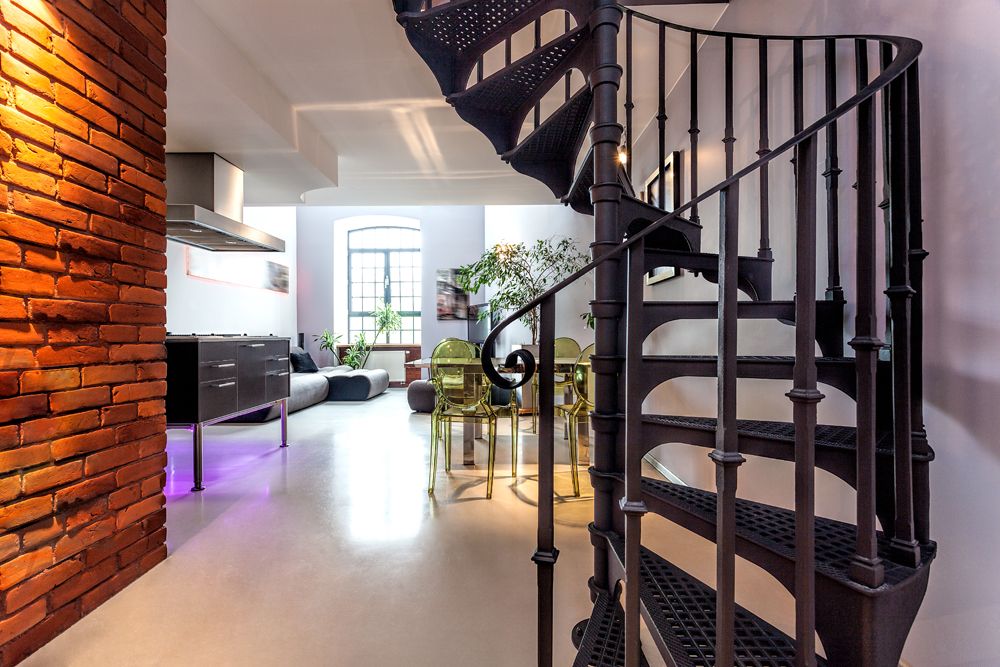 Metal items and furniture are prominent features of urban homes. So why not get a metal stairs design? Choose a dark colour like black and brown for a plush and modern look.
Staircase Designs #12: Float Away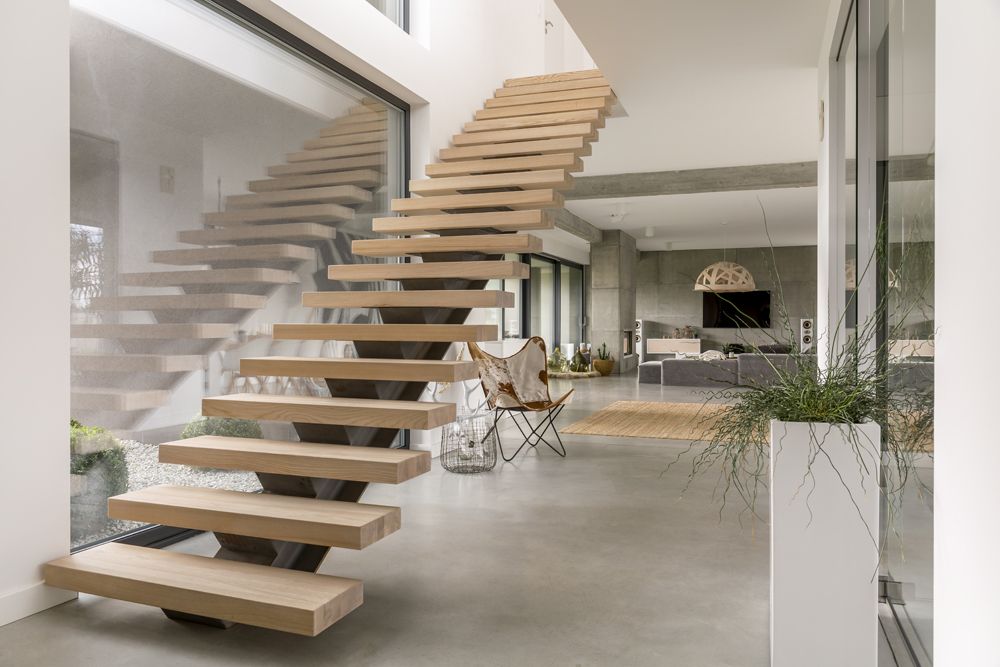 A cantilevered staircase appears to be floating as it is fixed at only one end. This trendy design is a favourite amongst urban homeowners as it fits in perfectly in contemporary settings. This wooden cantilevered stairway is a charming and modish masterpiece!
Stairs Design #13: An Edgy Look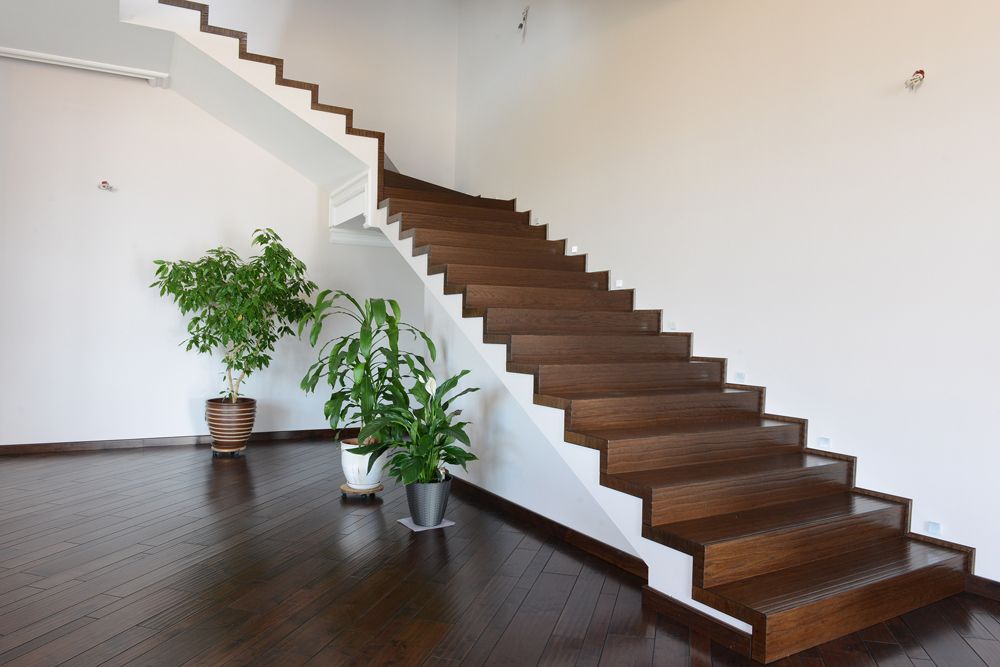 Love to live on the edge? Then why not get that look for your stairway? Unlike a floating staircase, this stairway is traditional in almost every way except one – it has no railing! The no railing look keeps the appearance neat and minimal. However, think twice before opting for this design if you have children or elders at home.
Staircase Designs#14: Whimsical Whites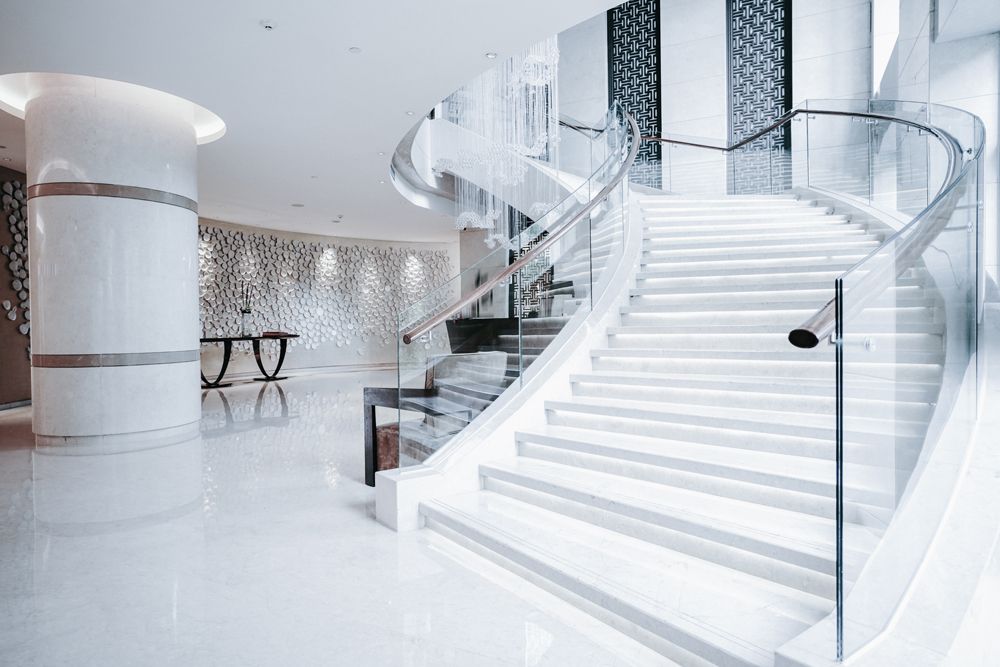 Is there any colour as classy and timeless as white? No wonder it had to feature on our list! An all-white look is the easiest way to create a grand appearance. If you're thinking of going white, choose simple glass railings so that it does not obstruct the look.
Stairs Design #15: Contemporary Charm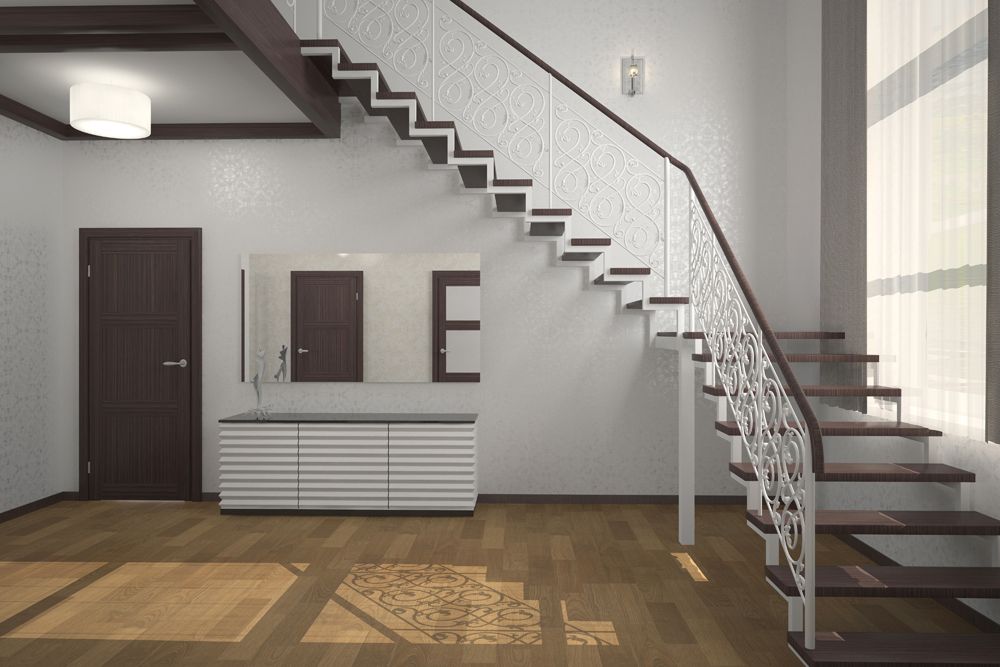 If you're looking for a stairs design for Indian houses, a contemporary design is the best option as it will fit in well with our modern apartments. Contemporary can be charming, as proved by this stunning design. We love the cantilevered look in earthy tones like wood while a jaali railing in pristine white sums up the gorgeous design.
Staircase Designs #16: When Modern Marries Traditional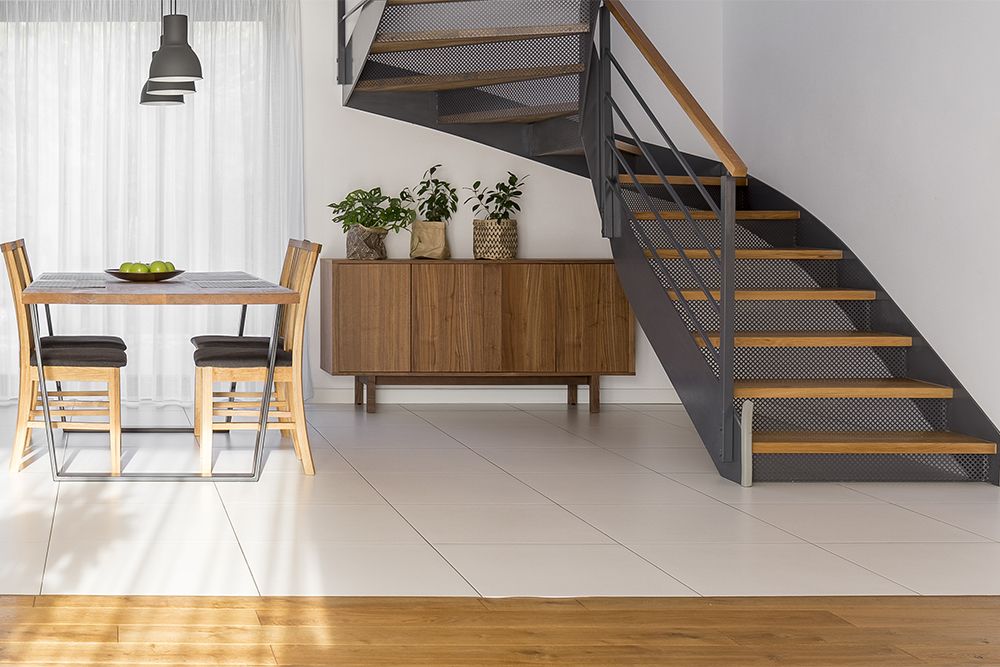 Why choose either modern or traditional when you can opt for both? A combination of metal and wood can look beautiful in modern apartments. While choosing this look, go for earthy and neutral tones, for the metal part to match the wood.
Stairs Design #17: Cove Lighting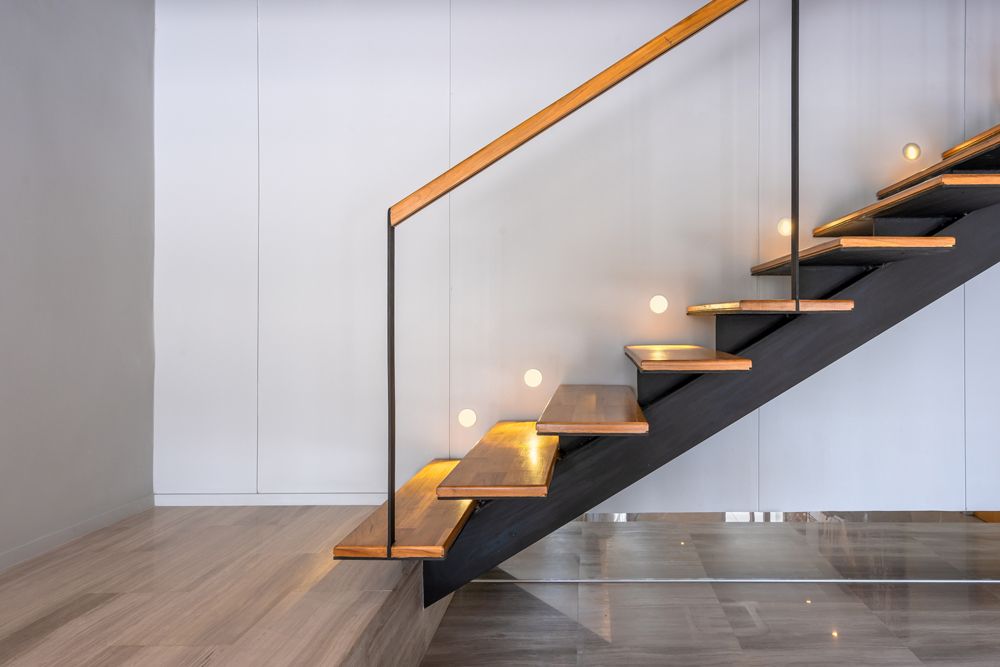 Sleek cove lighting is such a gorgeous choice for stairs design, isn't it? This staircase comes with minimal sidelights which light up the stairs. This is not only an elegant design choice but also ensures safety at night.
Vastu for Stairs Design
Like every element of your home, even the stairway should follow vastu principles for a happy and harmonious home. Check out this video for stairway vastu tips.
Liked these stairs design ideas? Also, check out these stairway railing designs that will make you go WOW!
We love hearing from you! Write to us with your comments and suggestions at editor@livspace.com