Not all houses have staircases but in the ones that do, the staircase plays a pivotal role in enhancing the aesthetic of the house. A badly made staircase design has the potential to ruin the whole look, and we certainly don't want that to happen! Here are some tips on how to choose the best design among all the types of staircases and how to enhance their look.
#1: Plant a Mini Garden Under the Staircase Design
Who doesn't like to bring in some greenery? This staircase design has a mini garden tucked under it conveniently. If you want to bring in some plants but lack the space, this is a great option, especially with duplex house staircase designs — or the dog-leg staircase designs. Make sure that you use only indoor plants in your under-the-staircase garden. Also, do not miss the hanging vines leading up to the first floor. It's like a green carpet of its own!
#2: Use Marble and Glass for Modern Stairs Design for Indoor Spaces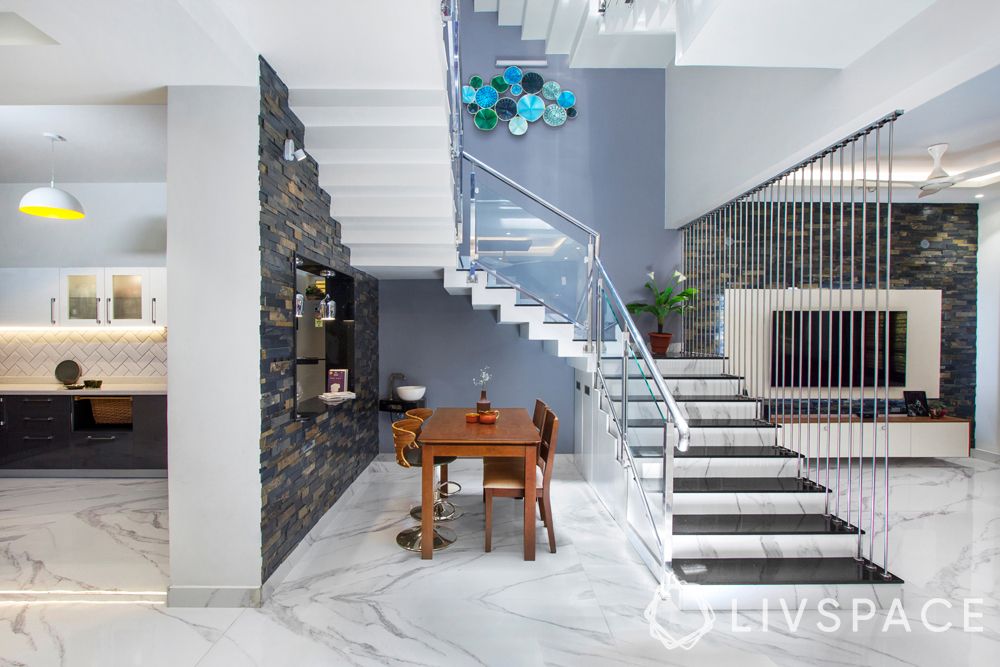 Modern stairs design is all about using the right materials. Thus, if you want a touch of elegance, opt for marble. No other material makes a grander statement in homes. This staircase design goes well with a glass-and-steel railing. 
#3: Decorate Your Stairs Design with a Hedge Wall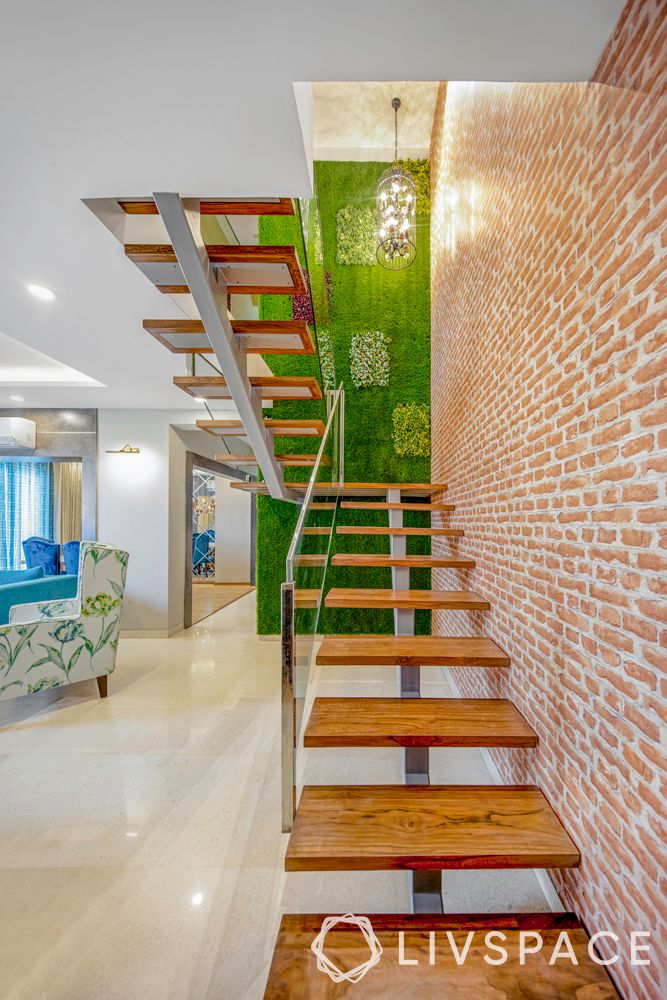 Adding an industrial touch to the modern stairs design is quickly becoming popular in Indian homes. The best part? It isn't difficult to incorporate this design into your duplex house staircase design. All you need to do is to use something like exposed brick on the wall along your staircase and you are good to go. Don't forget to add a bit of that vertical garden for a fresh and alluring look.
#4: Tuck in Some Storage Under Your Modern Stairs Design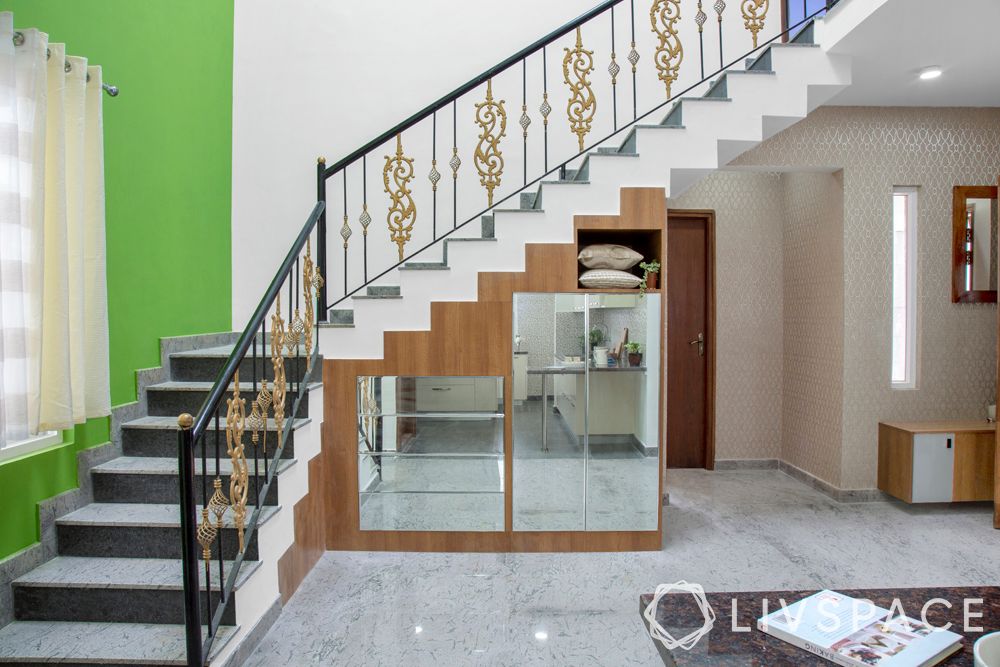 Staircases can give you a dead space under it, which can be easily used to add more storage. This can be helpful when you have limited space for storage. Indians love themselves some storage-efficient ideas and this is a handy stairs design trick. 
#5: Dazzling Modern Staircase Ideas with Lights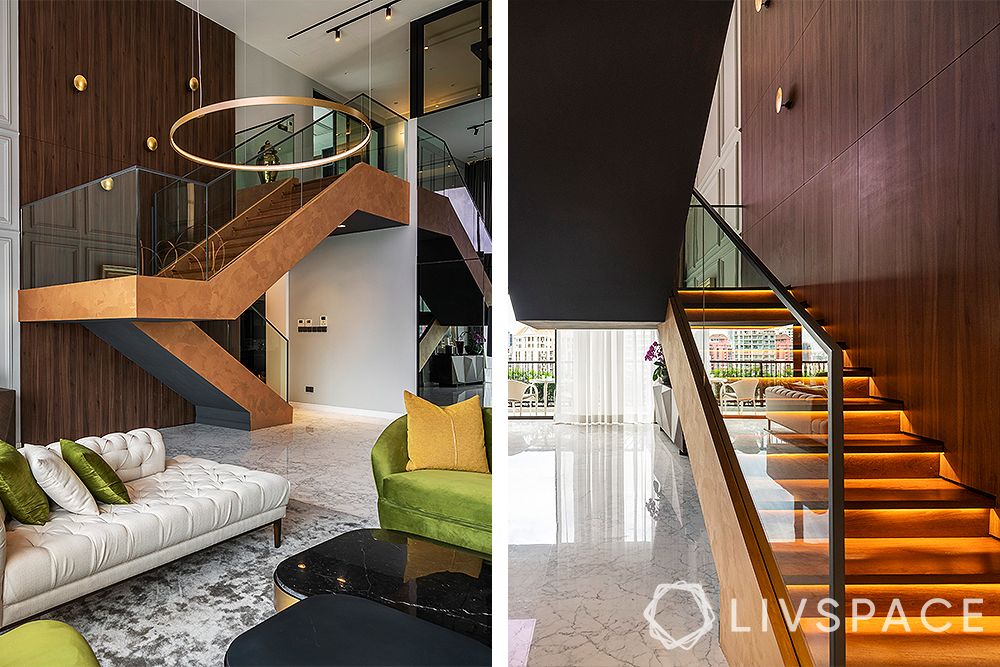 Want to revamp your staircase with minimal effort? We got you covered! Use statement light to revamp your stairs design. If you want to go a little further, recessed lights under that modern stairs design will add more spice to the look.
#6: The Good Ol' U-Shaped Staircase Design for Homes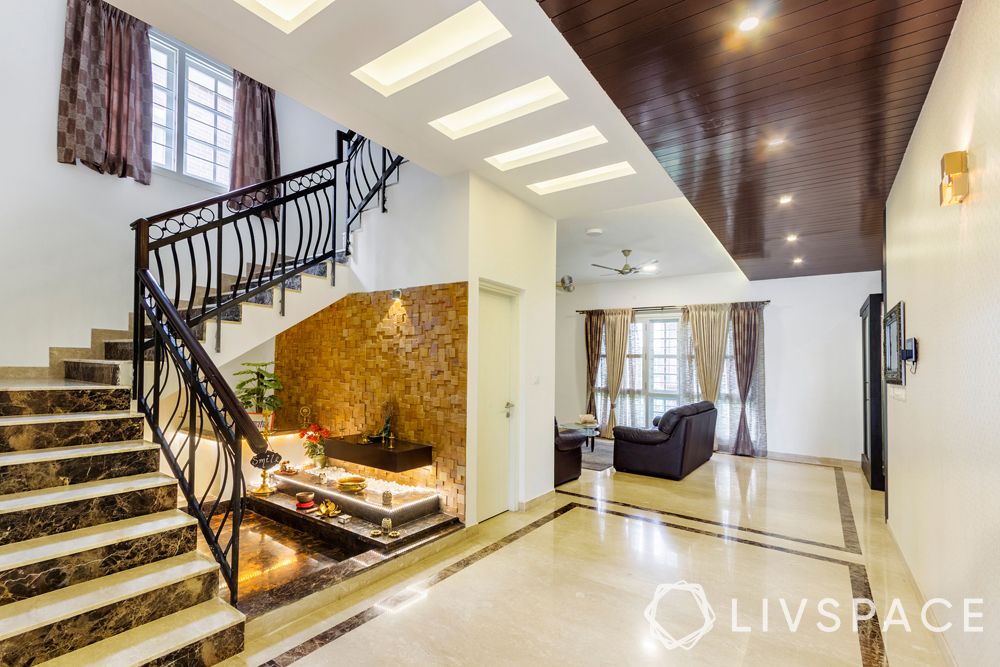 A U-shaped staircase design can range from grand to simple, depending on your personal tastes. For instance, these types of staircases, when combined with a wrought-iron railing, offer a certain opulent old-school charm. And we just love such staircase designs for Indian houses, as they add to the appeal!
#7: Keep Your Modern Stairs Design for Indoor Spaces Minimal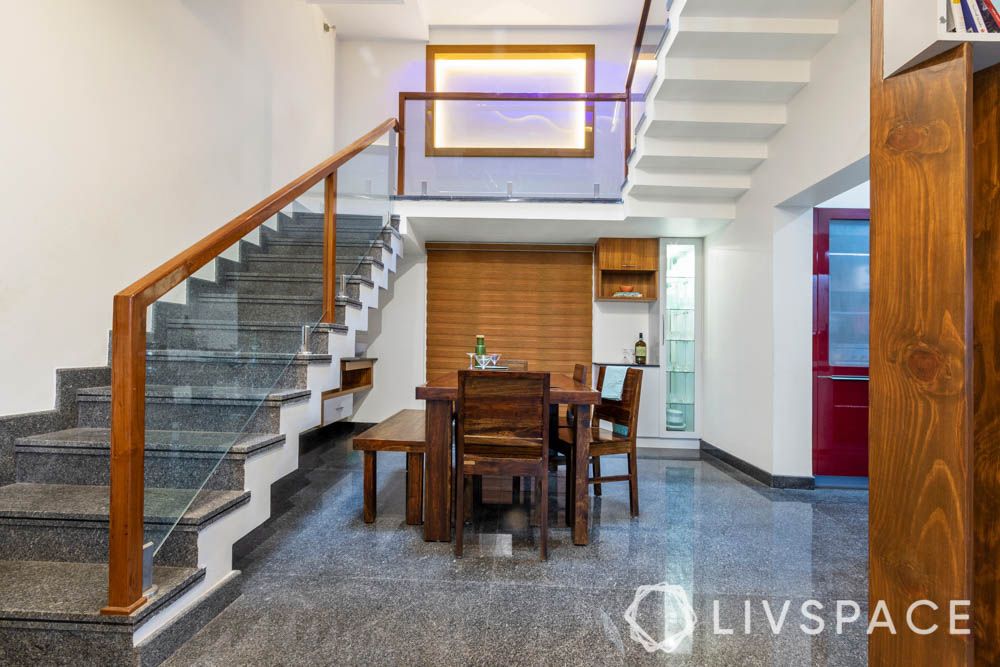 When it comes to Indian homes, the more grandiose types of staircases may easily become visually overwhelming. Thus, sleek and simple stairs design goes a long way to define the house. This duplex house staircase design with a glass-and-wood railing, is a perfect minimal design option.  
Also Read: 7 Unique Staircase Design Ideas That You Will Love
#8: Attain Homely Charm with a Wood and White Stairs Design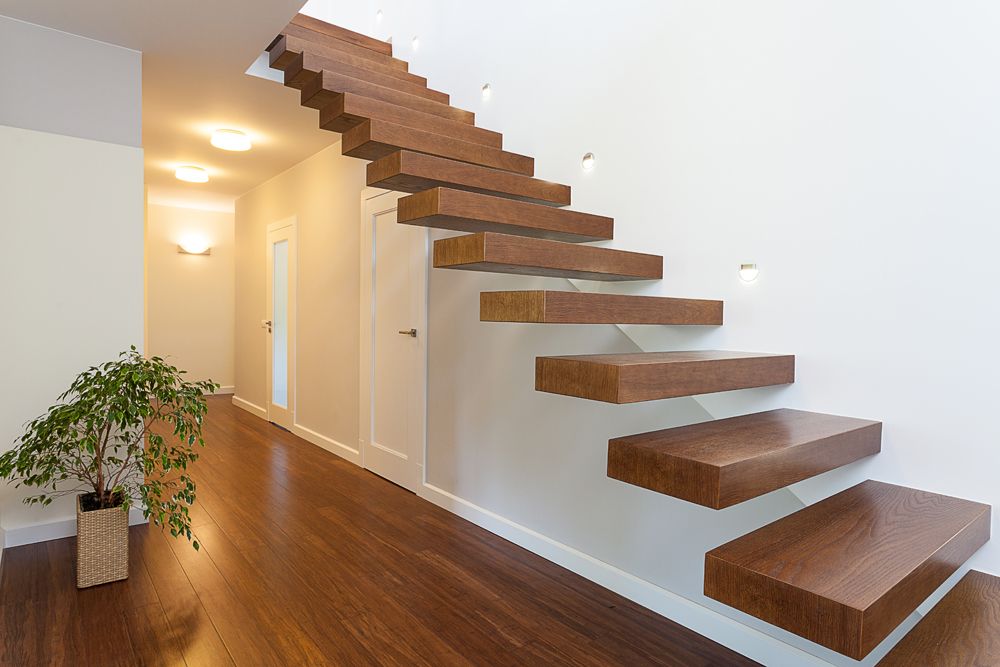 For a homely yet modern stairs design, choose wooden stairs. They can be accentuated with a colour like white. We absolutely recommend this combination as it is not just something that always looks good, but it also gives a wooden warmth to the house.
#9: A Desi Home Favourite: The Wooden Staircase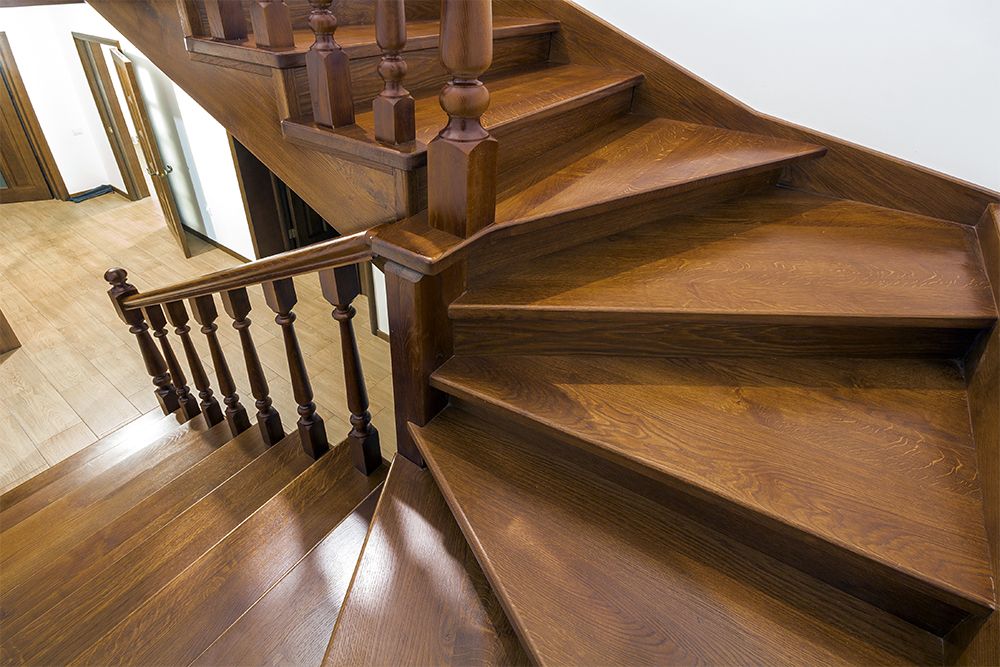 A complete wood staircase design is an oldie we love. These types of staircases not only evoke wooden warmth, they also bring to mind a typical country-style mountain cabin full of rustic charm. 
#10: Go Vintage with This Spiral Staircase Design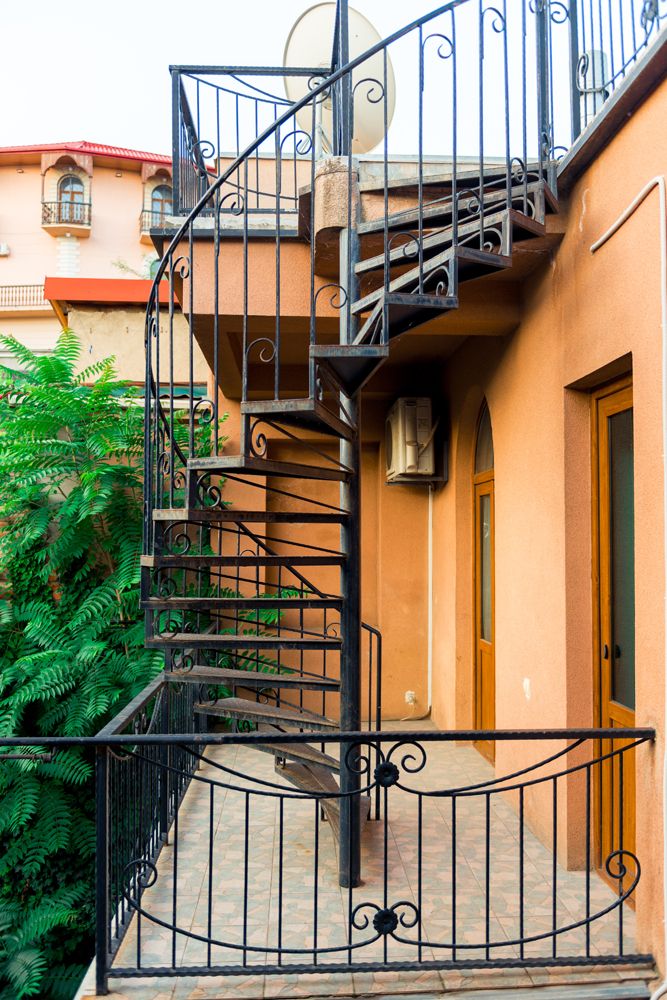 This common outside stairs design for Indian houses can withstand every kind of weather. These types of staircases — made out of metal — make for the best investment for outdoor purposes. They are sturdy, good in any weather and have a great vintage vibe.
#11: Go Modern with a Metallic Staircase Design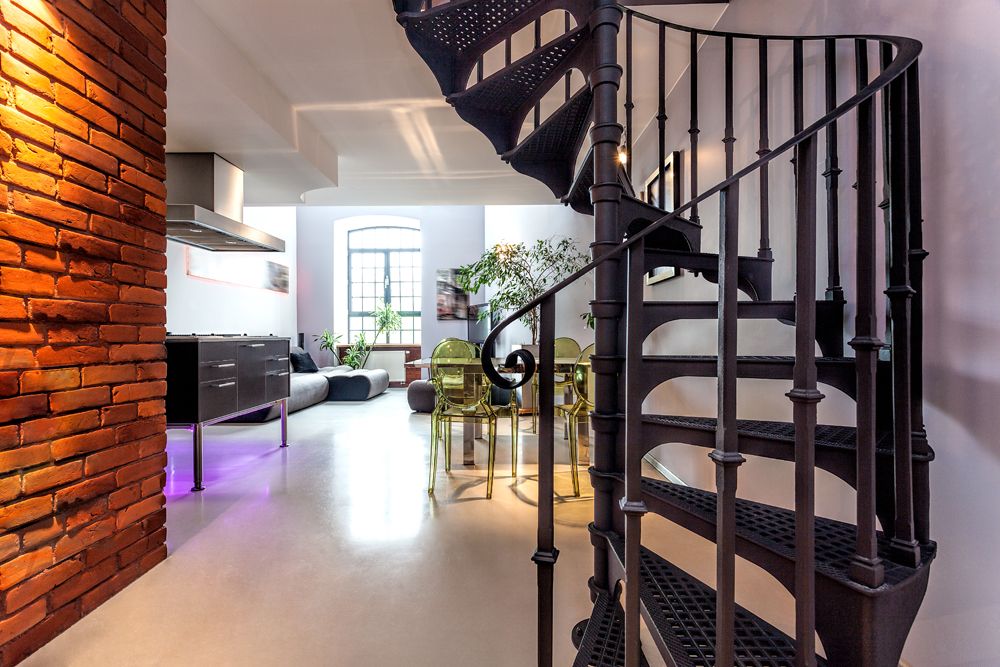 Indian homes have never refrained from bringing in metallic accents. So why not bring in a metal staircase design? They impart a modern and industrial look to your home. Our pick is a black or brown painted metal.
#12: Give the Floating Staircase a Chance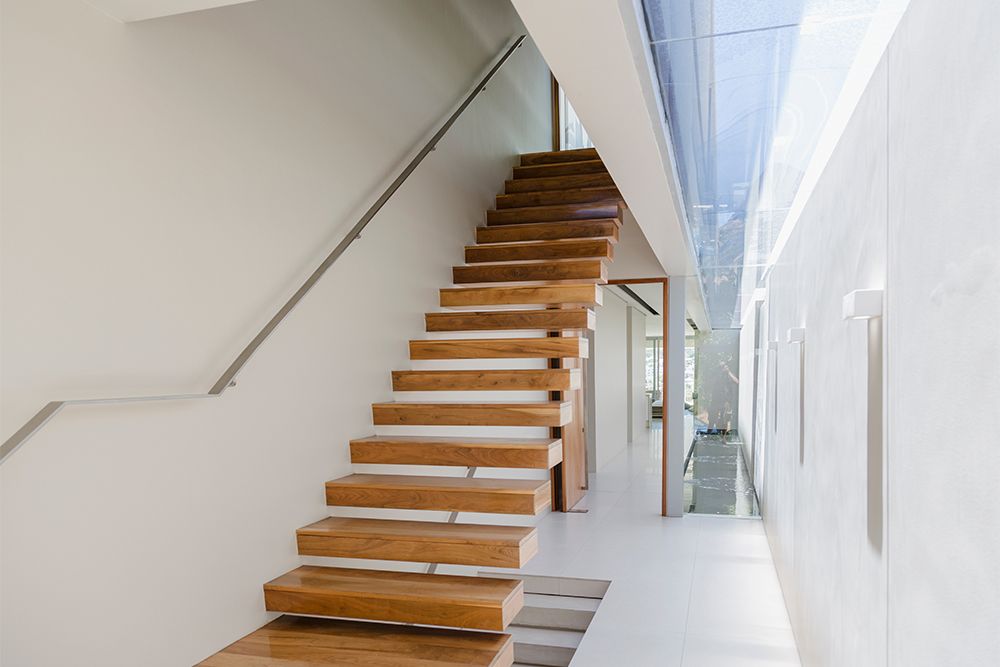 A cantilevered staircase design appears to be floating as it is fixed at only one end. This modern stairs design is a favourite amongst urban homeowners as it perfectly complements a contemporary aesthetic. This wooden cantilevered stairs design is a charming and modish masterpiece!
#13: Ditch the Railings for Your Staircase Design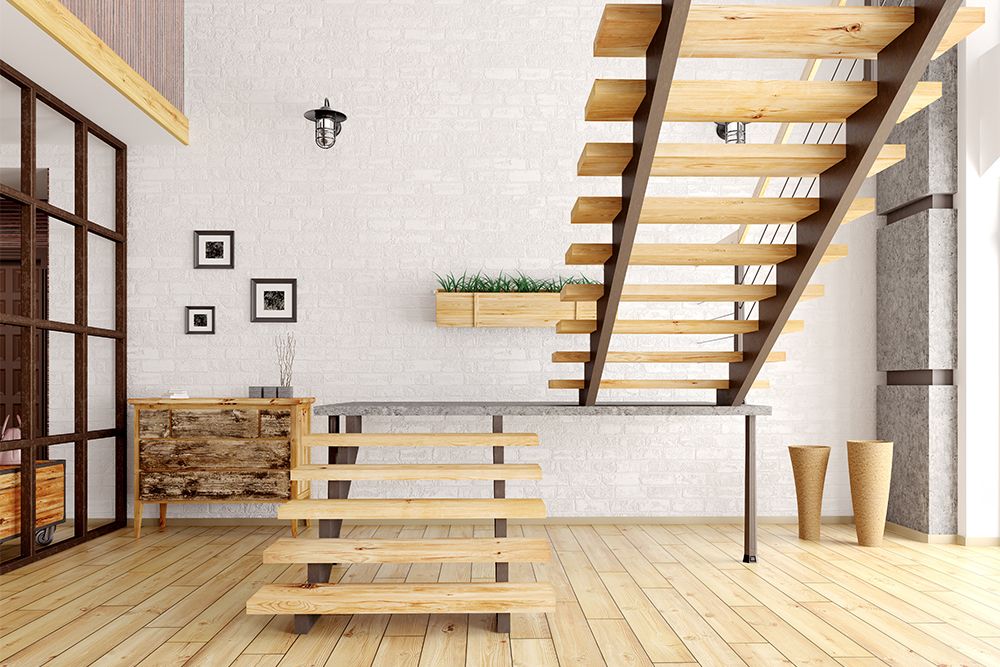 Love yourself some edgy, modern stairs design? Then opt for a staircase design with no railings. This keeps the staircase neat and minimal. However, we advise against this in case you have elders or children living in the home. 
#14: Use Heavenly Whites for the Staircase Design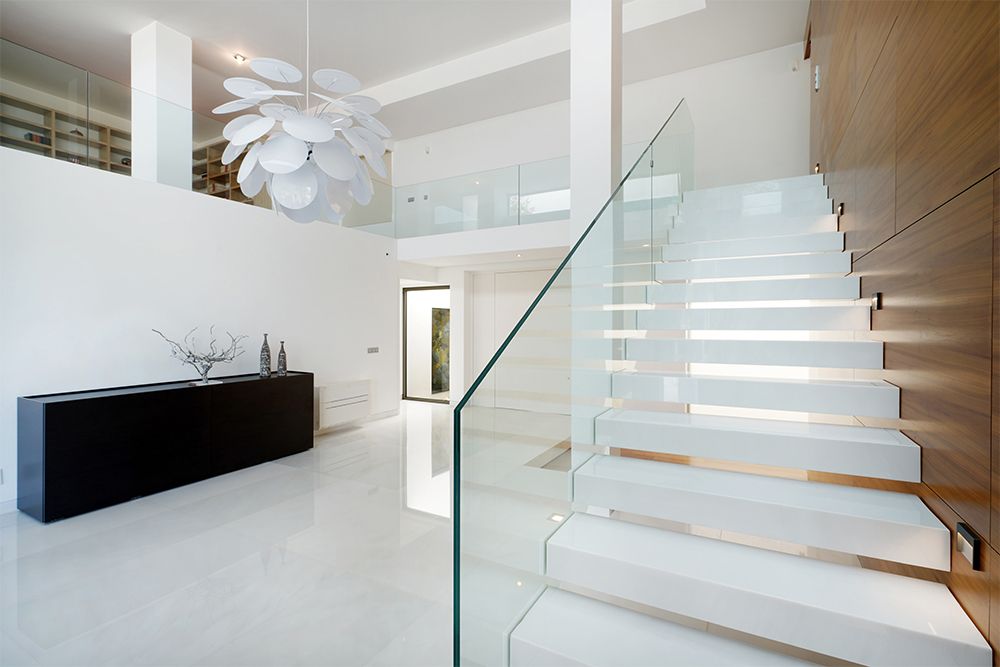 Want to create a grand yet understated modern stairs design? Choose an all-white staircase design and watch as your house transforms into a sophisticated space. Opt for simple glass railings, too, so that they do not obstruct the look. 
Also Read: Our Favourite Stairway Designs
#15: Maintain a Contemporary Charm with Your Staircase Design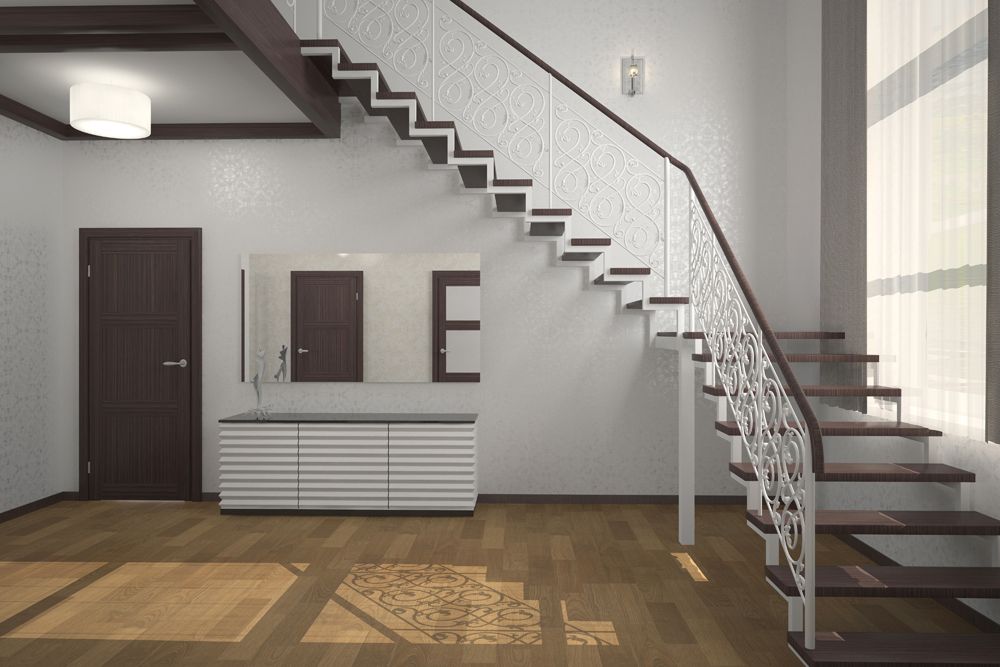 A contemporary staircase design will fit right in an Indian home. Contemporary can be charming, as proved by this stunning design. The cantilevered look in earthy tones like wood while a jali railing in pristine white sums up the gorgeous stairs design.
#16: Mix Traditional and Modern Stairs Design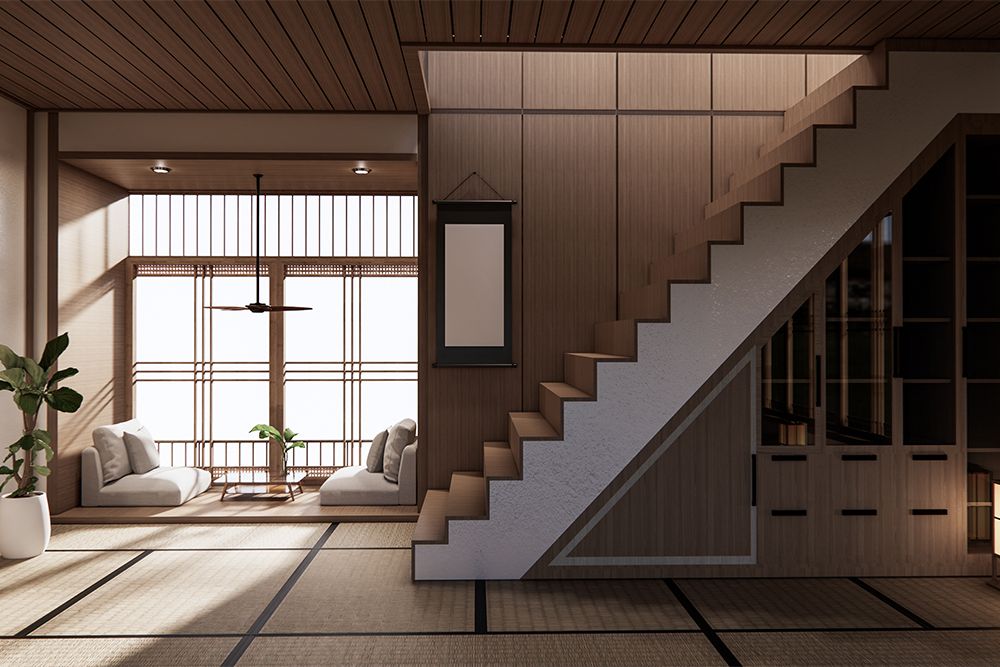 Why pick between a traditional or modern stairs design when you can opt for both?  A combination of metal and wood can look beautiful in modern apartments. While choosing this look, go for earthy and neutral tones, for the metal parts to match the wood.
#17: Install Cove Lighting in Your Staircase Design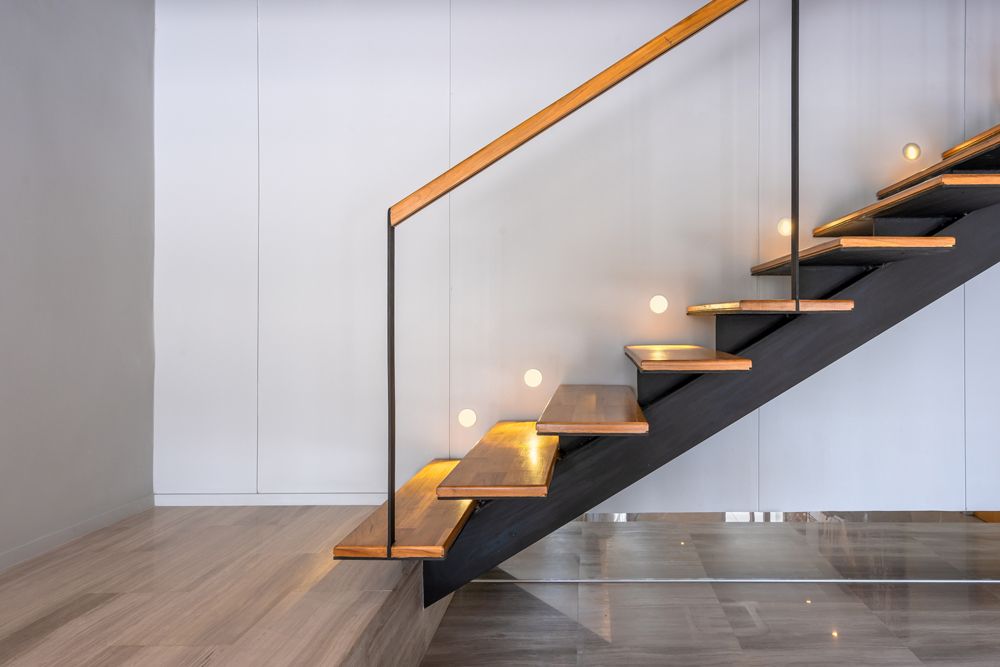 Cove lighting is an ideal choice for staircase designs. It doesn't only add an element of modernity but is also good from the safety point of view. This staircase comes with minimalist side lights which light up the stairs.
Vastu for Staircase Design
Like every element of your home, even the stairway should follow vastu principles for a happy and harmonious home. Check out this video for stairway vastu tips.
Liked these stairs design ideas? Also, check out these Stairway Railing Designs that will make you go wow!
How Can Livspace Help You?
We hope you found our ideas useful! If you want beautiful interiors for your home, then look no further. Book an online consultation with Livspace today. 
Send in your comments and suggestions to editor@livspace.com