A modern design for a Shipra Srishti apartment.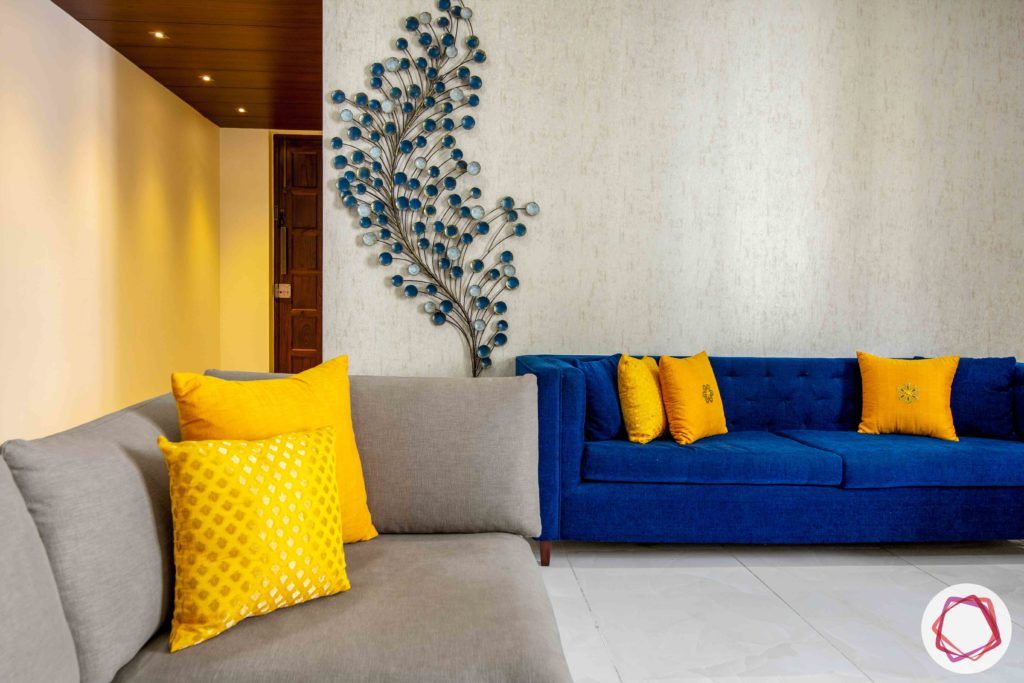 ---
Who livs here: Anurag Jain, his wife Kalpana, and their two children
Location: Shipra Srishti, Indirapuram, Ghazibad
Size of home: 5BHK spanning 2,200 sq ft for each floor
Design team: Interior designer Geetika Seth
Livspace service: Full home design
Budget: ₹₹₹₹₹
---
Located in the most sought after area of Ghaziabad, stands Shipra Srishti, where Anurag Jain and his family found their dream home. The family approached Livspace to deck up their home completely, from flooring to ceiling and everything in between. After all, the sprawling penthouse with two floors does mandate snazzy interiors! Our designer Geetika Seth was soon put to the task.
The now carefully crafted home is dressed in beautiful neutrals, accentuated with happy pops of colours, and subtle wall treatments. We have only featured one bedroom of their five as per the request of the client. Here's the tour!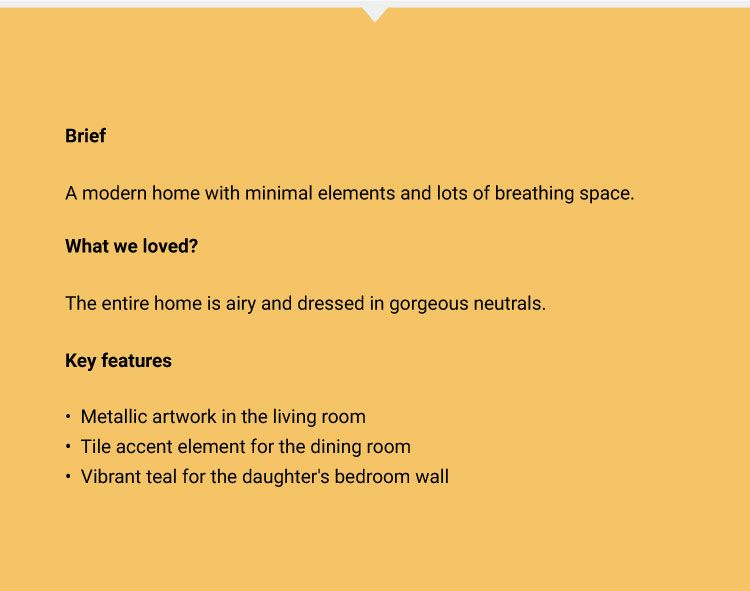 Shipra Srishti Apartment Design: Wooden Warmth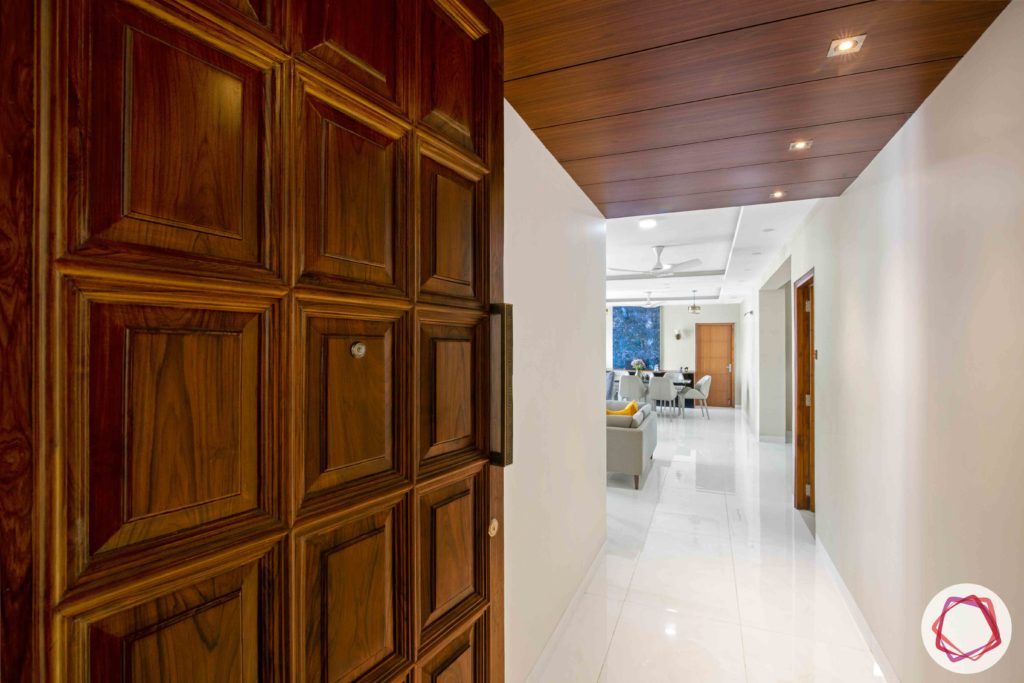 Something about wood always makes your home warm and inviting. Since the main door has been done up in decorative wood, it makes a good first impression. Also, we love the drama leading to the living room done by laminated wooden ceiling, dressed with spotlights.
Shipra Srishti Apartment Design: An Ode to Greys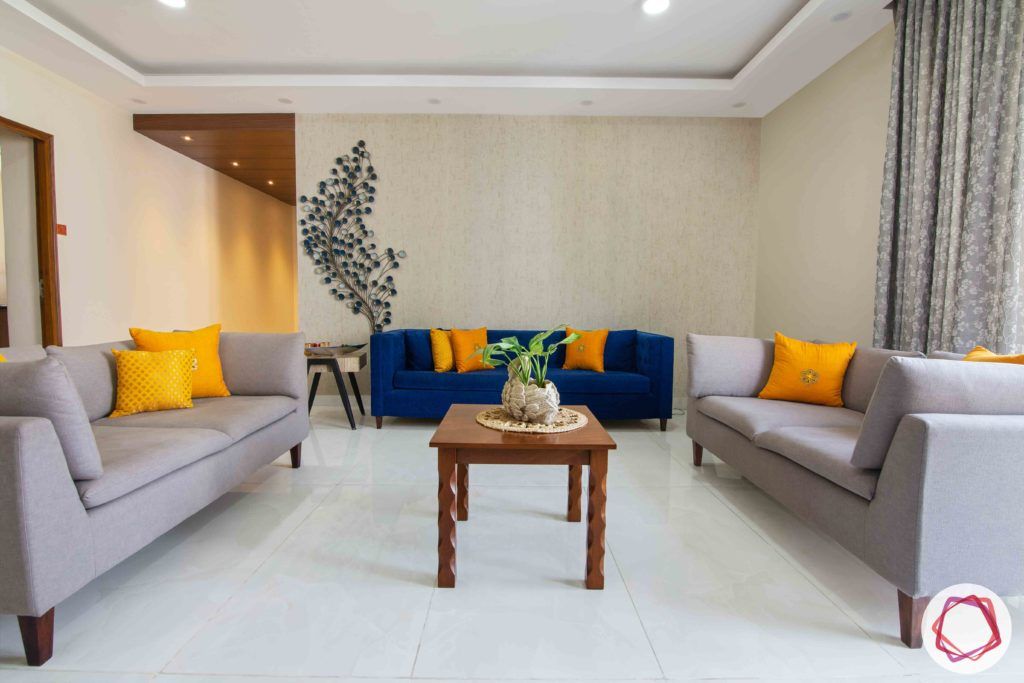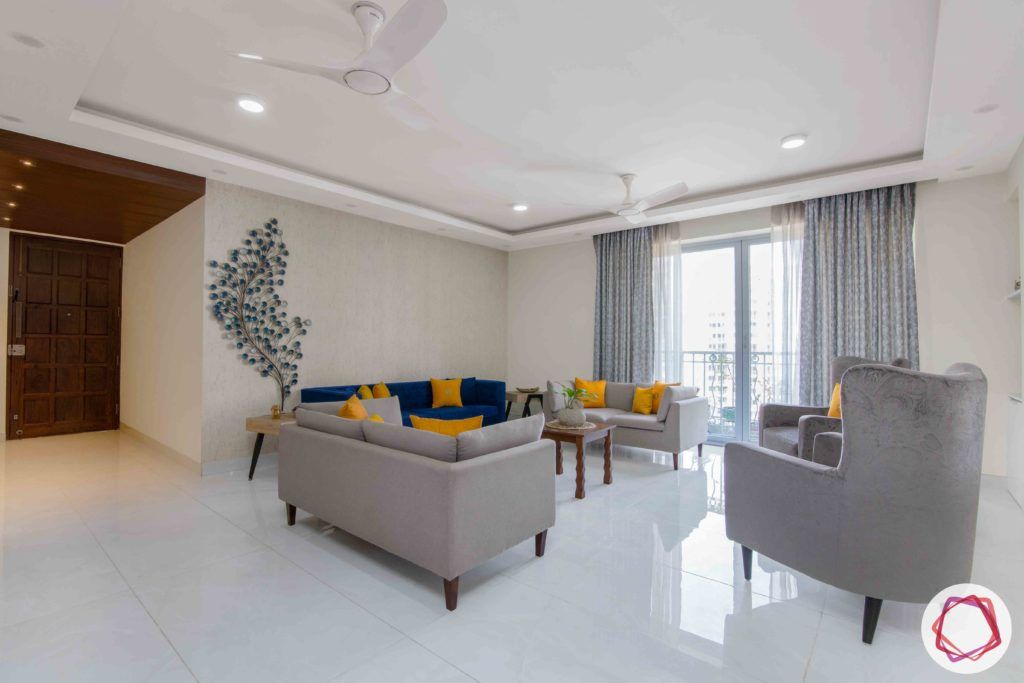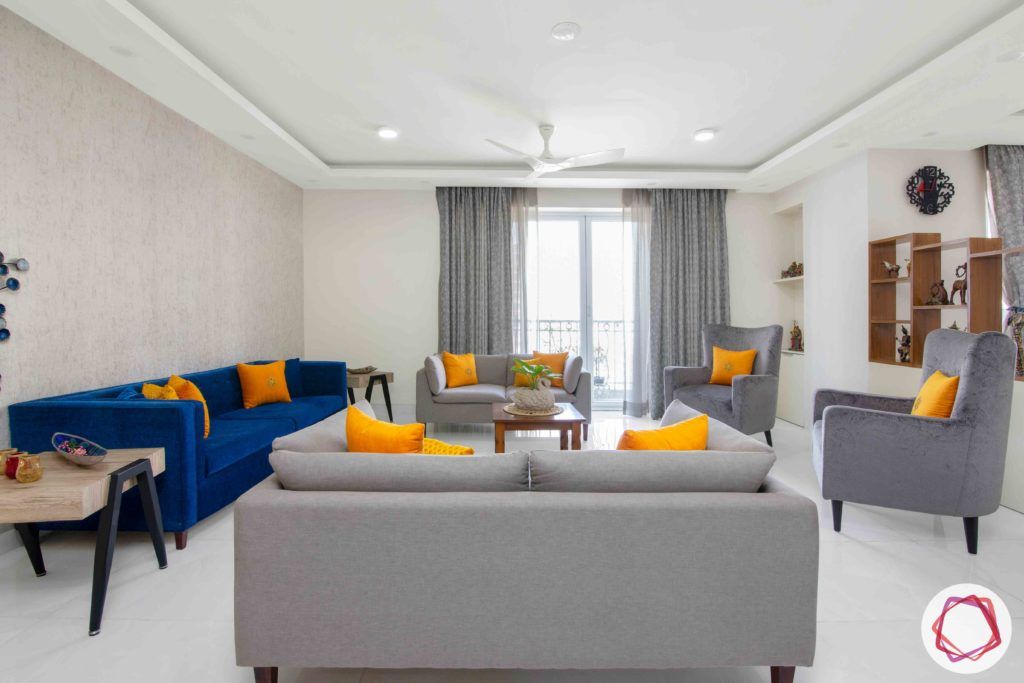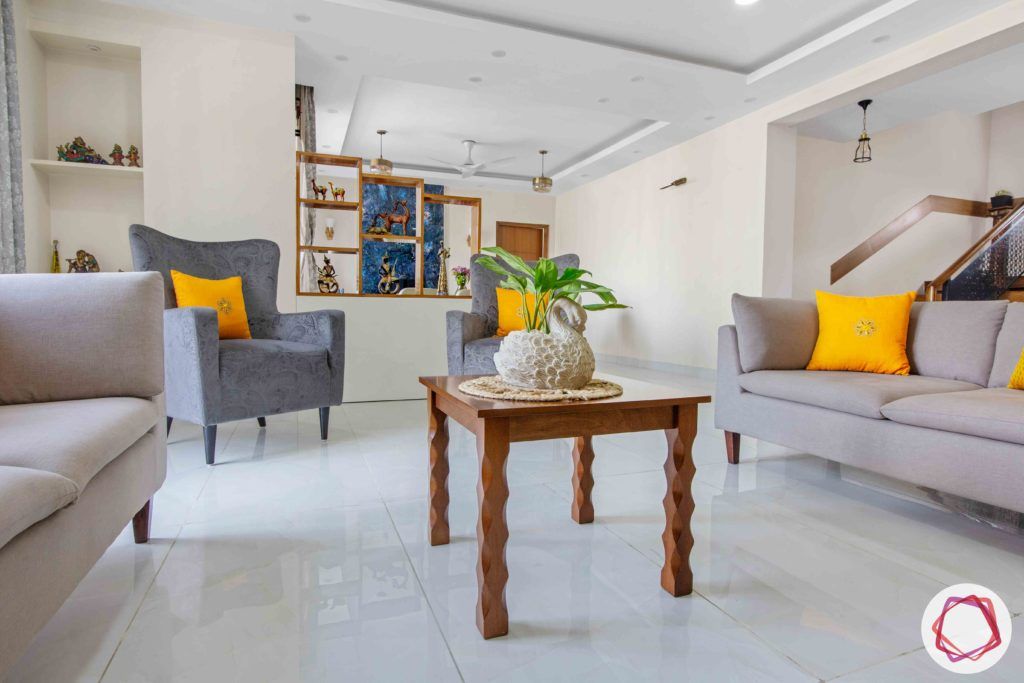 While the living room is doused in soothing neutral tones, pops of mustard yellow and blue adds a refreshing break. Notice how the room is airy and bright? Geetika only put in minimal furniture to allow more breathing space and avoid creating obstacles. There's plenty of seating options, ranging from three seater sofas to comfy armchairs. Of course, the highlight is the metallic artwork that's mounted on the wall. It's been done up in blue to match with the striking sofa below it. Doesn't it soften the place even more?
Geetika purposely kept the living room neutral to keep the focal point on the approaching tile work. A self textured wallpaper stands behind this sofa. Everything sits on newly done up vitrified flooring.

Shipra Srishti Apartment Design: Artsy Dining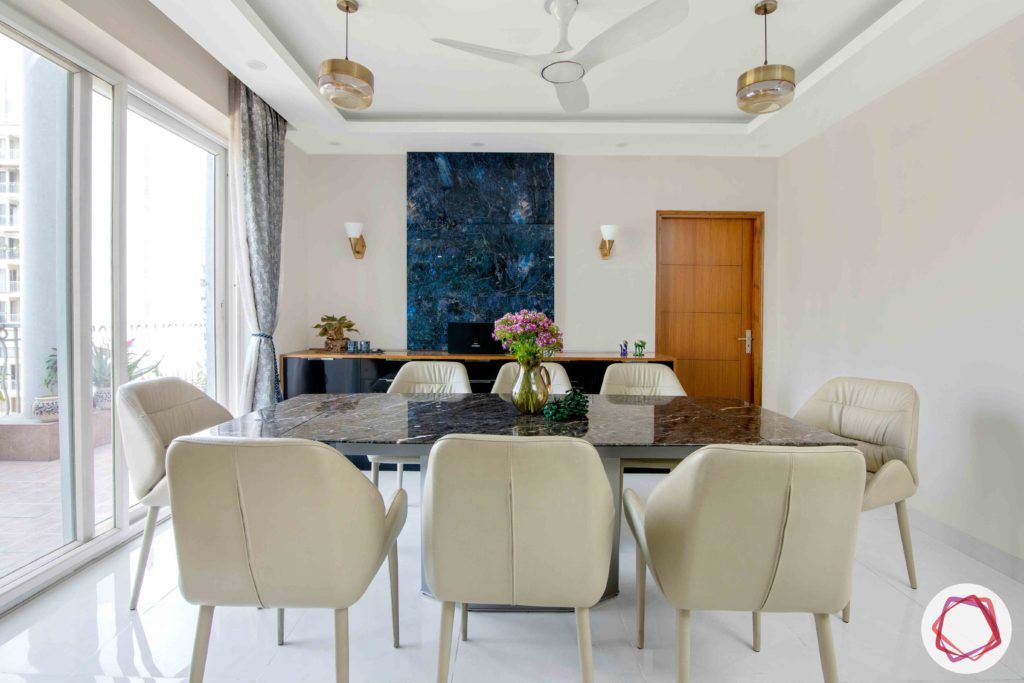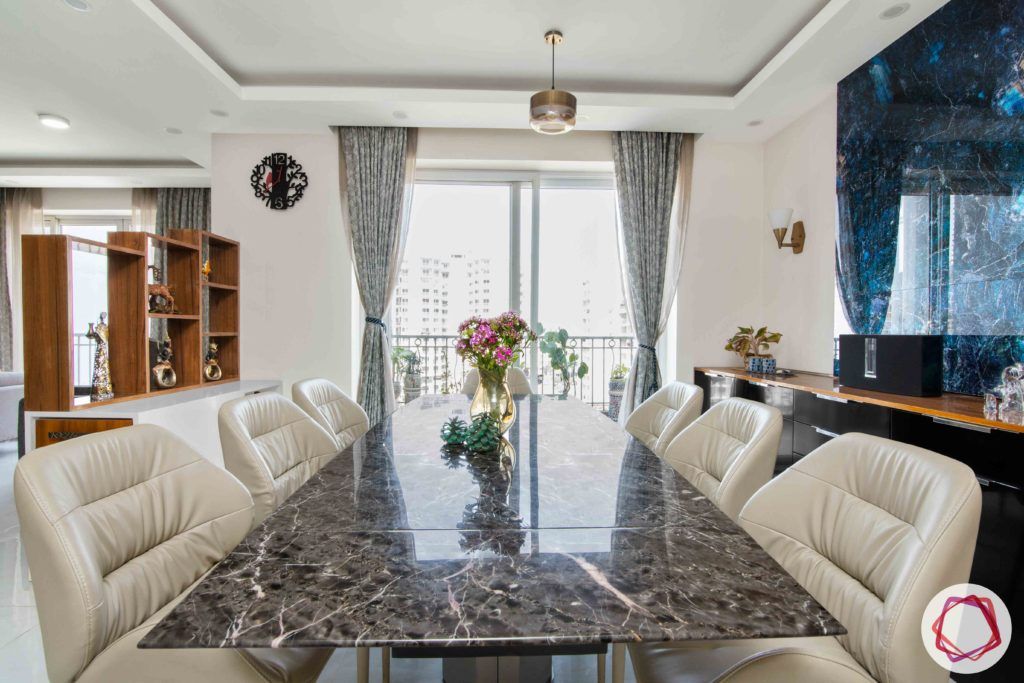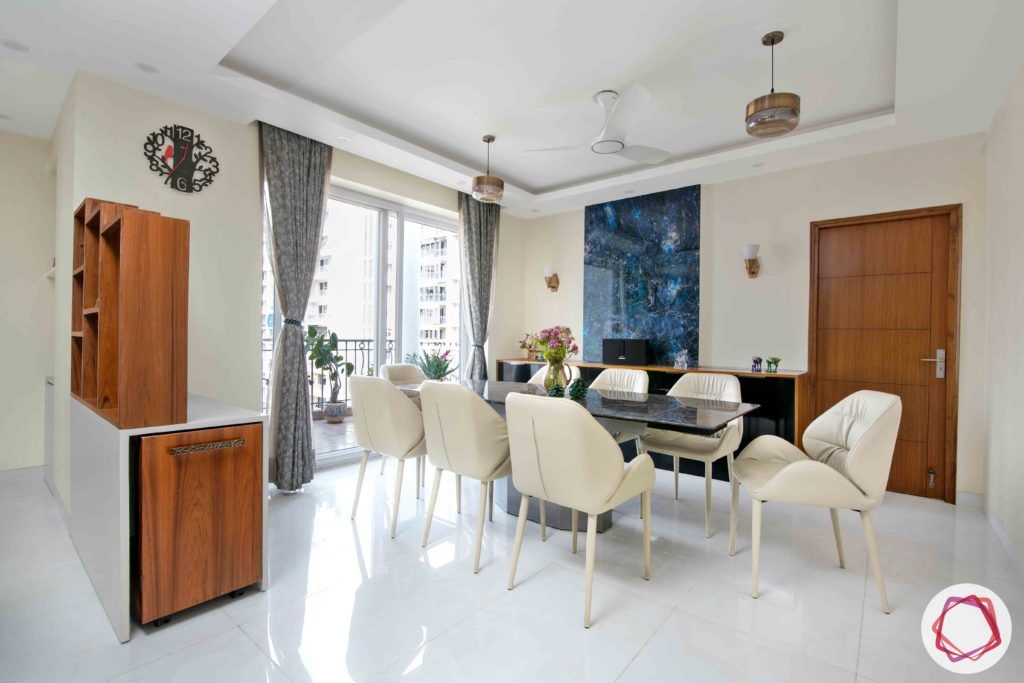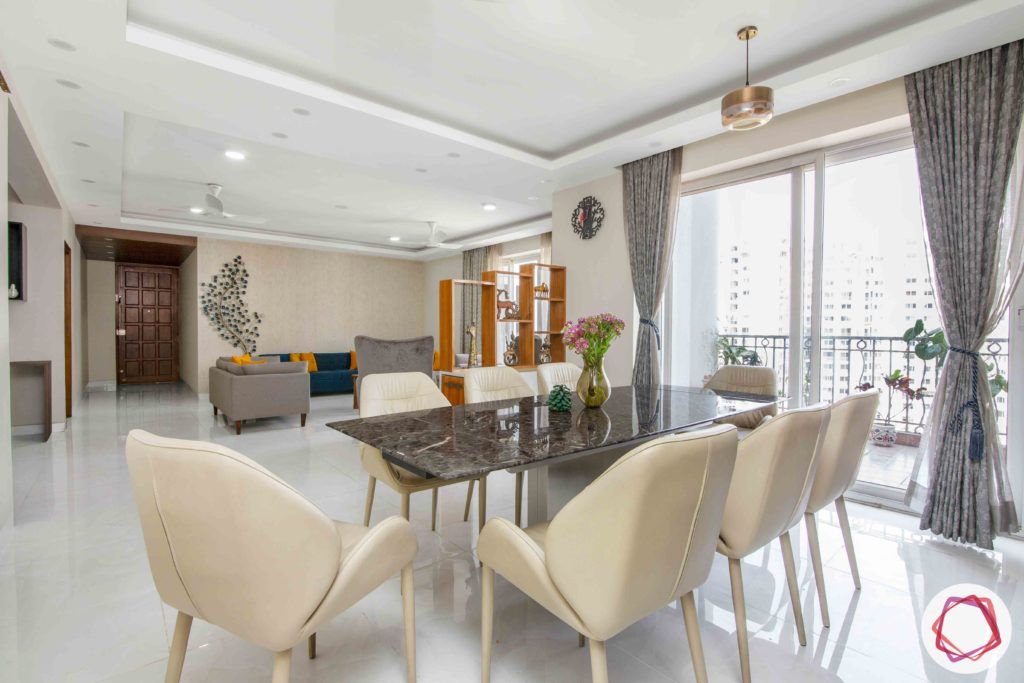 Since the room is extremely spacious, Geetika put in a partition to make a clear distinction from the dining nook. The partition smartly features a display unit at the top and a hidden trolley at the bottom.
Of course, the focal point is a metallic blue panel that you can't miss. Made out of three types of tiles, the work of art makes for a stunning element in the dining room. It's been paired with a sleek console table done in PU. The stone dining table and beige leatherette chairs have been picked from a local shop.
Shipra Srishti Apartment Design: An Elegant Pooja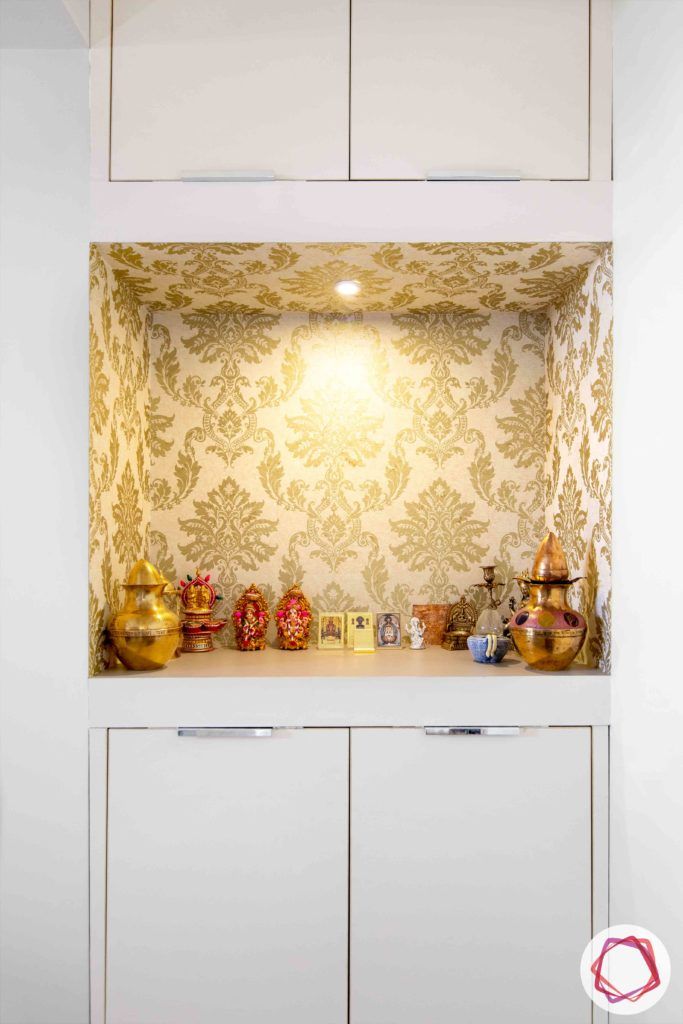 The pooja unit has been cast into a wall niche beside their daughter's bedroom. Done up in white laminate, it has upper and lower cabinets for ample storage. Moreover, we love the elegant motif wallpaper that's been put in with a lone spotlight.
"We enjoyed the whole process. Geetika and her team understood what we wanted and designed it exactly like that. We especially love how Livspace revamped our staircase."

Anurag Jain, Livspace Homeowner
Shipra Srishti Apartment Design: A High on Functionality Kitchen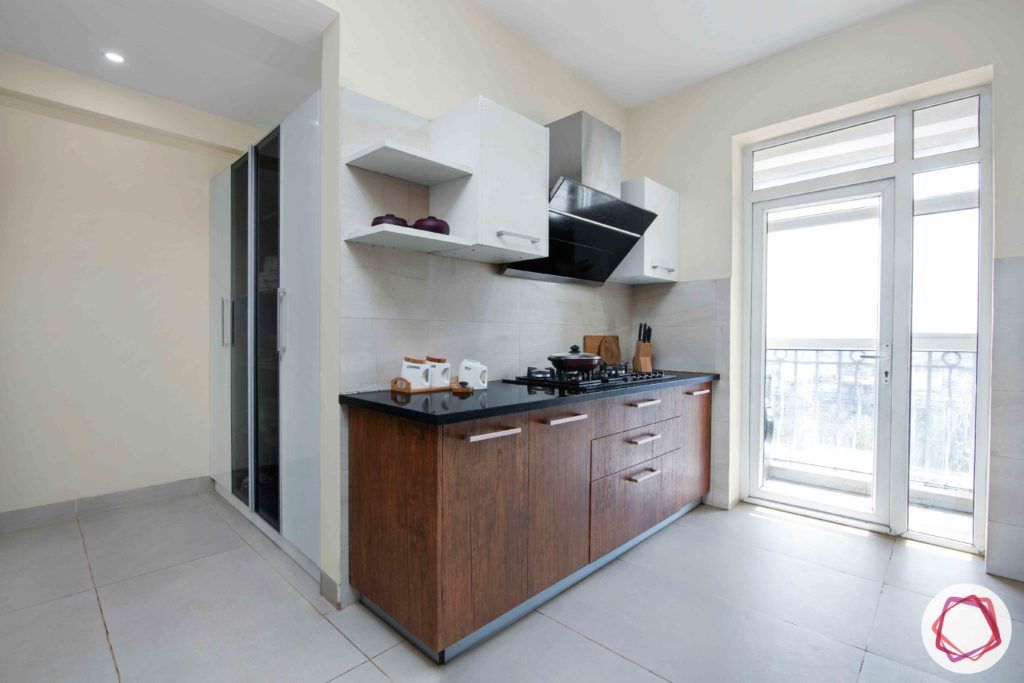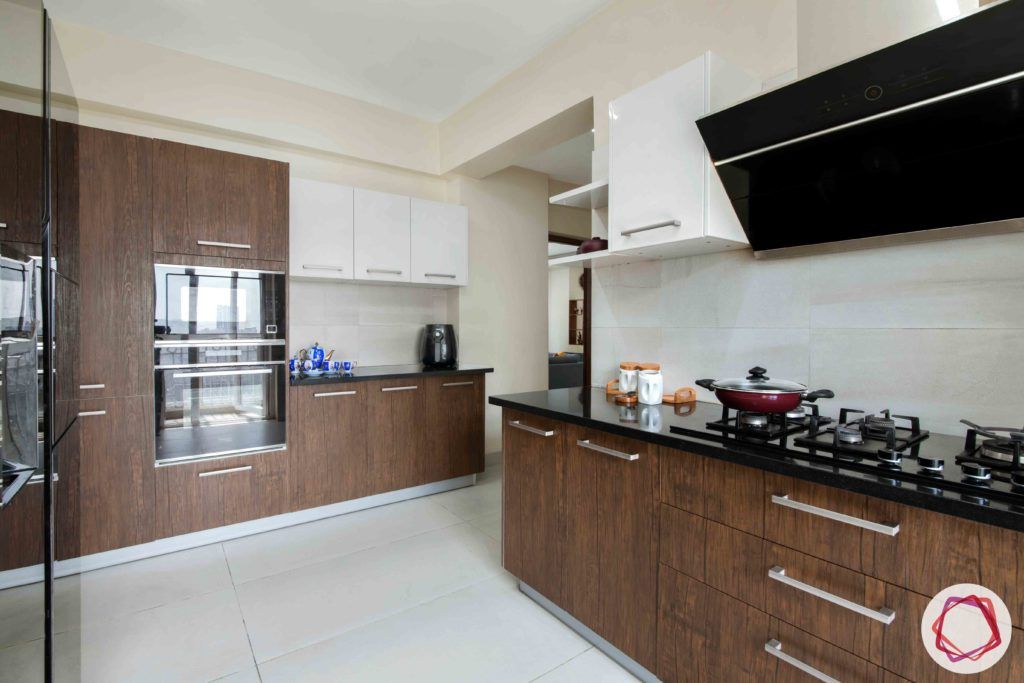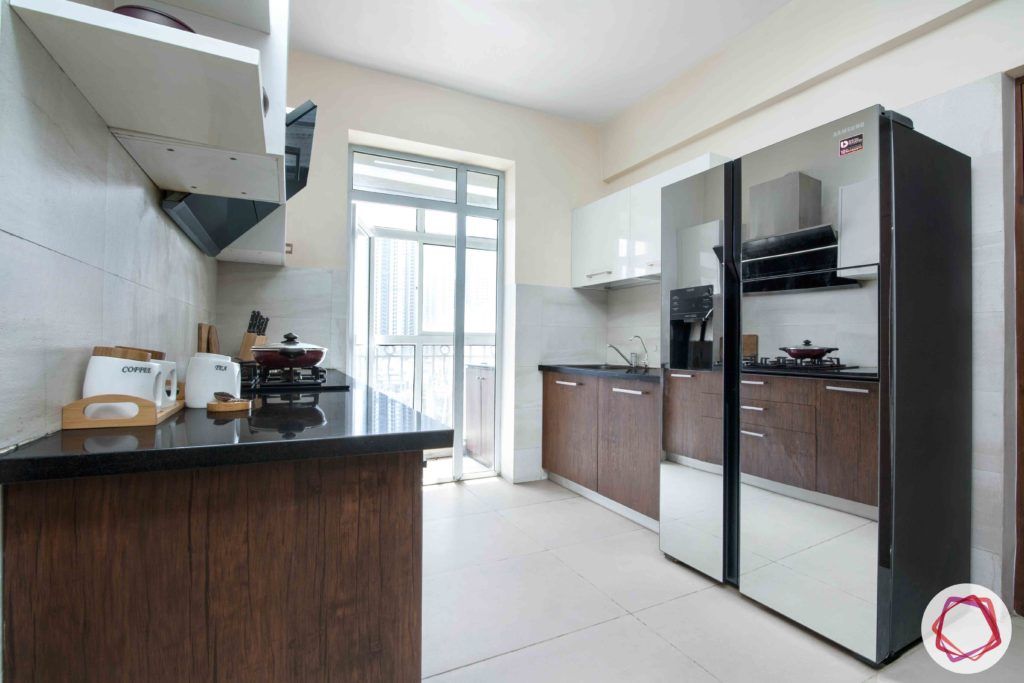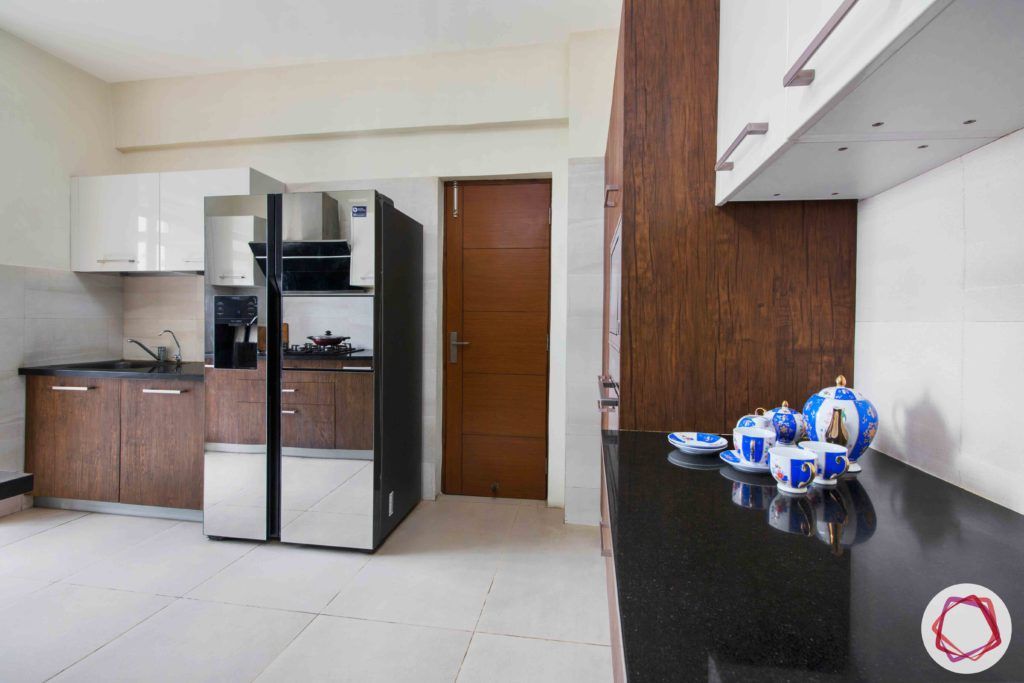 Kitchens need to be built according to your personal sense of functionality. Since the family preferred different stations for chopping and cooking, there's plenty of working tops for this kitchen. Similar to a U-shaped kitchen in layout, Geetika put cutouts in between. While all the lower cabinets are in dark brown membrane, the upper cabinets are in white PU. The handles are all traditional pull outs for easy usage and the countertop is made of jet black granite.
If you look beside the cooking station, you would notice a floor-to-ceiling white unit. And if you look closer, you would notice it's a crockery unit. While the crockery doors are done in white PU, the middle section is crafted out of brown tinted glass. The unit's height is kept in the same level of the wall cabinets to offer a sense of uniformity.
Shipra Srishti Apartment Design: Teal Dreams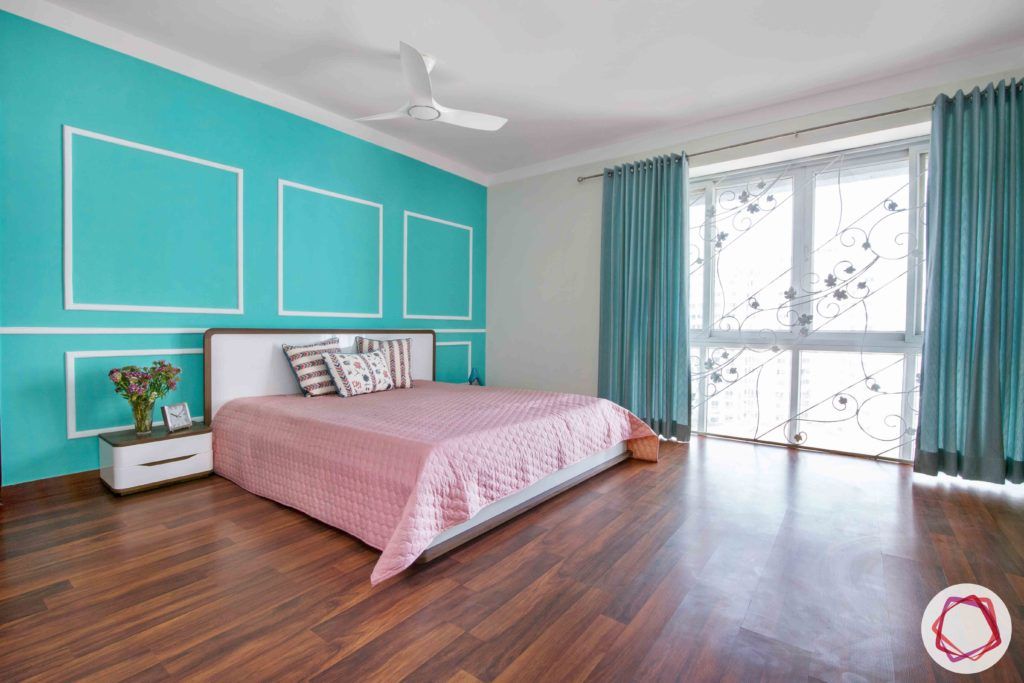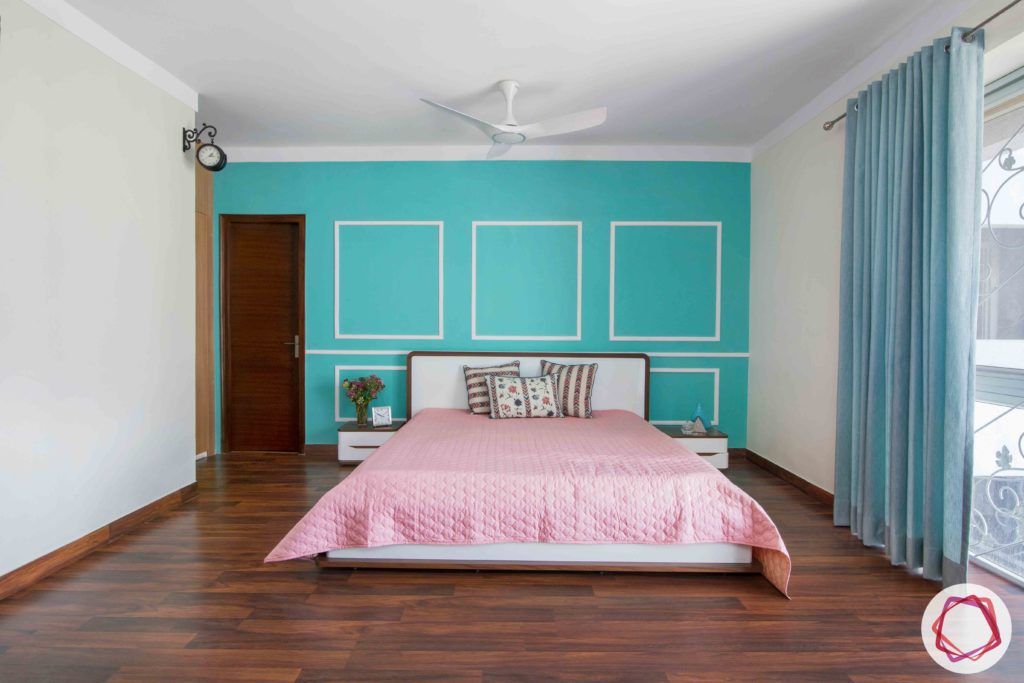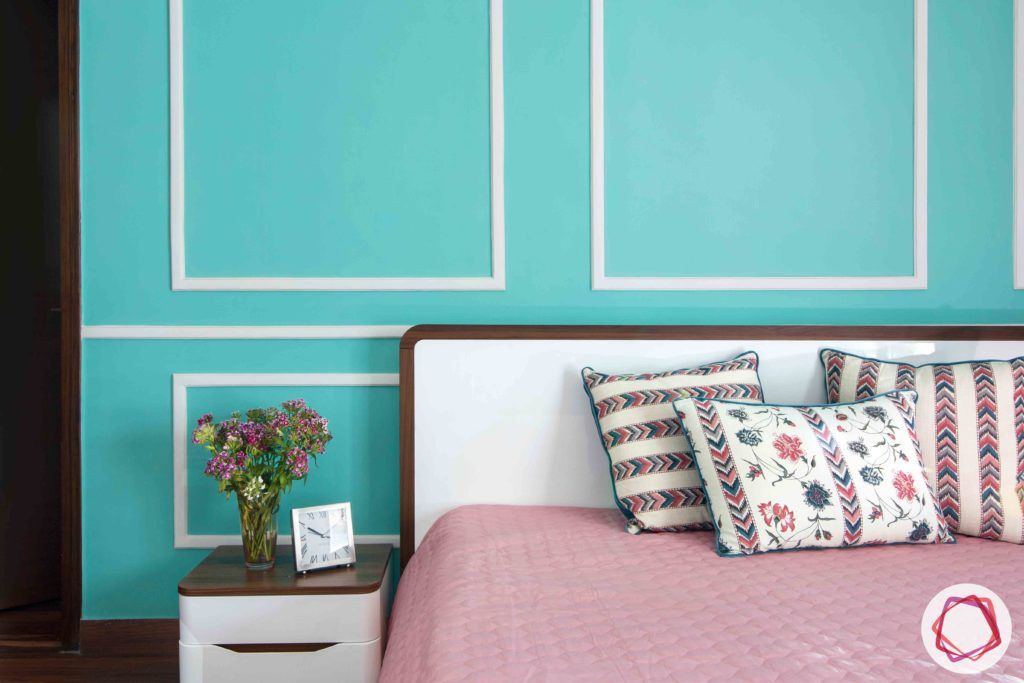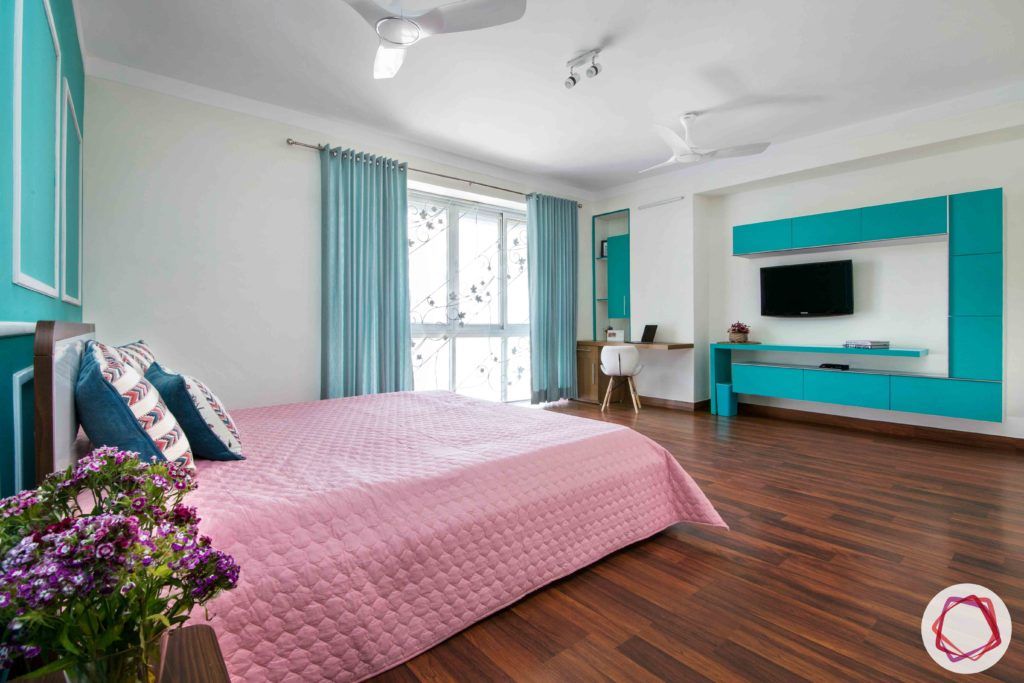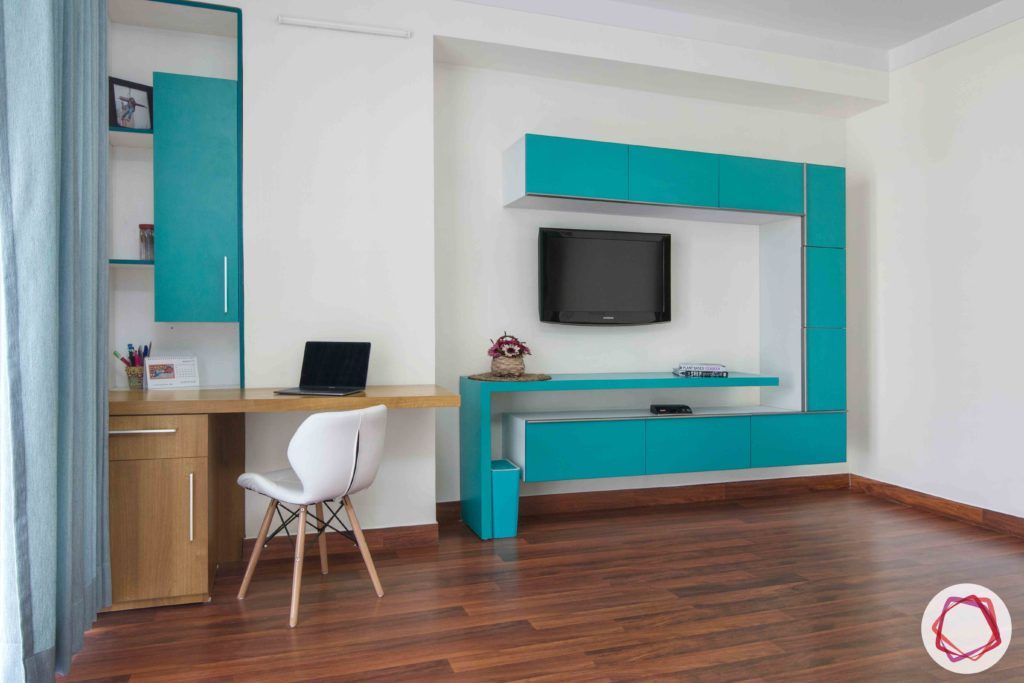 Teal is the daughter's favourite colour. As a result, Geetika painted the centre wall in vibrant teal. Since Anurag loves wall trims, she added it to the wall to take it up a notch. "We created the bedroom's design to complement the accent wall," Geetika explains.
Just like the rest of the home, the bedroom is minimal in style as well. A TV unit stands opposite the bed. We love the teal storage options with profile handles in the form of hinged opening cabinets, drawer pull outs and lift ups. In addition, Geetika put in a study unit in laminate with open and closed shelves. Moreover, everything sits on wooden flooring, making for a cosy setting.
Anurag was particular about one thing in this bedroom. He wanted some form of fencing as an element of security for a huge window that opens up to the living room terrace. "I wasn't interested to put traditional grills. So I put up a beautiful jali for the window, this way it's secure and looks good at the same time," Geetika reveals.
Shipra Srishti Apartment Design: Statement Stairway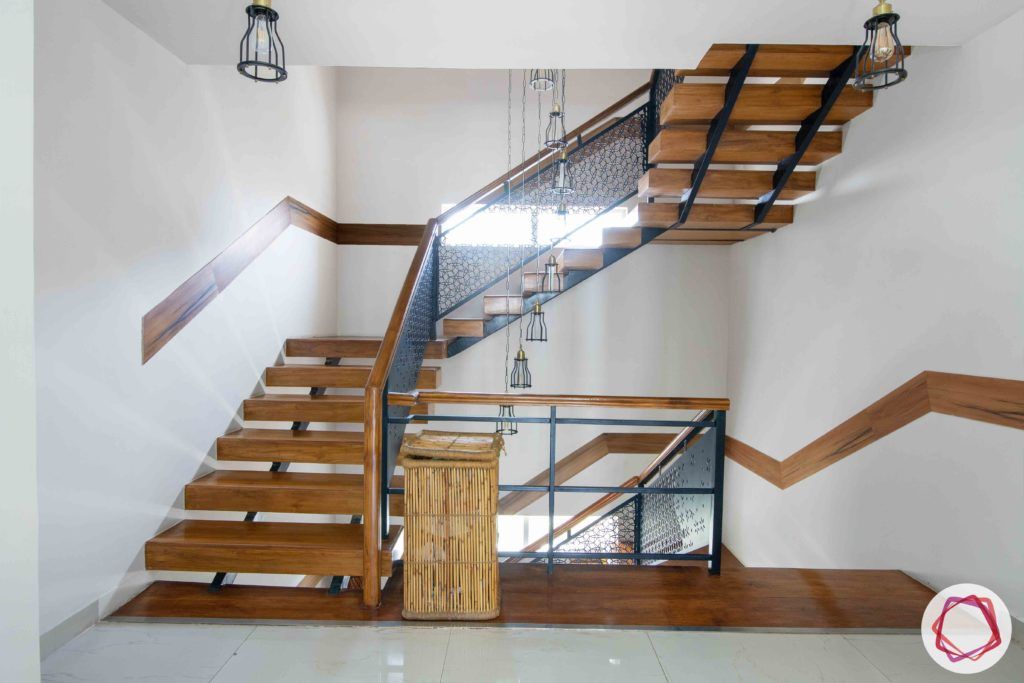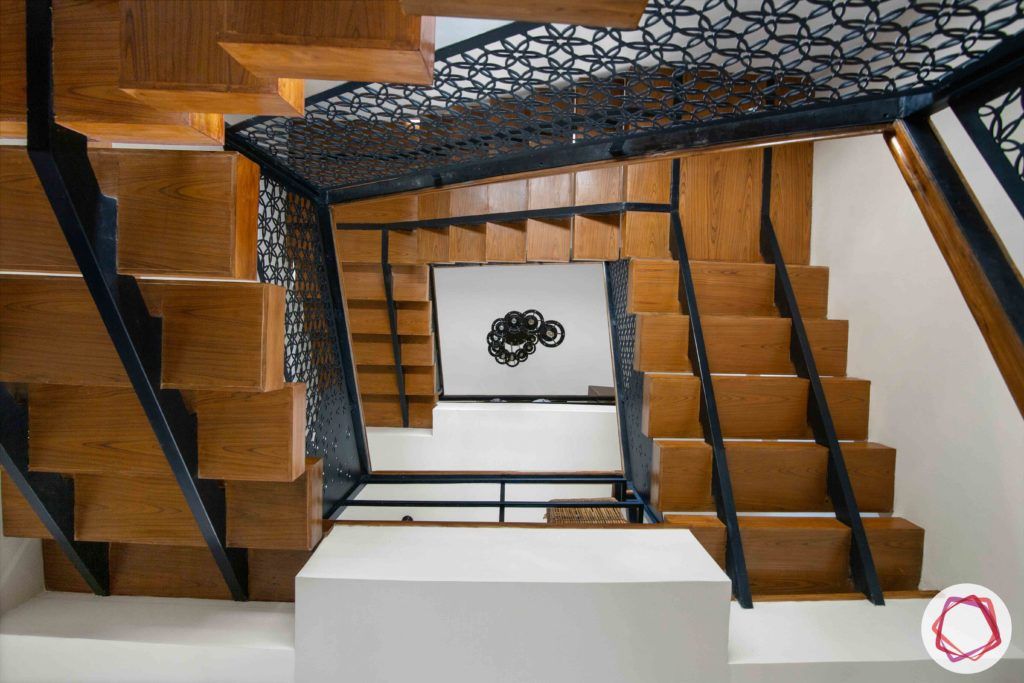 Since the staircase wasn't secure enough and lacked a certain oomph, the family redid the entire staircase. This time in gorgeous teakwood! A patterned grill runs along the staircase on one side and on the other side, a wooden strip has been added on the wall. Because of the added strip, it's easier to maintain clean walls – a common concern when you hold the wall coming down.
"Working with Anurag and his family was amazing. They were extremely friendly and that made the entire design process even more enjoyable. I am glad they are happy with the outcome!"

– Geetika Seth, Interior Designer, Livspace
Also, if you liked this home, take a look at A Home Befitting a Fashionista
Send in your comments and suggestions.