Stunning modern small apartment design in Mumbai.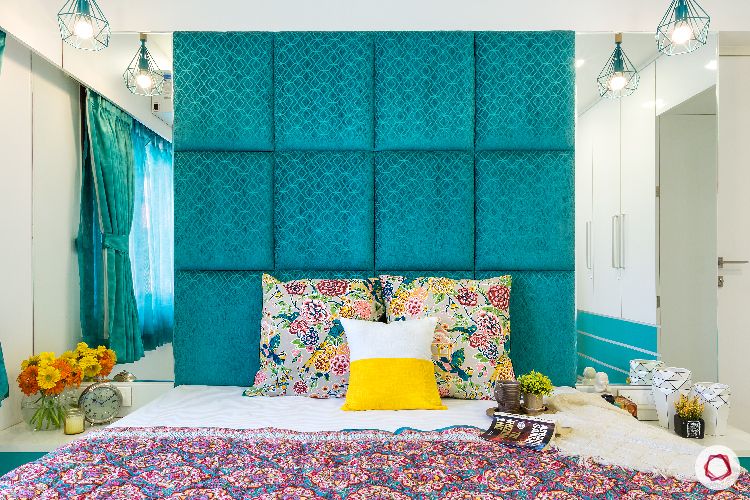 ---
Who livs here: Moiz with his wife and two daughters
Location: Burj Burhan, Mumbai
Size of home: 2BHK spanning 1000 sq ft approx.
Design team: Interior Designer Shweta Lavti with Project Manager Naresh Bees
Livspace service: Full home design
Budget: ₹₹₹₹₹
---
When Moiz approached Livspace to do up his home, his main priority was having a unique colour palette for each room. Thus, the interior designer, Shweta Lavti worked in reverse and chose the colours before getting into the functional nitty-gritties of the design.
The home is all about colour, space-saving ideas and elegant designs. Colours of spring paired with wooden tones and matched with elegant decor and lighting make this home a stunning abode to live in. Despite its compact size, the designer was able to pull off a cheery ambience by retaining white walls and a clutter-free design.
Minimalist yet Elegant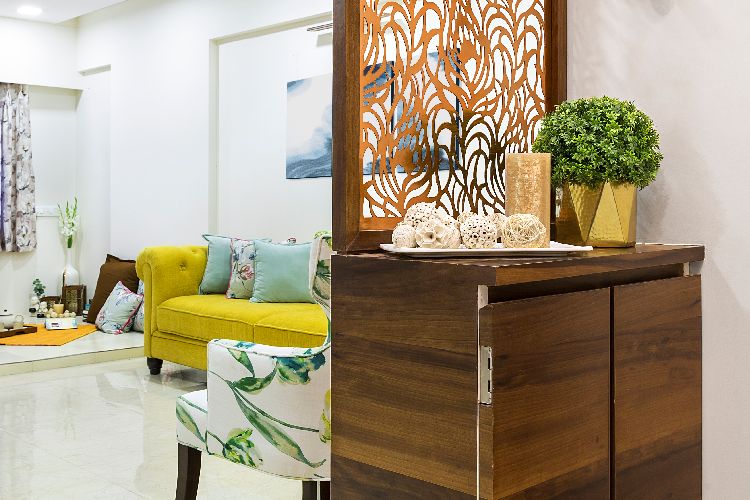 The foyer is mostly a simple setup with minimal furniture but the jali design turns it into an elegant place! Wooden tones give the space warmth and cosiness. What better way to welcome guests?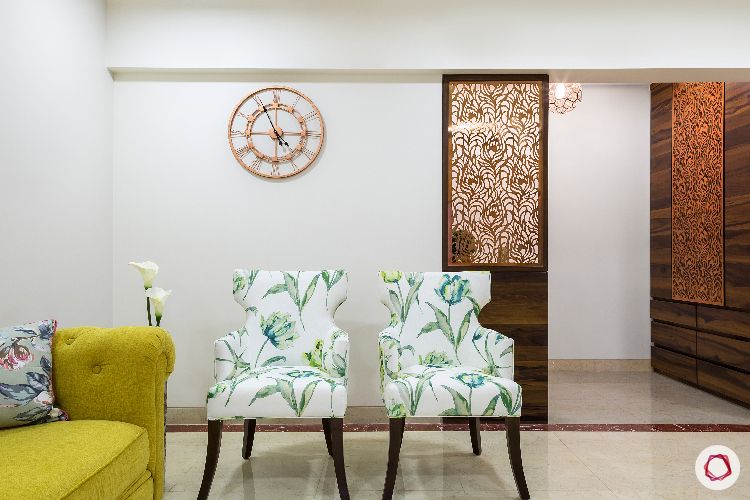 A niche at the end of the foyer was converted into a wardrobe to maximise storage. However, to make it beautiful a jali panel was added and handle-less drawers were given. This draws attention and camouflages the storage.
Spacious while space-saving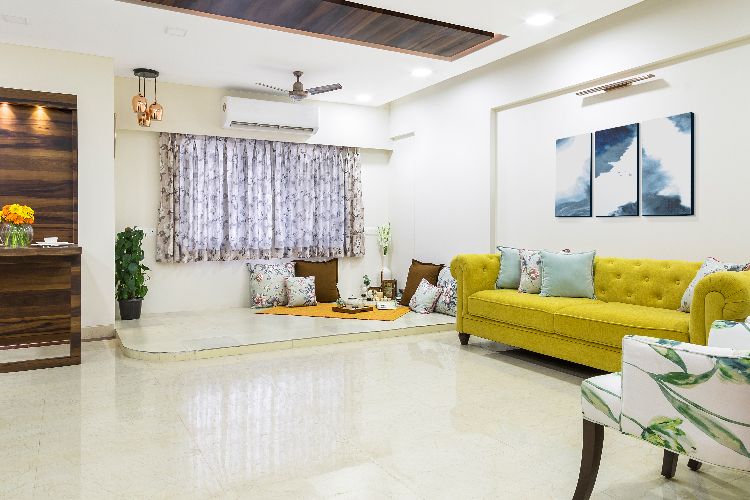 The living room is done up with minimal furniture — a comfy Chesterfield couch and two leaf-printed accent chairs. This gives the room a spacious and airy look.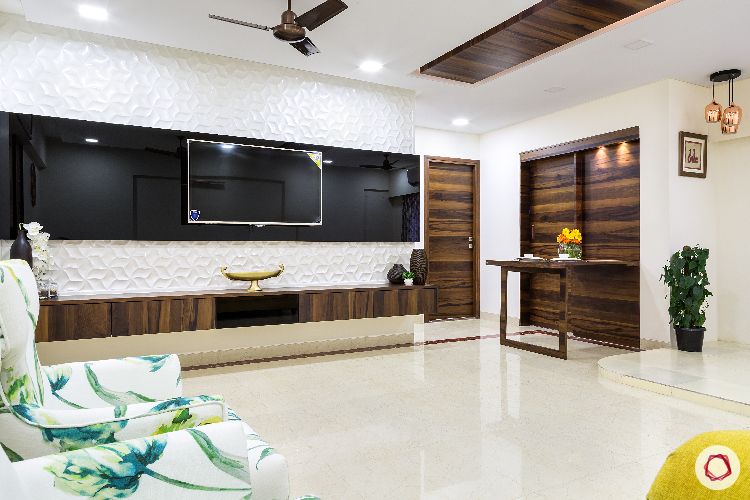 The wall opposite to the couch is accentuated with a stunning 3D board contrasted with a strip of black back-painted glass. The mahogany finish is used for the TV unit, makeshift dining and doors to give it a cosy feel.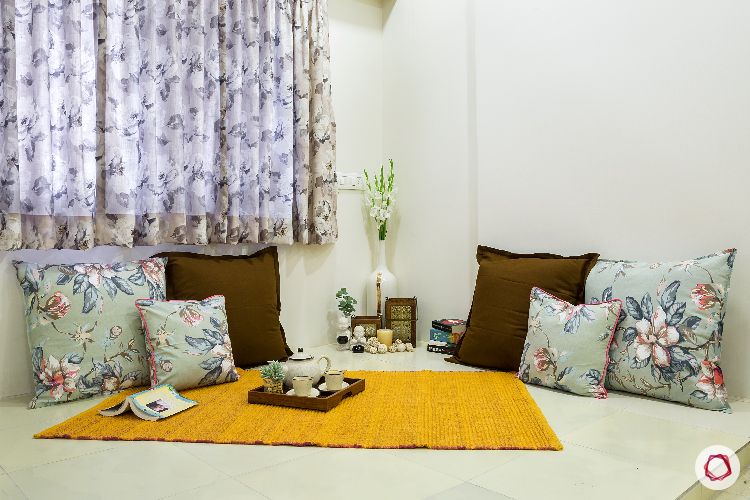 Since the family prefers to be seated on the floor during their meals, an elevated platform was given for the purpose. Put on a carpet and throw in some cushions and a comfortable seating is ready in minutes!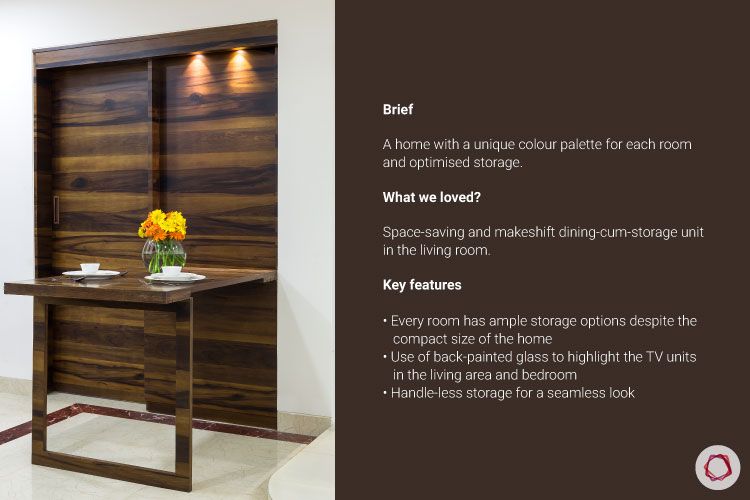 However, the elderly who can't sit on the floor needed some space as well. Thus, a niche was converted into a pull-down dining table with a sliding door concealing the storage space. The family stores the quilts, carpets used for seating in this space.

Colour Charm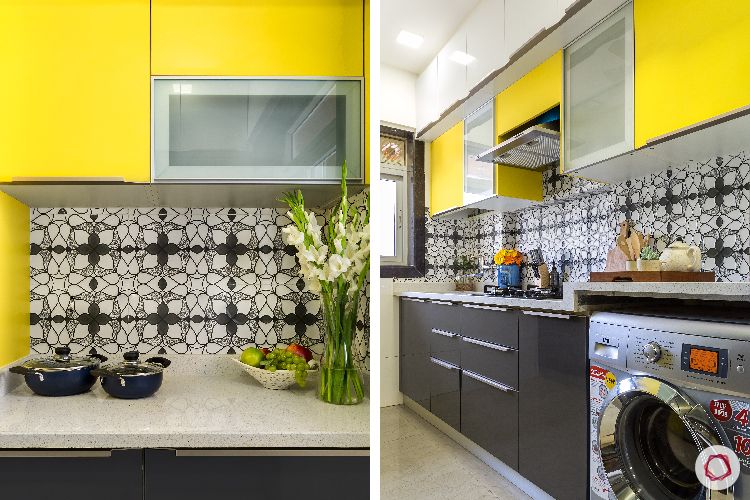 The kitchen has a cheerful look with bright Marigold finish paired with slate grey. A great mix complemented with a beautiful backsplash with kaleidoscope-like patterns. The parallel kitchen is not just beautiful, it features ample storage including overhead lofts.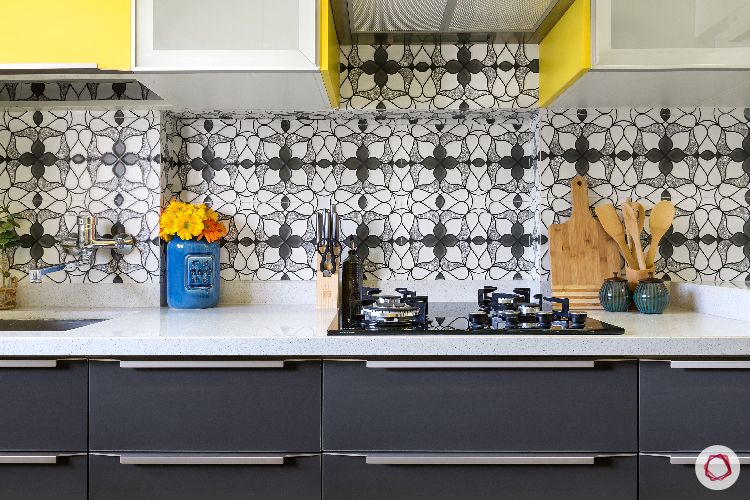 It is impressive how this compact kitchen packs so much storage with efficient accessories like tall units, pull-outs, cutlery units and more. Yet, Shweta was able to pull this off and make space for a refrigerator and a washing machine in the kitchen.
Tantalising Tones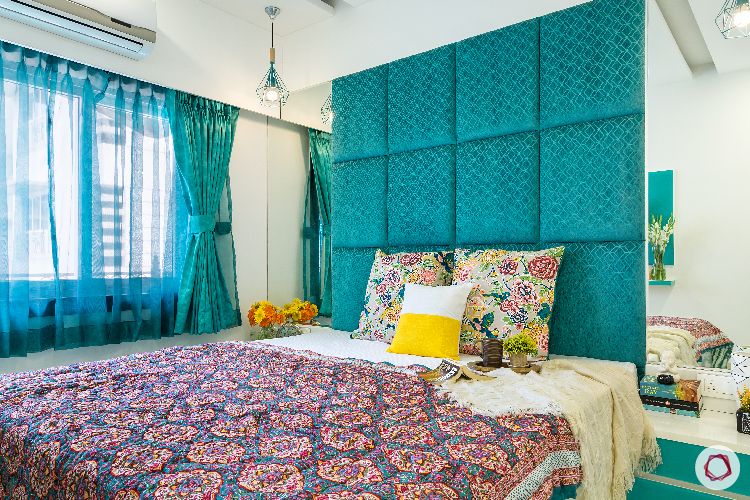 The master bedroom design has a refreshing note with turquoise and white. We love how the balance is impeccable and creates a beautiful ambience to relax in. Shweta used furnishings, the panelled headboard, and back-painted glass to induce turquoise to the room. She even chose to paint the pendant light a shade of turquoise to match the milieu.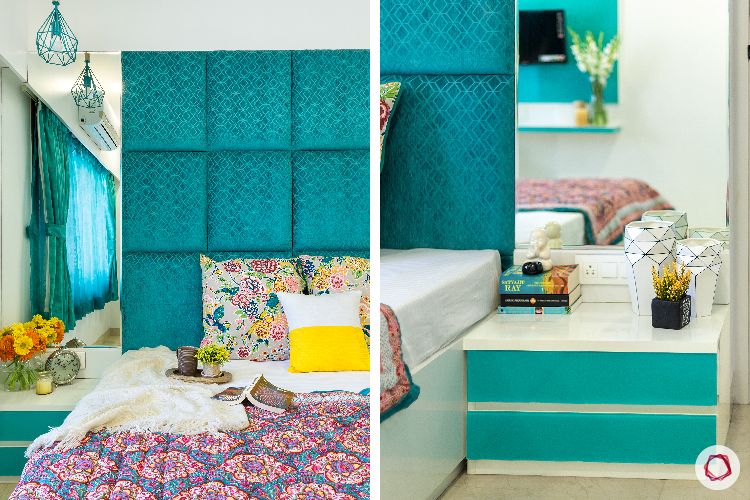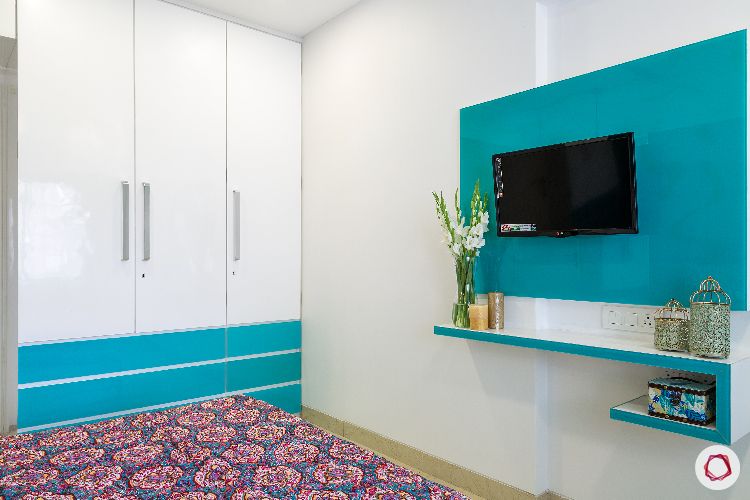 Aesthetics is just one aspect that captures attention. The room also features a floor-to-ceiling wardrobe with drawers at the bottom to access effortlessly. A sleek TV unit blends to the setting with a linear shelf to house the accessories.
Pretty & Poised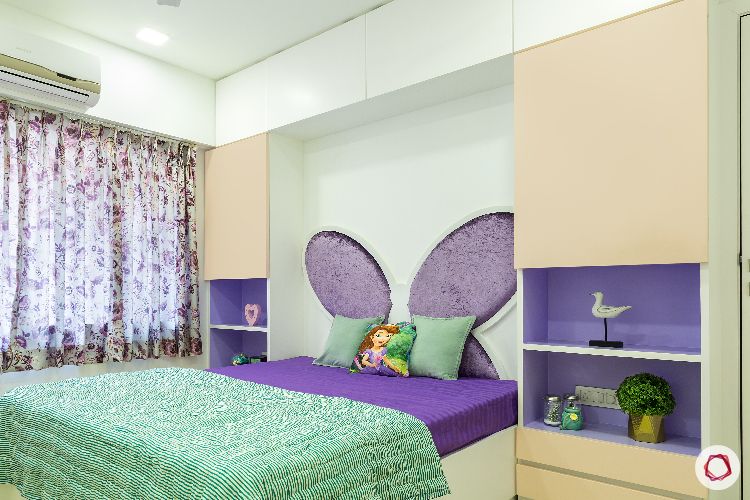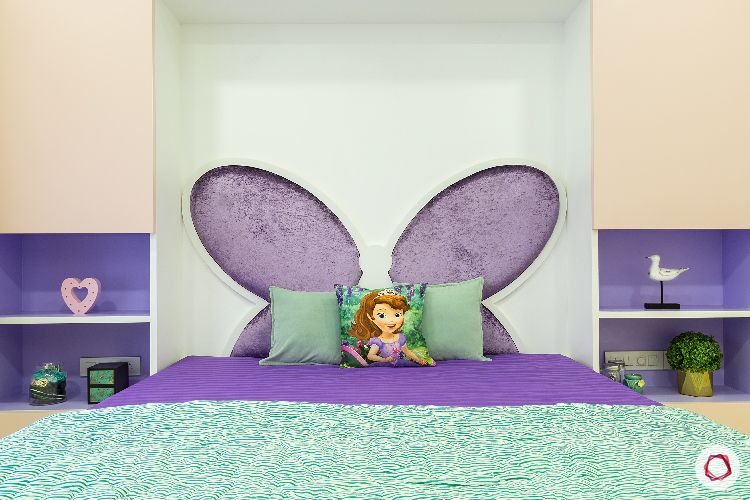 The kids' room for his two lovely daughters is done up in purple and salmon pink shades. A cosy bed with custom-made butterfly headboard in faux suede, a three-door wardrobe, a study and ample storage fit into the room seamlessly.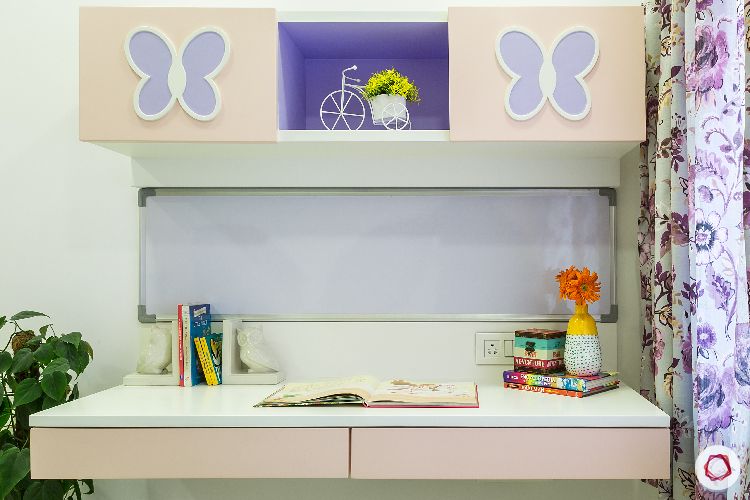 The study is compact with sufficient storage and a whiteboard for the girls.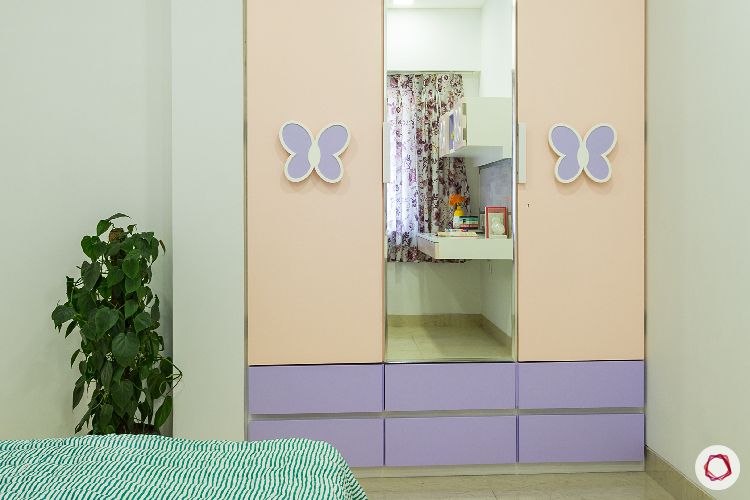 The butterfly theme gives it a cheerful mood and adorns every surface including the ceiling as well. The wardrobe with mirror-shutter acts as a dresser for the little ones.
"Moiz wanted the home to look vibrant with a unique look for each room. The end result is as desired and looks spacious given the compact size."

— Shweta Lavti, Interior Designer, Livspace
Check out another compact home in Mumbai personalised by Livspace.