It comes as no surprise that storage space is often the most sought after element when designing a home. Be it a luxury apartment in Gurgaon or a modest 1BHK, creating sufficient storage always takes precedence for Indian homeowners. In the case of the Dembis and their family of five, the need for ample storage space was crucial.
Read on to find out how interior designer Pamela Dev spun a space-saving twist on this family's home interiors in Gurgaon.
---
Who Livs here: Nalini and Amit Dembi with their son and his grandparents
Location: Coralwood Apartments, Gurgaon
Size of home: 3BHK spanning 2,250 sq. ft.
Design team: Interior designer Pamela Dev
Livspace service: Full home design
Budget: ₹₹₹₹₹
---
IN A NUTSHELL


Brief

To design a welcoming home that has enough room to accommodate a family of five comfortably.

What We Loved

The use of modular furniture throughout this home to save space and stick with an affordable budget.

Look Out for

– Cappuccino acrylic-finish wardrobes in the master bedroom
– Max storage winding wardrobes wrapped against the wall in the son's bedroom
– Handleless kitchen cabinets that offer a seamless cooking experience

Biggest Indulgence

False ceilings that replace the original gypsum beams, along with supporting civil work to breathe new life into the interiors

Smart Buy

A sofa-cum-bed in the son's bedroom that offers extra space for a growing child


Space-Saving Design for a Family of Five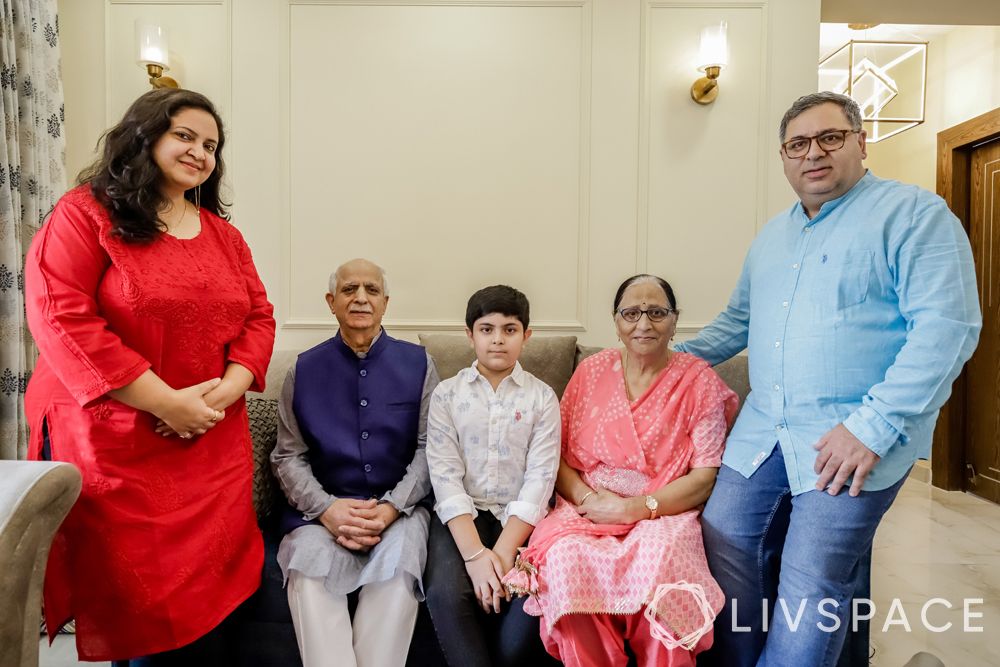 Though a 2,250 sq. ft. home might sound spacious, our expert designer Pamela had her work cut out for her as she took on the Dembis' project. This 3BHK in Gurgaon originally came with gypsum beams in the ceilings; drawing unwanted attention to the lack of cosiness it offered. It was clear that this space would need some civil work to turn it into a welcoming family home.
The initial design process began with in-depth planning on how best to create maximum storage for this home's interiors. From changing the ceiling plan to replacing the flooring, there were several elements that had to be redone. With the goal of bringing the homeowners their dream home, our designer was ready for the challenge.
Ample Common Area Seating in Shades of Blue and Tan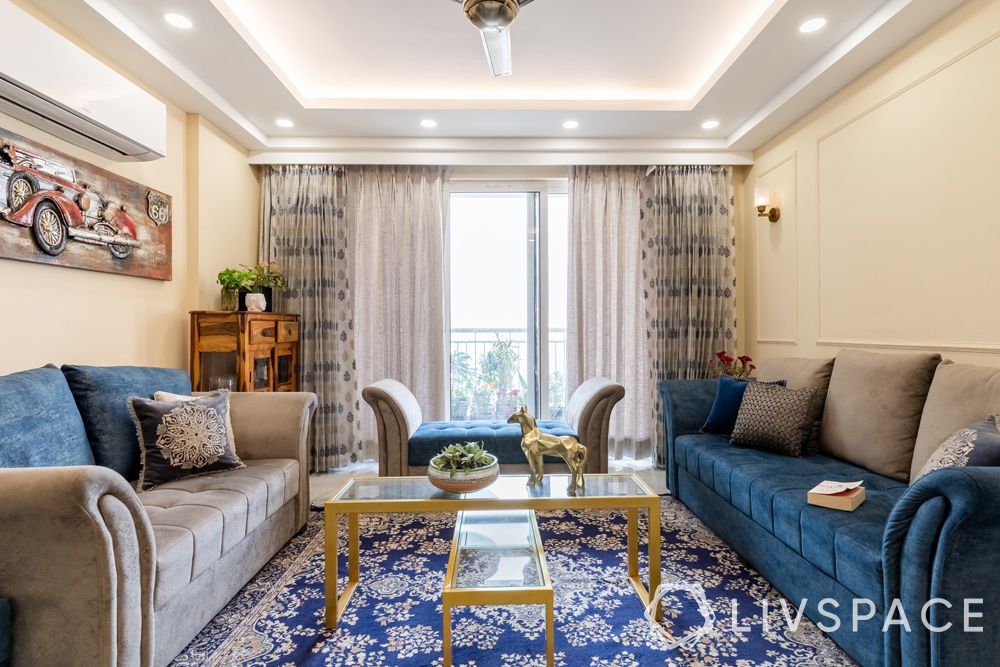 This luxury apartment in Gurgaon opens up into a beautiful living room dressed in muted shades of tan and blue. Having removed the gypsum beams that previously draped the ceilings, a sleek false ceiling was added in its place. Likewise, designer Pamela included a pelmet treatment to conceal the original hardware of the curtains, tidying up the wall.
The pop of blue hues found across the room adds a touch of elegance, fit for modern royalty. The wall trims add a contemporary element to the space, creating a fusion of interior styles. Both sofa sets can comfortably seat around 6 people, with extra seating provided by a diwan-style bench.
Designer Speak
Nothing is more heartening than when homeowners place full trust in their interior designers. Here, designer Pamela was even invited to accompany the family while selecting soft furnishings for their new home!
"I was really happy with how the homeowners took me along when they went to select their curtains and accessories. As an interior designer, you want to see the whole project come together till the very end. That really helps us know that whatever we had planned for them was being executed with our suggestions in mind"

Pamela Dev, Interior Designer
A Plush Look for the Dining Space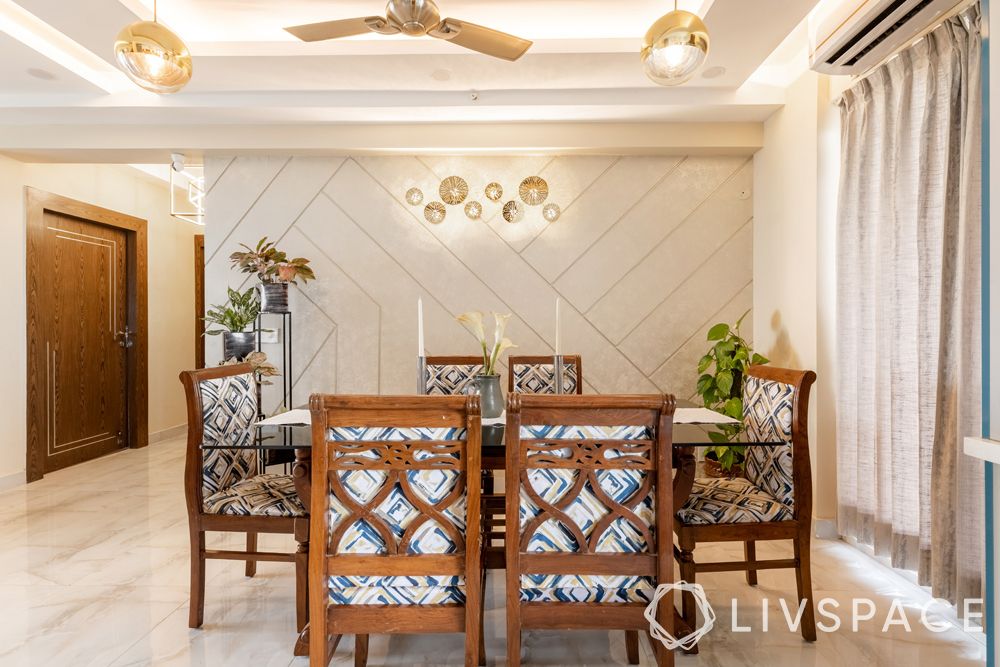 Drawing from the elegance of the living room, the dining area exudes the same amount of luxe charm. However, one thing to note about this luxury apartment in Gurgaon, is that the home has an open floor plan. This layout connects the living room, dining room, and kitchen. Similarly, the Dembis were keen to use their existing furniture in this space.
For this, our designer had to find a style that ties all the common areas together. The beige geometric accent wall behind the dining set pairs beautifully with the gold accent drop lights in the room. These simple design elements add to the subtle, yet luxurious charm of this storage-friendly 3BHK in Gurgaon.
A Kitchen That Can Store It All
Being Kashmiris, the Dembis often use thalis for their meals and wanted a kitchen that could store them. With this in mind, designer Pamela was keen to create a functional area that could offer max storage, without clutter. When it comes to space-saving home interiors in Gurgaon, this kitchen is one for the books.
This beautiful modular kitchen from the Livspace catalogue offers maximum storage for a variety of utensils and appliances. The roll-up shutter cabinets lend a neat look to the kitchen, and help store appliances without taking up counter space.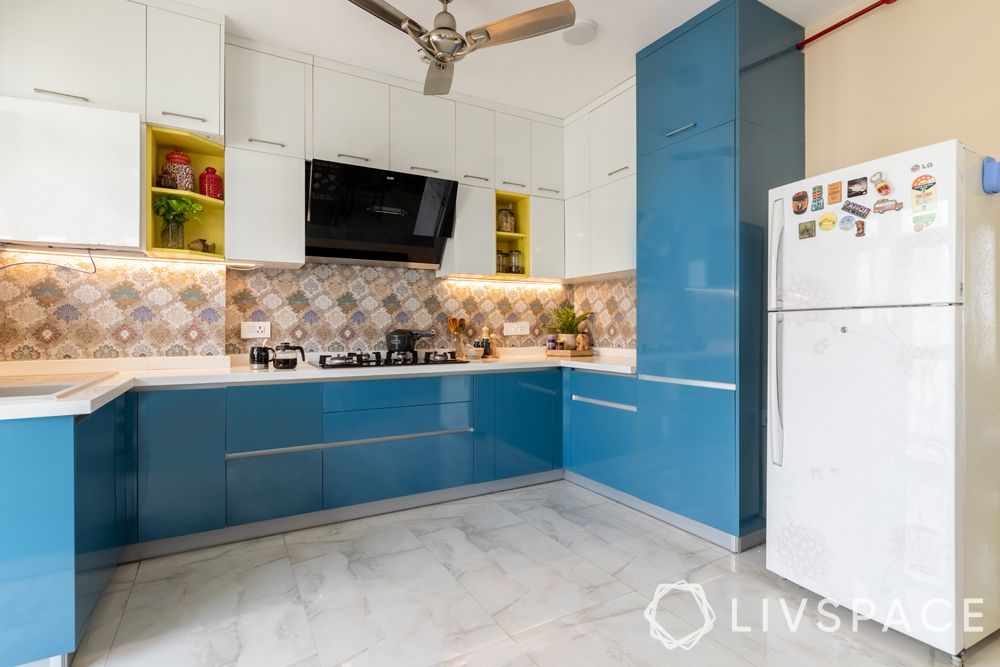 As this luxury apartment in Gurgaon follows an open floor design, homeowner Nalini wanted to leave the kitchen open. To give the kitchen more storage space, designer Pamela planned a slight wall extension for added room. This helped fit the tall unit and fridge, without spilling into the other living areas. The extended partition was created with customised POP, adding a bit more room to an otherwise open kitchen space.
The pops of colour from the yellow shelves between the cabinets tie in beautifully with the blue and white theme. What's more, is that the charming traditional highlight tiles that help unite the two segments was a great budget buy! The hints of blue in the tilework add to the overall elegance of the room. Together, these features create a homely and vibrant space for food prep.
Winding Wardrobes for Extra Storage Through the Years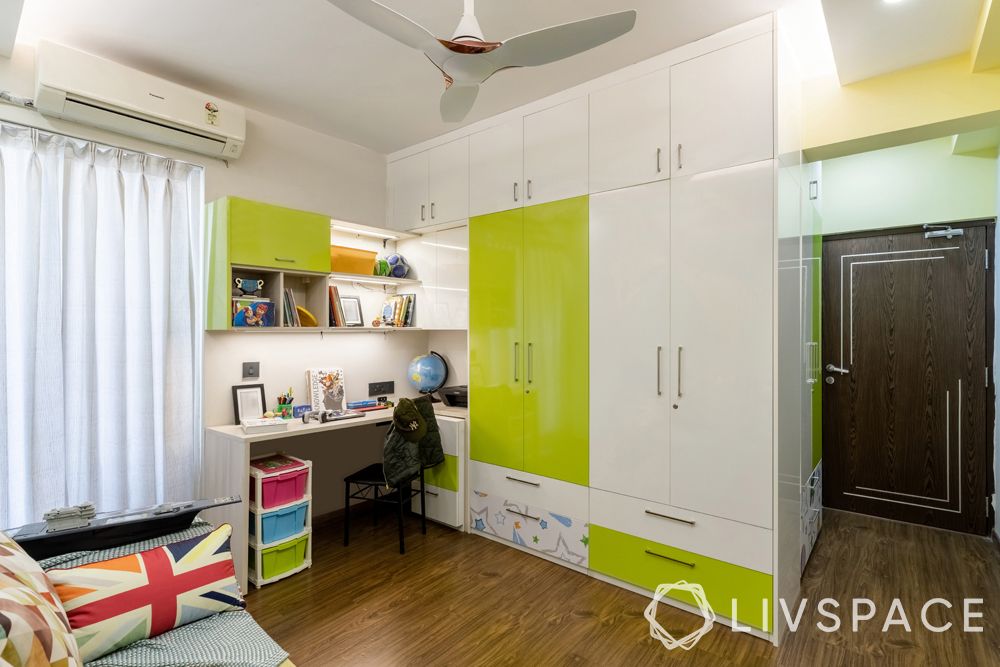 Much like the kitchen, designer Pamela had to get creative with how best to maximise space in the son's bedroom. With storage being a concern, our designer wound the wardrobe section around the corner of the wall for maximum efficiency. This design reduces the need for additional cabinets, and offers ample storage as the son grows older.
Nifty Customisations for This 3BHK in Gurgaon
Notice the corner cabinet above the study unit? Our dedicated designer Pamela created those shelves using a combination of modular kitchen cabinets! Pamela was keen to use as many out of the box ideas to deliver what they need, and more. The amount of thought that went into this room left us inspired to do more, with less.
What Makes This Luxury Apartment in Gurgaon Different?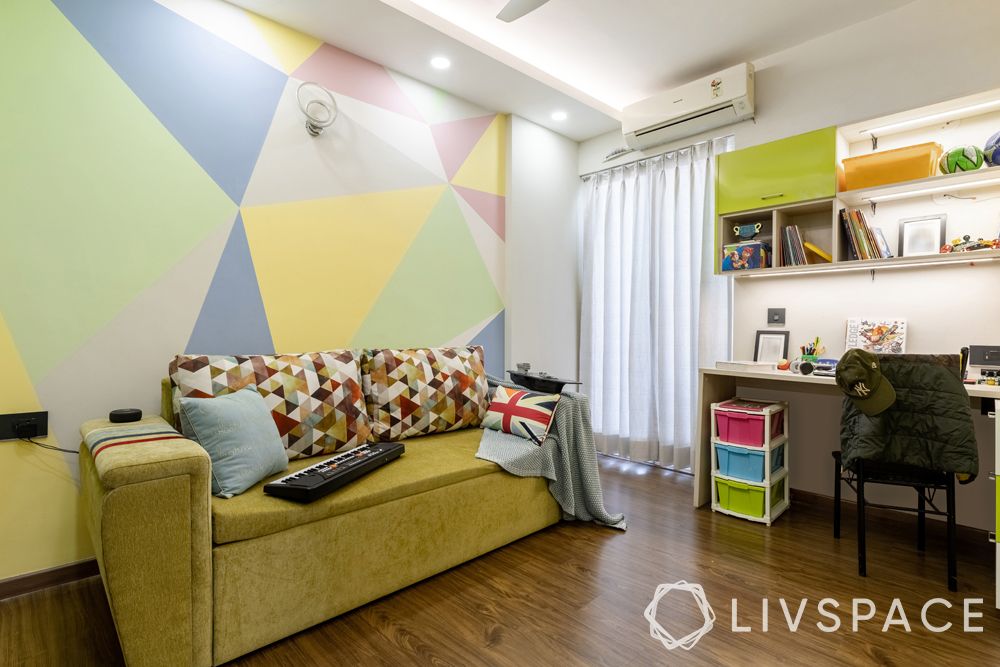 There are several elements that add to the creativity of this 3BHK in Gurgaon. But, the most standout feature is the use of colours throughout the home. From blues to pops of lime green, every room has a distinct personality that beautifully represents each family member!
Most other rooms in this luxury apartment in Gurgaon reflect a rich, luxe colour palette. However, the son's room follows a rather vibrant theme featuring lime green with a colourful accent wall to boot. The acacia flooring brings the whole room together and adds a sense of openness to the space.
The designer and family wanted to be mindful of the son's age by planning the interiors from a future perspective. For this, our designer chose to go with a colourful accent wallpaper that will retain its style through the ages. As a growing boy would require a lot of space, a sofa-cum-bed was chosen for this room.
Decluttering the Master Bedroom With a Walk-in Wardrobe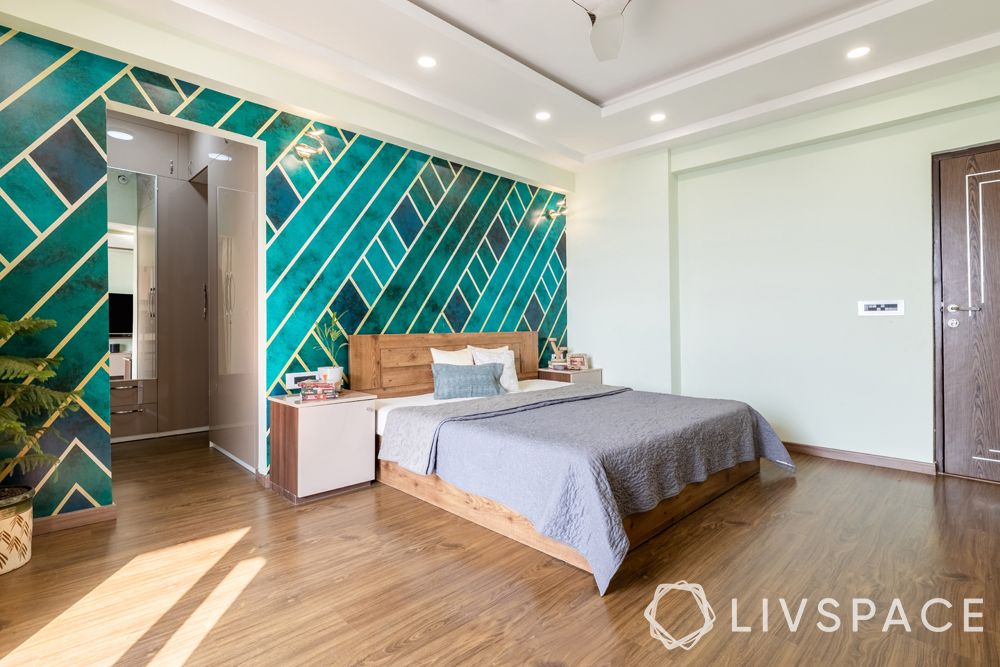 The original master bedroom room came with a shaft that could not fit a straight wardrobe. To overcome this, our designer created an acrylic-finish walk-in wardrobe that winds behind the accent wall of the room. This design helps open the rest of the room up, and adds an airy feel to the space.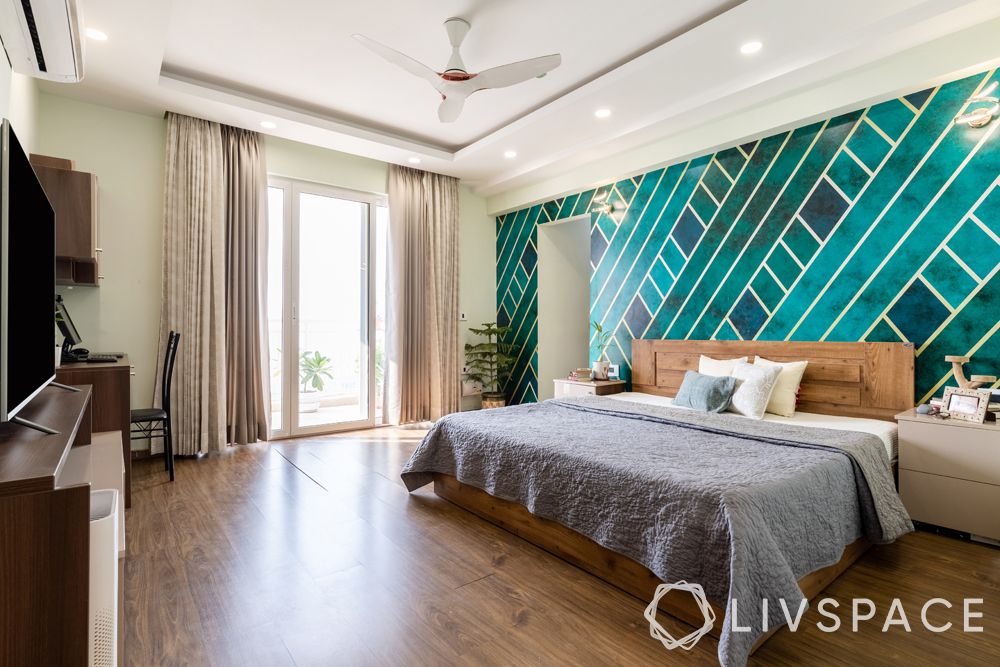 As the homeowners wanted to use their existing bed, the colours in the room needed to complement the existing furniture. But at the same time, they wanted interiors that could also accessorise possible new furniture. Though there were several factors to consider, our designer was ready with a plan to tackle it all.
With the bed frame being a light shade, homeowner Amit wanted to add an element of green in the room. Based on this feedback, a customised teal and gold wallpaper was selected. This vibrant accent wall pairs beautifully with the acacia flooring and wooden bed frame.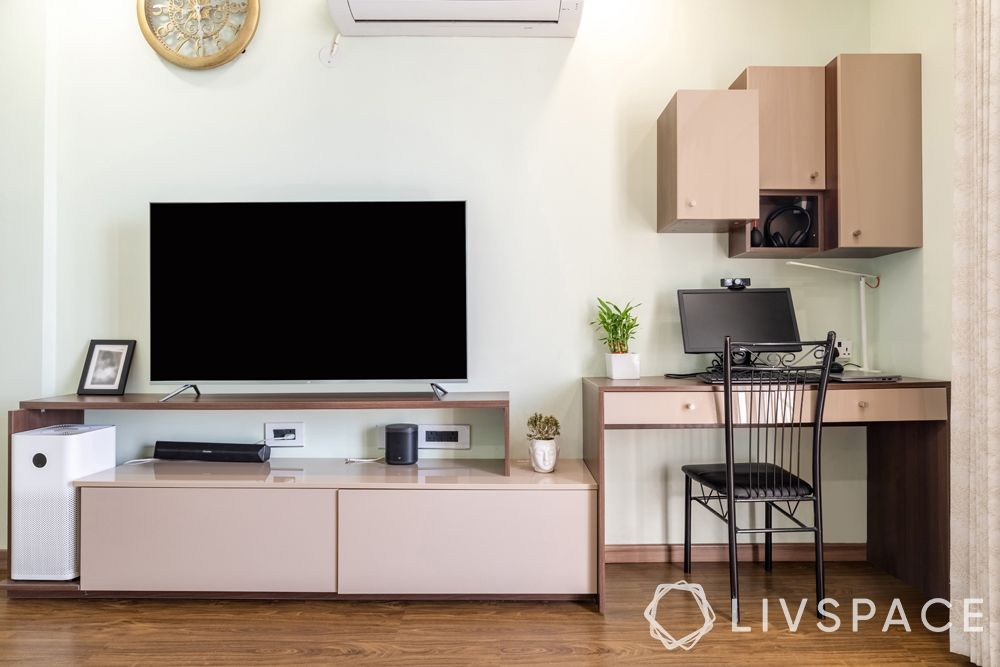 Completing the look of the room, our designer chose to go with cappuccino cabinets for the TV and study units. The neutral palette of these cabinets meld with the acacia flooring and French balcony doors in the room. What's more, is that the colour palette of these modular cabinets provide flexibility when it comes to upgrading furniture.
Since cappuccino is a neutral colour, it allows the homeowners to match new additions in furniture with their existing set. This ensures that all their bedroom units stay flexible with any future changes, making them great for long term use.
Want Your Home to Look Like This Luxury Apartment in Gurgaon?
Picking the best interior design for your home while fulfilling storage concerns can be difficult without the right help. Whether you're looking for space-saving furniture to open up your floor space, or the best wardrobe designs for maximum space, we've got you covered!
How Can Livspace Help You?
We hope you found our ideas useful! If you want your home to be just as beautiful, then look no further. Book an online consultation with Livspace today.
Have any thoughts or suggestions you'd like to share with us? We're all ears! Drop us a line at editor@livspace.com.
To know how our customers feel about working with us, check out these Livspace reviews for more details!
Disclaimer: All contents of the story are specific to the time of publication. Mentions of costs, budget, materials, finishes, and products from the Livspace catalogue can vary with reference to current rates. Talk to our designer for more details on pricing and availability.