There are many ways to dress up your walls. You can paint them, stick wallpapers and even use moulding. Wall panelling is one of the many ways in which you can turn bare walls into statement walls.
So what essentially is a wall panel? It is a piece or a sheet of material that is stuck on to the wall with some form of adhesion. This panel can be made of different materials like wood, veneer, plywood, etc.
Wall panels can be differentiated by the technique used to install them, and this has an obvious bearing on how they look. Let's take a look at the types of wall panelling as per the technique used.
Wainscoting
Beadboarding
Shiplap / Tongue and Groove
Board and Batten
Raised or Flat Panels
Types of Wall Panelling #1: Wainscoting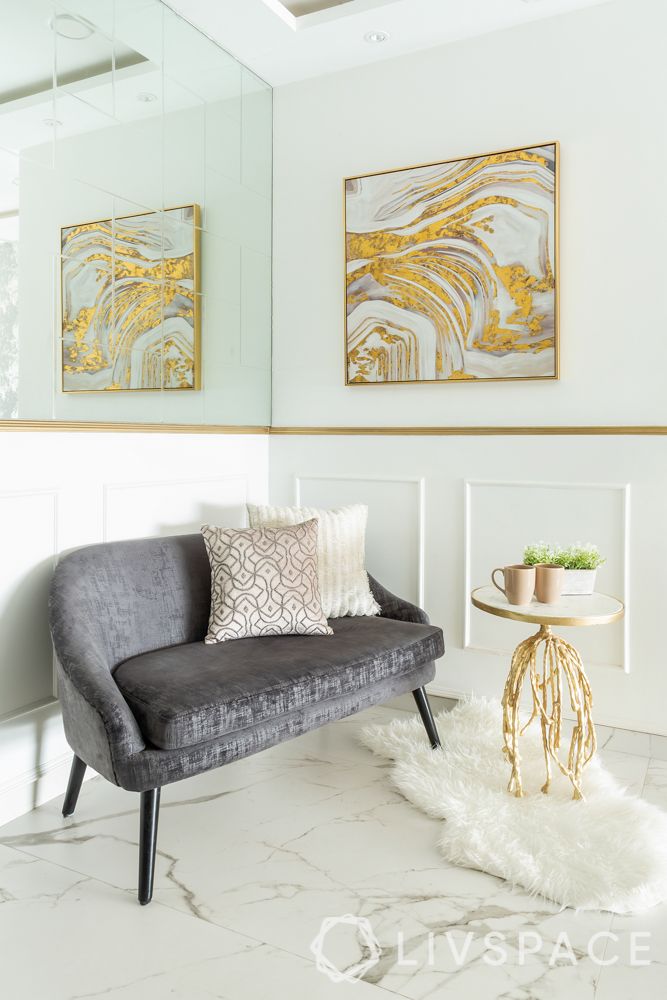 Wainscoting is a type of panelling that covers half or one third of the wall's bottom part. Moreover, a chair rail typically runs at the perimeter of the panel. The panel is assembled from beadboards but is continuous and usually has angular patterns.
As a type of panelling, wainscoting is not used for accent walls because it has a protective purpose. Thus, it can be used to shield the walls from damage in areas where there is more footfall – like in kids' rooms. However, it does have a decorative effect, too.
Just see how well our designers have used wainscoting on the walls of this renovated Mumbai 2BHK.
#2: Beadboard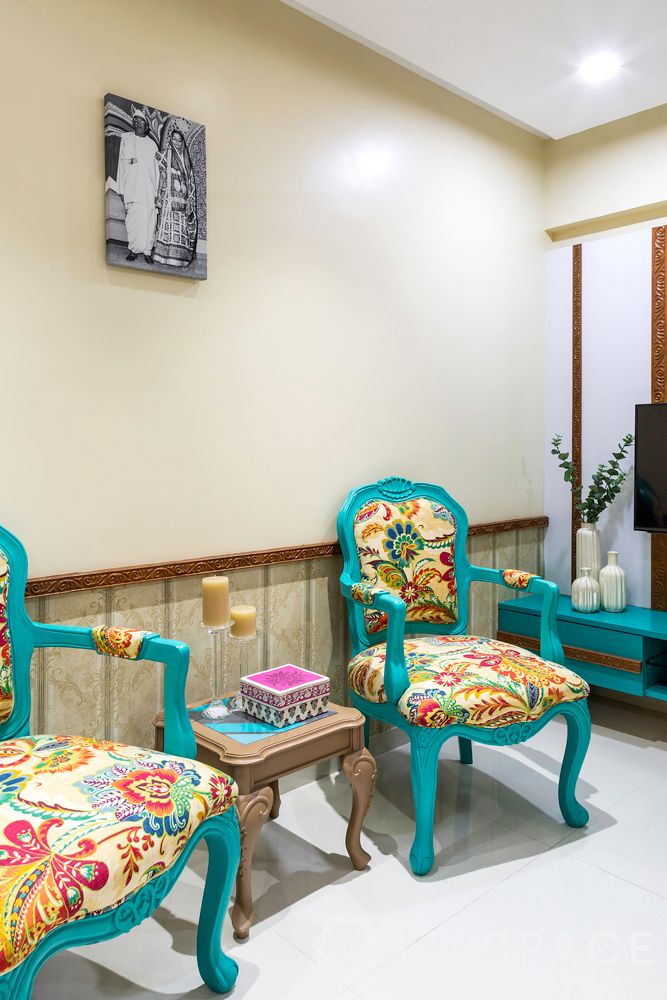 Beadboard is a slightly more traditional mode of wall panelling; we have inherited it from the British who have been beadboarding their walls for centuries. Wait, does it look similar to wainscoting? Yes it does, because wainscoting evolved from this technique.
To put it simply, this type of panelling is done by placing pieces of wood (or other non-traditional materials) vertically next to each other. In addition, the gap between the two is called the 'bead'. Mostly, beadboarding is not used to create accent walls. However, it is an excellent visual distraction for walls in long passages or dull corners.
#3: Shiplap + Tongue and Groove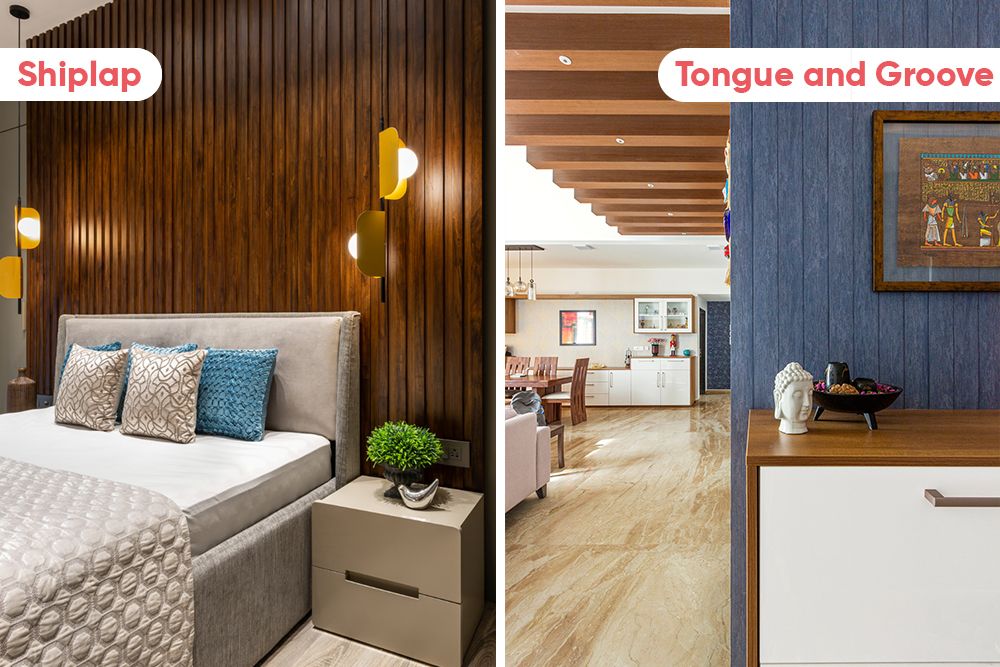 These two types of wall panelling look almost the same. However, the techniques used to install them are slightly different. For tongue and groove, the pieces of the panel have a protruding 'tongue' that slides in the 'groove' of the adjoining piece. For shiplap, the pieces overlap each other forming air-tight ridges that provide safety against damage.
Another element of commonality between the two techniques is that they are primarily used outdoors to protect the walls from being weatherbeaten. For interior walls, these techniques are mainly aesthetic. Moreover, they can give a rustic or country feel to any space.
#4: Board and batten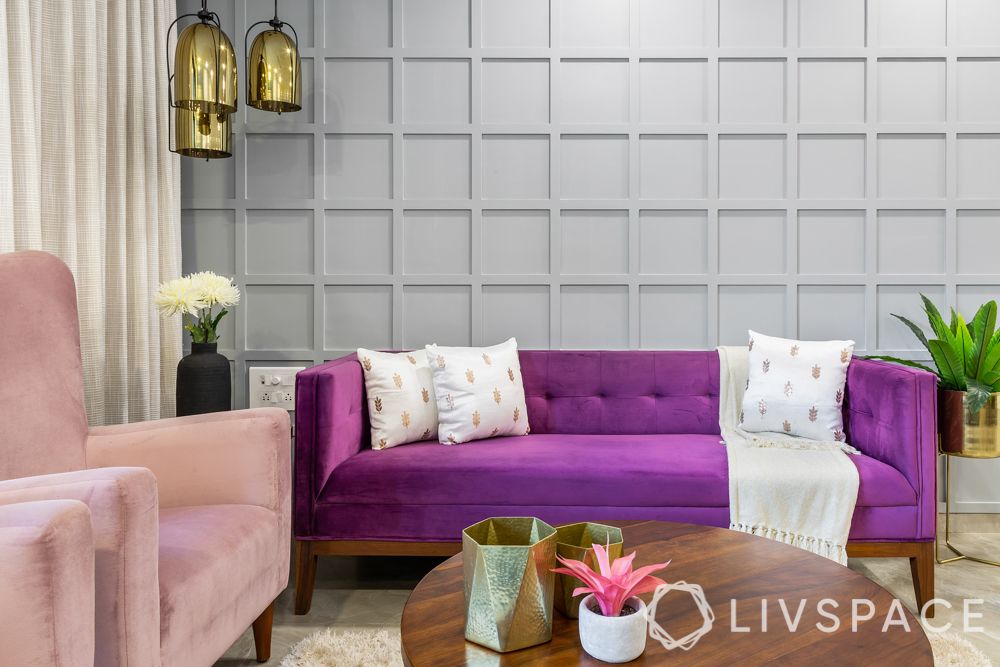 This rather geometric looking panelling technique is also quite traditional. In fact, we see several examples of board and batten walls in the early 20th century homes in Europe. The technique essentially binds the boards together next to each other. Additionally, the 'batten' hides the ridge joints of the boards. However, the battens are also used for purely decorative purposes sometimes.
This technique is excellent to create accent walls. However, if you feel your home is missing texture, this is a great way to add some.
You can check out how our designers used this style effectively in this stunning home.
#5: Raised and Flat Panels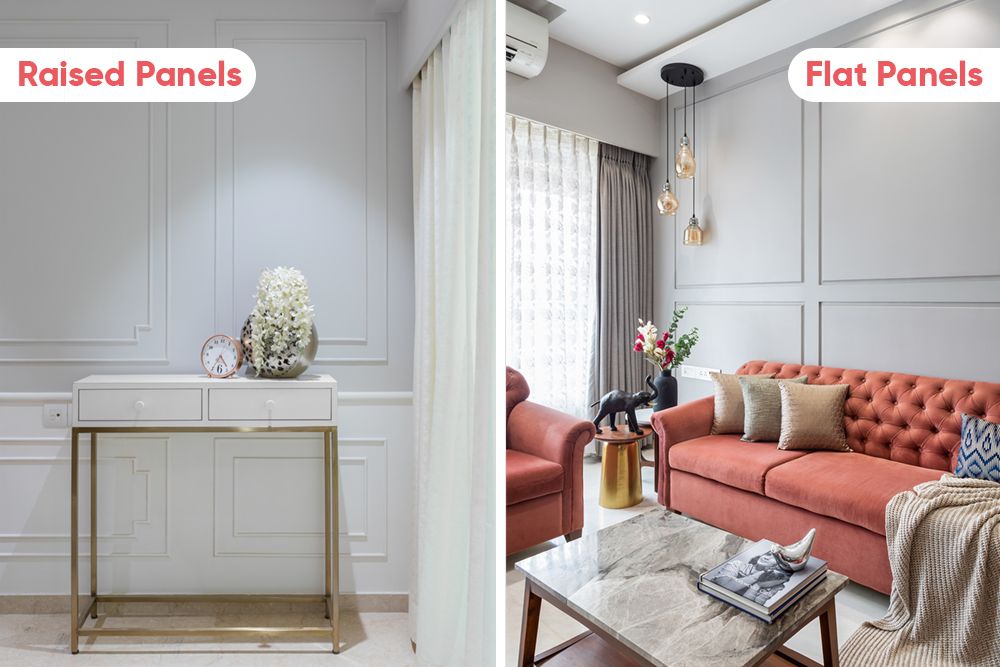 Raised panels are rectangular or square boxes that resemble portrait moulds. These panels, often in solid wood, were typical of huge Victorian mansions with plush interiors. Thus, this technique is essentially made for scale and is known to highlight the height and vastness of a space. So using them in a compact home might not be the best idea.
Flat panels are the contemporary cousins of raised panels. The difference? They are quite smooth save the lines where the raised panels were supposed to be. In fact, flat panels actually match the aesthetics of contemporary design and are very popular among homeowners.
Read more about different kinds of accent walls here.
Send in your comments and suggestions.