What is eclectic style?
Think of eclectic style as a melting pot, where you bring together the best of all the decorating styles you love into one cohesive story that is your home. If you thought luxury couldn't exist alongside shabby-chic or that your minimalist decor can't accommodate your inherited antique furniture – think again!
Eclectic style has a curated vibe to it, and you can choose elements from different design eras to fill up the same room. However, this very quality makes it a bit challenging to execute, since it's easy to end up with a chaotic mess instead of an orchestrated mélange. But the reward lies in creating interiors that are uniquely you and are hard to imitate. So, follow our tips to create your own charming, eclectic home.
Tips and tricks of eclectic style
Eclectic style, even if not apparent at first, follows principles of good design. Here are eight tips to help you out:
1. The unifying thread
What makes eclectic rooms work is a unifying thread that you can perceive visually throughout the decorated space. The unifying thread could be a neutral backdrop or a bold accent color or two, which is repeated throughout the home. For example in this dining room, all the chairs are unique but painted a bright yellow, and hence it works. Other unifying features can be the proportion of objects or even texture.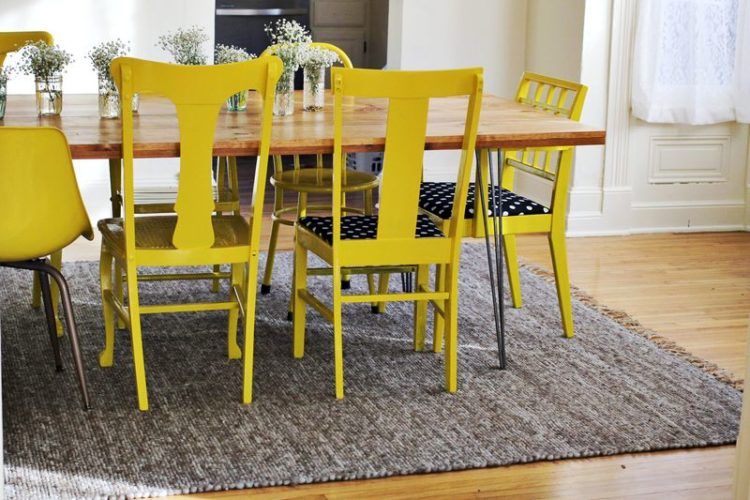 Source
2. Limit the number of styles
As a newbie, it is safe to stick to choosing elements from a maximum of three decorating styles for your eclectic room. You can choose two or three decorating styles that you're drawn to. Anything beyond that would require skill and experience to pull off.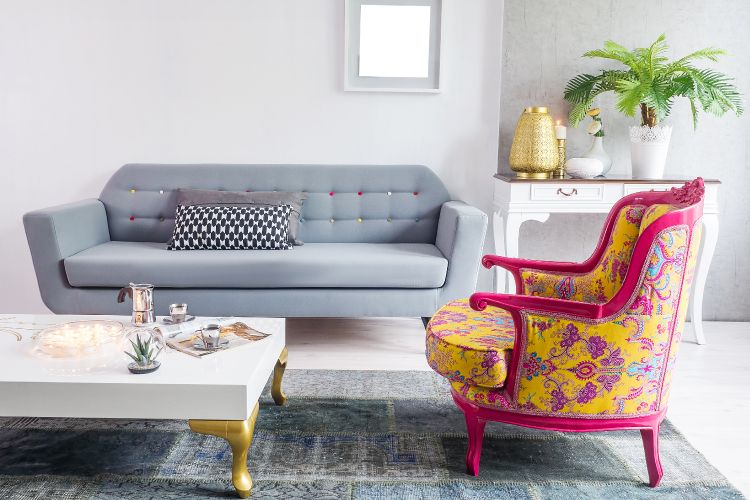 3. Play with contrast
It is clear that contrast lies at the heart of eclecticism. Contrast can be achieved in various forms – colors, prints and patterns (think paisleys with stripes), shapes (think rectilinear sofas with asymmetric tables) or textures (think granular matter juxtaposed with shiny metal). In the picture below, the upholstered chairs add a vinrant touch to an otherwise stark room.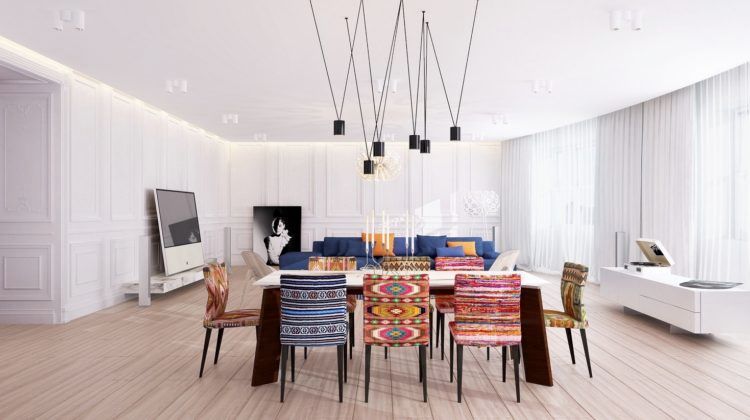 Source
4. Go eclectic everywhere
Eclectic style relies on layering contrasting pieces cleverly. Since it's strongly individualistic, you needn't restrict your decorating to just one area of the house. Instead, decorate your whole house, from the kitchen to hallways, with quirky touches that reflect your preferences. You can use soft furnishings, accent pieces, artwork, and even appliances (think brightly colored ones) to your advantage.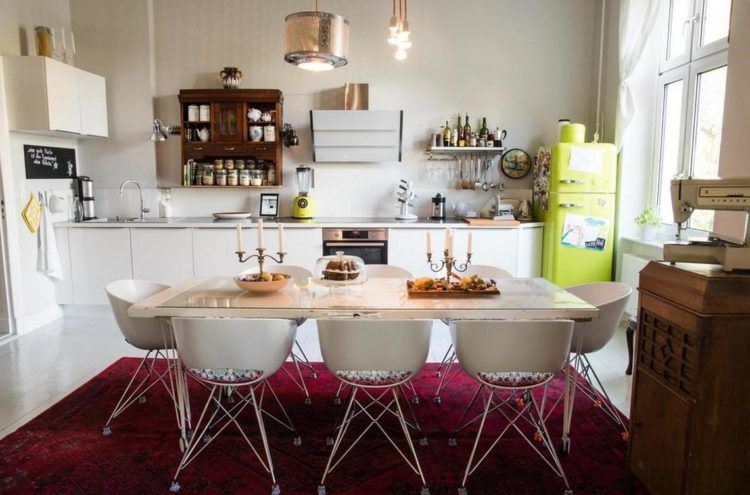 Source
5. Think of the final composition
Since the guidelines for achieving an eclectic look are so flexible, you may be tempted to stuff your rooms to the brim with furniture, paintings, rugs and what not. This may just result in clutter. Instead, think how each piece would enhance or detract from the final result. A bit of visualising is required. For beginners, the key to executing an eclectic room successfully lies in exercising restraint with the number of pieces you choose for each room; you can start with the basics and scale up over time.


Source
6. Painting old furniture
If you have old or antique furniture, you can paint it to alter its appearance dramatically. For eg., in the picture below, a coat of white paint has instantly transformed the look of the vintage bed frame and made it feel more suitable for a modern bedroom. This is an easy way to incorporate a different style to your eclectic space.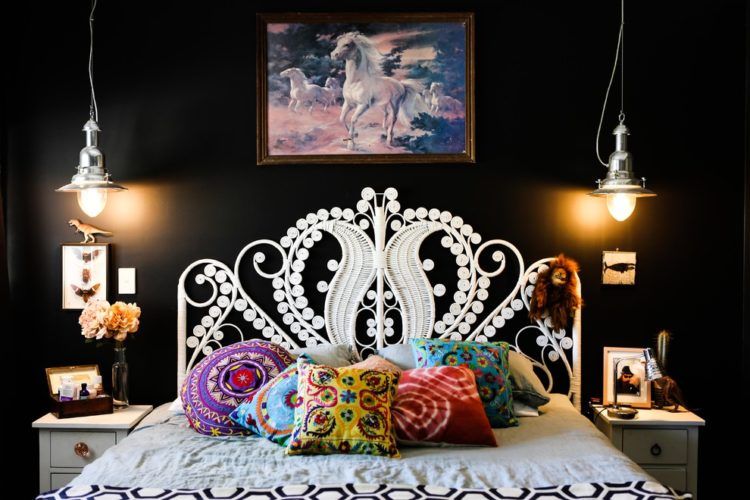 Source
7. Experiment with placement
Don't give up on a piece too soon. If that vase doesn't look good in the corner, it may look good next to a chair or on the floor. So shuffle things around until you find an arrangement that works.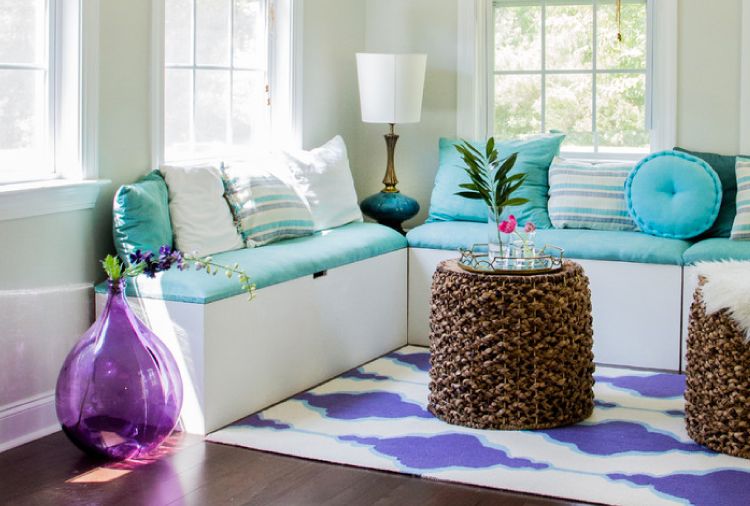 Source
8. Make it pop
If you want to attract attention to a particular piece, you can coat it or upholster it in a shade that contrasts with the surroundings, thus making it stand out. Adding pops of color is a great trick for eclectic rooms because it puts the focus on a single piece and takes away from a possible visual discord that one may feel otherwise.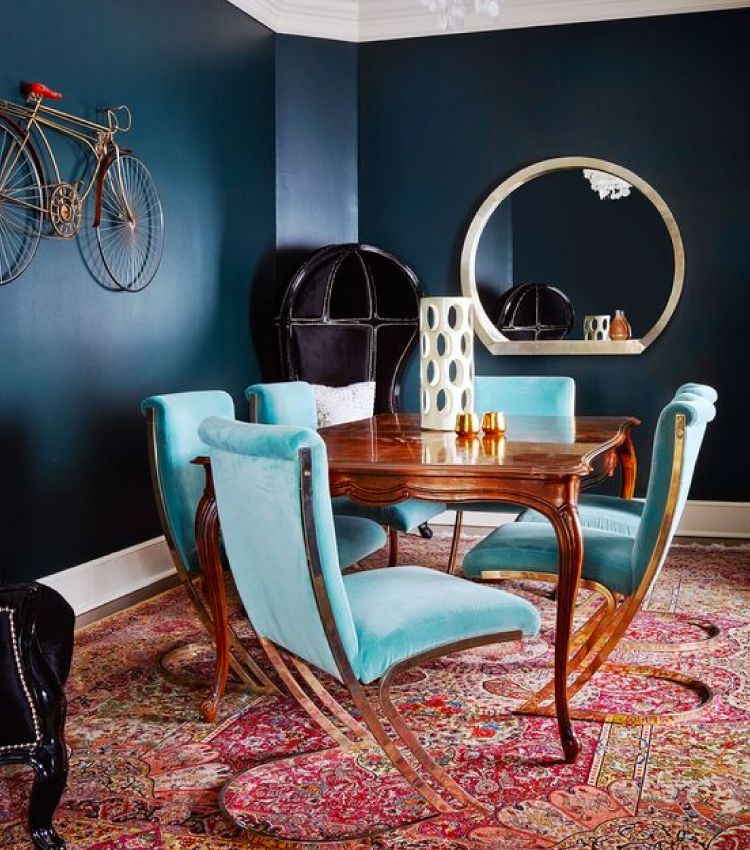 Source
The best thing about eclectic style is that, despite these common guidelines, your eclectic room will look vastly different from other eclectic rooms. Therefore, go slow, look for inspiration and surround yourself with things that reflect who you are.