This Mumbai home is a haven for those who love quirky and creative elements.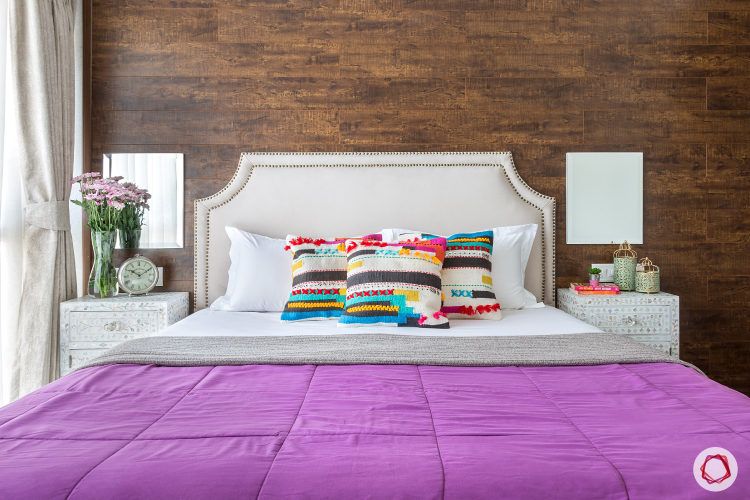 ---
Who livs here: Feroz Khan with his wife Kritty and their daughters Shanaia and Samaraa
Location: Sapphire Heights, Kandivali East, Mumbai
Home Size: 2 BHK spanning 785 sqft
Design team: Interior Designer Vidya Rajiv Jain with Quality Manager Amandeep
Livspace service: Full home design
Budget: ₹₹₹₹₹
---
Feroz and Kritty Khan's Mumbai home is a dream; beautifully designed with pops of colour, innovative design ideas and a spacious and breezy ambience.
We love how Vidya Rajiv Jain, Livspace designer, paid attention to detail and hand-picked every component to make the home look outstanding. We're sure this eclectic curation is capable of inspiring your home makeover!
First Impression Done Right!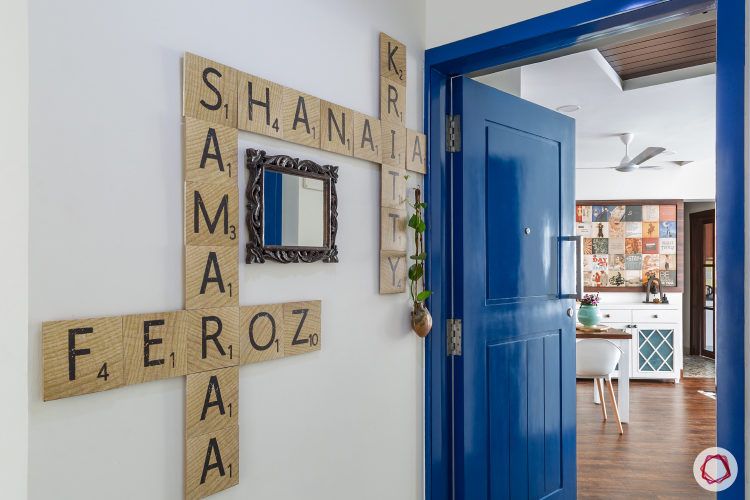 Isn't it fabulous? A lovely first impression that leaves guests wondering what the interiors behold. The Scrabble-inspired nameplate, a vibrant cobalt-blue door and an ornate mirror float in oodles of excitement.
Pop of Colour in a Scandinavian Theme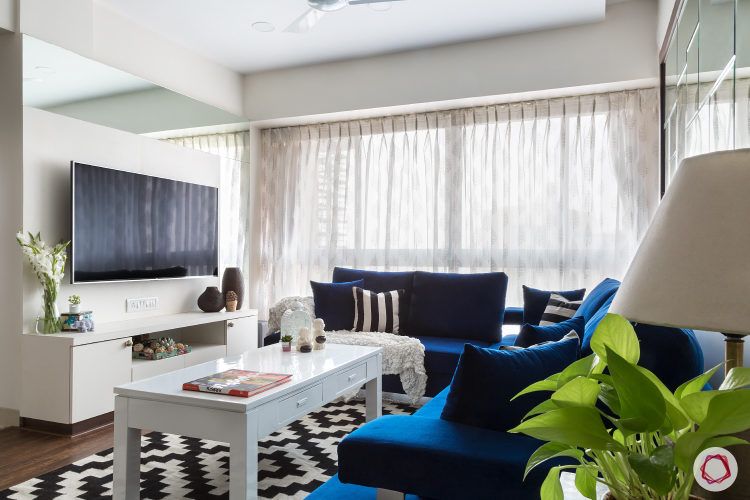 We like to call it a Scandinavian design with a twist. Kritty owned a beautiful sofa which was not worth discarding, so we refurbished it to add a glamorous touch; a little blue to get things interesting. Not just this, a geometric rug adds an eye-catchy pattern while weaving the whole look together.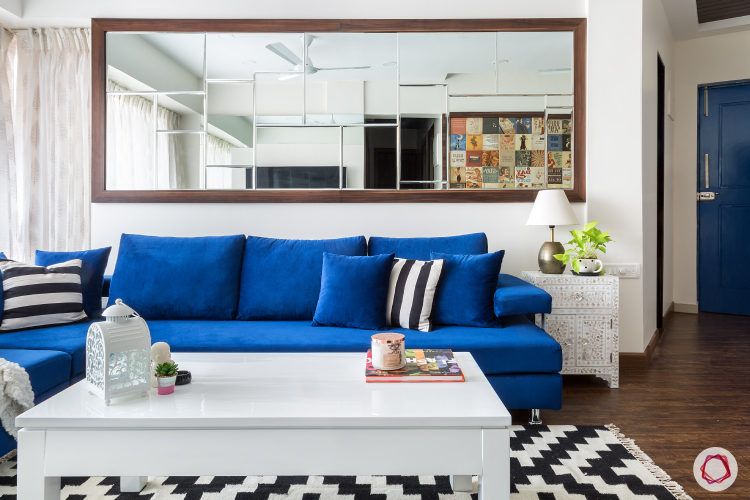 Gallery walls and photo collages though popular, are very common, so Vidya tried something new. Who knew that a meagre act of creating a mirror collage would beautify the aesthetics like this? Keeping the mood light and breezy, the whole ensemble elevates the style quotient of the room.
Good Food, Good Mood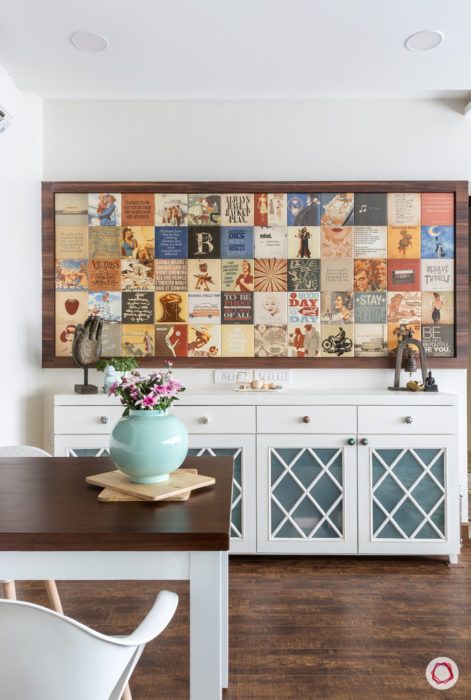 Another stunning brainchild of Vidya's creativity is the framed tile collage, above the dining room, that holds inspirational quotes. This mirrors Kritty's positive personality and enthusiasm and is a conversation-starter during dinner. This also lends colours and pattern to the otherwise wood and white dining room.
Shaking Things Up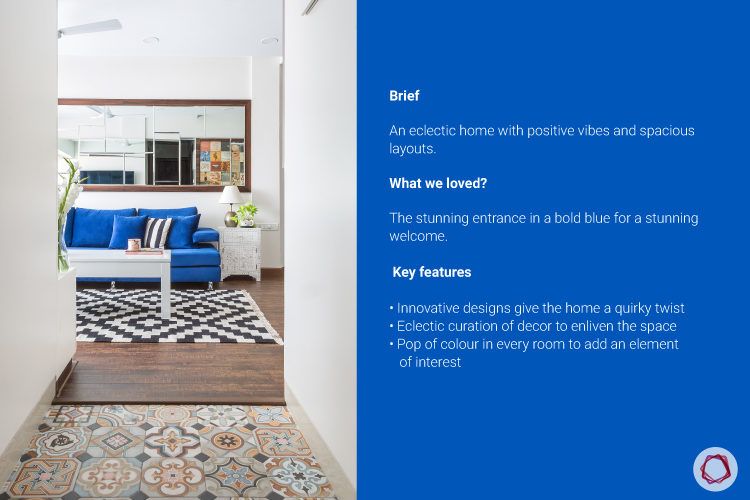 Everyone use walls, ceilings and furniture to make a space pop. Yet, Vidya knew that the space was too compact for any of these. Thus, the Moroccan tiles lend an intriguing pattern and charm to the passages.
An Element of Interest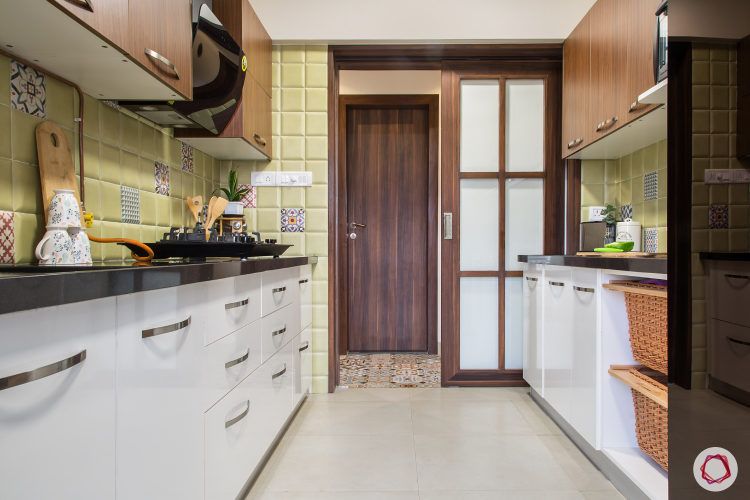 Kitchen interiors was not on the list initially, but seeing how beautiful the rest turned out to be, Kritty couldn't resist revamping the kitchen. Though the design sticks to the popular theme of white on wood, lime green ceramic tiles with some Moroccan prints add colour and pattern beautifully.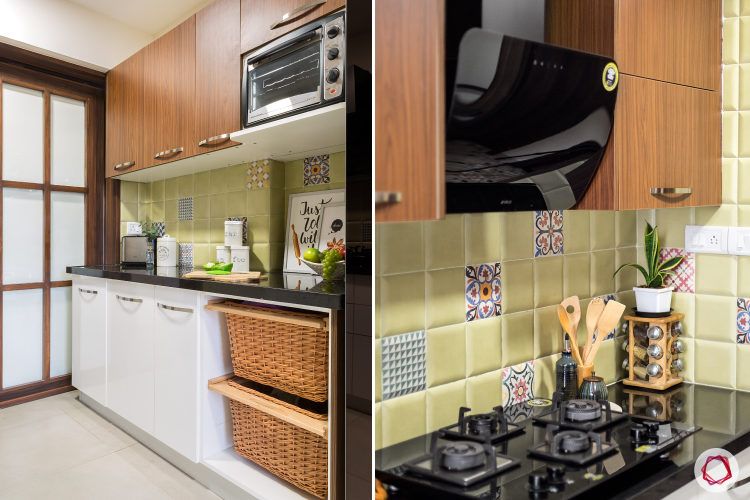 This fully-stocked kitchen has enough storage options and features sleek handles for easy functionality. Wicker baskets have been added to the milieu to store groceries and keep them fresh.
A Dreamy Retreat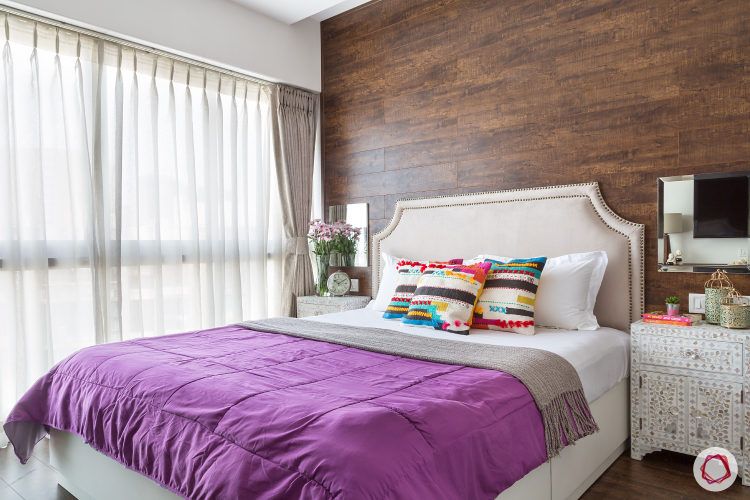 The bedroom is a perfect abode with warm and stylish elements. The wooden panelling, though simple, is a rich addition.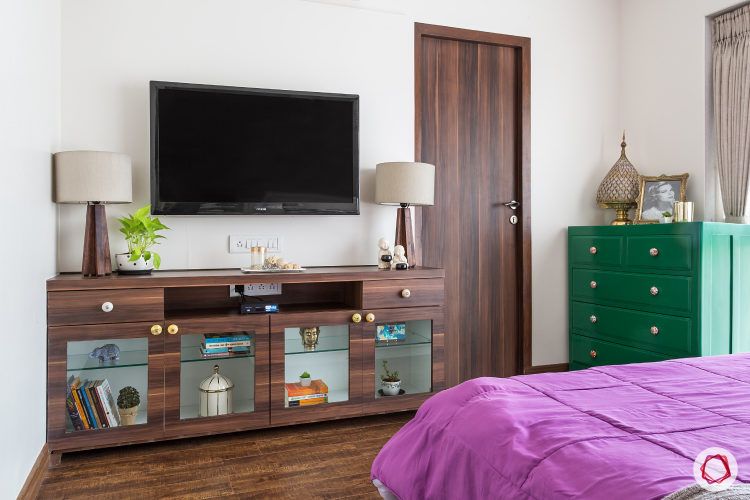 It also houses a TV unit which doubles as a bookshelf for Kritty who loves to read.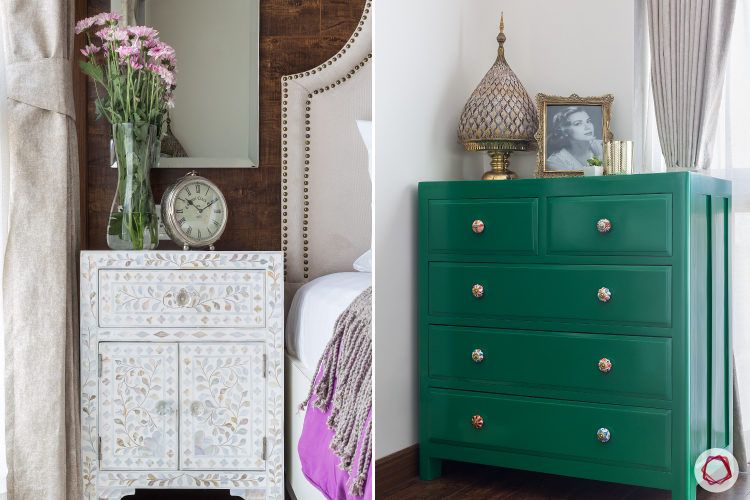 Side tables with inlay prints bring together the theme while the mirrors above double up their purpose as a dresser. We also refurbished the chest of drawers to forest green to add some colour. What's interesting here is the knobs. These tiny pieces were picked up when the Vidya was casually walking around Colaba. If you notice closely, each knob is different from the other!
Celebrity-worthy Design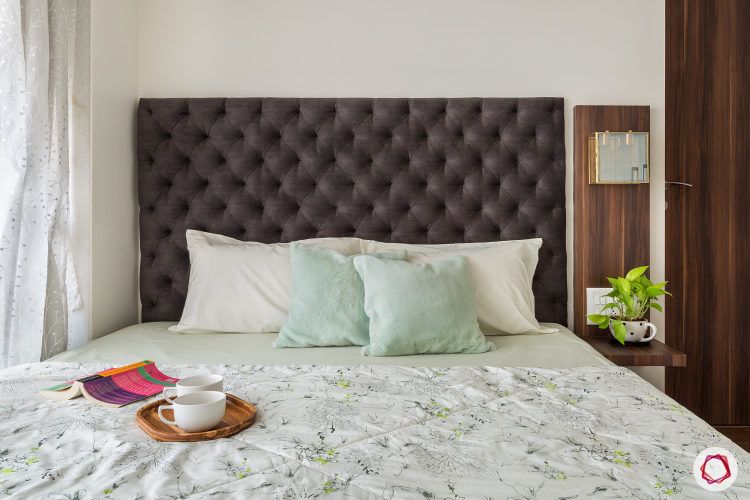 A tufted headboard adorns the daughters' room. See the wall panelling beside it? That's a smart work to ensure that the switchboard doesn't pop out and look ugly. This saves space in the compact room while doing the job of a sideboard.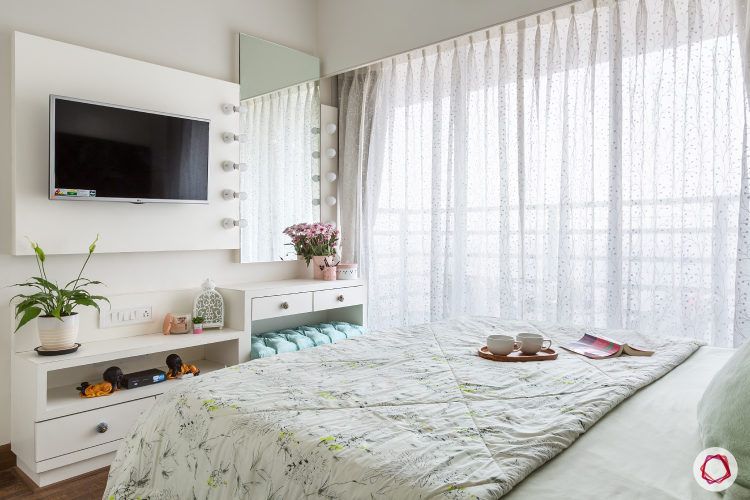 For the fashionistas at home, this dresser gives a glimpse of celebrity life. The mirror flanked by bulbs creates an elegant setting to groom. We're sure the girls love it.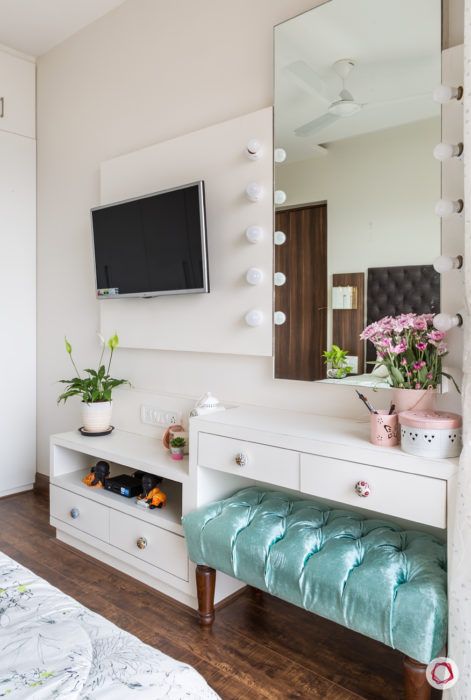 The turquoise pouffe adds colour to the room and easily fits below the dresser to save space.
The Perfect View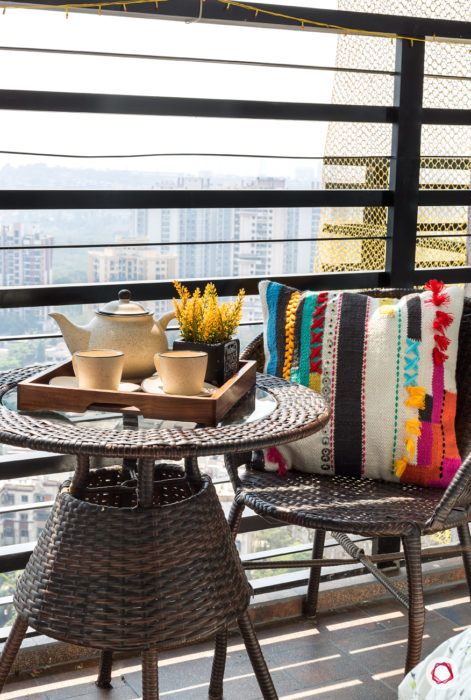 The girls' room also opens out to a compact balcony that gives them a stunning view of the city. A hot cup of coffee and a favourite magazine, seated on the comfortable rattan chair comprises of an evening well spent.
"I have designed many prestigious projects in the past but this is the best design I've worked on. Kritty gave me the freedom to feature my creative side and I feel like a part of the family now. "
—Vidya Rajiv Jain, Livspace Interior Designer
If you love celebrity-inspired home, check out our take on Kangana Ranaut's Gorgeous Manali home.
— editor@livspace.com