A plush Bengaluru home highlighted with stunning false ceiling designs.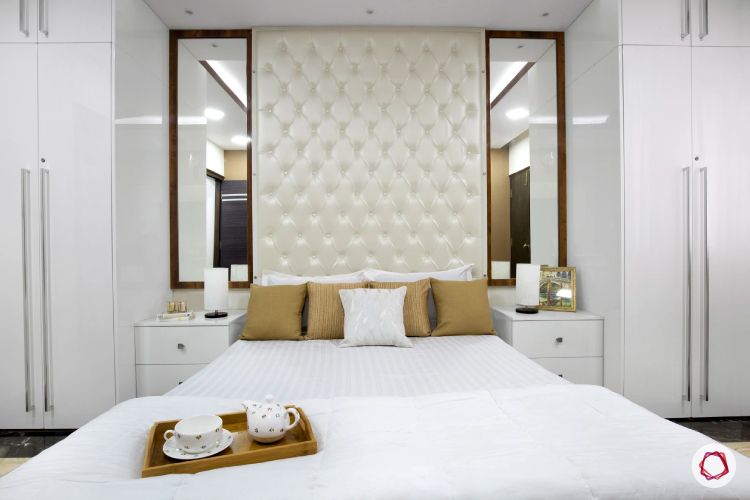 ---
Who livs here: R Lalithkumar and his wife Harsha Jain with their daughters Niriksha (8) and Khushi (7)
Location: Independent home in Shivajinagar, Bangalore
Home Size: 2BHK spanning 1,580 sq ft
Design team: Interior Designer Garima Shah with Project Manager Shreyas Madhusudhan
Livspace service: Full home design
Budget: ₹₹₹₹₹
---
With a business to tend to, Lalithkumar was in no position to deal with interiors for his home. Thus, his wife Harsha Jain and he sought a hassle-free experience from design to installation.
When Garima Shah, Livspace Designer, stepped into the picture, they knew that their worries will be put to a rest. After a fruitful discussion, a fabulous home with white scheme came into play with marble, onyx, wood and leather combinations.
A Stylish Entrance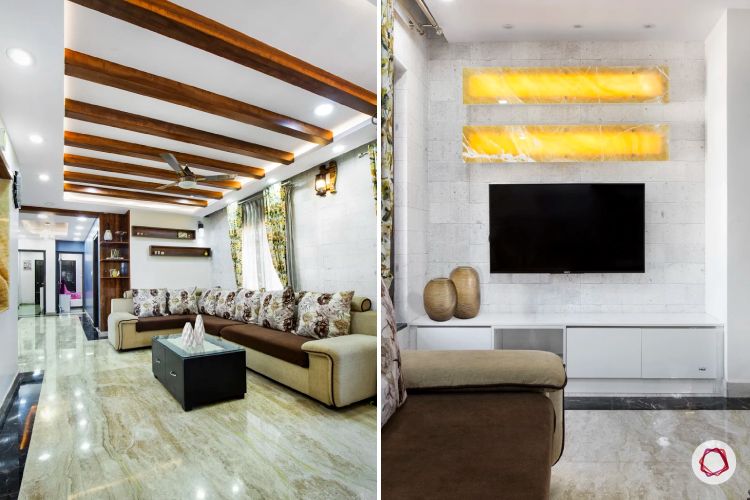 Talk about a stunning first impression! This living room greets visitors with grandeur. Wooden slats in the false ceiling, an onyx TV panelling, wooden storage and a glossy marble floor to finish with, this jaw-dropping design is a luxurious treat.
Floating shelves and a smart corner unit makes display an easy task. It also adds functionality to an otherwise plain wall.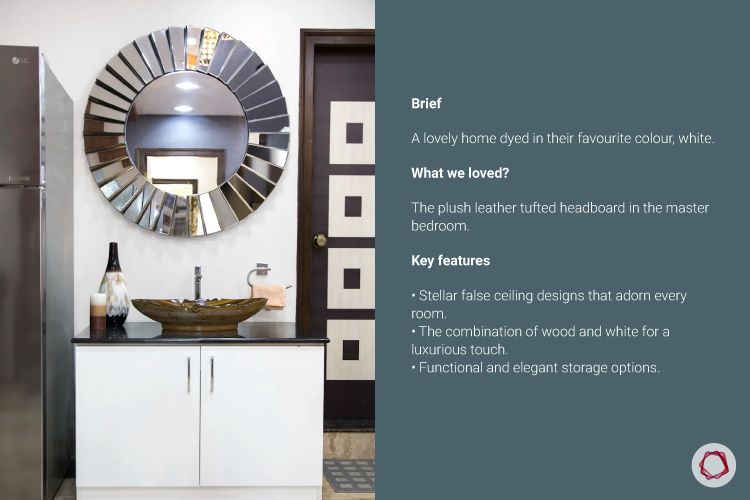 The sink unit with storage is appealing to guests, but also gives them plenty of space for towels and the works! The modish mirror adds a glam touch.
Keeping it Neutral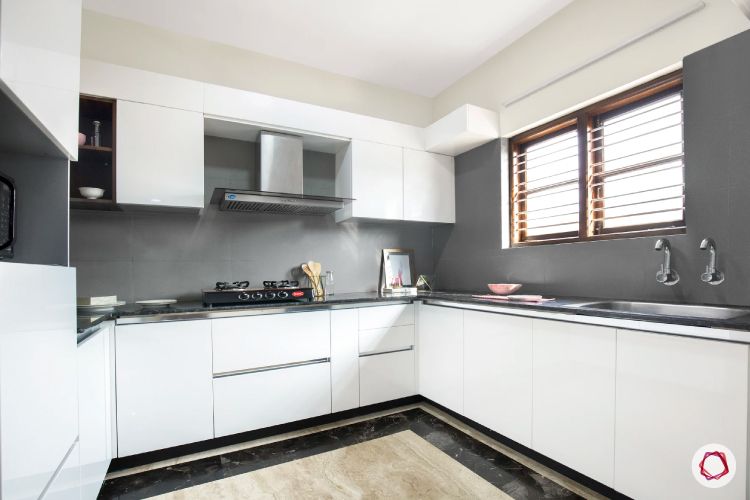 White glossy membrane finishes adorn the kitchen cabinets. This contrasts with a grey tiled backsplash, bringing a neutral feel to the kitchen and keeping it easy on the eyes.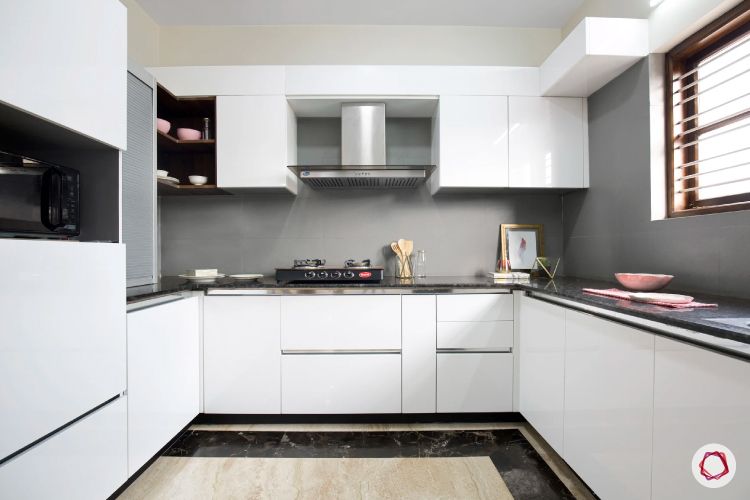 On the myth of maintaining white kitchens being a nightmare, Harsha says, "Maintenance is easy as regular dusting does the trick. I can single-handedly manage the cooking and cleaning."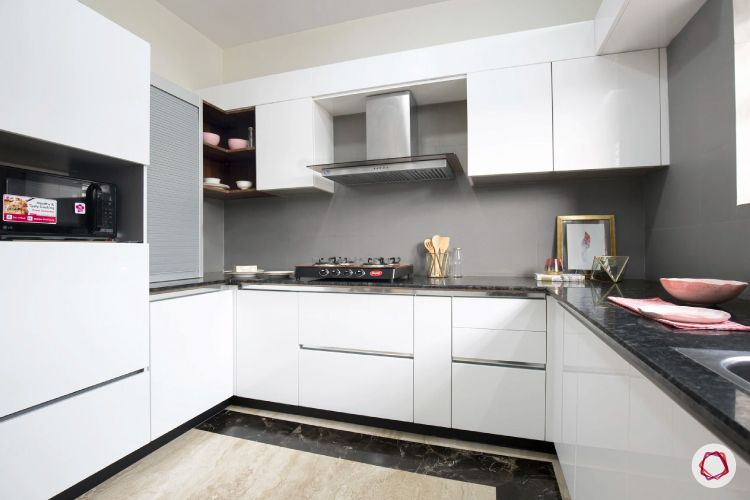 A tall unit fitted with an oven and a roller shutter that stores other appliances provide a smooth flow during the cooking sessions. The cabinets are well-equipped with a cutlery unit, tandem drawers, spice pull outs, bin and detergent holders to make it easy to handle.
Stellar False Ceiling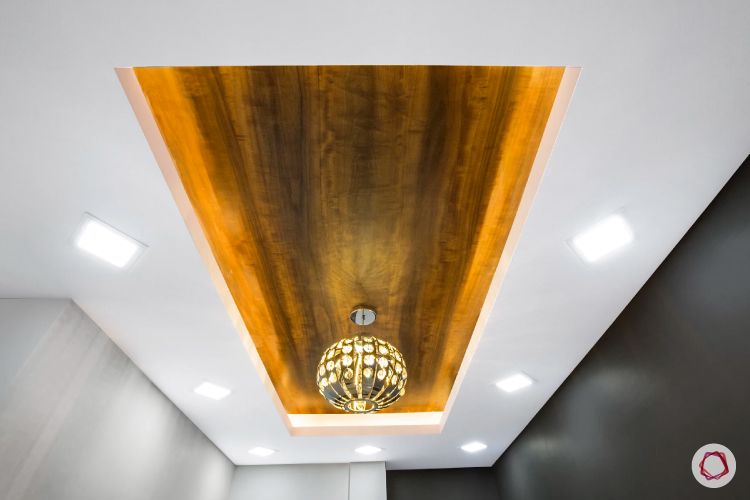 As you walk towards the bedrooms the passage is accentuated by a stunning false ceiling. It's a niche that harbours wooden panelling and a stylish pendant light.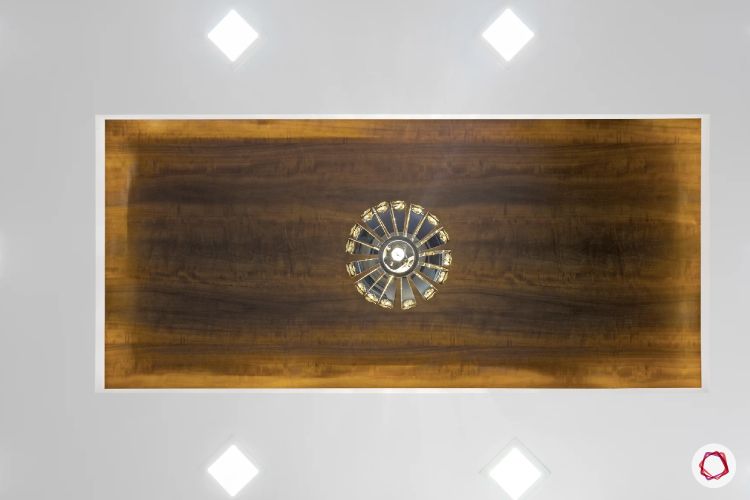 The white panels are accentuated with LED lights for the dazzling effect. Great call on this one!
Living in Splendour
White is a personal favourite when it comes to this family, and the bedroom depicts the same with a beautiful design. The tufted leather headboard softens the appearance of the room while being fancy.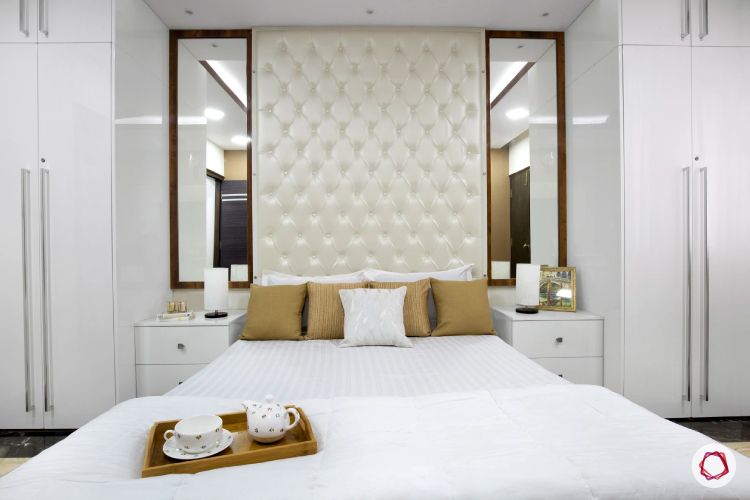 The mirrors double up as a dresser and help make the room look more spacious. Compact storage and a hydraulic queen size bed fit flawlessly into the design.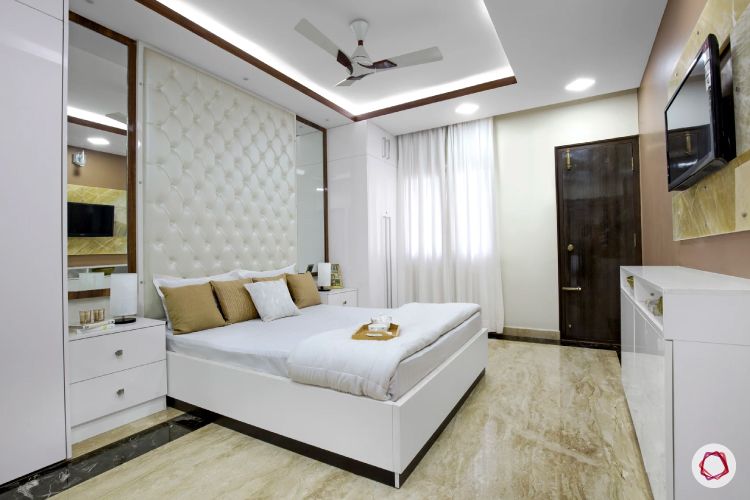 Simple and sleek furniture provides more floor space for the kids to run around.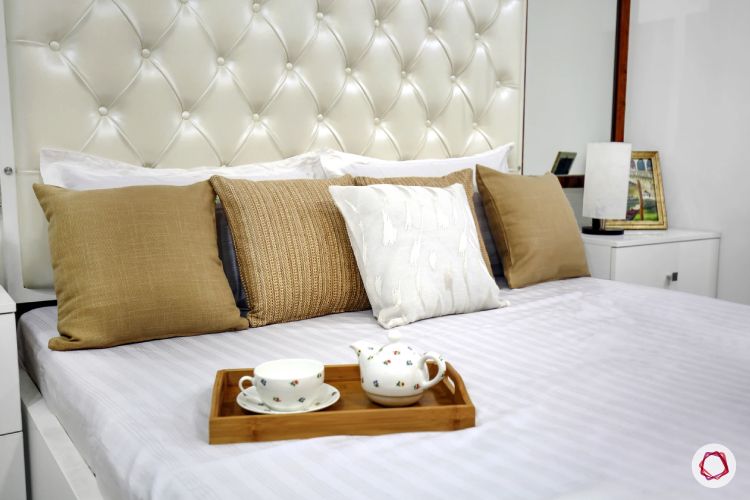 The button tufted headboard is our personal favourite. It brings out a luxurious look while being easy on the eyes. Its soft texture and elegant appearance make it the main attraction in the room.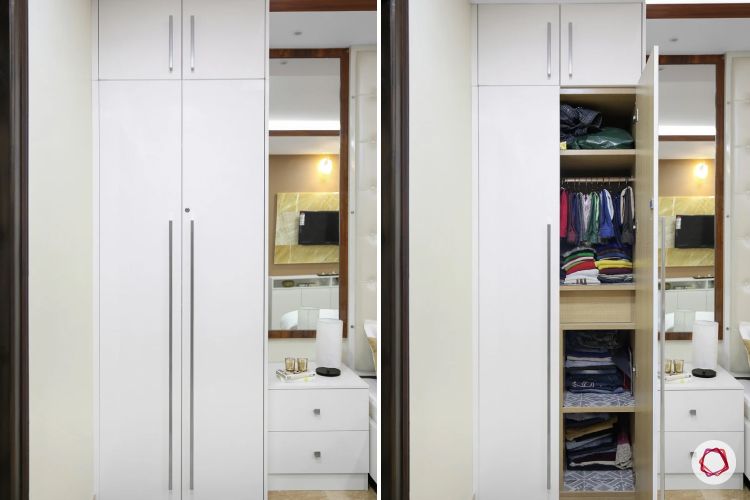 Being a compact room, the master bedroom lacked space for a full-fledged wardrobe, and yet, a twin two door wardrobes were accommodated at either end which blends in seamlessly and adds storage.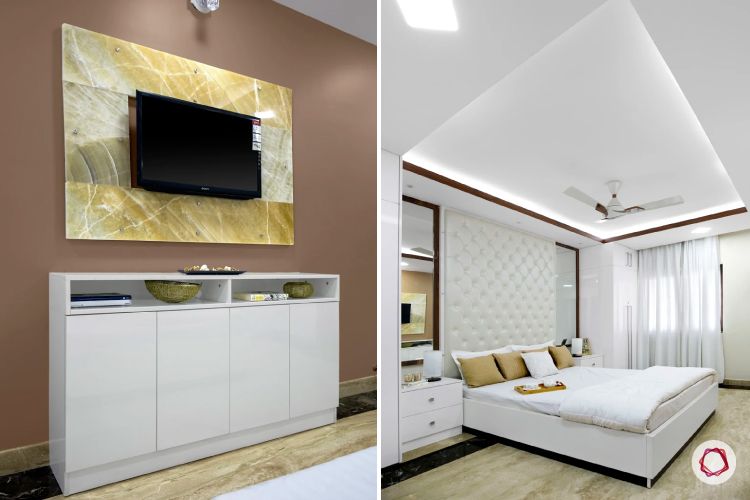 The all white appearance of the room is contrasted with a brown accent wall. It is a perfect setting for the onyx TV unit panels and tones down the brightness to a great extent.
For the Princesses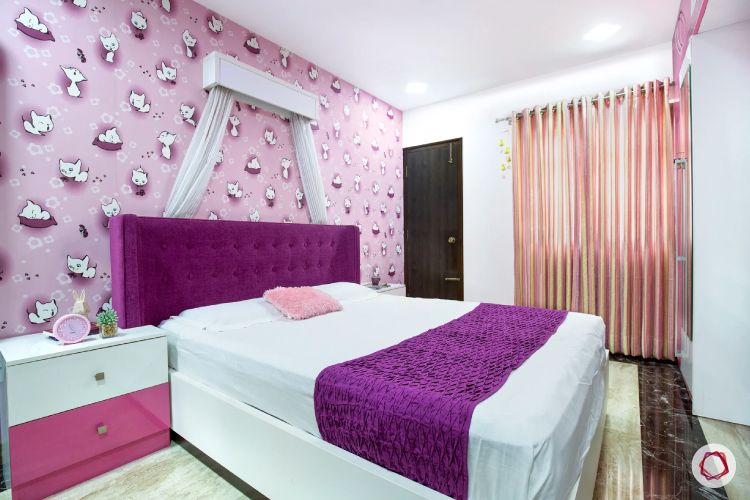 Harsha wanted the kids to have fun with a special room that resonates their passion for pink, princesses and prints. Thus, their room evolved into a place straight out of a fairy tale.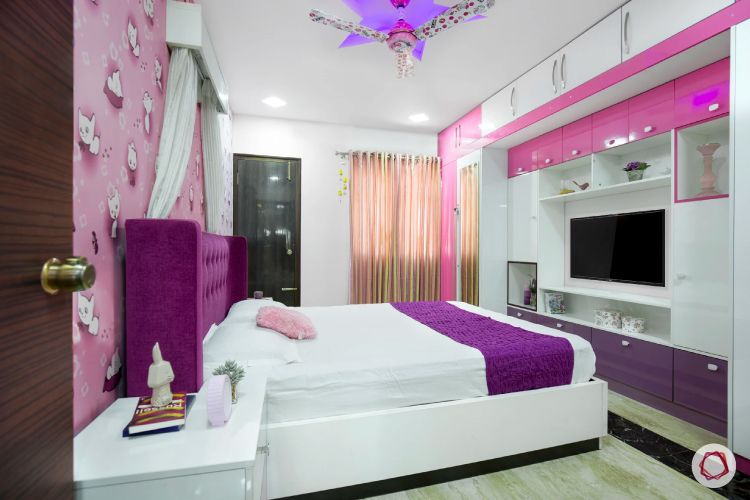 A white queen sized bed with a purple tufted headboard, a pink wallpaper with cartoon motifs has the kids all a-twitter. The wardrobe and storage bind the whole room together replicating the same hues.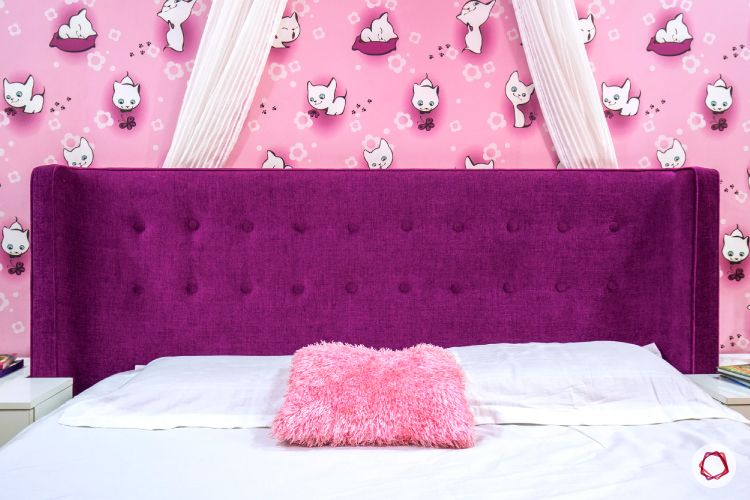 The bedroom is everything a little girl would want and Harsha feels that kids need to enjoy their childhood so that they have something to look back on fondly.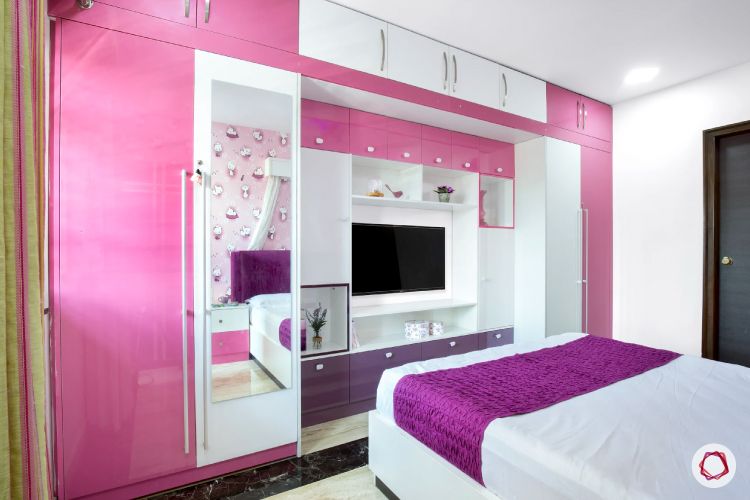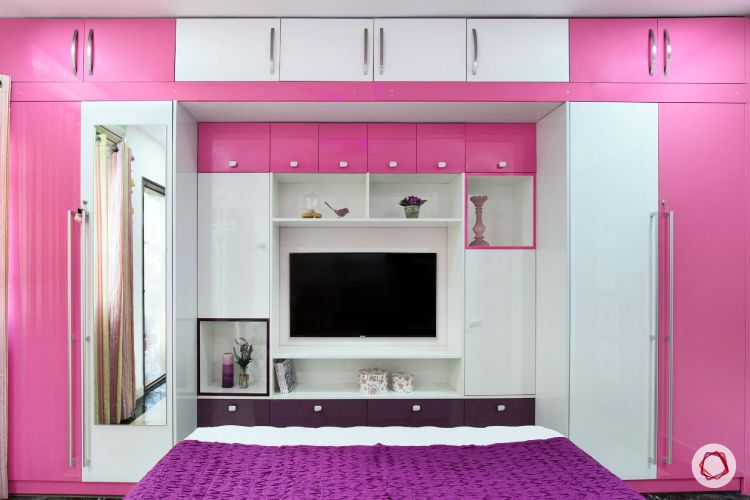 Since the master bedroom lacks enough storage, Garima designed enough storage in the kids' room with low lying drawers for the children and lofts to be used by the couple.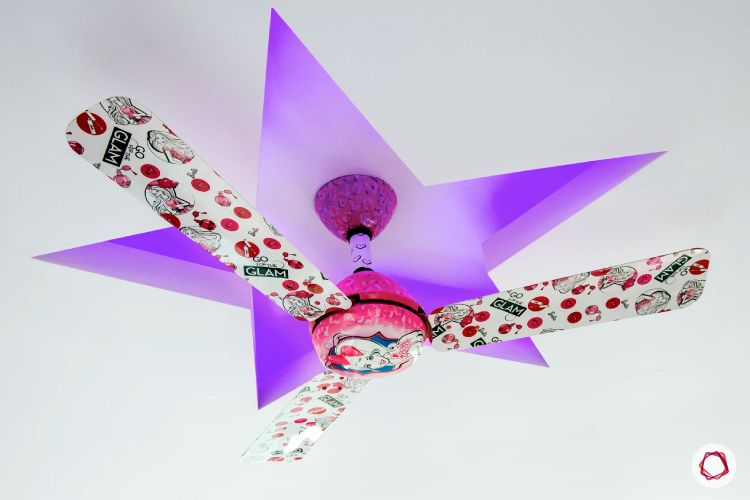 But the highlight of the room for their guests is the star-shaped false ceiling and cartoon printed fan — the icing on the cake.
A Stylish Study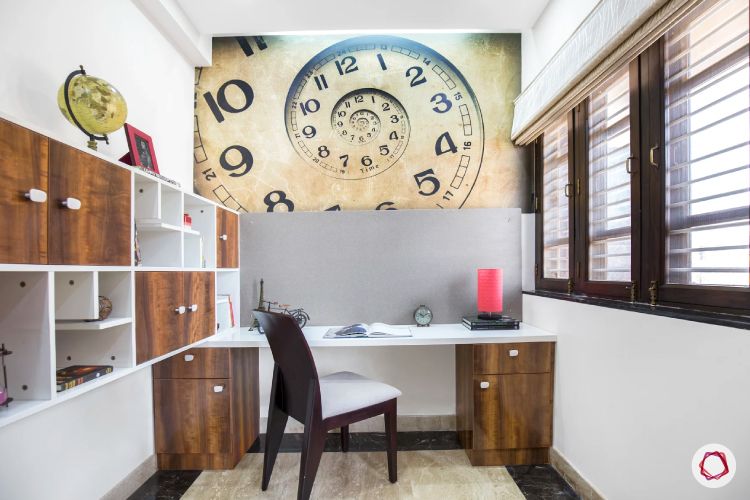 The study is a small space which easily fits the two kids. It's an ideal distraction-free zone for them to concentrate.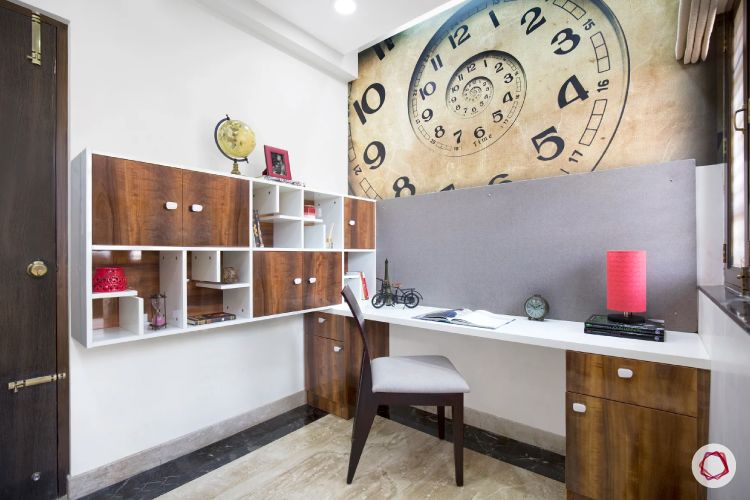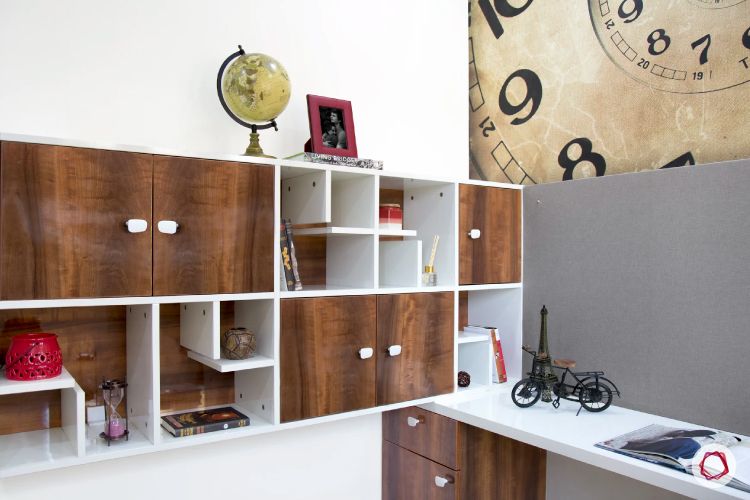 The white and wood mix in the storage makes for an elegant display. Their study materials and other trinkets can be organised neatly in the custom design.
"Every designer wants to work with white, but most clients shy away from the idea because of the maintenance involved. The family's love for white made things easy and delightful."

— Garima Shah, Interior Designer, Livspace
Did you love this home? You'll certainly love the fusion of these at this Bangalore home.
— editor@livspace.com