While white walls are very common in Indian homes, that's as far as we'll go to accommodate the colour. Owing to the maintenance factor, most people tend to shy away from white decor. But when used well, white can evoke a sense of calm, purity, confidence and an overall sense of wellbeing. Here, we take you through some beautiful homes we've designed with white. Be inspired!
Living Rooms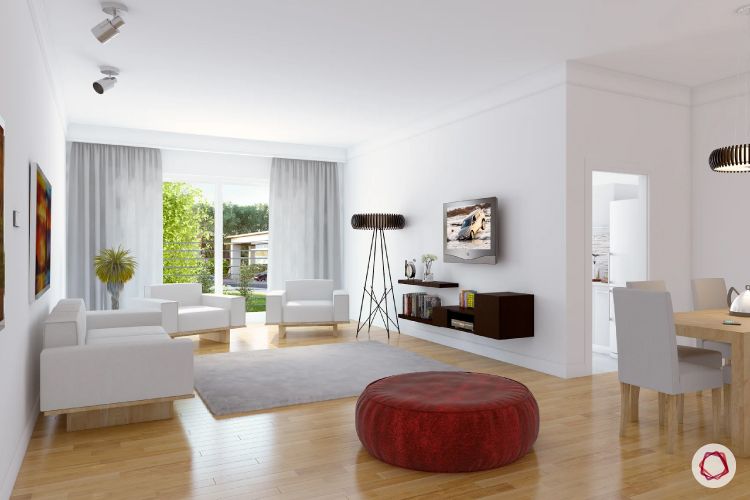 Now, this is what a warm welcome looks like! Pristine white walls with upholstered furniture to match, the only coloured elements are the pouffe, the splashes of green and the paintings on the wall. White makes a room look more spacious and this design is proof of that.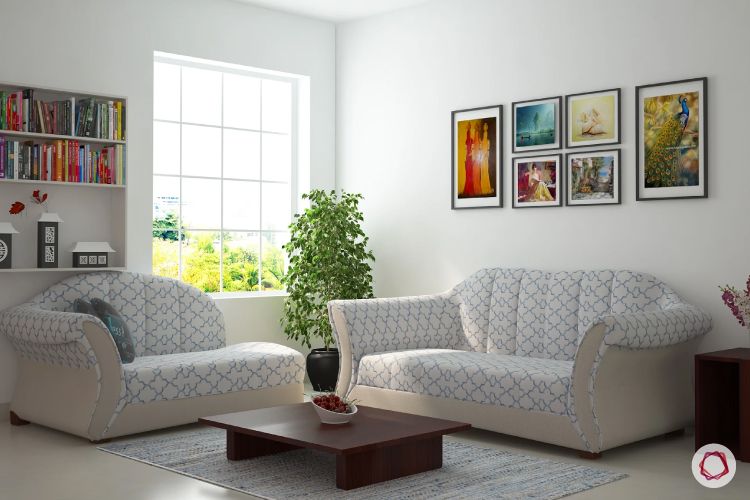 Dominant white with pops of colour, we love this look for its simple, but welcoming vibe. Add all your favourite works of art and books to the milieu for this beautiful interior design to come alive.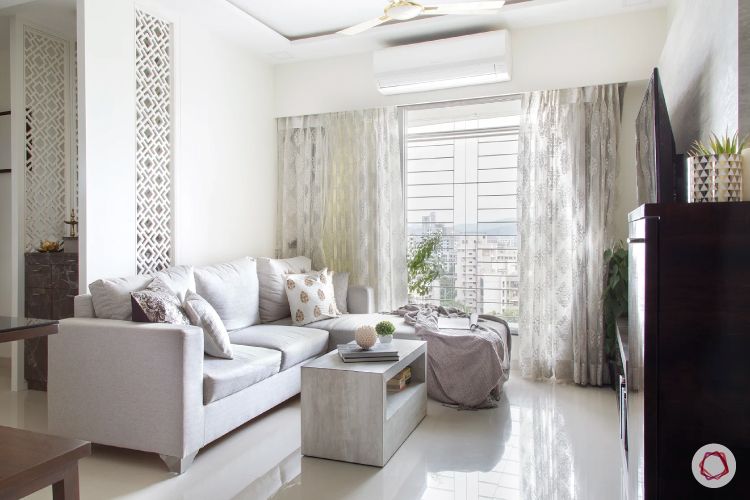 One of our favourite homes, the Ganesh Pai residence, has used white generously with a touch of gold and Indian prints. Look how stunning white can make your home while keeping it low maintenance! It's ideal for small spaces.
Dining Rooms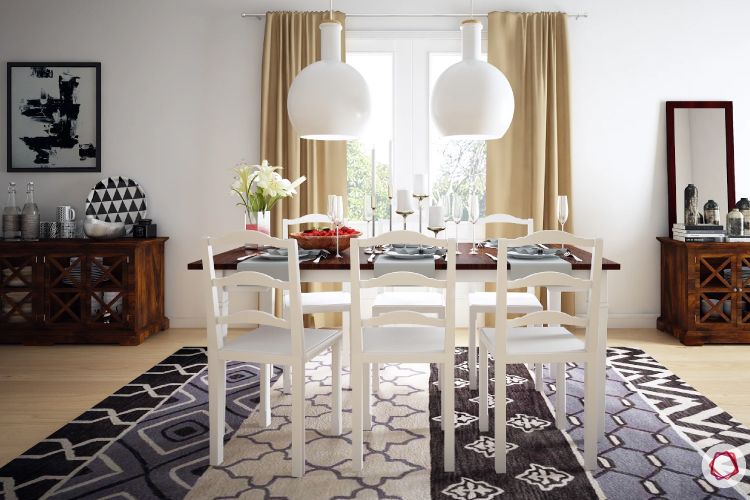 With black, grey and a dash of brown to break the monotony, this white dining room is simply stunning! You can almost see yourself sitting around the table with your family, enjoying a lovely meal.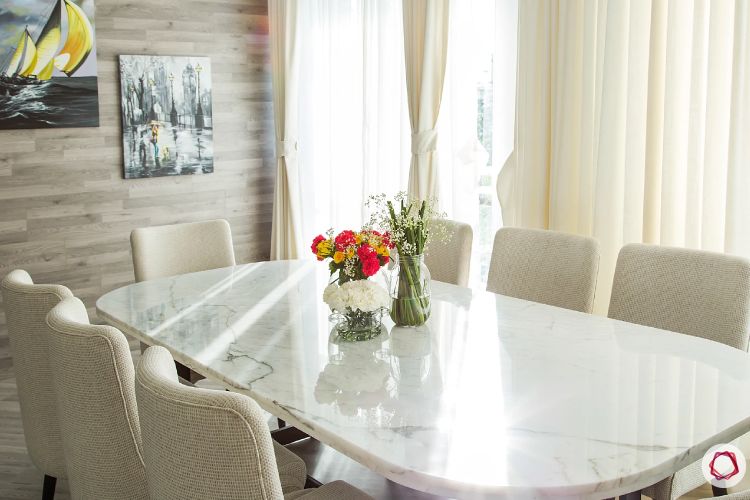 This marble top table is majestic on its own. Add off-white upholstered chairs to the mix for a regal look, and make this an inviting space for your family and friends. You can balance this all-white look with a punch of colour in fresh flowers and your favourite paintings. We have used white liberally in this Scandinavian style home. Take a look!
Kitchens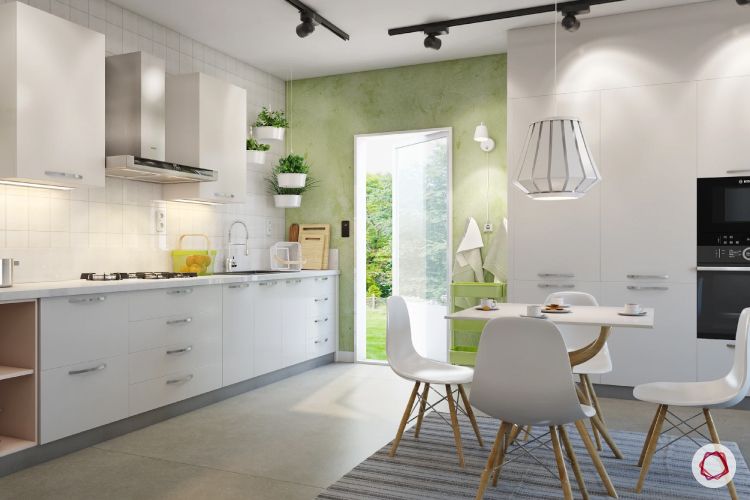 Never thought white could be the dominant colour in your kitchen? Well, look at this stunning kitchen design. With the right finish, it can be easy to wipe-clean the cabinets regularly so there are no masala smudges or oil splatter marks. Add a pleasant green wallpaper on one wall to balance the look.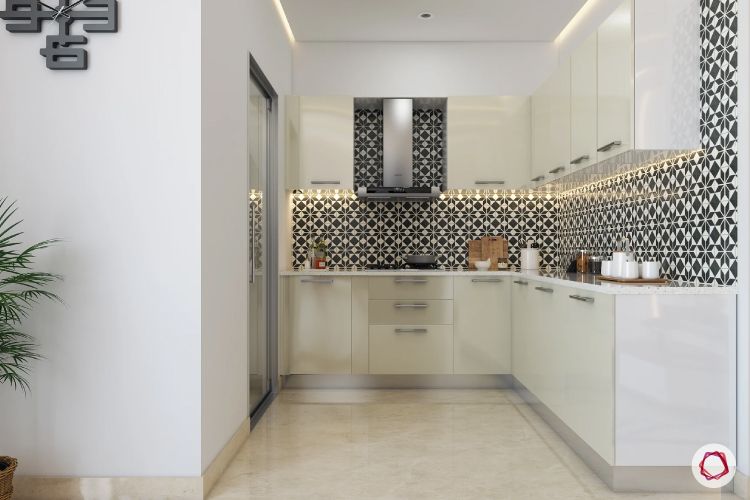 If monochrome is your thing, add black and white patterned tiles for your backsplash and watch how it transforms the space! It's stunning and catchy, sure to get you some compliments from your guests.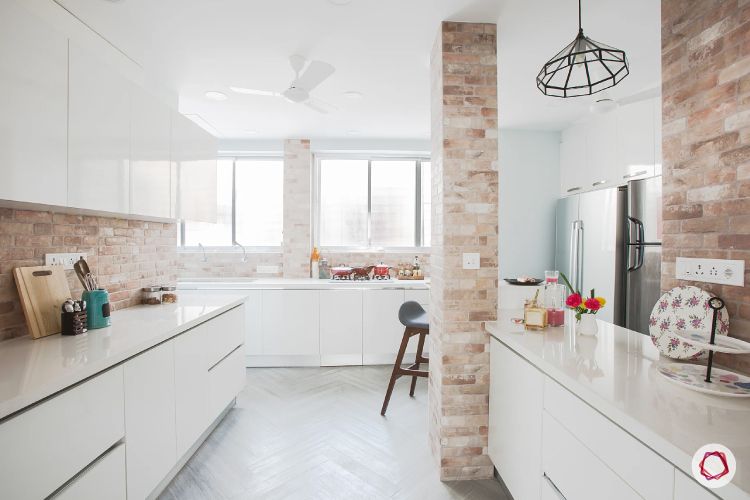 White is the colour of choice when you have a Modern Minimalist design sensibility. Give your kitchen a warm and earthy feel by adding tiles in shades of brown. An exposed brick wall would work too! The high-gloss cabinets just shine through in this look.
Bedrooms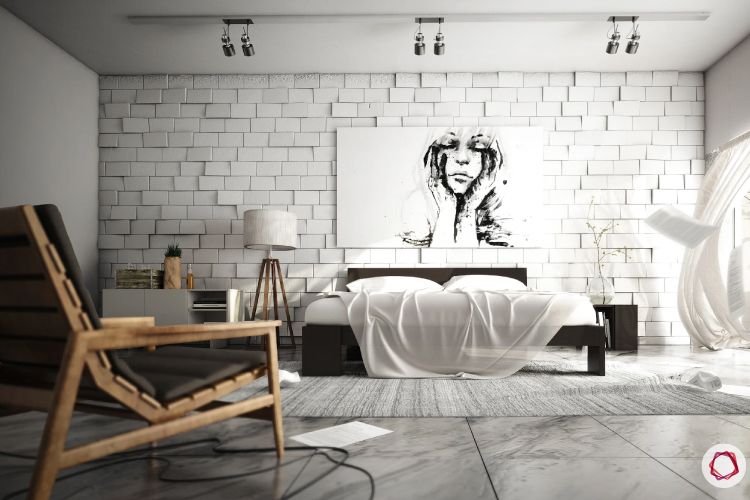 Your bedroom should be a reflection of your personality; let your quirks show even in an all-white room. Taking cue from this design, add a large painting over the bed. For an industrial look, go with an exposed brick wall. It's bound to make your room looks aesthetically offbeat and appealing.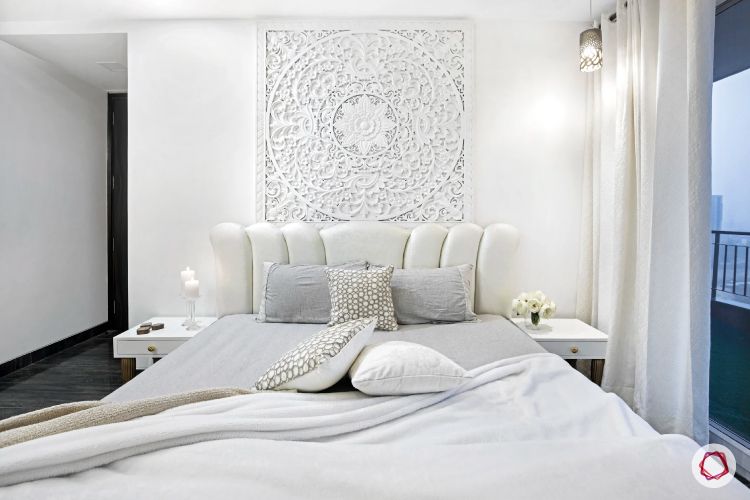 A Gurgaon home that we enjoyed doing up, this master bedroom houses a beautiful European floral jaali installation above the headboard. In all white, it's very grand and this look is one for the books!
This Bengaluru home too has used white throughout their home. Take a look at the beautifully tufted headboard in white along with all other things white that give this room a hotel-like appearance. The mirrors make the room spacious and bright. Who wouldn't want to retire to a peaceful zone like this at the end of the day?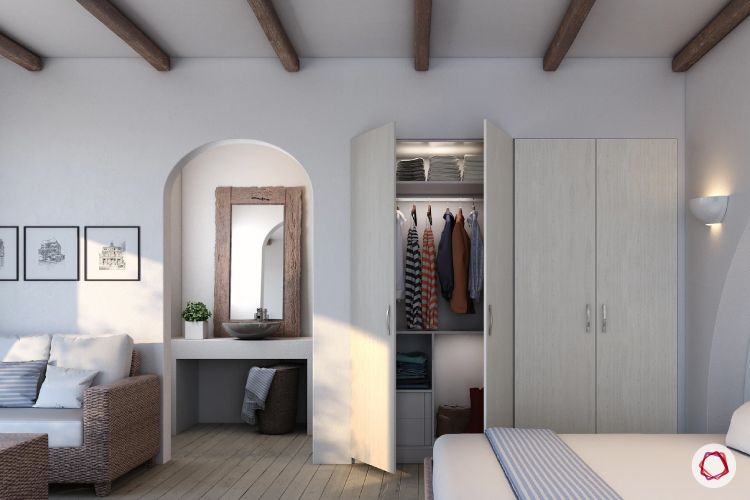 When the bed and furnishings are white, it only makes sense that the wardrobe is too. Whether it's high-gloss or suede in finish, it only aids in making the room appear more spacious. You can add small accents here and there to break the monotony. White on wood is a choice we'd recommend!
Pooja Rooms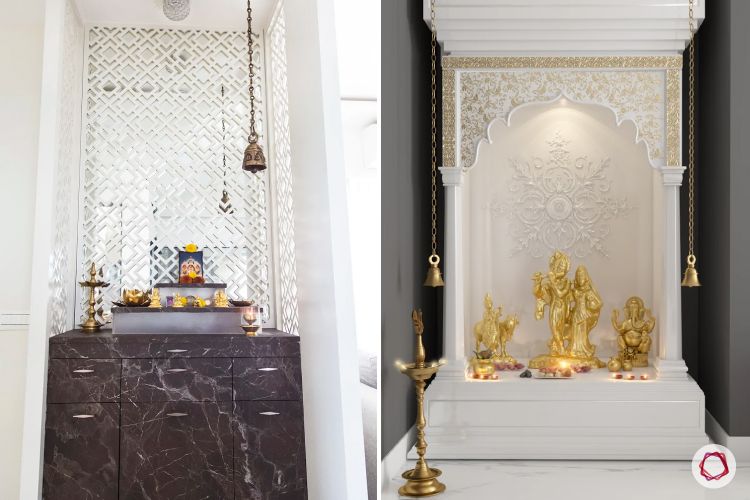 Space for your divinity deserves something pure and beautiful. Take a look at these two designs by Livspace that lend a sense of calm beauty to your home.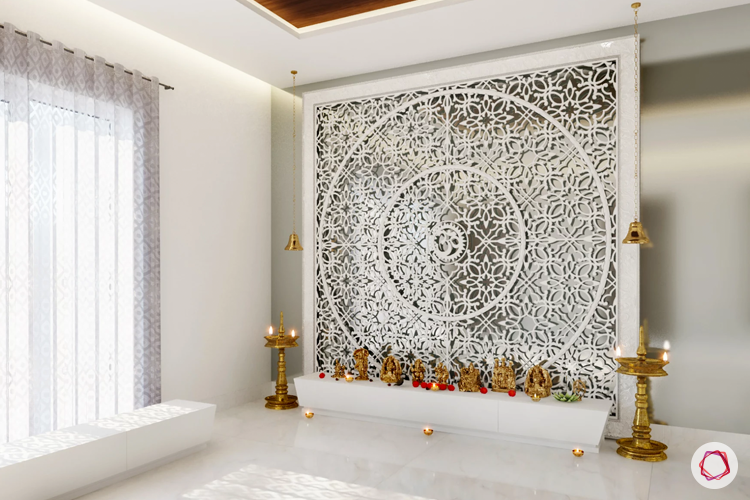 This intricate jali design is perfect for larger homes. Keeping everything else white except the idols, this pooja room design is an elegant white decor option for your home.
Balcony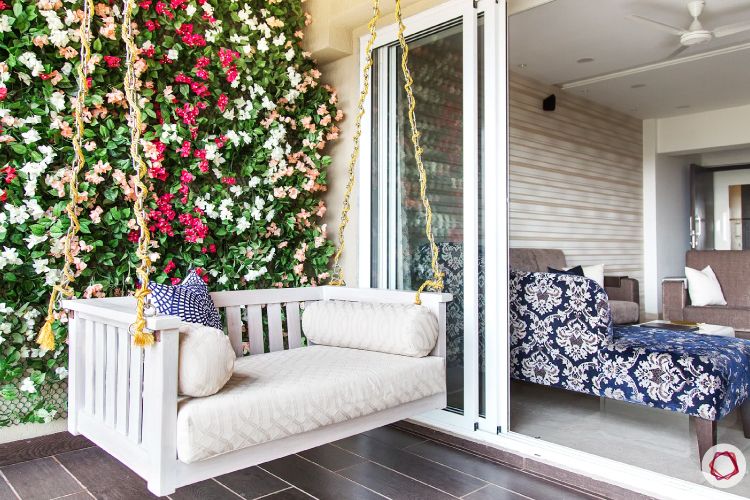 Take a look at this beautiful swing in white set against the backdrop of wallflowers! You can easily accommodate something of this size in your home with a little help from a carpenter. Or you can come to Livspace where we'll take all the hard work off your hands!
If you prefer more colour, check out some rooms in teal and pink.
— editor@livspace.com