Who better than French artist Yves Klein to talk about the luminosity of blue! Someone who was obsessed by the deep cerulean blues of the Mediterranean skies, he said, "Blue has no dimensions, it is beyond." We agree. We've collated for you blue colour rooms designed by Livspace that have the power to calm those frayed nerves, soothe the exhaustion and give your abode a lightness and peace we all need in our busy urban lives.
Take a look!
#1.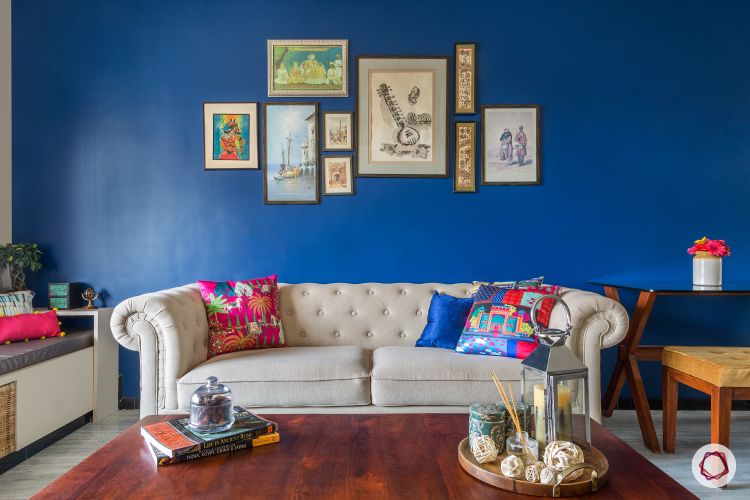 Walls dipped in royal blue and paired with a neutral-hued sofa, this home embraces a regal repose that is easily emulated by anyone.
#2.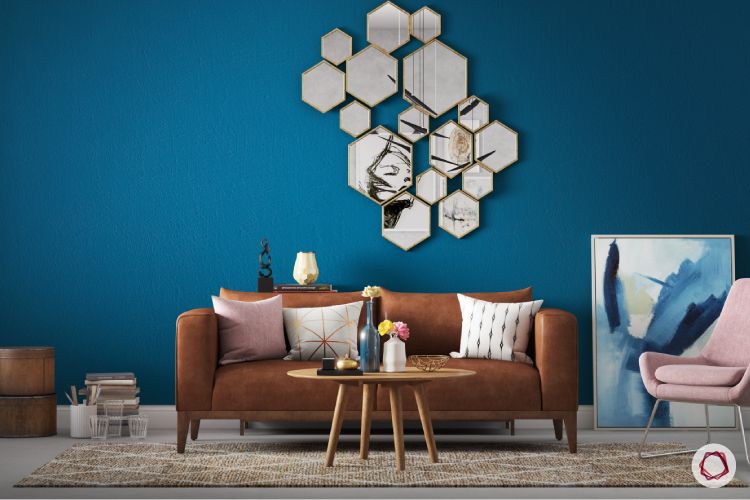 Blue inspires creativity and innovation. With abstract arrangement of mirrors and brown fitments, this room is for those who like to keep it sober.
#3.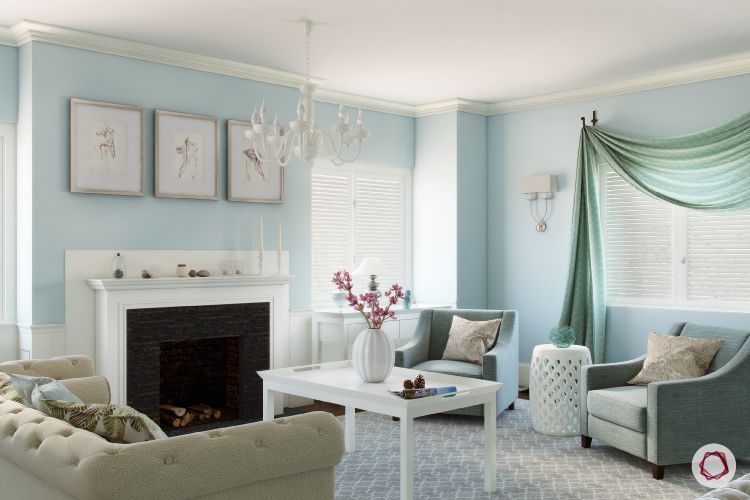 Watch your worries melt away as you step into this room awash with sky blue for the walls and light-coloured furniture.
#4.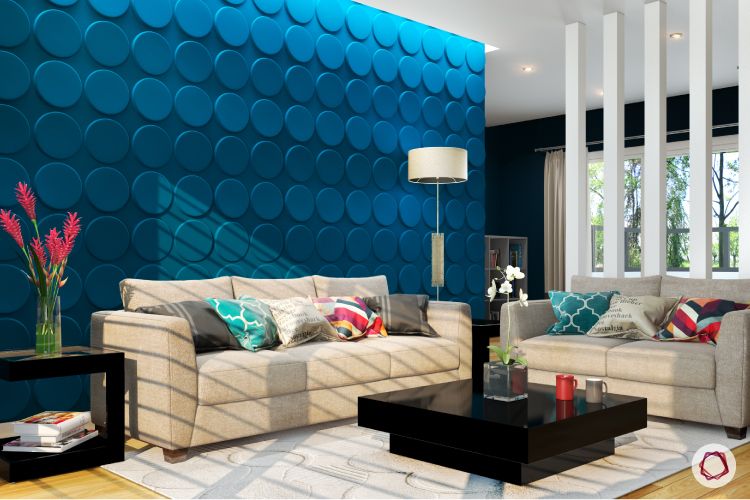 As far as accent walls go, this one takes the cake! It can turn a rather dull room into a work of art.
#5.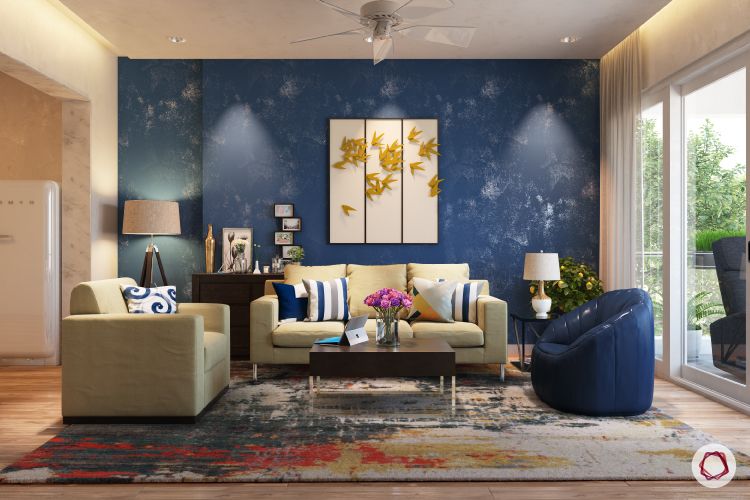 When abstraction is on your mind and blue is the chosen colour, then you cannot go wrong with this admiral blue wallpaper. Throw in some spot lights and see the magic unfold!
#6.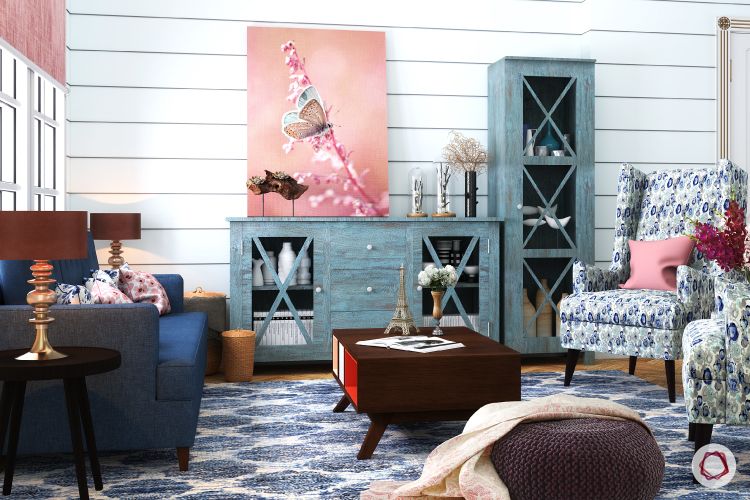 Decked up in all blue, this room brings together distressed blue cabinets, upholstered armchairs in blue prints, a sofa in solid blue and a carpet with blue motifs. Yet, it doesn't seem excessive given the light pink accents.
#7.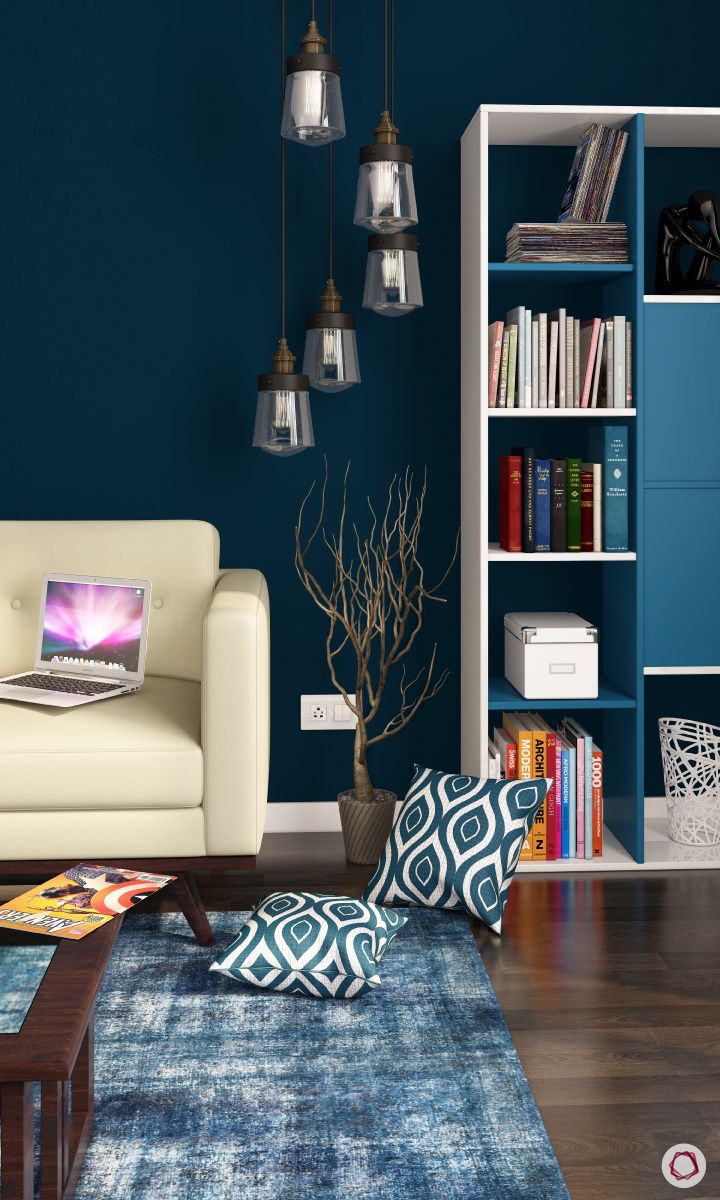 If you don't want to be fully invested in the colour, you can also do up a reading corner or cosy nook in blue.
#8.
Your study area requires calm and creativity. Do it up with splashes of blue to breathe in a freshness that is unparalleled.
#9.
Another study we love, these geometric patterns on the wall really give the room a punch. You can do up a space like this in your favourite prints and fabrics.
#10.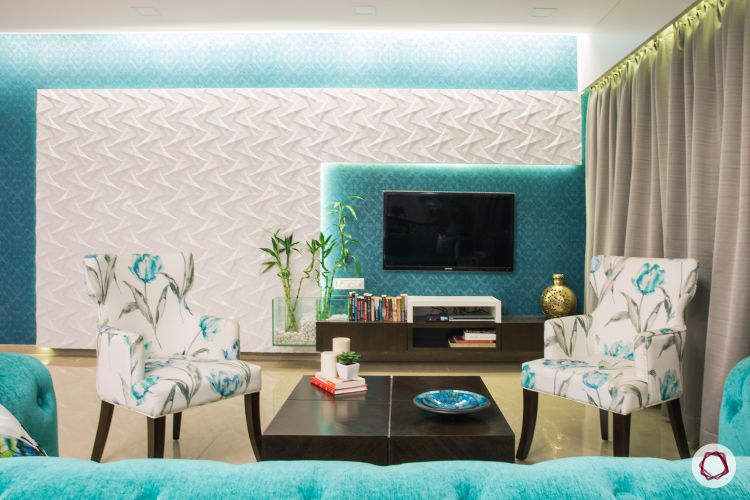 Fresh florals and breezy blues are the perfect recipe for a warm welcome as you can see in this living room.
#11.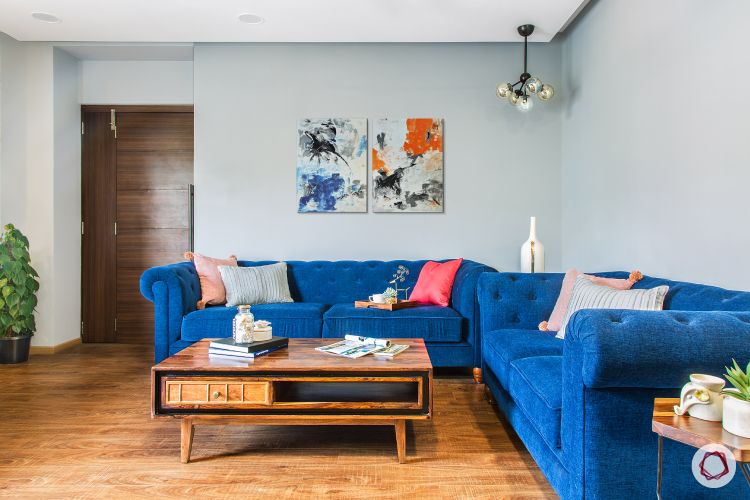 If bold is your thing, we urge you to try out the royal blue on wood combination. The tufted sofas with neutral-hued cushions can really inject life into a living room.
#12.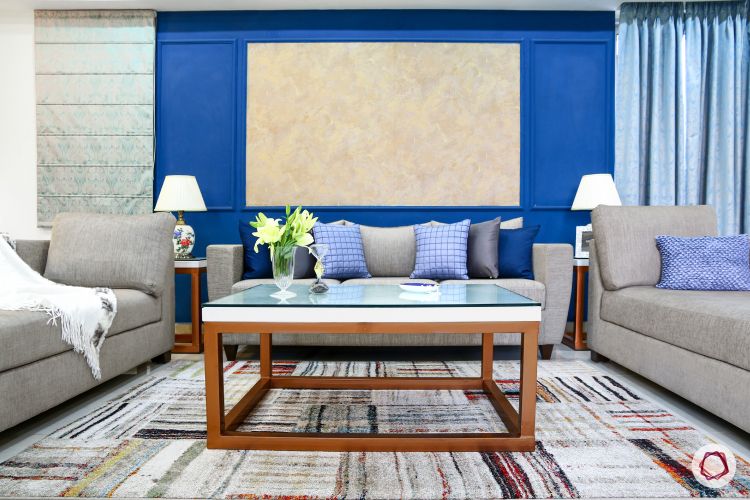 Tone-on-tone is a trend that many people have adopted in doing up their interiors. Lighter shades of the colour have been used in accents around the room while the statement wall takes centrestage.
#13.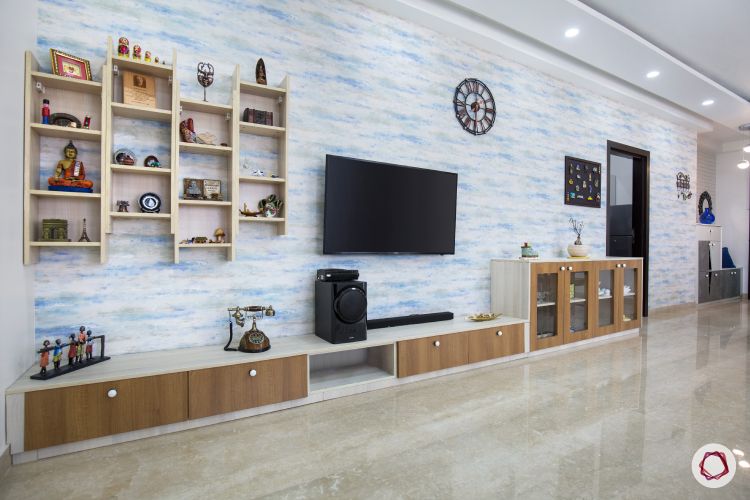 Find yourself dreaming of clear skies and calm waters? You could try getting a wallpaper like this from wall-to-wall to add a sense of tranquility to your home.
#14.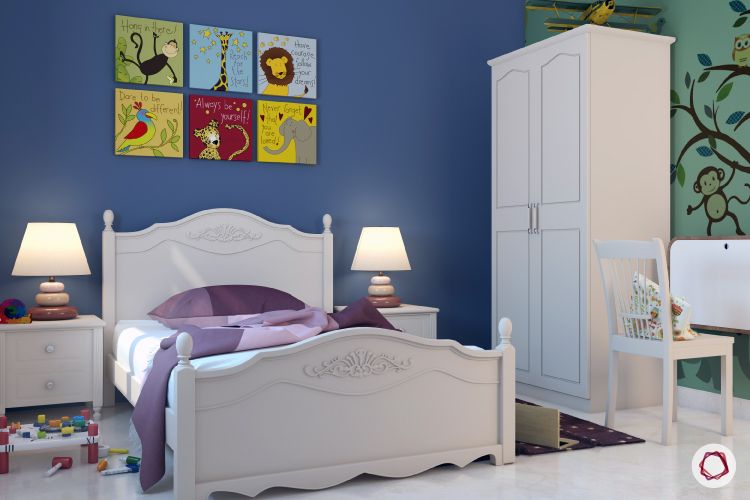 Blue can also be playful! Look at this room done up in shades of blue and green for a naughty toddler!
#15.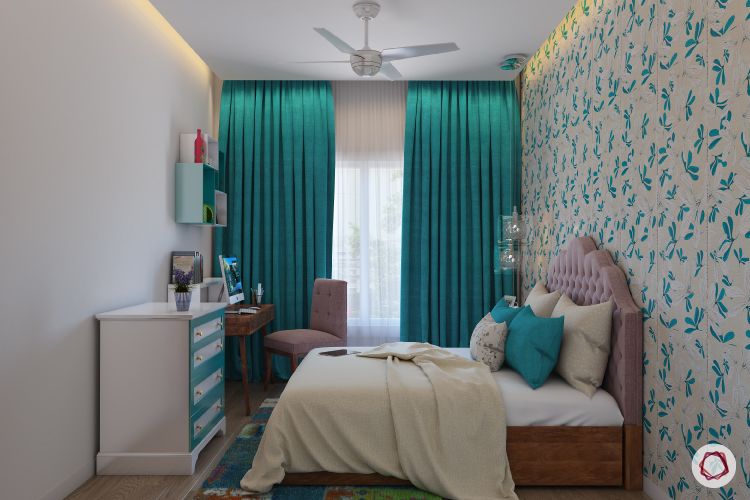 Cyan is an offbeat but increasingly popular choice for the youngsters. It is a gender-neutral and happy shade. Use it in your wallpaper and soft furnishings.
#16.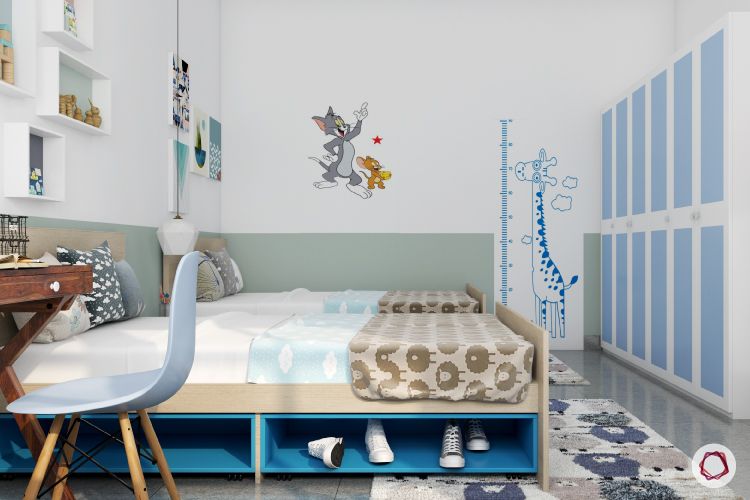 Your busy bees could use a calming but cute zone like this. Take a look at how this look comes together with the wardrobe, the open under-the-bed storage and sky blue accents around the room.
#17.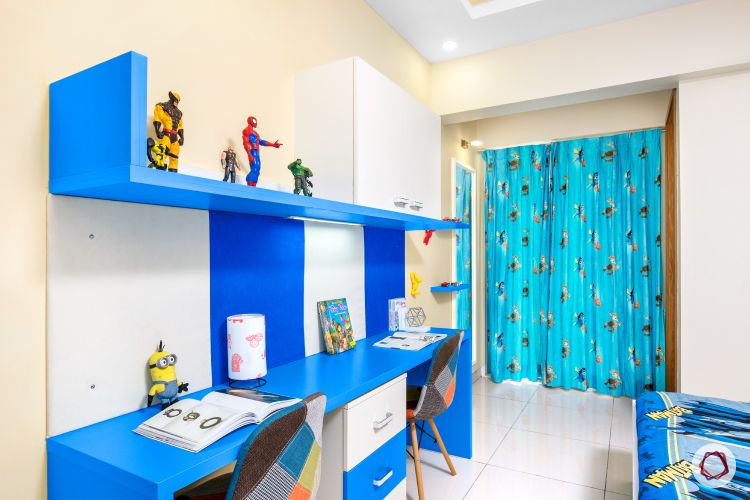 Azure blue and light blues too can be used for your superhero-loving children.
#18.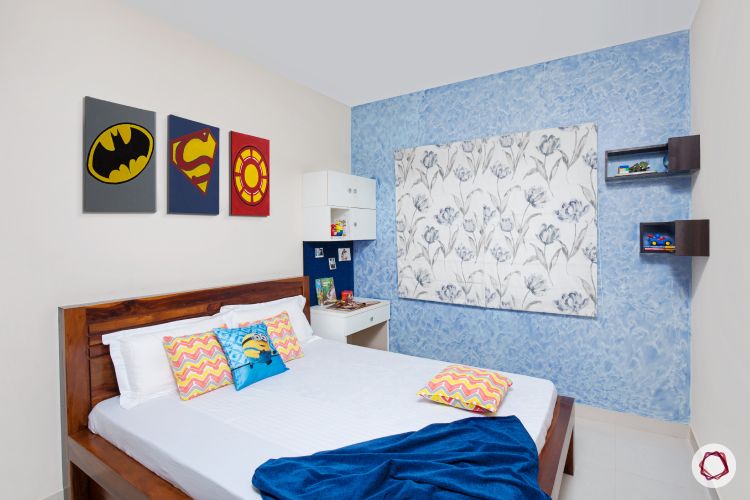 Again a superhero and minion inspired kids room, it can be very simple to turn a rather dull room into something more exciting like this!
#19.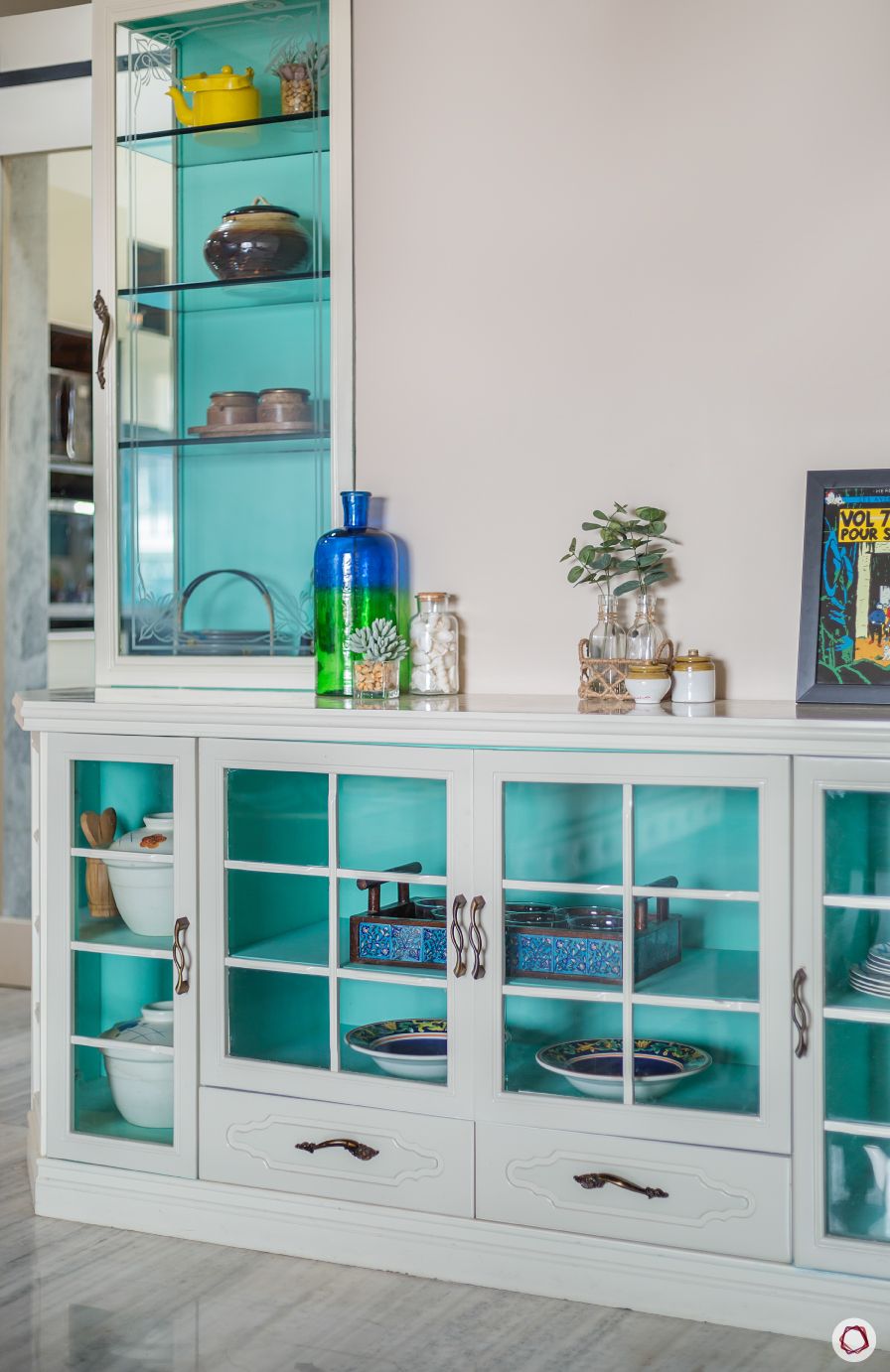 Blue also works in small measures! Check out this customised crockery unit with a blue background that really makes the pottery pop!
#20.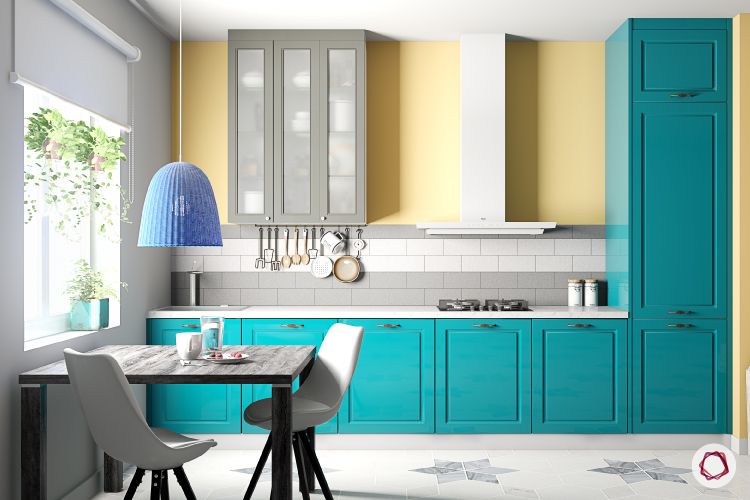 You can also opt for cyan or turquoise-coloured kitchen cabinets for a quirky look!
#21.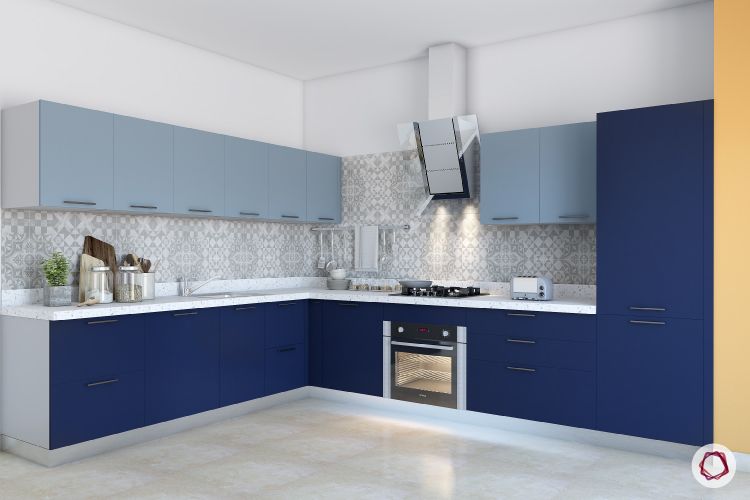 Tone-on-tone works in the kitchen too! Use the light colour for the overhead cabinets for a more spacious feel.
#22.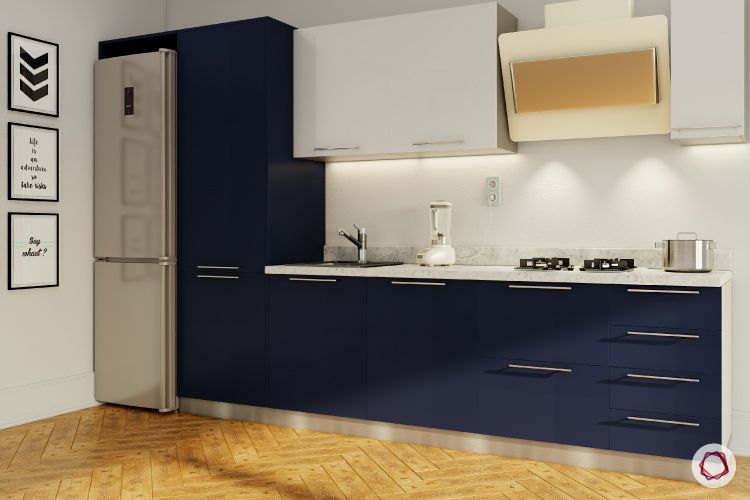 If you have an open and compact kitchen and really want to make an impact, you can use midnight blue with silver handles for a sleek and classy look.
#23.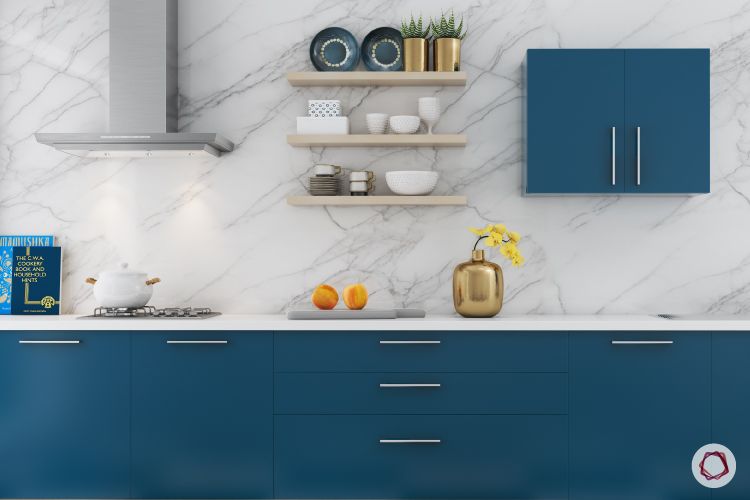 Stunning kitchens are made when you get a little creative. Be inspired by this design in blue!
#24.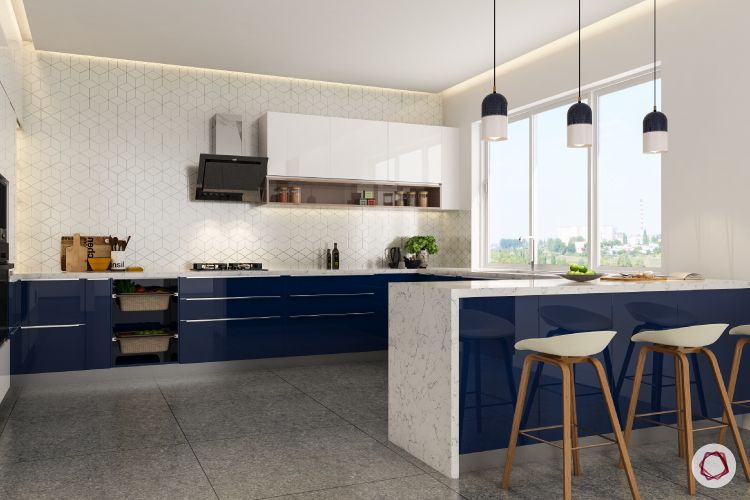 Blue cabinets in high-gloss finish paired with white can make your kitchen light up! Get ready to receive those compliments from your guests.
#25.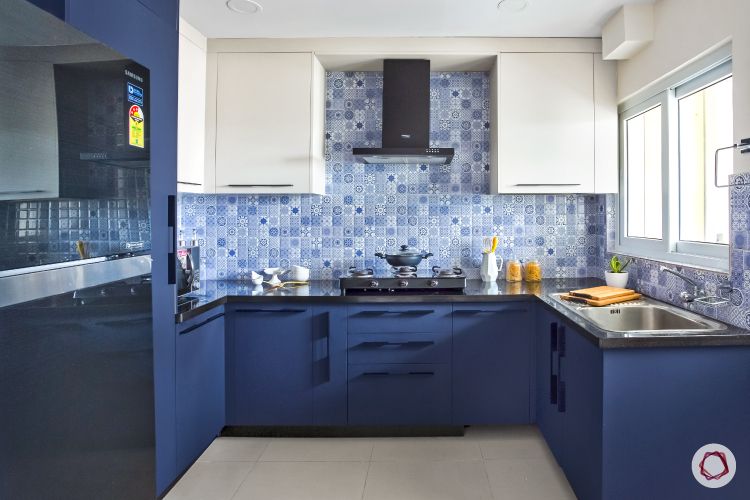 Who says colour doesn't work for small kitchens? With solid blue and white and a patterned backsplash, any space can become lively.
#26.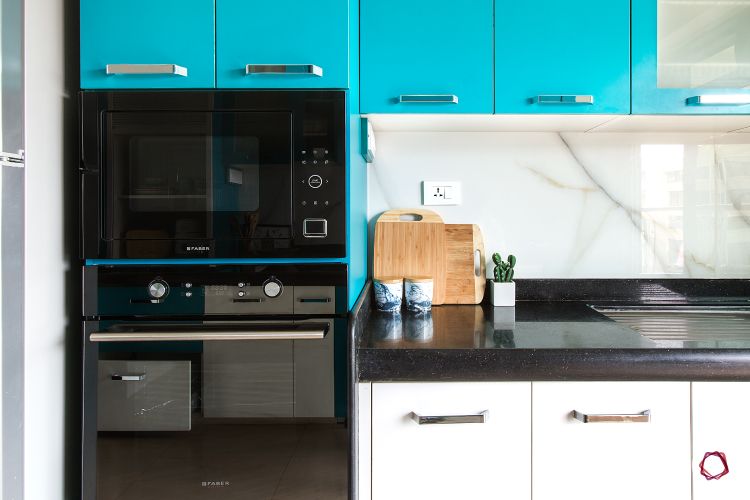 Bright blues have become a popular choice for kitchen cabinets. It goes with white and black with much ease.
#27.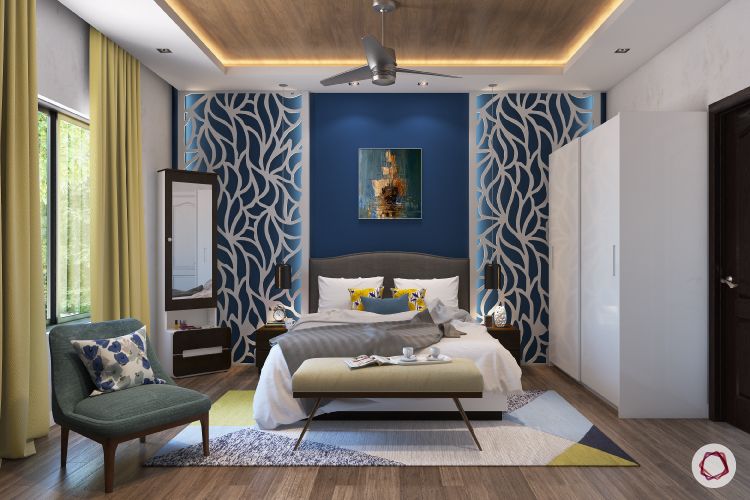 The intricate jaali design against a blue wall with accent lights is a Livspace masterpiece. Would you try this in your bedroom?
#28.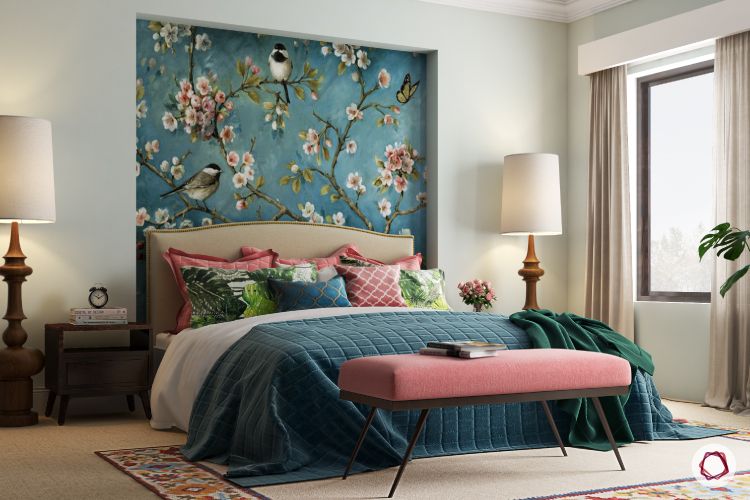 Let nature indoors with a stunning design like this! Pretty florals with matching furnishings can perk up your interiors in a snap.
#29.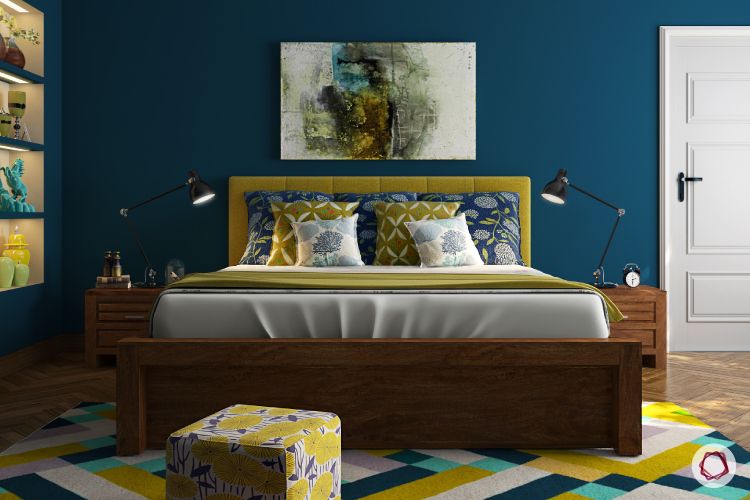 Florals not your cup of tea? Then try complementing blue walls with abstract prints in furnishings and upholstery.
#30.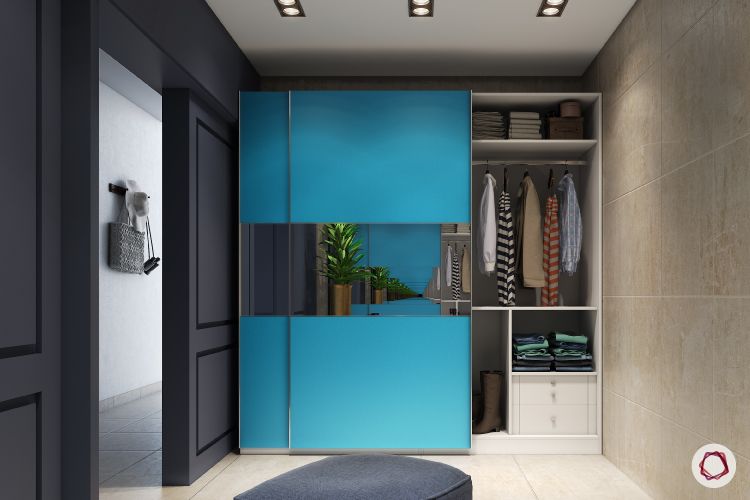 Sliding wardrobes are recommended for compact homes and when done up in refreshing blues, can add a punch to your room!
#31.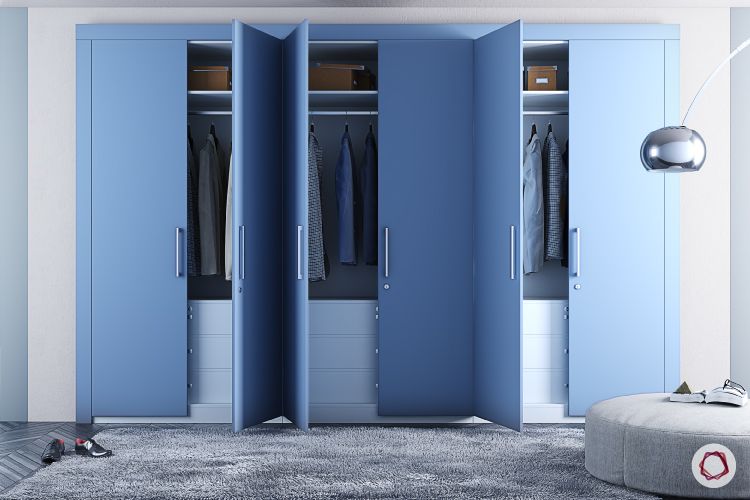 Powder blues will suit the urban couple and the quintessential bachelor. Pair it with white and grey.
#32.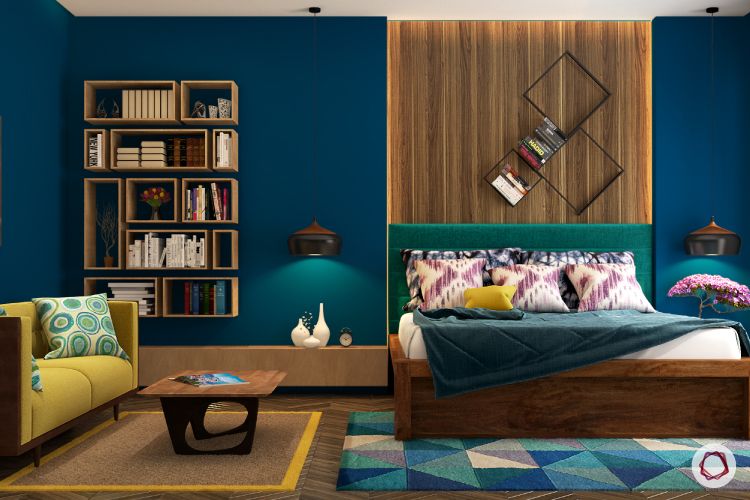 For the quirky individual who has a love for books, this design will be perfect! Blending blues, greens and wooden tones can have such a comforting effect.
#33.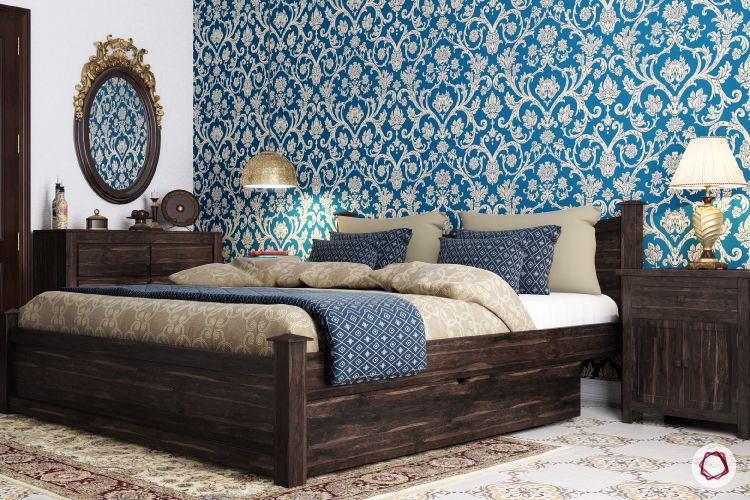 Regal rooms are made of this – wallpaper motifs in blue, wooden furniture and antique mirrors.
#34.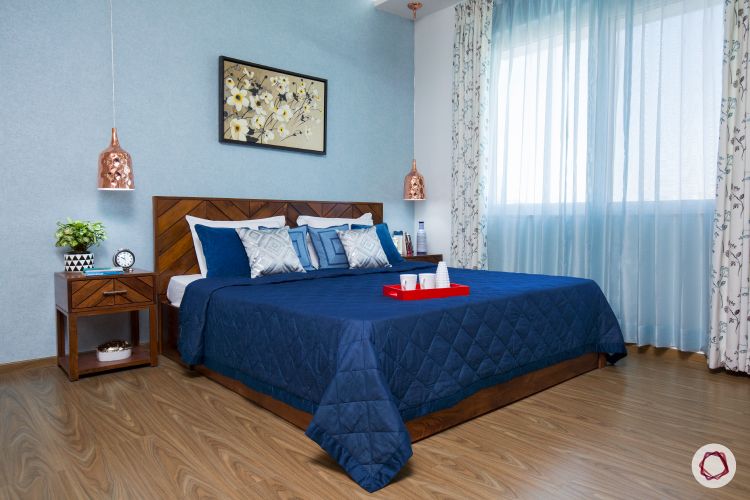 Livspace designers tried the tone-on-tone effect in this bedroom too, where the blues will refresh you and offer you a comforting zone to come home to.
Loved these blue colour rooms? You can find some stunning looks in red here! Let us know what you think!