Red is a rather unconventional choice for interiors, traditionally used by the bold, the brave and the bashful! However, our experience with design has taught us that red can turn your mundane interiors into a work of art and add the much-needed burst of colour to a neutral room. It all depends on how you design it. Here are some home decor ideas to inspire you!
Home Decor Ideas in Red: Foyer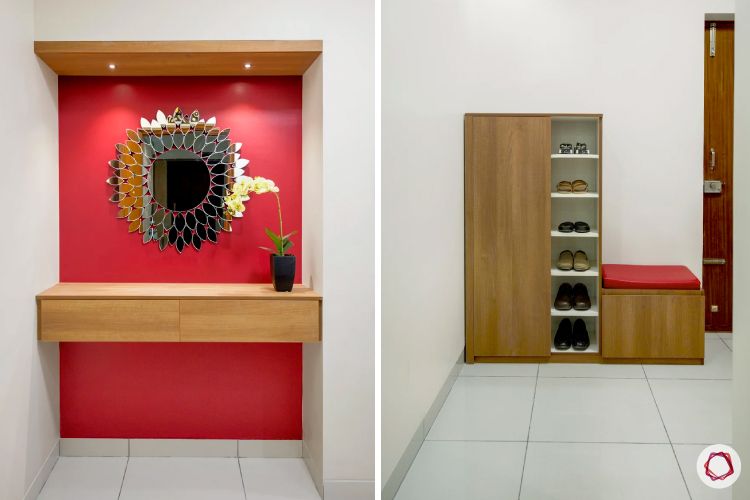 We bet you've never seen a foyer done up in red! A red accent wall with a statement mirror or even simple cushion on wooden furniture can immediately perk up a place, giving your guests a great first impression!
Home Decor Ideas in Red: Living Room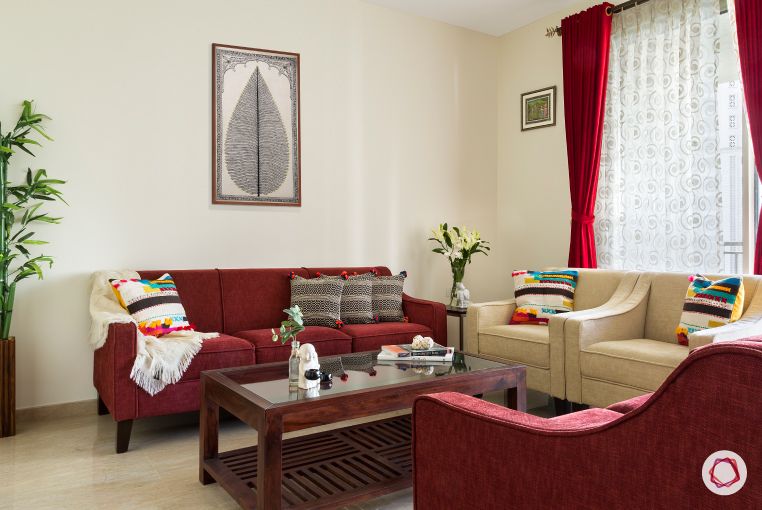 If a bold red is not your cup of tea, try our maroons or brick reds! The brick reds in the sofas and drapes in this room are balanced out by vivid bohemian cushions and the dappled effect of greens.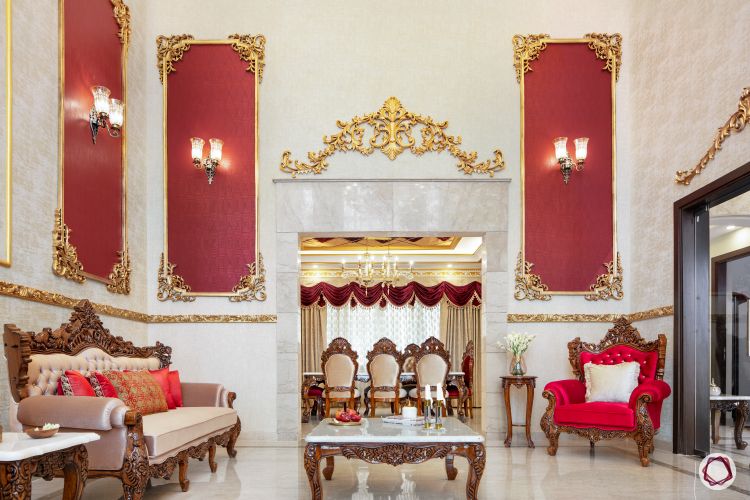 This living room gives us a view of ethnic decor at its grandest; red, gold and white spruced up with polished solid wood and marble is the stuff from fairy tales.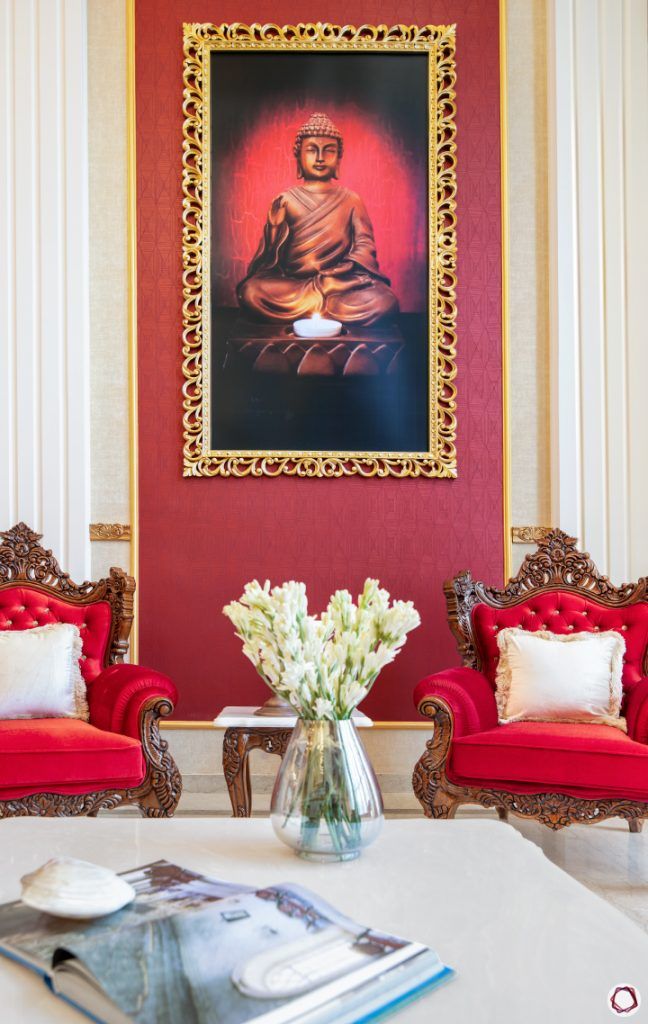 If you are artsy and an unapologetic dreamer, we're sure you'll love this design for a corner that is rather dull.
Home Decor Ideas in Red: Dining Room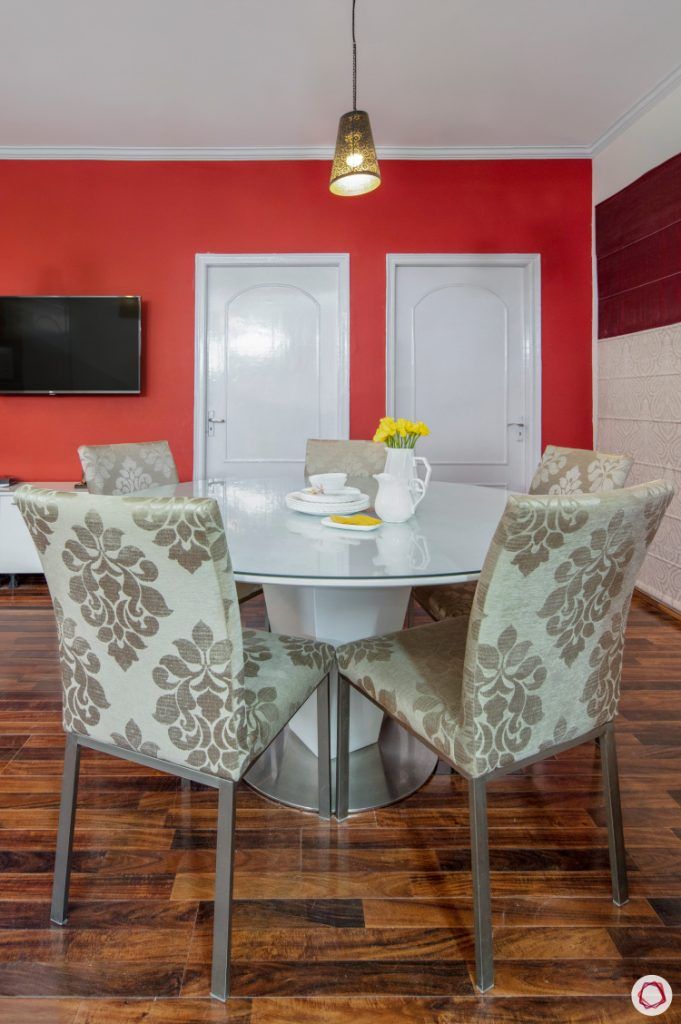 Red is perceived as bold colour, but don't shy away from using it as a solid wall accent. The results are quite vibrant.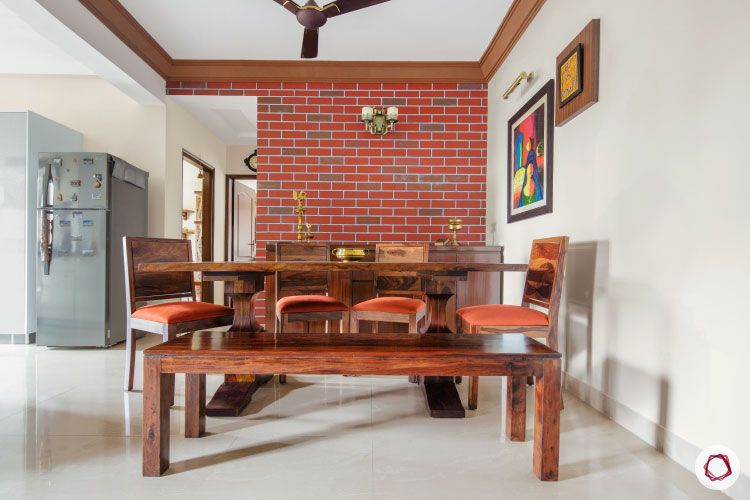 What better than actual bricks to add a touch of brick red to your dining space. This exposed brick wallpaper gives a raw and rustic vibe to the area.
Home Decor Ideas in Red: Bedroom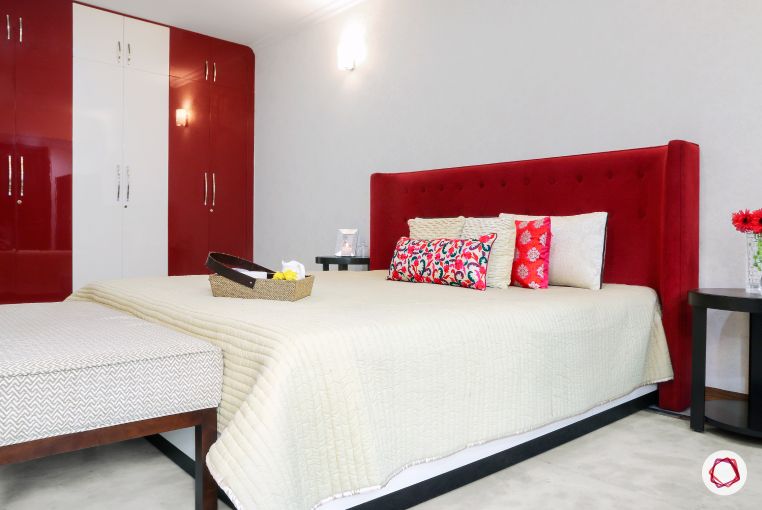 The headboard plays match with the wardrobe in this stunning bedroom. It makes for a beautiful repose, as you can see.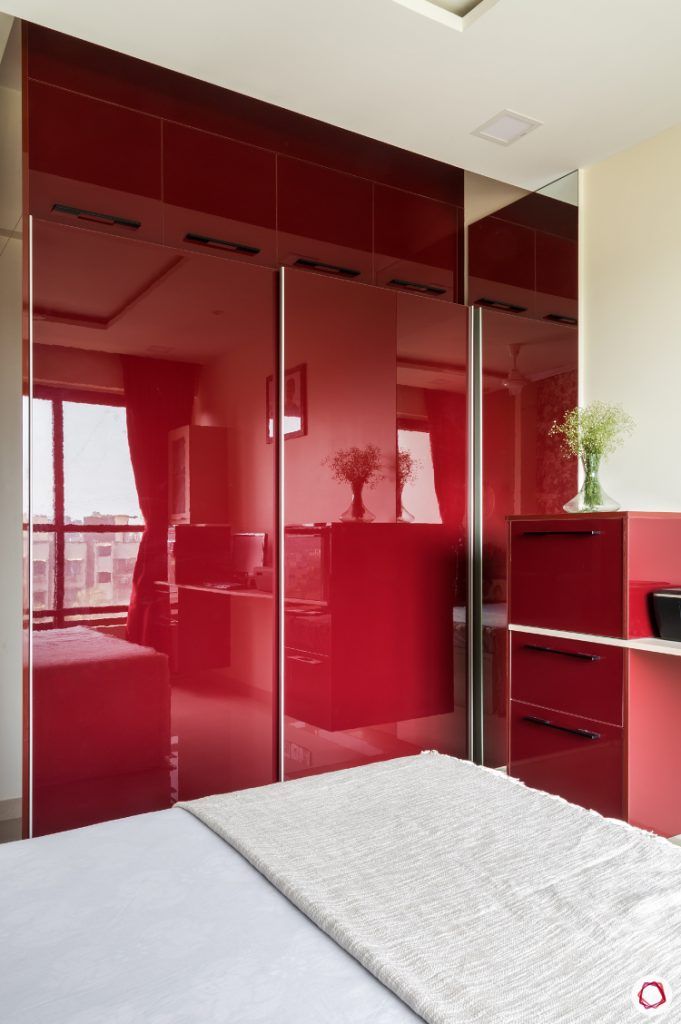 This wardrobe is an all-time hit and you can match accessories around the room to it, making your bedroom another space you want to show off to your friends!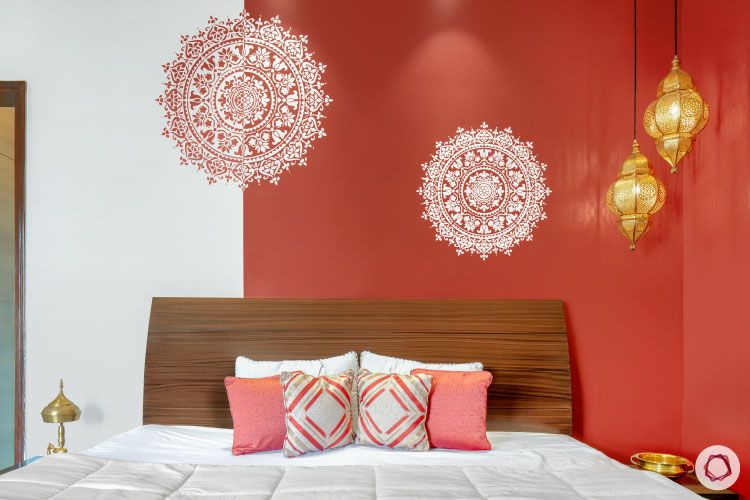 This wallpaper speaks volumes about its ethnic motifs. Paired with other traditional accents like brass lamps, this bedroom is a perfect example of Indian style elements.
Home Decor Ideas in Red: Kids' Room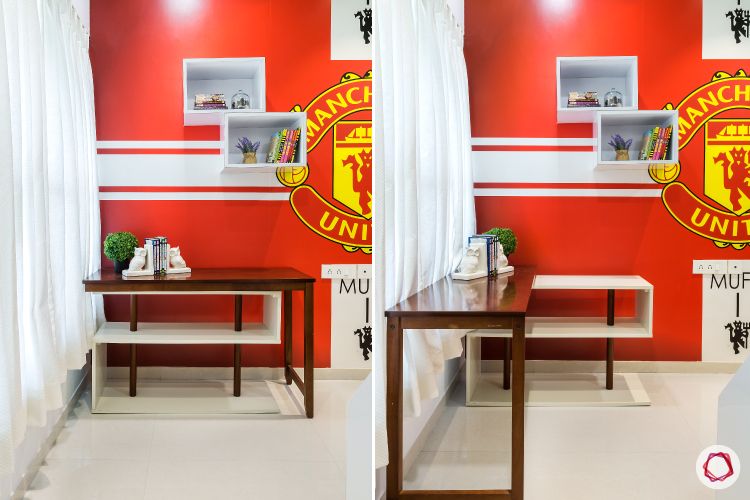 Are your kids raving fans of Manchester United? Then this wall is an inspired idea just for you!

While the baby sleeps in the crib, mommy needs a comfy chair to sit in. And if that chair is red, it would add colour to her dreams.
Home Decor Ideas in Red: Kitchen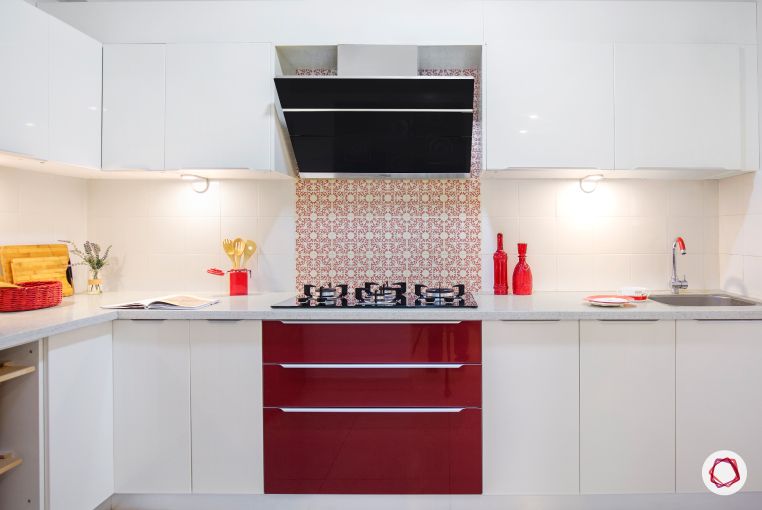 In small kitchens like this, it is advisable to keep the top cabinets white to make the kitchen look more spacious. You can add a pop of colour to the bottom cabinets to make the heart of your home exciting.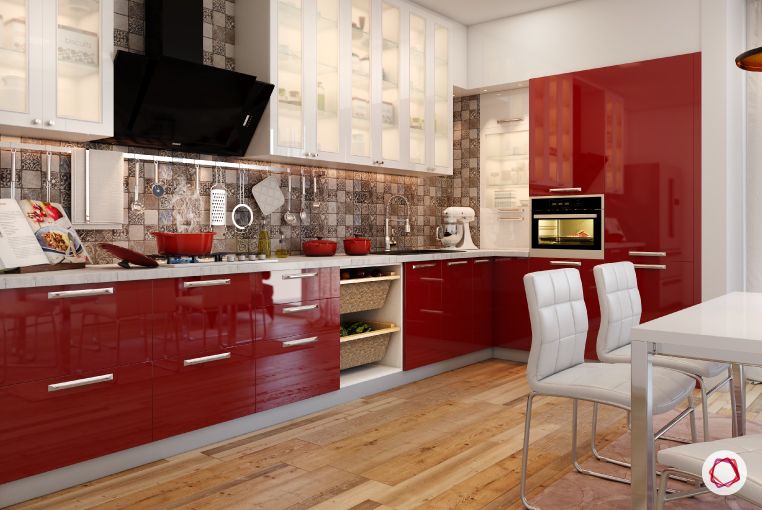 A popular colour combination, red and white can add a certain magic to your kitchen, keeping the vibe balanced but fun.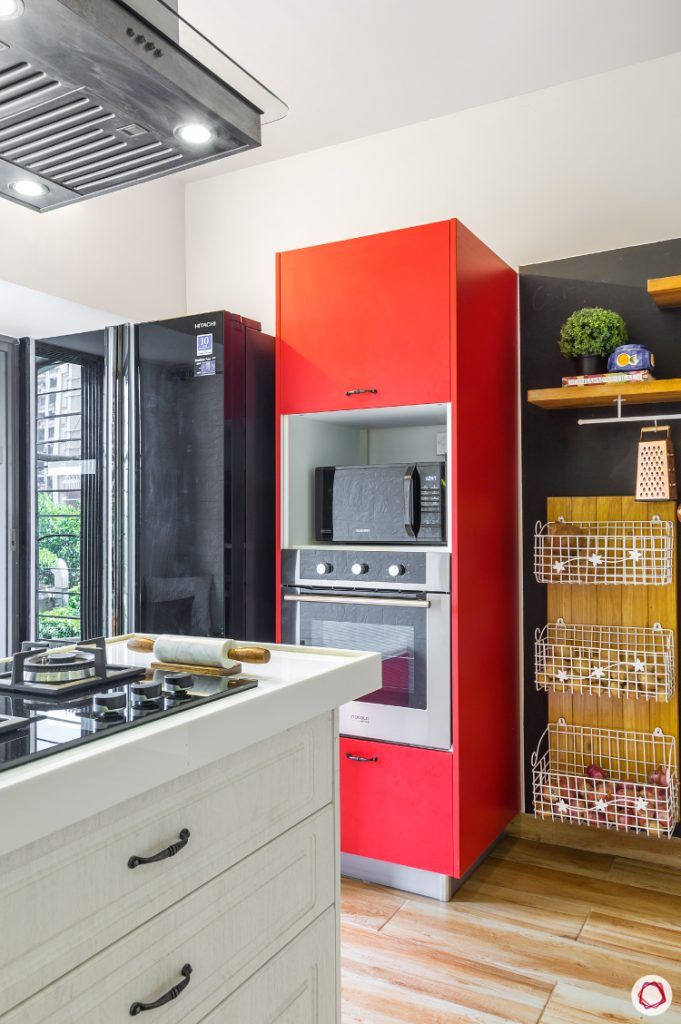 This kitchen was built to be a head-turner! We love how the glossy finishes and racy red keep it elegant but bold!
Any type of kitchen can take on this beautiful colour with much ease! Consult your designer on what works best for your home!
If you're looking for more home decor inspiration, go here!
Keep the comment and suggestions coming in.
— editor@livspace.com