To begin with, we must count our blessings; having a comfortable home and food on our table during these times of crisis are surely huge positives. But while we understand the need to stay safe at home during the lockdown, it can hardly be an experience without challenges. So if Lockdown 3.0 is giving you the blues, we come armed with ways that define how to make a happy home. We've looped in our senior interior designers Pallavi Goel and Heny Salva to dish out "mood uplifters for your home".
Now the obvious question would be, what is a mood uplifter? And we got our design expert to answer this question.
"A mood uplifter to me means anything in a space that makes me feel happy. Be it colour, lighting, accessories and decor, fabrics, decluttering and organising, adding green elements to a space or giving it a personal touch by adding your favourites."

– Heny Salva, Interior Designer, Livspace
You don't need to step out or buy anything for trying out these ideas. All you have to do is have an open mind and we can tell you how to make a happy home just by getting your decor right.
#1: The Therapeutic De-clutter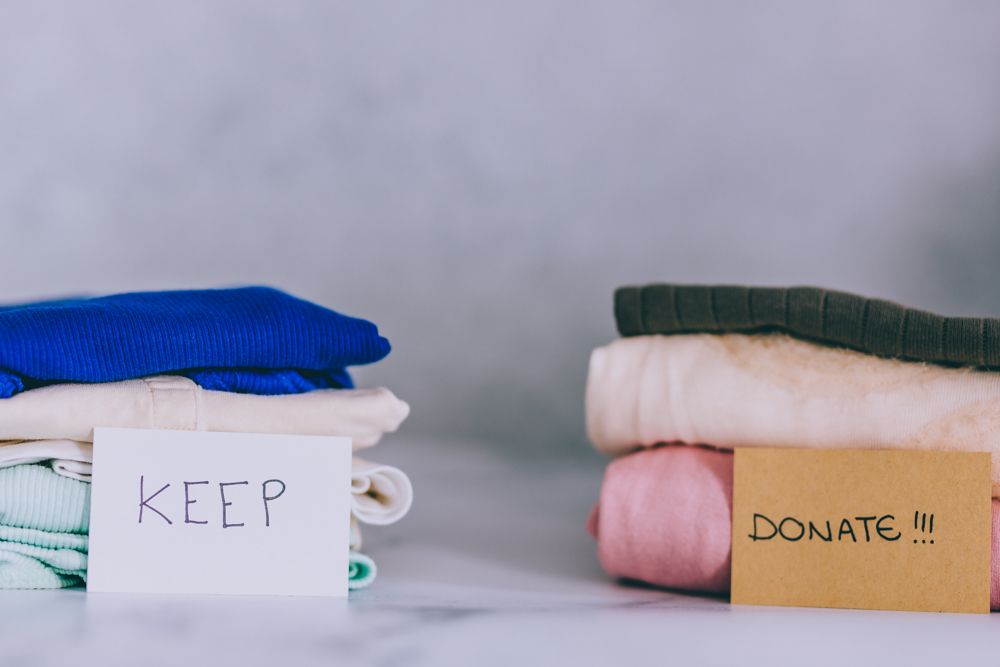 If you are wondering how decluttering can help create a cheerful space, then you have not experienced the therapeutic pleasure of tidying up. Since we are all at home, you could use this time to follow your much neglected to-do list.
Now that you really cannot plead excuses that involve time constraints, it's time to ask yourself in true blue Marie Kondo style, "does this spark joy?" Sort your things (including clothes accessories, books, household items etc.) into three neat piles:
Keep: The ones that "spark joy" and are essential to you
Toss: Items that are junk and can be disposed of immediately
Donate: These can be stowed away for later to give others
Pallavi Goel, one of the senior most designers at Livspace says, "The last thing that anyone would want right now is a messy home. Often, decluttering can be the difference between a room you hate and a room you like. Dig in some time to put away items you don't use anymore."
If you need any help doing this, let Marie Kondo herself be your guide along the way!
#2: Rethink. Revisit. Rearrange.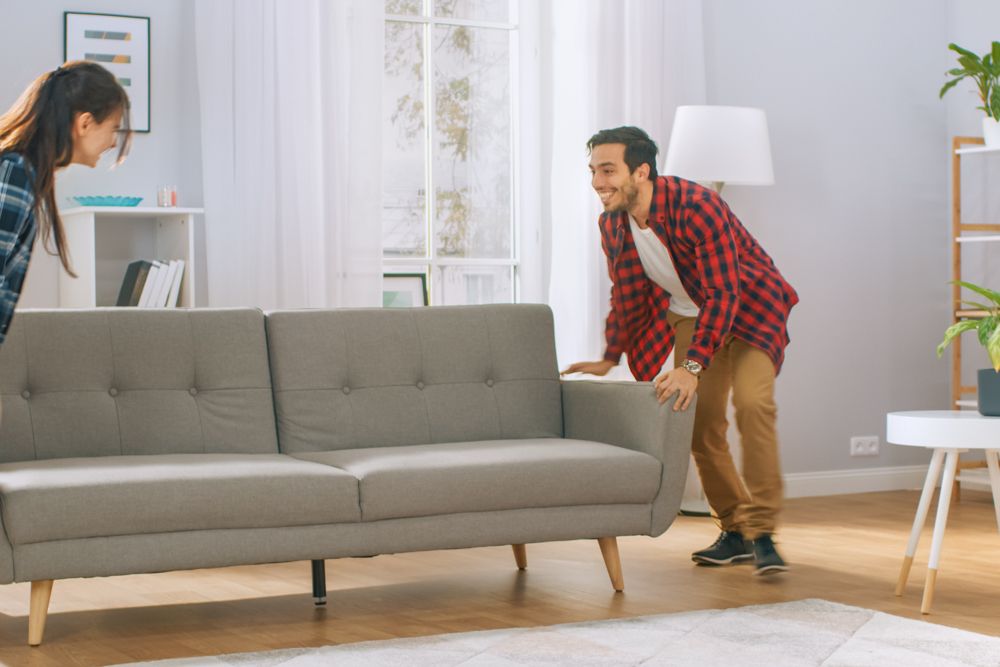 Under "normal" circumstances, we make feel-good changes to our decor to change the vibe of the space. It might be a new coffee table that we fancy or a vibrant rug to add colour to the room. But now that buying only the essentials is the new normal, we must rethink, revisit and rearrange our existing furniture and accessories for a different look. Mind you, this is not really a negative of the lockdown; it helps us consume less, save money, and reassess our priorities.
But don't make changes for the sake of it. Visualise your room and see what is the best way to lay it out. Move your couch to the spot that gets the maximum sunlight. Or shift your favourite family tapestry to a spot near your work station for good luck. Such relevant changes will bring an element of novelty to your decor and help you understand how to make a happy home during these trying times.
#3: Striking the Perfect Colour Balance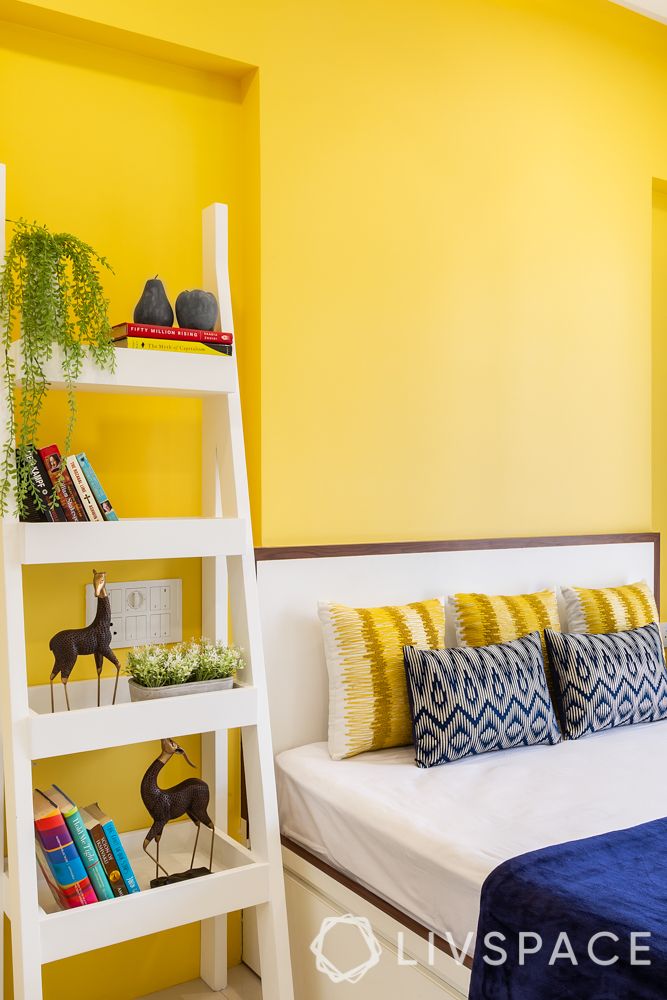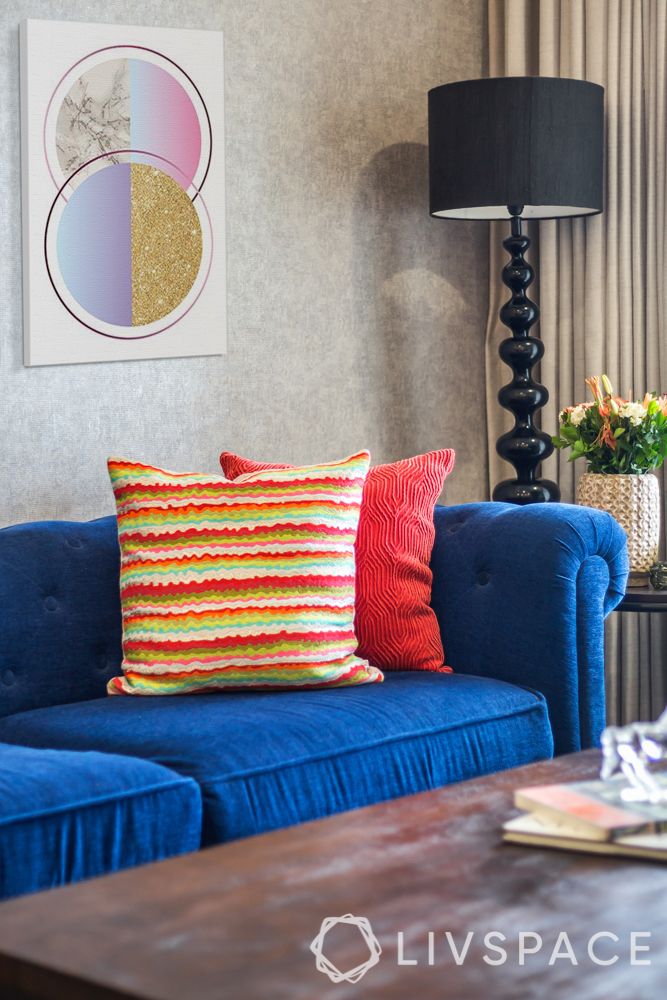 "Colour has the power to set the mood of a space just like music. And you could add colour to your interiors using fabrics, upholstery, wall paintings, rugs etc. Also, there are different ways to use colour to achieve the perfect balance. It may be done in the form of contrast, camouflaging, neutrals & colour blocks."

– Pallavi Goel, Interior Designer, Livspace
As Pallavi spells it out, colour is a determining factor for the interiors of any space. Luckily for us, it is also a powerful mood uplifter. It is hard to feel morose when you are surrounded by cheerful yellow walls. Or if you are sitting on a rich blue couch and feel the stress and anxiety drain from your body. Every colour comes with its own energy.
And wall paint is probably the best way to add colour to your home followed by furniture. However, at the moment, we aren't buying anything new and a DIY paint job may not serve the purpose. Thus, make do with what you have. Bring out long forgotten cushion covers from the loft and turn your favourite dupatta into a throw for your couch. You can also add colour to your home by changing the drapes or table linen. The main idea, however, is to maintain a balance of colours within a space.
You find these Colour Palettes for Living Rooms very useful to strike this balance. And if you want to know how to make a happy home, check out these Vastu-approved Colours for Positivity.

#4: Light Your Way Through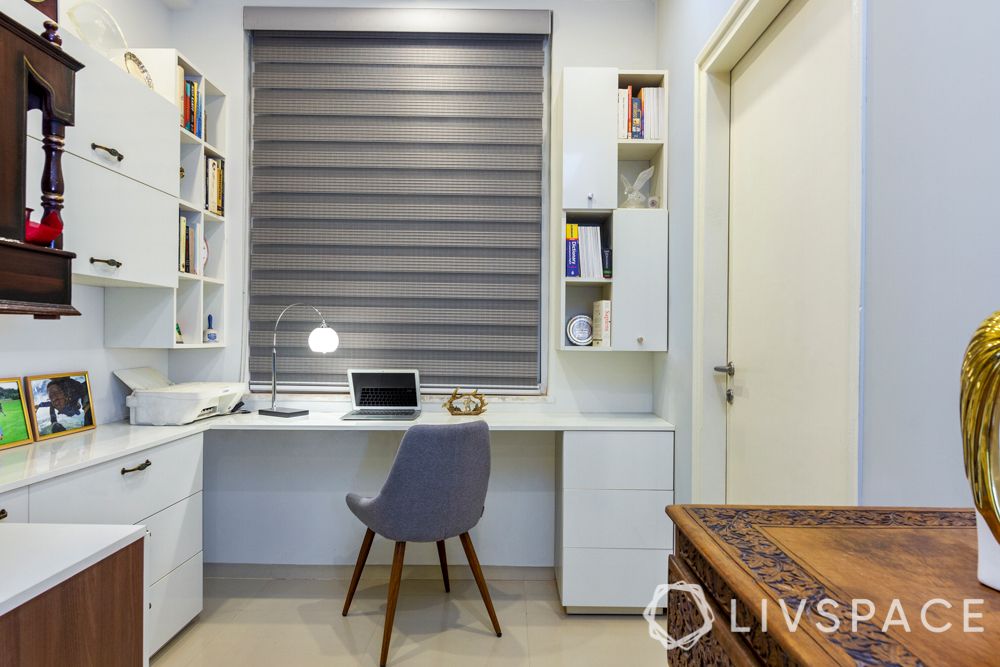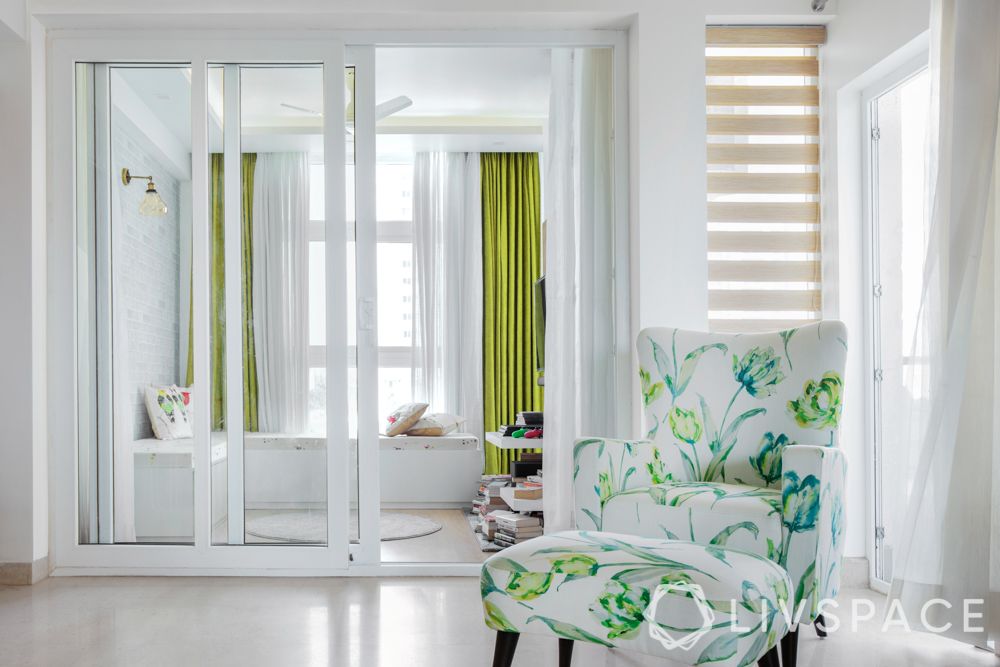 If you don't think lighting is an important aspect of how to make a happy home, try working out of a dark and dingy room! The lack of sufficient lighting, particularly natural light, can add onto the already depressing situation where we are restricted to our homes. Hence, having mood-appropriate lighting should be a top priority if you are trying to make your home cheerful for the extended period of the lockdown.
First and foremost, ensure your home gets enough sunlight; peel away the drapes and open the windows to bathe your home in natural light. Besides, pick the sunniest spot in your home to create a temporary work station so that you spend most of your day in a bright environment. After sunset, you must count on the best possible artificial lighting. Heny says that "lighting can be used as a purpose so you have task, ambient and general lighting. It can also be categorised as per colour temperature."
If you are still confused Your Search for All Things About Lighting Ends Here.
#5: Creating a Green Corridor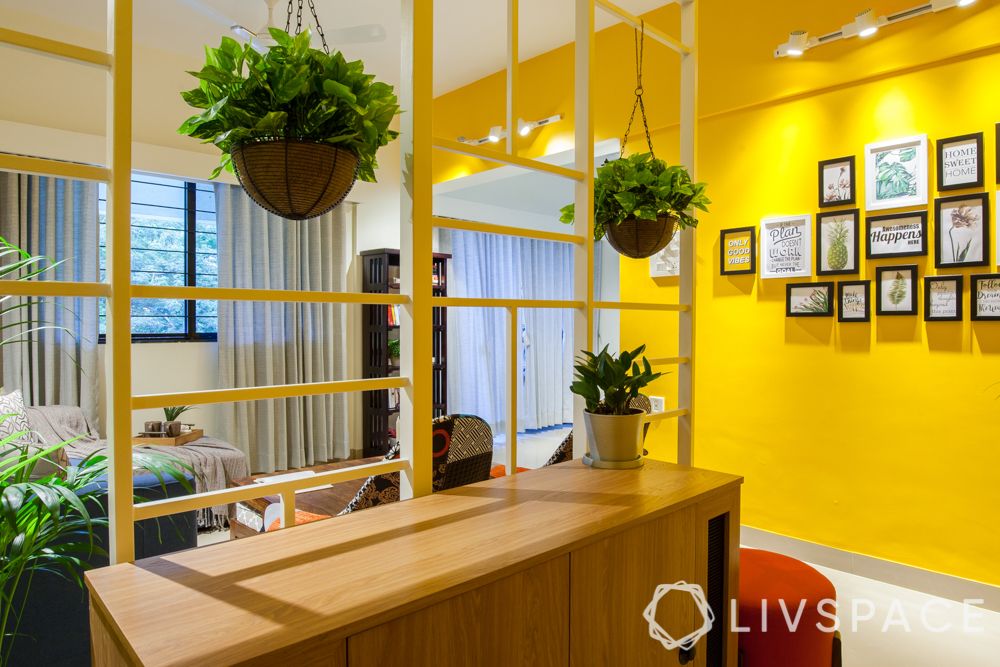 Anybody miss taking a walk in the park or travelling on green trails outside the city? If your eyes are parched for greenery, it's no wonder because plants play a very important role in keeping us stress free in our day-to-day lives as they are instant mood uplifters. But since we must stay put and the option to source houseplants also doesn't exist, we must make so with what we have.
Bring in any plants you have in the balcony or kitchen garden into your home to make it cosy. It will help you have a slice of outdoor life sitting indoors. Also, make cuttings from easy-to-grow plants like money plants or lucky bamboo and keep them in bottles or bowls of water. This will add some dappled green to your home interiors and that is just what you need right now.
And since we will be working from home for some time now, why not check out Plants That Bring Good Vibes to Work. And if you are not an enthusiastic but lazy gardener, here's your Ultimate List!
#6: Accesorise to Personalise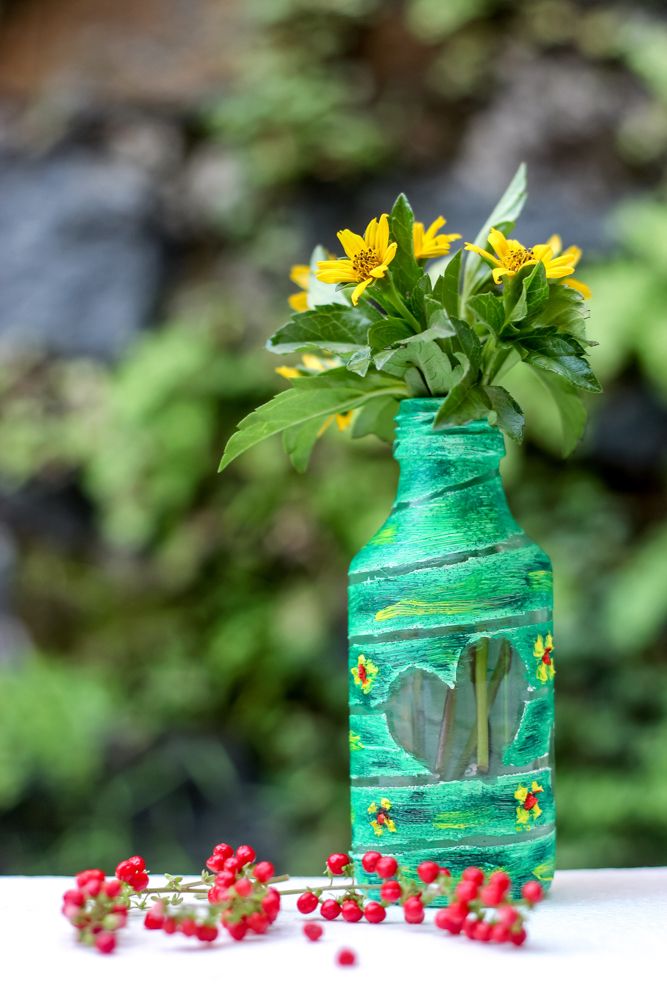 There are many downsides of being stuck at home like boredom, depression and feeling unproductive. But on the plus side, it might give your dormant creative side a chance to shine. Since you can't really buy anything new to decorate your space right now, why not try some DIY art with existing materials.
Glass bottles can be excellent materials for giving your artistic genius a free flow. You can check out these 10 Easy DIY Ideas With Glass Bottles That Will Brighten Your Day. Remember those best out of waste projects in school? Try some Useful DIY Crafts With Things You Would Have Thrown Away to remind yourself of those good ole days.
#7: The Scent of a Happy Space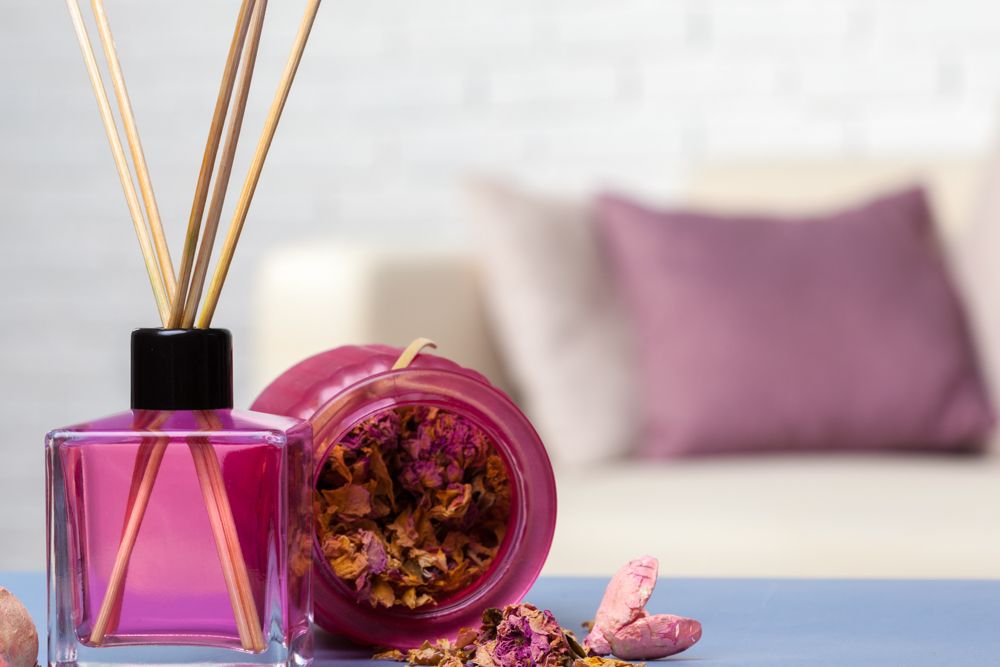 Some say, "the sense of smell is the most underused of the human senses." And it is now time to put it to good use. Imagine walking into a hotel room that smells great! It has an immediately uplifting effect on your mood. It is much the same with your home. If it smells great, the chances are that you will be upbeat about staying indoors.
So it's time to battle lockdown blues with aromatic oils and scented candles. Dig out the potpourri from last year's Diwali gifts and pour in some pretty china. If you have one of the above, light incense sticks for vibes that smell good, for these are easily available.
If you enjoyed reading about how to make a happy home during the lockdown, also explore Have You Got the Lockdown Blues? Help is on the Way!
Send in your comments and suggestions.