Did you know that urban cities in India generate 62 million tonnes of solid waste? Out of this sweeping number only 11.9 million tonnes is treated and a part of it can be reused and recycled. As everything changes around us, there's one thing we know for sure – we can make a difference in the environment! So, if you are as shocked as us with these scaling numbers, let's make a difference with fun DIY ideas for home!
A great way to reduce the generation of waste from your home is to reuse and recycle. But what if we took it a step further and got down to upcycling with DIY ideas for home. Upcycling refers to the process of refashioning something that is no longer in use and turning it into something valuable and useful. So, gather your craft supplies and we'll show you how to upcycle the right way!
#1: How to Upcycle Plastic and Glass Containers
Weatherproof lampshades with plastic bottles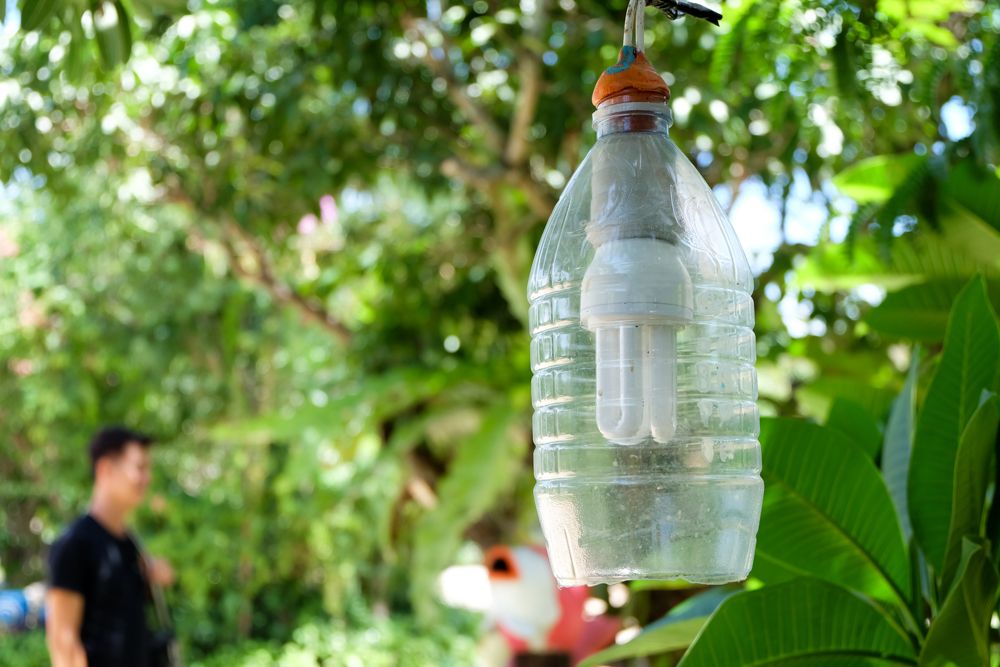 With the mango showers making its way into the summer season, it is the perfect time to weatherproof the electrical fixtures in your balcony. This easy hack requires a bulb holder, a clean plastic bottle where the neck is wide enough for the holder, a craft paper cutter and hot glue.
Steps to make a weatherproof lampshade:
Cut the base of the plastic bottle with a paper cutter
With hot glue, stick the bulb holder inside the bottle
Take the wire through the neck and mouth of the bottle
Cover mouth of the bottle with modelling clay or make a hole in the bottle cap and glue the spaces
Hang them on trees and ceilings and light 'em up
Grow microgreens in takeaway containers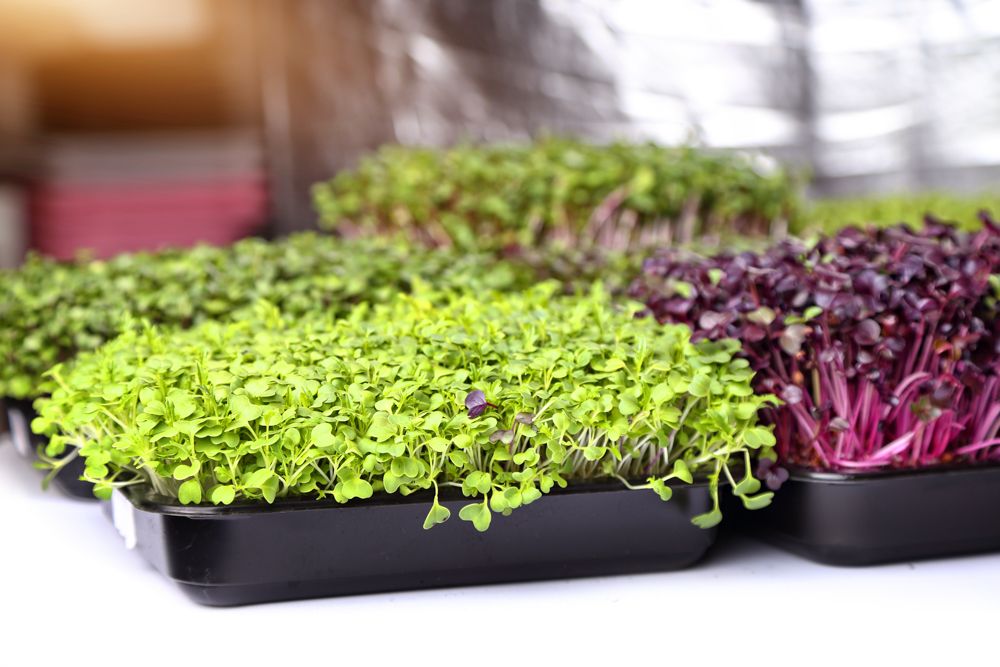 Possibly the easiest of them all, growing microgreens in a plastic takeaway container is a great way to recycle plastic. Microgreens are young plants of vegetables and herbs that provide key nutrients and vitamins. They add plenty of flavour and colour to smoothies, sandwiches and salads. Moreover, they are easy to grow and act as a unique addition to your dining table.
With a variety of microgreen seeds available, you can start your little garden with popular seeds such as chia, radish, pea shoots, sunflower and many more. These are the steps you need to take to grow microgreens:
Soak one and a half spoons of the microgreen seeds in water for 24 hours
Prep a clean container with soil or moist tissue paper
Spread the seeds evenly on the surface and press down another thin layer of soil
Water the soil with plenty of water
Place another container with a weight over the germinated soil
Shoots should develop in 2 days
Make mosaic art with bottle caps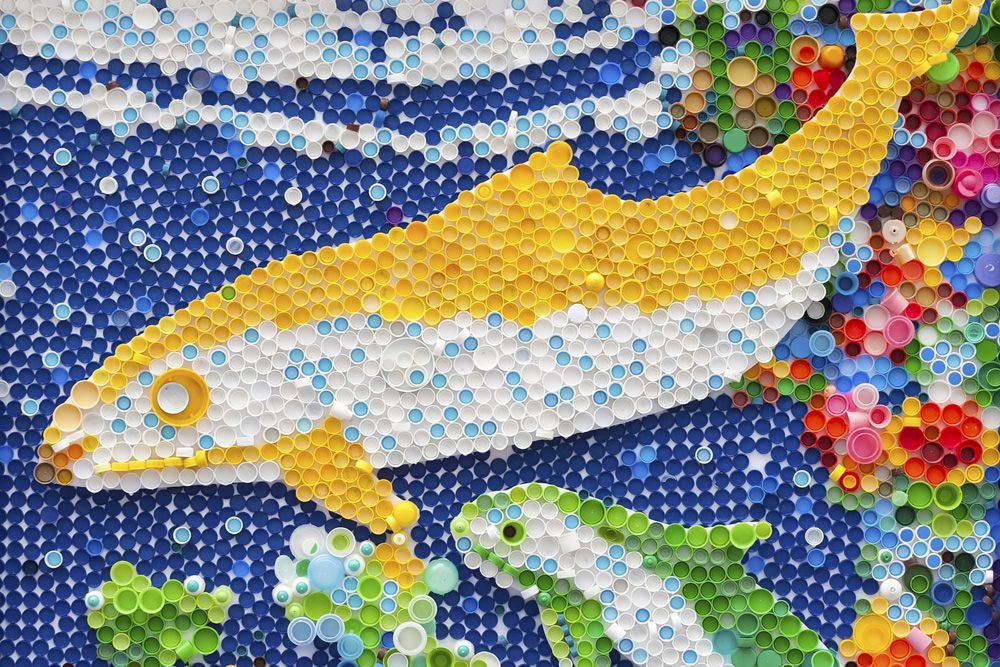 Here's a fun and easy DIY upcycling art for you during the lockdown. Gather the family and get to exercising your creative muscles with mosaic art. You will need a canvas or cardboard sheet, bottle caps, glue and paint.
The process of making this DIY idea for home with bottle caps is easier than you think. Trace out a suitable image depending on the number of bottle caps you have collected and stick the painted bottle caps to it with glue. Alternatively, you can make fun patterns and simple shapes.
Hanging planters with plastic bottles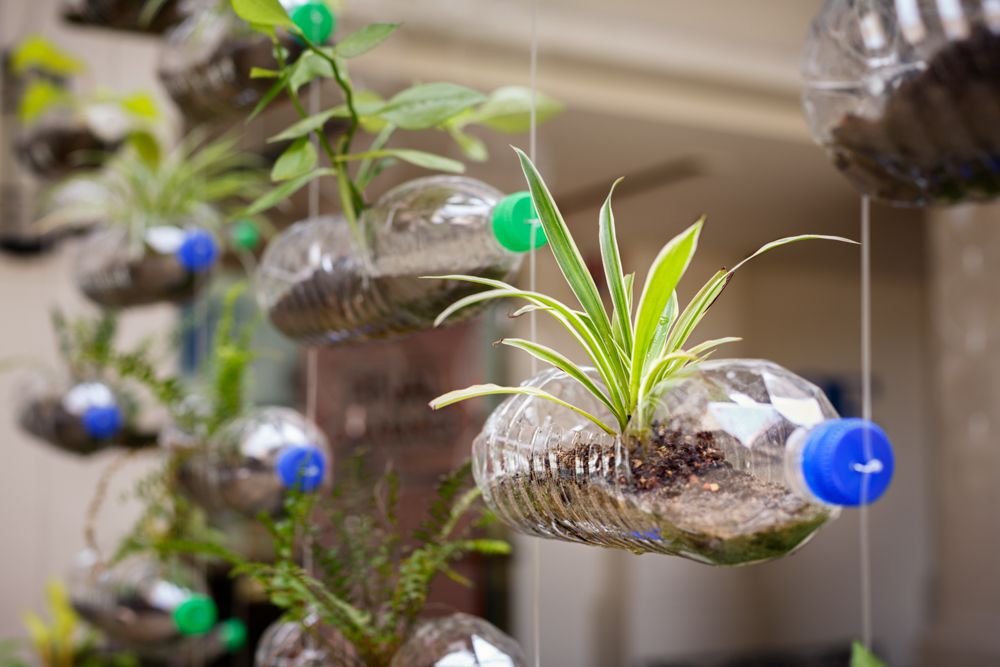 Over 60% of plastic can be recycled into t-shirts, sweaters, jackets, insulation for jackets and sleeping bags, carpeting and more. However, 40% of single use plastic gets rejected. If you're unsure of which category your plastic bottle comes under, you can just make the most affordable yet stunning vertical garden out of them. Stringing bottles horizontally in a grid along a wall utilizes the majority of the bottle, unlike cutting the bottle in half and using the top half. Here's how you can make it:
All you need are plastic bottles, seedlings and lanyard string or twine. For a 500ml bottle cut out a 4×8 cm rectangle and fill in with a soil and seeding. Whereas, a 1l bottle would require a 5x10cm rectangle cut out. This garden is perfect for growing a variety of herbs.
Turn glass bottles into lamps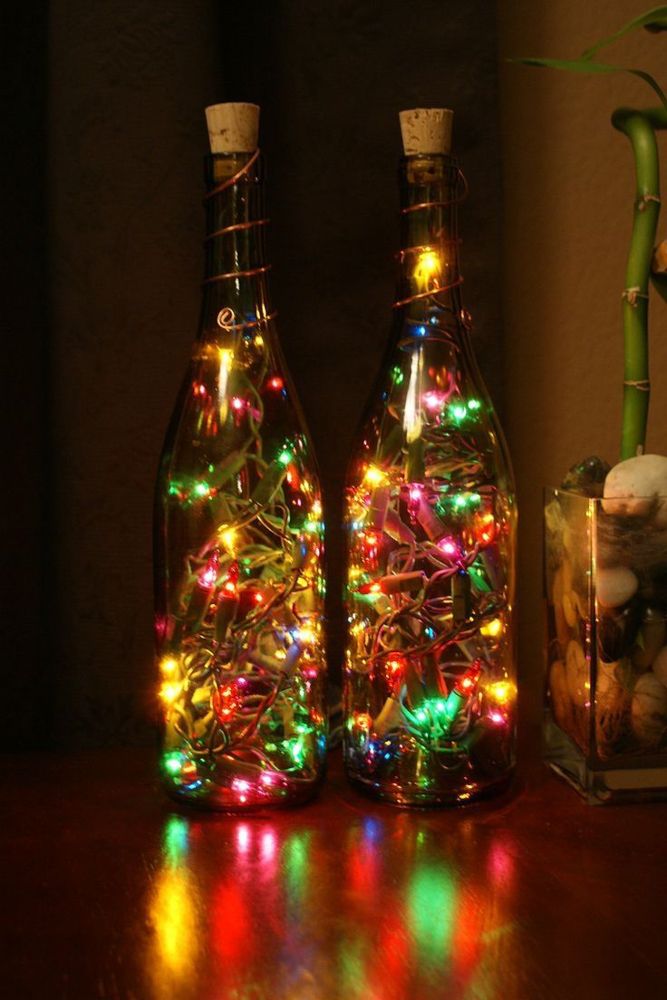 Source: www.lovethispic.com
These DIY ideas for home will instantly amp up the aesthetics of your room. All you need to do is insert a string of fairy lights into empty wine bottles to create attractive mood lamps. These are perfect as home decor or creative lighting for small get-togethers or house parties They are the most affordable way to create ambient lights! There are plenty more ideas for DIY upcycling crafts with glass bottles.
#2: How to Upcycle Household Items
Bring out old ladders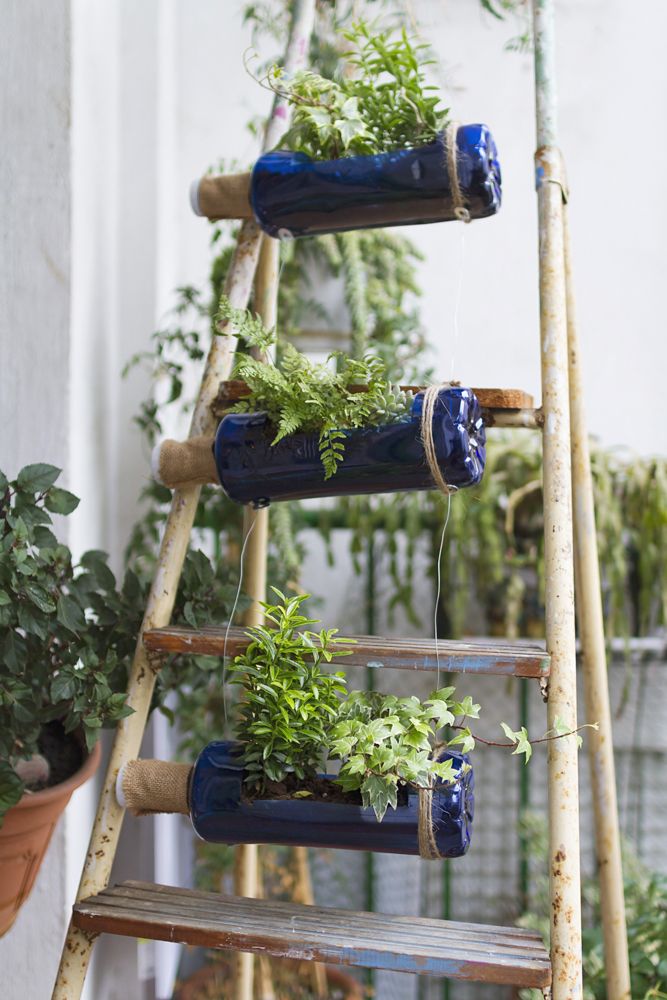 If you have a rickety ladder that is waiting to crumble, this DIY is just for you. Don't throw those ladders out just yet. Find a corner for it, indoors or outdoors and place light and small plants on the steps. This movable plant stand will instantly give your interiors a fun look. Give it a unique touch by hanging the DIY plastic bottle planters in our earlier point to them. Painting the ladder is optional. You can go for a rustic vibe and stick to its worn out colour.
Photo wall with clothespins or paper clips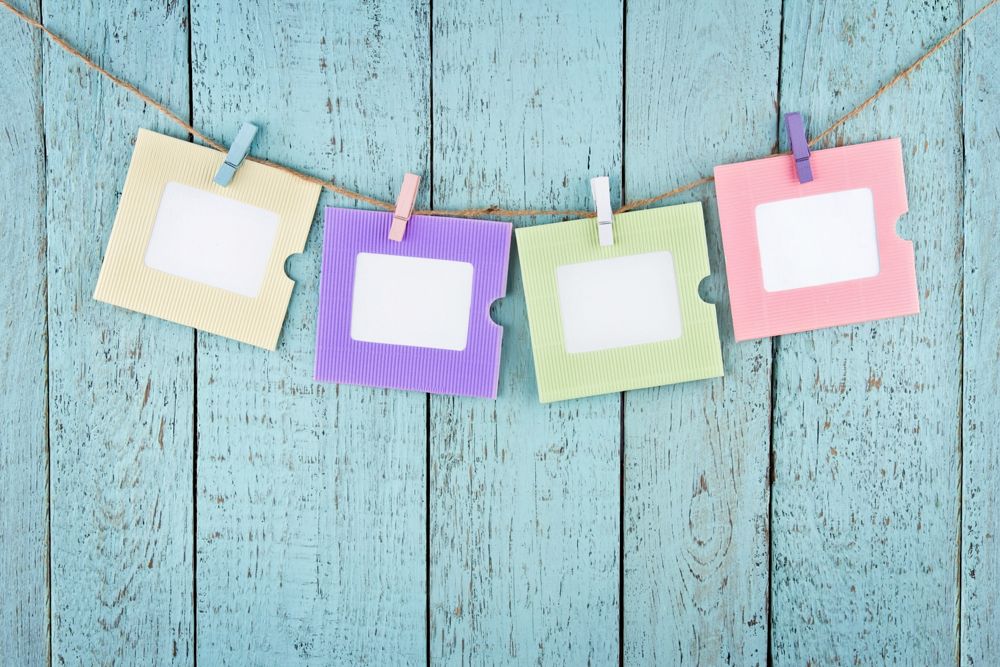 Here's a simple and easy two-piece DIY project. Take some twine or string and those extra clothes pins lying around in your laundry basket. Bring in your favourite memories and clip your pictures on the string and repeat with however many pictures you have. You can make a single, multi-layered or crisscross photo wall.
Tip: Paint the clothespins in different colours and patterns for a pop.

#3: How to Upcycle Old Clothes
Turn dupattas into table runners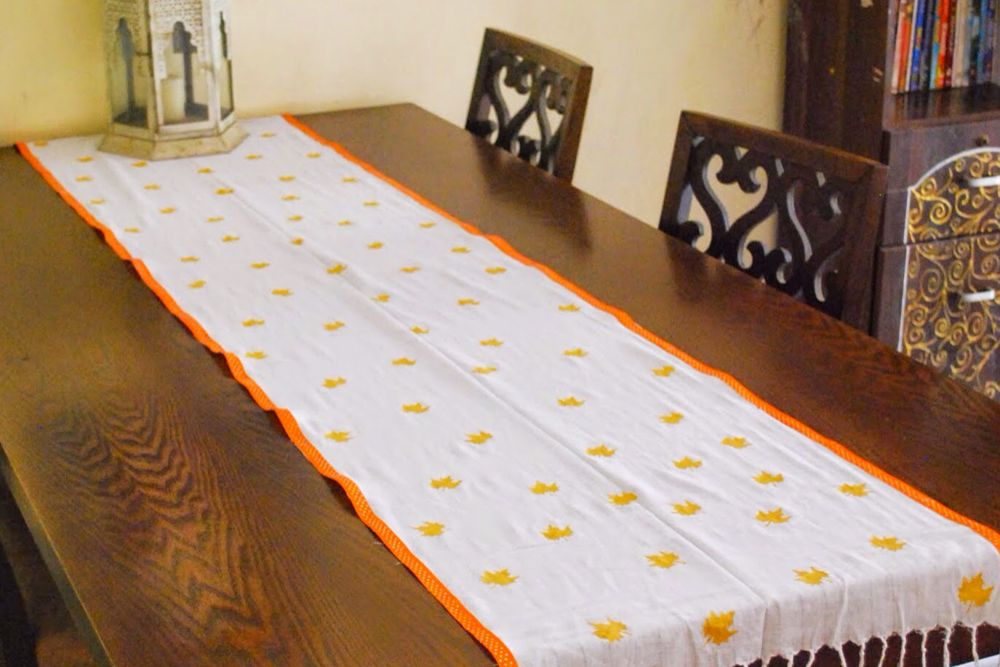 Source: HomeCynHome
A great find from HomeCynHome is this tutorial on turning unused dupattas into table runners. These DIY ideas for home cater to tasteful yet budgeted home decor fanatics. The great thing about this DIY is that you can use any old dupatta and upcycle it. Once you are done cutting your it, you will have two pieces of fabric. And in this case, there were two pieces of cloth to make two table runners, as it was cut right in the middle and both are equal in size.
Here, a plain white cotton dupatta was used along with regular craft supplies such as ribbon and fabric paint. However, you can switch it up and use sequence or stitch in patterns.
Make pet cushions with old jeans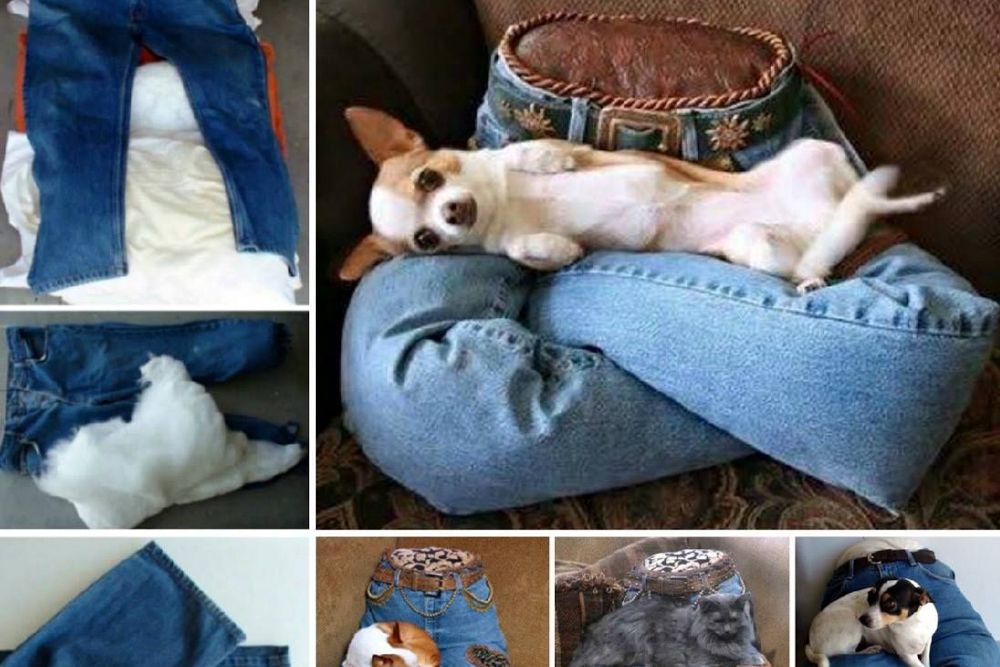 Source: www.instructables.com
We didn't forget about your furry friends! This quirky DIY upcycling crafts for old jeans will keep your pets company while you get work done during the lockdown.
How to make a ped bed with jeans:
Take an old pair of jeans and stuff with it polyester pillow stuffing or unused fabric
Make tassels at leg opening and knot them up
Add a belt for a sturdy shape
Fold both the legs to the opposite posterior thigh and tuck them
Place it in your pet's favourite spot
Take a look at No-Sew Blue Jeans Portable "Lap" Dog Bed for a step-by-step guide!
#4: How to Upcycle Cardboard Packaging
Organise wires and cords in a box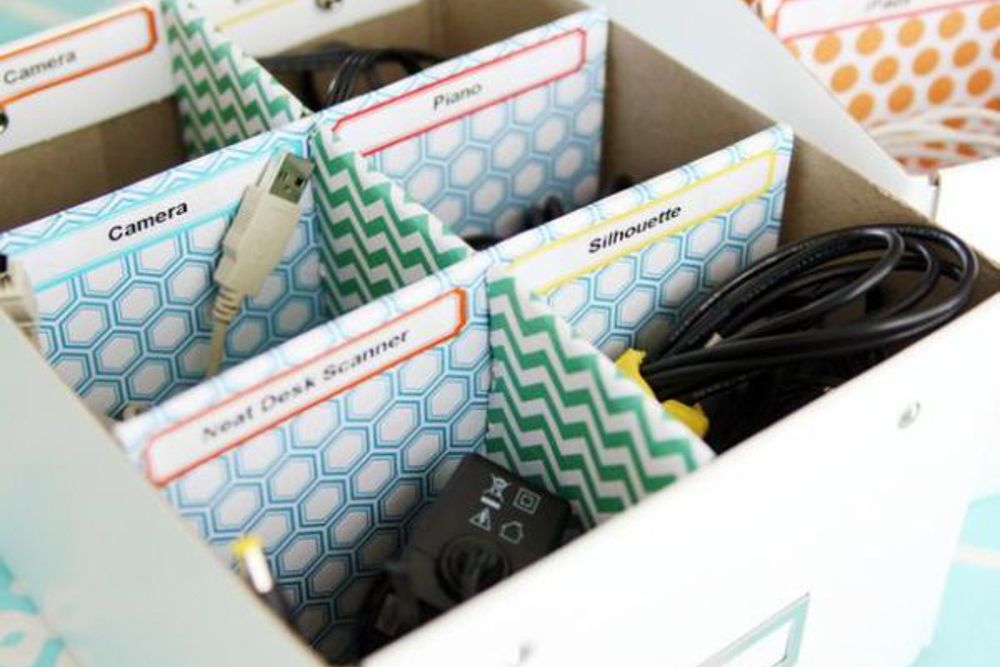 Source: Homedit
While some of us might not have a problem with the wires cluttering up our spaces, the rest are definitely looking for ways to get them out of sight. Besides, it's always better to get them organized, especially if you have toddlers and pets at home.
So here's an easy and creative way to organise electrical wires, cables and cords for a clean and clutter-free home. You will need a shoe box or delivery packaging and measured sheets of cardboard for this DIY ideas for the home. Fix the sheets of cardboard into the box and label the sections. There it is! Your personalised cord organiser.
Tip: Cover with wrapping paper to give it colour.
Fashion a makeup organiser with boxes
If you're tired of rearranging your messy vanity over and over again, this Youtube tutorial will help you fashion delivery packaging into a makeup organiser. You will need two medium sized boxes, one small sized cardboard box, paint, washi tape and glue.
How to make a make up organiser:
Take off any packaging tape stuck on the box
Cut the opening flaps of all the boxes
Secure all corners of the box with glue so that they don't open up
Secure the opening flaps with glue and stick it behind one of the boxes
Place the other box halfway over the other box and glue it together
Place the small box that will act as a brush stand to either side
Decorate with paint and tape
Take a look at this detailed Youtube tutorial on how to make a makeup organiser here.
Make a cat house with a cardboard box
If you have a cat, you know how much they love playing in cardboard boxes. So don't throw them out! Get creative with these simple boxes and make your furbaby a happy one. Take a look at this detailed video of this DIY ideas for the home on Youtube for a step-by-step guide to make your own cat house: Transform a Simple Box into a Cat House.
Wait, there are plenty more ideas for DIY upcycling crafts. Take a look at 10 DIY Ideas Reusing Old Glass Bottles.
Send in your comments and suggestions.