Had a party at home just before the lockdown and now you're stuck with empty wine and beer bottles lying all around the house? Instead of just throwing them away, you can try your hand at these creative DIY projects using old bottles. Check out these 10 easy ideas with DIY glass bottles which you can try right away:
Note: Use bottles in different sizes to create interesting groupings. Before you start recycling the empty bottles, place them in warm water to remove the labels off them easily. If you're painting the bottles multiple times, allow it to dry after each application. Use acrylic or fabric paints to paint your bottles.
#1. An instant picture frame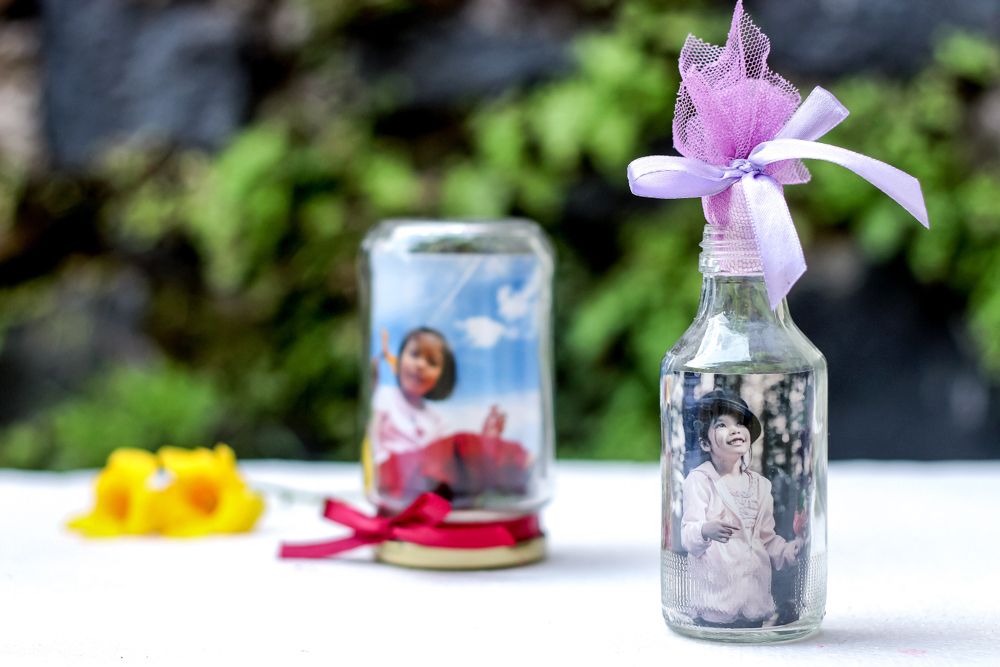 Clean some glass bottles and fill the base with stones,pebbles or shells. Next, take the desired photograph, roll it up and insert it in the bottle, where it'll unfurl. These are great for gifting too.
#2. Transform a bottle into a beautiful vase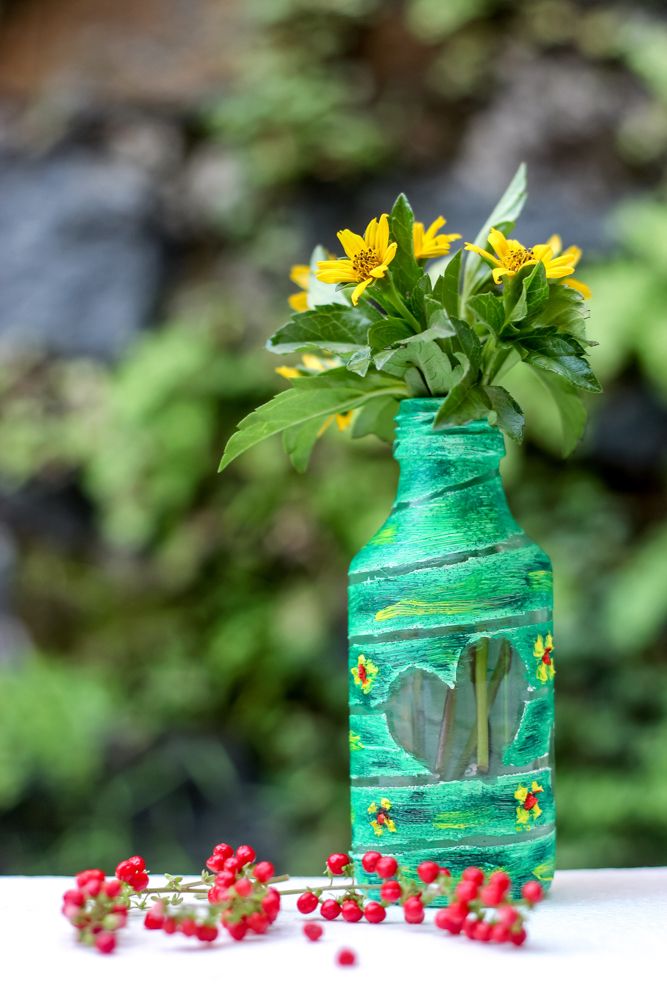 Start with painting a wine bottle in a shade you like. Next, stick tape on the bottle in decorative patterns and spray the whole thing with paint again. After you are done, remove the tape and your attractive vase is ready. You could also paint a few DIY glass bottles in the same or contrasting shade to create an interesting cluster.
#3. Handmade candles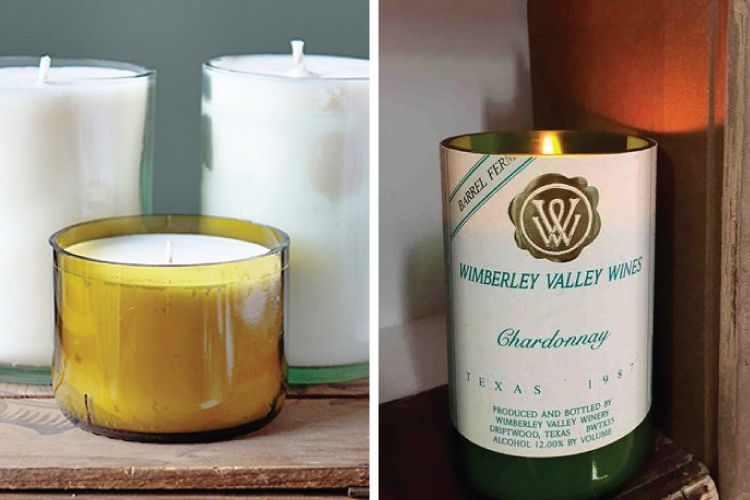 Practice caution while cutting the glass to make your DIY candle
Source: blog.rent and savedbylovecreations
Slice off the top of the bottle and fill it with wax. Here is a step-by-step guide on cutting a glass bottle on wikihow. Insert a wick and let the wax harden. Your hand-made candle is now ready to light up your home.
Watch and learn how to cut a glass bottle here.
#4. Simple glass spray bottle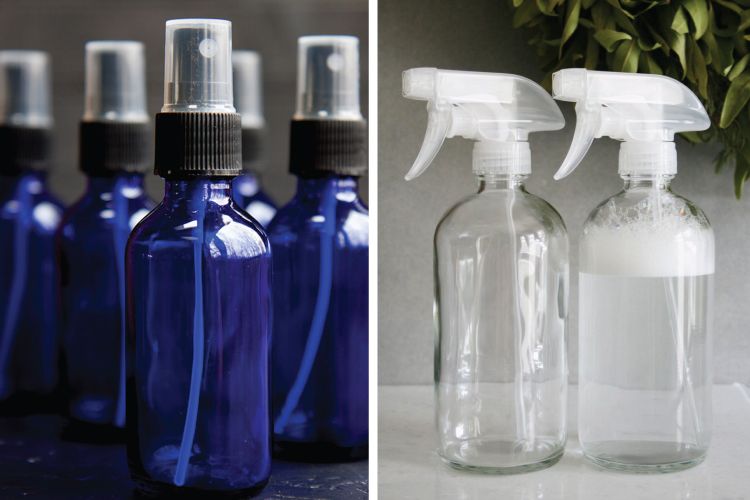 Source: backtoherroots and rail19
Buy a pack of spray nozzles. Your old bottle of colin can also be a source of a spray nozzle in case you cannot buy a new pack. These nozzles fit most glass twist-top bottles and these eco-friendly spray bottles are so much better that the plastic ones.

#5. Mood lamps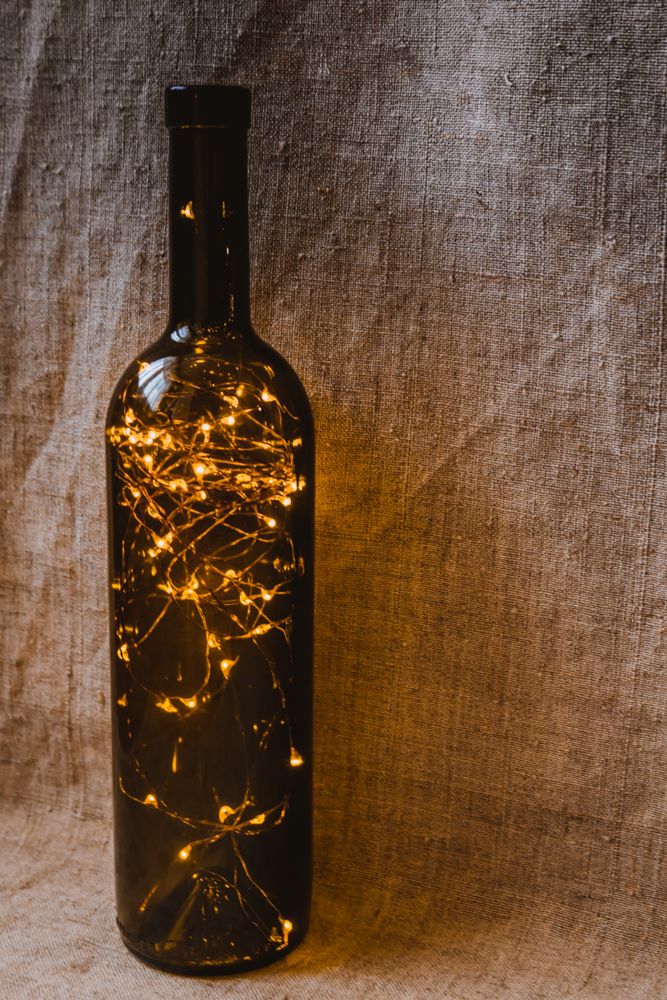 All you need to do is insert a string of fairy lights into empty wine bottles to create attractive mood lamps. These are perfect as home decor or creative lighting, small get-together or house party.
#6. Dreamy candlestick holders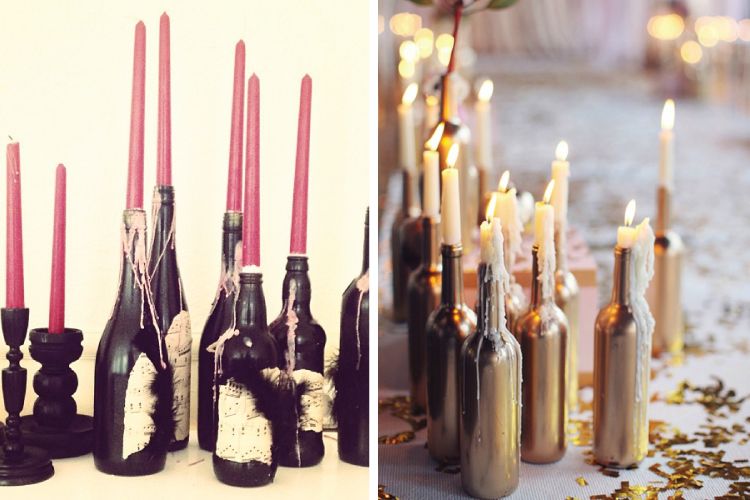 Perfect idea for table decor
Source: babble and skimbacolifestyle
Make these delightful candlestick holders using empty wine bottles and metallic spray paint. Spray your DIY glass bottles and allow it to dry. Next, place them together in a cluster and insert a candle into the bottles. Just make sure that the candle fits snugly and doesn't drop into the bottle.
#7. Salt and pepper shakers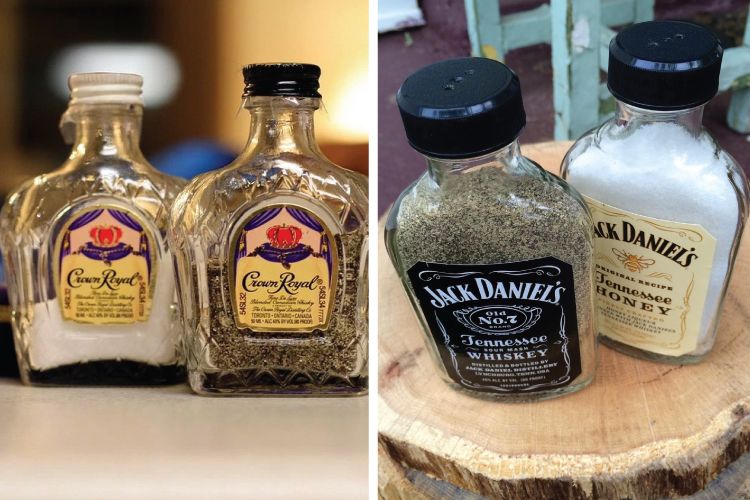 Miniature liquor bottles put to best use
Source: beachpackagingdesign and rockpaperfeather
Small empty liquor bottles are a great alternative for the traditional salt and pepper shakers. It can jazz up your dining area and serve as a conversation starter. Just punch holes to the caps and your DIY glass bottles are good to go!
#8. Rustic yarn wrapped bottles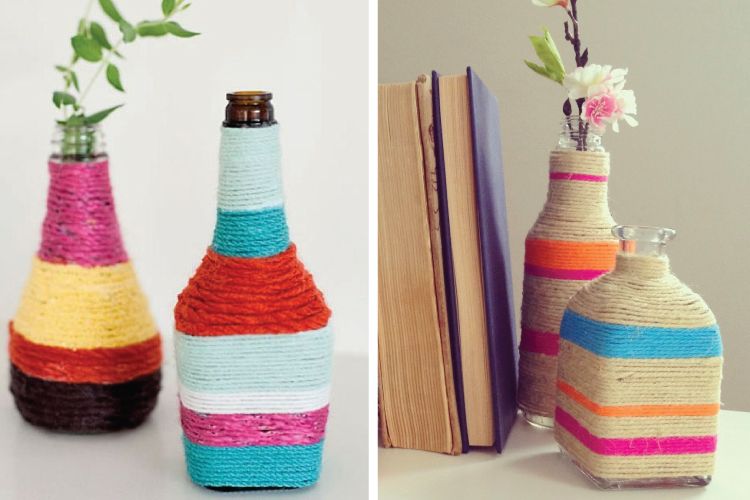 These will add a splash of colour to tables
Source: diyhomedecorguide and stephigardens
Give your old bottles a rustic look by wrapping them in yarn and using them as rustic decorative pieces. Just apply glue to the bottles sparingly and start wrapping the yarn from the bottom, working your way upwards. Tada! Your project with DIY glass bottles is ready.
#9. Epsom salt covered bottles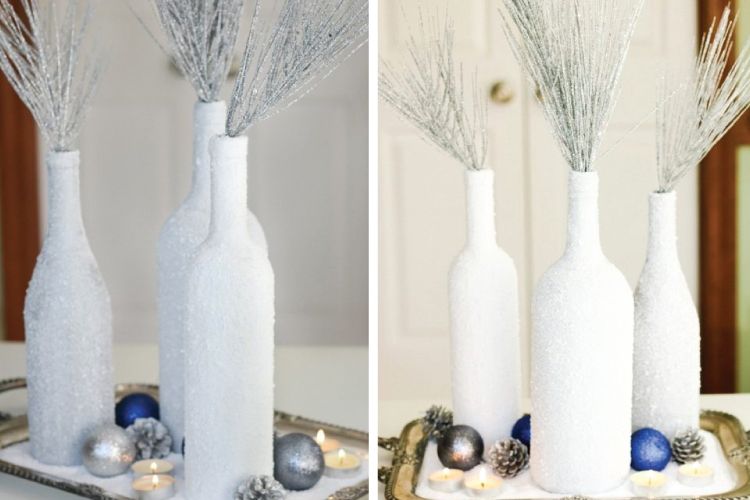 A unique but easy DIY project
Source: nowcraft and realcoake
Make epsom covered DIY glass bottles using empty wine bottles, white paint and epsom salt (magnesium sulfate). Just roll the bottle on epsom salt after applying a fresh coat of paint and it's ready.
#10. Bottle aquarium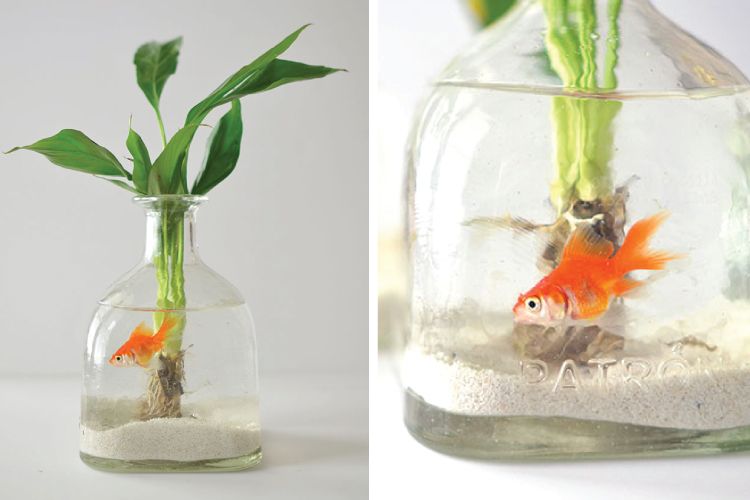 A must-try DIY project after the lockdown is lifted!
Source: petdiys and maddierichardson
P.S. This one's for your post-quarantine project. Once you can step out of your home and shops open up, you can go buy yourself a cute fish to try out this idea with DIY glass bottles. Convert your empty bottle into a striking aquarium, complete with colourful pebbles and decoratives. First, fill the bottle with clear water, throw in some pebbles and finally add a small fish or two.
Try these easy ideas to turn your empty bottles into little masterpieces. It's time to repurpose and put your creative hat on! Go ahead and have fun! Read this for more DIY stuff to try at home: Useful DIY Crafts With Things You Would Have Thrown Away.
Have more fun ideas? Write to us at, editor@livspace.com