Picture Credit: Anuja Kambli
---
Who livs here: Rajesh Pathania and Anwar Hassan
Location: Bandra West, Mumbai
Size: 300sqft
Designer: Senior Interior Designer Gwyneth Dias
Livspace service: Dual living seating and bar area
Budget: ₹₹₹₹₹
---
Rajesh Pathania and Anwar Hassan were on tight schedule. The plan? To throw a big New Year's eve party. But before that, the roommates had to give their bachelor pad a sweeping overhaul.
When Livspace.com popped on Rajesh's Facebook feed, a quick google search and short vetting session later, the corporate lawyer, originally from the hills of Dharamshala, was captivated by the concept.
A couple of days later, Livspace designer Gwyneth Dias walked into Rajesh and Anwar's living room for their very first interaction. They were looking to convert their bachelor pad into an elegant space that also lets their vivacious, young spirit shine through. That coupled with Gwyneth's bohemian energy, it only ensured that their home would go on to be filled with practical furniture with a huge emphasis on comfortable design.
One of the catalysts to get the roommates to sign up with Livspace, was the startup's 12-week delivery promise. However, Gwyneth beat the deadline, the boys were sitting on their new furniture in under 6 weeks.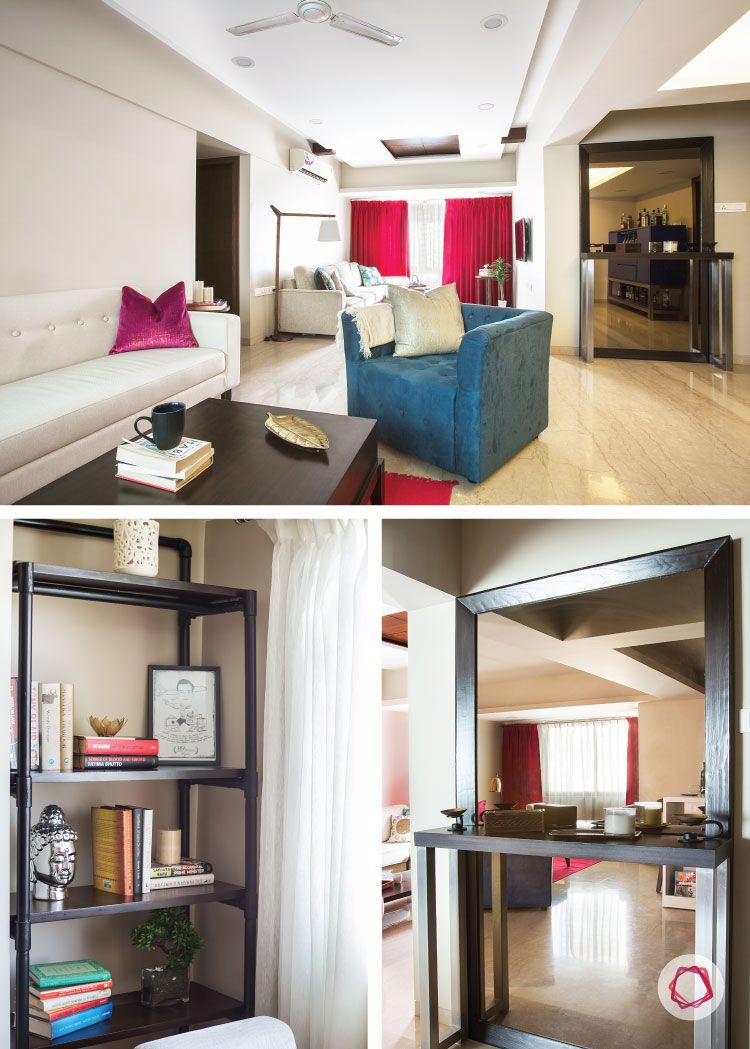 ---
An ivory button tufted couch dominates this living seating. A silvery ash backless diwan contrasts the exposed pipe bookshelf by the window. To ensure the space doesn't feel cramped, a large mirror was placed adjacent the bar.
---
Gwyneth's pitch was dominated by a muted palette especially because the boys' apartment is rented, and when they do move they wouldn't have to play match, match. But Rajesh pressed for darker hues. He reasoned that he'd have irresponsible guests leaving stains. They finally agreed to meet midway: Gwyneth succumbed and gave him the velvety blue chesterfield accent chair, and Rajesh agreed to an upholstery treatment to protect his fabric.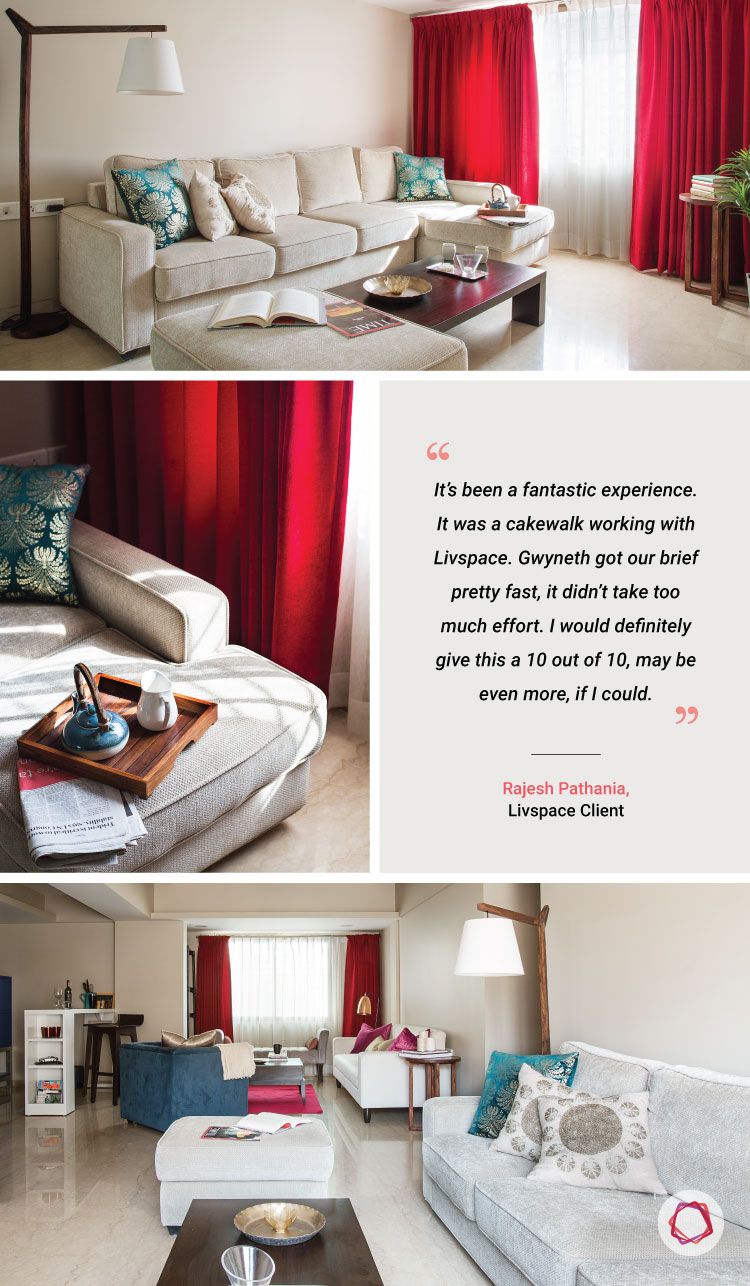 ---
The overarching floor lamp brings warmth. Since the space receives direct sunlight, unusually thick ruby curtains with a sheer backdrop were chosen. Matching side tables in a teak finish ensure unity across the two seating areas.
---
With an open plan living space as large as Rajesh and Anwar's, Gwyneth pushed for two separate intimate living alcoves. The existing L-shape and ottoman were refurbished to match the accompanying seating with cappuccino beige upholstery and contrasting vivid teal cushions.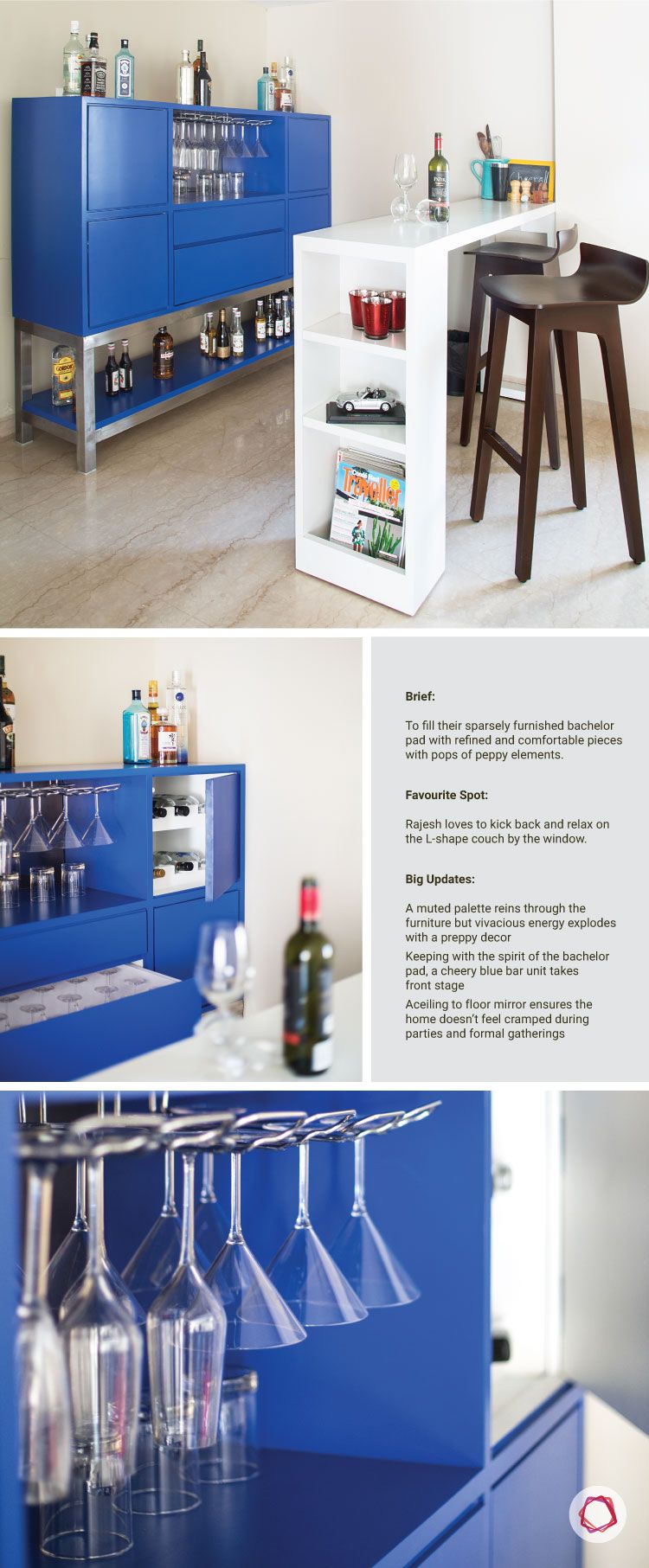 ---
The peppy blue bar unit brings a much-required burst of color to keep the space from feeling too grown up.
---
Given Rajesh and Anwar's propensity to throw parties — formal or otherwise — a dining table was simply ruled out. In came a bright blue bar complete with bottle holders and plenty of storage to stash all the golden liquid they would need. A slim U-shape bracket table clearly demarcates the open plan space. Two bar stools in deep walnut were introduced to maintain harmony between the distinct bar and seating.
---
Rajesh Pathania loves to sink into the cappuccino beige L shape couch, prop his feet up and watch TV.
---
The response so far has been incredible, quipped Rajesh. Friends have been streaming in since the revamp, he said with a flourish.
Even though it's a bachelor pad, the brief was to make it an elegant but welcoming space for both fancy sit downs and just to chill out when friends are over. Some of Rajesh and Anwar's parties have about 20 to 25 people, so the seating was obviously important. Overall, the project was good fun and was probably one of the quickest and smoothest projects I've worked on.

Gwyneth Dias, Interior Designer