Traditional Indian furniture design is a classic choice for Indian homes. Solid wood lends a warmth and authenticity that is unparalleled. Combined with etchings, carvings, Indian workmanship, mandi-inspired colours and rich fabrics, these designs are some of our favourite pieces in our catalogue. Celebrate this festive season with some of these unique pieces!
Traditional Furniture Design #1: Statement Low Seating Chairs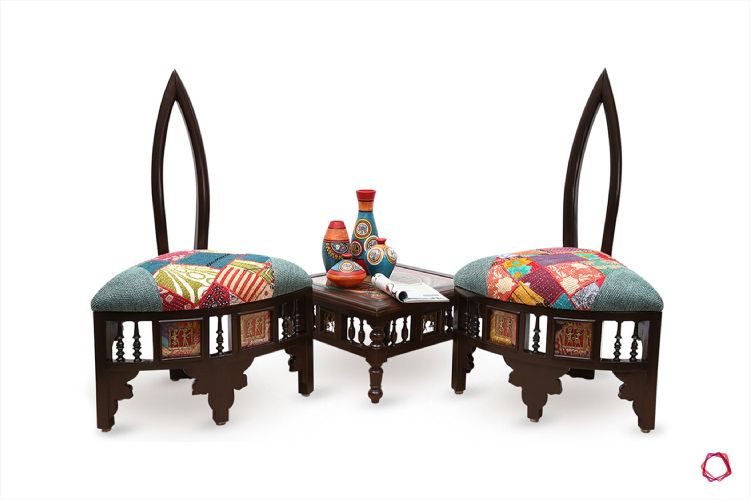 This transitional chair and table set is your answer to boring furniture that's been in your home for years. Move away from the clichéd chair designs and get yourself this pair of lovely handcrafted teak wood ones. These exclusive pieces of furniture are sure to add an element of style with its unique shape and Indian prints. What's more, it's available in multiple finishes to suit your interiors.
Traditional Furniture Design #2: Hand-Painted Corner Table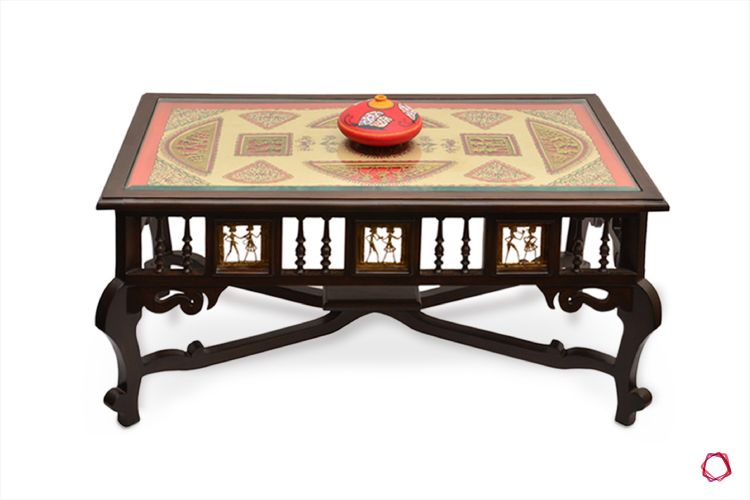 Complement your sofa set with this beautiful corner table that will add a regal touch to your interiors. The lovely Dhokra figures carved out on all four sides of the table enhances the look, while the glass top makes it functional. The detachable wood on top, with intricate Warli hand painting makes this a must-have piece in your home!
Traditional Furniture Design #3: Compact Dining Set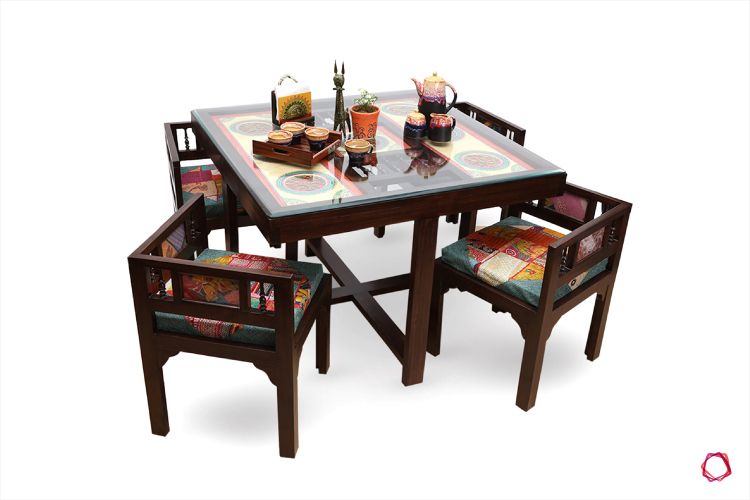 Add a pinch of contemporary flair and verve to your dining room with this sleek square-shaped dining set. Handcrafted in teak wood and finished in walnut brown, the design complements a subtle homely look. The cotton jute patchwork cushions complete the chairs and adds to the quirk factor. So if you have a compact house, but desire richness in design, we'd recommend this one!
Traditional Furniture Design #4: Carved Out Wall Mirror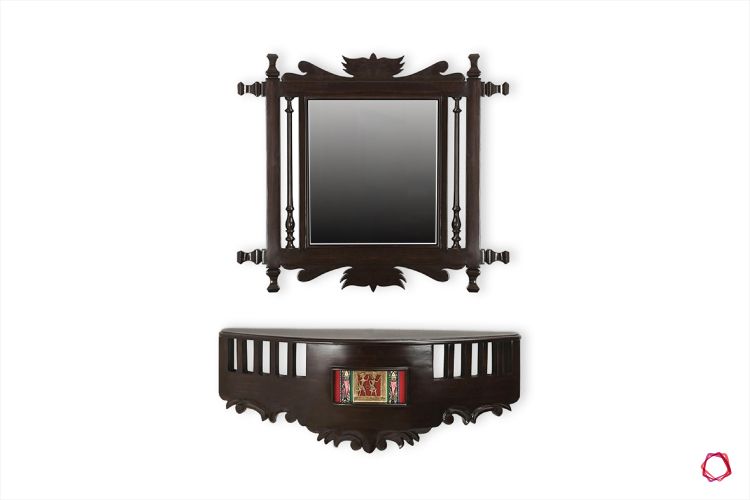 Do you love the charm of beautifully carved mirrors that takes you back in time? This is a perfect piece for your foyer or your bedroom, since it is wall-mounted. Featuring a small base unit and a lovely wood finish, this is a good addition for any style of home. It's available in multiple finishes to suit your taste.
Traditional Furniture Design #5: Handcrafted Coffee Table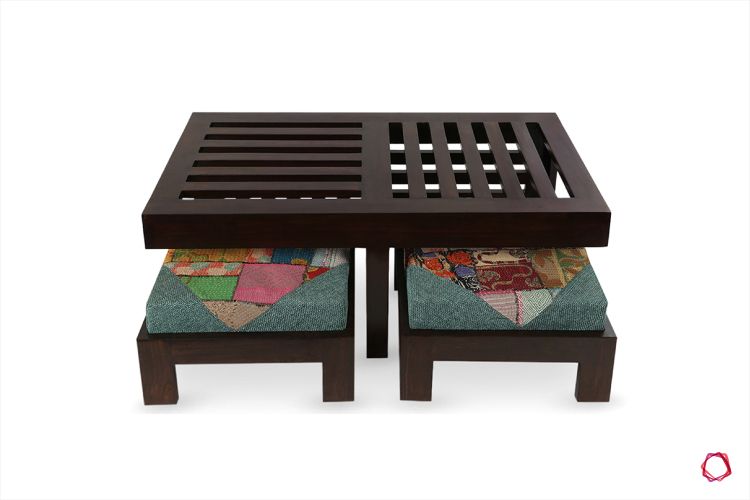 The union of a centre table with a coffee table marks the birth of this exotic handcrafted teak wood centre table. You can tuck away two stools underneath the table, when not in use, lends a dash of colour to your room. This space-saving furniture design is as elegant as it is functional. Make this yours!
Traditional Furniture Design #6: Maharaja Style Dining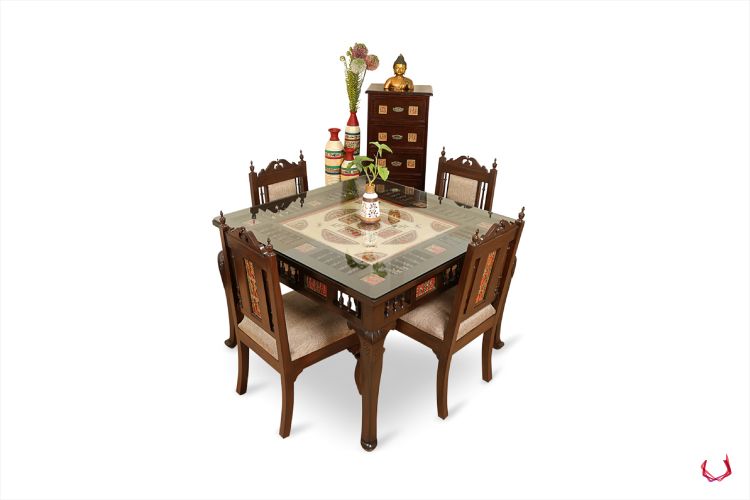 Perfect for intimate family dinners, this dining set is sure to impress your guests. The top of the table is decorated with unique brass Dhokra figures and hand painted with Warli art which is covered with glass to protect the art from wear and tear. This sophisticated piece of furniture is sure to give any dining room an instant makeover.
Traditional Furniture Design #7: Old World Bar Charm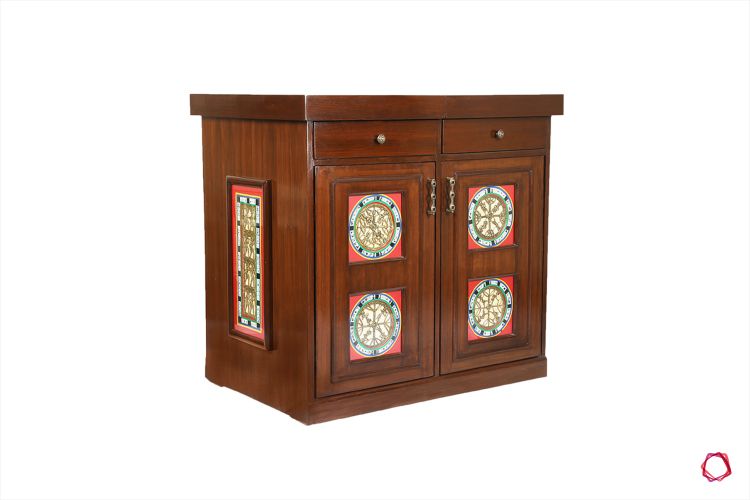 Here's a bar nook that will be the highlight of any home. Made with teak wood, this extendable wooden bar counter comes in a walnut brown shade. It opens up to plenty of storage for your bottles and other essentials. The artwork on the piece is sure to make you whip up a cocktail in style!
Traditional Furniture Design #8: Madhubani Mandir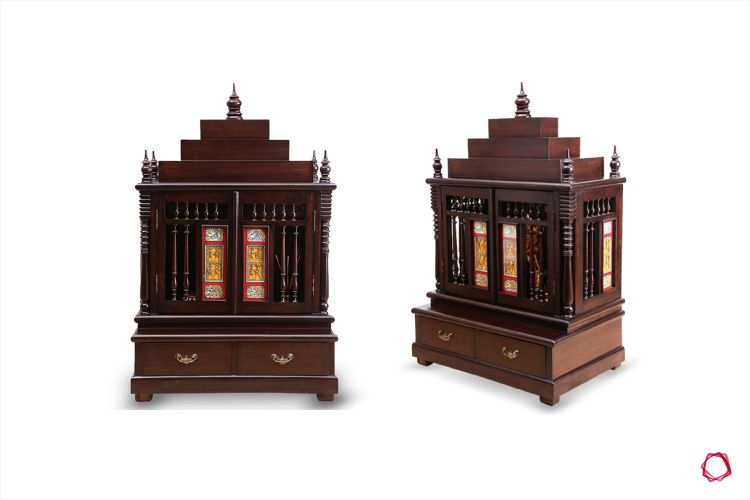 Handcrafted in teak wood and coloured in walnut brown, this mandir is perfect for your prayer space. Delightful Dhokra and Madhubani art adorns this piece. The Dhokra figurines are carefully crafted in brass, while beautiful Madhubani hand painting adorns the surface of the mandir. It comes with folding doors and two storage drawers for all your prayer essentials.
Traditional Furniture Design #9: Finely Polished Dining Set
Your search for an exotic eight seater dining table ends here! Feast your eyes on this delightful teak wood handcrafted piece. Its elegant Dhokra and Warli art is sure to add a luxurious visual appeal to any dining room. Finished in surreal walnut brown shade, this finely polished piece comes with walnut brown chairs and beige seating. When's the next dinner party?
Traditional Furniture Design #10: Sleek Magazine Stand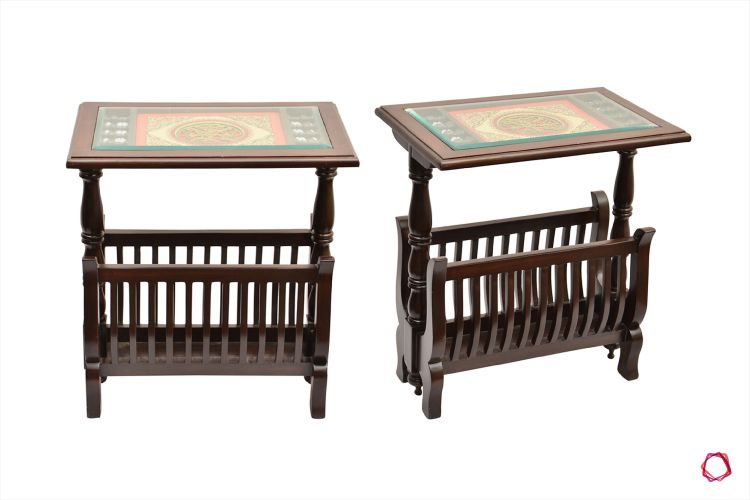 This piece of art would perk up any corner in the living room. Made out of teak wood, this elegant magazine and newspaper stand also doubles up as a table. It has beautiful Dhokra work and Warli hand-painting on the detachable wooden part, which sits just below the glass top to enhance its beauty. The table features a glass top.
If it's a homely yet rich and straight-out-of-a-storybook vibe you are looking for, these pieces will definitely work!
Need a little help to give a more traditional look to your home? Here's how you can get started: 8 Essential Elements Of Traditional Indian Interior Design.
Send in your comments and suggestions.