When Sanjay and Neeta Singh came to Livspace asking us to design a home that was 'minimal in spirit', it was time to put our thinking hats on. It is easy to stick to the design aesthetics of an already defined style like mid-century modern or art deco. But this Ajmera Zeon 3BHK gave our design team the opportunity to experiment with something completely new. Heny Salva, the designer for this home, calls it the minimal glam style.
What do we mean by 'minimal glam'?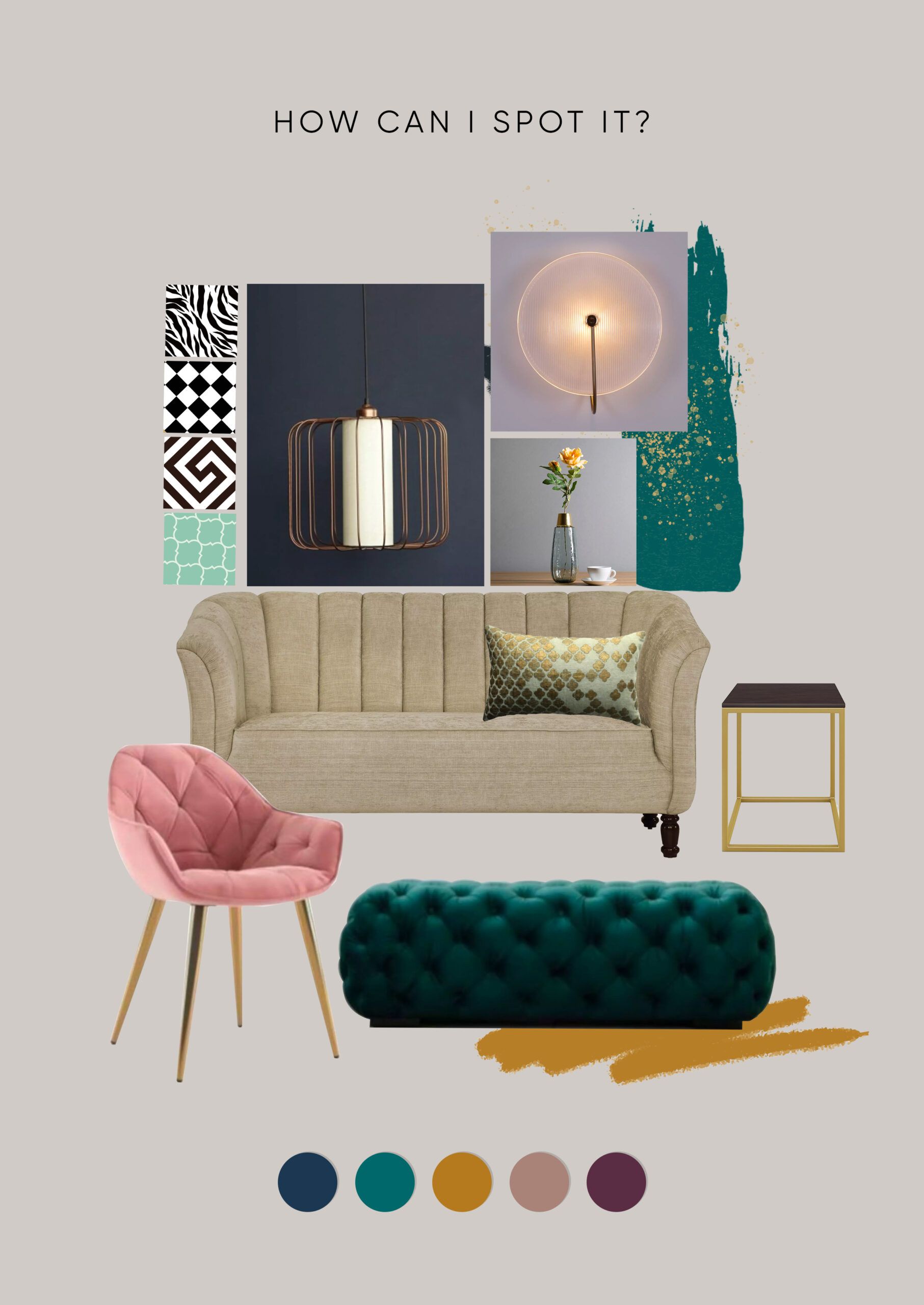 COLOUR PALETTE
A soft, elegant palette dominates this style
Metallic tones are used as accents
PATTERNS
Art deco and neoclassical patterns make an appearance. Some of the common ones are Greek key, trellis, checkered and animal prints
MATERIALS
Fabrics are on the expensive side of the spectrum—silk, satin, suede and velvet. You can use the affordable faux versions too!
The overall choice of materials is expensive—including crystals and marble
Metal, sequins and mirrors are used to amp up the glam factor
TEXTURES AND SURFACES
Mirrored finishes and gold metallic details add a glitzy edge to the design
Fabrics are sumptuous
Surfaces are smooth and occasionally shiny
FORMS
Clean lines dominate
Look out for classic shapes in sofas
And organic forms for chairs
Unlike most other design styles, the minimal glam style (that we see in this Ajmera Zeon home) has no historical origin. It did not develop in a certain time period as a response to some art movement. This style is basicalled metamorphosed from a need for plush finishes that go with the clean design of the minimal style. Minimal glam retains the design aesthetics of its namesake—the minimal style—but goes glam in its material choice and accents.
Why is minimal glam the perfect style for Indian homes?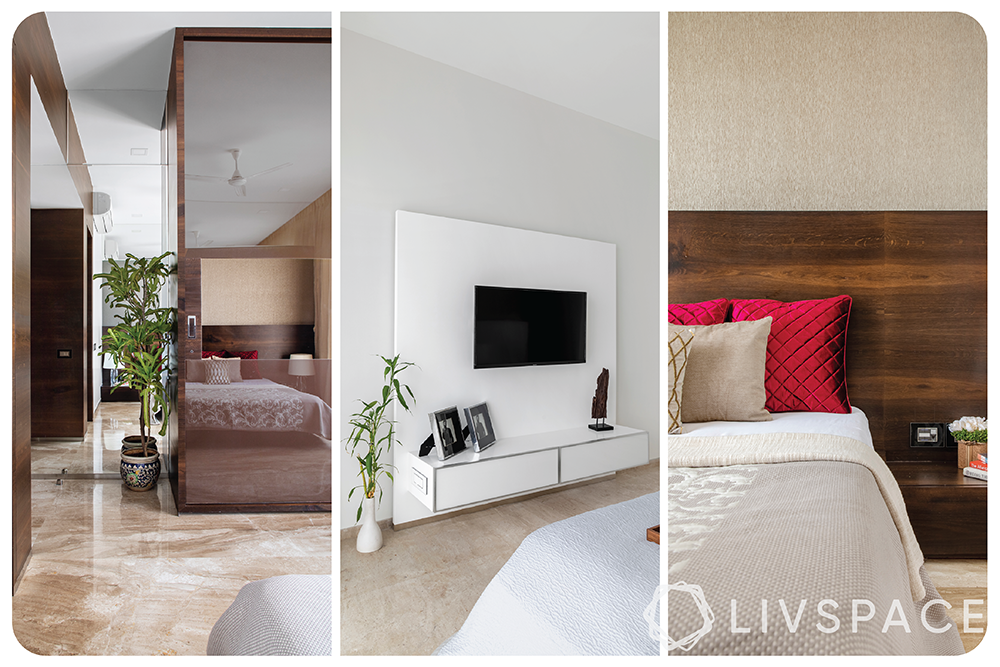 It is a well-acknowledged fact that we Indians have an appetite for drama. And our homes are no exception to this cultural trait. However, is it possible for globetrotting millennials to remain unaffected by a sweeping trend like minimalism? Not likely.
Though we love the sheer simplicity and clean design of the minimal style, doesn't our desi heart long for a bit of glitz and glamour? Being fed a diet of grand Bollywood movies, who can really blame us for our contradictions! Hence, the minimal glam style is a kind of middle path for homeowners who want a clean layout and uncluttered design but also need a touch of plushness in their homes.
Here's how you can get the minimal glam style on point like this Ajmera Zeon home…
#1: A neat layout with clean lines and a clutter-free design is the foundation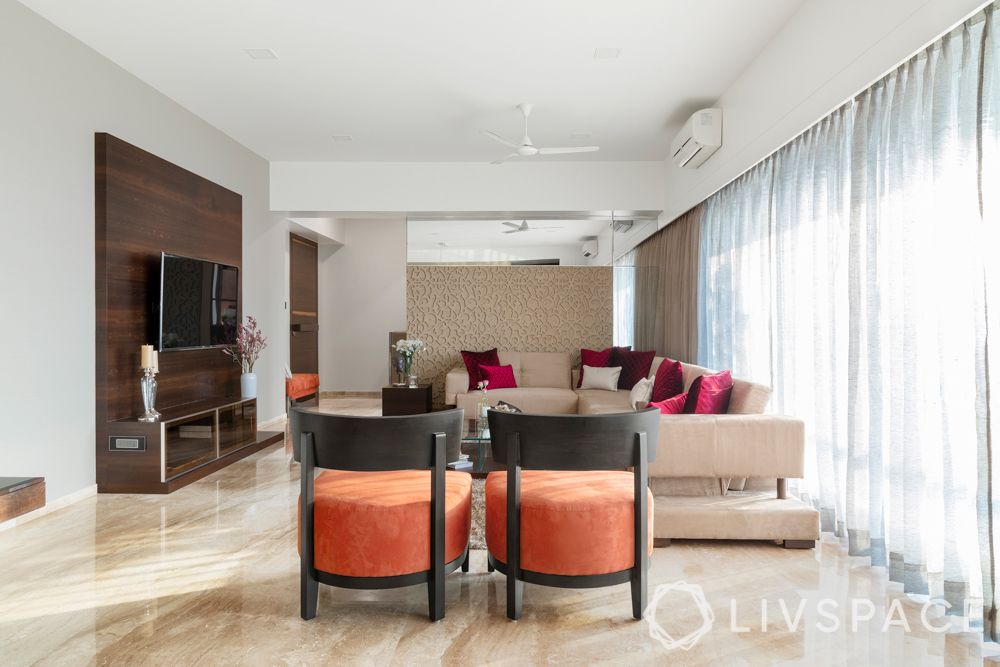 And we have all of the above in this Ajmera Zeon home. The layout is an open one so you can see from one end of the living room to the other without any instructions. The furniture all adheres to very clean geometric lines and their silhouettes are not bulky. Structurally, this could well be a minimal home.

Design Takeaway
#2: The colour scheme is largely monochromatic with some textures and patterns used for visual interest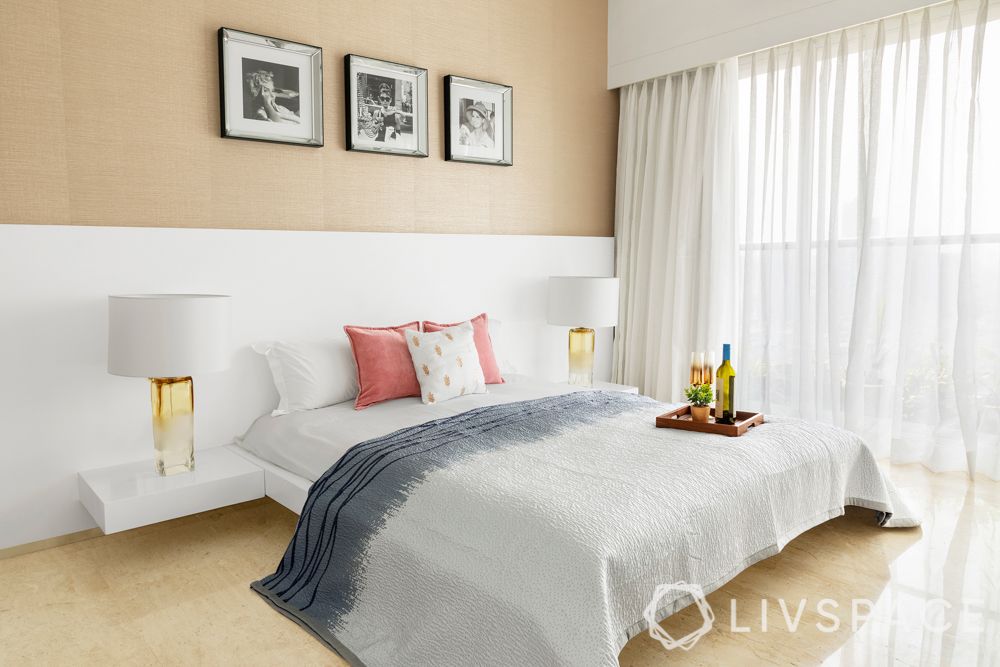 There is a play of neutrals in this home both in the living room and bedroom. In the bedroom a shade of nude is repeated in the flooring and wall which is offset by the floating bed which is white in colour. In the living room, both the furniture and the accent wall is a similar shade of light brown. However, the textured effect of the silk wallpaper on the accent wall creates visual interest. Also, we are smattering of orange and red pops using soft furnishing to create focal points within the room.
Design Takeaway
#3: Introduce the glam quotient with plush upholstery while keeping everything else simple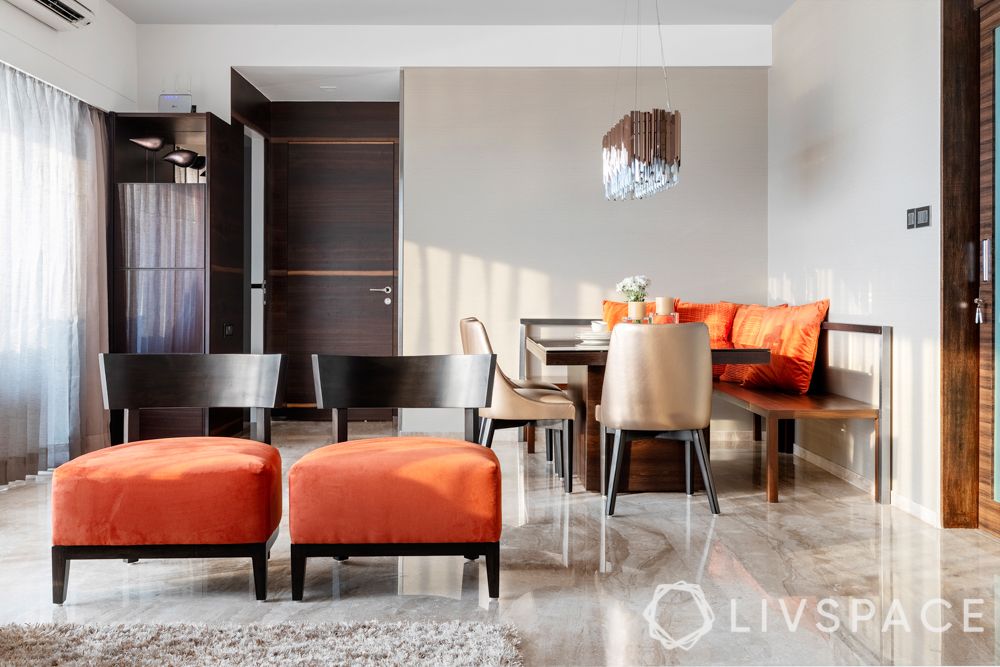 The glam element of this style comes in through plush fabrics used for soft furnishings and upholstery. The silk cushions covers don't really escape your attention here and the rug is a statement piece in itself. The sofa is covered in rich suede. Even the wallpaper is made of silk!
Design Takeaway
#4: Work in some metallic tints with accessories and lighting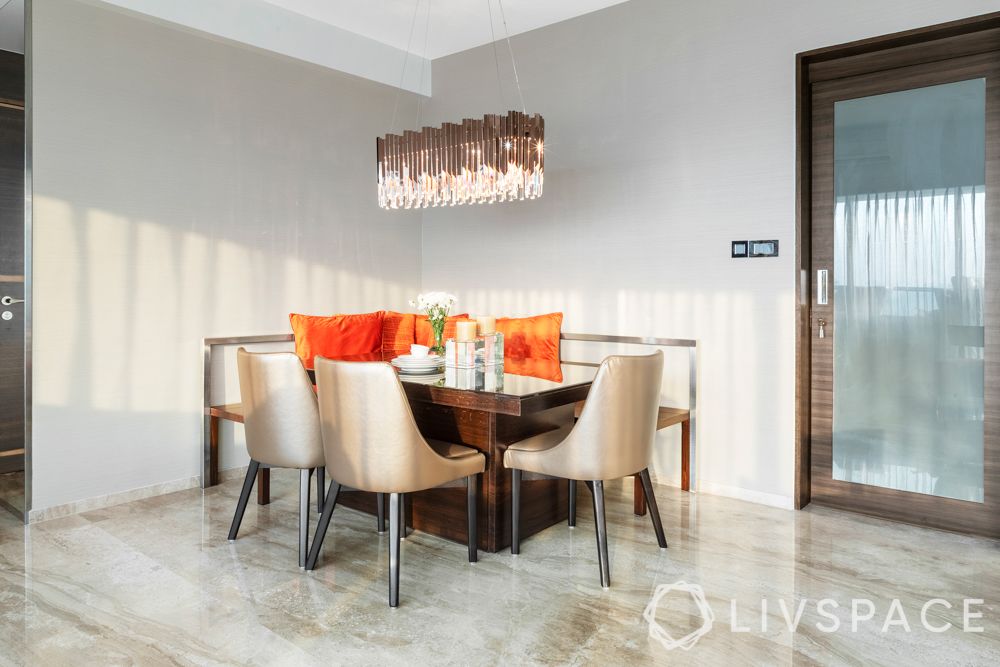 It's not just the fabrics that bring in luxury in the equation here. You surely cannot overlook the role played by the metallic accessories and the crystal chandelier. There is a similar use of metallic lights and accessories in the bedrooms too.
Design Takeaway
#5: Use glossy, reflective surfaces generously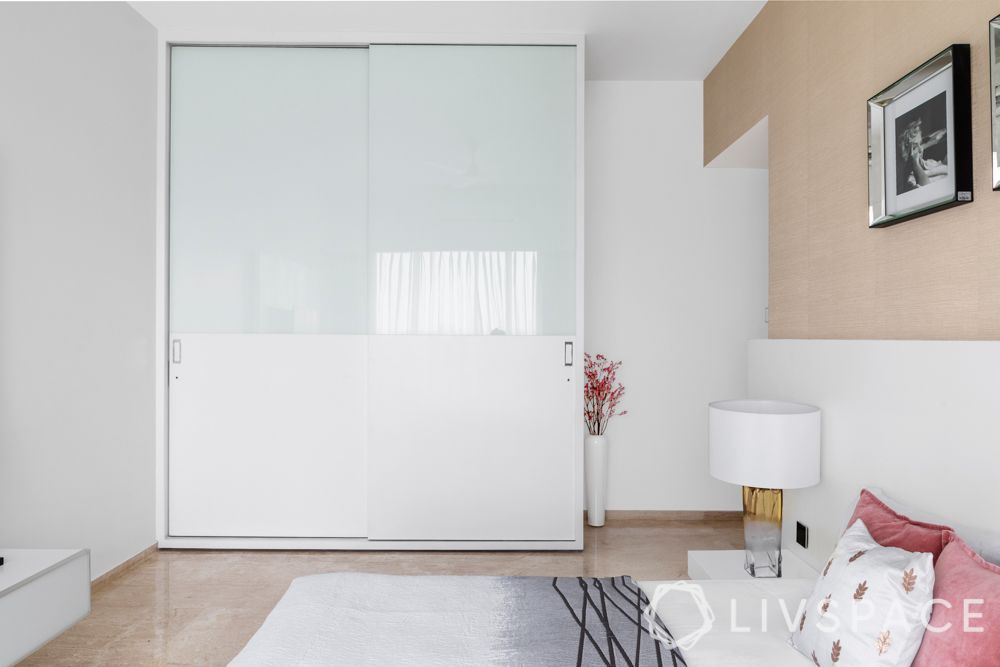 Mirror or other glossy reflective surfaces add volume to a space. They also create a very luxurious aura that is well in line with the minimal glam style we see in this Ajmera Zeon home. For instance, the wardrobe shutters in both the bedrooms have glossy lacquered glass finish. Also, we see plenty of mirrors in the living room that complement the diffused lighting.
Design Takeaway
If you enjoyed reading about this home, also explore our video tour of this playfully eclectic home in Bengaluru.
We love hearing from you! Write to us at editor@livspace.com