When you take a look at this 3BHK Ireo Skyon interior, the first thing you'll want to know is how to create a relaxing home that is your own personal sanctuary. If you don't know where to start, creating a calming home is easier than you think.
By using simple design principles and the right decorating elements, you too can have a home that's straight out of Pinterest. Come, take a tour of this Ireo Skyon Gurgaon home: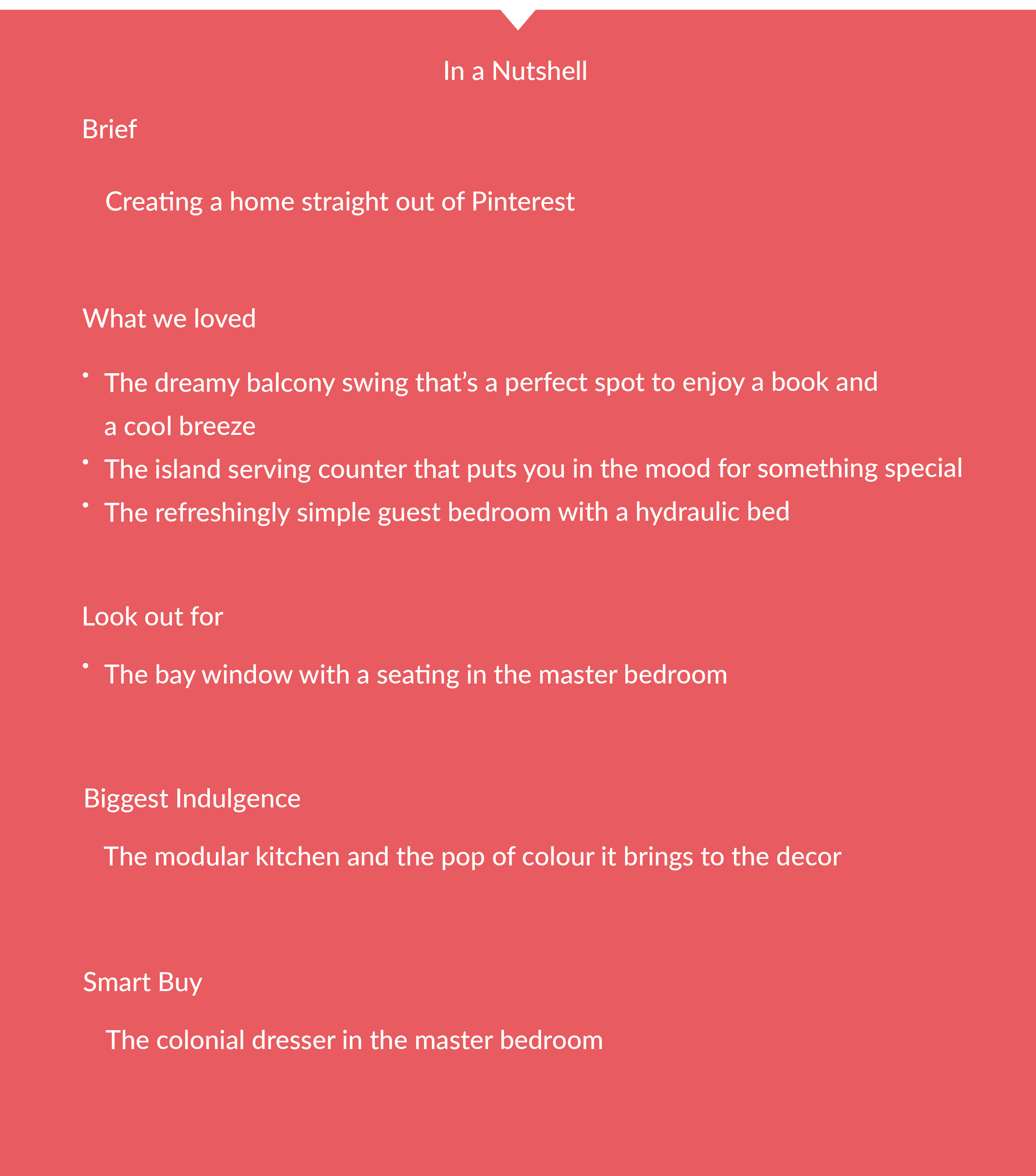 1. Decorate the Master Bedroom With a Bay Window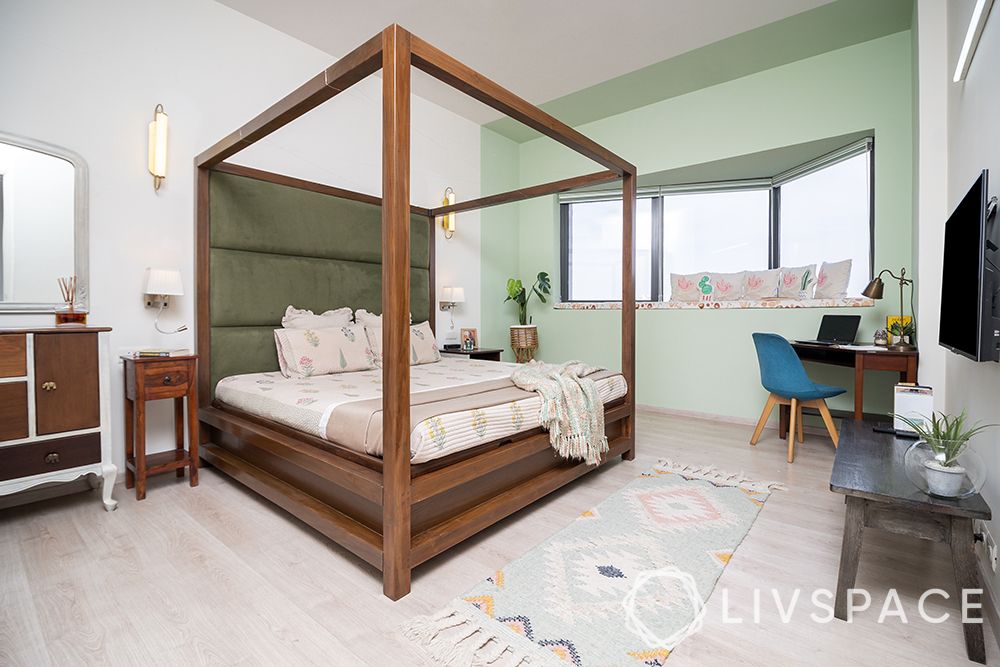 When designing a relaxing home, start with a neutral colour palette. Or, opt for a calming sage green colour as found in this 3BHK Ireon Skyon interiors in Gurgaon.
The value of natural light cannot be overemphasized. So, if you've the chance to throw in a beautiful bay window that'd lend a glow to your home, step up and take the chance.
Throughout this home, you'll find classic interiors, soothing colour palettes and colonial furnishings that create a stress-free environment.
2. Create a Stress-Free Dining Area With a White Palette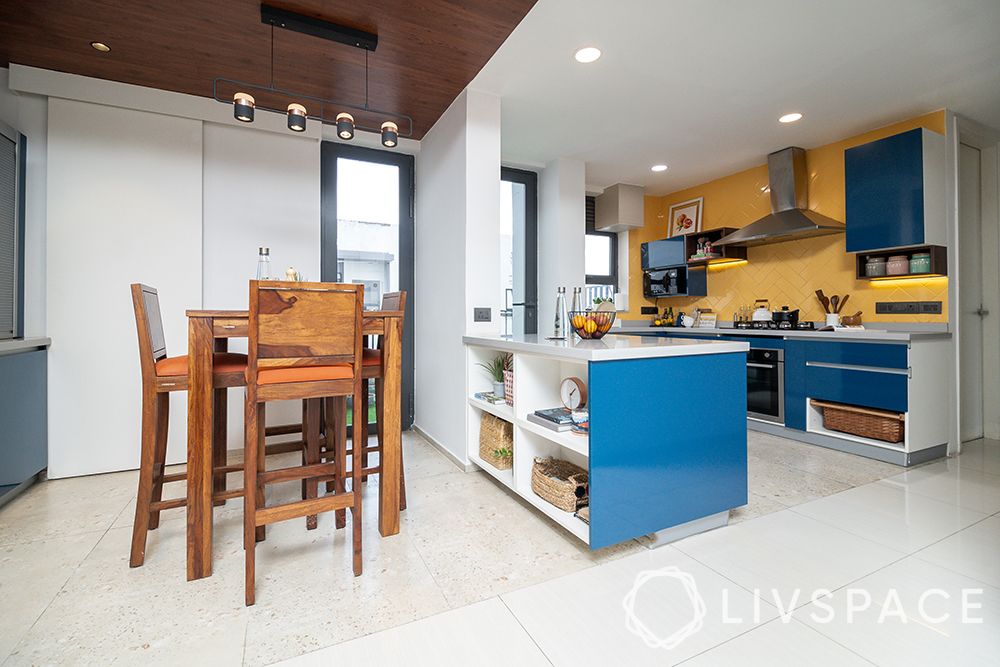 Muted colours are easier on the eye, and there's nothing more soothing than the calming shade of white. Create a non-distracting atmosphere for your dining room that lets you enjoy intimate mealtimes in peace.
This Ireon Skyon 3BHK's interior design mixes many different styles to create a serene place. Livspace used industrial hanging lights and a false wooden ceiling to give a much-needed contrast to this otherwise plain palette.
3. Organize Chaos, Add Colour in the Kitchen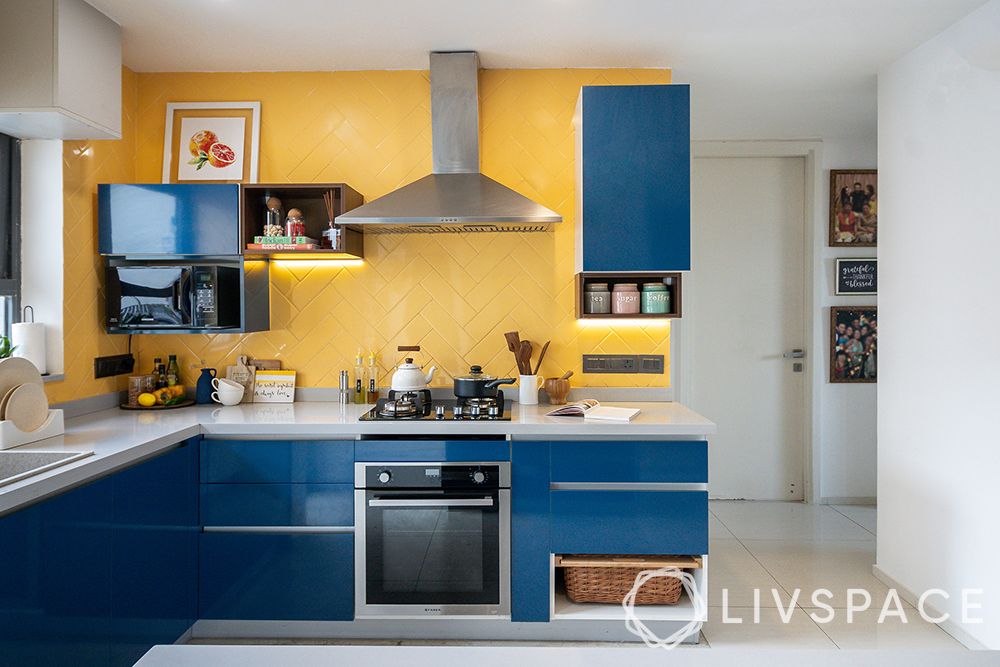 While this 3BHK Ireo Skyon interiors prioritises a neutral colour palette, it adds in a punch of positivity and happiness with bright colours in the kitchen.
This helps create a focal point so that every time you pass by the kitchen, you can take in the joy of vibrant colours. The 3 BHK interior design of this Ireo Skyon property also keeps it kitchen functional and practical. That increases the ease of everyday life, and helps calm your senses.
Like the yellow? Here's another modern modular kitchen you might like.
4. Maximise Comfort of Your Serving Station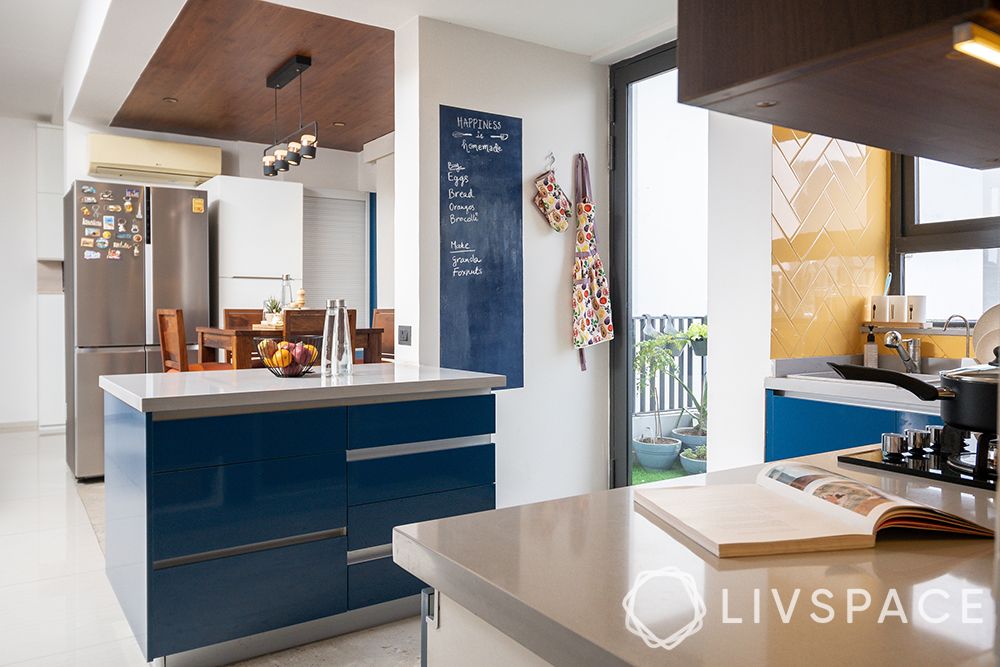 Most modern kitchens either have a breakfast counter or a serving station, they can't do without. This 3BHK Ireo Skyon interior uses a clever hack to add a kitchen counter, even in a small space.
Take a cue from them and make your kitchen and serving counter a lively space. Tap here for some expert advice on how to make the most out of a small kitchen.
5. Engage Your Senses in This Study Room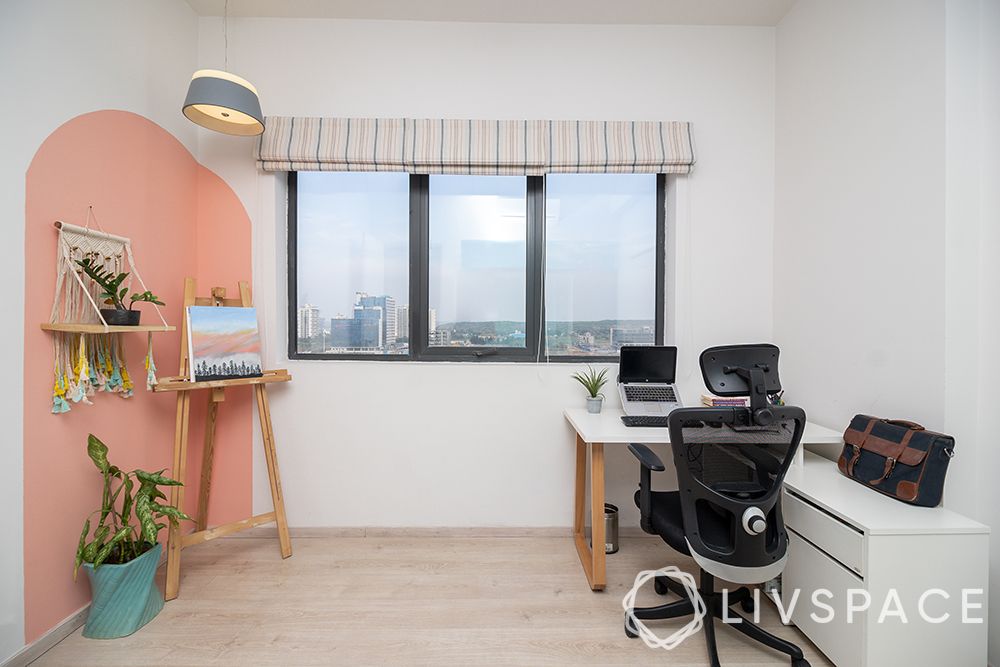 Your home either supports your energy or depletes it. With work from home taking precedence all over, it's important to have a home office—but what happens if you combine it with a beautiful view?
You create a paradise. That's what this 3BHK Ireo Skyon interior in Gurgaon does. There's also a nook for painting away panoramas you see in front. Isn't it beautiful?
6. Soften Your Living Room With Textiles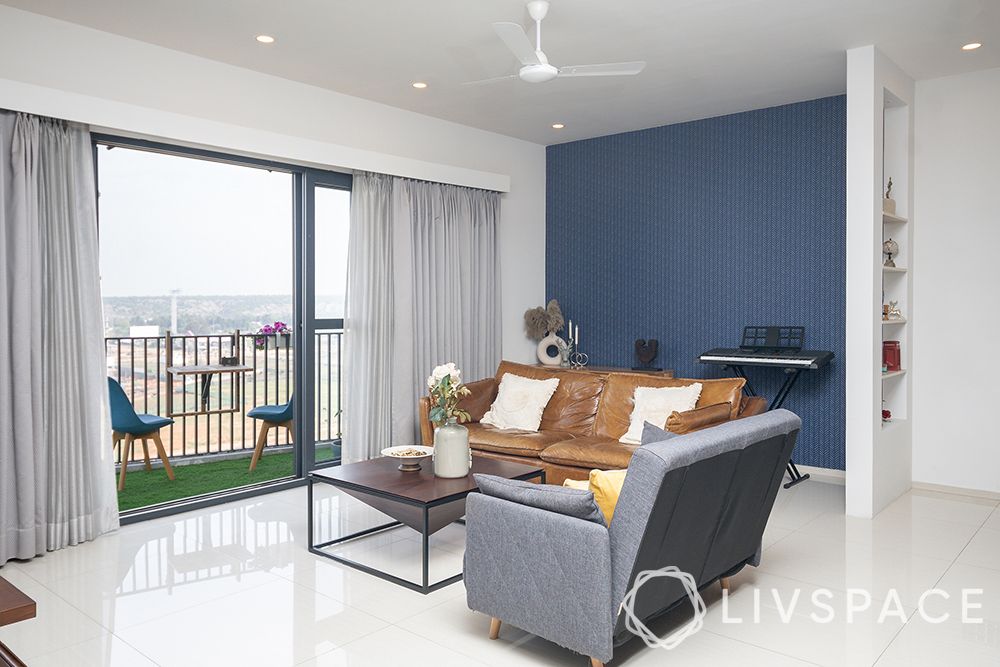 Adding layers is a great idea to soak away stress and create a serene space. This 3BHK Ireo Skyon interior makes use of a leather sofa and grey sofa to create a relaxing spot.
Throw in a few more pillows, in a variety of shapes and sizes, and you'd have created a home with a relaxing look and a feel. Don't forget to let your living room decor have an airy vibe.
7. Emphasize a View to Nature in Outdoor Spaces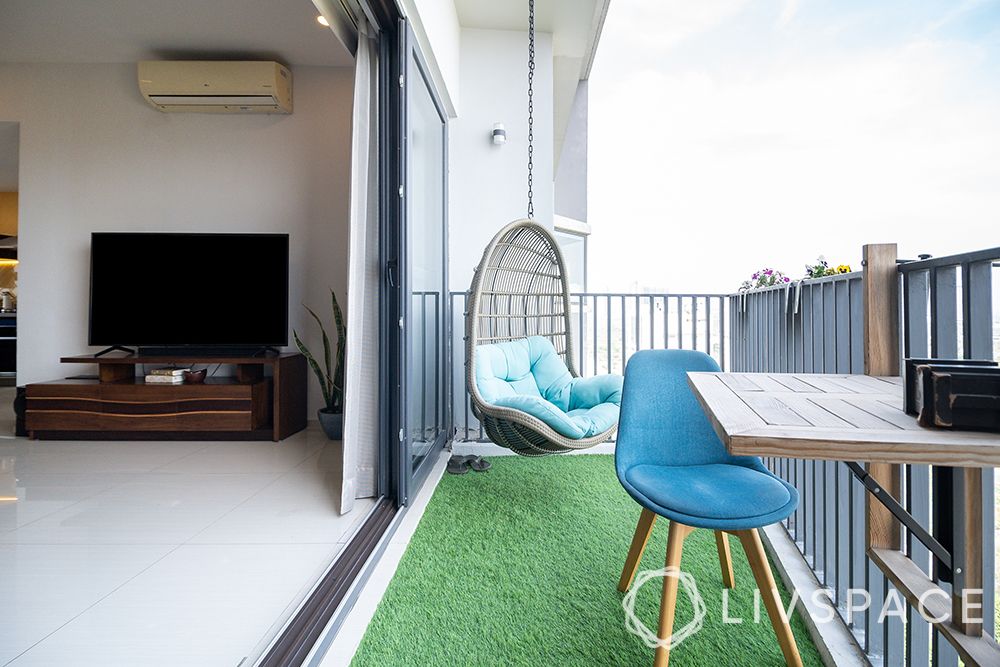 Nature is always known to have a relaxing effect on mood. While designing the balcony, our Livspace designer thought there wasn't much to imbue to this space.
Rather, she had to step back and emphasize spaciousness, where each space just flows into the next. You'd never associate a cramped space with a sense of calm, then why clutter it?
Keep it simple: throw in a few furnishings and a lovely, ornate swing to help you enjoy your natural settings.
8. Give the Guest Bedroom a Quick Refresh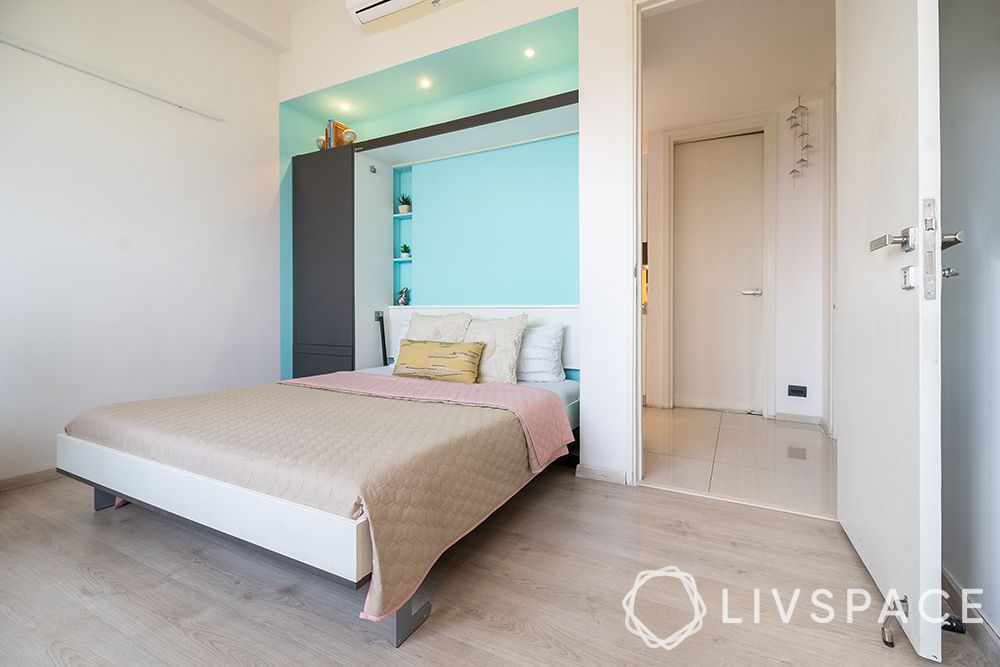 With a soothing colour palette and a tranquil accent wall, the guest bedroom features a hydraulic bed and a wooden wall cabinet to store away essentials.
That's because a home that feels relaxing is one that's inevitably organised. Moreover, when a space feels too designed, it isn't homey. The key to find the balance relies on keeping it simple, and that's precisely what we've done here.
A Design Secret From This 3BHK Ireo Skyon Interior
To extend the calming effect of your home, design in colours that comfort you and only put up artwork that brings you true joy. Create a spa-like atmosphere with warm colours and soft lighting. Throw in some soothing music, and it's perfect!
How Can Livspace Help You? 
If you want beautiful interiors for your home, book an online consultation with Livspace today. Want to know more? Drop us a line at editor@livspace.com.