An old house renovation that will turn heads!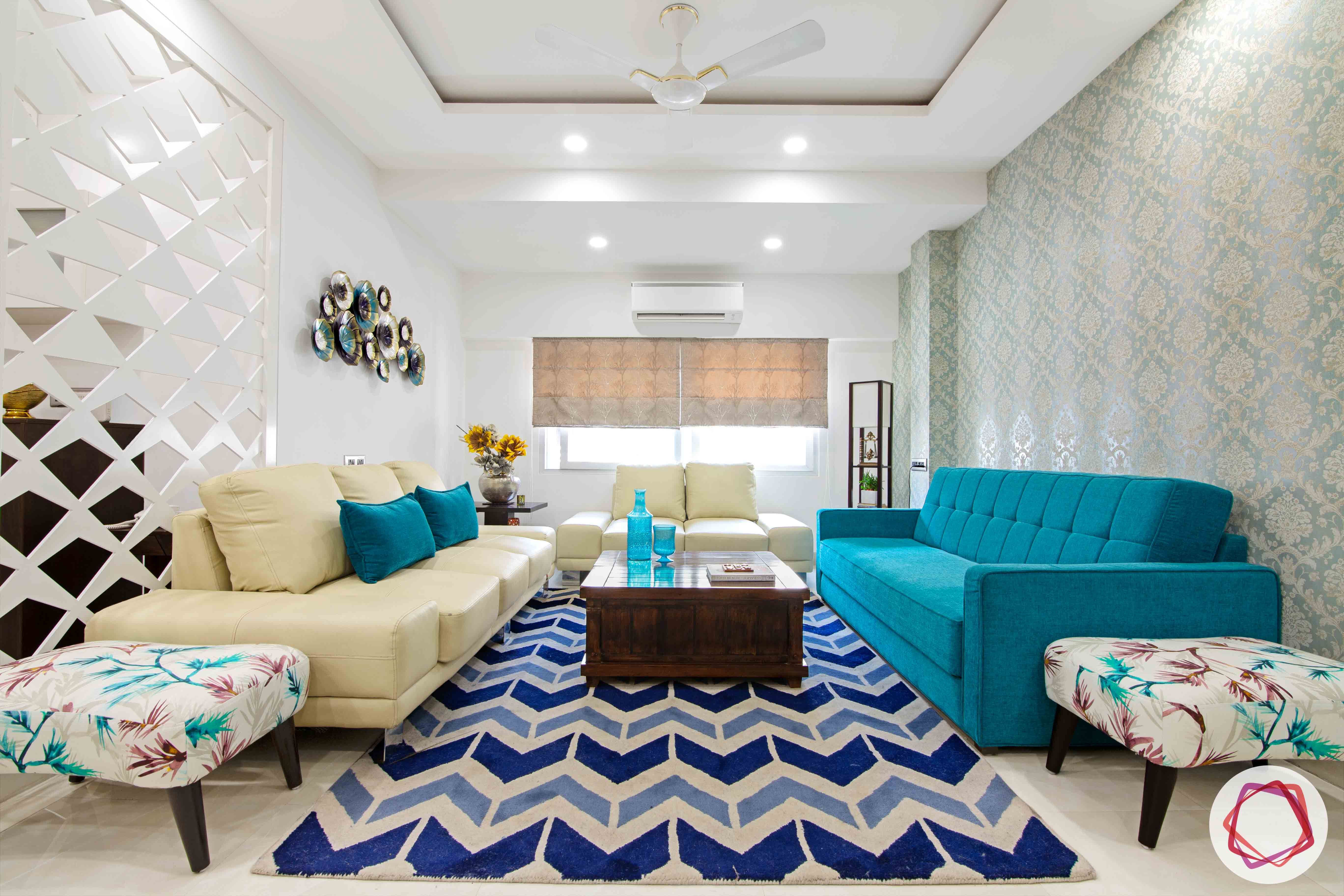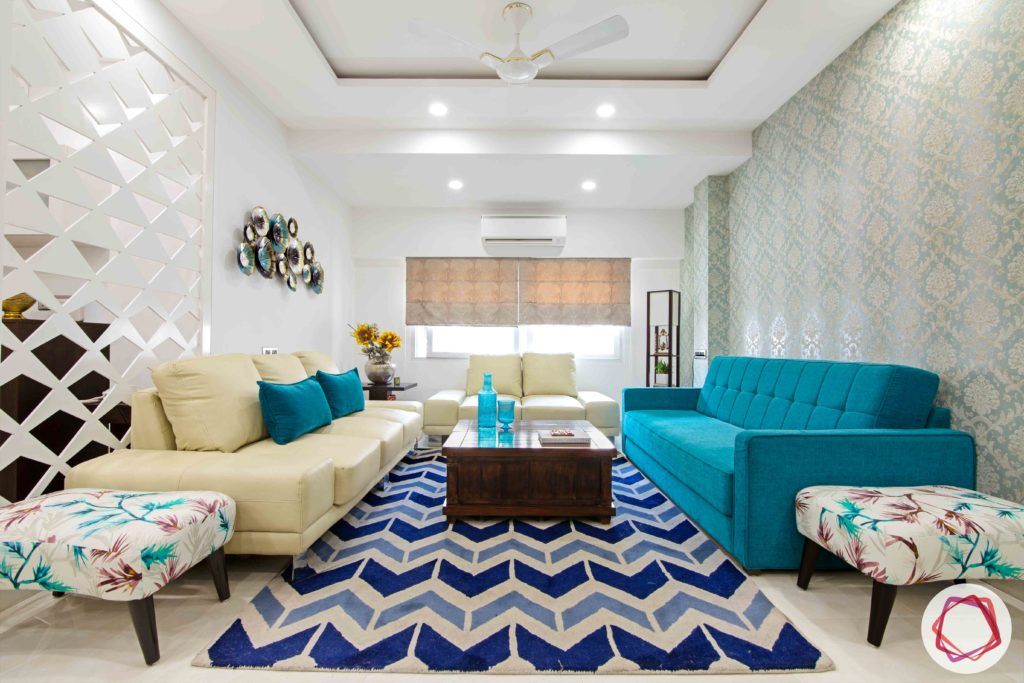 ---
Who livs here: Rishi Agarwal, his wife, their two kids, and his parents
Location: Gail Apartment, Sector 62, Noida
Size of home: 3BHK spanning 1,750 sq ft
Design team: Interior designer Payal Khetan Gupta
Livspace service: Full home design
Budget: ₹₹₹₹₹
---
We love home makeovers! Especially ones where there's a lot of heart and history behind the walls. Rishi Agarwal and his family have been living in Gail Apartments, Noida, for more than 15 years now. While Rishi, his wife, their two children and his parents love their home, their interiors were no longer working for them. The old layout and outdated interiors were calling for a makeover. And we happily answered!
Our designer Payal Khetan Gupta was soon put to the mammoth task of this old house renovation. From the ceiling to the flooring, and everything in between. And the end result is simply gorgeous! Let's walk right in.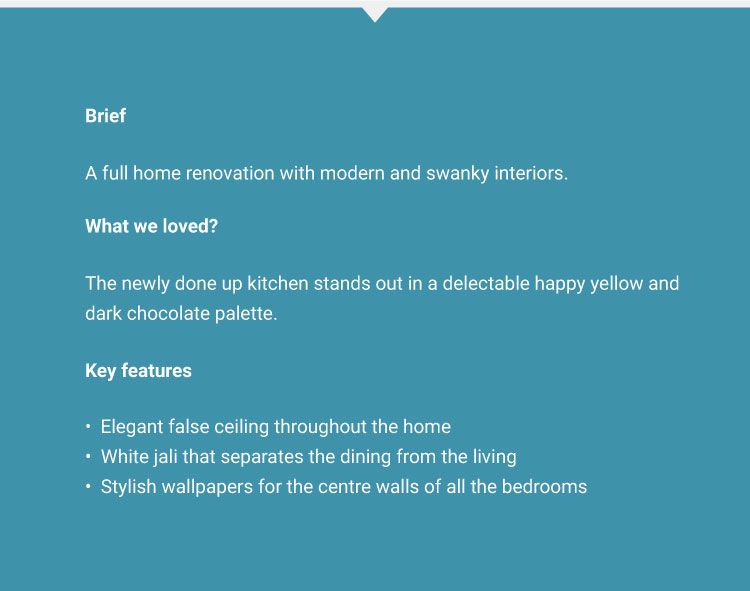 Minimal foyer design for an old house renovation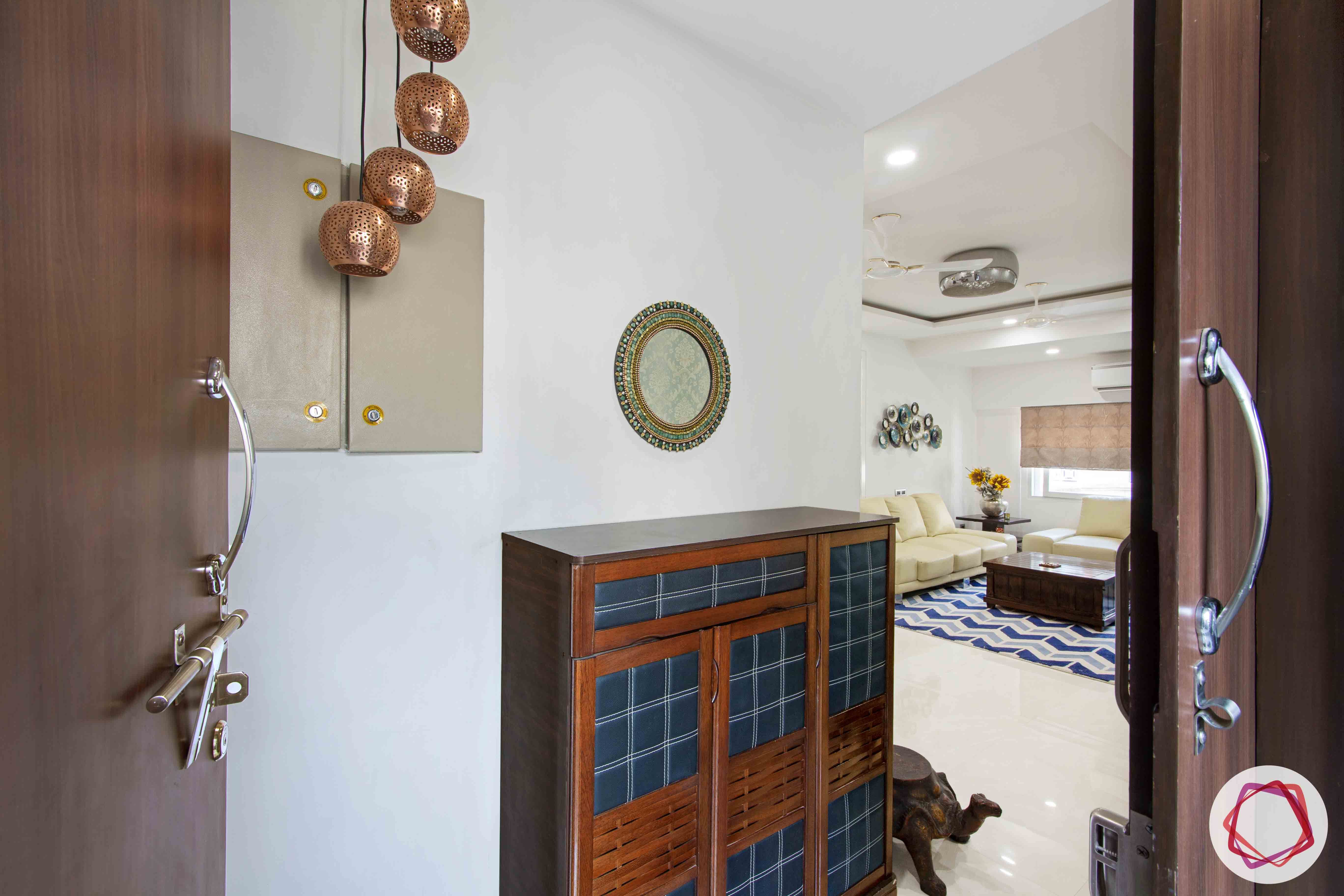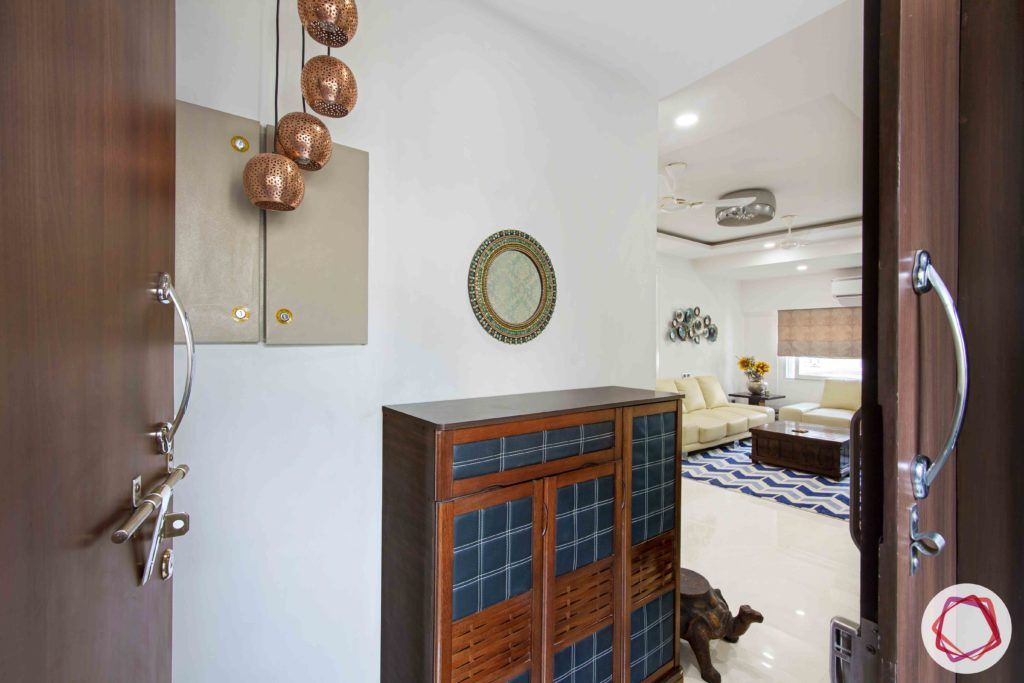 The foyer is minimal and functional at best. While the shoe cabinet is part of the family's existing set of furniture, Payal added accent lights and a stone-framed mirror for a bit of drama.
The Living room goes from flat to fresh!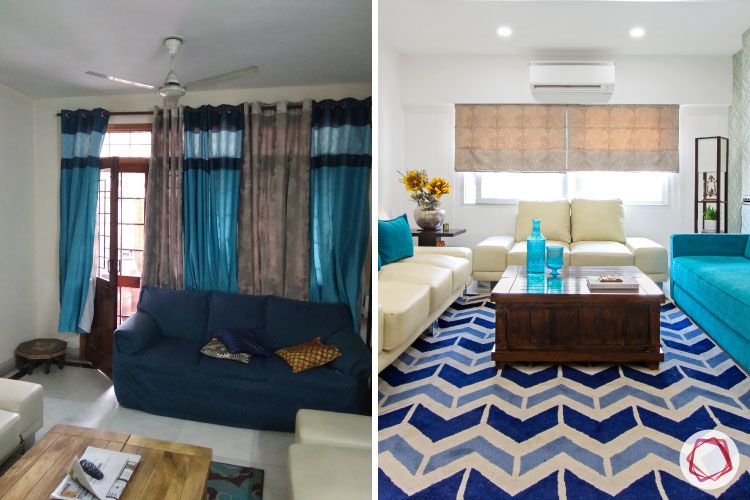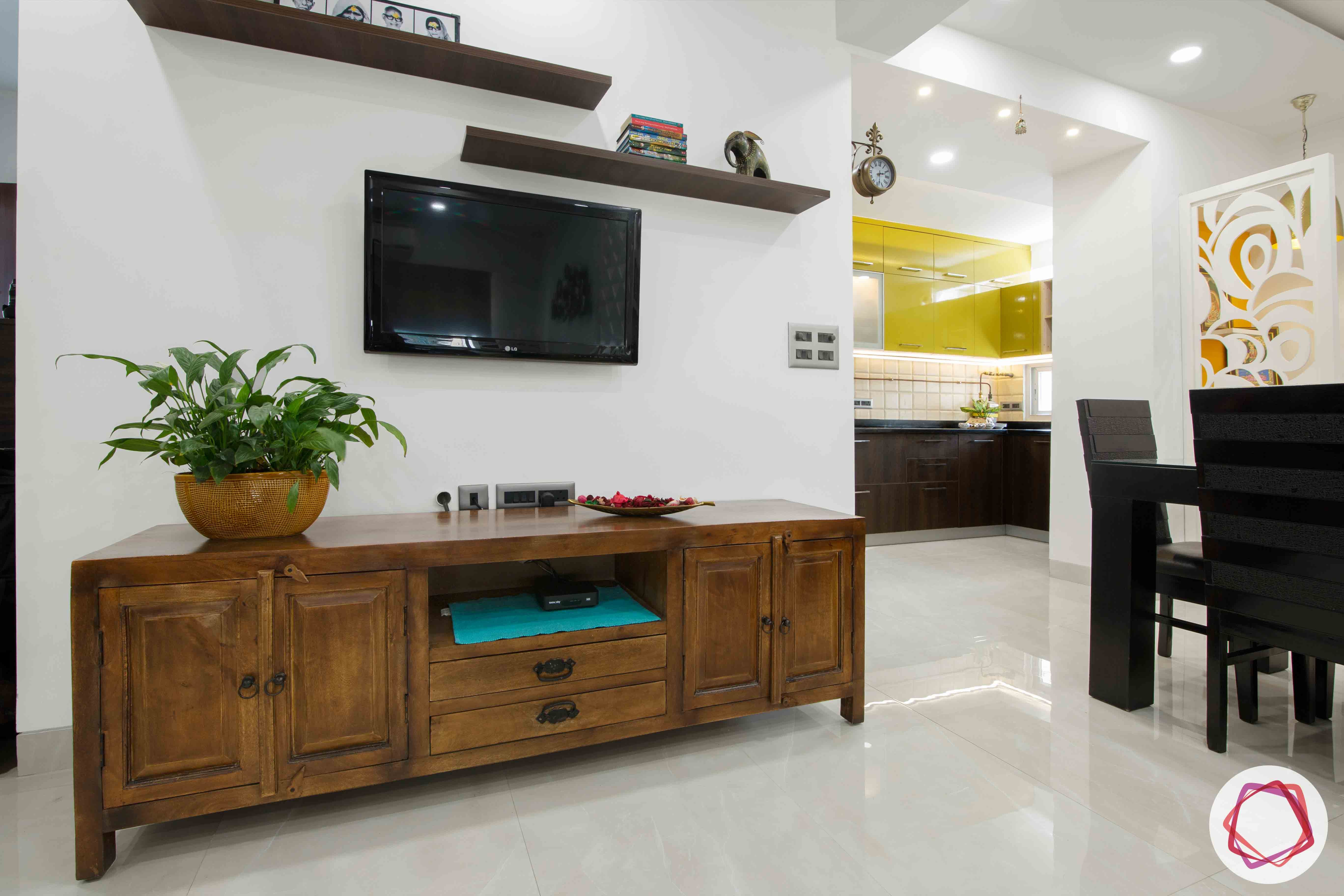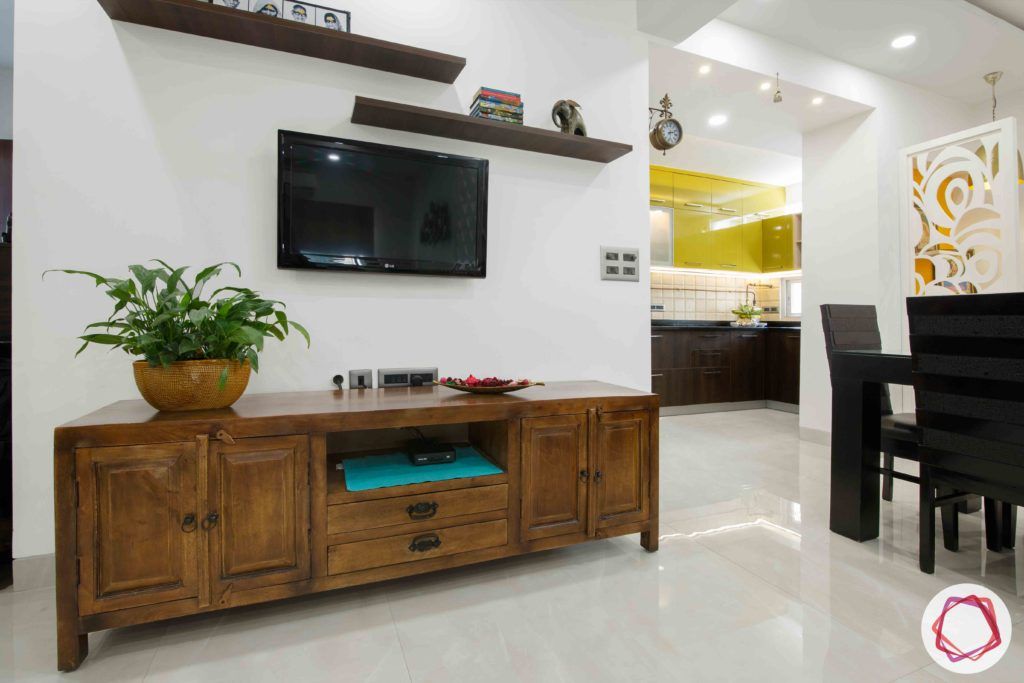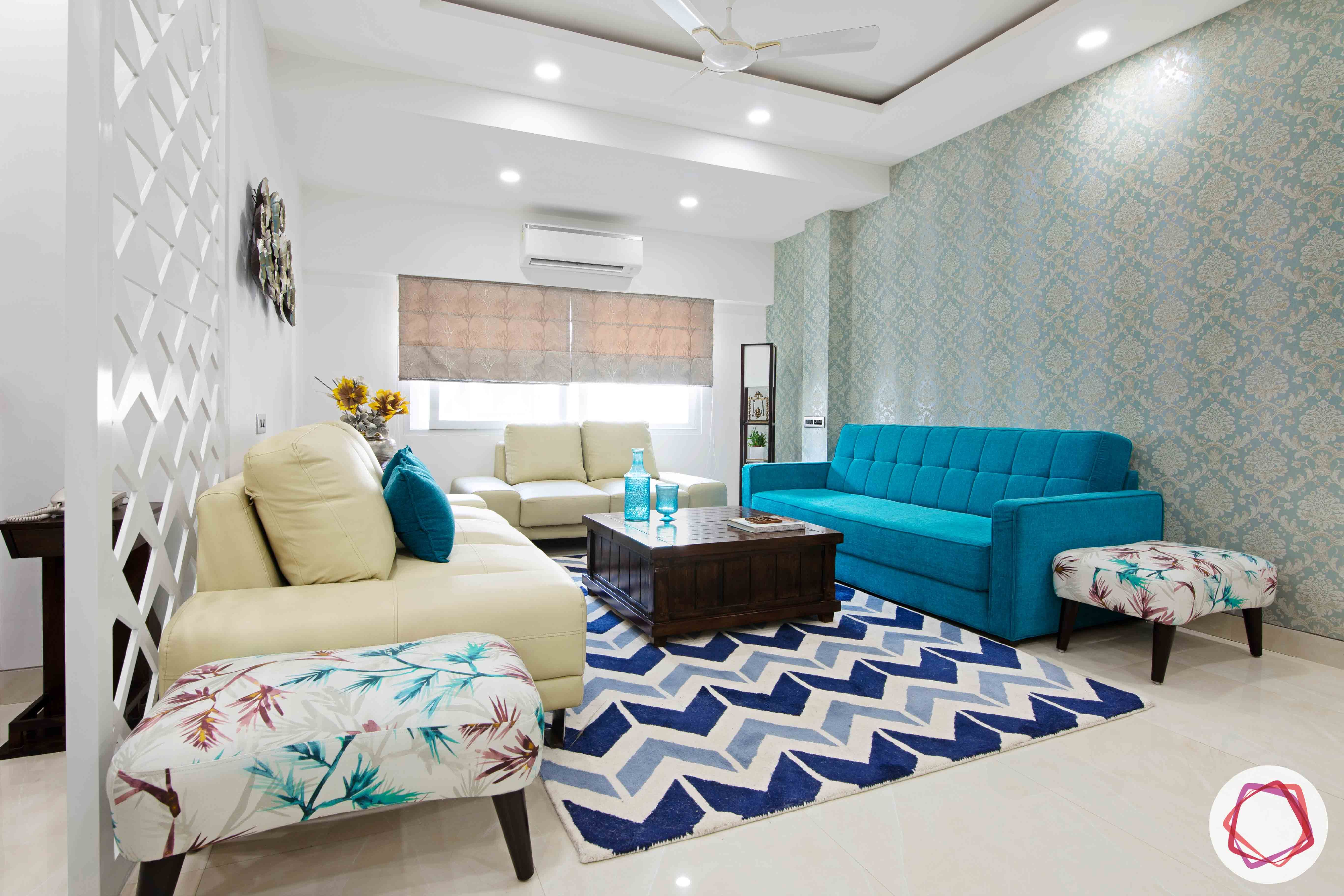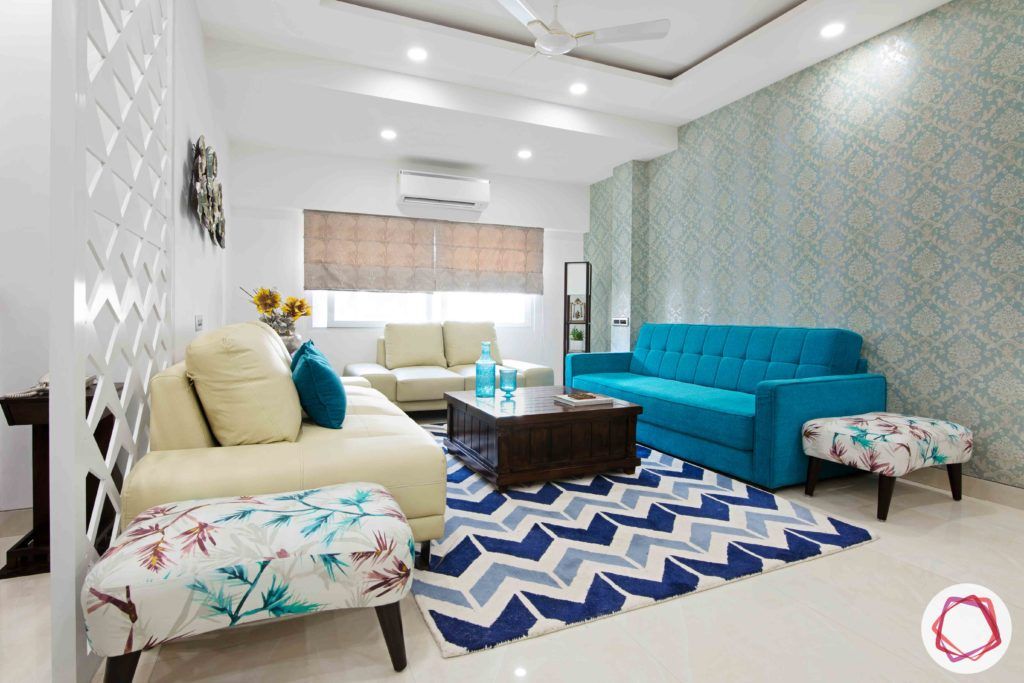 If you ever needed inspiration to revamp your living room, this would be it! Flaunting a gorgeous light blue wallpaper as the backdrop, the living room basks under refreshingly breezy hues. While the beige sofas are part of their existing furniture, Payal put in a blue sofa-cum-bed for overnight guests and two floral ottomans for extra seating. Notice how the patterned rug offers a bit of texture to the space?
Since the old house renovation layout of the balcony wasn't working for them anymore, Payal rehauled it completely and bought it in. As a result, the living room is a lot more brighter, especially with elegant false ceiling and vitrified flooring. A white jali has been placed to separate it from the dining room.
An elegant dining room design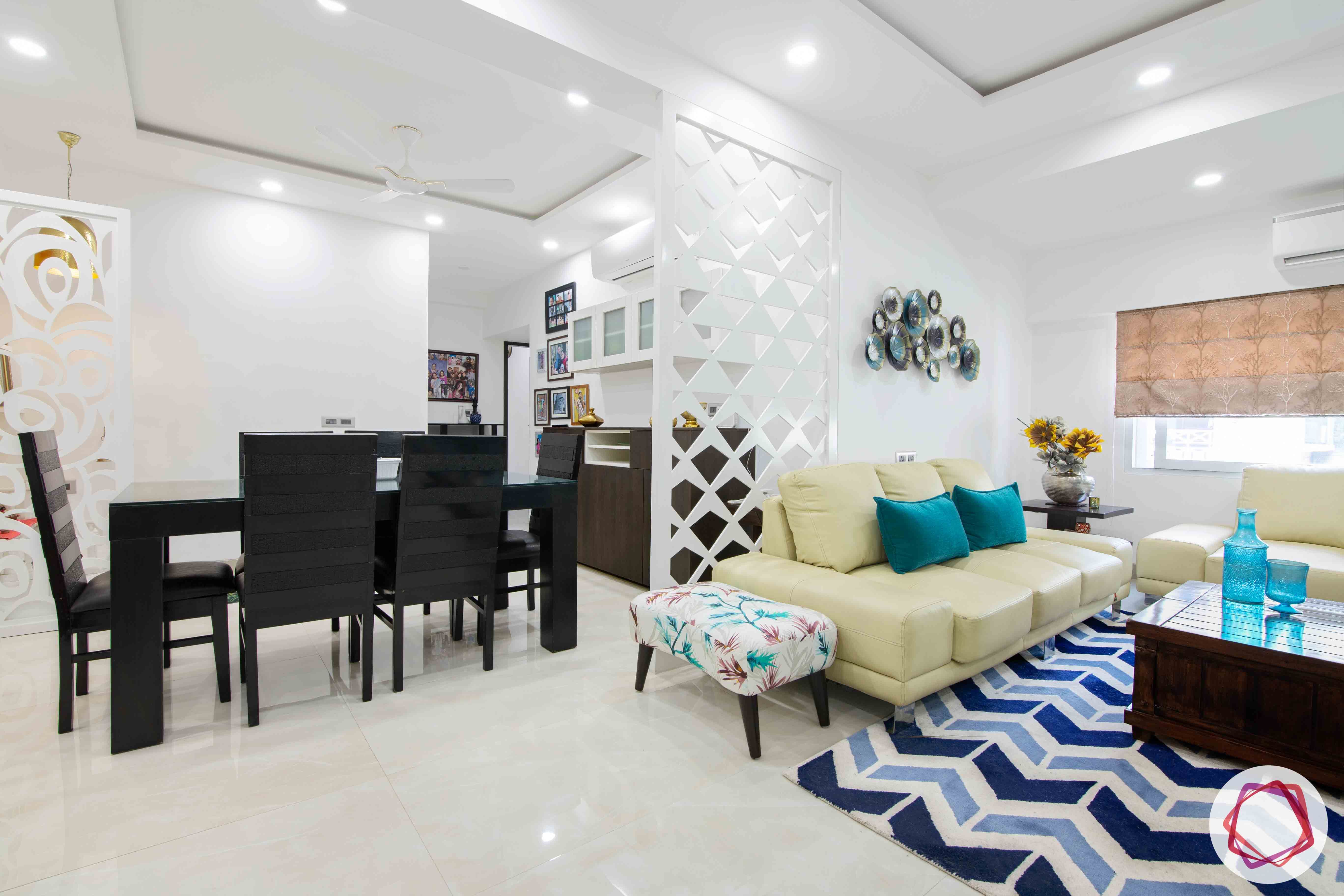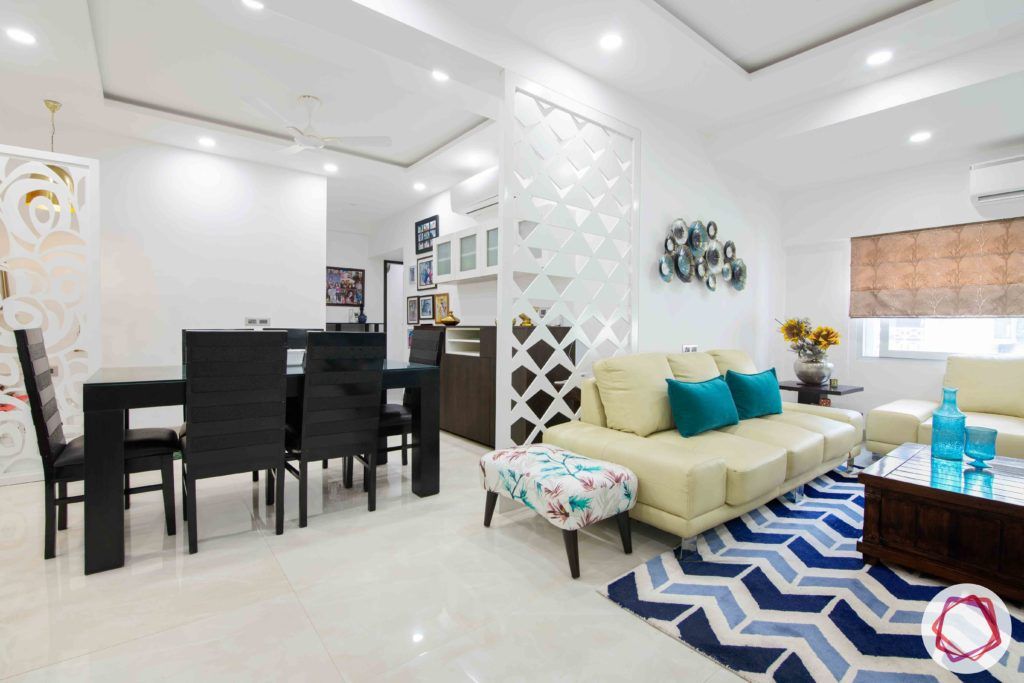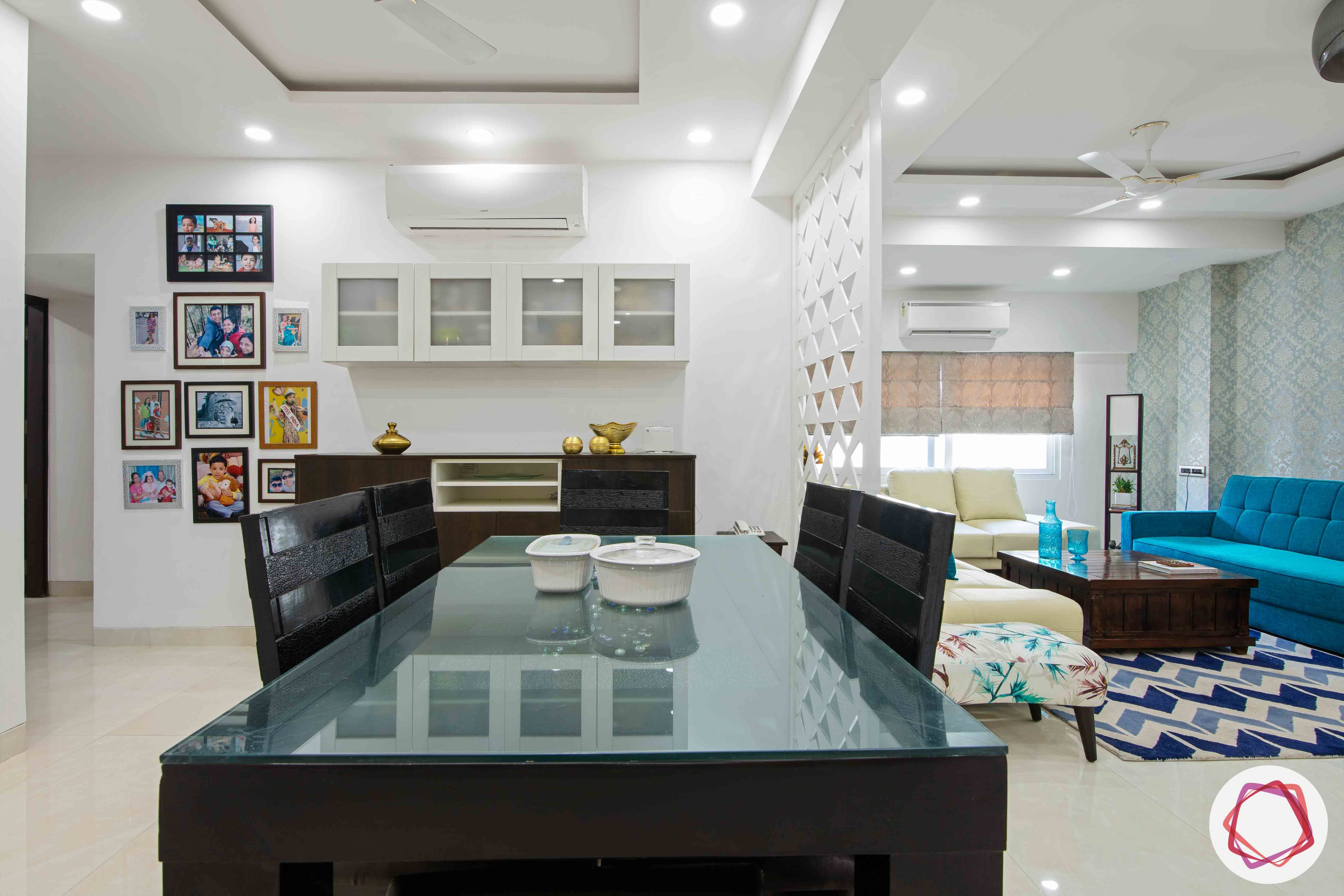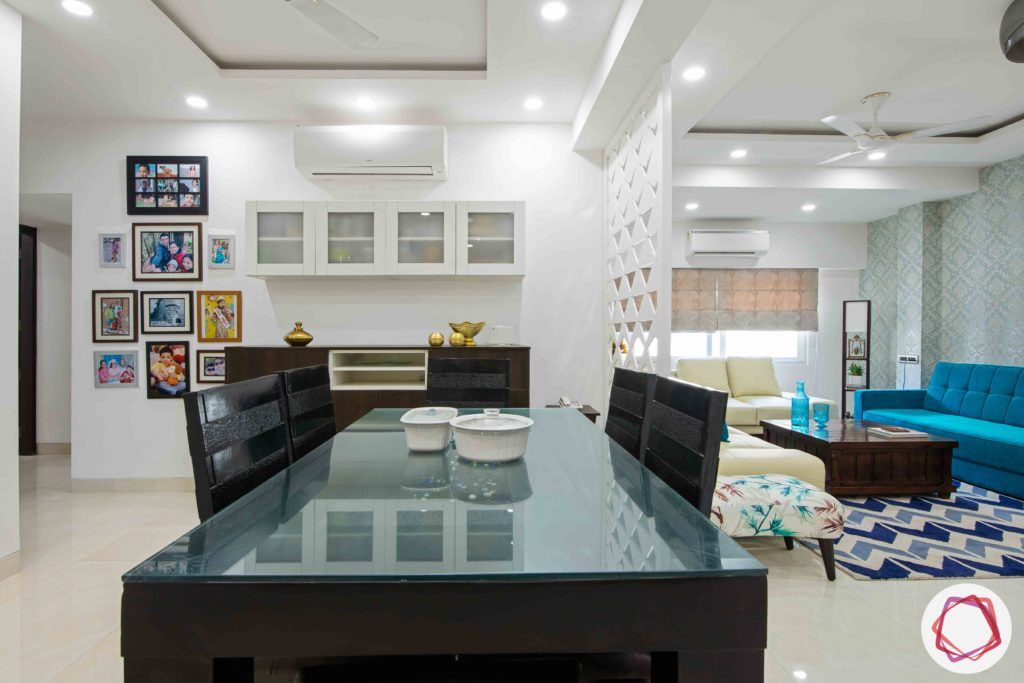 The design for the dining room revolves around the family's original set of slate grey table and chairs. Since they wanted a large serving counter, Payal put in a buffet table that also doubles as a crockery unit. It's been done up in dark laminate to exactly match with the dining set. We love how the space has been turned cosy and personal, thanks to the media wall.
"Our experience with Livspace has been a dream come true! Right from the designing stage to handover, Livspace team has done excellent work. We got all the desired results as promised. Great work from our designer Payal Khetan Gupta, ensured beautiful designs within our budget. Thank you, Livspace!"

Rishi Agarwal, Livspace Homeowner
From functional to a lot more!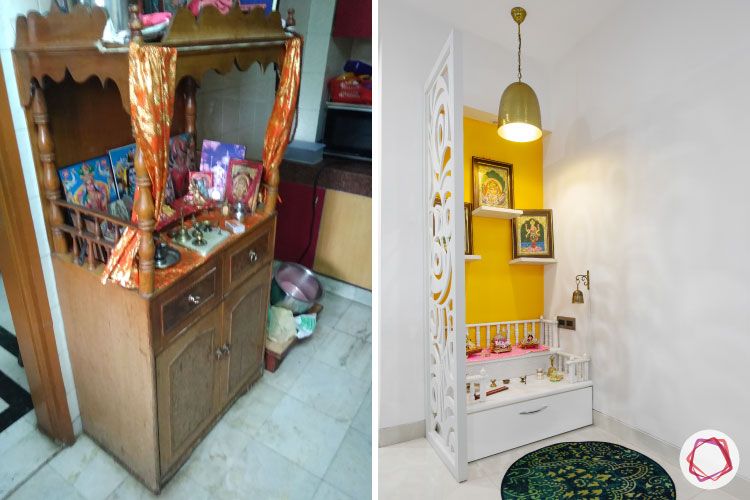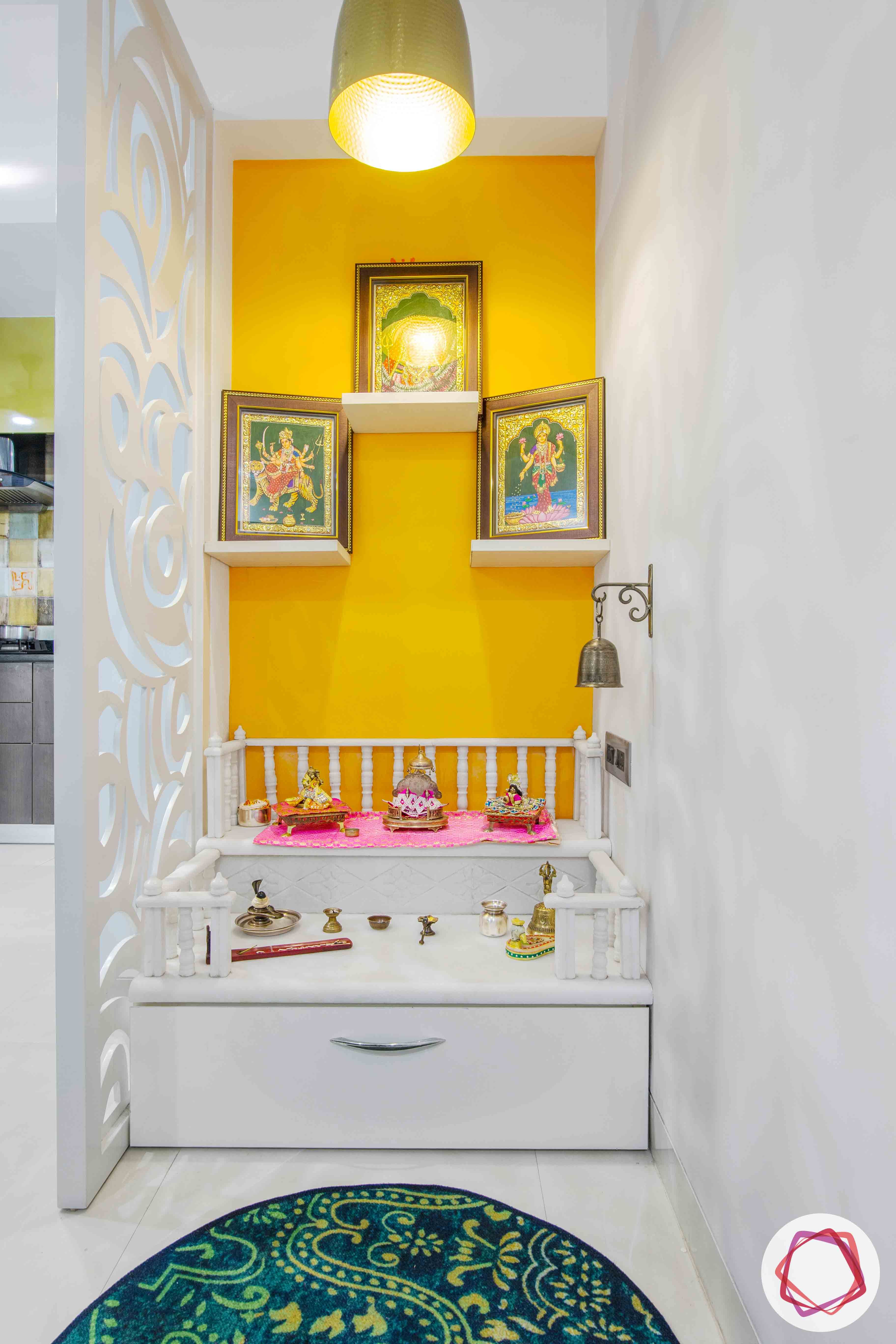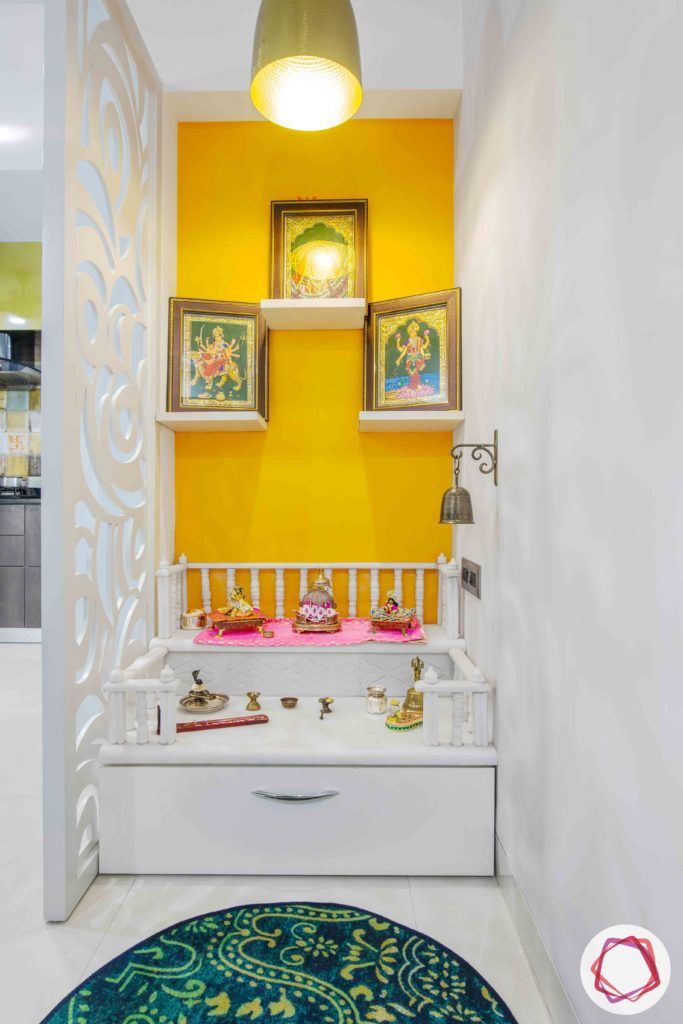 Rishi's parents preferred a pooja where they could sit down comfortably and pray. They didn't want a wall-mounted unit. As a result, Payal crafted a sleek unit that fits into the corner. While the pooja unit was originally placed in the kitchen, a newly done up unit now sits in the dining room nook. To make it a personal sanctuary, she also added an elegant lattice jali to separate the section from the rest of the home. Moreover, the pop of orange serves as the perfect backdrop for the pooja space.
Out with the old and in with the new kitchen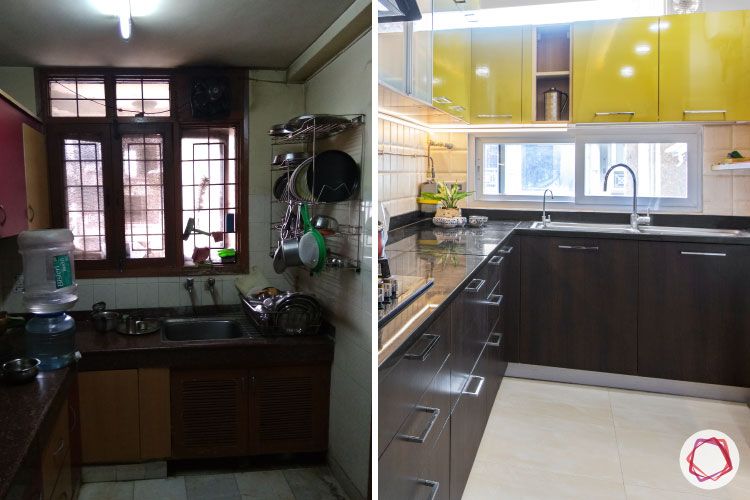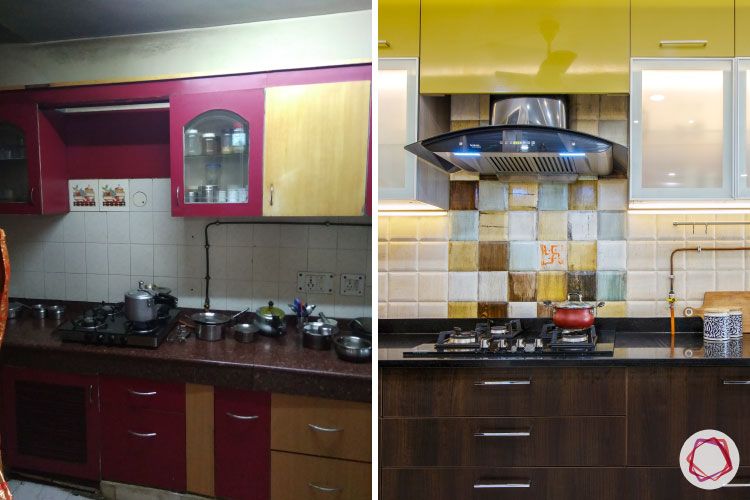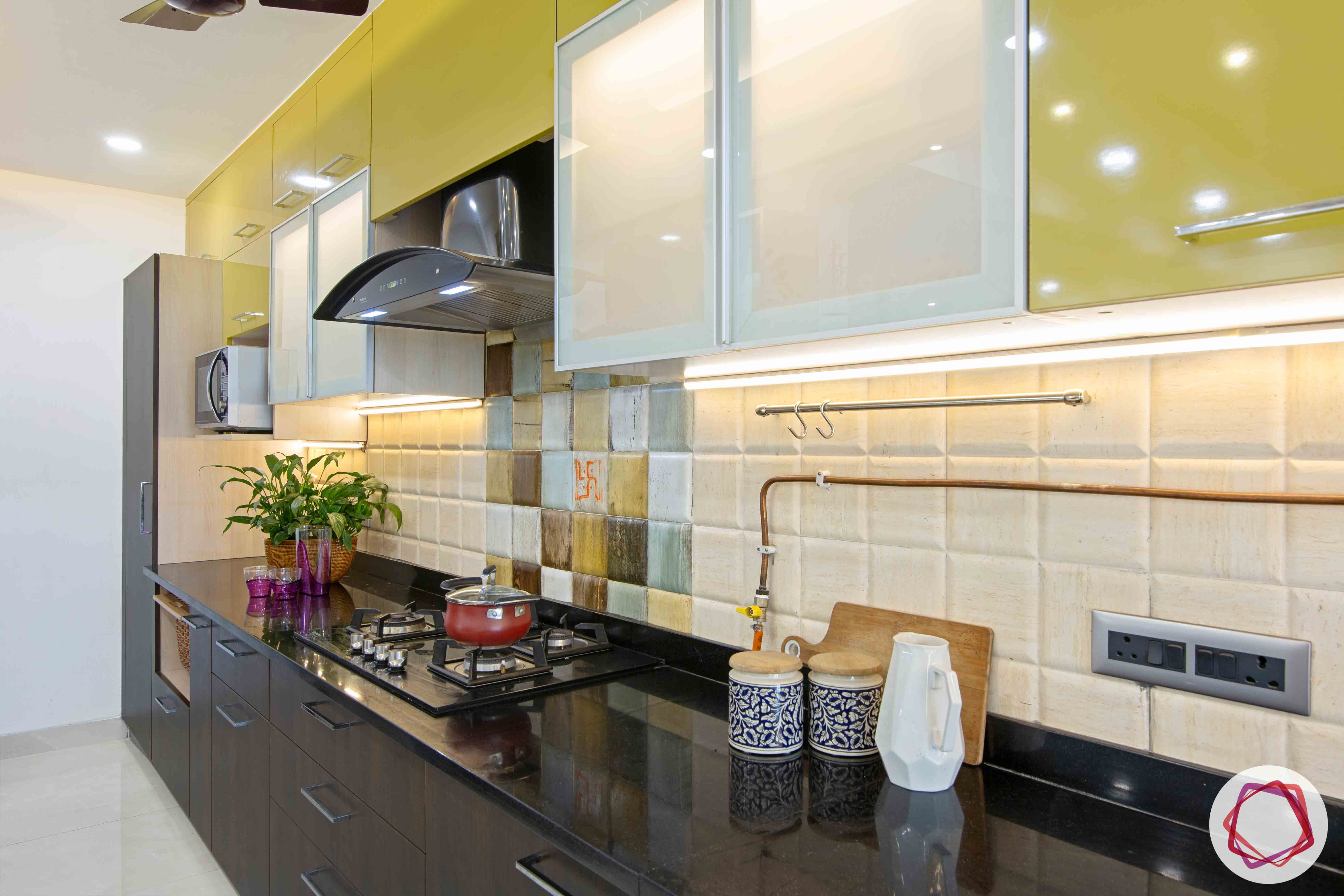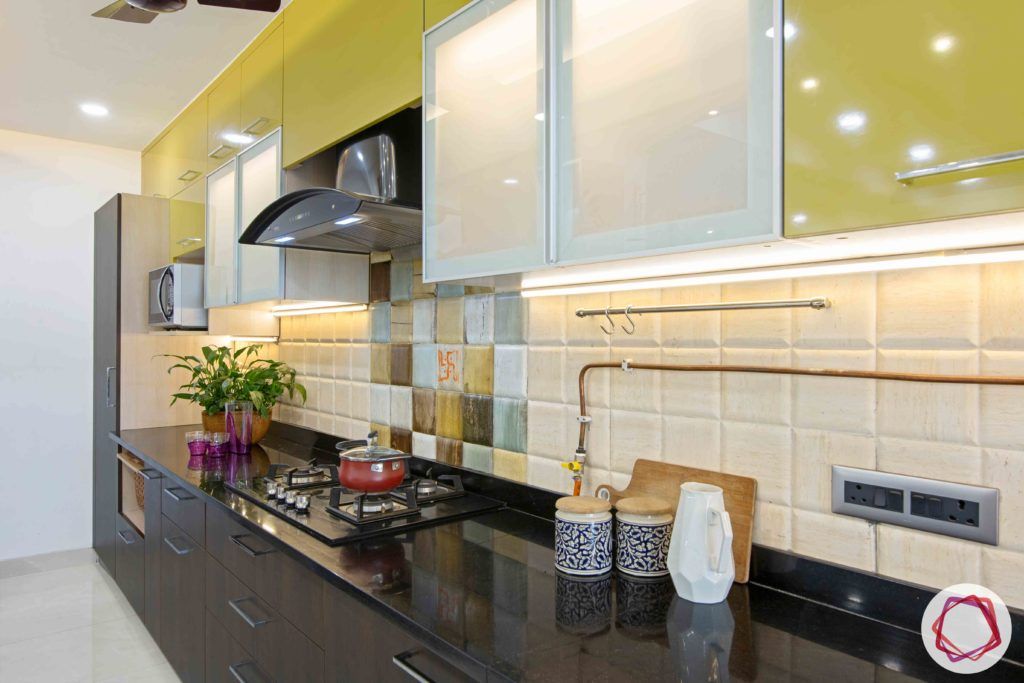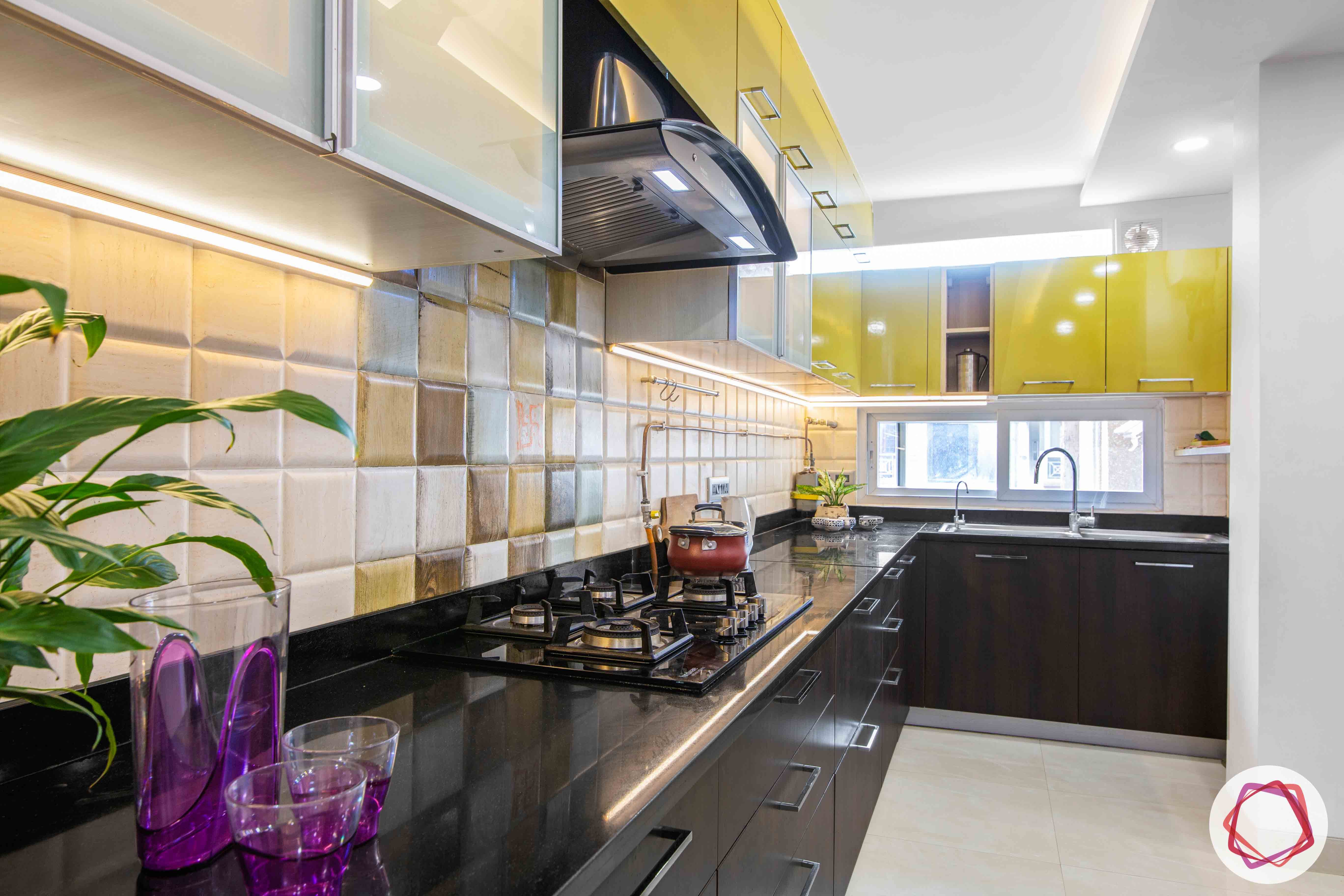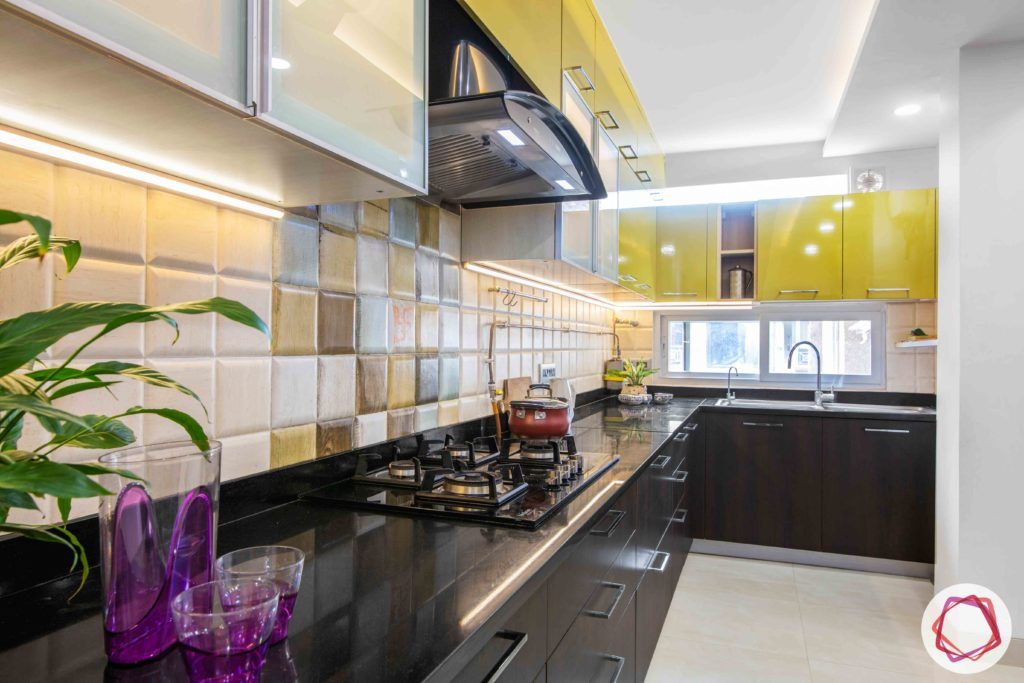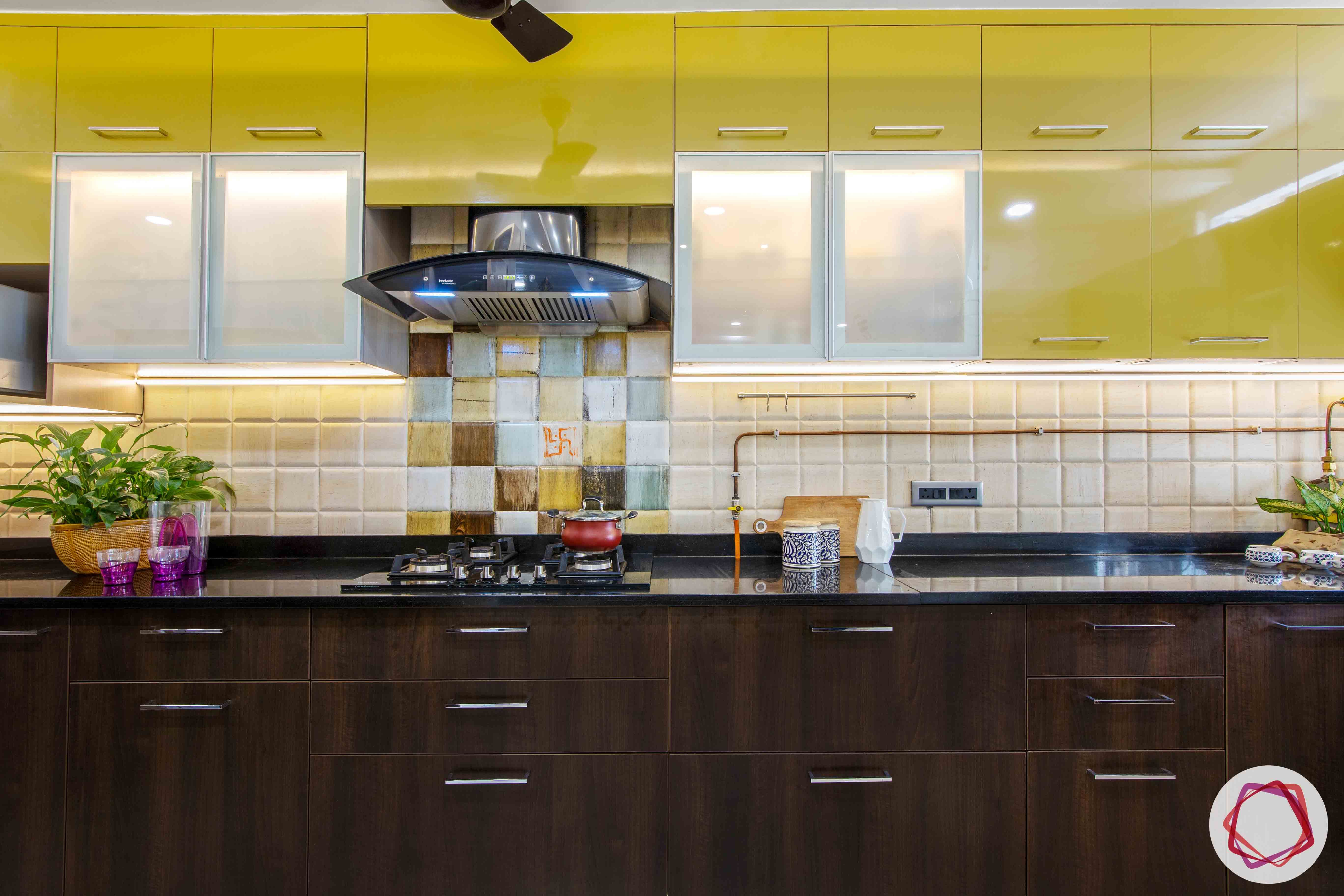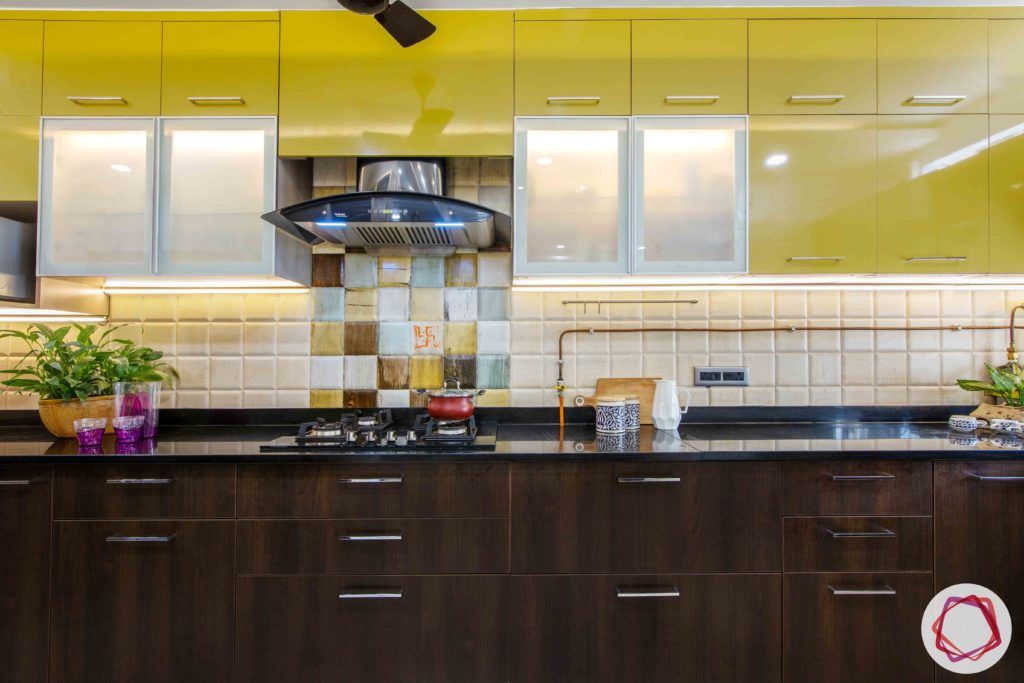 Kitchen makeovers are everything! While their earlier kitchen had plenty of natural light pouring in, thanks to a balcony, the cabinets, layout and storage weren't working for them anymore. So Payal designed a layout that was tailored to the family's needs. The end result is a swanky kitchen with a separate station for working with electrical appliances and a wide sink.
Since storage was a priority for the family of six, our designer put in a tall unit, wicker baskets, lofts and cabinets all around. While the upper cabinets have been done in glossy yellow laminate, the bottom units are in matte dark brown. Payal took down the balcony and swapped it for a window that brightens up the space. Moreover, LED strips run under the upper cabinets for an even more well-lit place. The decorative backsplash tiles complete the look.
The bedroom goes from drab to fab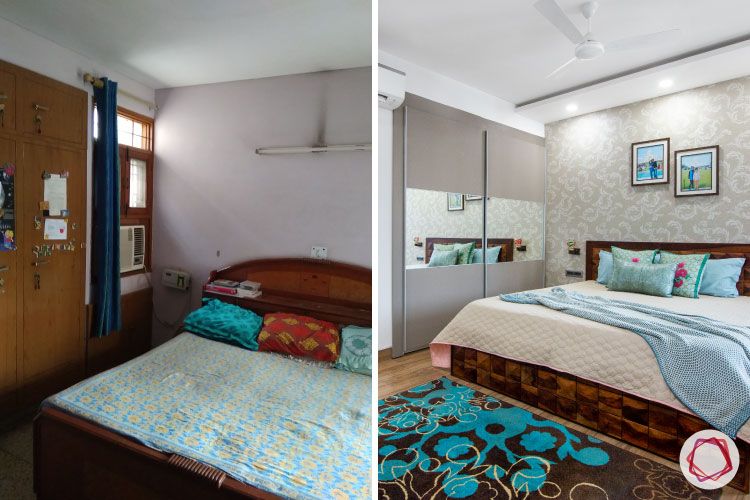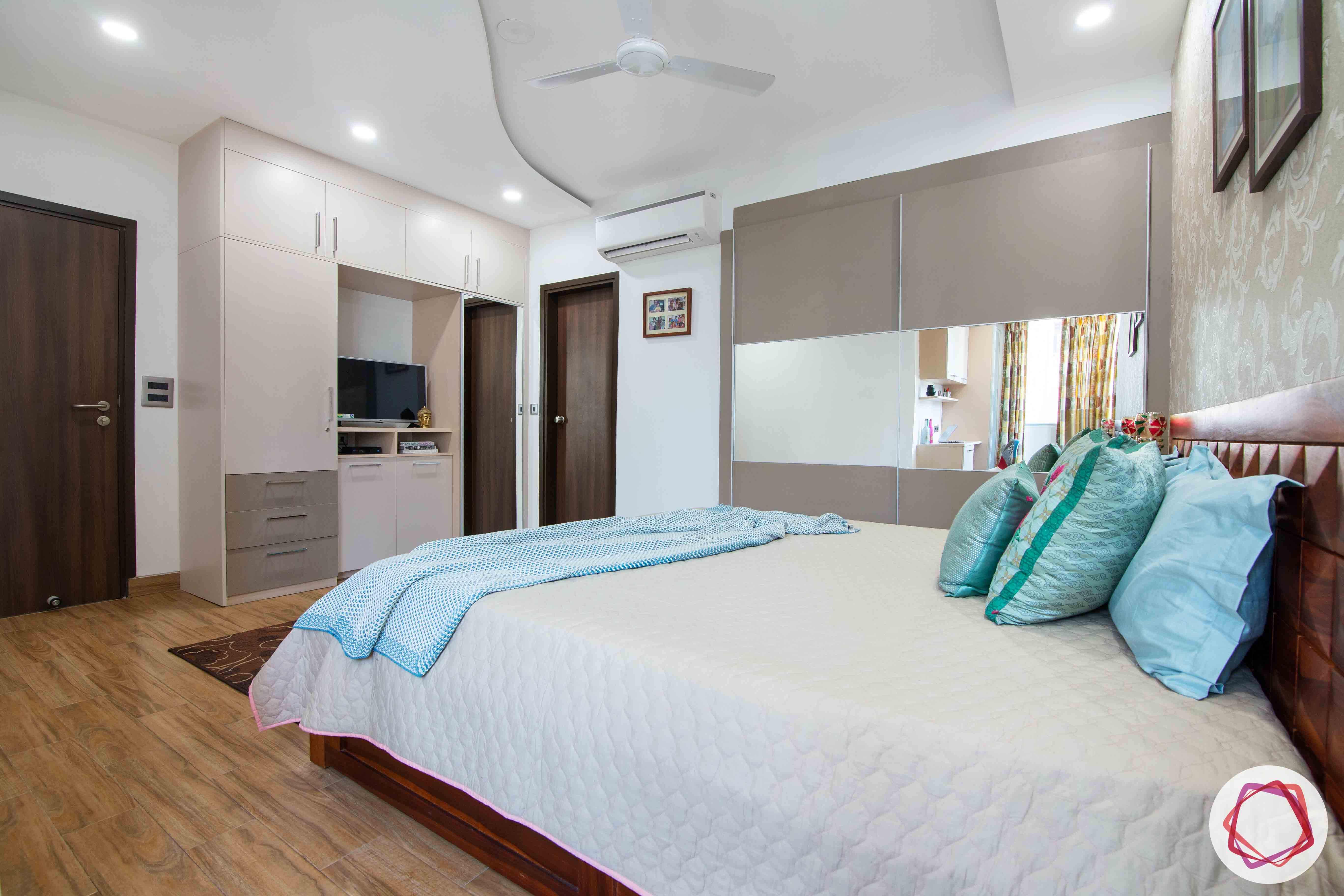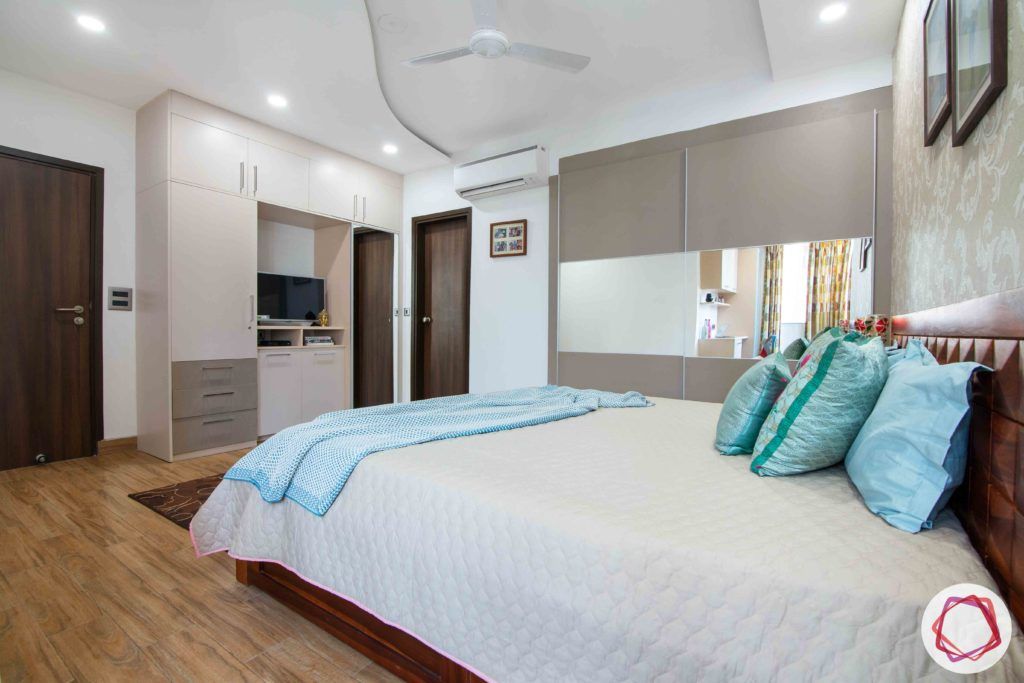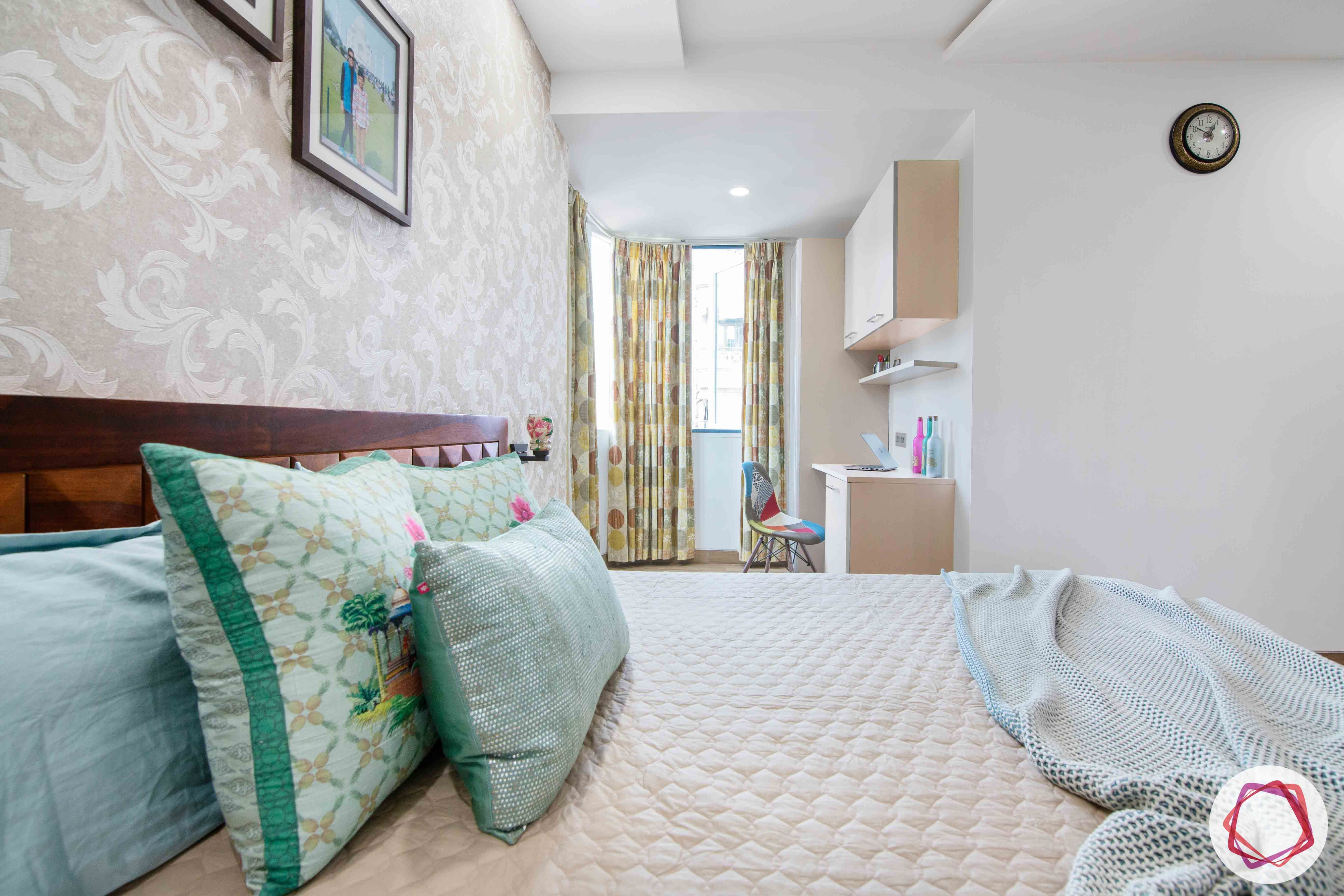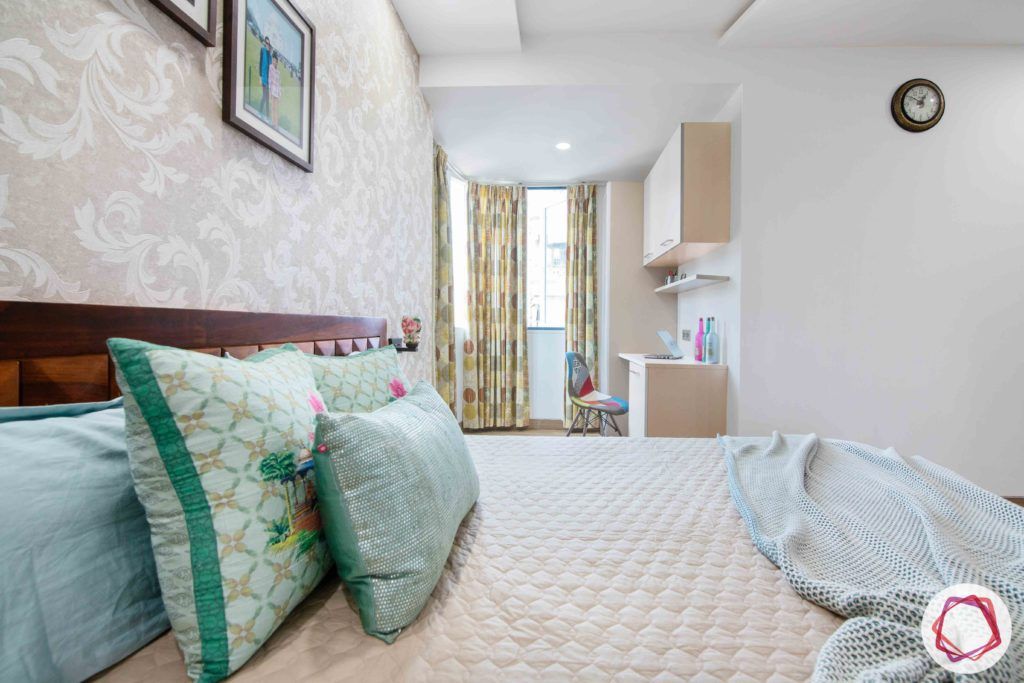 The master bedroom that once stood in wooden tones and has undergone major civil changes. It now stands in in beautiful neutral tones. With a subtle motif wallpaper as the backdrop, we love how relaxing the bedroom looks. Also, with three wardrobes, there's no fear of losing precious storage space! While all of them have been done up in membrane, one wardrobe houses a TV unit in between and the other has a study built in it. The main wardrobe has been fitted with mirrors in the middle to give the room an illusion of more space.
Notice how the false ceiling has been designed differently? This has been cleverly done up to mask pipes and other wires.
A kid's bedroom revamped for an old house renovation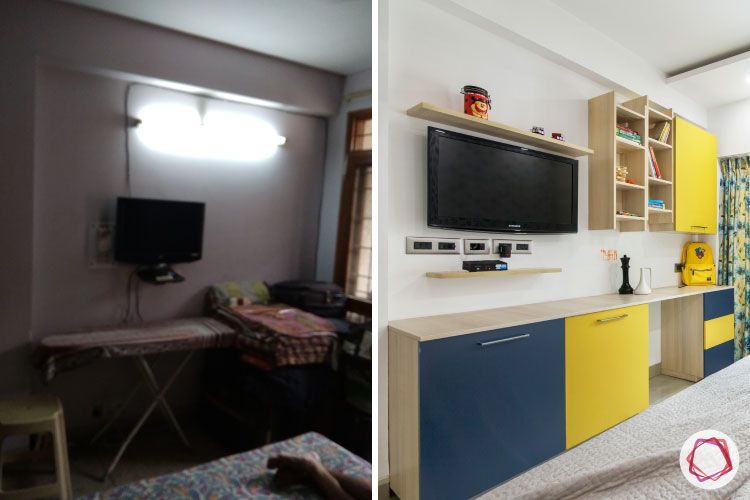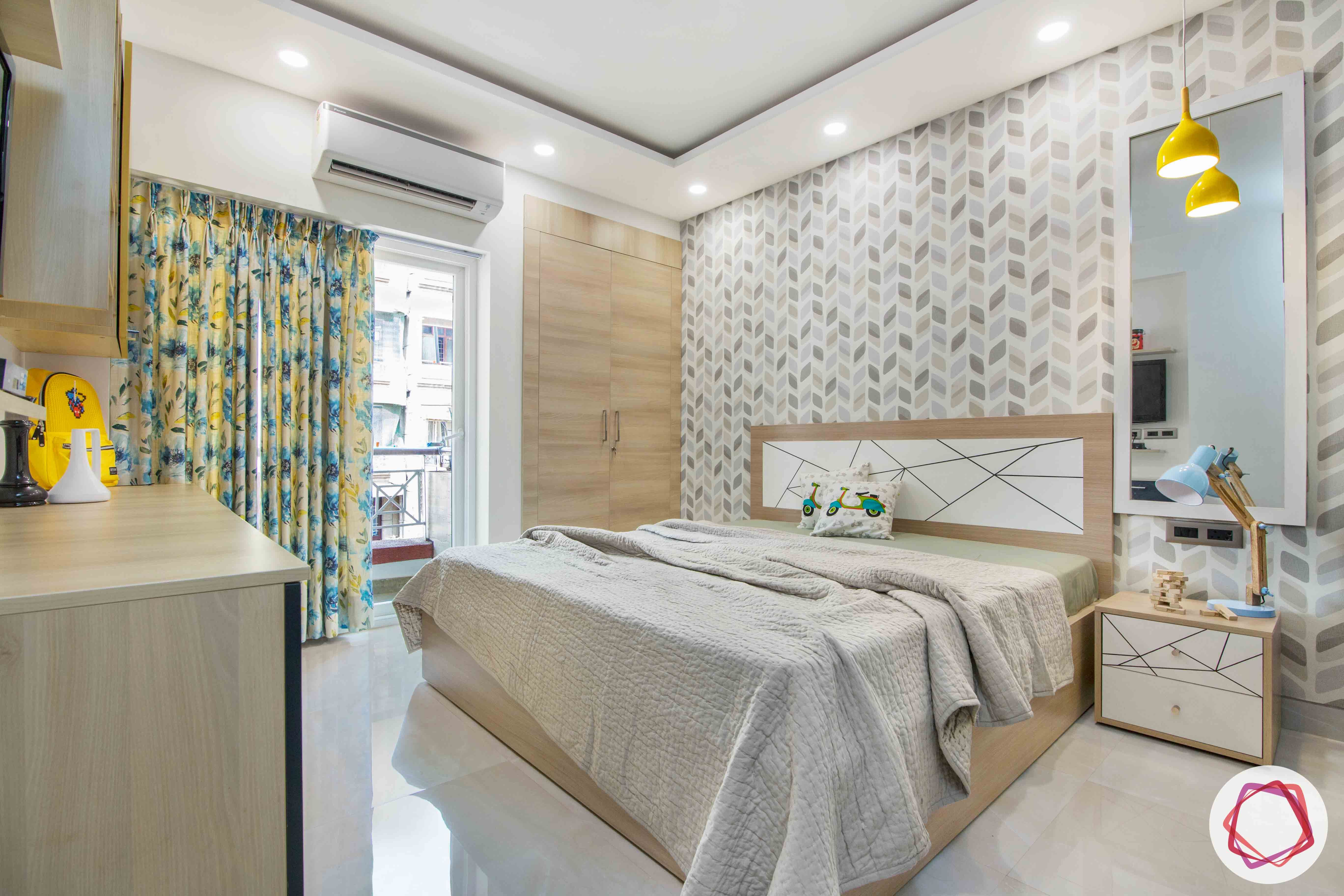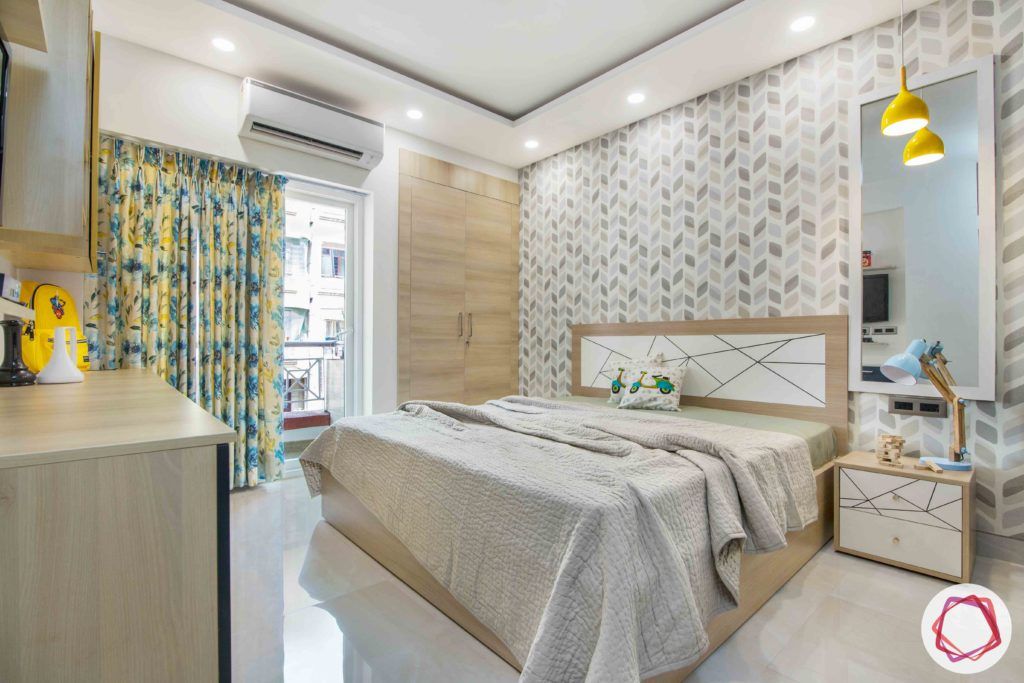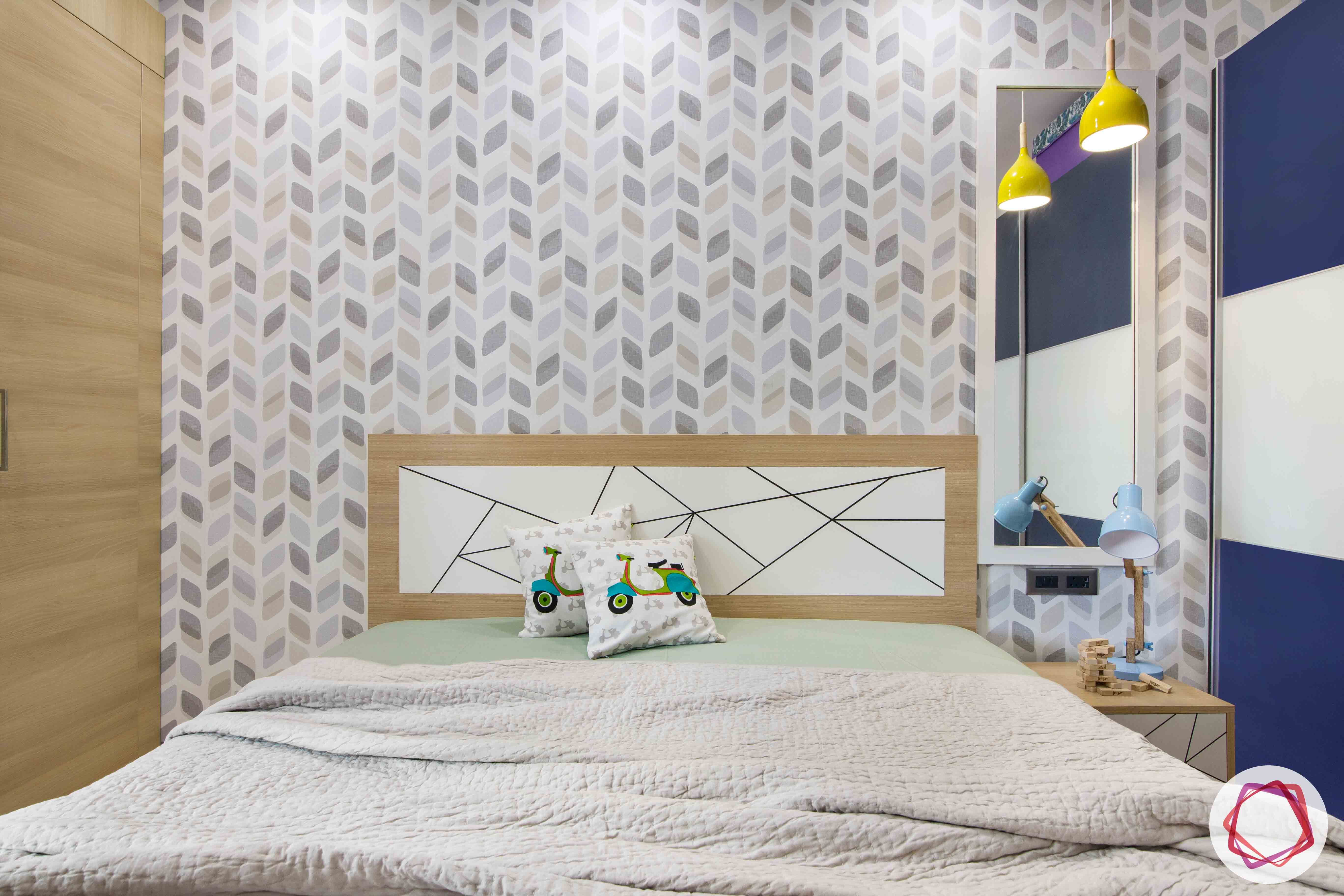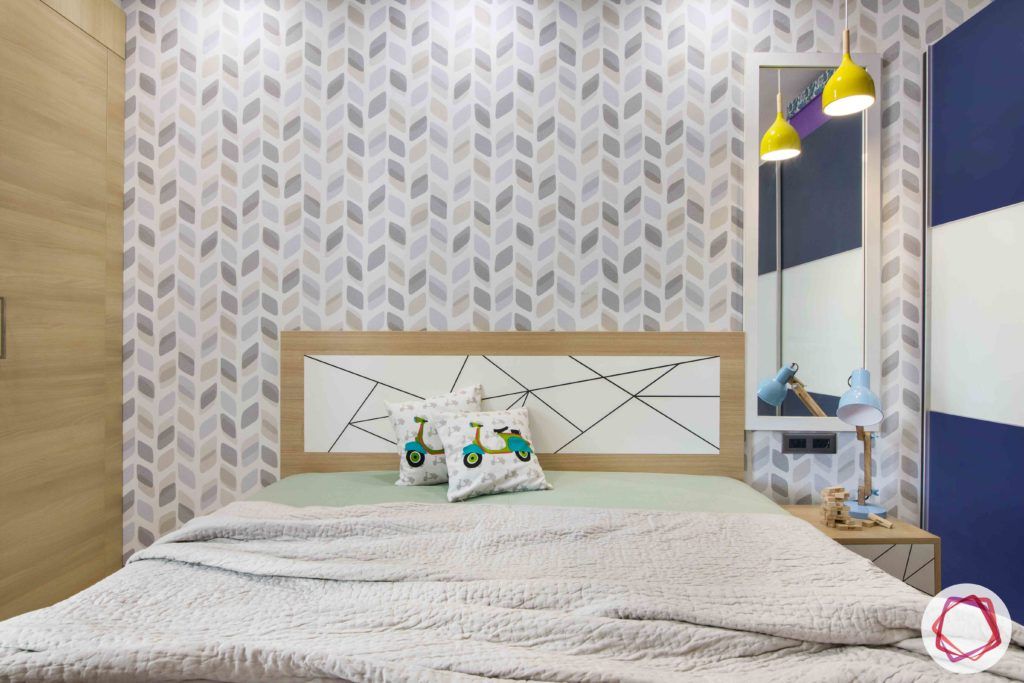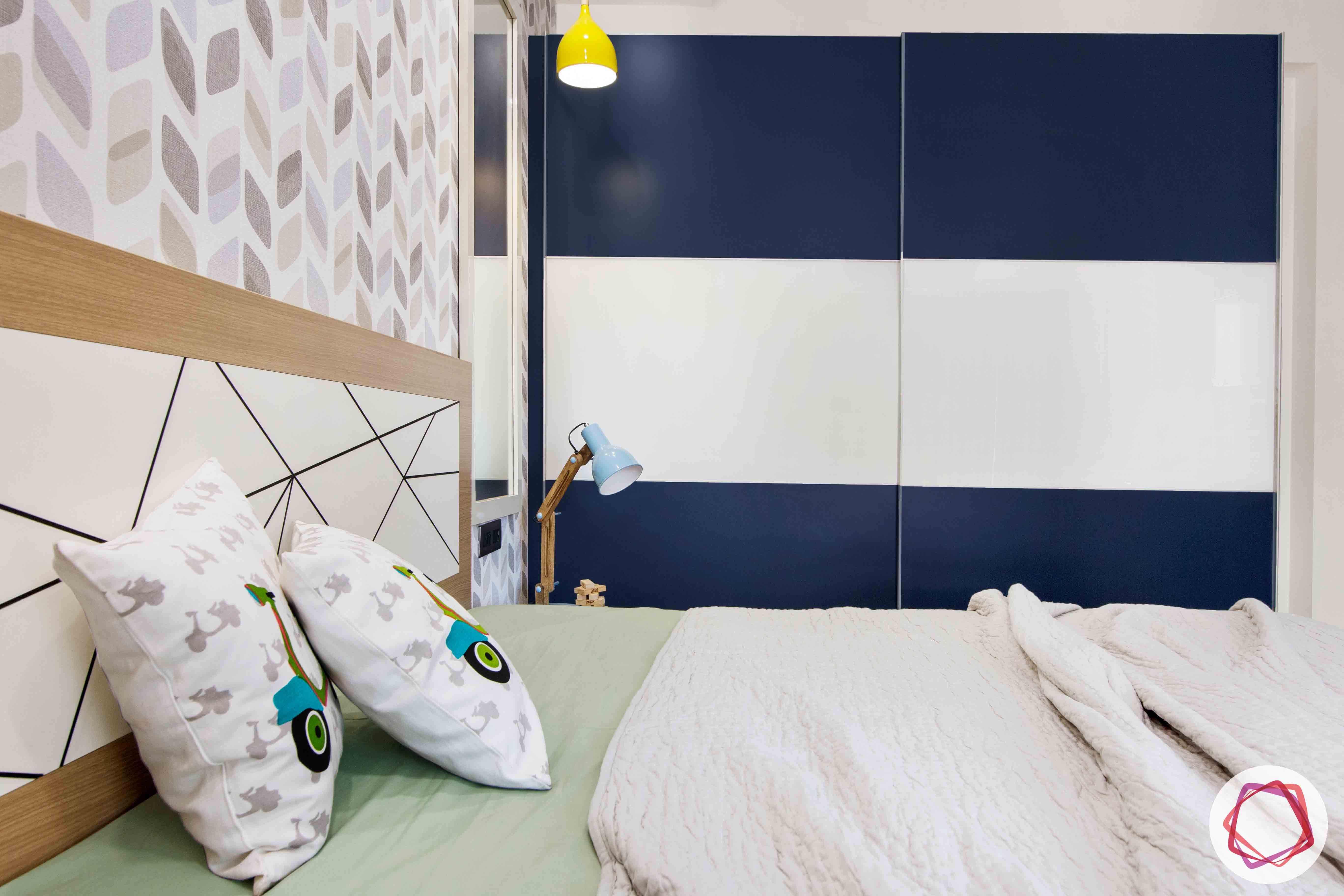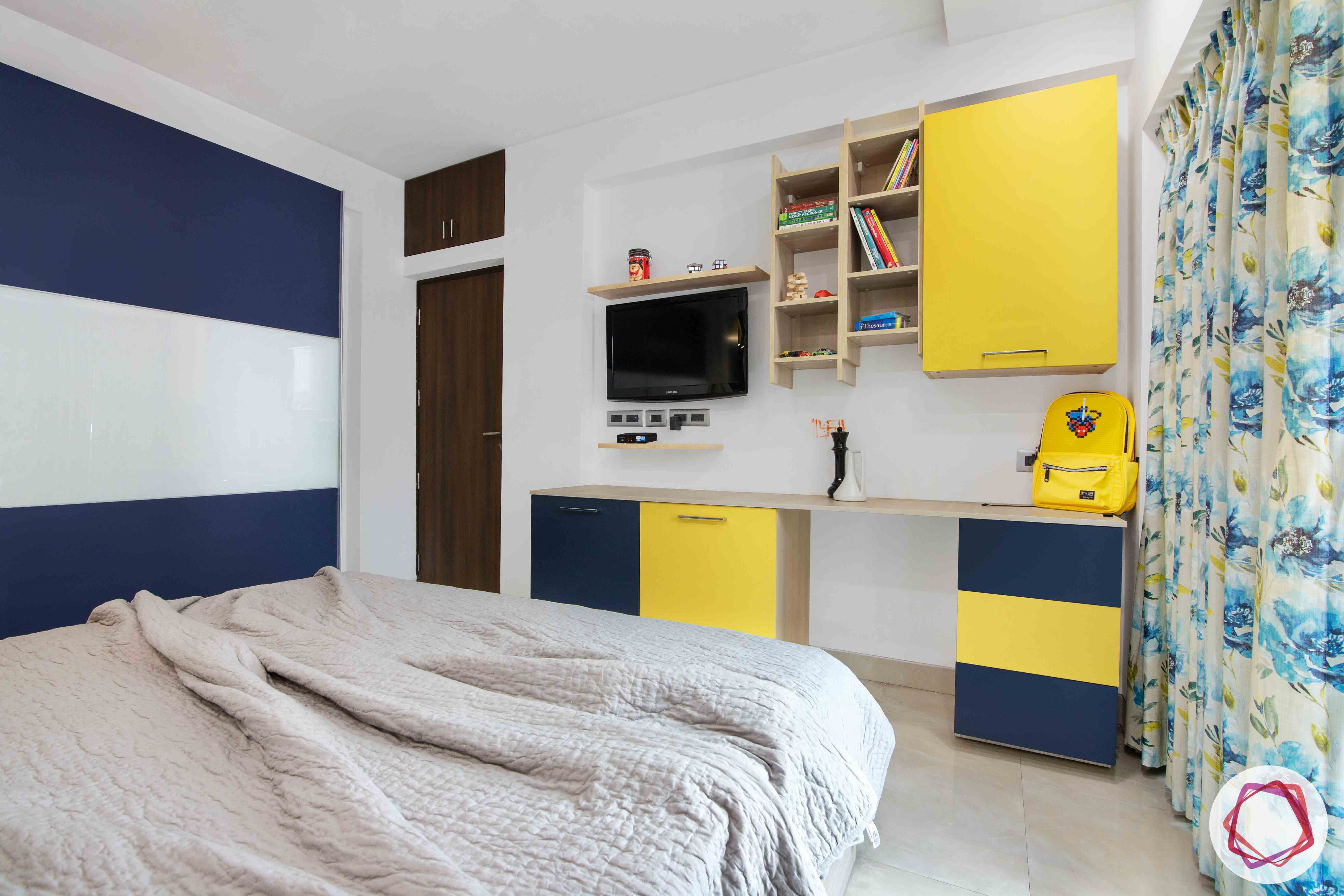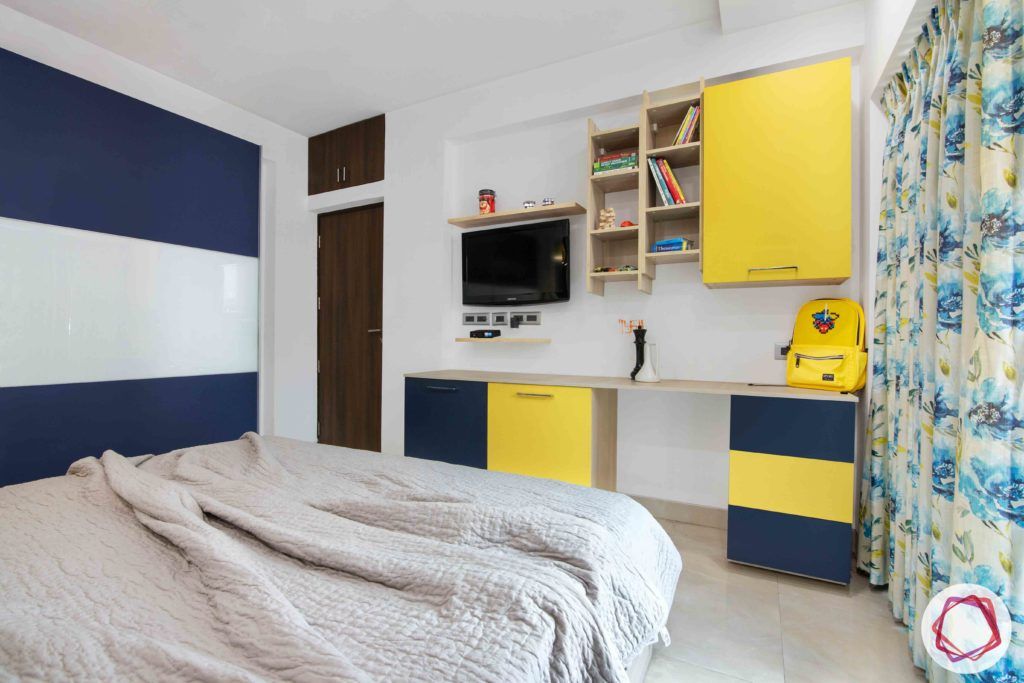 The children love their newly done up bedroom. Flaunting an intriguing wallpaper for the centre wall, a patterned headboard and two wardrobes, there's still enough room for them to play around. The navy blue membrane wardrobe has lacquered glass in the centre so that the kids could scribble, draw or pin up things as well.
Notice the yellow and navy blue unit? This houses a TV unit, study, storage and display features. Payal reveals that she purposely used a mix of light and dark colours to offer a sense of balance to the space.
Purple for the win in the parents bedroom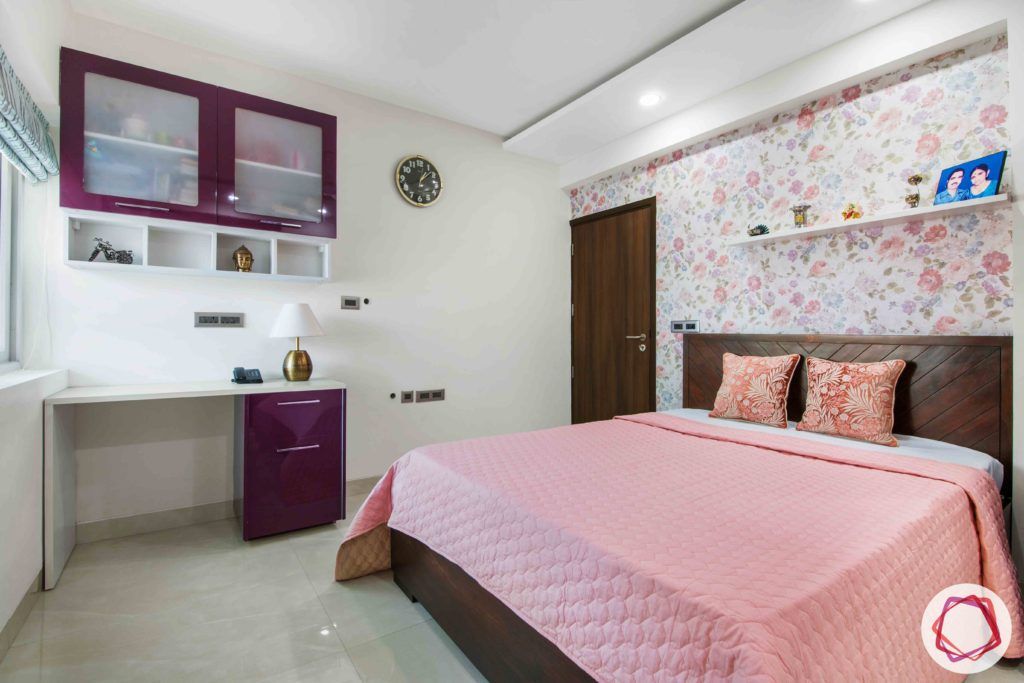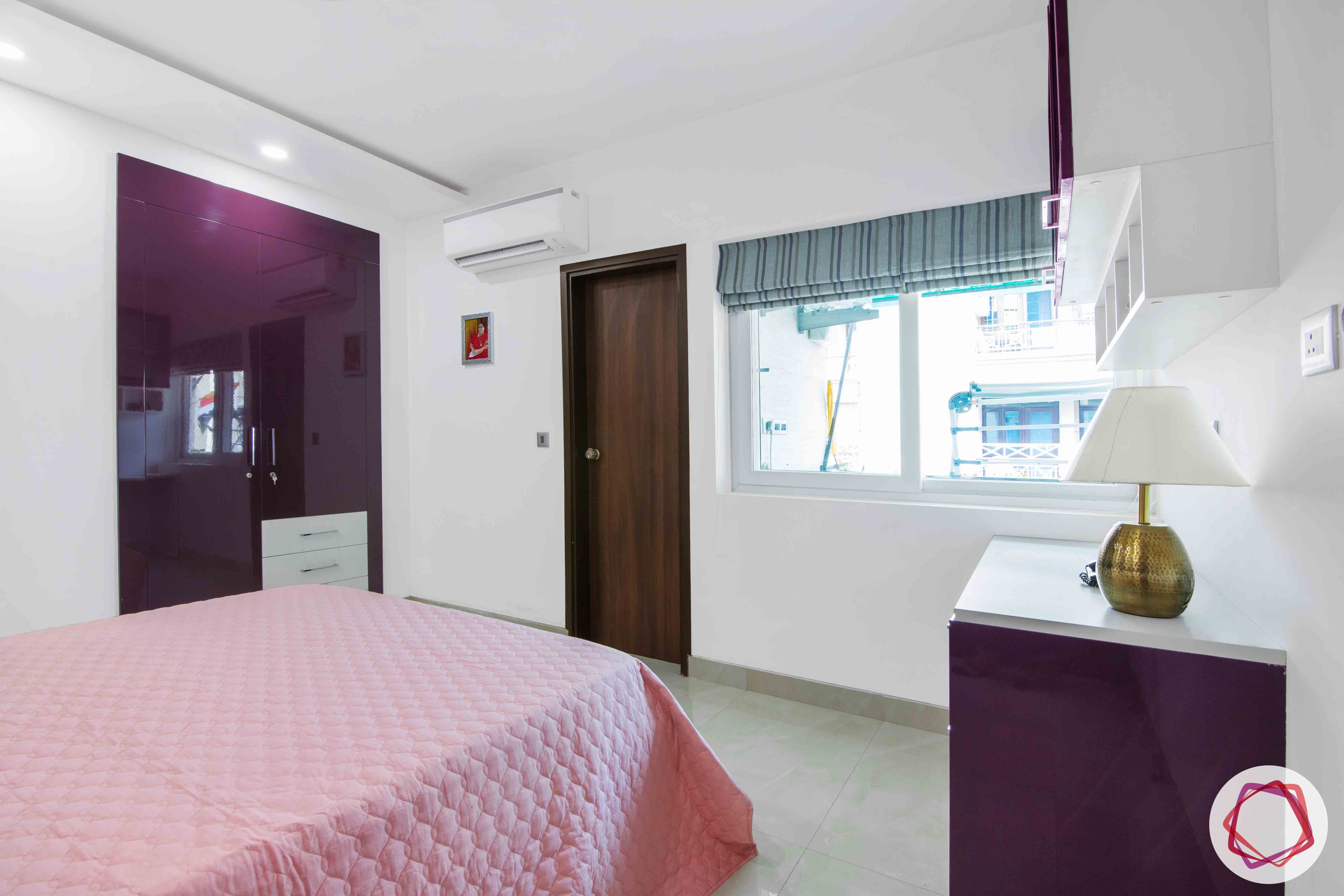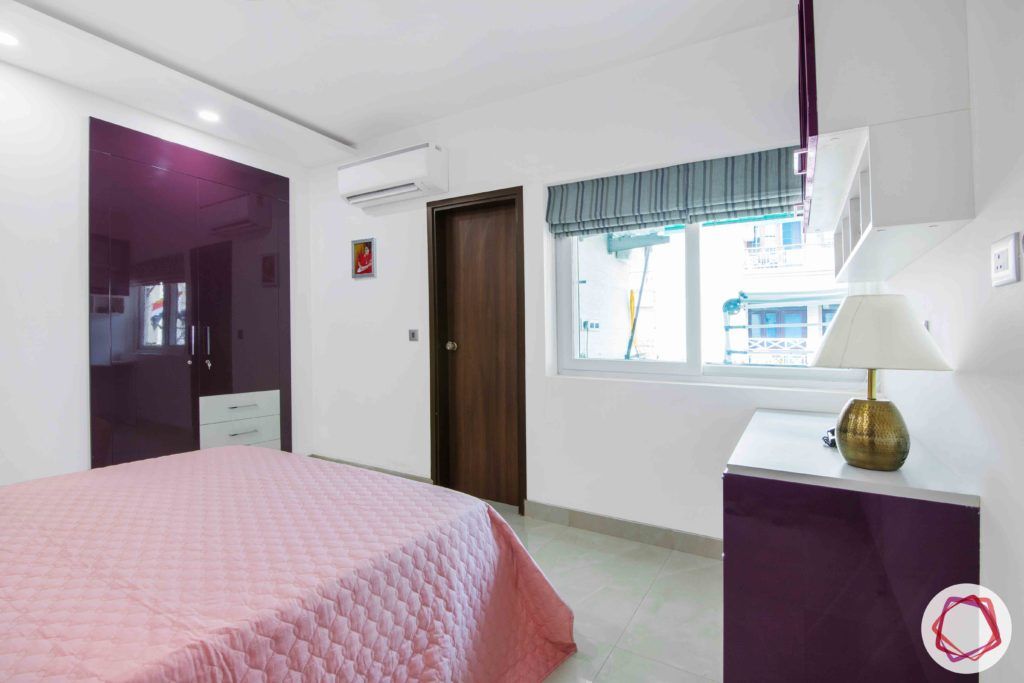 Rishi's parents bedroom has been kept minimal to offer them plenty of ground. Just like the earlier two bedrooms, this too has a wallpaper for the centre wall setting the ambience. While a balcony once stood here, Payal closed it and bought in a wide window. The study table and wardrobe has been done in glossy purple membrane. To keep things clean and clutter-free, she also put in open shelves for the parents to display a few of their essentials.
A splash of patterns for the bathroom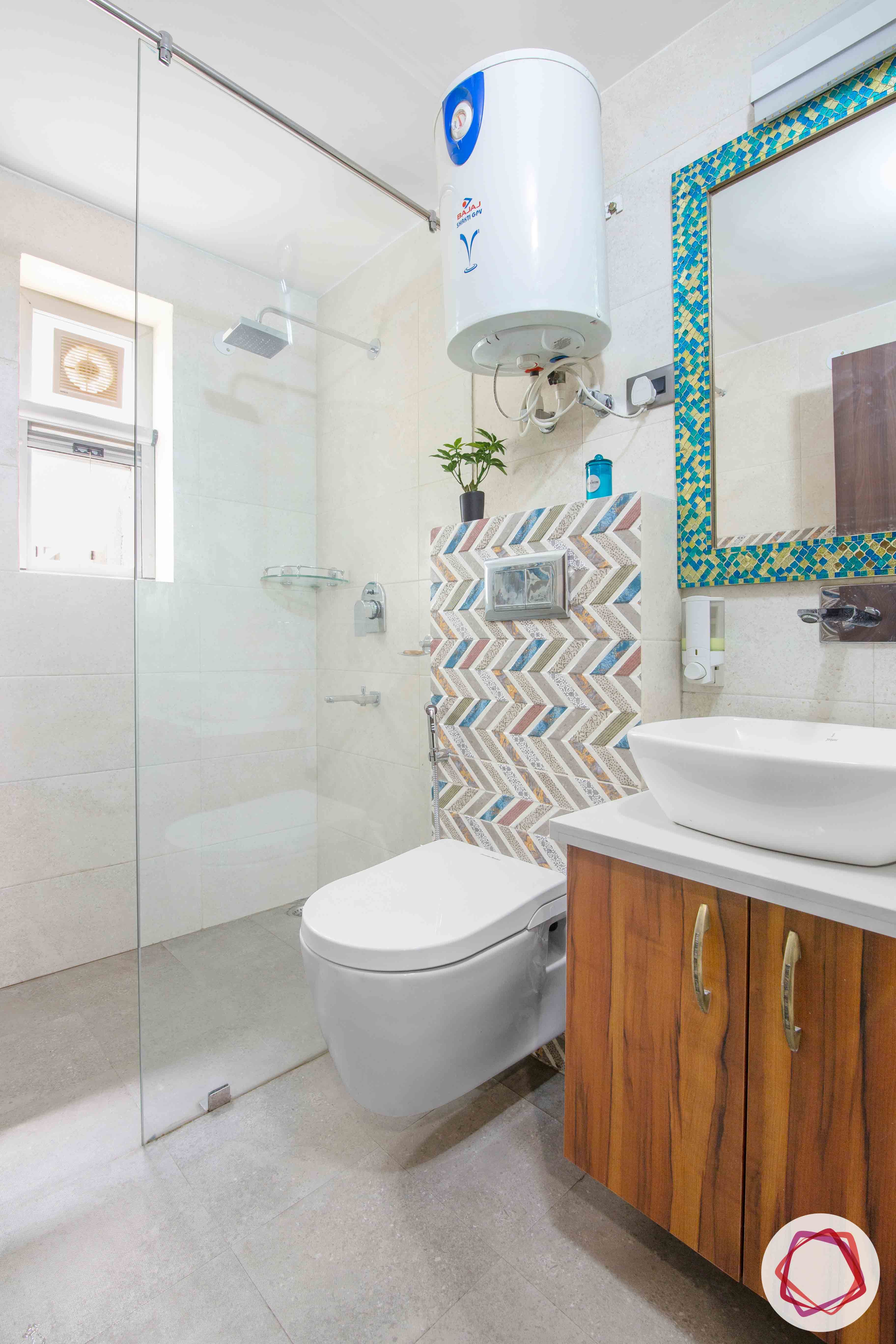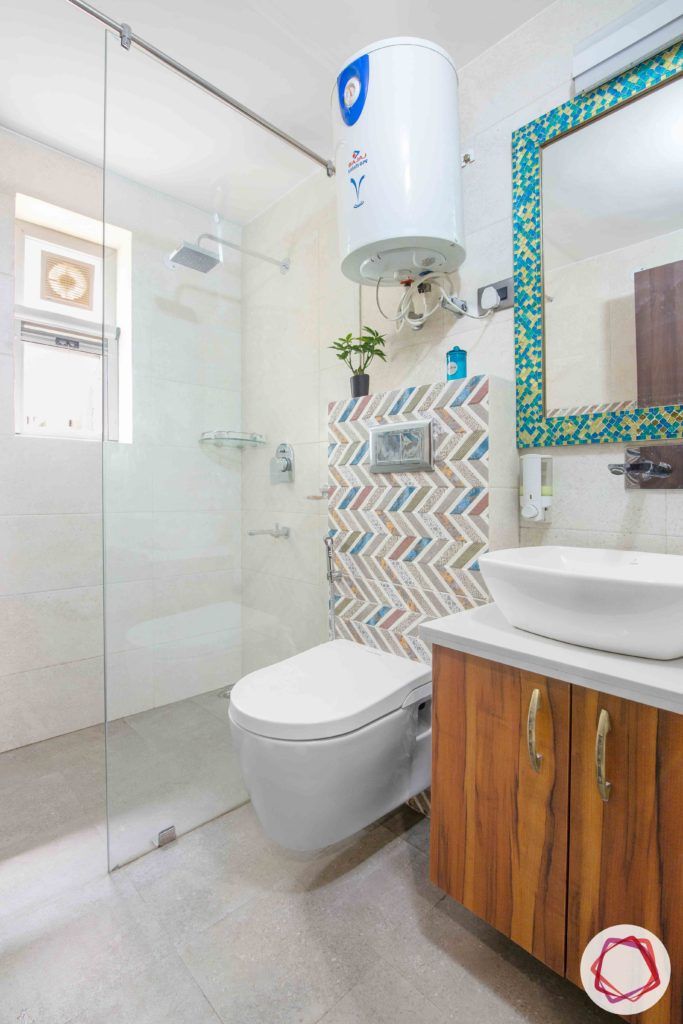 The common bathroom has been revamped in the old house renovation to flaunt trendy designs now. Payal added a glass parition, a boho-inspired mirror and vanity storage. We especially love the patch of patterned tiles.
"It was amazing to work with Rishi and his family. They were extremely supportive and patient throughout the process. This project involved a lot of civil changes and the works, I am glad it turned out the way it did!"

Payal Khetan Gupta, Interior Designer, Livspace
Also, if you liked this take a look at 5 Incredible Home Makeovers by Livspace for more inspiration.
Check out this luxurious penthouse in Noida:
You can also visit our Livspace Experience Centre in Noida to get your dream home designed. Send in your comments and suggestions.