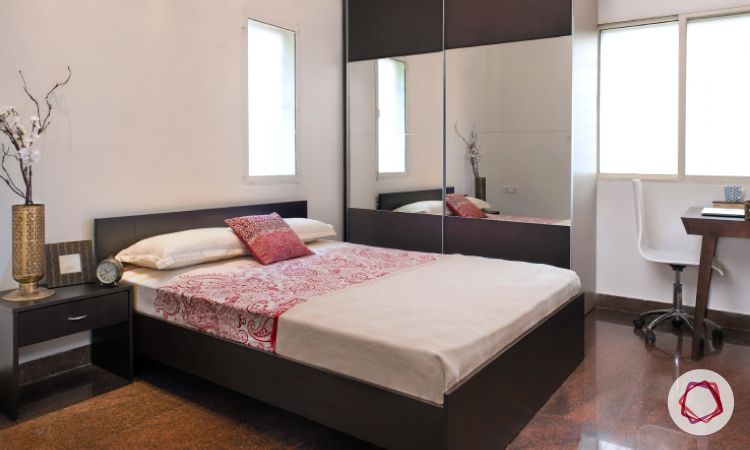 ---
Who livs here: Srikanta and Ramya Sharma with daughters, Smruti and Sriya
Location: Nandini Layout, Bangalore
Home type and size: A 3 bedroom apartment spanning 1,050 sq ft
Design team: Interior designer Payal Kothari with project manager Pankaj Chandak
Livspace service: Full home design
Budget: ₹₹₹₹₹
---
Tucked away in a reticent suburb of Bangalore, a young couple, Srikanta Sharma and his wife, Ramya, wanted a serene home that was anything but traditional. Keeping their love for modern design and spacious interiors in mind, Livspace designer Payal Kothari weaved magic into their hitherto vanilla home.
A contagious atmosphere envelopes the Sharmas' home with decor that is minimalistic to the core. Deliciously sweet with pops of pink and mint green and supremely stylish with provincial French impressions running through the furniture, their abode is ideal for a young family. Payal fuelled her prowess to give her client a contemporary home that oozes sophistication by ridding it of their clutter.
Walls washed in eggshell white, a staple that elicits rapture, the Sharmas' home has a generous dose of equanimity that is hard to resist. The glorious white walls eliminate chaos and open up the space while their carved furniture was swapped out for antique-inspired French pieces.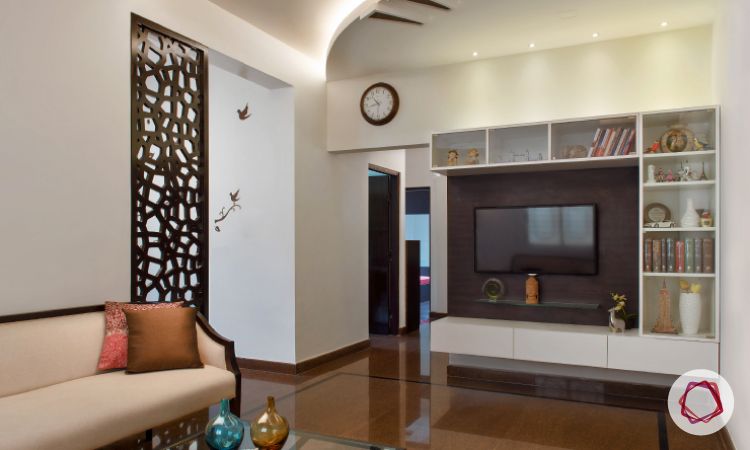 ---
The display around the media centre is a huge favourite with the family. It's a great place to flaunt the kids' arts and crafts. Their latest project was a model made from cardboard shreds of the Empire state building and London bridge, quips Srikanta Sharma, a proud father.
---


Obsessed even with the minutest of details, the couple, though different in many ways (Srikanta is admittedly more outspoken and outgoing, while Ramya finds her comfort with close friends and family) agreed on the direction of their interiors, for once. Even though it was pure coincidence that they chanced upon Livspace, Sharma says he couldn't be happier. "It felt like the designers were talking the same language as us," he explains.
The master bedroom received a complete makeover. The clever light detailing with the mammoth mirrors on the wardrobes, give the room the illusion of space. A tiny office desk was tucked into the corner to allow the couple the pleasure of working from the comfort of their bedroom.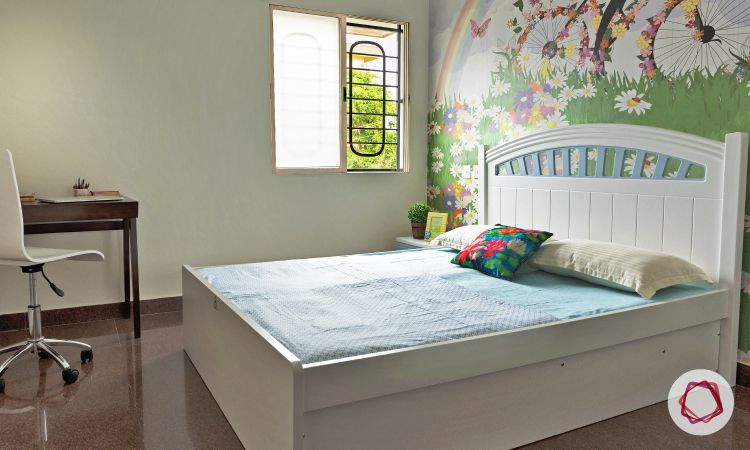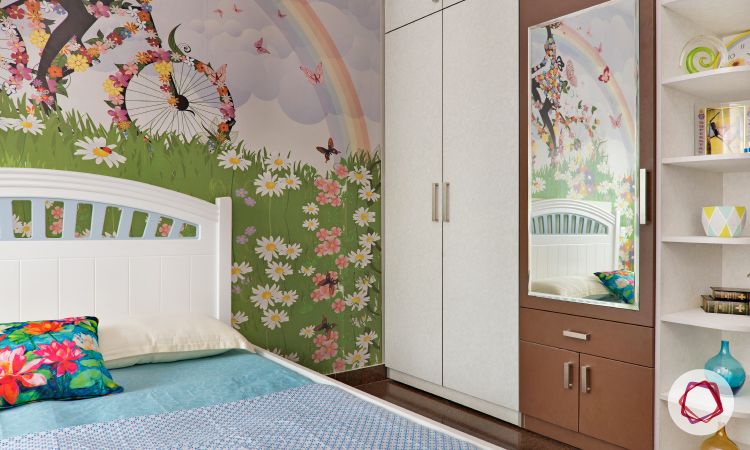 ---
"I told Payal didi to include anything that has a fairytale-like-inspiration. So, she chose this pattern with a girl on bicycle and lots of colorful flowers. And the fan also has mermaids on it!"
– Smruti Sharma
---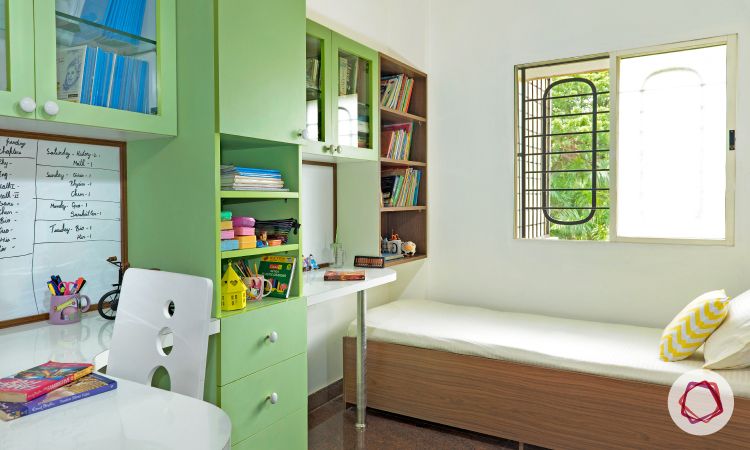 ,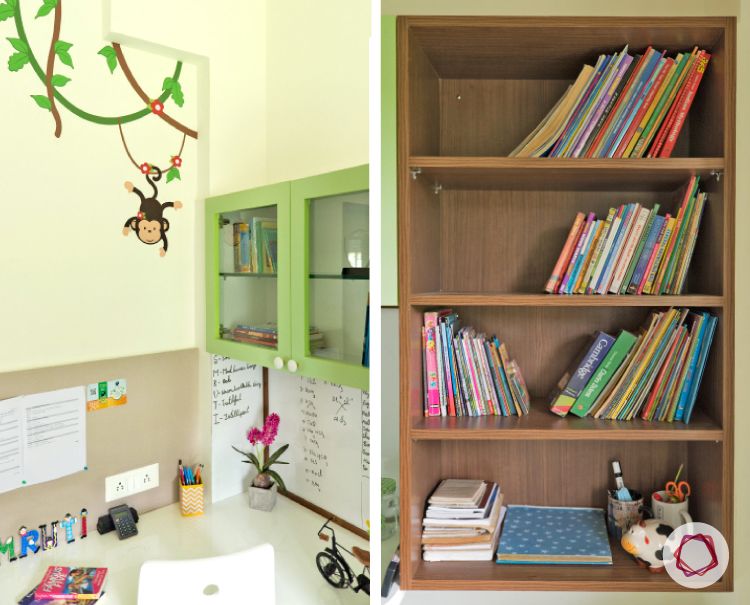 ---
The mint green study room has a whimsical air to it. We especially love the swinging monkey.
---
The precocious girls, 12-year-old Smruti and her sister, 6-year-old Sriya were thrilled with how Payal translated their fascination for fairytales into a timeless wall.
The 12-year-old also adores her new mint green study room. With plenty of storage, the girls can stack their books, art supplies and more. The whiteboards are a huge favourite since Smruti loves to keep track of her school work and activities on it.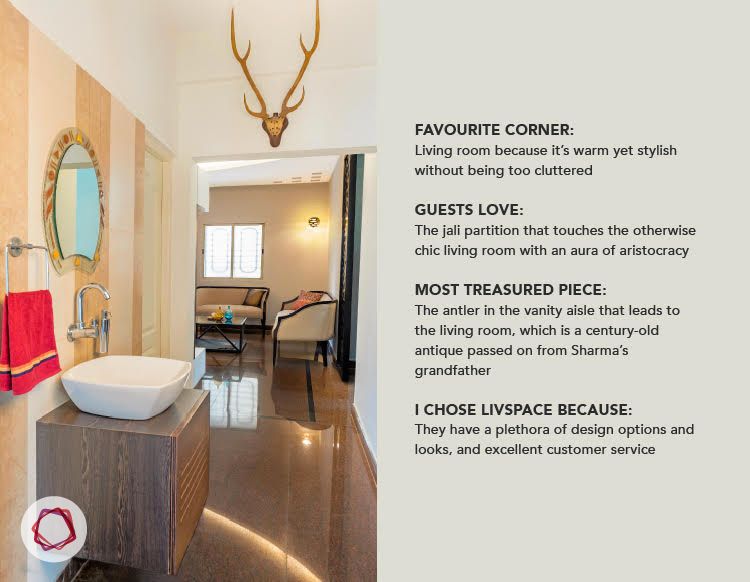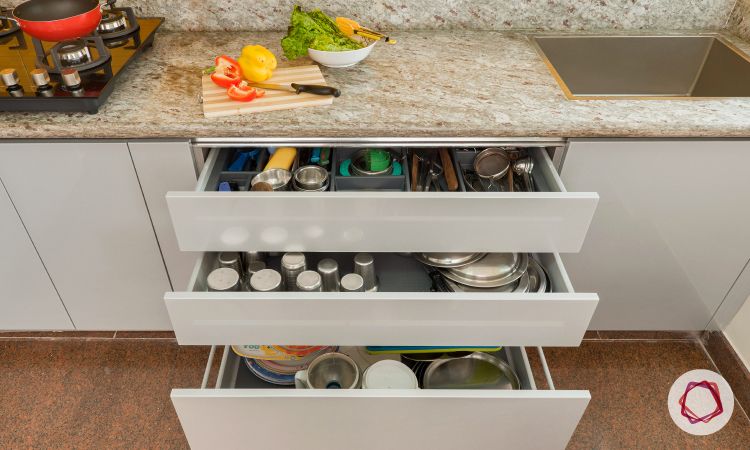 The kitchen didn't require a complete overhaul. The summery citrus backsplash was retained and Payal complemented it with pearl grey cabinets and a matching dining table.
The Sharmas simply can't wait to throw a massive housewarming party. They are sure they're going to be overwhelmed with adulation.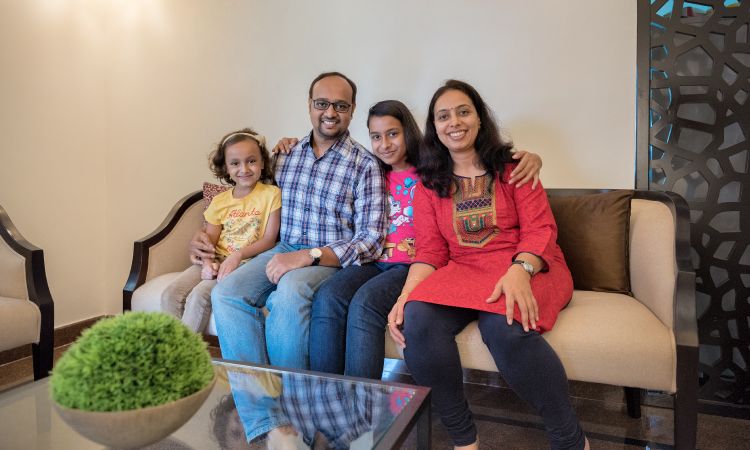 ---
"Srikanta and Ramya were very clear about what they wanted. That really helped speed up the design process. And the girls! They were so enthusiastic to pitch in. I'm just overjoyed they love their new room. Obviously, safety was a concern. So we rounded all the edges, and sort of baby-proofed most of their furniture and decor."
– Payal Kothari, Interior Designer